The nForce2 chipset from NVIDIA has been around a while and countless different motherboards have been based on it. So, how does a company differentiate its product from the crowd when there are so many offerings? Leadtek, like various other companies, has decided to offer a Deluxe Limited edition (with lots of new goodies) of an already proven product to make it a fresh offering. Read the review of the nForce2 Ultra 400 Deluxe Limited to see if Leadtek offers a compelling package.
Introduction
---
A little over three months ago we brought you a review of the Leadtek K7NCR18D Pro II motherboard. A quick look at Leadtek's motherboard lineup reveals that all of their nForce2-based motherboards share the WinFast K7NCR18x (x varies from board to board) name. The nForce2 Ultra400 Deluxe Limited is no exception. Even though Leadtek calls it something different on its website, the box even reveals that this motherboard is actually a K7NCR18D Pro II with a much better bundle than the original. So, this amounts to a product refresh really. I believe Leadtek is trying to grab the attention of the enthusiast audience by adding such goodies as rounded cables, faster FSB support, and extra voltage tweaking capabilities.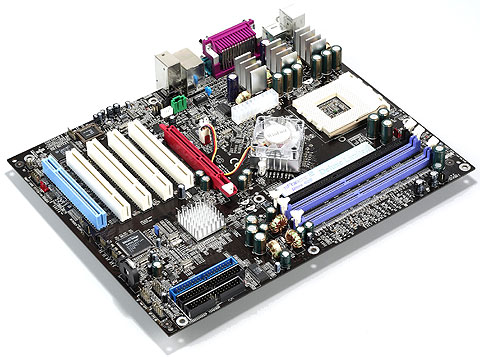 Since this is the "Deluxe Limited" edition of an already released product, I thought it would be beneficial to see what makes it so "Deluxe" and "Limited." So, I grabbed this table from Leadtek's nForce2 Ultra 400 Deluxe Limited product website. It gives you a quick idea of what you get if you spend your hard earned dime on this special edition motherboard.
Leadtek WinFast K7NCR18D Motherboards
| | | | |
| --- | --- | --- | --- |
| | WinFastK7NCR18D-Pro | WinFastK7NCR18D-ProII | nForce2 Ultra 400 Deluxe Limited |
| Three-phase power supply circuit | Yes | Yes | Yes |
| Speed Gear II | Yes | Yes | Yes |
| OTS(Over Temperature Shutdown) | Yes | Yes | Yes |
| SPDIF bracket | Yes | Yes | Yes |
| Platform Processors_1 Heat sink | Yes | Yes | Yes(integrated fan) |
| CPU Vcore adjustment | Yes(max to 2.0V) | Yes(max to 2.0V) | Yes(max to 2.0V) |
| SATA cable | No | Yes | Yes |
| SATA RAID interface | No | Yes | Yes |
| IDE ATA100/133 cable | Ribbon cable | Ribbon cable | Round IDE cable |
| FDD cable | Ribbon cable | Ribbon cable | Round IDE cable |
| Optical cable for SPDIF | No | No | Yes |
| SATA function disable setting | No | No | Yes |
| SATA power cable | No | No | Yes |
| MOS Heat sink | No | No | Yes |
| Platform Processors_2 Heat sink | No | No | Yes |
| ACR card | WinFastK7N1394** | WinFastK7NFAL* | WinFastK7NFAL* |
| Barton CPU Auto detect function | No | No | Yes |
| Platform Processors voltage adjustable | No | No | Yes(1.6~1.9V step by 0.1V) |
| | |
| --- | --- |
| * | WinFast K7NFAL(3 IEEE1394, second LAN, optical fiber SPDIF output, 4-CH analog sound output) |
| ** | WinFast K7N1394 (IEEE1394 ACR) CARD |
This tables fails to indicate all the cool features of this mainboard that separate it from the rest of its family. As you can see from the picture of the board above, Leadtek uses a nice black PCB for it. As an added bonus, the WinFast K7NFAL ACR card is even made with black PCB! Leadtek deserves props for going the extra mile and making the add-on card the same color as the mainboard.
In the table, Leadtek refers to the northbridge (nForce2 SPP chip) and southbridge (nForce2 MCP-T chip) as the "platform processors." As you can see, this "Deluxe Limited" version of the K7NCR18D Pro II not only has heatsinks on both chips, it also allows you to change the core voltages of the chips. As if these features aren't enough to appeal to the overclocker in all of us, Leadtek added massive heatsinks to the three-phase power supply MOSFETS. You can see some more pictures of these on the following pages.

Specifications & Features
---
Obviously, the nForce2 Ultra 400 Deluxe Limited is based on NVIDIA'S latest and greatest nForce2 chipset. Since this is such a mature chipset and many of our readers are quite familiar with it, I'll refer you to the product's website for a detailed look at the specs and features. I will highlight the more exciting ones, with emphasis on what make this motherboard package Leadtek's best Athlon XP platform to date.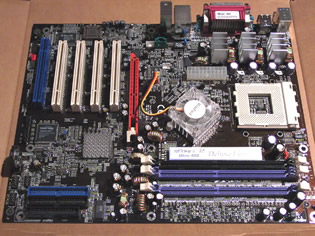 Specifications:
ATX Form Factor – 304.8mm x 243mm (12″ x 9.6″)
Supports AMD Athlon/XP/Barton/Duron Socket A processors
CPU Bus Frequency range: 200 – 400 MHz (DDR)
Three DDR-SDRAM memory slots, supporting up to 3 GB of PC2100, PC2700, or PC3200
Expansion Slots:

1 x 32-bit 8X AGP slot
4 x 32-bit PCI slot
1 x ACR slot

FSB frequency adjustable from 100 to 300 MHz
CPU ratio adjustable up to x24
CPU core voltage adjustable from 1.1 to 2.0 V
Memory voltage adjustable from 2.5 to 2.7 V
AGP Vddq selectable (+0.2 & +0.1V)
Chipset core voltage adjustable from 1.6 to 1.9 V
AWARD BIOS
Some people may squawk at the idea of having only four PCI slots. Well, I can't even remember the last time I had four PCI slots filled. It was probably when I was using a Diamond Monster sound card, a hardware MPEG decoder for my 1X DVD-ROM drive, a PCI graphics card, and a PCI network interface card. That was definitely a few years ago! My point is that with today's highly integrated mainboard chipsets, a lack of expansion slots is not a serious issue any more.
Features:
Two SATA ports with RAID 0 & 1 support
Dual 10/100 Mbps ethernet ports
Support Ultra ATA 133
USB 2.0: Supports 4 ports on back panel and 2 on front panel
IEEE 1394: 1 internal port and two external ports (one of each type of 1394 connector)
ALC650 AC 97 sound chip integrated – Dolby Digital sound support
BIOS and Hardware CPU Over Temperature Protection
Supports Smart Card Interface
With all the goodies this board has to offer, you may be wondering how Leadtek packed this all into one package. Of course the highly integrated nature of the nForce2 chipset plays a big role in accomplishing this feat; however, the Leadtek engineers are the ones who lay it all out. On the next page, I will take a closer look out how well they did this, and if they kept you and me, the consumers, in mind when they did it.
Package Contents:
nForce2 Ultra 400 Deluxe Limited mainboard (basically a tricked out K7NCR18D Pro II)
WinFast K7NCR18 Series User's Manual and special Deluxe Limited feature guide
2 rounded cables – 1 FDD cable and 1 Ultra ATA 100/133 IDE cable
2 SATA cables
2 SATA power adapter cables (to convert from molex to SATA power connector)
Optical audio cable
Back panel I/O plate
Coaxial SPDIF connector (PCI slot mounting) with RCA connector
WinFast K7NFAL ACR card

3 IEEE 1394 ports
3Com 10/100 Mbps ethernet port
Dolby AC3 SPDIF optical fiber digital output interface
RR/RL and Center/Bass channel output jacks

Software Bundle:

WinFast Mainboard & SCSI Software Pack (includes all needed drivers)
Ulead COOL 3D SE version 3.0
Ulead VideoStudio 6 SD DVD
| | | |
| --- | --- | --- |
| Software & Manuals | Included Cables | Included Hardware |

Board Layout
---
A motherboard's layout can make a big difference in a PC building experience. One that is laid out poorly can cause a lot of undue stress on the owner because it makes installation harder than it should be. However, it is nearly impossible for engineers to lay out a design that will please everyone. With that in mind, there are probably some key areas that should always be easy to access, such as the IDE (and now, SATA) connectors, the memory slots, and the main power connector.
Overall, I would say that the nForce2 Ultra 400 Deluxe Limited is laid out well, and it is fairly easy to get to everything that may need to be connected to or set to a user's needs.
As you can see in the picture below, the expansion slots on this motherboard are red, white and blue. They look good and posed no problems when installing boards into them. You can see the Smart Card and system fan connectors on the far left in the picture. On the right, the various internal audio inputs (CD-IN, etc.) are found "below" the external audio output jacks.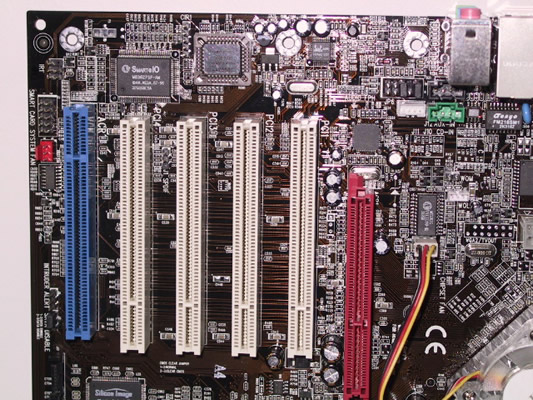 Across the board to the south, we can find the IDE and floppy connectors and the case signal connectors. This placement seems to be just fine, and it only gave me a little bit of trouble when I connected the case signal wires. It was more difficult than it should be because the connectors are so close to the bottom of the case when the motherboard is installed. This leaves you very little room to work with, but with a little patience it can still be done. If you read my Leadtek A350 TDH MyVIVO review, you will know that sometimes capacitors or other components on the motherboard can make fitting some hardware into a system impossible. Fortunately, this motherboard has no such issues. I was able to install that rather large GeForce FX 5900 card into the AGP slot without it hitting any unsuspecting components on the board. If you look closely at the Silicon Image chip in the picture, you can see that this is what Leadtek is using to get this board's SATA RAID capabilities. And right next to that chip is two SATA connectors. Also, in this picture, you can see both the SPP and MCP-T chips covered with their cooling devices.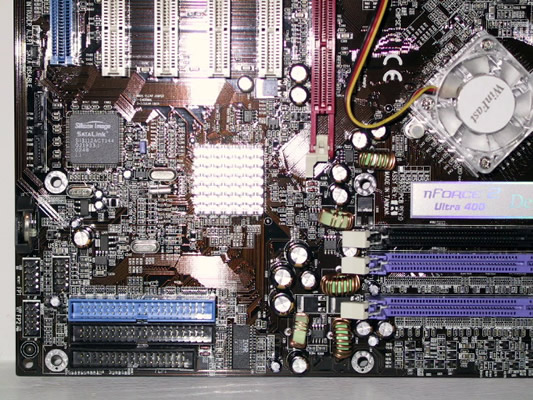 To the east we have the memory slots, CPU socket and SPP with heatsink and fan. Also, note the nice, shiny "Deluxe Limited" badge. It is actually located in a place that would make it possible to show it off, as long as the board is installed in a case with a window and components (especially optical drives) are not placed in its line of sight. The CPU socket being located so close the the edge of the board may cause some problems with huge HSFs, but it was not a problem for the Thermaltake Extreme Volcano 12 installed on my CPU. And the Volcano 12 is a big HSF!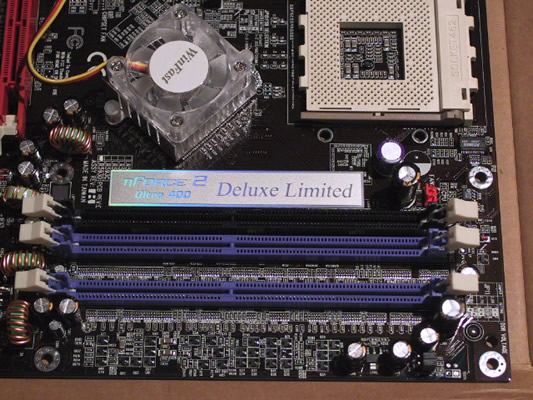 And to the north of the memory slots, we see that the most prominent feature is the array of heatsinks on the three-phase power supply MOSFETS. Leadtek seems to be going the extra mile with cooling features on this board. That makes sense since Leadtek is obviously trying to appeal to overclockers with this mainboard.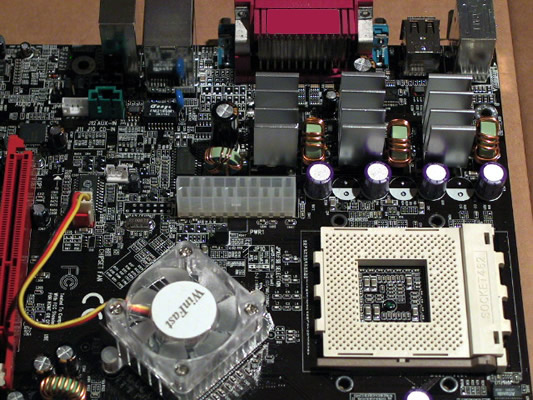 Installation
---
Installing this board into a mid-tower case was simple and did not present me with any serious problems. Even though the picture below does not really do it justice, the "Deluxe Limited" looks good inside my case, too!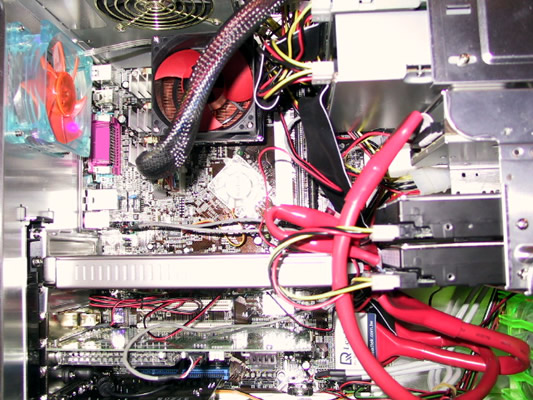 Most of the on-board connectors and jumpers were easy to reach, even after the motherboard was in the case. However, there are a few that would pose a problem if I were to want to reach or change them with the board in a case. For example, the memory voltage is controlled by a jumper in the corner closest to the memory slots. With 5.25″ drives and a bunch of cables in the way, this jumper is not exactly easy to get to. Hopefully, it would not need to be changed frequenlty, though, unless you are doing a lot of overclocking. Another minor inconvenience this board presents is the location of the Smart Card connector and the system fan (FAN3) connector. These connectors are located "under" (once you have the mobo installed in a case and it is upright) the ACR card slot. That means the card makes it basically impossible to reach these connectors. Not everyone will use the K7NFAL, so it is not a big deal to those people. But if you are swapping fans frequently and you are using the ACR card, needing to remove the card every time you need to reach the connector may get to be bothersome. I believe that most people do not fall into this category, so it should not be a problem very often if ever for them.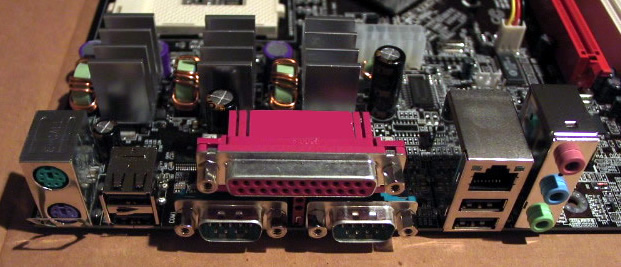 After I got all the hardware in place, I installed NVIDIA's latest chipset drivers, version 2.45. They installed without a problem, and I was up and running rather easily and quickly.

Performance
---
The nForce2 chipset is well-respected in the hardware community for its great set of integrated features and solid performance. And for the nForce2 Ultra 400 Deluxe Limited, Leadtek simply took its already proven to be solid K7NCR18D Pro II motherboard, which is based on the nForce2 chipset, and added a bunch of package extras. Leadtek did not really tweak the chipset or anything to gain performance, so what this boils down to is that we should not expect any breakthroughs in performance here. We can only expect the "Deluxe Limited" to perform on par with its peers. That is why I will compare it to AOpen's AK79D Max (review) – to make sure that it is staying even with other nForce2 boards out on the street. One thing that I should point out is that I did not test the dual channel DDR functionality because I only have one stick of RAM. However, I do not believe this is a serious problem because dual channel performance is not that much better than single channel, at least not with my Athlon XP 2000+.
Test System:
Chieftec X-Sonic Aluminum Case (review)
AMD Athlon XP 2000+
512 MB Corsair XMS PC2700 DDR-SDRAM (CMX512-2700C2) – 1 DIMM
Western Digital 80GB ATA/100 HDD (8MB Buffer – WD800JB)
Microsoft Windows XP (SP1)
nForce Drivers – 2.45
NVIDIA Detonator Drivers – 44.03
SiSoftware's Sandra 2003 (version 2003.7.9.73)
CPU Arithmetic
Dhrystone ALU (MIPS)

Motherboard

Result

Leadtek nForce2 Ultra 400 Deluxe Limited
6139
AOpen AK79D Max
6163

Whetstone FPU (MFLOPS)

Leadtek nForce2 Ultra 400 Deluxe Limited
2490
AOpen AK79D Max
2482
Memory Bandwidth
Integer Buffered (MB/s)

Motherboard

Result

Leadtek nForce2 Ultra 400 Deluxe Limited
1984
AOpen AK79D Max
2017

Float Buffered (MB/s)

Leadtek nForce2 Ultra 400 Deluxe Limited
1870
AOpen AK79D Max
1895
File System
Drive Index (KB/s)

Motherboard

Result

Leadtek nForce2 Ultra 400 Deluxe Limited
30851
AOpen AK79D Max
30862
Nothing too surprising here. The two motherboards perform nearly the same. Even though the margin is slight, the AOpen board seems to be beating the Leadtek in every benchmark. I wonder if this trend will continue.
PCMark2002 Pro – Build 100
CPU

Motherboard

Score

Leadtek nForce2 Ultra 400 Deluxe Limited
5020
AOpen AK79D Max
5049

Memory

Leadtek nForce2 Ultra 400 Deluxe Limited
4261
AOpen AK79D Max
4294

HDD

Leadtek nForce2 Ultra 400 Deluxe Limited
1124
AOpen AK79D Max
1100
Once again we see that the "Deluxe Limited" performs on par with its nForce2 brother.
3DMark03 (version 3.2.0)
3DMark Score (3DMarks) – 4xAA/4xAF

Motherboard

Result

Leadtek nForce2 Ultra 400 Deluxe Limited
3014
AOpen AK79D Max
3032

CPU Score (CPUMarks) – 4xAA/4xAF

Leadtek nForce2 Ultra 400 Deluxe Limited
426
AOpen AK79D Max
410
More of the same with this benchmark. I was going to breakdown the individual scores for each test in the 3DMark03 test suite, but all it would show is more of the same trend, which is exactly what we should expect since the two products being compared are based on the same chipset.

Overclocking
As I have stated numerous times already, Leadtek is trying to gain the attention of overclockers with this motherboard. They have added what they call X-BIOS II to the standard Phoenix Award BIOS. This is where the user is allowed to adjust CPU multiplier and various voltage settings (see picture below). In the Advanced Chipset Features section of the BIOS, you can also adjust FSB frequency, memory frequency, and many other settings.
With an Athlon XP 2000+ (locked multiplier), my overclocking options are limited. But, I still decided to give it a try, since this board just invites it. I was able to raise the clock speed from 1.67 GHz to 1.75 GHz by increasing the FSB frequency to 140 MHz and setting the "Chipset Vcore Select" to 1.8 V. This increase pushed my PCMark2002 CPU score up from 5020 to 5253. I probably could have pushed it farther with some more tweaking of voltages, but I decided not to for the sake of getting this review done. I will probably try to in the near future, and if I have any spectacular results, I'll update this article with them.
| | | |
| --- | --- | --- |
| X-BIOS II | Memory Options | CPU Interface Options |
Conclusion
---
Pricing and Availability
Leadtek motherboards do not appear to be sold by many retailers. The one place I could find multiple Leadtek motherboards was newegg.com. I guess if you are not going to have too many companies selling your products, it would be good to have Newegg on that short list. By now, I'm sure that you are wondering how much all this mobo bling bling is going to cost you. At the time of writing this, Newegg was selling the regular K7NCR18D Pro II for $108 and the nForce2 Ultra 400 Deluxe Limited for $125. That makes a difference of $17. Sounds like a bargain to me. Not convinced? Let me break it down for you. For a measley $17, you get two rounded cables, heatsinks on MOSFETS, black PCB (even on the ACR card!), SATA power adapter cables, an optical audio cable, and more tweaking capabilities. Now, how does that sound? If purchased separately, the rounded cables alone would probably cover that $17 difference. In other words, you get a lot for that $17. There are other "enthusiast" solutions out there, but for this price, Leadtek has a competitive offering at a reasonable price.
Other Thoughts
Besides a great package for a good price, what does the nForce2 Ultra 400 Deluxe Limited have to offer? With heatsinks all over the place and the ability to tweak a lot of settings, this should be a very stable mainboard for a long time. Also, this motherboard features Serial ATA RAID 0 and 1 support, plenty of connection options from good ol' COMM ports to three FireWire ports and six USB 2.0 ports, and a layout that should work well for just about any system. However, the layout may not always work so well once the board is installed. With the memory voltage setting being controlled by a possibly hard to reach jumper and a fan header placed "under" the ACR slot, some tweaking or component replacement after installation may prove to be difficult. Luckily, these issues are easily worked around by removing components, though. Overall, my experience with this motherboard has been quite positive, and I would recommend it to anyone in the market for a topnotch, value-packed motherboard package.
Final Score
---
Performance

9

The Deluxe Limited performs as a motherboard based on the nForce2 chipset should, which means it performs well and could keep up with anything else in its class.
Features

9

Leadtek offers great features with the Deluxe Limited, including SATA RAID, an abundance of heatsinks, and an even greater abundance of tweaking options. With all its features, the Deluxe Limited should appeal to tweak fiends and performance hounds. The black PCB is also a nice touch, especially on the ACR card!
Bundle

9

Leadtek definitely comes through with a great bundle. Serial ATA power adapters and an optical digital audio cable are even included, which are two items that are not common in motherboard bundles. The rounded cables and ACR card are also great components of this bundle.
Quality

9

I did not have any problems with stability throughout my installation, testing and general use. The motherboard also seems and feels solid and constructed well.
Price / Value

9

For under $130, this motherboard package offers a lot of value, especially when you consider it is less that $20 more than its non-deluxe brother. There are definitely cheaper nForce2 motherboards out there, but they will not come with the kind of bundle the Deluxe Limited offers.
Final Score: 9
The Leadtek nForce2 Ultra 400 Deluxe Limited looks good, performs well, and comes with a great package. That's why I'm awarding it a score of 9 out of 10 and the Bjorn3D Seal of Approval.