Do you have a DVD player, DVD burner and an extensive collection of DVDs that you'd like to make backup copies of? If so, 321 Studios has a couple applications that can help you do this. Read this review of DVD X Copy and DVD X Copy XPress to find out if they can help with your burning desires.
Introduction
---
Now that DVD burners have reached a price that many people can afford, a lot of software to use with those burners has been hitting the streets from various companies. One of the competitive software markets seems to be the DVD movie archiving market. Obviously, this market is associated with people who have DVD movie collections that they have invested a lot of money in, so they feel it would be worth making a backup copy of all (or at least their favorite) DVDs in case something happens to them. 321 Studios is one company that is competing in the DVD burning software business. They have a few different products, and today I will be focusing on two of them, both being DVD archiving applications. First, I will take a look at DVD X Copy XPress, an application that allows easy and quick archiving of DVD movies. One concern with making a backup copy of a movie is that with today's media, the capaciy tops out at 4.7 GB, which is only half the size of the maximum capacity of a dual-layer DVD movie. Most movies don't actually seem to utilize the full capacity of a dual-layer DVD; however, they often use more than 4.7 GB of data, which means two discs would be needed any way. DVD X Copy XPress attempts to alleviate this problem by compressing the data to make it fit on one disc. I will also examine the standard DVD X Copy, which allows for a complete and perfect copy of a DVD movie, according to 321. The company actually changed the way they sell these products since we received our licenses. No change has been made to XPress, but 321 Studios no longer offers DVD X Copy by itself. They actually sell two different versions of DVD X Copy – Gold and Platinum. The Gold version basically just combines XPress and DVD X Copy into one package, and the Platinum package simply builds on the Gold package by offering more customization of the DVD archiving process.
Specifications & Features
---
Specifications:
Here are the specifications for these two applications, taken directly from 321studios.com.
DVD X Copy XPress
Specs:
System Requirements:
Features

Requires only ONE disc to make a back-up
Includes menus, trailers, and special features
User-friendly interface-only two clicks from start to finish
Creates a back-up of most DVDs in about an hour

Minimum Requirements

Windows® XP/2000/98/ME
Pentium III® 500MHz
128Mb of RAM
10 Gb of Free Hard Disk Space
A DVD-R(W) or DVD + R(W) Drive

Recommended Requirements

Windows® XP/2000/98/ME
Pentium 4® 1.4GHz
512Mb of RAM
12Gb of Free Hard Disk Space
A DVD-R(W) or DVD + R(W) Drive
DVD X Copy
Specs:
System Requirements:
Features

Burn DVD movies to DVD-R(W) and DVD+R(W) Discs.
Copies Special Features (Movie Trailers, Commentary, etc.)
Copies Full Multi-Channel Audio (Dolby Digital 5.1, DTS)
Copies Every Language Available on Original DVD Movie
Simple, One-Click Interface
Free Updates and Patches Available Online
Copies Episodic DVD Movies (The Simpsons, The Sopranos, etc.)
Specify Which Special Feature to Keep or Remove
Includes Advanced Compression Technology
Automatically Prepares Blank DVD Disc for Burning

Same Minimum and Recommended Requirements as DVD X Copy XPress

DVD X Copy XPress
---
Installation
The installation of this program is available in six different languages: English, Portuguese, French, German, Spanish and Italian. That's good…bom…bon…gut…bueno…buon… It was difficult for me to just get in one word in six languages, so I think 321 Studios deserves some props for providing six languages for this installation. Near the end of the installation, I was greeted with: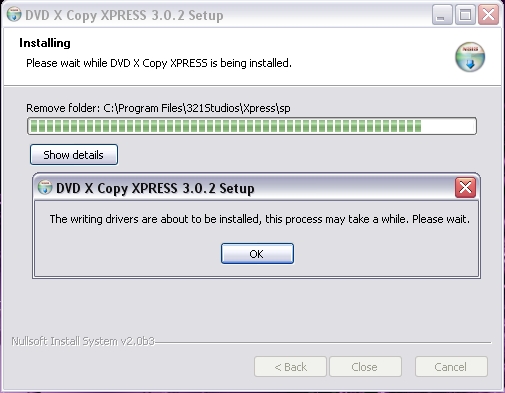 Even though it asks you to "Please wait" I figured it really wanted me to click 'OK.' So, I responded by clicking 'OK' and then after a few seconds I was prompted by another dialog: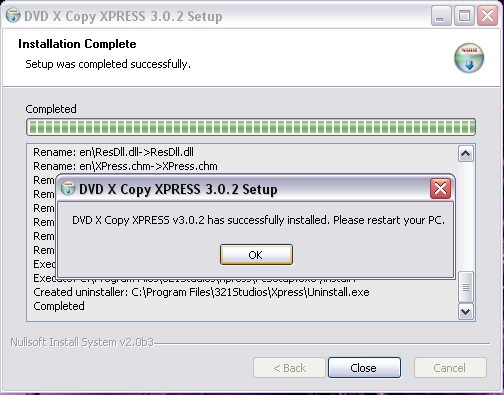 I'm always annoyed when an install requires a reboot, but some times files are locked or registry changes must be made, which require reboots, so I responded again with 'OK' and the PC rebooted.
After rebooting to finish the install, I was prompted to select my DVD burner from a pull-down list. For some reason it had my Plextor CD-RW drive listed, but I just chose the Plextor PX-504U and continued. It was a simple enough installation, and I had no problems.
Running the Program
Then, I ran the program and was prompted by a few different dialogs before I could get into the main interface. The first one asked if the DVD in the drive was a rental or a borrowed DVD.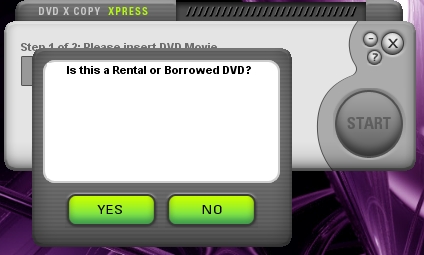 I responded with a "NO" since I own the DVD in the drive. Then, another dialog appeared giving the obligatory warning that the program is to be used for personal archival use only and reminding the user that copyright laws dictate fair use of copyrighted material. Here is what that warning looks like: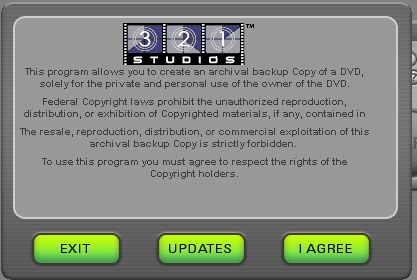 After agreeing to this statement, I received a warning that it could not use the default temporary directory that the program chose. That was fine because I didn't want it to use the obscure directory somewhere under "Documents and Settings" or wherever it chose. I selected a directory on a partition with more than 15 GB of free space so that I would have no problems with free space.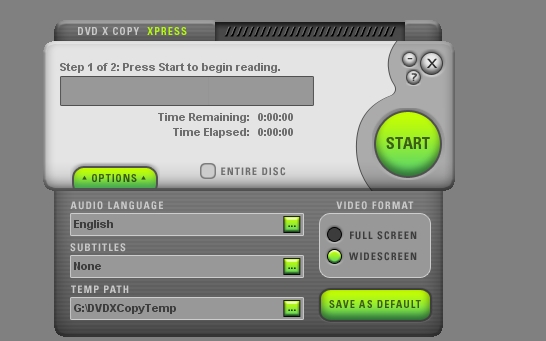 One thing you may want to keep in mind is to click the "SAVE AS DEFAULT" button after selecting a permanent "temp" (isn't that an oxymoron?) location so that you don't get the same prompt every time the program is started. If you select the "Entire Disc" checkbox, the options tab will go away since you will be copying the entire DVD.
You may be wondering what it was like to actually copy a DVD. Well, to test this out, I decided to create a backup copy of "Lock, Stock, and Two Smoking Barrels." I chose to create a copy that just had the movie in English with no features and no subtitles included. After clicking the start button, it took about 20 minutes to copy the DVD to the hard drive, then the program waited (it showed "Step 2 of 2: Insert blank DVD") for me to insert a blank DVD. I did and the start button changed from grayed-out to bright green. I clicked the button, and the program began writing the movie to the blank DVD+RW I had in the DVD burner. After about a minute the estimated time remaining showed as about 20 minutes. The recording process eventually finished, and the program displayed a prompt stating that the copy was successful. The program automatically deleted the nearly 4 gigs of files it copied to the hard drive to create the DVD. Just as expected, the DVD copy ended up being the same movie but without the extras and no menu whatsoever. You simply push play and get a warning that this is a backup copy (see pic below) and then the movie plays. Bada bing, bada boom. That's it. And it all fit on one 4.7 gigabyte DVD+RW. But my Panasonic RP62 DVD player did not like the DVD+RW backup version of the movie. It just kept spinning and making weird noises. I was not too surprised and wouldn't blame this on the software because that DVD player does not claim to support DVD+R or DVD+RW. I just thought I might get lucky, but I guess not. My 2+ years old Pioneer DVD-ROM drive was able to play the movie, though. I was very impressed. I thought that maybe using a DVD+R instead of +RW would maybe produce better results, but unfortunately I was wrong, the abbreviated version of the DVD copied to DVD+R once again was only readable by my Pioneer DVD-ROM drive. (Of course the DVD burner, the Plextor PX-504U, had no problems reading either one.)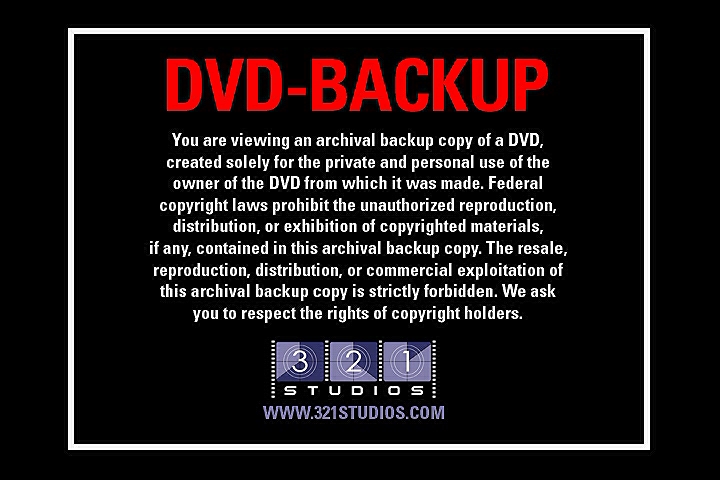 So, I decided I ought to try doing a full backup to see if that would work on the Panasonic RP62. Maybe something that DVD X Copy XPress is doing to the backups when it cuts stuff out is causing them to be difficult to read on my component DVD player (even though it's not spec'd to be able to read DVD+Rs or +RWs at all, Bjorn3D's Shane has reported to have success with it.) This time I chose "Leon: The Professional" as the DVD to back up. I checked in Windows Explorer and this DVD is over the 4.7 gigabyte capacity of one DVD+R disc, so I thought this would be a good way to test the program's ability to create a copy of a DVD that is greater than 4.7 GB and put it all on one disc. This would also allow me to check how the compression used by 321 Studios affects the quality of the DVD. When I started the copy process for this DVD, it showed an estimated time remaining of over 1.5 hours! I was shocked and went away from the computer for about half an hour and it was done, so I know it didn't take as long as the estimate said. Interestingly enough, it also had written only about 2.68 gigabytes of data to the temporary location. Writing the DVD took around 20 minutes. Surprisingly, this "Entire Disc" copy of Leon actually used up less physical space on the DVD+R than doing an "abbreviated version" of "Lock, Stock". Not surprisingly, this resulted in some artifacts in the DVD. For example, in chapter five, the camera pans down a hallway, and the smooth walls looked blocky and "moving" at times. Also, as I expected this copy wouldn't play in the Panasonic DVD player either.
Overall, the burning process was quite easy and the interface was intuitive. And 321 Studios also offers a help file that explains all the options of the program. However, I did not find the program to be flawless. Unfortunately, in order to save media, the progam obviously employs some sort of lossy compression, which degrades the quality of the movie. For a backup copy, this may be acceptable to some people, but for many who probably would only back up their favorite DVDs, the quality may be unacceptable. Another major issue I noticed with this software is that it does not allow keyboard only operation. If you don't have a mouse or can't use one, I guess you should look elsewhere. Also, it wants to access the Internet every time you start the program. The only reason I can see that it does this is because you can easily check if you have the latest version of the program by clicking the "UPDATES" button shown one of the dialogs (see the pic above). You can just run the program without letting it access the Internet, though, so it is not really a "Big Brother" type of thing where they are tracking the DVDs you copy. That's a relief.

DVD X Copy
---
Installation
The installation of this program is also available in the same six languages that XPress is available in. At the end of the installation, you first see one prompt telling you that the "WIN2K/XP Gearworks Drivers installed successfully." Then, you are asked to reboot your PC.
So, once again, 321 Studios provides a nice and easy installation process. And I had no problems with it whatsoever.
Running the Program
This time, I decided to see if I could make a backup copy of a more recent DVD, so I put "Black Hawk Down" in the DVD burner, and started up DVD X Copy using the shortcut that was put on my desktop. The order of warnings and prompts in this program were a little different than in XPress. When you start the program you get the warning: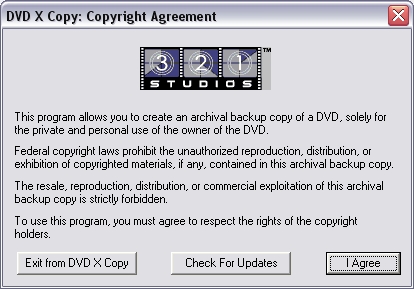 I clicked on "Check for Updates" and the program sent me to a web page where I was told that the latest version of the software is installed. That was nice to know, so I continued on knowing that I had the latest and greatest from 321. Also, you'll see the dialog below until you put a DVD in a DVD-ROM or DVD burner drive. You click "OK" and it just comes up again until you put in a DVD movie.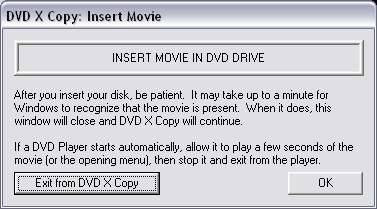 Then, you're greeted with the familiar, although not as nice looking as the XPress one, "Is this a Rental or Borrowed DVD?" dialog: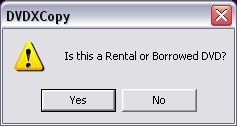 Say "Yes" and you see the following message:

Respond "No" and after a couple seconds I saw another dialog telling me that I could omit all special features on this DVD to make it fit on one DVD. I clicked "No" and I finally saw the main interface of the program.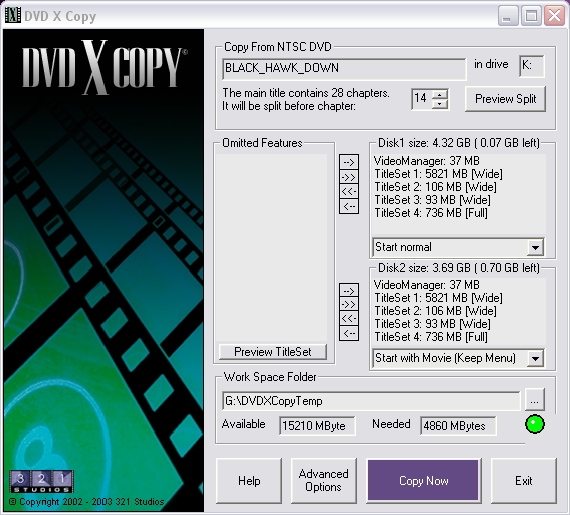 The program had broken down the movie into two discs and showed how the discs would be layed out. You are given a plethora of tweaking options. You can omit or keep certain features. On the Advanced Options window, you can select to use an external Nero burning engine or the default Gearworks one, skip to disc 2, and enable detailed logging. By clicking the 'Preview Split' button, you can see where the movie will be split on two discs if the movie requires two discs. One limitation of the program is that it will not recognize a path typed into the "Work Space Folder" text field. The user is forced to click the browse ("…") button in order for the program to check the directory's available space.
Burning a movie is easy. Once you click 'Copy Now' the DVD is copied to the location specified on the hard drive. After the copy is on the hard drive, the user is prompted with a dialog to start the burn process: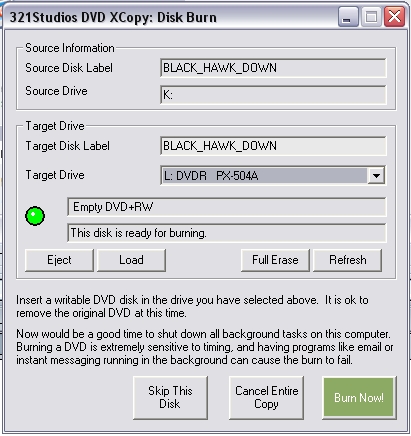 Among other actions, this window allows you to erase the disc in the DVD burner, pick the target burner, and start the burning process. Once the burning process is started a window appears to keep you informed of the progress of the copy. It looks like this:
Everything was fine until the end of the burning process. I received an error stating that the burn did not complete successfully. I checked the DVD copy, and it worked fine, though. As you can see in the picture below, the process was 100% complete according to the program, but the error happened as it was trying to finish the disc. Very odd, but at least the copy seemed to work fine.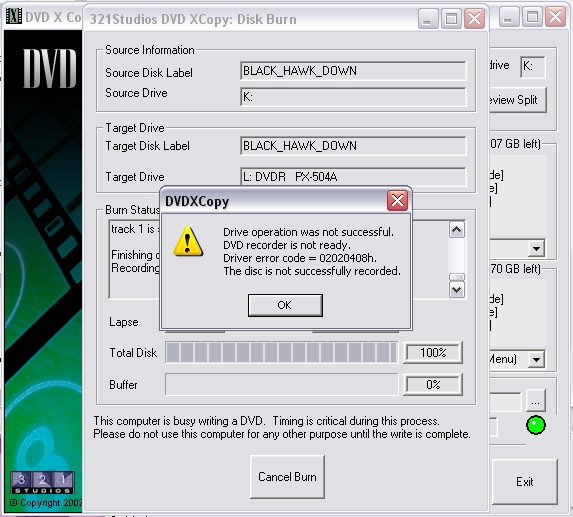 I tried to burn the second disc, and I received the same error. However, this disc seemed to work just fine also. I was baffled by these warnings, so I tried to burn "Lock, Stock, and Two Smoking Barrels" again, since I knew it had worked with XPress. Unfortunately, the burning process ended with the same warning as it did before. But this time the DVD did not play correctly. It kept looping on an opening credit that was shown before the movie even started. At this point I figured it may be a problem with the software and the DVD burner. I decided to check 321Studios.com to see if they have a list of problematic DVD players for their software. I found some information in the support section (I'd link it but the format of the link would not allow me to copy and paste it into here for it to work) explaining that there are incompatibilities with this software and the Plextor PX-504A, which is the internal DVD burner that my external burner is based on. I'm guessing it is safe to assume that what may affect the internal version of a drive will affect the external version of it. However, Shane of Bjorn3D has used this software with the PX-504A, and he has had no problems. For this reason, I don't totally fault the software for the issues I experienced. It may be some software or driver issue that I am having.

Conclusion
---
First of all, I should note that although I had problems with DVD X Copy, I believe these problems may be related to a known issue with this software and certain DVD burners or other software. Since I was testing the software with a burner on the list of those known to have issues, I cannot completely be certain that my experience with the software is what it would be with a DVD burner not on the problem list.
Overall, both DVD X Copy XPress and DVD X Copy did what 321 Studios claimed they would do. DVD X Copy XPress allows some one to back up any DVD onto one blank DVD, even if the original has more than 4.7 GB, the maximum capacity for current mainstream DVD media. However, it does this by applying a lossy compression algorithm that degrades the quality some. For people who aren't too picky about quality, this would be fine for them. The program also allows the user to remove language tracks and subtitles if desired. On the other hand, DVD X Copy allows a user to make a perfect copy of a DVD, as long as it fits on one or two 4.7 GB discs, which basically means any DVD movie out today. With this program, some DVDs could be split into one disc for the movie and one disc for the special features, and the program actually makes it easy for you to do just that. Both programs were easy to install and use, and both have good help files in case the options are not clear to the user.
DVD X Copy XPress Pros:
Easy to use interface
Back up dual-layer DVD movies onto one disc
Allows removal of unwanted languages, subtitles or full-screen/widescreen versions

DVD X Copy XPress Cons:
Compression used to make a dual-layer DVD fit on one disc degrades the quality of the movie
Warning message placed at the beginning of every DVD copy
No real keyboard navigation

For doing what it claims to do and doing it fairly well, although with some noticeable loss in quality, I give DVD X Copy XPress a 7 out of 10. This software would work well for some one who wants to archive their favorite DVDs but only wants to use one DVD for each one.

DVD X Copy Pros:
Nice amount of options for DVD archiving
Perfect quality backups
Easy to use and understand

DVD X Copy Cons:
Problems with some DVD burners
Warning message placed at the beginning of every DVD copy

It is important to note again that 321 Studios no longer offers DVD X Copy as a standalone product. It does competently perform the duties that it is claimed to do, so I will give it a 7.5 out of 10 for being a good application.