Kingwin makes some of the more stylish aluminum cases available today, and the KT-424-S-WM is no exception. With a window pre-installed, thumbscrews all over, a removable motherboard tray, tool-less drive installation and much more, it truly is an awesome case. Read the article to find out more about this great case.
Introduction
---
To me there is still nothing better than aluminum for a computer case. Not only is it much lighter than steel, but it's also much more stylish and attractive. When I saw the new aluminum cases with pre-installed windows at Kingwin.com a couple weeks ago, I just had to have one. Fortunately, Kingwin was kind enough to send us one to review!
When I was first pricing aluminum cases a couple years ago, the main brand available was Lian Li, and the cases were around $170 and more. I had fallen for aluminum and there was no way I was going to live without it, so I scraped up $190 for a PC60USB case. I still have the PC60, and it's been great. Thankfully, a good quality and great looking aluminum case no longer costs at least $170. Now they can be found for around $100, like the Kingwin KT-424-S-WM that I'm reviewing today. After inspecting this case and noticing the removable motherboard tray, nice pre-installed window, thumbscrews, folded edges and more, you'd probably guess that it costs more than that, but I'm happy to say that it doesn't. A closer inspection also reveals that Kingwin has been paying attention to what users like about Lian Li and other top-end aluminum cases, and they've been careful to work some of these aspects in as well as adding their own unique looks and features.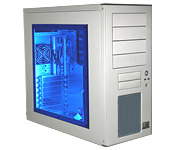 Features, Specifications and Package Contents
---
Features
High quality aluminum-mg alloy case with 2.00mm aluminum thickness.
Special anti-shock absorber system for h.d.d.
Front hidden fan controller.
1 clear side acrylic glass window.
2 front USB 2.0 ports.
1 front firewire port.
3 case fans.
Slide out motherboard plate.
Folded edges to protect your finger from cuts and scrapes.
If you doubt the high quality of this case, just take a look at that first bullet under features again. The aluminum is 2.00mm thick and is a testiment to the high quality of this case. Many other cases are only about 1.00mm thick, and sometimes aluminum cases seem flimsy. You won't have that issue with Kingwin's KT-424 line (available with or without a window and in black or silver) though. The 2.00mm thick panels are very solid, but the thickness does add to the weight of the case. Since the KT-424-S-WM is aluminum though, it is still considerably lighter than an equivalent steel case.
Specifications
Tower size: Mid Tower.
Dimension: 480 mm (19″)D x 208 mm (8 1/8″)W x 440 mm (17 1/4″) H
Drive bays: 4 x 5.25″, 2 x 3.5″, 4 x 3.5″(hidden).
Slots: 7
Filter: 1
Panel features: 2 x USB, 1 x Firewire, 1 x power, reset, led.
Power supply: No.
Material: Aluminum alloy.
Case fans: 3 case fans.
Unit weight: 20 lbs.
As you can see, the KT-424-S-WM includes three 80mm fans, two of which are installed in the front for air intake while the third is installed in the back for air exhaust. I would rather see two fans in the back, but the configuration Kingwin chose still does a good job cooling the system. This case also includes ten drive bays (4 x 5.25″ and 6 x 3.5″), which should be more than adequate for most applications. Besides always wanting aluminum material when shopping for a case, I also want at least front USB ports. So, I was glad to see that Kingwin designed the KT-424 line with two front USB 2.0 ports and one front FireWire port.
What's in the Box?
KT-424 Case
User's Guide
Installation Hardware

16 HDD screws
8 5.25″ bay screws (left side)
8 5.25″ bay screws (right side)
Lock kit (screws and pieces to attach to frame and motherboard tray)
4 hex head screws for PSU
1 spare thumb screw
13 motherboard clip-on stand-offs
13 screws for motherboard and CPU
3 spare cable ties

Features – Taking a Closer Look
---
Not only is the KT-424-S-WM one of the better looking cases available right now, but it also has some of the best features you can find in a case, such as a removable motherboard tray, tool-less 5.25″ drive installation, shock absorber system for hard drives, folded edges inside to prevent getting cut, hidden front fan controller and a pre-installed window.
As I took the case out of the box and began photographing it, I could really tell that Kingwin's designers truly put some extra thought into the design of the KT-424 cases. The KT-424-S-WM reminded me of my Lian Li PC60USB on several occasions as I took a closer look at the features. The generous use of thumbscrews throughout the entire case and the motherboard tray are just two of the things that are similar to Lian Li's PC60 case.
If my pictures did it justice, you can see that the KT-424-S-WM is a beauty. The fourth picture shows a close-up of the window. At first when I figured out it is installed on the outside of the panel and before I had actually seen it, I wondered how it would look since most windowed cases have the windows installed internally, resulting in a flush panel surface. Now that I've actually seen it in person, I like how it looks, but if for some reason you don't, you could just take it out and then re-install it on the inside. The window also has a dark blue tint to it at the edges, but the entire window is not tinted blue.
Even the power and reset buttons on the KT-424-S-WM are more stylish than your average case's buttons. The oval shaped HDD (hard disk drive) and power LEDs are pretty slick as well. The style doesn't stop there though. Kingwin chose a contrasting gray color for the front fan cover, and it adds a nice touch to the overall look of the case. Style wasn't Kingwin's only concern though of course; usefulness was also a priority, as demonstrated by the inclusion of the front fan filter and fan speed control knob (shown in the fourth picture above). This filter should help keep dust out of your system, and the hidden fan controller will help you maintain as cool and quiet of a system as you desire (never turn the fans down too low though, as that could result in your system getting too hot). Hiding the fan controller obviously doesn't make it easy to use, but keeping it hidden maintains the sleek look of the case. Also, keep in mind that the front bezel pops off very easily, which makes it a little less of a hassle to adjust those fans if you decide to do so frequently. Convenience is also provided by the KT-424's features thanks to the front panel USB 2.0 ports and FireWire port. With so many people using USB flash drives, MP3 players, digital cameras and other gadgets, front access to these types of ports is an essential part of a great case.
In these pictures, we see the back of the case. Kingwin was kind enough to include a color-coded standard I/O shield. It's too bad so many motherboards don't use the standard I/O shield because this included one is much higher quality than what is typically included in motherboard packages. The third picture shows a very clever addition, a couple holes or cable holders. One of these holes is designed for the case's FireWire (IEEE1394) cable to go through and then you can connect it to your FireWire port. This is only necessary of course if you don't have an internal connection on a FireWire card in your PC. If you're confused, don't worry. I'm going to cover this unique feature in more detail on the next page. The final picture shows the bottom of the case, which has four rubber feet installed on it.

Features – Opening It Up
---
The good looks and great features aren't only on the outside of course. Kingwin has added some very practical and unique features to make the KT-424 a top-notch case. One of the most convenient features any case can have is thumbscrews, and the KT-424-S-WM has thumbscrews everywhere, including the side panels, PCI slot covers, motherboard tray and 5.25″ drive covers.
In addition to thumbscrews contributing to the convenience of using the KT-424, Kingwin added a removable motherboard tray, which has become a favorite feature of many enthusiasts. Slide out the tray, do your business, then slide it back in and hook everything back up. It can save time and headaches. It's a great addition to this awesome case.
The mobo tray slides out very easily and is very similar to the units used on Lian Li PC6x series cases, at least it's very comparable to my PC60's tray. In order to install a motherboard on the tray, you have to insert the necessary number of clip-on stand-offs, which is also just like the PC60's tray. They are very easy to install — just pinch one together with your thumb and index finger and snap it into the small rectangular cut-outs (see the fourth picture above).
These pics don't really show anything too exciting, just the internal cables necessary for hooking up the front access ports, front fan power and the motherboard connectors (power, power LED, reset, HDD LED, speaker). Even with such simple things, Kingwin still managed to impress. Take a look at the third picture above if you haven't already. The motherboard connectors can be separated from its main set of wires so that you don't have to disconnect all those little connectors every time you need to pull out your motherboard or motherboard tray. Nice touch! Additionally, the USB and FireWire cables are a cool-looking silver color, nicely wrapped to help keep your case a little tidier.
Speaking of the internal cables, these two pictures show how the FireWire cable hole / holder is used. Simply unscrew the screw, take off the small metal holder piece, slip the cable through the hole and then screw the metal piece back on if you want to help hold the cable in place. I've seen plenty of cases with the same cable pass-through concept, but none of them included this cool little touch that Kingwin has added. Although, as I mentioned earlier, if you have an internal connection available on a FireWire PCI card, then you have no reason to snake it out the back like this.
Thankfully taking off the front bezel of this case is pretty easy, because that's what you have to do to remove the 5.25″ bay covers. As you can see in the first image above, each bay cover is held in by one thumbscrew in the front, but that's not the only screw holding them in place. If you look at the second picture, you can see what's behind the right side panel (which is also quite easy to remove thanks to thumbscrews) — another thumbscrew for each bay cover. I've never seen another case with bay covers secured in this manner, but I definitely like how easy it is to remove them.
The third and fourth pictures above display a couple of the more interesting features in the KT-424 case. In the third picture, you can see the tool-less installation setup for 5.25″ drives. This system works great and is quickly becoming my new favorite over drive rails. All I had to do to install a CD-RW drive was slide it in from the front of the case into a 5.25″ bay, then push the off-white plastic slider forward to secure the drive in place (which is what I'm doing in the pic), and finally push down the locking mechanism. The drive won't budge after doing this. This is a great design! You can use screws if necessary (if you want to make sure the drives don't come loose). The fourth picture shows the black rubber inserts in the hard drive holes. These rubber inserts are the shock absorber system and are the reason for the special longer HDD screws included with this case. After installing a hard drive in the case, it felt like it was kind of loose, but that's because the rubber is soft and has some 'give' to it, so it's supposed to be that way. It seems weird at first, but it works fine.
As I mentioned before, thumbscrews are used throughout the entire KT-424 case, and in the first picture you can see the thumbscrews holding in the PCI slot covers. This is one of my favorite things in the Lian Li PC60, and it's great to see Kingwin include it here. They really make swapping out PCI cards a breeze. No more searching for that screwdriver under all the empty pop cans and game boxes on your desk when you want to put in a new PCI card! The second picture shows the back 80mm fan, which has a 3-pin connector for a motherboard fan header. The last picture shows the two front fans, which are stacked vertically and include a female and male molex power connector. I am a big fan of case designs that allow for air to blow directly across the hard drives, as they help to keep the drives cooler.

Installation and Testing It Out
---
No case review is truly complete without a section covering actual use of the case. All of the cool features and cool looks don't mean jack if the case is completely uncomfortable or awkward to work in. Here is a list of components that I installed in this KT-424 case.
Installation in the KT-424 was a breeze. Thanks to the folded edges inside the case, I never even came close to being cut. The tool-less 5.25″ drive installation mechanism worked flawlessly, and the abundance of thumbscrews helps make installing components in the case easy and quick. The removable motherboard tray also adds to the installation experience. There is enough room in the case so that you don't have to remove the tray, but you can have all the room you want if you do pull it out. It makes motherboard, RAM, CPU and expansion card installation safer and more comfortable.
I included the first picture above to give you an idea of how much clearance there is between the power supply and the CPU heatsink and fan. I was pleasantly surprised by the amount of room there; many mid-tower sized cases get quite cramped in that area. I took the second and third pictures after everything was installed. I really like the looks of that big window, especially with the red MSI mobo and Visiontek 9800 Pro behind it. The last two pictures show the case after adding some light — a green cold cathode from CrazyPC. In the fourth picture, the room lights are still on, and in the fifth, the room is almost completely dark. I think it looks great.
After installing everything, I paid special attention to the system temperatures reported by the motherboard to make sure the case was doing an adequate job in the cooling department. When the system is idle, the motherboard reports a system temp of about 39C and a CPU temp of 37C. I was initially concerned about only having one exhaust fan, but that seems to not be a problem. The case and its three included 80mm fans do a fine job cooling, but the system was a little louder than I expected it to be. It was by no means too loud in my opinion; I just expected it to be slightly quieter.
Conclusion and Final Score
---
Throughout this review, I have compared the KT-424-S-WM to my Lian Li PC60, and now I can finally say that I like the Kingwin case just as much as the PC60, which is saying a lot considering how popular and highly regarded the PC6x line is. There are some things that Kingwin could improve on though. For one, the side panels don't have any indention or pull to make sliding them off easier. After unscrewing the thumbscrews, I find myself searching for a way to slide off the panel. Another thing that I'd like to see is two fans in the back instead of just one. The cooling potential of the case could be improved by doing this. Finally, the front FireWire connecting cable is a pass-through cable that will have to go through your case and out the back if you don't have an internal connection on a PCI card. Why not make this connector the type that can connect directly to the motherboard, just like the USB connectors? Many newer motherboards feature USB and FireWire connectors onboard. It would also be nice to see a front headphone jack for more convenient headphone hook up.
Despite the few shortcomings of this case, I would still recommend it to anyone looking for a high quality case with great features. I found it to be very easy to work in. There's enough room to comfortably connect IDE and power cables and to do all the other necessary installation steps. Plus, the motherboard tray slides out effortlessly for even easier installation of many components. This combined with the tool-less 5.25″ bay installation mechanisms makes setting up a PC with the KT-424 seem to be quicker than with the average case. For those new to setting up PCs, Kingwin included a very handy User's Guide that illustrates all the major installation steps. The guide isn't perfectly written, but the pictures are very helpful. Of all the mid- and full-tower cases I've used, I've never seen a guide like this included before. It is definitely a very nice inclusion in the package.
As I alluded to before, I'm a huge fan of aluminum cases, and I also really like pre-modded cases with windows. Kingwin has created a great windowed aluminum case. If I were shopping for a case right now, I would definitely consider the KT-424-S-WM and other cases in the KT-424 line. These cases put Kingwin at the top of my list for high quality aluminum cases, along with Lian Li and Cooler Master. That's definitely good company to be in, and I'm very excited to see what else Kingwin comes up with in the near future.
Pros:
Removable motherboard tray
Thumbscrews everywhere
Great looks — brushed aluminum and pre-installed window
Easy to work in — adequate room and folded edges
Tool-less 5.25″ drive installation
Helpful user's guide included
HDD shock absorber system
Front USB 2.0 and FireWire ports
Great quality yet very affordable
Cons:
No indention or handle of any type to make removing side panels easier
Only one back fan
Pass-through connector for front FireWire port instead of motherboard type connectors
No front audio jacks
Final Score
Installation

9.5

The removable mobo tray, tool-less 5.25″ drive installation feature, thumbscrews and adequate room make installing components in the KT-424 very easy and comfortable. The detachable motherboard connectors for the power and reset buttons and HDD and power LEDs are great too.
Features

9

This case has a bunch of great features, and it looks great too. The pre-installed window looks great, and the shock absorber system for HDDs is a welcome and innovative touch. There's also a mobo tray, front fan filter, front fan controller, thumbscrews, and the tool-less 5.25″ drive installation mechanisms. Two things I would like to see is another fan in the back for greater cooling potential and perhaps change the FireWire connector from a pass-through design to the type that connects directly to a motherboard, like the USB connectors are.
Quality

9.5

With 2.00mm thick aluminum and folded edges throughout, the KT-424 is undoubtedly a high quality case.
Price / Value

10

Kingwin has managed to provide a high quality aluminum case at a great price. There are very few cases in this price range that can match the quality, features and looks of the KT-424-S-WM. At only $95 @ Newegg, this case is a steal.
Final Score: 9.5
If you want a great aluminum case with a pre-installed window and top-notch features, then you can't lose with the KT-424-S-WM. I highly recommend it! Kudos to Kingwin for making such a great case.
| | |
| --- | --- |
| | Kingwin's KT-424-S-WM was a great case before I realized the price, but once I saw that it costs just under $100, it became a really great case and an excellent deal. Right now, Newegg has this case for $95, and that makes it hard to pass up. Very few cases offer as much bang for the buck as the KT-424-S-WM. For that reason and because of its great looks and awesome features, I'm awarding it a 9.5 out of 10 and the Bjorn3d Golden Bear Award. |