The Super Lazer LEDs from Xoxide are an affordable and flexible way to add light to your case. You can focus each of the three independent LEDs on different components in your case, or you can use all three to add a lot of light to your system.
Introduction
---
Many different options exist to light up your case, including cold cathode tubes, cold cathode fans, LED fans and LEDs. Today, I'm going to take a quick look at a new member of the LED family — Super Lazer LEDs from Xoxide. Everybody has a preference as to how he/she lights up the inside of a case, and these might be just what you're looking for if you'd like an alternative to cold cathodes. Check out my impressions of the Super Lazer LED kit and some pictures of it below.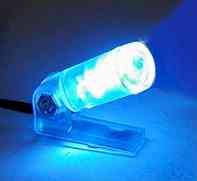 Features & Impressions
---
Features:
Easy adjustable translucent housing
Self adhesive mounting
Focal Beam Magnifier
200,000 hours of use under normal conditions
Five times brighter than standard lazer LEDs
Kit Contents:
3 independent LEDs
On/Off/Flash switch
Small inverter
Male & female 4 pin molex connector
Double sided tape attached to the base of each LED's housing
As can be expected, the Super Lazer LED kit comes with everything you need to simply plug it in and turn it on. You will of course want to do a little more work than that to position the LEDs in good places inside your case. Thanks to the double sided tape and adjustable base that can swivel up to 180°, finding good places for the best lighting shouldn't be too hard. You can focus the beams in a way to spread the light out as much as possible, or you can focus each light on a specific component or area in your case.
The kit seems to be good quality, and the wires should be long enough for most cases / users. The switch has three positions: on, off and flash. The flash mode sets the LEDs to flash on and off. All three LEDs flash simultaneously about once every second. Each LED's base and the inverter have pre-applied double-sided table, so you can stick them almost anywhere you want. Additionally, these Super Lazer LEDs are supposedly five times brighter than normal lazer LEDs.
How Do They Look?
---
The most important thing about a kit like this is how it actually looks once it's installed. How much light does it provide? How well does it light up a case? Well, I'd have to say it provides quite a bit of light and lights up the inside of a case very well, especially if you position the LEDs in the right places. The LEDs are very bright, as you can see in the pictures below. The first shot shows the LEDs lit up, and the second picture shows one LED being pointed at my case side panel.
Now let's take a look at the Super Lazer LEDs placed inside a case with them turned off and turned on. The pictures show the case in the dark without the LEDs turned on, followed by the same picture but with the LEDs turned on.
Unfortunately, my pictures don't really do the kit justice. The LEDs actually seem to fill the case with more light than the pictures show. Regardless, it is easy to imagine how these would work great for focusing light on a specific area or component (or three different ones).
The possibilities with this kit are only limited by your imagination. If you can't type well in the dark, you could probably use these lights externally to light up your keyboard. Or if you want to show off that new $500 video card, focus one or all three LEDs directly on it.
Conclusion & Final Thoughts
---
The Super Lazer LEDs from Xoxide should definitely be on your list of considerations if you're looking for some new or additional case lighting. The kit comes with everything you need, and the LEDs are very bright. Additionally, LEDs tend to not get too hot, which is a plus if you don't want to add unnecessary heat to your system.
Xoxide offers this kit in green, red, blue and ultraviolet for about $15. The kits are very flexible and affordable. I think they'd make a great addition to any modder's collection of light products.
The Super Lazer LED kit is very bright, looks great, is top quality and has many different uses. I'm awarding it an 9 out of 10.