A few months ago we reviewed the Leadtek K7NCR18D PRO and loved it. Now it is time to take a look at the updated Leadtek K7NCR18D PRO II, which includes 400MHz FSB support. Is it as good or even better?

Introduction
---
Even though many of us probably first heard about Leadtek three to four years ago, they actually have been around since 1986. They do not only make the WinFast Series of graphics cards but also motherboards (they actually used the original nForce for their first motherboards), TV Tuners and many other pieces of hardware.
We have reviewed quite a few pieces of hardware from them:
As you can see from the last item listed, we have already reviewed the first generation of this board. Not much has changed on the board since that review EXCEPT the nForce2 Ultra 400 being the new chipset. The difference between the nForce2 and the Ultra 400 is that NVIDIA has worked hard with the board makers to make sure the design of the board could handle 400MHz FSB (front side bus) and an improved version of the nForce2.
Features
---
I won't bore you with the complete specs of this motherboard. They can be found at Leadtek's site. The interesting specs of this motherboard are:
CPU Support: AMD Athlon/XP/Barton/Duron Socket A processor running at a bus frequency between 200 to 400 MHz (DDR)
Chipset: NVIDIA nForce2 Ultra 400 + NVIDIA nForce2 MCP-T
Memory support: Supports 3 184 -pin DIMM sockets for DDR -SDRAM module (PC2100, PC2700, PC3200)
GF4 MX graphics
2 SATA ports
3 IEE1394 FireWire ports
Second LAN port
Optical fiber by SPDIF
RR/RL & Center/Bass audio jack
One interesting thing to note is that if you read Leadtek's listed specifications at the link above, they do not list 200 MHz support in their CPU support list. I think they just copied over the old list from the K7NCR18G-Pro and forgot to add the newer CPUs.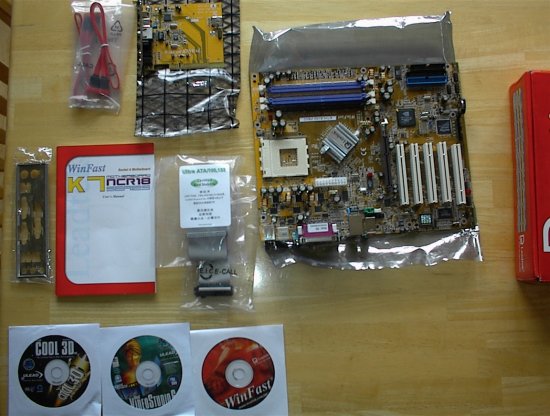 Benchmark
---
The shipping version of the board supports the AMD Athlon XP 3200+, which you already know has a 400MHz FSB. Since we have basically reviewed the earlier version of this board without the Ultra 400 platform processor, we will concentrate on looking at what makes the Ultra 400 a better board.
Many people have not been able to get the original nForce2 to run at 200MHz/400FSB. These problems usually stem from the fact that the board makers haven't tested their motherboards enough at the higher speed as well as the chipset not being built for 200MHz/400FSB.
To test the benefits one can expect from a Leadtek K7NCR18D PRO II, we have installed an Athlon Barton 2800+ XP in an Asus A7N8X Deluxe 1.4 Rev board and the PRO II board.
We will leave the 2800+ at normal speeds in the ASUS board (166×12.5) since we did not have much luck overclocking it, but in the PRO II board we have set the CPU multiplier to 11 and the FSB to 200MHz/400MHz. This gives the CPU a speed of 2075 MHz for the ASUS motherboard and 2200 MHz for the Leadtek Pro II. The difference in CPU speed is 6%. Going from a 166/333MHz FSB to a 200/400MHz FSB results in about a 22% increase in MHz. So, looking at these scores, we should be able to expect around 6-20% increase in performance in those benchmarks that rely heavily on the CPU and memory.
Test Computer Setup
AMD Athlon 2800+ XP (AMD Retail Fan and Heatsink Used)
Asus A7N8X Deluxe vs Leadtek K7NCR18D PRO II
768 MB of Corsair XMS 3200
120GB WD SE
NVIDIA 5900 Ultra
Business Winstone
| | |
| --- | --- |
| Motherboard | Score |
| ASUS (2800+ @ 166×12.5) | 32.6 |
| Leadtek (3200+ @ 200×11) | 39.9 |
This benchmark tests the system with a variety of programs. The Leadtek motherboard draws ahead with about 16%, which is more than if only the CPU speed were important.
PCMark 2002
| | |
| --- | --- |
| Motherboard | Score |
|   | CPU |
| ASUS (2800+ @ 166×12.5) | 6198 |
| Leadtek (3200+ @ 200×11) | 6656 |
|   | Memory |
| ASUS (2800+ @ 166×12.5) | 5170 |
| Leadtek (3200+ @ 200×11) | 6310 |
PCMark 2002 shows us that the CPU speed increases as expected, and we also see a very nice jump in memory performance from 333FSB to 400FSB. This extra memory performance comes in handy when doing video and music editing.
SiSoft Sandra 2002
| | |
| --- | --- |
| Motherboard | Score |
|   | CPU Dhrystone ALU |
| ASUS (2800+ @ 166×12.5) | 7489 |
| Leadtek (3200+ @ 200×11) | 8179 |
|   | CPU Whestone FPU |
| ASUS (2800+ @ 166×12.5) | 3179 |
| Leadtek (3200+ @ 200×11) | 3349 |
|   | Memory Int Buff |
| ASUS (2800+ @ 166×12.5) | 2548 |
| Leadtek (3200+ @ 200×11) | 2891 |
|   | Memory Float Buff |
| ASUS (2800+ @ 166×12.5) | 2432 |
| Leadtek (3200+ @ 200×11) | 2669 |
Once again as expected we find the faster CPU and FSB providing a good performance increase.
3DMark2001 SE
| | |
| --- | --- |
| Motherboard | Score |
| ASUS (2800+ @ 166×12.5) | 15199 |
| Leadtek (3200+ @ 200×11) | 17532 |
The default benchmark is run at a resolution of 1024×768, which makes it more dependent on the CPU/Memory than on the videocard, but a healthy 16% speed increase isn't bad at all.
Conclusion
---
Using the Leadtek K7NCR18D PRO II with a Barton CPU can buy you some extra power with the 400MHz FSB. Since the nForce2 unlocks the Barton core without any tricks, it is the perfect CPU to use with this motherboard. A 3200+ Barton retails at around $450 while you can find a 2800+ Barton for $180. I think you can see the value of coupling a 2800+ Barton with this motherboard. The 2500+ Barton could be an even more interesting CPU since a lot of people seem to be able to overclock it up to 3200+ speed.
The only real problem we found with the board was figuring out the sound hook up for our Klipsch 4.1 speakers. The metal I/O shield labeling is backwards. It took us a good 10 minutes of messing around and moving speaker connections until we got it working with NVIDIA's SoundStorm Speaker setup program.
We also wish Leadtek would put their drive I/O connectors toward the middle of the board. In my Antec 1080 Plus case, the stretch to the CD and DVD drives was tough.
Final Score
---
Features

9

This board has everything I could think of wanting. The only other thing we could think of was including power adapters for serial ATA drives.
Bundle

7

If you ever have purchased any other Leadtek products, you will find they all for the most part include the same bundle.

Quality

8

For not being as large as ASUS or MSI in the motherboard market, Leadtek still makes a high quality part.
Price

8

Considering everything you get, $114.00 US is a good price for a stable product with all these features.
Total: 8
We loved the original K7NCR18D Pro, and this followup is as good if not better due to the 400MHz FSB support. This time there is a lot more competition in the nForce2 motherboard market, but I'd still consider this motherboard one of the best.