With more and more gamers considering LCD monitors as their main monitors and/or for LAN party systems, it's nice to see a reasonably priced, good performing 17″ 16ms offering from Solarism. So is it good for gaming? Read the article to find out!
Introduction
---
Here at Bjorn3d we frequently get asked about LCD monitors and gaming. Do games look alright? What about "ghosting?" Should I even consider an LCD monitor if I play a lot of first person shooters? Until recently, the answers to all of those questions would have led the inquisitor to purchasing a CRT monitor because serious gamers couldn't really be happy with LCDs. More and more monitor manufacturers are designing LCD monitors with gamers in mind though, and that mainly means faster pixel response times.
The current magic number in LCD land is 16… a 16ms pixel response time is the highest (any higher is too slow) a gamer should consider in order to have virtually all ghosting eliminated. No doubt we will see even faster, such as 12ms, LCDs soon. For comparison, a regular CRT monitor has a response time of less than 1ms, so ghosting is never an issue with CRTs. Another issue gamers should consider is the native resolution of the LCD monitor. The native resolution is the resolution at which the LCD produces images and text most accurately or clearly. Let's take a 17″ LCD with a native resolution of 1280×1024 as an example. Any time an application or game needs to run at a resolution different from 1280×1024, you will lose image clarity and may notice a fuzzier picture. For more on LCDs and gaming, check out Jim Witkowski's "A Gamers Guide to buying a LCD monitor" at Monitors Direct.
The main benefits of LCD monitors versus standard CRT monitors are fairly obvious and repeated time and time again — smaller footprint, lighter (therefore easier to haul to a LAN party, a big plus in my books!), less glare, sleeker, sexier designs, etc. And the main disadvantage of LCDs almost always shortly follows — they're quite expensive when compared to their CRT brethren.
Solarism is a fairly new company and many of you may be hearing the name for the first time. So, here's a bit about Solarism from their web site:
"Solarism Display Technology Incorporated was established in April 2001 and headquartered in San Jose, CA, the heart of the Silicon Valley. Solarism is a world-class manufacturer of multimedia TFT-LCD monitors with Advance Brightness Technology (ABT) and is creating a quality standard for tomorrow's LCD monitor. The company has over 30 years of expertise in optical color display and a comprehensive R&D team continuously improving the quality of LCD technology."
Features and Specifications
---
Features
Flex-view: Enables adjustments of the base to fit your personal comfort level
New No ghosting: Fast response time of 16ms to prevent the annoying "ghosting"
New Wall mount: Convert desktop to wall mount display within seconds without removing the base. Strategically placed wall mount slots for easy installation.
No eye fatigue: Prevent eyestrains and fatigue
High Contrast: High contrast ratio of 450:1 (Typical contrast ratio 300:1)
Solarism Flex-View LM-1730
(click thumbnail for bigger pic)
The Flex-View feature allows many different adjustments
Specifications (from Solarism.com)
| | | |
| --- | --- | --- |
| Panel | Type | TFT Active Matrix LCD (16.7 Million colors) |
| | Size | 338(H) mm x 270(V) mm (17″ diagonal) |
| | Pixel Pitch | 0.264 mm |
| | View Angle | 170o (H) /170o (V) |
| | Brightness | 260 cd/m2 |
| | Contrast | 450:1 |
| Frequency | Horizontal Rate | 80 KHz |
| | Vertical Rate | 75 Hz |
| Resolution | Maximum | 1280 x 1024 |
| Input | Signal | 0.7V p–/75 ohms |
| | Terminal | 15 pin D-Sub |
| AC/DC Power Adapter | Input | AC 100~240V, 50/60Hz |
| | Output | DC 12V/3.0A (MAX) |
| Power Consumption | Max | 36 Watts |
| | Standby | |
| Dimension Set | | 45.2 cm (W) x 37.7 cm (H) x 15.2 cm (D) |
| Weight | Net | 9.3 lbs. |
| Operating | Temperature | 0-40o C |
| | Humidity: | Less than 85% |
| Color | Black | |
| | | |
Package Contents
TFT LCD Monitor
Quick Installation Guide
VGA Cable
Power Adapter
Power Cord
Solarism Flex-View LM-1730 Package
(click thumbnail for bigger pic)
The LM-1730 and package contents
Let's Take a Closer Look
---
My first impressions of the LM-1730 were very positive. I really like the ultra-sleek, flexible design, and the controls being moved to the side of the screen instead of the front is quite unique. The spacious 17″ viewable screen competes quite nicely with a 19″ CRT monitor. I find myself explaining this to people frequently. Screen real estate is a whole new ball game in LCD land. While CRT (cathode ray tube) monitors typically have viewable sizes of about one inch less than their listed size, LCD monitors' viewable screen size is the same as their listed size. In other words, a 19″ CRT monitor actually only has a viewable screen size of around 18″, but a 19″ LCD has a viewable screen size of 19″. Take a look at the LM-1730 compared to a 19″ Hitachi CRT (the CM715).
17″ LCD vs 19″ CRT
(click thumbnail for bigger pic)

The LM-1730 compared to 19″ CRT
So, what's the point of all this? Basically, I just want to make those who were previously unaware that (as you can see in the image above) a 17″ LCD is a nice replacement for a 19″ CRT. You don't need a 19″ LCD to replace a 19″ CRT monitor if your main concern is getting close to the same viewable screen space. Obviously though, an 18″ LCD would be the perfect replacement for a 19″ CRT with an 18″ viewable image. But, most people don't notice the difference in screen real estate between a 17″ LCD and a 19″ CRT, at least that's what my experience has been.
Okay, back to the LM-1730. Solarism definitely wants to attract gamers with their new line of 16ms response time LCD panels (they also offer a 15″ version, the LM-1530). I'll get into gaming more in a little bit, but for now I'll tell you that it should be able to appease the average gamer and even some of the pickier ones. I have checked several times and have not been able to find any dead pixels on this LM-1730, which is great. There's nothing more disappointing than seeing those dead pixels right out of the box!
Solarism has an above-average dead pixel policy. If you ever have three or more dead pixels, you qualify for a no-hassle swap. It doesn't matter what kind of dead pixel you have either. There are actually different kinds of dead pixels, and some companies adjust their dead pixel policies to have different limits on each type of dead pixel, such as on, off, whole dead pixel or dead sub pixel. Solarism makes it easy though. If you have three dead pixels or more, then let them know, and they will take care of you. I also learned from Solarism that they use "P" grade panels for their units. The "P" stands for "Perfect" grade, and those panels are supposed to have no dead pixels at all. Nice job, Solarism!
Solarism LM-1730
(click thumbnail for bigger pic)
The LM-1730 from the front and the back
What is Flex-View?
The "Flex-View" design provides the user with a lot of flexibility when setting up the LM-1730. It shouldn't be too hard finding a comfortable position considering all the different ways you can manipulate the monitor. Height and tilt can be adjusted fairly easily thanks to the Flex-View stand. I say "fairly easily" because the adjustments aren't very smooth. It takes some care and effort, and you will definitely want and need to use two hands when adjusting the monitor. Once in position, the monitor will not slip though, so there's a good reason it's not too easy to adjust.
One of the cool things about this Flex-View design is that you can fold it almost flat and then mount it on a wall. You don't even have to remove the stand and attach special wall-mounting brackets like with most other LCD displays. But that's only half of this greatness. Just think about how easy it becomes to carry once it's folded as flat as it can go. I'm sure you LAN gamers can appreciate that, eh? Plus, at just over nine pounds, the LM-1730 is a breeze to take with you wherever you go.
Where Are the Screen Adjustment Controls?
By now, you have probably noticed the lack of screen adjustment controls on the front of the LM-1730 panel. Solarism came up with a unique solution for the controls that actually creates a more sleek looking unit — put the controls on the right side of the panel.
Buttons Are Over Here
(click thumbnail for bigger pic)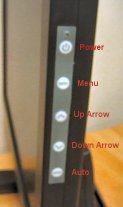 The adjustment buttons aren't hiding… they're right here!
While positioning the adjustment and power buttons on the side of the LCD panel may add to its sleek looks, it takes away from its ease of use. The buttons are a little hard to get used to, especially since you can't really see them when you need to use them. The nice thing about having controls at the front of the monitor is that you can look straight ahead the entire time as you push buttons and check to see how the changes are affecting the screen. With the LM-1730 though, you have employ one of two tactics: 1) memorize the order of the buttons, feel for them on the side of the panel and then press them when you find the right one; or 2) look at the side of the monitor every time you need to adjust something (i.e. brightness, contrast, etc.) and simultaneously try to look straight ahead at the monitor while the changes are made. I have opted to go with the former method, and once I got used to it, I've had little trouble adjusting the display. Many people don't even ever use the setup controls on their monitors, and few people use them frequently. Once you adjust it to your liking, you are likely to leave it be, so the sacrifice of ease of use for the extra sleek look was probably worth it.
One gripe about the actual buttons is that they don't respond consistently every time they are pushed. Most of the time I have to press harder than seems logical. I actually have to put my left hand on the opposite side of the monitor to brace it from the force of my button pushes! Once in awhile though, it doesn't take nearly as much effort to activate a button. Solarism should definitely take a look at improving the sensitivity and responsiveness of this button setup.
I think the only major problem I have with the LM-1730 is that it lacks a DVI connection. I'm not sure why Solarism opted to not support DVI with this display, but I'm sure some people will miss it. Honestly though, I wouldn't let that stop me from buying the monitor, and it shouldn't stop the average person from considering it because many of us wouldn't notice the difference between a VGA connected monitor and the cleaner signal provided by DVI (at least not without looking very closely).
Testing Out and Using the LM-1730
---
Everyday Use — Setting it Up, Office Apps, Web Browsing, Etc
I've used this monitor quite extensively over the past week and a half. My 19″ CRT Viewsonic happened to die about a week after receiving the LM-1730 to review! What kind of luck is that!? Now, the LM-1730 is my primary monitor, and I've been very happy using it. One of the best things to me is the lack of glare. Because of the glass surface on CRTs, they are really good at attracting glare from all light sources in a room — windows, lights, etc — and this is a problem even with flat CRTs. It was annoying, but I put up with it. I don't have to worry about it anymore though thanks to this LCD monitor.
If you looked at the package contents page, you saw that there's a power adapter and a power cord. I'm not sure why Solarism doesn't just connect the power directly to the unit. To me, having to deal with a big blocky adapter is a nuisance. All of the LCD monitors (mostly Dells) we have received at work connect the power directly to the monitor and don't go through an adapter. I'm sure Solarism had a reason for using an adapter; I'd just prefer not to have to use one.
After setting up the monitor, I adjusted the display. At first, I just hit the "Auto" button, and the monitor did a pretty good job of adjusting itself. Still, I decided to manually adjust some settings to my tastes. The LM-1730's on-screen display (OSD) menu is quite easy to use. Here are a couple pics of it.
Adjusting the Display
(click thumbnail for bigger pic)
Display adjustment OSD menus
In my experience with LCD monitors, they have problems with reds and blues right out of the box, so that's one of the first things I check. For instance, I make sure that light grey looks like grey and not a light blue, which can happen if the blue setting is too high. The LM-1730 wasn't too bad, but I did decrease the blue and red output a little. Currently, I have the brightness set at 65, contrast set to 50, red set at 45, green at 47 and blue at 41. Using the four side buttons (Menu, up arrow, down arrow and Auto) makes navigating OSD menu easy. I don't think anyone will have trouble using the OSD and menu system.
As I said above, I've been using the LM-1730 extensively (4-6 hours per night) for over a week now. That means I've used it for HTML coding, text editing, image creation and editing, reading on the Internet, playing games, and whatever else I do that I can't remember right now. There hasn't been anything about the LM-1730 that has disappointed me while using it for all these various functions. I've typed up a lot of article text and HTML code in an application called TextPad (like NotePad on steroids), and it's been great for that. I've also edited and created a lot of images in Paint Shop Pro 7, and the colors and overall appearance of photos and images look great to me. Keep in mind that I'm not a hardcore color accuracy nut, so I'm less concerned about it than a graphics designer would be. Office applications, such as Excel and Word, also looked great. I had no problems reading text in any of these instances. White or light text on black or dark backgrounds looks a little blurrier than it did on my old now-dead Viewsonic CRT monitor. Overall, I feel that the LM-1730 does a good job reproducing white and black on the screen.
Performance While Gaming and Watching Movies
I played Warcraft III, Unreal Tournament 2003, the Chaser demo and Quake 3 Arena with the LM-1730 connected to both a Gainward GeForce4 Ti4800SE and a MSI GeForce FX 5900. The monitor performed better than I expected. One of the main reasons I wanted to do this review was to test gaming on a 16ms LCD monitor. I had read repeatedly that Hitachi and Planar have good LCD displays for gaming, but I have never seen them in person. I can't say for sure about the other companies, but I can tell you that Solarism has a great LCD monitor for gaming. The LM-1730 didn't disappoint me at all.
Adjusting the Display
(click thumbnail for bigger pic)
First 2 shots – Nokia Monitor Test; Third shot – Q3A
The colors and vivid maps and scenery in games like Warcraft III and Unreal Tournament 2003 looked awesome. As you probably already know, Quake 3 Arena and UT2k3 are fast-paced first person shooters, which means they are most likely to cause ghosting while playing on the LM-1730. Fortunately, thanks to the 16ms pixel response time, the LM-1730 exhibited no ghosting (at least none that I noticed) in hours of "testing." That's not to say that ghosting is 100% eliminated, and you'd never see it if you bought this monitor. If it's happening, I haven't noticed it, and I don't think most people would see any ghosting either.
The colors and images looked great in all the games I tested. Whites looked white to me, and blacks looked really black to me as well. I switched back and forth between playing with the LM-1730 and the Hitachi 19″ CRT monitor, and the LM-1730 held its own quite nicely. I had to turn up the brightness on the LM-1730 when I switched from doing work (like HTML coding) to playing games though. After cranking up the brightness a bit, everything looks great.
The final testing I did of the LM-1730 was movie playback. Just like in games, some slower pixel response monitors have problems with faster scenes in movies. I watched some fast-paced scenes in several action movies, such as Bourne Identity and Face/Off, and they played back just fine. After increasing the brightness a little because the movies were too dark otherwise, the movies looked great too. In addition to handling fast action sequences, I also wanted to see how very colorful scenes looked on the LM-1730. What better way to do that than to watch a cartoon, namely Disney's Hercules. Once again, the movie looked great after I turned the brightness up. Colors looked good and about the same as they do on my TV.
One thing I haven't mentioned yet is that the LM-1730 even looks pretty good at non-native resolutions. At 800×600 and 1024×768, the text on screen is slightly blurry, but it is still very legible. You have to get close to really notice the blur. In games, scaling down is also fine and doesn't affect gameplay negatively at all. It's important to note that this is a weakness of all LCD monitors, and not just Solarism's units. As I said, the non-native resolutions still look pretty darn good (barely blurry), which is better than a lot of other LCDs on the market.
Conclusion and Final Score
---
Solarism really delivers a top notch monitor with the Flex-View LM-1730. While there are minor flaws, such as the lack of DVI input and sometimes annoying adjustment buttons, the monitor is very sleek and well designed. Images on the screen looked sharp and text was easy to read. I saw no ghosting during hours of gaming, and the monitor would be easy to fold up and carry to and from a LAN party. Afterall, it weighs less than ten pounds.
I'm really looking forward to seeing what else Solarism offers to appeal to gamers in the near future. Gamers and other people out there looking for a great LCD monitor should really remember Solarism and the LM-1730. For about $380 at Googlegear.com, it's a great buy. It has great looks, great features and great performance. It's easy to recommend it!
Pros:
16ms pixel response!
Very light (9.3 lbs) and easy to carry
Would be a great LAN party monitor
Good price (around $380 @ Googlegear.com)
Sleek design and looks
Very versatile "Flex-View" stand
LCDs take up so much less space
Cons:
No DVI connector
Power and menu buttons take more effort than would like
I'd prefer a normal monitor power connection over the power adapter brick version
| | |
| --- | --- |
| | For its sleek looks, great features and awesome performance in gaming and general use, I'm giving the Solarism Flex-View LM-1730 a 9 out of 10 and the Bjorn3d Seal of Approval. |
I would like to thank Mike over at Solarism for making this review possible!
Note: A very useful tool I used while setting up and testing the LM-1730 was the MonitorsDirect Calibrator. You can use it to test contrast and brightness, check for ghosting, check for dead pixels and several other very useful things. I recommend checking it out. It works great for both LCD and CRT monitors.