Maxtop's micro-ATX CSX-001 is proof that good things do come in small packages.
Introduction – Do Good Things Come In Small Packages?
---
Serious PC enthusiasts probably wouldn't be caught dead with anything less than a full tower case. Unless your PC is intended for hauling to LAN parties, bigger is better, right? I used to think that way, but recently I undertook a project that made me think good things can come in small packages.
My family moved into a two story house about a year ago. We have two networked PCs, both of them upstairs. Naturally, no one wants to use the lesser of the two computers so we all stack up around the main PC. I was finally able to convince my wife to put a PC downstairs, primarily for her use. Her conditions of acceptance were:
It had to fit on a desktop.
It had to have an LCD monitor.
It had to have a wireless mouse and keyboard.
It had to be networked to share files, an Internet connection, and printer.
It had to look nice. Grey and beige were not acceptable.
Some of the critical parts I had on hand, others were in the B3D parts bin, some were supplied by our sponsors, and others I purchased. So are you ready for the story of how I successfully built a small, stylish, networked PC that made my wife happy and got her off of my PC? Sorry, this story doesn't have a happy ending.
If you've ever been to Florida in the summertime then you know about our endearing weather. Sure, it's nice and warm and the pools and beaches feel great. But we also get almost daily thunderstorms. Can you guess where this is headed? That's right, Florida is the lightning strike capital of the world, and my project fell victim to a blast one late summer afternoon.
Regardless, I do have a tale to tell. I'm just going to focus on one sponsor-supplied component, the PC's case. It survived the strike, so I'm going to tell you all about Maxtop's CSX-001 "Mini Book PC".
Features / Specs
---
DIMENSIONS
– 14.5" x 14" x 6"
POWER SUPPLY
– 200W MINI-MICRO ATX P4
COLOR
– SILVER or BLACK
FAN
– 1 x 80mm
– 2 x 60mm
DRIVE BAYS
– 1 x 5.25"
– 1 x 3.5"
– 2 x 3.5" (hidden)
SUPPORTED MOTHERBOARD
– Standard Micro-ATX
Installation and Impressions
---
The review system is built around the following (pre-storm):
Biostar M7NCG motherboard (nForce2 Micro-ATX)
AMD Duron 800 processor w/Vantec Thermaflow 60mm fan and OCZ Gladiator 2 heatsink
256MB PC2100 DDR memory
Toshiba 32X CD-ROM
IDE hard drive, Maxtor 30GB
Belkin 802.11b Wireless Desktop Network Card
Belkin 802.11b Wireless Network Access Point
Samsung 151S 15″ LCD Monitor
Let's Get Small?
As stated in the intro, one of the conditions laid down by the Mrs. was small size. She anticipated setting the assembled PC either under the LCD monitor or along side it. There are any number of Micro-ATX cases out there, but an awful lot of them require miniature hardware. The Maxtop, while not as small as some models, allows for full-sized PCI cards and IDE drives. A secondary or tertiary PC in a household probably doesn't need a full suite of the latest and greatest hardware. In my case, the on-board features of the M7NCG motherboard (video, audio, LAN) were more than sufficient. A mid to full-size case full of the latest goodies was overkill for my wife's basic needs (e-mail & Office). Why take up valuable desk space if it's not necessary?
Quality and Looks
The CSX-001 is a nice-looking case. It looks equally handsome whether it's posed vertically or horizontally. The silver finish is nicely applied and it held up to continual movement as the case was built, situated, and zapped (no scratches or dings). The front plastic faceplate is easily removed and reasonably sturdy given the price. Front ports (USB, headphones, and microphone) are accessed through a hinged panel. The CD-ROM hides behind a hinged panel that opens and closes with the CD tray. It's a simple trick, but it worked every time and showed no signs of frailty. The main concession to style is the large blue light on the faceplate. It subtly glows when the unit is powered on and flickers when the drive I/O light is on. A bit frivolous, but kind of cool for the money. The only debatable style elements are the power and rest buttons. These are large and chromed and have a fairly cheap tactile feel. They don't look out of place, but they don't look especially nice, either. And neither one has the "snap" of the switchgear on a more expensive case.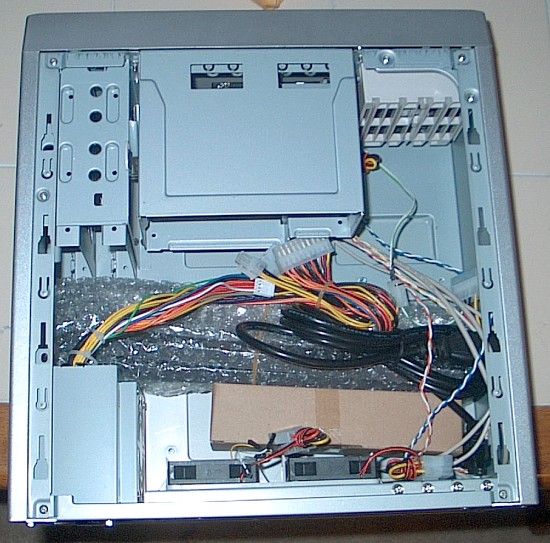 Out of the box.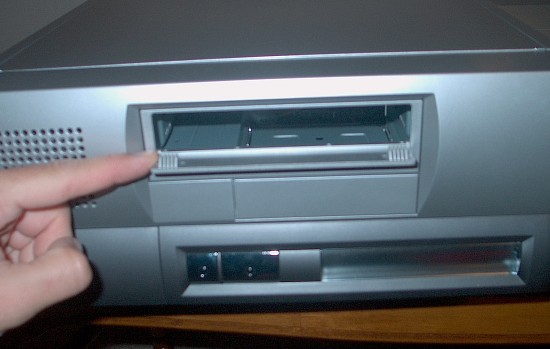 Hide your ugly beige plastic!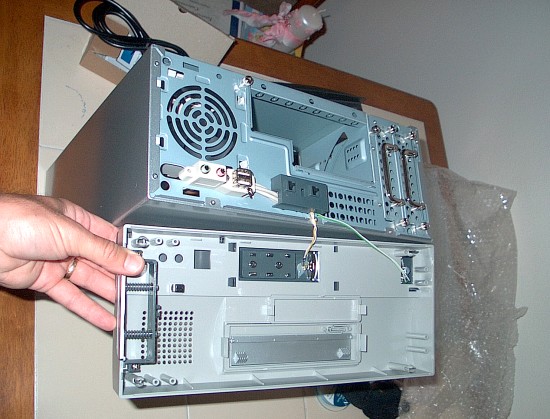 Just another pretty, removable face.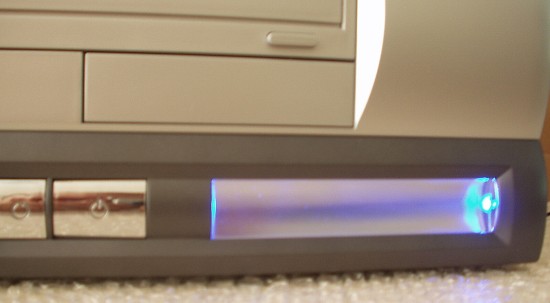 Cool blue.
The inside, as you would expect, is pretty dang small. But it will hold your PC's guts. Edges are rounded and the construction is solid. I especially like the looks and operation of the individual drives cages. They look and feel solid with their chromed handles. The combined CD-ROM and floppy bay slides up and out of the chassis. It has a solid detent and its operation is very smooth for the low price of the case. The case cover and drive bays are all held solidly in place with knurled thumb screws – a nice touch. The CSX-001 comes with two plastic supports for storing your case vertically. They look nice and hold it firmly in place.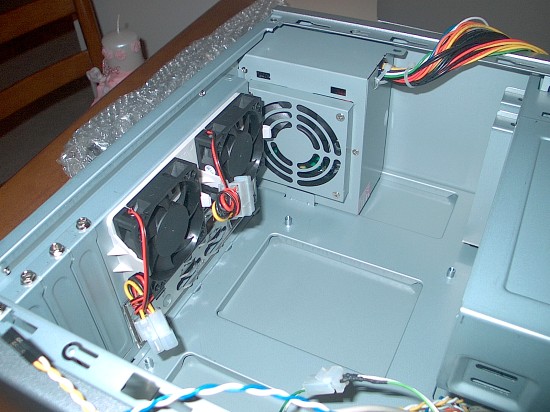 Reasonably roomy; quiet fans.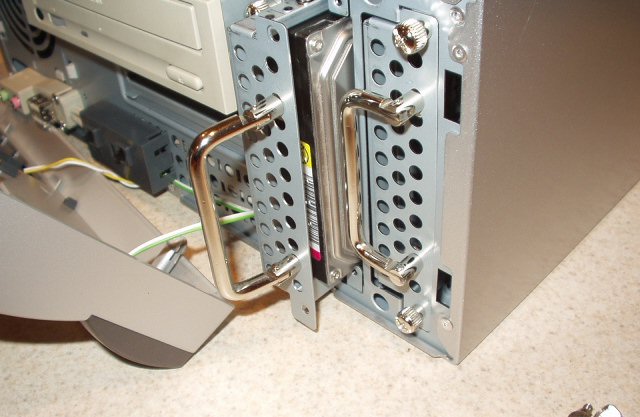 Removable drive cages.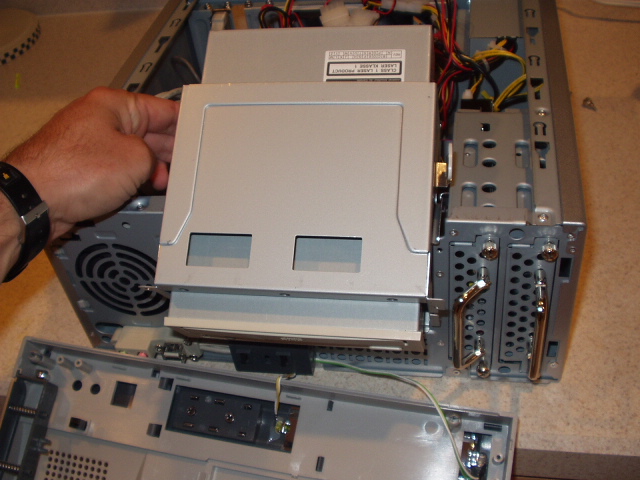 Slide it up and out.
Installation and Operation
I was expecting to skin most of my knuckles and exercise my neglected curse words when dealing with this form factor. But installation was surprisingly easy. The motherboard was a simple fit as was the lone IDE hard drive. Wiring, however, was a bit of a challenge. The Maxtop came with excellent instructions and the actual wiring sequence was a cinch. Finding a place for all the wires and cables was a different matter. It would take an origami master from Voodoo PC to make all the wired bits disappear. I did my best to keep the airflow paths clear and didn't worry about aesthetics.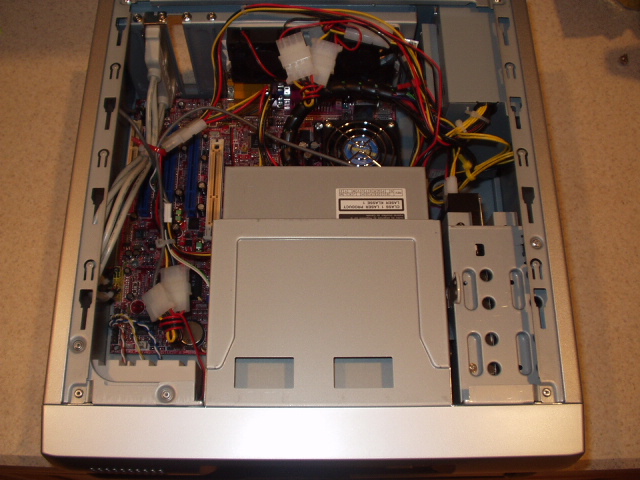 Origami it's not.
One other challenge remained. The OCZ Gladiator 2 heatsink butted extremely close to the CD-ROM drive. It took some serious finagling of the IDE cable to make the drive bay fit, and it still sits on top of the corner of the fan.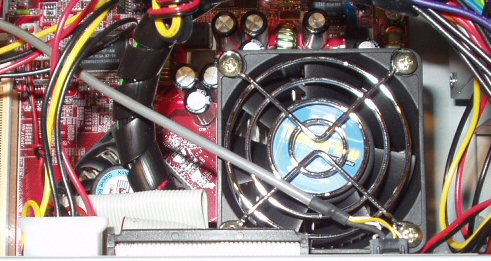 Tight is nice, but this is cutting it close.
I'm always thrilled when a new PC fires up the first time, and the Maxtop didn't disappoint. I recycled a hard drive that previously had a WinXP build and it took the entirely new architecture all in stride and loaded right up! It didn't take long to notice something amiss. Or rather, something that wasn't missing. Sound. Lots of it. As in a fan gone wild. The standard OCZ fan made the small Maxtop enclosure sound like a jet engine. That's when I substituted the whisper-quiet Vantec fan. A noisy desktop PC for the wife just wouldn't do!
Before moving the PC to its new desktop home, I wanted to ensure that the 200W power supply could handle the PC's demands. I first did a clean install of WinXP Pro to ensure that all bugs from the previous PC were gone. Using the on-board LAN and a wired connection, I did a complete Windows Update patch and repair job and ran several desktop apps simultaneously. The PC was never going to run any games or heavy-duty multimedia applications so it seemed as stable as it needed to be.
After the stability checks I moved the PC to its new downstairs location. That's when the trouble started. Belkin supplied us with a wireless Access Point and PCI network card for the project. Unfortunately, the distance was just too great for the wireless networking to sustain an Internet connection. I was awaiting the arrival of a new Belkin antenna when disaster struck: the lightning strike left the Maxtop DOA. It refused to power up after the bolt from above. And it wasn't the only victim: my main PC's on-board Ethernet was zapped as was my SMC router. Somehow my cable modem survived, but it's been squirrely ever since.
Conclusion
---
The natural disaster wasn't the case's fault, of course. It operated quietly and cooly before the gods took it home. The ironic part is my wife had just decided the day before that she wanted to keep the PC inside the desk! With that change in direction, it was far easier just to convert an unused PIII mid-tower for her use.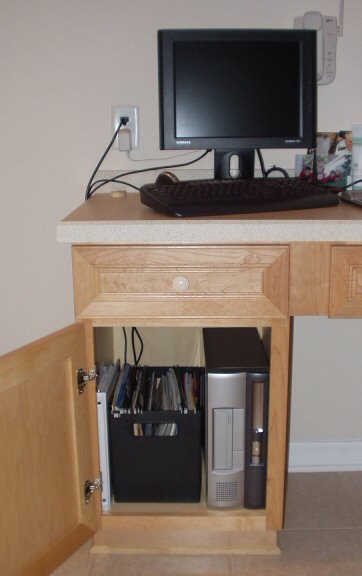 What would have been the home of the CSX-001.
My boring personal stories aside, the Maxtop CSX-001 is a nice case at a very reasonable price. It's small enough to allow for above-the-desk operation, but it has sufficient room for full-size PCI and AGP cards. The supplied power supply is not robust enough for a gaming machine, but Maxtop does offer an upgrade. Materials are of quality construction, especially for the price, and the instructions were detailed and easy to follow.
Bjorn3D awards the Maxtop CSX-001 8.5 out of 10 and the Bjorn3D Seal of Approval. Mother Nature gets a Stinky Bear award for taking away the fruit of my labor!
Maxtop CSX-001


Mother Nature