'No-one will ever need more than 640k" … That was ages ago. Today 512 MB is almost a minimum and more and more are getting 1 GB of memory. We've taken a look at some PC3200 memory from Crucial to see how it stands up against more expensive memory.

Introduction
---
Memory, you can never have enough of memory. The days when 640KB was enough is long gone and even though 512MB is sufficient for most people, more and more hardcore users are getting even more.
Since our ad company is running ads for Crucial, we decided to contact Crucial to see if they would send us a test kit. If we're advertising it, we might as well check it out to see if it is up to Bjorn3d standards, right? Luckily, Crucial was happy to send us a test kit, and a few days later we got a 1GB PC3200 kit (2x512MB DIMMS).
Features
---
In contrast to other memory makers like Corsair, Crucial is more aimed at the mainstream market, and this memory didn't ship with any type of heatsink.
These are the features of the Crucial memory. We've compared it to similar memory from Corsair.
| | | |
| --- | --- | --- |
|   | CT6464Z40B: Crucial 512MB PC3200 | CMX5123200C2: Corsair 512MB PC3200 |
| Price | | |
| Module Size | 512MB | 512MB |
| Package | 184-pin DIMM | 184-pin DIMM |
| Feature | DDR PC3200 | DDR PC3200 |
| Configuration | 64Meg x 64 | 64Meg x 64 |
| DIMM Type | Unbuffered | Unbuffered |
| Error Checking | Non-parity | Non-parity |
| Speed | 5ns | 6ns |
| Voltage | 2.5V | 2.5V |
| SDRAM Timing | CL=3 | CL=2 |
While the Crucial costs a bit less and uses a bit faster memory, it still has a higher CAS timing compared to the Corsair memory. As stated earlier, Crucial doesn't really target the enthusiast market like Corsair's XMS or Kingston's HyperX modules, which is probably part of the reason why the CAS level is higher in the Crucial RAM. Continue to the next page to see if this CAS level difference affects the performance much.

Benchmarks
---
Before proceed with the benchmark results, we must note that unfortunately we couldn't get hold of 2 512MB Corsair DIMMS in time for this review. Instead we are using 2 256MB DIMMS with the same speed ratings and specs except for the size.
Test System:
LEADTEK K7NCR18D PRO II nForce 2 Ultra
AMD 2800+ Barton @ 3200+ 400FSB
NVIDIA 5900 Ultra
Maxtor 200GB ATA-133
Memory Setting:
Crucial: 3-2-2-7
Corsair: 2-2-2-5
We couldn't set the Crucial timing any better since it wouldn't even boot when we tried.
SiSoft Sandra 2003
| | |
| --- | --- |
| Memory/GPU | Score |
|   | Int Buff |
| Crucial | 2805 |
| Corsair | 2891 |
|   | Float Buff |
| Crucial | 2649 |
| Corsair | 2669 |
As you can see, the Crucial DIMMS did a great job of keeping up with the more expensive Corsair RAM.
PCMark 2002
| | |
| --- | --- |
| Memory/GPU | Score |
|   | PCMark score |
| Crucial | 6268 |
| Corsair | 6310 |
Performance Test v4.0 (http://www.passmark.com)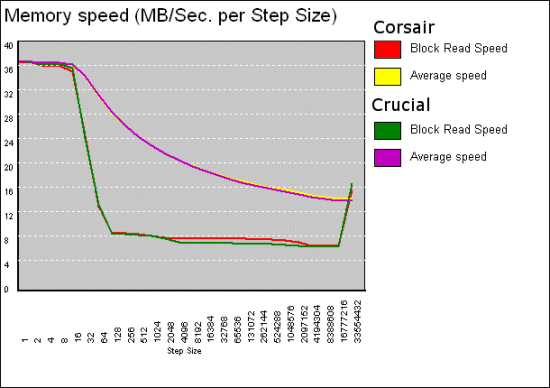 Once again from PCMark 2002 and Performance Test, we see the Corsair ahead but not by much. For the price, the Crucial PC3200 DDR is looking like a good buy. Conclusion
---
I've been running this configuration for some time now and so far have not encountered any problems or noticed any difference in performance in games or applications compared to the Corsair RAM I've been using for 6 months
Final Score
---
Performance

8

Not as fast as the Corsair but held its own very well.
Features

6

It's a DIMM, no heat spreaders, but I have seen them trap more heat than they give off on some DIMMS.
Quality

7

Lifetime warranty and 30 day money back, do I need to say more?
Price/Value

9

Very hard to get any better performance for the price. Many lower cost RAM companies cannot back up the support and warranty.
Final Score: 7.5
The fact that we had some problems setting more aggresive timings with this memory points to the fact that this might not be a memory for the avid overclocker, but other than that the memory has performed well, especially compared to more expensive competition.