Corsair has always been a top notch manufacturer of memory, but can they make the jump to processor cooling? This all-in-one water cooling kit just may do the trick. Read the article to see how well the Hydrocool 200 keeps its cool under pressure.

Introduction
---
In the past, water cooling was a solution only used by the most serious of enthusiast. Overclocking processors and pushing speeds to the limits was reserved to only the most knowledgeable user. That was then, and this is now. With processors producing more and more heat and becoming more and more overclockable, keeping that chip cool is a daunting and exciting task.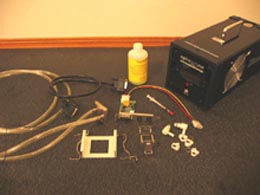 Now pushing your PC to the limits is an option even your grandparents can enjoy. Finding bigger and better solutions to chill your processor has become a priority in the avid PC user's life. One of the finest solutions available today has been sent to us by the wonderful people over at Corsair. The Hydrocool 200 is an all-in-one water cooling kit that both the hardcore enthusiast and the average end-user can utilize. Using cooling technology produced by Delphi, the largest manufacturer of liquid cooling systems in the world, Corsair has produced a highly effective and attractive package. I myself have considered using water cooling but have always seen it as an unsafe and very difficult undertaking. I remember those elementary school days where it was taught that WATER PLUS ELECTRICITY IS BAD! Those thoughts of dropping the hair dryer in the bathtub haunted all of us for years. With such a kit as the Hydrocool 200 on the market, more people like me are willing to take the plunge into water cooling heaven.
Features and Impressions
---
This is truly an all-in-one kit with everything needed to get this baby up and running. The only thing you need to worry about is the water. Here are some of the highlights of this system taken directly from Corsair's web site.
Features:
CPU water block fits both P4 and K7 processors
Extracts up to 200W of heat from a PC CPU
Real time temperature display in both Centigrade and Fahrenheit
Visual flow meter confirms water flow
Quick connect, non-drip hoses
12V inline water pump
Programmable alarm and emergency shutdown
Package Contents:
Water block with 10ft tubing and temperature monitor
Interface slot card
AMD and Intel retention brackets
Syringe of thermal grease
15 pin control cable
2 pole power control cable
4 pole power extension cable
Quick connect self sealing connectors
Quick grip clamps
Water additive
Small funnel
The main pump assembly is made of a transparent plastic with a metal handle and fan grilles. Its size is a little on the large side. I would compare it to a shoe box in dimensions. I wasn't sure where I was going to put such a big piece of equipment, but after putting it beside my PC it didn't take up much room at all.
One of the best features of Hydrocool 200 are the quick connect non-drip hoses. When detaching a hose from the main unit, very little water is lost. I was able to move the system from one room to another without losing, or worrying about losing, any of the water. This will help anyone who takes their PC with them. Whether it's from one room to another, or to a LAN party, this system is very portable.
Other great features on this kit are the temperature display, alarm, and emergency shutdown. The large display lets you keep an eye on how warm your system is getting in both Fahrenheit and Celsius. It's also a great reminder of how COOL your system is running at the same time. The built in alarm will shut down your PC in the event that it reaches a critical temperature. This helped ease my mind a little when the thoughts of a water loss emergency started running through my head. The system interacts directly with the power switch with the included pigtail. The Hydrocool 200 has the ability to completely power down your machine in the event your pet chews through the hoses or any other unforeseeable circumstances that may arise.
Installation
---
The kit is surprisingly simple and easy to install. The instructions included are very straightforward and include many illustrations that nearly anyone could follow. I allowed plenty of time for installation assuming that it would be several hours before I was finished. News to me, approximately 45 minutes later I was up and running. Installation of the water block was much easier than your average heatsink and fan. With the included hardware it was a breeze to place the water block securely on the processor without that sinking feeling you will shove a screwdriver through your motherboard. Installation of the controller card was also quite simple with only a few pigtails to connect along with the four pole power connection. The hoses are very simple to clamp onto the connectors with the supplied hardware. Pop in the hoses, fill up the reservoir, and power on your PC to get this water cooling party started.
One of the only difficult portions of the installation I ran into is the path you take with the hoses inside your case. There is plenty of hose to work with, and you can trim them to any length that you wish. Avoiding the video card and other PCI peripherals in your PC may take a couple of moves in your case. I simply moved my sound card up a few spots and the hoses down a couple and everything fit like a charm. The 4 pole power extension included in the kit came in quite handy when it came time to power the card all the way at the bottom of my case.
Testing
---
Test System:
AMD Athlon XP 2500+
Asus A7N8X Deluxe nForce2 Motherboard
Western Digital 80GB HDD 8MB Buffer
2x256MB Corsair XMS PC3200 DDR RAM
24/12/40 TDK VeloCD CDRW
PNY GeForce 4 Ti4200 64MB
Creative Labs Sound Blaster Audigy
When testing the kit I wanted to put it through the paces using an extremely processor intensive application along with your average gaming session. One application that is readily available for download is Folding@Home. This application, developed at Stanford, uses all available processing power from your PC. I ran the application for approximately four hours on each test. I also played Command and Conquer Generals for one to two hours for each test and took a temperature reading. Each temperature reading comes directly from the temperature display on the Hydrocool unit. Keep in mind that the ambient temperature while testing this kit was about 68F. A nice cool basement may add a little to the results. You may wonder why I didn't post any numbers with the unit in turbo mode. During testing I saw little or no change in temperature. The additional noise produced by the kit after hitting the turbo button made the temperature differences, if any, very negligible and unnoticed.
Setting: 1.83Ghz, 166Mhz FSB, 11x multiplier, 1.65V voltage core
| | |
| --- | --- |
| Benchmark | Temperature in Celsius |
|   | Corsair Hydrocool 200 |
| Idle | 27.5C |
| Folding@Home | 30C |
| C&C Generals | 30C |
I was impressed to see such a small change in the temperature between idle and full-load. Even with Folding@Home running for several hours, the Hydrocool didn't miss a beat. I decided to go ahead and bump up the FSB to 200Mhz and increase the voltage to 1.7V to see what else this kit could do.
Setting: 2.2Ghz, 200Mhz FSB, 11x multiplier, 1.7V voltage core
| | |
| --- | --- |
| Benchmark | Temperature in Celsius |
|   | Corsair Hydrocool 200 |
| Idle | 28C |
| Folding@Home | 30C |
| C&C Generals | 30C |
I became a little curious at this point in the testing. The only change I saw was a measly 0.5C in the idle temperature. To ease my suspicion I checked the BIOS temperature reading for the CPU….it read 26C! I went ahead and moved the multiplier up and increased the voltage once more.
Setting: 2.4Ghz, 200Mhz FSB, 12x multiplier, 1.8V voltage core
| | |
| --- | --- |
| Benchmark | Temperature in Celsius |
|   | Corsair Hydrocool 200 |
| Idle | 29C |
| Folding@Home | 31C |
| C&C Generals | 31.5C |
After this test I was floored. The system ran flawlessly at 2.4 Ghz. A nearly 600Mhz gain with little to no temperature change! I was more than convinced that the Hydrocool 200 is a must-have for the serious overclocker.
Conclusion
---
I was impressed with the overall performance of the Hydrocool 200. The all-in-one features along with its easy installation make this a wonderful unit to own. Overclocking results were above and beyond what I had expected. With size being one of my initial complaints about the kit, I was relieved when the physical presence of the unit became less and less of a factor as time went on. I rarely notice that it is underneath my desk anymore. The one thing I return to is the noise factor. Unfortunately it is not as quiet as it seems like it could be. The fan, even at low speeds, can be distracting and deserves a turn of the speaker knob to drown out the sound. The turbo mode only sends the unit into a howling frenzy providing little or no improvement on temperatures. The kit has got a steep price tag of around $230, but is well worth the investment if you want to overclock your PC and push it to the limit.
Final Score
---
| | | |
| --- | --- | --- |
| Performance | 9 | What can I say, the numbers say it all. Temperature readings that stay at or below 31C are top-notch for a water cooling kit such as this. |
| Features | 8 | There are many great features in this kit. The quick connect hoses make for easy portability. The included alarm settings also add a little peace of mind when you are away from your machine. The two things this kit could use are a smaller footprint, and a quieter fan. |
| Quality | 9 | The quality is excellent. The unit seems strong and well manufactured. I have had no troubles with leaks of any kind. The great hose connectors and water block mounting hardware ease installation and add to the units overall durability. |
| Price | 7 | One of this kits major downfalls is the approximately $230 price tag. Unfortunately a steep price keeps it out of the hands of most users. For those seeking the best of the best, this price may seem more reasonable. |
While the price is a little high, and the noise is above average, it is obvious Corsair has come out with an awesome product that performs like a champ. Packed with power and quality I'm giving the Corsair Hydrocool 200 an 8.5 out of 10 and the Bjorn3d Seal of Approval.