With the Musketeer, CoolerMaster has released a visually attracitve and very useful system monitoring device. The Musketeer is designed to display the fan voltage, audio sound pressure and the temperature of the positioned thermal sensor. It's a very interesting product. Check the article for more info.
Introduction
---
Cooler Master has been making top quality PC components, including enclosures, CPU heatsinks and accessories, for many years now. The Musketeer is their unique and stylish entry into the multi-function front panel market.
Cooler Master is marketing the Musketeer as a "System Dynamics Detector." It is designed to be installed in a 5 1/4″ drive bay and can be used to display the voltage of one system fan or CPU fan, audio sound pressure and the temperature of the positioned thermal sensor.

Features & Specifications
---
Features
Connects directly to your computer's +12V DC power source
No software required
Reflective blue L.E.D. display
Easy to install
Requires only one 5 1/4″ drive bay
Sound pressure adjustment slider for audio device
Fan voltage adjustment slider for one fan — conserve energy and reduce noise


Specifications
Voltage (Left) Dial Display: DC 0 to12V
VU (middle) Dial Display: -20 to +3dB
Temperature (right) Dial Display: 10-90 Celsius/ 50-180 Fahrenheit
Voltage Adjustment: DC 6 to approx. 11V ( IC controlled )
Sound Pressure: -20 to +3dB ( depends on the input from sound card )
Package Contents
The Musketeer
80cm thermal sensor cable (103DM2)
80cm 3-pin to 4-pin molex fan cable
80cm 3-pin (3 wire) to 3-pin (2 wire) + 3-pin (1 wire) fan cable
PCI bracket with single 3.5mm stereo cable (80cm)
20cm dual 3.5mm stereo plug audio cable
8 screws
First Impressions
---
When I first pulled the Musketeer out of the box, my first thought was that this thing looks pretty cool. The blue gauges look great even when the unit is not powered up. I was looking forward to seeing how it would look with my black aluminum case. I already had four blue LED fans installed in the case, so the Musketeer's colors match this motif perfectly. Let's take a look at unit a little more closely.
Any fan of old analog style gauges ought to be excited about the Musketeer. I think they and the unit as a whole look very stylish. The two silver sliders also look great and are easy to operate. Great design, great looks… nice work Cooler Master. Let's take a closer look at the individual gauges.
The middle gauge is for voltage status. Moving the first slider up and down will adjust the voltage (and therefore speed and noise level) of any fan you connect to the device. The middle gauge displays sound pressure. The needle in this one will be moving constantly as sounds are played through your sound card. A lot of old tape decks have similar gauges for setting recording levels. The right gauge shows the temperature detected at the thermal sensor, which you can of course place anywhere you want. I am glad to see that Cooler Master opted to show both Celsius and Fahrenheit temperatures on this gauge. That's a very smart idea, since the unit will appeal to more people this way.
The quality of the Musketeer seems quite good. It is solidly constructed and definitely won't fall apart on you. Nothing about it looks or feels cheap. Here's a shot of the inside of the Musketeer.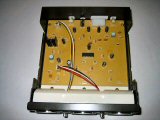 Installation
---
The Musketeer is designed to fit in an empty 5 1/4″ bay in your case, just like a CD-ROM or DVD drive. It is nearly as big as an optical drive too. You would think that installing the Musketeer would be a piece of cake, but I actually did have some problems. The first unit I received would not fit in any of the three cases (SuperFlower/Directron SF-201T, Lian Li PC60USB, Antec PlusView 1000AMG) I tried. I was perplexed to say the least! No matter how hard I pushed, the Musketeer just wouldn't go beyond a certain point.
To make a long story short, I received a replacement unit, and it thankfully fit fine. It was still quite snug though. I had to use a little extra elbow grease to get it in all the way. This is not a big deal though as I have had to do the same thing with various optical drives in the past. After placing it in an open 5 1/4″ bay and securing it with screws, I attached all the necessary cables and power. I read through the short instructions, which do a decent job of explaining how to setup the Musketeer, and hooked everything up. The instruction sheet also has a couple of helpful illustrations. Here's what the Musketeer looks like installed.
From left to right, these pictures show: the Musketeer installed with lights on, the Musketeer installed with lights off and finally a close up of the Musketeer. It looks just as good as I had expected it to and adds more style to my PC.
Conclusion
---
Overall, the Musketeer is a cool front panel device. It looks great and works as advertised in my black aluminum case. For those of you silver cases, the Musketeer is also available in silver. On the down side of things, the Musketeer only lets you control one fan. If you need to control more than one fan, you should probably consider a dedicated fan controller anyway. Another issue some may have with the Musketeer is its price — about $50.
The main thing I think that would stop people from buying the Musketeer is the price. It's hard to decide if it's worth the price or not. That's really a decision I'll have to leave up to you. If you want a unique and very stylish multi-function front panel device, then definitely keep the Musketeer in mind when you go shopping.
Pros:
Looks great
Adds a unique look to your PC
Available in black and silver
Easy to setup
Cons:
Despite some minor flaws, the Musketeer is a great product, and I'm looking forward to seeing what the Musketeer II might be like if Cooler Master chooses to make one. Maybe it will allow you to choose different LED colors to match your case and lights better? That would be a nice touch.
I'm awarding the Musketeer from Cooler Master an 8 out of 10. It has a lot of potential to make your PC look even cooler than it already does!
Other Reviews of the Musketeer: