With all the talk about the high-end FX5900 cards it is easy to forget that there also is a low-end part, the FX5200. I have taken a look at XFX's GeForce FX5200 card to see if it is a good replacement for the GF4MX.
Introduction
---
When NVIDIA announced the FX family of chips most people were only interested in the high-end chip, the FX5800 Ultra. However – NVIDIA's strategy was to bring out an entire family of chips – from the low-end to the high-end, all DX9 chips.
The GeFORCE FX5200 is NVIDIA's GF4MX replacement, and today I am taking a look at a card from XFX.

The card
---
Before we take a look at what XFX ships in the packages let us talk a bit about the FX5200. As I said before it is intended as a replacement for the GF4 MX cards. NVIDIA upset a lot of consumers by naming their low-end card GF4 MX even though it was no GF4-based card. This time NVIDIA does indeed have a low-end card that is built with the same technology as the high-end card (minus some features) but since
NVIDIA GeFORCE FX MX
would have sounded stupid they choose to just use a number to separate the different models. Isn't it funny that both ATI and NVIDIA now use similar naming? Low-end: Radeon 9200 and FX5200, mid-end: Radeon 9600 and FX5600, high-end: Radeon 9800, FX5800 (ok, it is FX5900 now).
So, what can the FX5200 chip do? Let's look at what XFX says:
CineFX Engine – Powers cinematic effects beyond imagination. With advanced vertex and pixel shader capabilities, stunning and complex special effects are possible. In addition, increased horsepower delivers faster and smoother gameplay.
AGP 8X – Provides double the bandwidth of AGP 4X—2.1GB/sec. vs. 1.1BG/sec. AGP 8X enables more complex models and detailed textures, creating richer and more lifelike environments. Uninterrupted data flow allows for smoother video streaming and faster, more seamless gameplay.
nView Multi-display Technology – The nView hardware and software technology combination delivers maximum flexibility for multi-display options, and provides unprecedented end-user control of the desktop experience. NVIDIA GPUs are enabled to support multi-displays, but graphics cards vary.
Digital Vibrance Control (DVC) – Allows the user to adjust color controls digitally to compensate for the lighting conditions of their workspace, in order to achieve accurate, bright colors in all conditions.
Unified Driver Architecture (UDA) – Guarantees forward and backward compatibility with software drivers. Simplifies upgrading to a new NVIDIA product because all NVIDIA products work with the same driver software.
Microsoft® DirectX® 9.0 Optimizations and Support – Ensures the best performance and application compatibility for all DirectX 9 applications.
OpenGL® 1.4 Optimizations and Support – Ensures the best performance and application compatibility for all OpenGL applications.
Integrated TV Encoder – Provides best-of-class TV-out functionality for resolutions up to 1024×768.
Integrated Full Hardware MPEG-2 Decoder – Delivers full-frame, full-screen MPEG-2 video on your desktop.
New 64-phase Video Scaler – Highest quality for scaling DVD and other video to full-screen HDTV resolutions.
DVI Support – Able to drive the industry's largest and highest resolution flat-panel displays with up to 1600×1200 resolution.
350MHz RAMDACs – Supports QXGA displays with ergonomic refresh rates.
Architected for Cg – Ensures that the newest, cutting-edge special effects in applications will run flawlessly. Speeds up content creation so game developers can get their new games out to PC users faster than ever before.
On a more technical front these are the differences between the FX5200 and its bigger brothers: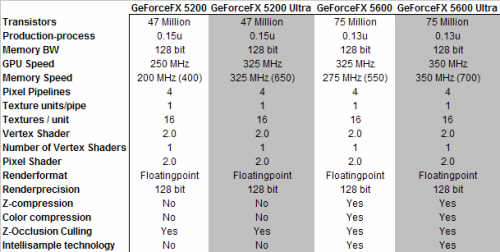 Remember – this is the low-end card so we cannot expect it to have all the bells and whistles of the other cards. This card does have a DVI-connector as well as TV-out. As with all FX5200 chips it is clocked at 250/400 MHz and the memory on this card is 128 MB DDR.
The bundle and the card
---
The low-end feel of the card is reinforced by the fact that there is almost nothing extra shipped with this card. You get:
The FX5200
One CD with drivers and WinProducer 2.1 ME (cut down version)
2 good manuals
SVHS-cable
That's it. Since the card has a DVI-connector I would have hoped it might have a DVI=>VGA adapter but I guess they saved a few bucks not providing that.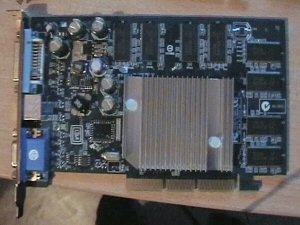 As you can see from the image, the XFX FX5200 is a fanless card. This means that it is completely silent. This is something I know a lot of people will appreciate. Also evident from the image is the fact that the memory chips are not cooled in any way. How this will affect overclocking will be looked at later in this review.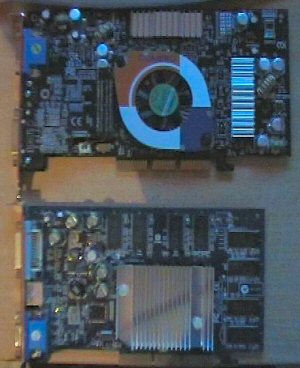 The card also is smaller than the Ti4800SE from Compro which means that it should have no problems fitting into any motherboard.
Benchmarks
---
Before I present the scores, I just once again want to make sure that you understand that this is a GF4 MX replacement. It is not a card for the hard-core gamer.
My system:
Shuttle SN41G2 with nForce2 motherboard
AMD 2000+XP
512 MB PC2700 DDR
Ti4800SE, GF4MX (128 MB, AGP8, builtin on the nForce motherboard), FX5200
Drivers: 43.51 (I choose this version since 43.45 has problems with U2k3) and DetFX drivers (for the FX5200 only)
Unfortunately I couldn't get hold of a 'real' GF4MX card in time for this review so I had to use the built-in GF4MX class graphics on my Shuttle nForce2 motherboard. A real GF4MX will score a bit higher in some cases.

3DMark2001SE
Setting: Default

| | |
| --- | --- |
| GFX Card/GPU | Score |
| | 1024×768 |
| GF4 in nForce2 | 3426 |
| FX 5200 * | 7095 |
| FX 5200 DetFX | 7097 |
| FX 5200 (275/450) ** | 7558 |
| Ti4200 | 9617 |
| | 1280×1024 |
| GF4 in nForce2 | 2397 |
| FX 5200 * | 5410 |
| FX 5200 DetFX | 5405 |
| FX 5200 (275/450) ** | 7000 |
| Ti4200 | 7596 |
* 43.51 driver. ** DetFX driver
Setting: 2xAA, 2xAF

| | |
| --- | --- |
| GFX Card/GPU | Score |
| | 1024×768 |
| GF4 in nForce2 | 1960 |
| FX 5200 * | 5033 |
| FX 5200 DetFX | 5013 |
| FX 5200 (275/450) ** | 5574 |
| Ti4200 | 6632 |
| | 1280×1024 |
| GF4 in nForce2 | 1275 |
| FX 5200 * | 3251 |
| FX 5200 DetFX | 3242 |
| FX 5200 (275/450) ** | 3713 |
| Ti4200 | 4376 |
* 43.51 driver. ** DetFX driver
RTCW (checkpoint demo)
Setting: noAA, no AF
| | |
| --- | --- |
| GFX Card/GPU | Score |
| | 1024×768 |
| GF4 in nForce2 | 63,8 |
| FX 5200 * | 75,1 |
| FX 5200 DetFX | 75,1 |
| Ti4200 | 98,2 |
| | 1280×1024 |
| GF4 in nForce2 | 45,6 |
| FX 5200 * | 50 |
| FX 5200 DetFX | 53,8 |
| Ti4200 | 95,1 |
* 43.51 driver.
Setting: 2XAA, 2XAF

| | |
| --- | --- |
| GFX Card/GPU | Score |
| | 1024×768 |
| GF4 in nForce2 | 36,5 |
| FX 5200 * | 66 |
| FX 5200 DetFX | 66,1 |
| Ti4200 | 91,7 |
| | 1280×1024 |
| GF4 in nForce2 | 23,5 |
| FX 5200 * | 42,8 |
| FX 5200 DetFX | 42,7 |
| Ti4200 | 71,2 |
* 43.51 driver.
Setting: 4xAA, 8xAF

| | |
| --- | --- |
| GFX Card/GPU | Score |
| | 1024×768 |
| GF4 in nForce2 | n/a |
| FX 5200 * | 52 |
| FX 5200 DetFX | 44,8 |
| Ti4200 | 67 |
| | 1280×1024 |
| GF4 in nForce2 | n/a |
| FX 5200 * | 32,8 |
| FX 5200 DetFX | 28,8 |
| Ti4200 | 39,5 |
* 43.51 driver.
UT2k3 (HardOCP High Quality Benchmark, med score, Antalus map)
Setting: noAA, no AF
| | |
| --- | --- |
| GFX Card/GPU | Score |
| | 1024×768 |
| GF4 in nForce2 | 29,6 |
| FX 5200 * | 56,9 |
| FX 5200 DetFX | 58,2 |
| FX 5200 (275/450) ** | 65,1 |
| Ti4200 | 81,1 |
| | 1280×1024 |
| GF4 in nForce2 | no score |
| FX 5200 * | 36,2 |
| FX 5200 DetFX | 37,1 |
| FX 5200 (275/450) ** | 41,7 |
| Ti4200 | 50 |
* 43.51 driver. ** DetFX driver
Setting: 2xAA, 2xAF
| | |
| --- | --- |
| GFX Card/GPU | Score |
| | 1024×768 |
| GF4 in nForce2 | 14,8 |
| FX 5200 * | 32,2 |
| FX 5200 DetFX | 34,2 |
| Ti4200 | 34,8 |
| | 1280×1024 |
| GF4 in nForce2 | 9,5 |
| FX 5200 * | 19,6 |
| FX 5200 DetFX | 20,9 |
| Ti4200 | 21,8 |
* 43.51 driver. ** DetFX driver

Other games
We know that many readers would like to see us test cards with real games. It isn't always easy to do that since most games lack a benchmarking feature. We can however use Fraps which gives us an idea of the performance even though we cannot repeat the same conditions for each card.
I chose to download a variety of current game demos from Fileplanet and take them for a spin on the XFX FX5200.
The Hulk Demo
This demo lets you play the big Hulk in a small scenario. You fight around an old gas-station and fight against soldiers and a tank.
1024×768 2xAA 2x AF: 20-30 fps
1024×768 no AA no AF: 30-40 fps
1280×1024 no AA no AF: 20-30 fps
The demo is playable in all these settings. The main slowdown is when blowing up something which creates huge flames. Other than that it feels smooth and I wouldn't mind playing it with this card.
Unreal 2 demo
Does this game need an introduction? Didn't think so. I was pleasantly surprised that at 1024×768 the FX5200 still managed to put out around 30-45 fps even in a firefight with the aliens.
1024×768 noAA, no AF, 30-45 fps
Star Trek Elite Forces II demo
The sequel to one of the few good Star Trek games. Once again you play a member of the hazard team. This demo lets you fight inside a ship that has been attacked by aliens.
The settings I tested were:
Anisotropic filtering turned on in the game. NVIDIA AA turned on in the game. Dynamic lightmaps. Entity Fade: Far. Special Effects Details: High. Subdivision: High. Curve Error: High. Level of Details Distance: Far. In other words – the highest quality settings. At 1024×768 the demo played real smooth at around 60-80 fps all the time. It looked great!
1024×768 AA and AF set up inside game: 60-80 fps
Vietcong Single Player Demo
Another fps – this time set in the Vietnam war.
1024×768 NoAA: 25-35 fps
1024×768 2xAA 2xAF: 20-30 fps
Once again the FX5200 manages to provide playable framerates.
Rise of Nations Demo
Microsofts new RTS game that promises to combine Civilization and Age of Empires. The game runs at 25-30 fps at 1280×1024. I played through a whole game in the demo (this game rocks!) and it was very playable even with lots of units on the map.
Beach Head – Desert War demo
This isn't exactly the most taxing game that is out there. The max res is 1024×768 and you don't get much cool effects. Still – it is a fun game for those dull moments when you just need something to pass the time.
1024×768 no AA: 32 fps rock solid.
1024×768 QuincunxAA, 4x Anisotropic filtering: 32 fps rock solid.
This is a good example on a simpler game that really benefits from AA and anisotropic filtering.
Tony Hawks Pro Skater 4 demo
The popular skater is back in yet another game. I chose to free-skate around the city in the demo. AA was turned off inside the game and I also turned off distant fog. High quality shadows were turned on.
1280×1024 No AA: 40-50 fps
1024×768 No AA: 65-100 fps
1024×768 Quincunx, 4xAF: 55-75 fps
Well, as it shows the card can play this demo fine too.
Overclocking
---
So – no fan and no cooling on the memory chips. Can this card be overclocked? My first response would be no. At least not with the drivers that were shipped with the card. Neither the 43.45 or the 43.51 drivers allowed me to overclock. I could change the clock and it did say that it had accepted the changes but after running 3DMark2001SE the scores was exactly the same as before and the clock had been restored to default.
Enter the DetFX drivers. With the DetFX drivers things worked much better. Now I could overclock the card. I chose to overclock it to 275/450 MHz and keep it there for several days with the computer turned on all the time. You can see the scores in the graphs above, but so far I have had no problems with the computer hanging when playing games or any other heat-related problems. Even though the card has no fan, it seems to have space for some overclocking.
In fact – while I was finishing the review, I decided to see what the card can take. Right now, I have it up at 325/500 MHz and running 3Dmark2001SE. At 300/500, I noticed that the 1280×1024 score did increase while the 1024×768 score decreased a bit. I guess I need to do some more testing to find the sweetspot for this card. However – for a card that is fanless, it is very nice to see that it has possibilities in the overclocking department. (And as usual – overclocking can damage your card – if you do it, you are responsible).
Conclusion
---
If you look at what the FX5200 is supposed to do, it does it well. It is not a card for a hard-core gamer, but it is a card for those who mostly use the computer for other things than games and only occasionally play a game. I still was pleasantly surprised when I played all the game demos. I can honestly say that as long as I stayed at lower resolutions I had no problems playing any of the demos.
While it is nice for NVIDIA to be able to say that they have a DX9 card in this price range, I wouldn't buy this card for that reason. Face it – you won't play Doom3 with this baby (unless you turn down the quality a lot!).
As for XFX's offering – it is ok. They have cut down on the bundle, and there really isn't anything special about this card except that it is silent. But it does what it is supposed to do without surprising.
Final Score
---
Performance

6

This card is aimed at the low-end market and thus lacks the performance of the higher-priced brothers. Still – for the occasional game, the card performs well as long as you don't expect to be able to play at higher resolutions or with AA and anisotropic filtering turned on.
Features

7

TV-out and DVI is almost standard today on NVIDIA cards – that doesn't mean that it shouldn't be valued. The card also supports DX9. Last but not least, it doesn't need a fan for cooling which makes it silent.
Bundle

5

The bundle could be better. While PowerDirector2.1VE is nice, it still is just a cut-down version. I also question the fact that they choose not to include a DVI=>VGA adapter.

Quality

8

The card has performed flawlessly during the weeks I've had it. NVIDIA's drivers are also very stable.
Price

8

A DX9 card for under 90$? Not bad. The performance is as expected for this price range.
Total: 7
The XFX FX5200 is a solid performer for the low-end market. You don't get much besides the card, but for that price, you cannot really complain.