Nintendo finally gave in to the hue and cry from gamers for a lighted screen on the GBA. To many peoples surprise they did more than just add a light, they totally redesigned the GBA's form factor and added some other minor changes as well. Take a look to see how the new GBA SP stacks up and whats been changed!
Introduction
---
Since the release of its first GameBoy system in 1989, Nintendo has been the 500 pound gorilla of handheld gaming with over 15 million units sold and counting. Throughout that time, the GameBoy has evolved from monochrome to color and had a couple of format and internal upgrades, as well all the while maintaining backwards compatibility allowing you to play hundreds of existing titles even when you jump forward to a newer model.
Nintendo's latest evolution of the design is the GBA SP. This version still uses the same basic core of the previous GBA but puts it into a newer, sleeker package and adds in some other refinements in addition to the greatly sought-after front-lit LCD screen. Let's take a look at what the GBA SP has to offer over its predecessors.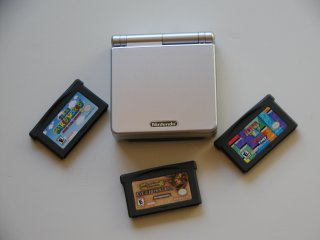 Specifications & Features
---
Specifications:
CPU: 32-Bit ARM with embedded memory
MEMORY: 32 Kbyte + 96 Kbyte VRAM (in CPU), 256 Kbyte WRAM (external of CPU)
SCREEN: 2.41″ x 1.61″ (61 x 41 mm) reflective TFT color LCD
RESOLUTION: 240 x 160 pixels
COLOR: Can display 511 simultaneous colors in character mode and 32,768 simultaneous colors in bitmap mode
SOFTWARE: Fully compatible with Game Boy and Game Boy Color Game Paks
LIGHT SOURCE: Front light integrated with LCD
SIZE (closed): Approximately 3.3″ height x 3.23″ width x 0.96″ depth (84 x 82 x 24 mm)
WEIGHT: Approximately 5 ounces (140 gr)
POWER: Rechargeable lithium-ion battery
BATTERY LIFE: 10 hours continuous play with light on 18 hours with light off 3 hours recharging
Package Contents:
GBA SP
Power cord/Recharger
GBA Manual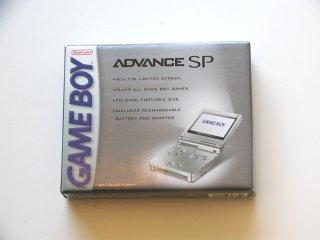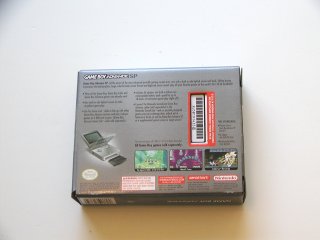 Changes
---
Okay, so what's new about the GBA SP over the older model? Most obvious is the form factor. As can be seen in the pics, the GBA SP goes away from the game controller type setup and moves to a compact folding design. When unfolded, the button layout and orientation are much like the older GameBoy Color and original GameBoy. There has been some contention on the Net about the layout from fans of the controller style GBAs, but I have to say that after using the SP I really like it. It folds up quite small and is easier to carry than the original GBA. Plus, the screen is protected when the device is folded, so a case is really an optional item. As far as the comfort factor of the key layout goes, if you were comfortable with a GB or GBC, you'll have no problems adapting to the SP either. If you've never used a GB at all, you'll think it's just fine. It's only going to be the diehard GBA fans (or those with meatpaws for hands) that will have any issues with the new layout in my opinion.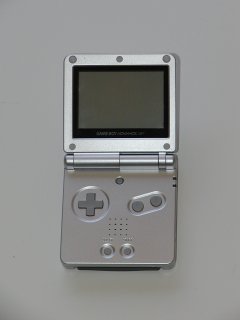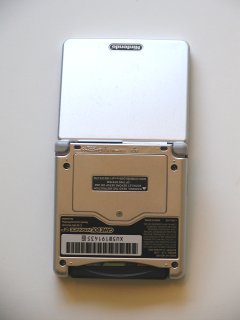 The next most obvious change occurs when you insert a cart and turn the GBA SP on. The screen immediately lights up in a blissfully easy-to-see glow! The biggest, and in many cases only, complaint about the otherwise excellent GBA was the dark screen. The screen's dimness led to a veritable plethora of aftermarket game lights and internal mods (such as the Afterburner kit) in attempts to remedy the very annoying weakness of the platform. In some lighting conditions, the GBA was very hard to see, and some games were dimmer and harder to see than others as well. Castlevania was notably dark on the GBAs, and this detracted greatly from an otherwise great game in many people's opinions. Well, happily Nintendo finally yielded to the hue and cry that went out from millions of gamers worldwide and went to a front-lit LCD with the SP!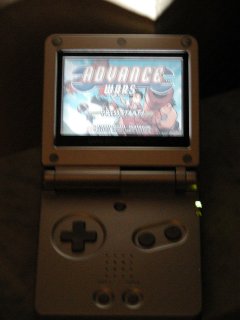 The front-lit screen is a true blessing for most gamers. I have to admit that I rarely used my old GBA and much of that had to do with the fact that I rapidly grew tired of hunching over near a light to play and fooling with a variety of add-on lights and a botched Afterburner installation. It became more of a hassle than anything else, so the GBA sat on my shelf much of the time. The main reason that Nintendo never added an internal light before now was that they claimed it would suck up too much battery power and that gamers would rather have extended playtime rather than a lighted screen. Well, considering that I never played long enough to drain the batteries due to the dim light, or ended up bolting an aftermarket light on anyway, I never really thought much of that argument. Regardless, that leads us to Nintendo's next evolution of the GBA design, an internal rechargeable battery.
With the GBA SP, Nintendo added a rechargeable lithium-ion battery. While this has also been met with mixed reactions from fans, I personally think it's a good thing. The average battery life on an old GBA without a light was 15 hours. On the new SP it's 10 hours with the light on and 18 hours with the light off. So you actually get a net gain of 3 hours if you aren't using the light. The battery takes 3 hours to recharge.
Now, the criticism on the battery stems from two main things: the reduced battery life and the fact that the SP doesn't take common AA batteries. In answer to issue number one, I'd like to point out that with the light turned off, you're actually coming out ahead. With the light on, you do have a reduction in play time, but you'd also have that problem using a regular GBA with an aftermarket light attachment. (Not to mention the fact that 10 hours is still quite a bit of play time in my opinion.) As to issue number two, well, aftermarket companies are already coming out with spare batteries! So, while you may not be able to drop in AA's in a pinch, you can carry a spare battery. Sure a spare is an additional cost but then, so were the bulky recharger kits that many people bought for their GBCs and GBAs anyway.
The final change on the GBA SP that you'll see is on the back of the device. You'll find two ports there: a recharger port and a port for use with link cables and other accessories. The recharger port is used in conjunction with a compact recharging cable, complete with folding plug (a nice touch if you plan on taking it with you on trips and what not). The recharging port also has a somewhat odd secondary function as well: it acts as the headphone jack. For whatever odd reason, Nintendo chose not to use a standard headphone port on the SP. To use headphones, you either need to get ones specifically made to fit the GBA SP's recharge port, or you need to buy an adapter jack that'll work with regular headphones. This was a rather odd decision on Nintendo's part and one that they've caught some flack over from consumers, but considering that adapter jacks are pretty cheap, it's not a real big deal. Annoying perhaps, but not a deal breaker on an otherwise excellent game platform.
Testing
Well, I can't say I did any serious testing on the GBA SP. Come on, it's a handheld game platform! I basically just played the darn thing and let other folks check it out as well. Overall, I was very pleased with the SP. The screen made a world of difference for me, and I actually enjoy using it. I've probably used my SP more in the past few weeks than I did my old GBA in over a year of owning it.
I did most of my testing in half hour to hour blocks of time snuck in between work and other projects. I didn't have any problems with the new control layout playing for these periods of time, although I have heard some complaints of cramping during longer play sessions and from those with abnormally large, mutant-like hands (Chaoswookie!), so your mileage may vary. Overall though, I thought it was just fine.
Conclusion
---
Nintendo has got another winner here with the GBA SP. Not like they've had problems selling any of the previous models, but the SP really is the most refined of the bunch. For now at least, you can still buy the old GBA, but I really don't see much point, unless you're obsessed with the controller style layout. While the GBA SP runs $30 more than a GBA ($99.99 versus $69.99), by the time you buy an add-on light and a recharger for the GBA, you'll have spent as much as the SP costs anyway!
The GBA SP is really what the GBA should have been in the first place, with a great front-lit screen and a wonderfully portable form-factor. It's a game platform you won't mind taking with you, in a sleek package that is not out-of-place, even for an adult to carry around. Most of the folks who saw me with mine first assumed it was a new PDA of some sort (until I told them it was a GBA).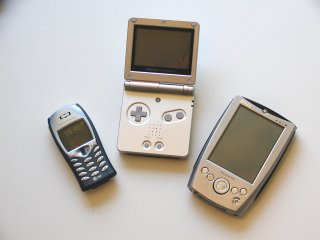 Pros:
Front lit screen
Lithium-ion rechargeable battery
Sleek, compact design
Comparable price to the old GBA with an aftermarket light and recharger pack

Cons:
Controls a bit cramped for some with large hands

Another great job by Nintendo. For refining an already good game system and making it better (while keeping the price reasonable), I'm giving the GBA SP a 9.5 out of 10 and the Golden Bear Award!