In recent days Soyo's short period of fame has started to fade, with new companies like Soltek and Epox sprouting up offering comparable features and performance. With this motherboard Soyo hopes to regain some of the fame offering a board filled with the latest technology as well as lots of features.
Introduction
---
In recent days Soyo's short period of fame has started to fade, with new companies like Soltek and Epox sprouting up offering comparable features and performance. With this motherboard Soyo hopes to regain some of the fame offering a board filled with the latest technology as well as lots of features.
Specifications
---
Chipset Type

– VIA KT400
Chipset Description
– VIA KT400 / 8235 chipset
– Supports 266/333 MHz FSB
Graphics Info
– AGP Pro slot supporting 8X AGP
Form Factor
– ATX
Memory Type
– DDR400/333 SDRAM
Memory Description
– Three DDR 2.5V DIMM sockets support up to 3GB (DDR 333/266/200, 2GB for DDR 400)
– 184-pin PC3200/PC2700/PC2100/PC1600 non-ECC, unbuffered DDR SDRAM memory
Expansion Slots
– Five 32-bit Bus Mastering PCI slots (V2.2 compliant)
– One Universal 8X AGP Pro slot (supports 8x/4x modes)
Expansion Slot Types
– Five 32-bit Bus Mastering PCI
IDE Type
– UDMA 66/100/133
IDE Description
– Optional serial ATA support (rated at 150 MB/sec) through the use of riser cards
– Four independent channels for 8 IDE devices (2 for RAID)
– Supports up to PIO mode 5 & Ultra DMA 66/100/133
– Two PCI bus mastering ATA E-IDE ports
Audio Description
– On board CMI 8738 audio chip providing 4-channel audio solution
– 6-channel audio ready when used with a SPDIF audio connector, available for purcahse at SOYO e-Store
IO Port Description
– Two RS-232 serial ports (16550 UART compatible)
– One parallel printer port (SPP/EPP/ECP mode)
– One FDD port (supports 3 modes, 1.2/1.44/2.88MB FDD)
– Provides IrDA with optional cable for transceiver
– Provides 6 USB 2.0 ports (2* rear, 4*front)
IO Connection Description
– PS/2 Mini-DIN mouse & keyboard ports
– Two USB 2.0 ports
– One RJ45 connector
– Two D-Sub 9-pin male serial ports
– One D-Sub 25-pin female printer port
– Audio I/O: LINE-OUT x 1, LINE-IN x 1, MIC JACK x 1
– One game port
BIOS Description
– Award PCI BIOS with ACPI function
– Supports multiple-boot from E-IDE / SCSI / CD-ROM / FDD / LS120 / ZIP
– 2 Mbyte Flash ROM
– Health Monitoring Description
On board voltage monitors
– CPU fan speed monitor
– CPU fan speed monitor
– CPU temperature monitoring through flexible thermal sensor
– CPU overheating protection
Dimension Description
– Four layers, 30.5 cm x 24.5 cm (12″ x 9.6″)
– ATX form factor
This board has some nice features that help the overclocking crowd. ABT (Anti Burn Regulator) makes sure that you won't burn you CPU when overclocking (or when the fan dies). You also can set the PCI dividers to 1/5 or 1/6 so that you don't overclock the PCI bus to much. The board also has a few distinct overclocking features that are available to be changed by the user.
One small controversy with this board is that the KT400 chipset does not officially support DDR400 though Soyo has marketed that their board actually does. DDR400 ram does in fact operate in this Soyo motherboard.
The Motherboard
---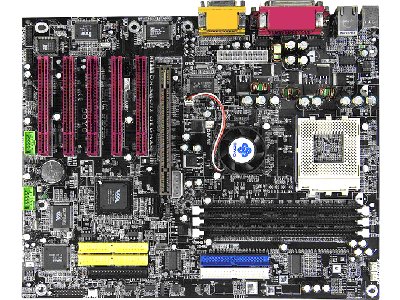 Looking at the board-layout the motherboard is a bit inconsistent. Some things are very good layout and others not as good. The Stigma Bay that is included with the motherboard has 2 USB 2.0 ports and a Compact Flash/SmartMedia reader. The bay fits into a 3.5" bay in your case and is rather easy to install. However – when you are hooking the hardware cables to the motherboard the problems begin.
The bay has several individual cables that you not only need to distinguish but also need to find the corresponding pins on the motherboard for. It's not a big deal but one might wonder what the engineers were thinking when they built this. I'm sure a large portion of consumers that buy this board will not end up using the Stigma Bay due to the difficulties caused in installing it.
(Note from Bjorn – I have tried to see if the Stigma Bay actually is included in the retail package or if Fuse received it as an extra when reviewing this motherboard. It does look like the Stigma Bay is an optional extra that has to be bought separately. End note from Bjorn).
Throughout the Dragon series of Soyo motherboards the BIOS has always been very friendly to overclocking as it has a lot of options that is changeable for the user.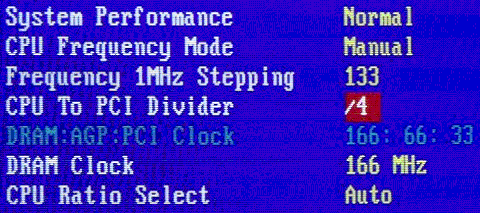 Another small but very useful feature is the built in calculator so it tells you what the new speeds will be so that you don't have to estimate and hope for the best. As far as the ram features you get the basic overclocking features such as CAS latency a few minor settings.
One noteworthy thing about this board is the software bundle. Often you will find yourself making coasters out of the bundles you get but Soyo choose software that would actually be beneficial for their customers. What you get is: Adobe ActiveShare, InterVideo WinDVD, Norton Antivirus 2002 and Norton Ghost 2002.
Benchmark
---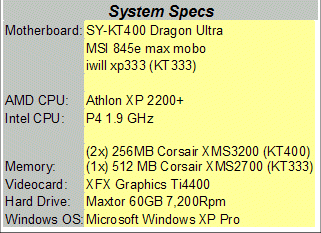 The computer used for testing is a fairly high end Athlon XP based system with Corsair ram. For testing and overclocking purposes Corsair has proved to be the best suited ram for our purposes.
The benchmarks that will be used are as follows:
• Business Winstone 2001
• Content Creation Winstone 2001
• 3D Mark 2001 SE
• Commanche 4 Demo benchmark
• Serius Sam benchmark
• SiSoft Sandra
The Results:
The outcome of this benchmark resulted in the KT400 chipset on the Soyo board scoring the best, which comes as a surprise as the P4 CPU most often wins in comparative benchmarks in my testing platforms.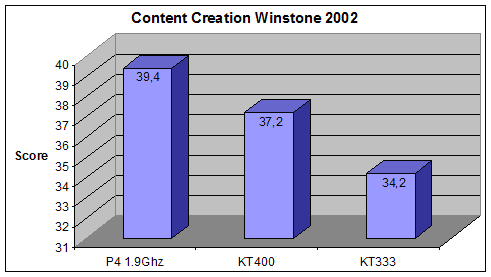 The Content Creation Winstone followed my assumptions with the P4 in the lead followed by the KT400 and 333. This test is a lot more demanding than Business Winstone running software like Photoshop etc.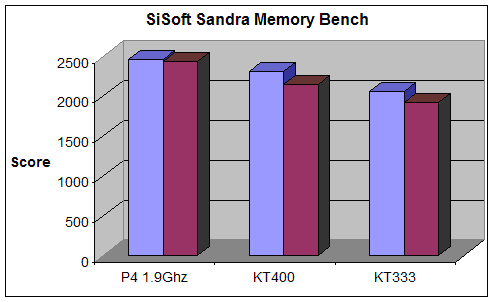 Sandra memory benchmark is a memory bandwidth test. As noted before the KT400 does not officially support DDR400.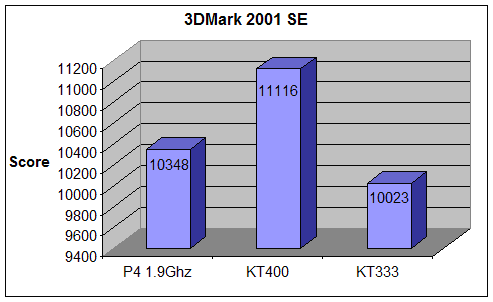 3Dmark 2001 SE seems to be the most reliable these days as there has been some controversy with the 3Dmark 2003. The KT400 did the job here though the scores do a good job in showing that the newer chipset enhances the entire systems performance. This makes it sensible to upgrade the motherboard for a system upgrade opposed to all the add-on cards, as the motherboard is the mainframe of the computer.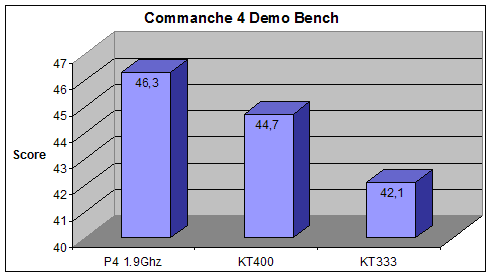 The lasts of the tests was the Commanche 4, this and the 3Dmark are the most interesting benches as they have all the eye candy and the reward of seeing how good your system performed, here the P4 took the lead. The gap between all 3 platforms was no more than a little over 2 fps though. This also backs up the often-heard comment that P4 dominates the graphics/gaming market in performance.
Conclusion
---
The Soyo KT400 motherboard has stuck to the standards of the Dragon series. There are several improvements in this board over its K333 predecessor. There still is room for improvement but a lot of the problems the board has are due to the drawbacks of the KT400 chipset.
The DDR400 claim for this board is not completely false though it is entirely shaky. The board seems to be very prone to flaws and errors when using DDR400 as well as decreased and unsteady speeds.
For the overclocker the board offers a lot of nice features. Soyo motherboards have a good reputation for overclocking and while I didn't test this in this review I have no reason to think that there should be a problem.
Overall the SY-KT400 DRAGON Ultra is a good buy. Soyo has managed to create a very good package. If they can fix the flaky performance with DDR400 via the bios the board also will be a good board for the future.
Find the best prices for the SY-KT400 motherboard at Pricegrabber