Introduction
SimpleTech is a company with over a decade of experience in both the design and manufacturing of memory and storage products. They work for a wide range of industrial and commercial companies, offering services for IP networking, consumer electronics, personal computing, and telecommunications. Recently we looked at SimpleTech's Bonzai 64MB USB Mini-Drive, a pocket size flash drive that uses SD/MMC memory cards. Today's review looks at a somewhat larger storage option, SimpleTech's SimpleDrive™ external USB storage drive.
SimpleTech bills the SimpleDrive as a way to "provide easy, portable storage for any PC or Mac" and a "way to keep your data safe in the office or on the road" as well as being a good solution for backing up the data on your your PC. Let's take a look and see what they have to offer.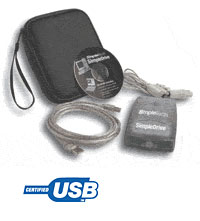 Packaging and Technical Specifications
The SimpleDrive comes packed in a small cardboard box, and it includes several CDs. 
The packaging includes a driver CD (needed for sub Win2000 operating systems) and a retail copy of Retrospect Backup software.  A handy quick reference card is also included for installation and use guidance.  Cables, needed to operate the device, include a USB cable and a PS/2 keyboard cable.  A PS/2 to AT adapter is also included for those who may be still using some ancient AT system.  This cable has a splitter to allow you to plug the cable into the PS/2 keyboard plug and two PS/2 adapters on the other end to allow both the keyboard and the SimpleDrive to share the motherboard PS/2 plug.  Also included is a very nice, synthetic carry case.  It easily houses all of the contents needed for travelling with this device.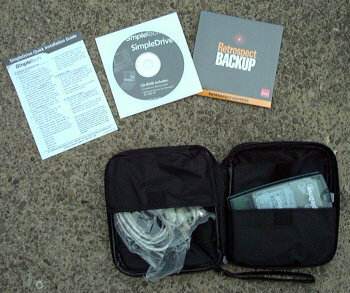 SimpleDrive Portable USB1.1 Hard Drive
The SimpleDrive is a grey translucent USB to EIDE interface, using a Hitachi 20GB laptop hard drive.  As you can see, the package is relatively small, given the size of the internal hard drive.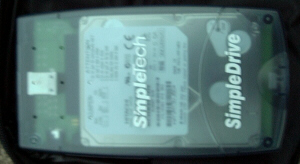 On the device is a small toggle switch for choosing your power source, either "Bus", for obtaining power from the USB bus, or "DC", for power by the PS/2 keyboard port.

The system requirements for this drive are pretty basic. SimpleTech simply advises that you need either Mac OS 8.6 or higher or Windows 98 or higher. There does not appear to be Windows NT or Linux support.
Retail pricing on this external drive is $156, shipped, direct from SimpleTechDirect.
Installation & Testing
The SimpleDrive is really intended to be a travel companion, offering 20GB of storage for those of us who are on the go.  This model is only USB1.1 compliant (i.e., it is theoretically capable of transferring data at speeds up to 1,500 KB/s).  SimpleTech does offer a USB2.0 version and a firewire version, for those with these faster interfaces.  I currently only have USB1.1 on my Epox 8KA3 Athlon motherboard, so this was the product for my system.
Installation was easy, really.  Initially, I plugged the SimpleDrive into the USB hub of my Hercules Gametheater XP external pod, and I did not install the PS/2 cord.  Note here that the PS/2 patch cord is intended only to provide power to the SimpleDrive.  The SimpleDrive can be run off of the lower power supplied by a USB port. However, sometimes the USB port may not provide enough juice to get the hard drive to spin.  This was my case, unfortunately.  My USB hub would not get the hard drive to spin.  WindowsXP found the SimpleDrive as soon as the USB cable was connected, but there was insufficient power to get it to function as a hard drive. 
Second step was to leave the power switch set to "USB" (i.e., I still did not connect the PS/2 patch cable to the system), and try one of the USB1.1 ports on the motherboard.  This set-up still did not provide enough power to spin the hard drive.
Last step was to use the PS/2 patch cord.  After having to shut the computer down to rig up the PS/2 patch cord, and after switching the SimpleDrive's toggle switch to "DC", it worked as advertised.  I also got the SimpleDrive to work through my USB hub, with the PS/2 power cord attached.
If you don't want to mess with the PS/2 patch cord you can also just buy a generic AC power supply to power the unit as well.
For testing, I copied my Quake 3 Arena back-up directory, which holds 895 megabytes of miscellaneous Q3 patches, maps, skins, mods, etc. (remind me to clean out some of the old Q3 patches and old mod versions!), to the SimpleDrive.   For comparison, I also copied this directory between my two ATA100 7200RPM Maxtor hard drives:
 

Drive

 

Time to Transfer 895MB

 

Resulting Transfer Rate

SimpleDrive USB1.1

 

14 minutes, 35 seconds

   1,023

KB/sec

SimpleDrive through HUB

44 minutes, 12 seconds

      337

KB/sec

ATA100 hard drives

 

15 seconds

 60,000

KB/sec
The performance shown is on par with typical USB1.1 external storage devices, when plugged into the motherboard port.  When run through the HUB, the performance became rather dismal.  I spoke to SimpleTech about this latter issue, and they informed me that the SimpleDrive should perform well through a hub as long as the hub truly meets the USB1.1 specification.  Perhaps, in my case, my hub does not.
Conclusion
Apparently, we must use the PS/2 power cord to use this USB hard drive.  Perhaps (and hopefully) it might fair better off of only the USB port on a laptop, which is where the main use for such a device is intended.  Otherwise, with the inclusion of the Retrospect backup software (an easy to use back-up suite which automatically copies and compresses data files), this is a solid product for the price of <$160. 
Pros:
Easy to use USB interface

Large capacity, greatly exceeding ZIP drives and CDR/W's

Mac support

Compact, easily portable size…especially with the handy, compact travel case 
Cons:
Using the PS/2 patch cord is somewhat cumbersome 

No Linux support

No Windows NT support
For its ability to provide 20GB portability at a decent price, I'm giving the SimpleTech SimpleDrive a 9.0 out of 10 and the Bjorn3d Seal of Approval.