Introduction
A couple of weeks ago I was browsing around for a little MP3 player for a friend. I had my mind set for the Creative MuVo, since I had one and was happy with it, when something else caught my eye. An MP3 player which had 128 MB built-in flash memory plus support for Smart Media Cards. Sounds nice? Well, the kicker was that it only cost around 1000 SEK (about 80$ excluding our 25% sales tax). The more expensive MuVo had to wait for another day (she actually got mine) while I bought the Comotron 3.1 MP3 Audio player. Was it a good buy or wasted money? Read on and find out.
The package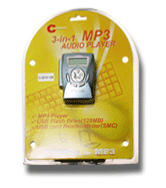 The MP3 player comes in a small form-molded plastic container. Included is a CD with drivers (Win98,ME,2000 and XP), a small manual, a USB cable, earphones, 2 AAA batteries and the player itself.
The manual, while small, is quite good and covers all the features of the player. I didn't really need the encluded CD, since the player was automatically installed on Windows XP. The drivers from the CD, just in case you need them.
The player
At a first glance, the Comotron MP3 player looks odd. While the player itself is quite sleek and light, it has some strange device hanging out on the side of the player. This 'device' is actually a dust-protecting cover over the SMC-slot. I really think they could have solved it a better way since I am a bit worried about how durable it is over time.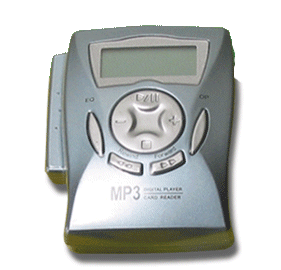 As I said in the beginning, the player has 128 MB flash memory (a 64 MB model also exists). This should be plenty for most people. However, if needed, you can add an SMC-card with up to an extra 128 MB memory. File transfer is done via USB cable. The player just pops up as a new drive and files are copied to the player via the normal Windows Explorer. What could be simpler? Just like the MuVo the only way to sort your files is to copy them one by one in the order you want them. If you just drag'n'drop a bunch of files, the order is determined by the way you have sorted the files on your hard drive. Files can also be put in sub-folders and played from there.
The player actually has a little LCD screen. Unfortunately it doesn't support ID3-tags so you won't be able to see the track name, only the track number.
The rest of the features are what you would expect on an MP3 player these days. It has 6 preset equalizer settings. Personally, I only thought the normal setting was "good". The player lets you shuffle tracks, skip tracks and A-B clipping selection. The last feature lets you select a start and a stop position in a song and play the selection over and over again.
Music Maestro!
A player can have all sorts of features, but if it doesn't sound good it's worthless. My first impression of the Comotron was quite negative as I realized that it didn't support WMA files. I know audiophiles don't like WMA since they say it doesn't sound as good. However, as I discovered with the Creative MuVo, I personally feel that the 96K WMA's sound as good in my ears as 128K MP3's while having a smaller file size. So, it would have been a nice feature. However, the negative impression quickly vanished as I transferred some MP3's and started to listen to them.
The MP3's used for this review were a mix of 128K and 196K MP3's of a wide variety of music. I listen to everything from 80s music (Bon Jovi, Madness, Pet Shop Boys etc.) to Linkin Park and Eminem of today. Mix in some opera and the Russian national Anthem, and you realize I listen to everything.
One of the first obstacles an MP3 player has to overcome is crappy earphones. One good example is the Creative MuVo. The included earphones for that player quite frankly suck! The bass is completely gone when using them. Comotron, however, has managed to include a real good set of earphones. The sound was very good, and I'm actually still using them instead of buying myself a new set. 
I've been using this player for several weeks now including on the bus and train, and it has almost never failed me. The battery-life also has been very good; even though I've been playing it a lot every day, the 2 AAA batteries last for several weeks.  I have even used the player at work, hooking it up to a set of small Harman Kardan speakers. The sound was excellent, just as good as playing CD's.
The bad stuff
Unfortunately all is not rosy with this player.
The quality of the player. As I said before, I am a bit worried that the dust cover will break off over time. The player still will be operational though so it is more a cosmetic issue. The rest of the player may feel a bit plastic but nothing that bothered me.
No WMA support
Corrupt flash memory after the batteries were drained. This happened once. I took out the dead batteries and put in new ones, and then I couldn't play any of my songs. I had to reformat the memory and transfer the files again. It only happened once though.
No ID3 support. Only seeing the track number was a bit disappointing.
Hmm, actually, that is all the bad I had to say about the player.
Conclusion
Overall, I think this is an excellent player, especially for the money. I've had several MP3 players including 2 Creative ones, and this easily is one of the best. It has good sound, lots of memory (which is upgradable via the Smart Media Card slot) and is cheap. What more can you ask for? For its excellent price versus performance ratio, I award the Comotron 3 in 1 MP3 player a rating of 8.5 out of 10 and a Seal of Approval.