Introduction
---
NVIDIA's nForce2 platform has been one of the most anticipated developments in the computer world lately. With promises to compete with and actually surpass the Via KT333 chipset in performance, we have been excited to see just how good this platform is. If you have taken the time to read any of the nForce2 preview articles around the web (you can read ours here), you know that NVIDIA is offering a nice set of features and possibilities with nForce2. While the original nForce may have been disappointing to some, I bet they will not be saying the same about nForce2. NVIDIA is a little bit wiser and better at creating a motherboard platform now since they have learned from their mistakes and are trying to improve on those and the mistakes of their competitors. If you are considering a new motherboard purchase in the next couple months, you should definitely take a look at the promising nForce2 offerings.
The first nForce2 motherboard up on the test benches here at Bjorn3d is a Leadtek WinFast K7NCR18D-Pro. This board offers USB 2.0, Firewire, AGP 8X, ATA 133, 10/100 NVIDIA ethernet, 333 front-side bus, CPU Over Temperature Shutdown (O.T.S.), DualDDR and NVIDIA SoundStorm Audio with Dolby Digital 5.1 encoding and SPDIF digital output. The WinFast K7NCR18D-Pro is based on NVIDIA's nForce2-ST platform, which is the nForce2 SPP + nForce2 MCP-T.

Features & Specs
---
Features:
Based on NVIDIA nForce2-ST (nForce2 SPP + nForce2 MCP-T) Platform Processor
Supports up to 333 Front-Side Bus for AMD Athlon/XP and Duron CPU
HyperTransport Technology Support
128 bit DualDDR Memory Architecture with support up to 3GB 400 MHz(DDR) memory
Supports AGP 8X interface for high-end 3D Graphics card
Built-in NVIDIA SoundStorm Audio with Dolby Digital 5.1 Encoding , SPDIF Digital output and 6-channel speakers support
USB 2.0 controller support up to maximum 6 USB 2.0 ports
Two Ultra ATA133 IDE dual channel interfaces, data transfer rate up to 133MB/sec
Built-in 10/100 NVIDIA Ethernet
3 ports IEEE 1394a Firewire
Supports Hardware Monitoring utility for monitoring system status
BIOS and hardware offers CPU Over Temperatur Shutdown (O.T.S) function to protect CPU from burnout
Support Vcore, Vmem and AGP Vddq adjustment for better system compatibility
Provide header for Smart Card Reader Interface and application program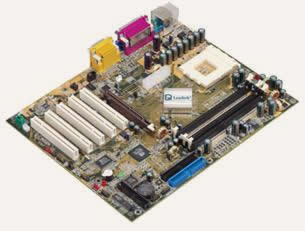 Specifications:
Form factor
ATX 304.8mm x 243mm (12″x 9.6″)
CPU Support
AMD Athlon/XP, Duron Socket A processors
Supports up to 333 Front-Side Bus
Platform Processors
Nvidia nForce2-ST (nForce2 SPP + nForce2 MCP-T)
CPU/SDRAM/PCI clock
Frequency range: 200 to 400MHz (DDR)
Main Memory
Supports 3, 184 -pin DIMM sockets for DDR -SDRAM module
Support up to 3GB of memory
Support up to DDR 400 memory
128 bit DualDDRMemory Architecture (2 pieces memory required)
Audio (APU)
Built-in NVIDIA SoundStorm Audio with Dolby Digital 5.1 Encoding , SPDIF Digital output and 6-channel speakers support
LAN
Built-in 10/100 NVIDIA Ethernet
Two Ultra ATA 33/66/100/133 IDE ports
– Supports up to PIO mode 4, Multi-word DMA mode2 and Ultra ATA 66/100/133
– Bus master drivers for Windows 9x, ME, 2K and XP
Double stack back-panel I/O connectors
PS/2 Mini-Din mouse & keyboard ports
RJ45 connector (LAN version only)
Two USB2.0 Ports (l header provided for extra 4 USB 2.0 port)
One 25pin D-SUB female printer port
Two 9pin D-SUB male serial port for COM1 & COM2
Game/Midi port, Line_In, Line_Out and Mic_In jacks
Expansion slots
1 x 32bit 8X AGP slot.
4 x 32bit PCI slot.
1 x ACR slot.
System BIOS
AWARD BIOS, supports PnP, APM, Multi-Device booting features (Floppy, LS120, CD-ROM, IDE, SCSI, ZIP, ATAPI)
Supports ACPI 1.0b (Advanced Configuration Power Interface): S1, S3 (Suspend to RAM), S4 (Suspend to DISKor RAM )
Boot-up anti-virus support
2MB flash ROM
Adjustment for Best performance setting
Adjustable CPU clock.
Vcore,Vmem, AGP Vddq.
PC Health hardware monitoring
Two thermal sensors protecting CPU and system
5 voltages monitoring input (+3.3V, +5V, Vddq, Vmem, Vcore)
Hardware Monitor
Hardware Monitor provides main system information. You can read CPU/System fan speed and temperature to provide the best overclocking capacity from Hardware Monitor
Package Contents
---
WinFast K7NCR18D-Pro socket A motherboard
WinFast software pack CD
User's manual
Ultra ATA 133 IDE cable
720KB / 1.44MB / 2.88MB Floppy connecting cable
SoundStorm Audio Digital output module
USB 2.0 connection bracket (Optional – not included with test package)
---
Before I could test the board, I of course had to install it and set it up. So, I took everything out of my PC and moved it over to this new motherboard. The layout of the motherboard is pretty logical and there seems to be enough free space where you need it, such as around the CPU socket. I was able to install a Thermaltake Volcano 9 on the CPU, but there was no room to spare.
Getting all the hardware hooked up and installed was simple enough. The board layout didn't really give me any problems, but I almost ran into trouble with my Leadtek WinFast A250 Ultra TD GeForce4 Ti4600. As you can see from the pics below, it barely fit into the AGP slot. The mobo and Ti4600 capacitors are practically kissing if you can't tell from the pics.
Other than the video card, the only thing I had a little trouble with was getting the Firewire ACR card installed. I had to push down pretty hard to get the card in all the way – much harder than I was used to pushing with PCI and AGP cards. No big deal, I just thought it was strange and hated to have to use so much force.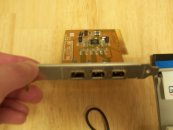 After getting all the hardware installed and everything in my case, I proceeded to install WinXP, which was very simple and not problematic at all. Then, I decided to go ahead and install Service Pack 1 before installing the motherboard drivers. SP1 installed, I continued to the included Leadtek driver CD. The CD includes necessary drivers for the onboard ethernet, sound and IDE drivers. To get the best performance from your nForce2 motherboard, you must make sure you have the latest drivers installed, especially the IDE drivers, which have been optimized by NVIDIA to boost your hard drive performance considerably. Installing the drivers was very straightforward and required a couple restarts. Then everything was set. Now, time to look at setting up the BIOS.
Here are some pictures of a couple of the main BIOS screens. I apologize if they are too blurry for you to read completely. From left to right, they are the main menu screen, the Advanced Chipset Features screen, the PC Health Status (O.T.S.) screen and the X-BIOS screen.
I haven't been into overclocking much since I set up my old Celeron box to run a 366 at 550MHz, so I just set the BIOS up to run the FSB at 133. At first I just ran the memory in sync, but then I added some Corsair XMS3500 CAS2 DDR to my system so I went ahead and cranked the memory up to 400MHz and changed the memory timings to 2-2-5-2. I ran most of the benchmarks in sync though, so the memory speed was at 266MHz, obviously not pushing the XMS RAM at all.
Ethernet MAC and Sound Performance
---
Before proceeding to the typical performance benchmarks, I want to briefly discuss my experience so far with the onboard ethernet and sound devices. The ethernet MAC works very well. I've had no problems with it at all since installing the drivers for it. I really appreciate the inclusion of ethernet functionality onboard. This way, I don't have to mess with installing a separate NIC (network interface card) and worry about driver conflicts. I hope that eventually most motherboards offer onboard ethernet. It makes building a system a little easier.
NVIDIA SoundStorm
SoundStorm is one of the best (if not the best) onboard sound solutions on the market. With its Dolby Digital 5.1 Encoding, few other offerings can compete. You won't need to pick up a sound card with this baby! If you want a Leadtek board with SoundStorm, look for the "-Pro" suffix on the model numbers.
Unfortunately, I do not have anything more than a 2.1 (Klipsch Promedia) speaker setup, so I can't fully test the sound chip's capabilities. But I really love good sound so I can tell you if it sounded good or not compared to my SB Live! 5.1 Platinum card. I tested out the audio performance by listening to MP3s, CDs and playing some games. All the music I played sounded great. I listened to classical, hip hop, classic rock and jazz, and it all sounded just as good as it did with my SB Live!
I played several games, and they all also sounded great. Before playing Soldier of Fortune II, I installed OpenAL in order for the EAX support to work. I started up SoFII and changed my sound to EAX. Then I decided to play a few levels, and I noticed that the sounds were very clear and crisp coming out of my speakers. I could easily distinguish which side (left or right) sounds were coming from. Once again, SoundStorm is right up there with the SB Live! and maybe even topping it.
No sound test would be complete though without testing out some DVD movies, so I popped in The Matrix and watched some of the better action scenes. Once again, the sound was great. It also sounded very good with Spider-Man, Snatch and Monster's Inc.
The only reason I would ever consider putting my SB Live! back in my box is so I can use my Live! Drive breakout box. Wouldn't it be sweet if NVIDIA made some sort of breakout box? 🙂 The sound produced by the NVIDIA SoundStorm is great, and I see no reason why users with 2.1 speakers setups won't be happy with it. I wish I could say for sure about 4.1 and 5.1 setups, but as I stated, I have no such setups available for testing. I think you can safely assume though that it will also provide excellent performance, especially since the original nForce had such good sound.
System Performance
---
To test the performance of the K7NCR18D-Pro, I used some of the typical benchmarking utilities, including PCMark2002, SiSoft's Sandra, 3DMark2001SE, Q3Bench and ChameleonMark. Before we get to the testing results, here are the specs of my system used to test out the nForce2's goodness.
Test Box Specs:
To see what kind of performance gain someone can expect from upgrading to an nForce2 motherboard from an older motherboard, I am going to compare some of the results on the system described above to my old configuration, which is listed below. Please note that I am only listing what is different. Yes, I realize that more than one variable is changing here, but I'm going to present the information just for your reference. If you look closely at the test results, you can see that in most cases the jump in performance comes from the motherboard and not the other changes.
Comparison Box Specs:
Motherboard: EPoX 8k7a+ (AMD-761 chipset)
Processor: AMD Athlon XP 1800+
RAM: 512MB VisionTek PC2100 DDR
OS: Windows 98SE

PCMark2002:


PCMark2002 Results with 4 Different Configurations
One of the most significant comparisons you should notice here is the bottom two rows — the 8k7a+ with the Athlon XP1800+ and PC2100 DDR on Win98SE and the nForce2 with the same processor and RAM on WinXP. The CPU score went up 533 points while the memory and HDD scores went up 440 and 170 points, respectively. That's a pretty nice improvement if you ask me! The next noteworthy gain in performance occurred when I switched out the 1800+ for the 2100+ — CPU increased by over 500 and memory by over 300.
You may think it's strange that the Corsair XMS3500 didn't put up higher scores. Well, the BIOS doesn't have a CPU multiplier so I couldn't do any good tweaking of the FSB to really push this board and the XMS3500. There was no significant difference in benchmark scores when I set the FSB at 133 and the RAM speed at 400MHz versus the FSB at 133 and the RAM speed synchronized at 266MHz. NVIDIA actually recommends that you set the memory speed in sync with the FSB for optimal system performance. The memory timings for the tests (and all the rest of the benches) were CAS=2.0, T(RP)=2, T(RAS)=5, and T(RCD)=2.
SiSoft Sandra 2002:
SiSoftware's Sandra benchmarking utility has a lot of good benchmarks for testing out your system. In my testing, I ran the CPU, Memory, Multi-Media and FileSystem benchmarks. I also ran these with my old system that I mentioned above. Here you can see how the 8k7a+ and Athlon XP 1800+ scored compared to how the K7NCR18D-Pro nForce2 and 1800+ scored in the CPU test. Performance did go up but only by a small amount, definitely not as much as in PCMark.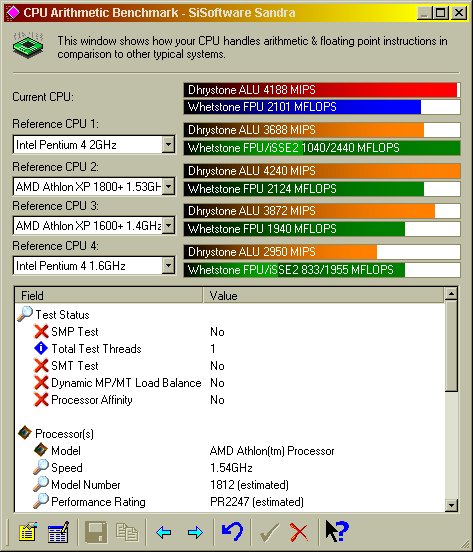 EPoX 8k7a+ & AMD Athlon XP 1800+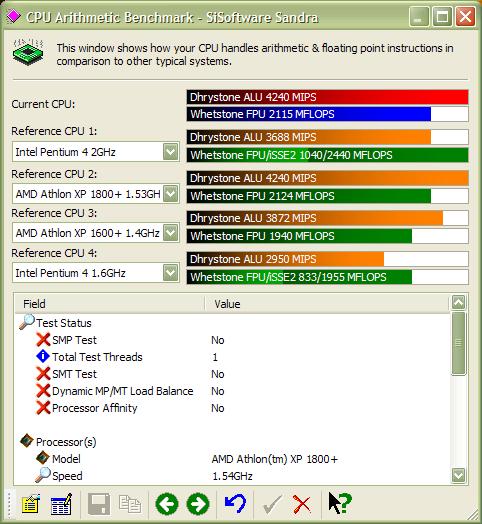 Leadtek K7NCR18D-Pro & AMD Athlon XP 1800+
Next is the Sandra CPU Arithmetic benchmark score of the K7NCR18D-Pro with the 2100+ processor and 512MB of Corsair XMS3500. This change will obviously result in considerably higher scores.

Leadtek K7NCR18D-Pro & AMD Athlon XP 2100+
The next comparison you see is of the Sandra File System benchmark scores of each motherboard. If you compare the numbers, you can see that the nForce2 motherboard's drive index is 4,529 points higher than the 8k7a+ index. Another very nice improvement — almost 17% increase in performance. Needless to say, NVIDIA has done a great job on the IDE drivers for the nForce2, and they deserve some props for that. In case you skipped over the test sytem specs above, I want to mention again that the same hard drive was used for both these tests, and the hard drive used was a Western Digital 80GB with 8MB buffer (WD800JB).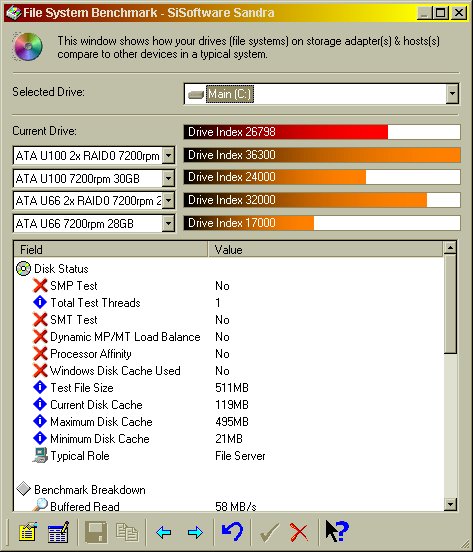 EPoX 8k7a+ File System Benchmark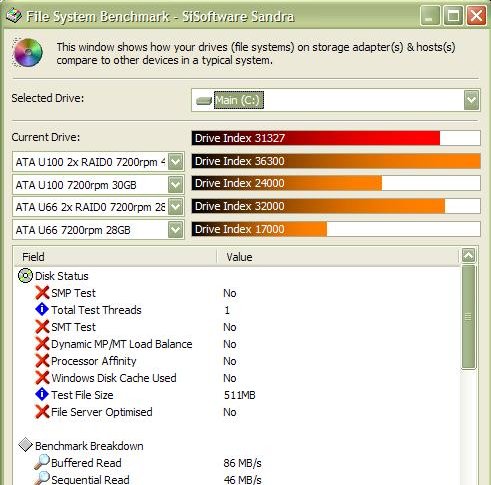 Leadtek K7NCR18D-Pro File System Benchmark
The final two benchmarks I used from the Sandra suite are Memory Bandwidth and CPU Multi-Media benchmarks. I do not have comparisons to the EPoX for these, but you can see that the nForce2 board scored rather well in each. Both of these benchmarks were with the Athlon XP 2100+ and Corsair XMS3500 DDR.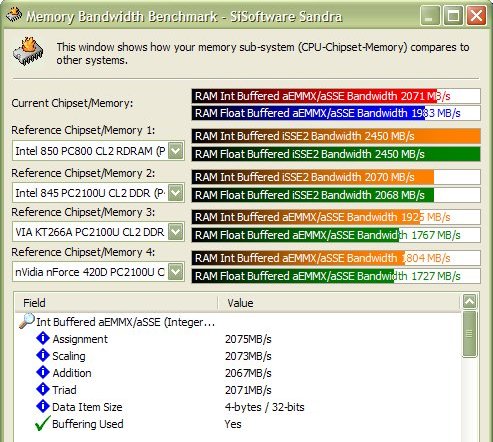 Leadtek K7NCR18D-Pro & XMS3500 @ 266MHz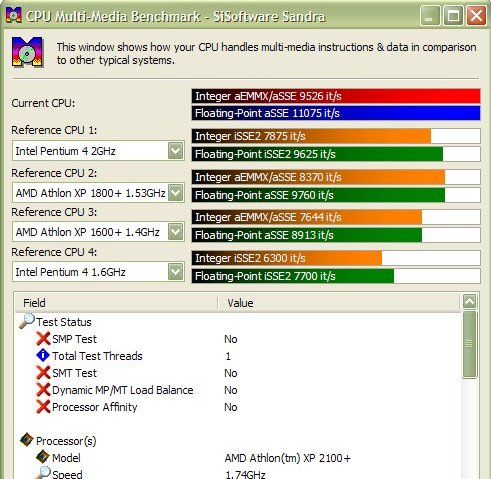 Leadtek K7NCR18D-Pro CPU Multi-Media Benchmark
On the following page, I will finish up my benchmark reporting with 3DMark, Quake 3 Arena and ChameleonMark. So continue on if you want to see how well this board performs for gaming!
Gaming / 3D Performance
---
No motherboard review would be complete without at least some sort of gaming or 3D performance tests, right? I decided to stick with the classics because I already had them done for the EPoX board. So I ran benchmarks using 3DMark2001SE, Q3Bench and ChameleonMark. For the Q3A tests, I used version 1.31 and the Four demo.
3DMark2001SE:
The most notable jump in performance here is similar to the PCMark results. I got the biggest increase when just switching from the EPoX board to the Leadtek. They are pretty nice increases too! I really like that 1330 extra 3DMarks!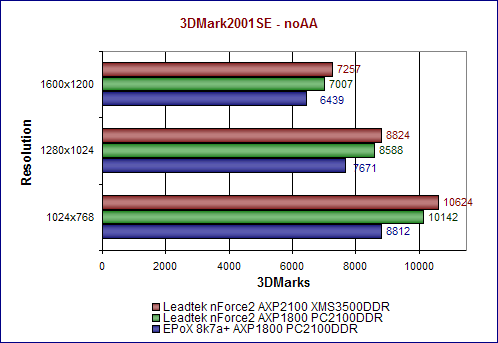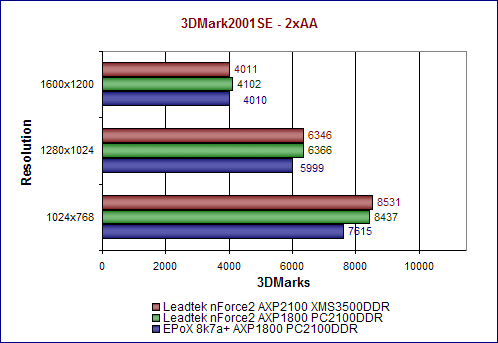 Quake 3 Arena:
Just like 3DMark, we see another nice jump with Quake 3 Arena performance, but some of the increase in the graphs below is from upping the CPU from an 1800+ to a 2100+. This time I don't have the nForce2 and 1800+ numbers for comparison, but it is safe to assume that a considerable amount of the performance boost is from the motherboard.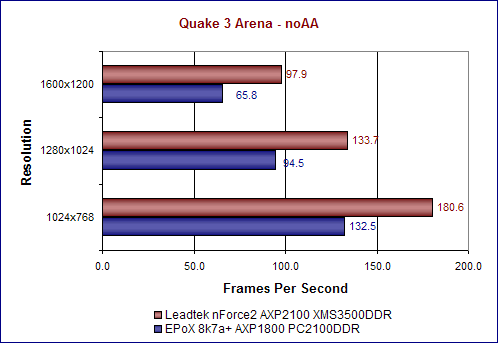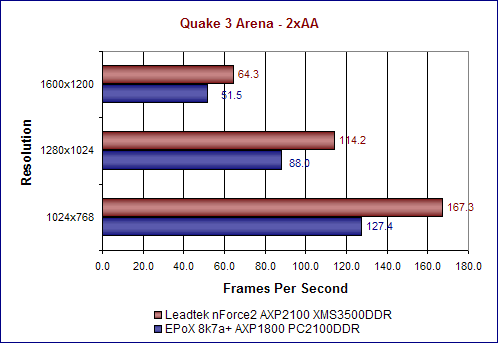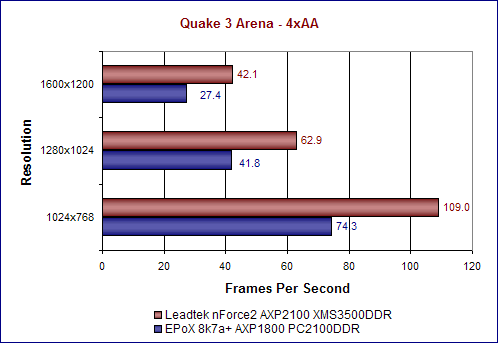 ChameleonMark:
As you can see in the graph below, we have a different story with ChameleonMark. Obviously this benchmark is only testing the video card and isn't being influenced much at all by the processor or the motherboard. NVIDIA designed the benchmark to test their video cards, and that's what it's doing. 🙂 So if you and your friends want to see who has the best raw video card performance, then this would be a good one to use assuming you all have NVIDIA based cards of course.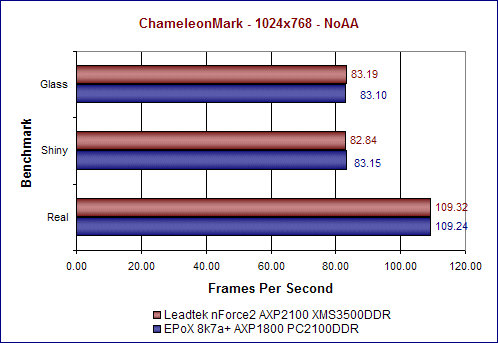 Final Thoughts & Conclusion
---
Leadtek has a pretty solid nForce2 offering in the WinFast K7NCR18D-Pro. It's probably not going to be the most exciting nForce2 board available as far as features and extras go, but it is a good performing, stable motherboard. Overclockers and tweakers should be happy with the BIOS features supplied by Leadtek, but they may be stuck without a CPU multiplier if Leadtek has no plans to add it in a BIOS update.
I am very pleased with the performance increase I got over my old system with the EPoX 8k7a+ motherboard. I would really like to see how well this could perform with an Athlon XP 2800+ so I could take advantage of the 333 FSB. That would definitely result in a significant boost in my benchmark scores.
Pros:
Stable and good performance
Great onboard sound courtesy of NVIDIA's APU and SoundStorm
Some BIOS tweaking options
Onboard ethernet works great
Cons:
For its solid performance and stability and its excellent onboard features, I am awarding the Leadtek WinFast K7NCR18D-Pro a score of 8.5. Recommended.