Introduction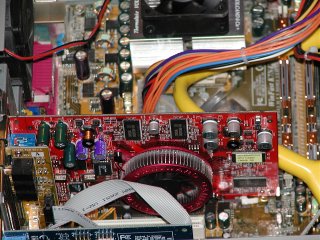 Despite much of the computer hardware press focusing on the Radeon 9700 and the upcoming Nvidia NV30, the fact remains that out in the real world most users aren't willing or able to spend $400 on a new video card. Those cards are for high end gaming enthusiasts with the resources to snag them when they first come out. For the rest of us, we're left to find that video card sweet spot that gives us the most performance for the best price. The GeForce4 Ti4200 is one of the cards filling that sweet spot now. They're rock solid cards with great performance and generally sell in the $150-$175 range. That's a range that's reasonable and reachable for a good many gamers so it's no wonder it's one of the graphics industries more popular marketing niches.
Gainward's latest Golden Sample vid card fits into that niche nicely and is probably one of the nicer packages you'll find too. Bjorn3d actually recieved this test card for our Halloween inspired Hack-O-Lantern contest, and I have to say that it's not without some regret that I'll pass this on to one of our winners! The Gainward GeForce4 PowerPack! Ultra/650XP Golden Sample is one of the more appealing vid cards that I've reviewed and would be high up on my list of choices if I were in the market for a new card right now. Let's take a look at what it has to offer and what sets Gainward's card out from the masses of other GeForce4's out there.
Specifications and Features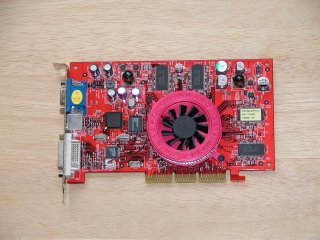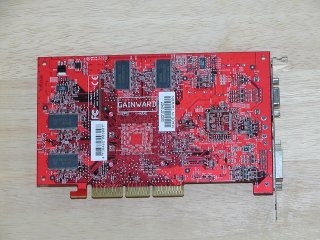 There are a myriad of Ti4200's out there to choose from these days, but Gainward really has one of the higher quality packages out there. Their Ultra 650 XP is a 128MB DDR version that features both VGA and DVI connectors as well as TV out and Video In and Video Out (VIVO) capabilities. Let's stop and take a look at the factory specs for this card before we go any further:
Key Features
Integrated nVIDIA GeForce4 Ti4200 – the most powerful GPU.
Support 128MB high-speed 128bit DDR RAM/SDRAM memory.
Support high quality TV-OUT for NTSC/PAL system
TV-out connector support S-VHS mini Din and one Composite .
Support capture Video from TV,VCR,DV or camcorder with Composite and S-Video.
Video capture rate up to 30f/s.
Support LCD Monitor with DVI connecter.
DVI on board support up to 1600×1200 resolution.
AGP 2X/4X AGP support and easy Plug-and -play AUTORUN installation From CD-ROM include.
Specifications
Support nfiniteFX TM II Engine for full programmability.
NVIDIA nView Display Technology provides flexibility an control for using multiple displays.
Accuview Antialiasing delivers unbeatable visual quality and frames rates.
Dual Programmable Pixel product surface details never before seen on the desktop
Integrated 32-bit color and 32-bit Z/Stencil Buffer
Integrated Cube environment mapping, and true reflective bump mapping.
Multibuffering (double, triple, quadruple) for smooth animation and video playback.
Video-out support (NTSC/PAL) TV system. It can providing best-of-class TV-out functionality up to 800×600 resolutions.
Support LCD output with DVI connect, the resolution up to 1600×1200
Gainward's XP-Feature for Video-In and Video-Out
Gainward's award-winning XP feature, also known as "VIVO", provides two video-in connectors and two video-out connectors (both composite video and s-video for PAL and NTSC) for smooth video recording and video editing including accelerated DVD playback with enhanced motion compensation in hardware.
EXPERTool TM Performance Tuning Utility
EXPERTool TM is Gainward's performance tuning utility that allows the user to easily adjust the engine clock and memory clock of any Gainward product from nVIDIA's recommended default settings to even higher settings. Gainward offers the end user the choice to either run the board in "Safe Mode Setting" or at "Enhanced Setting" ("Golden Sample" products only, featuring a more stable design with faster memory) which offer enhanced real-world 3D performance for higher resolution. Performance tuning is the most commonly used method among the ultimate power gamers to extract the utmost performance out of a high quality 3D graphics card.
API SUPPORT
DirectDraw(R),Direct3D(R)
DirectX 8.1
FULL Open GLR ICD 1.3 support
OS SUPPORT
Windows 95/98/ME/2000/XP/NT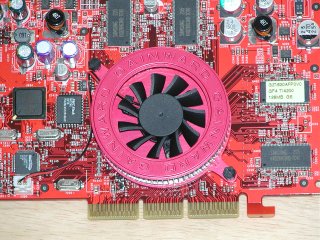 Aside from an impressive array of features, Gainward also does a nice job from an aesthetical standpoint as well. Their bright red board coloration and unique cooler and fan are aesthetically pleasing and beg to be shown off through a case window. While not everyone is worried about how their vid cards look, it's rather nice to see that Gainward takes into account those who do and presents an appealing package for the case mod crowd.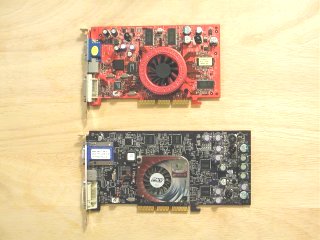 In the above pic you can see the Gainward card compared to my PNY Verto GeForce4 Ti4600 which I used as a reference card in this review. The 4200, as is typical, is a little shorter than the 4600 and should be a better fit in some tight cases and on some motherboards. I know in a couple of travel boxes we've experimented with here at Bjorn3d, the 4600's were a bit too long but the 4200's fit without an issue. If your case is a little tight, this might be something to keep in mind.
Contents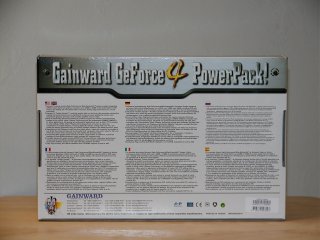 Gainward's PowerPack! packaging was fairly good and should present a good facing presence on the retail shelves. I found the orcish figure on the front of the box rather charming myself. The back of the box had some basic info about the card in six different languages.
I mentioned in my intro that Gainward had one of the nicer Ti4200 packages around so lets take a look and see exactly what they give you.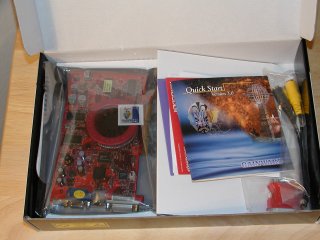 Gainward Golden Sample Ultra 650 XP GeForce4 Ti4200 video card
TV Out cables
DVI to VGA adapter
Driver CD
Serious Sam, full version
WinDVD CD
WinProducer/WinCoder CD
That's not a bad setup! The DVI to VGA adapter is a real nice touch in my opinion. A lot of the cards in the Geforce4 line have DVI connectors on them these days but comparatively few users have DVI monitors yet so most folks can't really use it for a second monitor and take advanatge of Nvidia's nView dual monitor support out of the box. At best you need to pick up an adapter to do so, and I suspect most folks never bother even trying it because of that. Gainward's inclusion of the adapter in their retail pack ensures that you at least have the option of fully utilizing your card right out of the box and is a thoughtful addition by the manufacturer.
The provided software is pretty good on the Ultra 650 XP as well. First off you get a full game, in this case Serious Sam. While I might have liked to see a more current game included, you can't have everything. At least they're giving you something that'll let you see the beauty of your new vid card in action right away. Serious Sam isn't a bad game either although a lot of you may already have it by now.
In addition to Serious Sam, Gainward also provides some more serious software as well in the form of WinDVD, WinProducer and WinCoder. WinDVD is DVD playback software and obviously needs to be used in conjunction with your DVD drive. WinCoder is an app that lets you capture digital audio and video, and WinProducer lets you work with that captured media. With WinProducer you can edit your video tracks, add special effects to them and add titles and text to create your own home movies.
Gainward also provides a pretty darn good user's manual, but we'll take a look at that in our next section…
Installation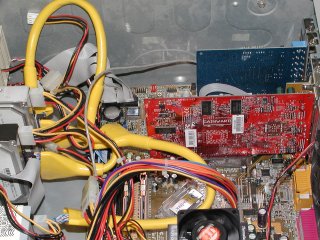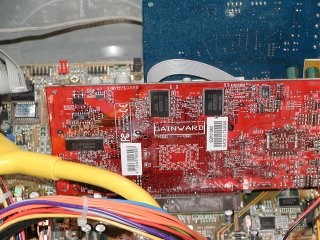 Installing the Gainward Ultra 650 XP was about as painless as you can get. After removing my case's side panel, I simply pulled out my Ti4600, inserted the Ultra 650 XP and rebooted my machine. Windows immediately found the card and asked for drivers upon boot up. I opted to cancel at this point and re-installed Nvidia's Detonator 40.41 drivers as these are the ones I used with my PNY Ti4600 as a baseline for comparison. The provided driver CD is certainly another viable option as it has a great, easy to use interface that walks you through the driver software installation if need be. 
Although I didn't need it for this installation, Gainward actually provides a very good user manual that covers not only the installation of the card but also the set up and use of the extra features such as nView, VIVO and TV Out. Even a novice should be able to follow along with it and have little trouble getting their card up and running quickly.
Testing
I ran the Gainward Ti4200 through the usual battery of tests including Quake 3 Arena, Return to Castle Wolfenstein, Nvidia's ChameleonMark and MadOnion's 3dMark2001SE. For comparison purposes, I used my the PNY Geforce4 Ti4600 that we tested here earlier this year. All tests were done with VSYNC set to "Off" and Anisotropic filtering set to 4.
My test machine's specifications are as follows:
AMD Athlon XP 2000+
Leadtek K7N420DA nForce motherboard
2 256MB OCZ PC3000 DDR RAM
PNY Verto Geforce4 Ti4600 (used as a reference card)
MaxiSound Muse 5.1 DVD Soundcard
2 20gb 7200rpm Maxtor HD's
Iomega 8x4x32x CD Burner
Creative 52x CD-ROM
Microsoft Windows 2000 SP2 OS
Nvidia Detonator 40.41 video drivers
3dMark2001SE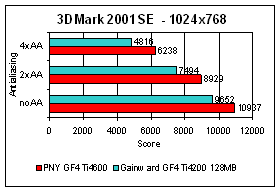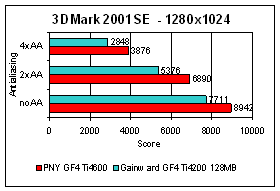 For MadOnion's 3dMark2001SE, we tested at both 1024×768 and 1280×1024 resolutions with 32 bit textures and 32 bit colordepth selected and texture compression turned off. While obviously not matching the Ti4600, the Gainward Ultra 650 XP still brought in some respectable scores for these settings. In some cases, such as the 1024×768 settings at No and 2x anti-aliasing the actual scores weren't all that far from the 4600's scores.
Nvidia's 40.41 drivers gave a real boost to the Geforce4 line, and it's especially notable when you look at the 3dMark scores. The Gainward Ultra 650 XP's scores shown here actually beat some of our earlier tests of Ti4600 cards using older driver sets.
Nvidia's ChameleonMark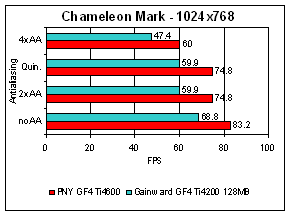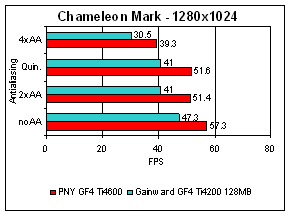 ChameleonMark is a benchmarking demo created by NVIDIA to showcase the advanced pixel and vertex shading techniques of DirectX 8.1. The demo shows a chameleon walking across a branch and renders it with three different skins (glassy, real and shiny).We ran the Glass benchmark with No, 2x, and 4x anti-aliasing settings to get an idea how the Gainward card would perform. Glass seems to be the toughest of the 3 ChameleonMark tests and should give you a good "worst case" performance score. The Ti4200 runs about 15 points behind the Ti4600 at 1024×768, but the gap closes to only about 10fps difference up at 1280×1024. The overall scores looked pretty respectable though.
Quake 3 Arena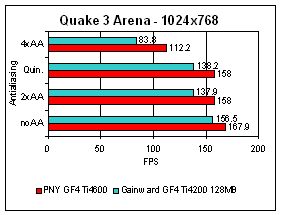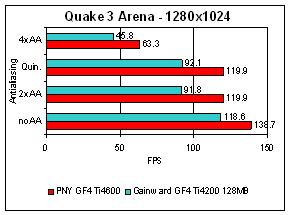 Quake 3 Arena is getting a bit long in the tooth now, but it's still an OpenGL standard that everyone is familiar with so it's included here for that reason if for no other. The 1.31 point release and Demo 4 were used for this test. Settings for Q3A were maxed out as follows:
Trilinear filtering
32 bit textures
Maximum texture detail
Compressed textures
High Quality Sky
High Geometric detail
Sound On
Scores for Q3A were more than acceptable at every setting except 1280×1024 and 4x AA. At that setting you're getting a bit borderline for smooth gameplay with a score of just under 46fps. A good "compromise" setting might be 1280×1024 with 2x AA on. More than 91fps at that setting should appease most gamers I suspect. If you typically game at 1024×768, then you can take your pick of anti-aliasing settings since the 4200 breezed through these benchmarks with great scores at all levels.
Return to Castle Wolfenstein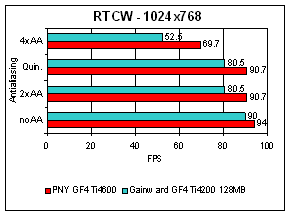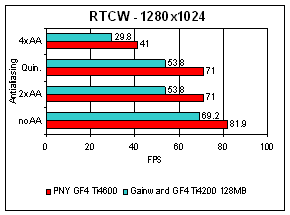 RTCW's tweaked engine provides a tougher OpenGL test than the original Q3A engine that it's based on. It's a bit newer game and stresses cards a little more and is probably representative of the level of games that many of us are currently playing. We used version 1.33 and the Checkpoint Demo 59 for these round of tests and maxed out the settings for it as well as you can see below:
Color-depth: 32 bit
Geometric detail: high
Character textures: Extra
General Textures: High
Filtering: Trilinear
Texture Quality: 32 bit
Nvidia display fog: yes
Compressed Textures
Sound On
Scores for this one were still pretty good. At 1024×768, the Ti4600 didn't really have much of a lead over the Gainward Ultra 650 XP until you got to the 4x AA setting. At 1280×1024, the 4600 does keep a fair lead on the Ultra although the Ultra is still quite playable at that setting.
Unreal Tournament 2003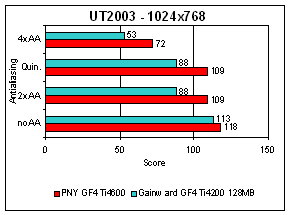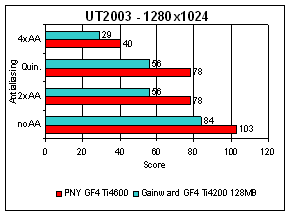 One of the newest games to hit the scene has been the long awaited Unreal Tournament 2003, and the good folks at Epic were kind enough to ship it and the demo version with benchmarking utilities built right in! This is a pretty brutal game engine that's brought a lot of cards to their knees now, and it's a good indicator as to what you'll need for next year's top end games. For this test we used the Citadel Flyby. The Flyby demo's seem to give a little more consistent results than the bot matches and are probably a more stable base for comparison.
Once again, settings were maxed out for UT2k3, and I was actually pretty pleased with the results. At 1024×768, both cards brought in respectable scores and the Gainward Ti4200 was neck and neck with the Ti4600 with No AA turned on. At 1280×1024, the gap between the two widens although not by as much as I would have expected. Scores were still pretty good until we turned on 4x AA. At that level, even the 4600 was staggering under the load that UT2k3 threw at it.
Generally speaking, I thought this test boded well for the 4200's ability to handle the next gen games. You may not be able to run them with everything maxed out and the AA cranked all the way up, but you should still be able to run at a respectable resolution with most of the eye candy and 2x or Quincunx anti-aliasing turned on anyway. In other words, you should still have a viable card for the near future as long as you don't have to have everything maxed out.
Conclusion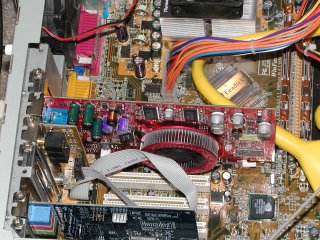 Ti4200's aren't breaking any speed records out there, but then again they aren't intended too. They are a mainstream gaming solution intended for the "average" gamer, and Gainward offers a very appealing product for that market. They've got a visually appealing card that'll please those with case windows, a great accessory pack, and a card which provides very good gaming performance for today's games and that should still be viable for the next generation games like UT 2003 and Doom III as well.
Comparing the Ti4200 to a Ti4600 isn't an entirely fair comparison and was done here simply to give the reader a reference point from which to judge its performance. If you go back and look at some of our previous reviews, you'll see that the Gainward PowerPack! Ultra 650 XP compares very favorably to other 4200's we've reviewed in the past, aces the GeForce4 MX cards and meets or beats the 128MB Radeons as well. Nvidia's recent driver releases have really given some pretty good boosts to the "old" Geforce4 line and kept it a viable player even in these days of Radeon 9700's and the looming NV30 launch.
The Gainward Ultra 650 XP comes in as a solid buy on our Bang for the Buck scale too. If you take a look at the following graphs you'll be able to get a quick feel for the FPS value for your dollar offered by this card.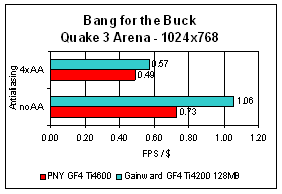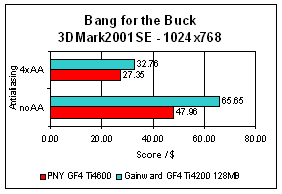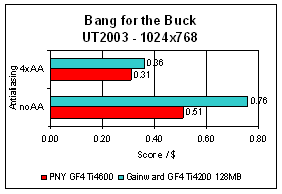 The graphs are normalized based upon the cost of the respective video cards (we used current Pricewatch figures for each card). The benchmark scores were divided by the costs of the cards to give you a performance to cost ratio. While the Ultra 650 XP Ti4200 may not have quite the punch of the Ti4600 it actually offers you a better performance value for the money spent, in some cases by as much as a 20%. If you're on a budget and looking at getting the most gaming performance possible for your limited dollars, this is one way to look at things. When you do, you'll see that the Gainward Ultra 650 XP represents a pretty good value and nestles nicely into that bang for the buck sweet spot that we talked about at the beginning of this review. 
For its excellent design, comprehensive retail package, and great performance to cost ratio, I'm giving the Gainward Powerpack! Ultra 650 XP a score of 9.5 out of 10 and the Bjorn3d Golden Bear Award.