Introduction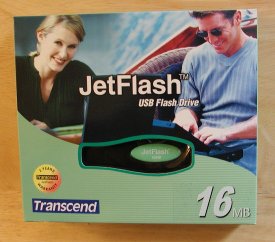 When Shane told me I was getting a Transcend JetFlash USB Flash device, I decided to do a little research on Transcend USA to see what I could find out.
It turns out that Transcend is a global business that has 8 offices located in Taipei, Taiwan; Orange, California, USA; Rotterdam, The Netherlands; Hamburg, Germany; Tokyo, Japan; and Hong Kong, Shanghai and Beijing. They manufacture and market a mix of memory products such as Compact Flash and Smart Media cards, a wide variety of Intel and AMD motherboards, and ATI and SiS graphics cards.
The device I received for testing is a JetFlash USB Flash Device with a 16MB capacity. The JetFlash is similar to the M-Systems DiskOnKey that we tested recently but has some features that do make it stand out from that product.
Packaging and Product Description
The JetFlash came in a compact retail box containing the following:
JetFlash
Driver CD
Labels
Quick Installation Guide
USB Extension Cable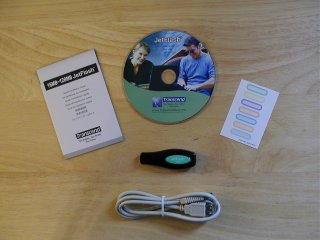 The JetFlash is a small pocket-sized device measuring 2.80″x0.50″x1.00″  (71x12x25mm) and weighing a petite 15g. It's actually a good deal smaller than the other flash devices tested here recently and easily passes the portability test. I've been carrying it around at work for the past week, and it really does get lost in your pocket. I tend to forget I have it until I shove my hands in my pockets and rediscover that it's there.
The construction is of black plastic with a minty green inset containing the JetFlash logo and drive capacity (16MB in this case). It has a snug fitting black plastic cap that protects the USB adaptor when the JetFlash isn't in use. Believe me when I say the cap is snug. It loosened up with some use, but I actually found it kind of difficult to pull off at first. It's nice that it fits tight so that you won't lose it, but it might have been good to put a textured surface on the cap so that it'd be a little easier to grip when you're trying to pull it off. This isn't a big issue in the scheme of things however.
On the opposite end from the USB connector is a write protect switch that allows you to read data off the JetFlash but not write to it, much the same as a floppy disks write protect feature. This is a simple and tried and true way to make sure no one dumps or overwrites your stored data by mistake.
The included USB cable is well worth mentioning at this point. After having tested a few USB flash devices now, I thought the inclusion of the cable was a nice touch by Transcend. If you have a PC with front USB ports this isn't a big deal, but if you're stuck with rear USB ports like me, you'll really appreciate only having to plug the cable in once and not having pull your machine out from under the desk every time you want to plug the JetFlash in. It's the inclusion of user comfort items like this that can distinguish a company from its competitors.
Features
Below is a list of the factory specs, but we'll discuss stuff a little further in a minute.
– USB 1.1 compliant and 2.0 compatible, True Plug and Play
– Maximum Transfer speed of 1.5MB (12M bit) per second
– Powered directly via the USB port. No external power or battery needed.
– Operating Systems Supported: No driver required for Windows Me/2000/XP, Mac OS 9.0 or later, or Linux kernel 2.4 or later. Only Windows 98/98SE needs the provided driver.
– Write-Protect Function: Write-protect switch
– Security Function: Password protection available via supplied software
– Boot-Up Function: Makes JetFlash a MS-DOS Boot Disk
– LED: Flashing LED indicates Data Traffic
– Data Retention: up to 10 years
– Shock Resistance: 1000 G (maximum)
– Erase Cycles: 1,000,000 times

In addition, it's worth mentioning that the JetFlash comes with a 2 year warranty, which is twice as long as the 1 year warranty typically offered by manufacturers of devices of this type.

You'll see in the above specs that the JetFlash doesn't need drivers for Windows ME, 2000, or XP in addition to Mac OS 9.0 and Linux kernal 2.4. For Windows 98/SE you'll have to use the drivers provided on the included CD or available on Transcend's website. If you want NT support you're out of luck at this time due to NT's lack of native USB support. That's likely not a big issue for many of you (myself included), but I do know that a couple of members of our staff are keenly interested in NT support so that they could transfer files between their work and home PC's.

Testing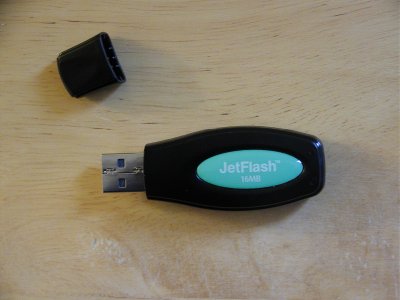 Installation of the JetFlash couldn't be simpler: you simply plug it into a free USB port. With the Windows 2000 SP2 and ME test systems I used, you immediately had a "new hardware found" window pop up and then experienced a short pause while the OS installed whatever files it needed and assigned a free drive letter to the JetFlash. That's all there was to it. Transcend includes a basic set up manual, but it pretty much just explains that simple process. If you're using Win 98/SE, it just goes on to say install the driver from the CD first. You don't get much simpler installation or ease of use than this.
When you plug the JetFlash in and while you're transferring files, you'll see a red LED light embedded in the device light up and blink. Transcend notes on the FAQ section of their website that you don't want to unplug the JetFlash while the light is still flickering as you'll risk losing data if you do. Basically think of the LED like a floppy drive busy light.
A quick look at the drive properties showed the 16MB JetFlash showing up with a useable capacity of 15.6MB's of available space. I can only presume that the other 0.4MB's of space are being used by the device's security features.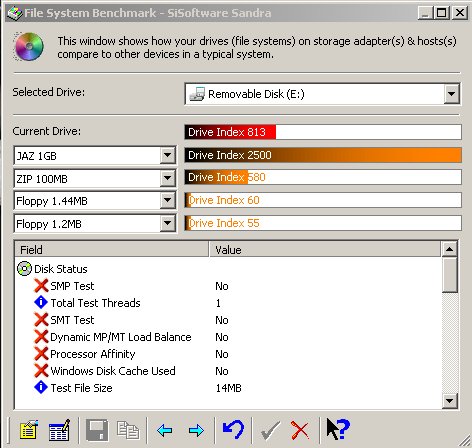 I started off my testing of the JetFlash with a run through SiSoft Sandra's File System Benchmark. As you can see by the results graph above, the JetFlash isn't nearly as fast as a Jaz drive, but its score of 813 comes in a good deal faster than a ZIP drive and absolutely blows away floppy drive speeds.
In order to get a pratical idea of the device's speed potential, I tried doing some basic file transfers. Moving data to the JetFlash was just like moving it to any other drive on your PC. You can copy and paste to it, move files to it, drag and drop to it, etc. Whichever method I tried worked equally well.
I transferred a 10.5MB clump of MP3 files from my home PC's harddrive to the Jetflash in 7 seconds (1.5MB/s) in repeated tests. Moving up to 15.5MB's of MP3's (just under this Jetflash's 16MB capacity) bumped the transfer time up to 15 seconds (1.03MB/s). Suffice it to say it didn't take long to shuffle files back and forth to the JetFlash. It's something you can easily do just before running out the door on the way to or from work.
Speaking of work, I used the JetFlash to snag 135 assorted Word and Excel documents (totalling approximately 10MB's) from my work PC that I'd been meaning to take home for some time now. File transfer time off of my network drive was 1:59 seconds (0.084MB/s). This was considerably slower than the transfer rates I got off of my home PC, but considering the hardware difference betwen the two (my home machine is over 5 times faster and has twice the RAM of my work PC!) and the fact that I was pulling this data off of a network drive located a couple of city blocks away, I attribute the slowdown to the PC and LAN set up, not the JetFlash. It's worth noting however that your speeds may vary depending on what type of system you plug the JetFlash into.
While this particular device wasn't large enough for me to try installing Quake to as I did in my last review, I did check to see how the JetFlash dealt with having files run directly from it. I opened up Windows Media Player and ran a variety of MP3 files right off of the device. The JetFlash appeared to be transparent to WMP as there were no noticeable delays or hitches regardless of whether I played the MP3 tracks directly from my harddrive or from the device.
If you're worried about protecting your data, the device comes with the JetFlash Security Function software on the provided CD. The 16MB JetFlash comes with the "UMSD" security function that allows you to password protect all or some of your device. For example, you could partition the drive to have 8MB of space password protected and the other 8MB available for public use, or you could protect the whole 16MB JetFlash. The UMSD encryption software must be installed on each computer that you plan on using the JetFlash with.
The last main feature of the JetFlash is its capability to be used as an MS-DOS boot disk. The boot function is somewhat limited however as it supports only Windows 98SE with the 16MB size device. Additionally, you'll need a motherboard that offers the option of booting from a USB Zip or USB HDD, and that will need to be selected in your BIOS. As I'm running Win 2k and Win ME, I didn't try this in my testing, but the option is there if you're still using a PC with Win 98 on it.
Conclusion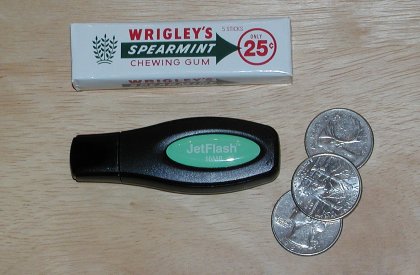 With prices starting around $22 depending on where you shop, the 16MB JetFlash offers a great value for people who need more space and convenience than a floppy drive but don't want to spend the money on a higher capacity device. For MS Word and Excel documents, 16MB is quite a bit of space so the JetFlash would fit in well for the business person shuffling files between work and home, or between PC's within the office, or for a student dragging research papers back and forth between home or dorm and the computer lab every day.
Pros:
Ultra portable size and weight
Ease of installation and use
Fast file transfer times
Much more space than a floppy can offer
Password protection for sensitive data
Inclusion of a USB extension cable!
Cons:
16MB is a bit limited for larger projects and multimedia files
Lack of Windows NT support (although in fairness, few USB devices do offer this)
Overall, I'm giving the TranscendUSA JetFlash an 8.0 and the Bjorn3d Seal of Approval for convenience, portability, and the thoughtful inclusion of the USB extension cable for those of us that are front USB port challenged!

Please note, Bjorn3D.com's Golden Bear Award and Blue Seal of Approval are separate awards, which are based on our subjective opinion and not based solely on the numerical score assigned by the reviewer(s).  The blue approval seal means that we highly recommend this item, while the Golden Bear indicates a truly outstanding product.