Introduction
---
Most of you hardcore PC enthusiasts out there have heard of Plextor, right? Thought so. Plextor is a well-known name for many reasons, including its reputation for delivering some of the highest quality optical drives on the market and its ability to do this while making them some of the fastest drives available. With the use of the invaluable BURN-proof technology, Plextor has also been a very innovative company. I remember when it took about an hour to make a CD on my brother's old HP CD-Writer (I think its write speed was 4x), and you couldn't touch the computer while the copying process was active or you'd make another friggin' coaster! Now, you can make one in less than five minutes while multi-tasking at the same time.
I have had a PlexWriter 12/10/32A for several years now and have never had any problems with it. The CD creation process has only failed and resulted in a coaster once, and that was the first CD I tried to make with it (I think I didn't set it up correctly so it was my fault anyway). Being able to burn a CD while surfing the Web and listening to MP3's is great. I am very excited to boost my burning power now with the speedy 40X PlexWriter. The PlexWriters always seem to get rave reviews and very few complaints, so read on to see how this drive performed in my tests and to see what I think about it.
Note: I recycled the format and some of the tests from my VisionTek 48X CD-RW drive review so you could compare the drives more easily if desired.
Specs & Features
---
Specs
Part # (retail kit): PX-W4012TA/SW (internal)
E-IDE (ATAPI-4) interface
Burst Read/Write: 16.6 MB/sec (PIO Mode 4/DMA Mode 2), 33.3 MB/sec (UDMA Mode 2)
Average Random Access: 120 ms
4 MB Buffer
Features
3-in-1 drive: 40X CD-R, 12X CD-RW, 40X max CD-ROM
PowerRec II
VariRec
Records highest quality audio CDs (audio recording speed limited to 24X)
Capable of Digital Audio Extraction at 40X max Supports CD-DA; CD-ROM (Mode 1); CD-ROM (Mixed Mode); CD-ROM XA (Mode 2, Form 1 and Form 2 and Mixed Form; CD-I; Photo CD; Video CD; CD-Extra; CD+G; CD Text
Compatible with a large number of CD-R and CD-RW media
Burn-Proof technology eliminates buffer underrun errors in fast write modes, allows for multi-tasking
Flash ROM allows for easy upgrade over the Internet
Windows 98/2000/ME/XP Compatible (also Mac compatible but software not included)
Supports Disc-at-Once, Track-at-Once, Session-at-Once, Variable & Fixed packet writing modes
One-Year Full Warranty (parts, labor and replacement) and Unlimited Toll-Free Tech Support
In the Box
PlexWriter 40/12/40A
Software CD containing Plextor Manager 2000, Roxio Easy CD Creator and Roxio Direct CD
Drive and software manuals
1 CD-R
1 CD-RW
Mounting screws
IDE Cable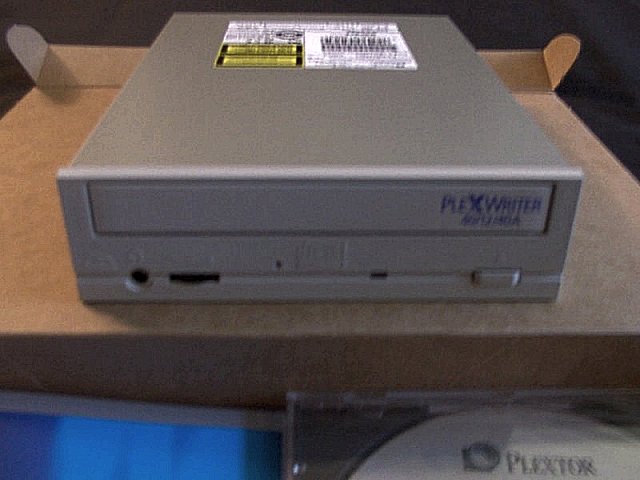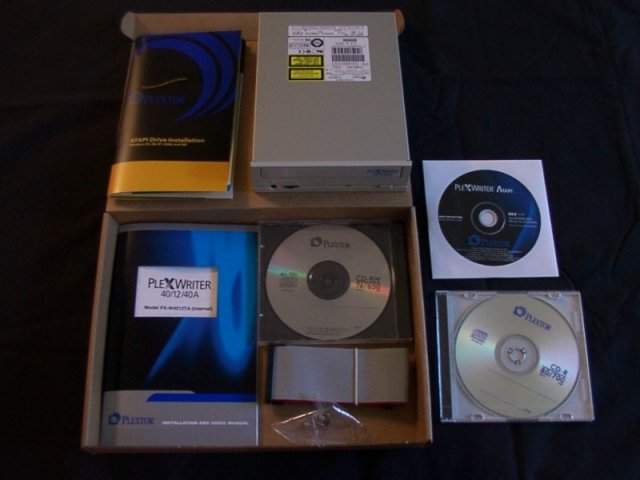 Installation
---
At first, I had no problems with installing the PlexWriter. I just put it in an empty bay under my Pioneer 16x Slot DVD, switched the DVD drive to slave and setup the PlexWriter as master so it gets priority on the IDE chain. Then, I booted up and made sure the drive showed up as it booted and in Windows Explorer and called it good. Then, for some random reason, I decided to upgrade the firmware to the latest version. This is a very nice feature and very simple to do by the way. Only problem is — it didn't work right for me! The firmware flash failed and hosed my drive. I talked to a Plextor engineer and asked if I could just reset the firmware and then try to upgrade it again. He said that it is possible but that it would be easiest just to send me another drive. D'oh! So I installed the new drive and decided not to mess with the firmware for now. I'm just paranoid now, but I don't think there is any reason to fear upgrading your firmware. Either something screwy happened during the firmware install the first time or the drive was messed up some how. Chalk it up to bad luck and not a Plextor quality issue. If you read my Hercules Fortissimo II sound card review, you saw that I had bad luck there too with a DOA sound card! Sheesh…it must just be me.
After installing the drive, I noticed the cool new black tray after pushing the eject button. It is not black for any aesthetic reason though. The black CD-holder tray has been found to reduce error rates in Plextor's labs. Additionally, Plextor optimized the PCB circuits near the power supply to help decrease noise and provide clean power to the drive, which in turn is supposed to improve both jitter and deviation levels. Well, I don't know enough about the engineering behind a drive like this to argue, but I can say that it is nice to see that quality and innovation are top priorities at Plextor.
Testing & Performance
---
The Test Box Specs
EPoX 8K7A+ motherboard
1.2 GHz AMD T-bird
40GB IBM Deskstar 60GXP
16x Pioneer Slot DVD drive
512MB VisionTek PC2100 DDR RAM
Creative Labs SB Live! 5.1 Platinum
Test Results
To test this drive, I basically did the same thing I did with the VisionTek drive – I used it in ways you might want to use it and noted the performance. For all these tests, I set all recording speeds to the max and used the Nero Burning-ROM and CloneCD software, which are two of the most popular CD authoring software products available. All of the test media was Imation except for the CD-RW disc which was Plextor.
It is important to note that audio recording has been capped at 24X for this PlexWriter. As far as I understand, the Plextor engineers decided that recording anything at faster speeds leads to degraded playback quality. Just remember – it doesn't matter if you can burn a CD in two and a half minutes if it sounds like crap. So if quality is one of your main concerns, you should definitely keep your eye on Plextor products. One other aspect of the drive worth mentioning here is that many people report that it is sensitive to the speed rating and quality of media. In other words, you may not be able to just buy the 24X CD-R's that are on sale this week and expect them to work at 40X, and you may have to pay a little more attention to the media recommended by Plextor for this drive to get optimal performance. The cheaper, lower-rated CD-R's will still work, but they may not reach the max speed of the drive. Anyway, let's get to the test results.
Test 1: Ripping Maximum PC Bundled Apps Disc Image to Hard Drive – 3:58
The first test for the PlexWriter was to create an image of the latest Maximum PC bundled software disc using CloneCD. It took the drive 3 minutes 58 seconds to copy the 695MB image to my hard drive, which is a speed of 2,986 kB/s. Not too shabby on the speed, but I would expect this speed to perhaps be a little faster with higher quality media.
Test 2: Making a CD from the Maximum PC Disc Image – 3:33
Using CloneCD again, I burned the Maximum PC disc image I had just created onto a blank CD-R. This time the process completed in 3 minutes 33 seconds (3,514 kB/s). I made sure the newly created CD worked by installing one of the applications off of the disc. It worked just fine.
Test 3: Writing the Maximum PC Disc Image to CD-RW – 6:03
I just decided to use the same 695MB image and CloneCD once more to test the PlexWriter's re-writing speed. I popped in the provided Plextor CD-RW disc and set CloneCD to record. Just over six minutes later, the burning process finished and another working copy was created. For those needing the data transfer speed, that time translates to 2,062 kB/s. If you want to create a test CD or backup files, the excellent speed of this drive should keep you from getting impatient while waiting for recording to finish.
Test 4: Making a CD of MP3's – 3:50
If you have gigabytes and gigabytes of MP3's and have spent countless hours finding or ripping them, you may have considered backing some or all of them up onto disc. Or maybe you have a MP3 compatible device that you want to create MP3 CD's for. Well, this test focuses on the drive's ability to provide this function. In Nero Burning-ROM, I added 694MB of MP3's in several layers of folders to a project and set the drive to the task. The PlexWriter quickly and flawlessly wrote all the MP3's to the blank CD-R in 3 minutes 50 seconds.
Test 5: Making an Audio CD from MP3's – 4:09
This is one of the more important tests for me since I make a lot of CD's to listen to in my car. For this test, I created a 76 minute Deltron 3030 CD from MP3's. After 4 minutes and 9 seconds of burning with Nero, the CD was finished. I tested the CD, and it sounded great! The speed may not seem very fast, but remember that this drive does not allow audio recording greater than 24X in order to maintain the best possible quality. In fact, this CD seemed to be better quality to me than the same CD created in the VisionTek drive. So when you get a CD-RW drive you just have to decide how important quality and speed are to you.
Test 6: Making a Copy of an Audio CD On-the-Fly – 5:26
The final test was a direct CD-to-CD copy from the "James Brown: 20 All-Time Greatest Hits" CD in my Pioneer DVD drive to the blank CD-R in the Plexwriter. Nero was done creating the CD in 5 minutes 26 seconds, which is a pretty good time.
You may be wondering how the drive works with the included Easy CD Creator software. Well, it works just fine, and the program is good for people wanting to do basic authoring with their CD-RW drive. Unfortunately though, the version included is only the "basic" version, which means it does not include some of the other capabilities you may want. Additionally, the performance of the drive tends to be better with Nero than Easy CD Creator.
The overall performance of the drive is very good. I think it sucks in some ways that you have to be careful about having high quality media if you want to push the drive to its limits and that audio recording is limited to 24X, but I don't think it is a bad thing. It's sort of like a new car with a V6 engine that requires premium gasoline. Give it the better input, and you get better output. Pretty simple. This may be the first in a new generation of drives that focuses on quality and needs higher quality media to perform optimally. This is a good thing for people (such as a rock band or the hot new polka group) creating their own CD's on their PC's in order to distribute them at shows. It will help insure that the CD they hand their customers, fans, etc. will be of good quality.
So What is VariRec?
Before wrapping this up, I think it is important to at least briefly mention Plextor's VariRec technology. VariRec is a feature that allows you to tweak your recorder's laser settings when recording an audio disc. Please note that the CD authoring software must support this feature. The current, updated versions of Nero and Easy CD Creator both support this feature. You can see how the feature works in the screenshot from Easy CD Creator below.

You can find the "Enable VariRec" check box in the recording settings window that pops up after clicking the record button in Easy CD Creator. After checking the box, you can then use the slider control to adjust the laser settings from -2 to 2. The purpose of this feature is to improve compatibility with more audio players, especially those that have problems reading CD's that you create using the normal burn-it-as-fast-as-you-can technique. I think this should appeal to tweaking fiends and users wanting to make "perfect" discs. The only limitations to this feature are that you can only use CD-R's and that recording speed is reduced to 4X.
Conclusion
---
While you may pay a little more for the Plextor name than some of the other brands, you have to remember that the Plextor name is synonymous with high quality and dependable products. In other words, you really do get what you pay for. When you price any PC components, you need to keep value and reliability in mind. Plextor has been a winner in these categories for years, and you can safely expect them to get even better.
Admittedly though, this may not be the drive for you if you already have a 24X drive and primarily use it to make audio CD's since the PlexWriter 40/12/40A is limited to 24X burn of audio tracks. On the other hand, if you need a high quality and fast drive that will result in high quality copies, then definitely take a look at Plextor's offering. While many optical drive manufacturers choose to focus on speed, Plextor seems to focus a little more on quality while still maintaining current speed standards, and it shows. The drive currently retails for $159, but you can find it at places like Newegg for around $130.
For its high quality and solid performance, I am giving the Plextor PlexWriter 40/12/40A a score of 9. You won't be disappointed if you decide to pick up this drive to make those game "backups" and music CD's.