Introduction
When Scott told me I was getting a Gamesurround Muse 5.1 DVD soundcard and set of XPS 510 speakers from Hercules to review, I was pretty excited for a couple of reasons. First, I've had some audio issues with the integrated sound on my motherboard and haven't been able to get the surround sound to work on it, so I was ready to try something new. Second, I had used a Guillemot MaxiSound Muse before and found it to be a very good product for the money so I was curious to see how the latest generation of Muse cards would perform.
Why do I bring up Guillemot in an article about Hercules you might ask? Well, as many of you probably already know in 1999 Guillemot bought out Hercules (founded in 1982) and brought their audio and Hercules' video lines together under the Hercules name. This merger combined Hercules' proven video experience with Guillemot's excellent audio track record.
The Gamesurround Muse 5.1 DVD is the successor to the Gamesurround Muse XL 4.1 audio card, a card that's proven very popular for Hercules, and a descendant of my old Guillemot Maxisound Muse which I only recently replaced. A buddy of mine is still using that card in a system that Gene put together for him!
It's worth pointing out that both of these products carry on the same tradition of great performance for the money as my first Muse with a very reasonable retail price of $29.99 for the Muse 5.1 and $89.99 for the XPS 510. That's just under $120 US for a full 5.1 audio system suitable for gaming and movies!
Product Specs
Here are the list of features from both products as taken from Hercules' web site:
Gamesurround Muse 5.1 DVD Features
3 stereo outputs for headphones, 2.1, 4.1 or 5.1 speaker systems
Dolby Digital™ Home Cinema experience Digital music on 5.1 channels
D audio with Sensaura™ engine included for a realistic gaming experience on up to 5.1 speaker kits
Great software suite including PowerDVD™ 4.0
Microsoft® Windows® and even XP compatible!
XPS 510 Features
Designed for Multimedia three-dimensional sound entertainment. The XPS 510 is the ideal choice for PC home Theater.
3D surround effect for your games and your Home Theater movie playback will be enhance by the 60 Watts total output power.
The 20 Watts subwoofer encased in wooden enclosure assures you thunderous penetrating, undistorted deep bass effects.
SPECIFICATIONS

Total output power

60 Watts RMS

Subwoofer
20 Watts RMS
Dual Satellites
5 x 8 Watts RMS

Special Features

Wooden Case subwooferBass, Volume and On/Off Switch Power.

Game compatibility

DirectSound™ 3D, EAX™ 1.0, EAX™ 2.0, A3D™ 1.0, I3DL2™, MacroFX™, MultiDrive™, ZoomFX™, EnvironmentFX™ sound cards.
Audio compatibility
MP3 player, CD player and all sound cards
DVD compatibility
All Dolby Prologic™ and Dolby AC3™ Decoder
Package contains
Five independents satellites
One subwoofer unit
Three 1.9 m audio input wires
One G9 cable
3m front satellites wire
6m rear satellites wire
Warranty
3 years
Package Contents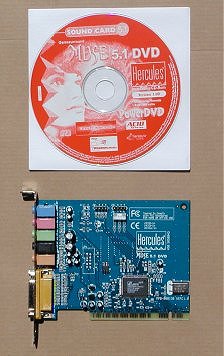 The contents of the Gamesurround Muse 5.1 DVD package were a bit sparse. All that was in the retail package was the card itself and a driver/software CD. I guess most of the box size is designed just to ensure a visable shelf presence in the retail stores. There was no print manual included with the product, which I rather missed. Call me old fashioned, but I like having a hardcopy manual.
The CD comes loaded with the sound card's manual and drivers, Hercules Media Station II (Hercules answer to Windows Media Player), Acid Express (a "multitrack musiccreation tool"), Power DVD 4.0 as well as Direct X 8.1 and Adobe Acrobat Reader.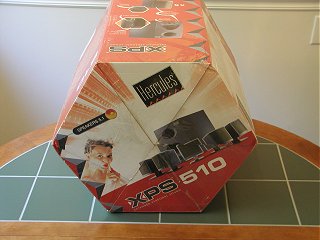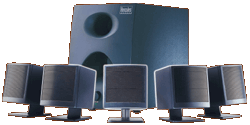 The XPS 510 speaker set came in a rather nifty and stylish hexagonal box. It contained the subwoofer, 5 satellite speakers, cabling and a basic print manual (hooray!).
Installation
Installation was pretty much a snap. About my only real gripe was having to go to the manual on the CD first to check the recommended install procedure. I personally prefer to have a hard copy of the manual to reference while the machine is ripped apart and I'm ready to drop in a new component.
With that said, there were no issues with installation. I simply dropped the Gamesurround Muse 5.1 into a free PCI slot and then booted up my PC and went into my motherboard's BIOS and deactivated the onboard sound. After that I let the machine boot as normal, and Win 2k found the new hardware. Then I directed it to the provided driver CD to find the files it needed. That was it. No issues or problems were encountered.
The addition of the speakers was pretty easy as well. I found the markings on the back of the Muse a little hard to read and did fumble around a bit figuring out which cable to connect where, but it wasn't a major issue. My case seemed to obscure the stampings on the audio ports so it wasn't entirely clear which port was which at first. Color coding the speaker jacks would have been nice but isn't really necesary. All told, I probably had the card installed and speakers set up in about 15 minutes.
One thing really worth noting as far as I'm concerned: Hercules provides the two rear speakers with very long cables (6 meters, or almost 20 feet) to allow for optimum placement even in a large room. In my case, I was easily able to run the line under the edge of my carpet to the other side of my den and place the rear speakers on my book shelves there. I was actually wondering where I'd be able to set the rear speakers up before I saw how long the cables were so that was a pleasant surprise.
Testing
Test Machine Specs:
Athlon XP 2000+
Leadtek K7N420DA Motherboard
2 256mb OCZ PC3000 DDR DIMMs
PNY Verto Geforce4 Ti4600
IoMega 8x4x32 ZIP CDRW
6x Hitachi DVD drive
KDS 17″ Trinitron Monitor
Windows 2000 SP2
Procedure:
I tested the Gamesurround Muse 5.1 DVD with a mix of MP3 tracks, audio CD's, games and DVD's.
Music was an eclectic mix of classical, rock, punk and techno. The card's sound came into its own with the full range provided by the classical music, and the techno tracks made me really appreciate what the subwoofer could do. I had the glass picture window in my den vibrating with the bass set about halfway up! The sound quality and fullness was much better than I would have expected given the relatively small size of the satellite speakers.
While I felt the sound quaility was very good with audio tracks, the value of a surround sound card and speakers became most apparent when playing games. I've never worked with a surround set up before, and I have to admit it took me off gaurd at first! I first tested it while playing NeverWinter Nights, a game I've been spending a lot of time with recently. I was startled to hear NPC voices actually coming from the correct orientation based upon where they stood in relation to my character in the game! The positional sound really added to the game, making the world more encompassing and involved. Even background noise, like the babble of tavern patrons, and the underlying audio track sounded much better than with my Labtec 2 speaker setup. The 5.1 speaker set up provided depth that isn't possible with simple stereo speakers.
It was interesting to notice the difference even in simple games too. My wife is hooked on the various online Flash games from Microsoft's website, and I was surprised to hear how even the relatively rudimentary sounds and music scores of those games were affected. Effects seemed deeper and less tinny than with the Labtecs.
DVD movies were another area that the value of the 5.1 speaker set up was evident. I guess I'd gotten used to plain old stereo sound for movies and TV at home so I was pleasantly surprised with the effect of surround sound in my den. While it certainly doesn't have the power of a full theatre system, in some ways it's a superior effect, possibly because you're better centered amongst your speaker setup and closer to the source than you are in a theatre. It's got me thinking about getting a surround sound system for my 32″ television now too…
Conclusion:
Reviews of audio equipment are always going to be somewhat subjective. Unlike a video card where you can run known benchmarks and deal with defined numbers, much of audio reviewing comes down to how things sound to your ear. With that in mind, let me say that I'm not an audiophile. I listen to a lot of music on my PC while I work and appreciate good sound, but I'm not really anal about it. I suspect I fall into the "average listener" category. With that in mind, here's my final thoughts and conclusions about the Gamesurround Muse 5.1 DVD and XPS 510 speakers system.
The Muse 5.1 and XPS 510 are a very good system in my opinion, especially considering their very modest price. For just over a hundred bucks you're getting a damn good audio set up. While I'm sure there are others out there that offer more oomph in the wattage output and subwoofer or finer audio clarity, I suspect this system is more than adequate for most users. I found them to be a huge step up over my Labtec speakers and onboard audio. The power and volume levels were well suited to my den and the surround sound combo of the Muse 5.1 and XPS 510's really brought a new experience to even old favorite games of mine. 
Basically if your PC is the focal point of your audio system or you consider yourself a hardcore audio enthusiest, you might want to keep looking for a fancier setup. However, if you want good audio capabilities and surround sound for gaming, recreational music listening and movie watching, you'll find the Gamesurround Muse 5.1 DVD and XPS 510 speakers to be a great buy for the money. It's probably a good bet for someone upgrading from the integrated sound or generic soundcards common on many pre-built systems these days.
For its great value, steady performance and game enhancing abilities I'm giving the Hercules Gamesurround Muse 5.1 DVD and XPS 510 speaker sytem an 8.0 and the Bjorn3d Seal of Approval!

Please note, Bjorn3D.com's Golden Bear Award and Blue Seal of Approval are separate awards, which are based on our subjective opinion and not based solely on the numerical score assigned by the reviewer(s).  The blue approval seal means that we highly recommend this item, while the Golden Bear indicates a truly outstanding product.