When the gang at Bjorn3d found out that I was getting a new computer, and wasn't building it myself, they wanted to know what I was getting, why I was getting it, and how much it would cost to build it myself.  So, being the whipping boy that I am (and needing to get ridicule from tech geniuses), I said what the heck.  So here I am, armed with a battery of benchmarks, ready to report.
First off, the system that I bought is from Alienware.  Alienware is known to make machines that are specifically geared towards gamers.  Being that I do software reviews and love to game, it's a good choice.  I had owned an Alienware machine since 1999 and it had reached its upgrade potential, going from a P2-450 to a P3-850 over the years.  I didn't have any problems with that system.  I'm not a technical wizard, and I don't have the time to fool around with installing hardware, OS, software, drivers, etc.  I'd rather let a professional do that and get it right.  Besides, their tech support is second to none, with a 1 year replacement warranty, and lifetime support.
Here are the specs of the system I ordered:
Area 51 System:
Dragon full tower case – Silver
Intel D850EMV2 motherboard w/1AGP/5PCI
Intel P4 2.26Ghz w/ 533Mhz FSB
512Mb PC1066 RDRam
Western Digital 80Gb HD with 8Mb cache
Nvidia Geforce 4 TI 4600 w/ 128Mb
Samsung 16x/48x DVD player
Plextor Plexwriter 40/12/40
Soundblaser Audigy w/1394
KoolMaxx cooling system
340w power supply
Peripherals:
Microsoft Intellimouse Explorer USB – Silver
Microsoft Internet Keyboard Pro USB
Software:
Microsoft Win XP
Cyberlink Power DVD
Roxio Easy CD Creator 5
Creative Audigy Software
The ordering process was easy.  I went online to http://www.alienware.com and configured a PC with the specs that I wanted.  I then checked with my financial adviser (a.k.a. wife) to make sure the price was within budget.  After looking around at other systems, I went back and submitted the order.  Within five minutes, someone from Alienware was calling to confirm the order that I had just placed.  They answered all the questions that I had.  They submitted the order to the assemblers, and the charge to the credit card company.  The system took approximately one week to get built and tested.  The progress can be tracked online at their sight.  Almost two weeks to the day, a big black box with the Alienware logo was delivered.
The box was very securely packed.  Inside was the tower and peripherals, cables, manuals, CDs, etc.  Alienware also sent a black binder with the order form, detailed inventory, assembly check sheet, instruction sheets, restore and master CDs, registration codes, and a mouse pad inside.
Setup was a snap, with a large diagram included showing you what goes where.  After all of the crucial hardware connections were verified, it was time to turn it on.  After a brief introduction and info session from Win XP, my machine was up and running.  Hooking it to the network was just as easy.  Win XP recognized everything automatically.  Getting the scanner and printer online was all plug n play, although the scanner did need updated Win XP drivers.  I copied over files from my old machine to the new one (.mp3s, .wavs, .docs, etc), then I went about downloading my favorite applications and getting them set up and running.  There were no issues with any applications being able to run on Windows XP.  Finally, the moment of truth came:  gaming.
First game on was WW2 Online.  This game was a dog on the old machine.  I had to run it with almost all effects off, 800x600x16, and it still gave only about 15fps on the ground.  Flying was impossible without CTDs.  I am currently playing WW2 Online at 1280x1024x32, all effects on, all sounds on, and consistently get 30+ fps everywhere.  No CTDs or performance issues have been experienced thus far.  The boost in graphical detail is unbelievable. 
Next up was Morrowind.  Morrowind ran okay on the old machine, but it completely smokes on this machine.  It does lag when loading new zones, but those loads are now about 1 second long whereas they used to be up to 20 seconds before.  Morrowind also has a setting for the AI behavior at a distance.  This is a big hit to performance on any machine because the AI has performance patterns based on their lifestyle (i.e. guards patrol the grounds, citizens go to and from shops, etc.).  I have this setting on maximum.  The colors and water textures couldn't be experienced on anything less.  I am running this at 1024×768.
Since then I have added Soldier of Fortune II and Magic the Gathering: Online to the the PC.  Both perform flawlessly, although MTGO isn't that resource intensive of a game.  SOF2 I haven't played much, but from what I have played it runs rock solid with no performance issues at 1600×1200.  I will be soon adding Medal of Honor:Allied Assault and Neverwinter Nights.  I will assume there will be no performance issues there as well.
As for applications, I have my full Internet battery of programs installed and working fine.  Here is an example of the raw horsepower this machine has:  I use Agent for Usenet newsgroups.  It is usually a HD hog, depending on how many databases the program has to set up based on your news preferences.  I can run three sessions of Agent, all downloading and processing binaries, while playing WW2Online with almost no performance hit whatsoever.  I say almost because there are brief moments of HD churning.  However, on the old machine those moments without any background applications would be very frequent and up to 10 seconds each.  On the new machine, they occur maybe once in twenty minutes and they last less than 2 seconds.  For verification, ask Ken Shima about WW2O's performance issues. 
Alienware also includes something they call Alien Autopsy.  This software logs abnormal terminations of programs.  If you want to, you can send these diagnostic logs to Alienware where tech support can help determine the cause of the crash.
I also have benchmarks, which were requested by the staff.  Here they are, in no particular order:
3DMark 2001 SE (DirectX8.1)
 http://service.madonion.com/compare?2k1=3940274
 11030 – No FSAA
 9096 – FSAA Enabled (2X)
Codecreatures (DirectX8.1)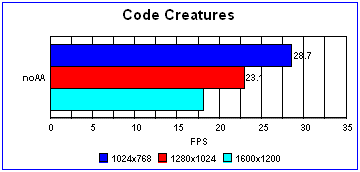 Quake 3 Arena Demo (OpenGL)
I tested Q3A at 1600×1200 with maximum picture quality settings.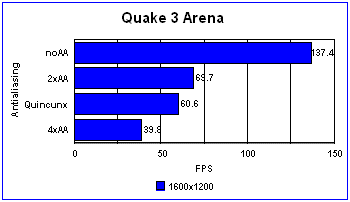 Chameleonmark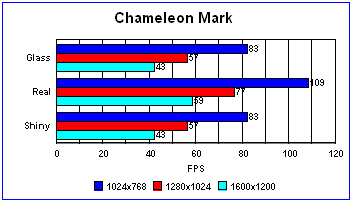 SiSoft Sandra
 CPU bench:
 Dhrystone – 4425 MIPS
 Whetstone – 1179 MFLOPS
 CPU Multi-media:
 Integer – 8492 it/s
 Floating – 10931 it/s
 Drives bench:
 HD1 Read – 83 MB/s
 HD1 Access – 9ms
 Memory bench:
 Int ALU/RAM – 3345 MB/s
 Float FPU/RAM – 3340 MB/s
With these benchmarks, please understand that I have not done any tweaks to the system.  It is running just like it was out of the box.
So, the important question everyone will ask is how much it cost.  It was around $2000. 
In conclusion, I can say that it was well worth the money spent.  If you want a fast machine and have the money in your budget, but don't have the time or skill to build a machine yourself, give Alienware a look.  You won't be disappointed.