Cooler Master MasterBox 5t Review
The Cooler Master MasterBox 5t mid tower is a new updated version of the original MasterBox 5. Featuring a style easily reminiscent of the more expensive MasterCase 5t, the MasterBox 5t gives the entry to advanced level builder an option for a tower that has an aggressive and slightly custom feeling design at a reasonable price. The 5t is aimed at the gaming market and has a style intended to blend well with current market hardware. With a new paint job and some critical design updates, the 5t offers gamers a great starting point to begin the never ending dream of building the perfect PC. With a large upgrade potential and some cool features in store, we think the 5t will find a nice footing in the case market. Let's take a look at the specifications chart and dive into what this case has to offer.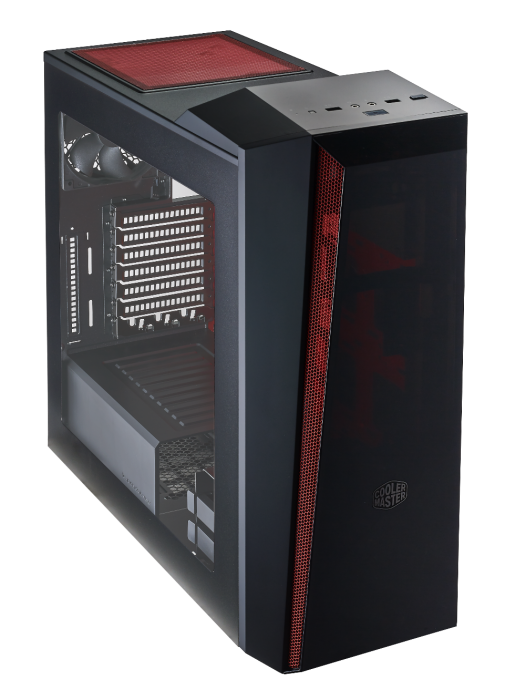 MasterBox 5t Specifications
Product Name
MasterBox 5t
Model Number
MCX-B5S3T-RWNN
Available Color
Black
Materials
Steel body, Plastic mesh bezel, Plastic mesh bezel
Dimensions (LxWxH)
541.2 x 220 x 513.5mm
Motherboard Support
ATX, Micro-ATX, Mini-ITX
Expansion Slots
7
Drive Bays
5.25″
No
Combo 3.5″ / 2.5″
2
SSD
1
I/O Panel
USB 3.0 x 2
Audio in / out
Fan Speed Control H/L
Pre-installed Fan(s)
Front
120mm x 1
Rear
120mm x 1
Fan Support
Top
120mm x 1 / 140mm x1
Front
120mm x 3 / 140mm x 2
Rear
120mm x 1
Liquid Cooling Support
Front
240mm / 280mm / 360mm radiator, up to 50mm thickness without fan
Rear
120mm
Clearance
CPU Cooler
167mm / 6.5″
PSU
180mm / 7.1″
Graphics Card
410mm / 16.1″
410mm / 16.2″ (w/o 3.5″ HDD cage)
Cable Routing
Behind Motherboard Tray
25mm – 35mm
Dust Filters
Front, bottom
Power Supply
Bottom mount, ATX
MasterBox 5t Features
New Red / Black Theme
In the world of gaming computers, it is probably a pretty safe bet to say a majority of users prefer the color red. So it's really no wonder why Cooler Master chose to go with a red and black theme on the 5t series. Cooler Master did a great job of putting color accents in just the right amount of places. The Masterbox 5t doesn't come off as tacky or gaudy. The simple but aggressive styling teamed with the red accents and red LED lighting give the MasterBox 5t a mean stance. We do hope to see color options in the future.
Updated Dimensions
Compared to the original MasterBox 5, the MasterBox 5t is 41.2mm longer (1.62″), and 38.5mm taller (1.51″). This may not seem like much but when wiring or installing hardware an extra inch can mean a world of difference. With this space comes support for CPU coolers measuring up to 167mm in height (6.5″) and GPU that measure up to 410mm (16.2″). Basically, whichever hardware you have your eyes on will most likely fit in this case. One uncommon feature of the MasterBox 5t mid tower is the support for 360mm radiator.
New Top Handle
Underneath the front I/O panel you will find the new top handle. The handle is a useful addition anytime you need to move the case around. The area also doubles as a quick storage area for your random daily items. We found it to be the perfect space for a portable drive to sit. The handle is rated to support around 60lbs and feels sturdy.
Translucent Front Panel
For us, the new front panel on the MasterBox 5t is a complete home run for multiple reasons. The first reason being it looks clean and mean with a future feel to it. Next would be the red metal mesh. The mesh acts as a bit of a dust filter of sorts and allows airflow top to bottom of the panel. We were surprised not to find any dust screens on the inside of the front panel present. The final reason we love the front panel is that it's translucent. With some LED fans behind the panel shining this case makes quite the statement. We would have loved to see a translucent front panel on the more expensive MasterCase 5t.
LED Illumination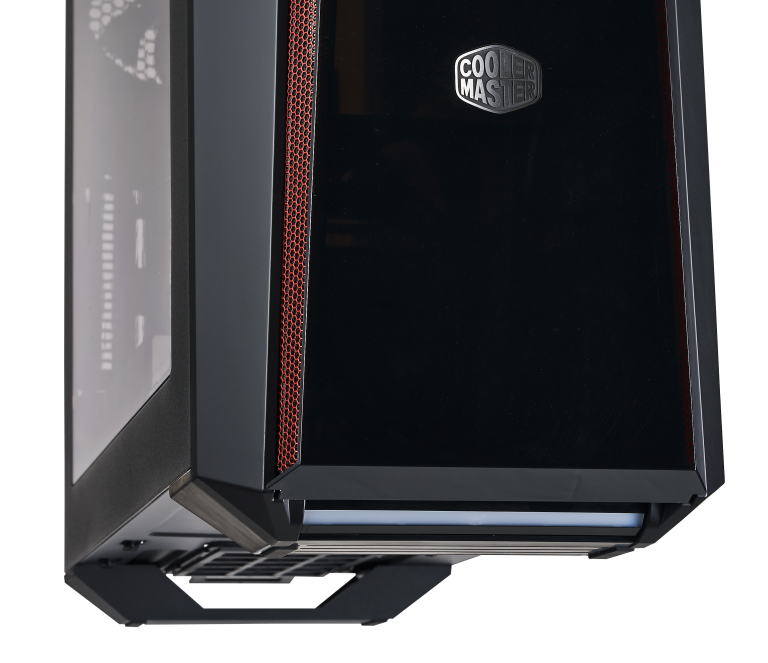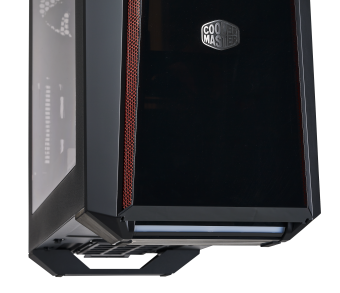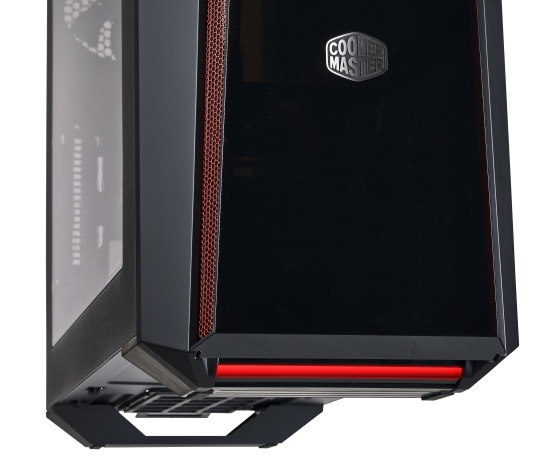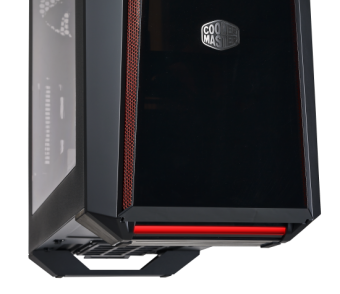 Under the front panel of the MasterBox 5t we get a red LED bar. This bar rotates so you can choose the look you like. This small, integrated feature does a great job of giving the MasterBox 5t a bit of what we mentioned previously, a slightly custom high end feel.
MasterBox 5t Interior

Some notable features in the interior of the MasterBox 5t include:
Support for 240/280/360mm radiators up to 50mm thickness without fan
Support for ATX, Micro-ATX, and Mini-ITX motherboards
Six SSD mount locations
Removable / Multi-location HDD cage
Space for extra large GPU
Removable PSU cover
Some features we wouldn't have minded seeing standard:
Rubber grommets on wiring holes
Two SSD mount trays. One is included standard
Top mount Radiator support
Interior Continued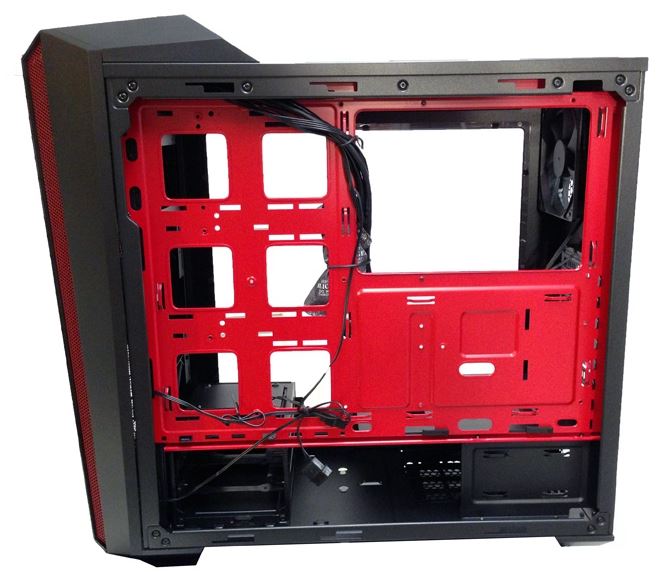 Around back we find some well-thought design. Between the back of the motherboard tray and the side panel, there is a sufficient amount of space (Max 35mm) to run your wires. The 8-pin CPU cutout is also a generous size. There is also a good amount of wire tether points to help with wire management. One thing that did throw us off is the choice of Cooler Master to use a 4-pin for powering the controller. Some users based on personal configuration may have to install a 4-pin wire on the PSU solely for that purpose. You may also choose to mount your SSD in one of the back mounting positions.
Removable PSU Cover
The MasterBox 5t includes a removable PSU which we really like as it offers more build options. If you have a top notch PSU you want to show off to the world, no problem. If you prefer the covered look the cover also helps hide unsightly wires. The cover is made of plastic which we don't mind as it saves on weight. This cover could also be easily customized to you liking with a little DIY attitude. One thumb screw on the back holds the cover in place which makes removal easy.
I/O Panel w/ Fan Control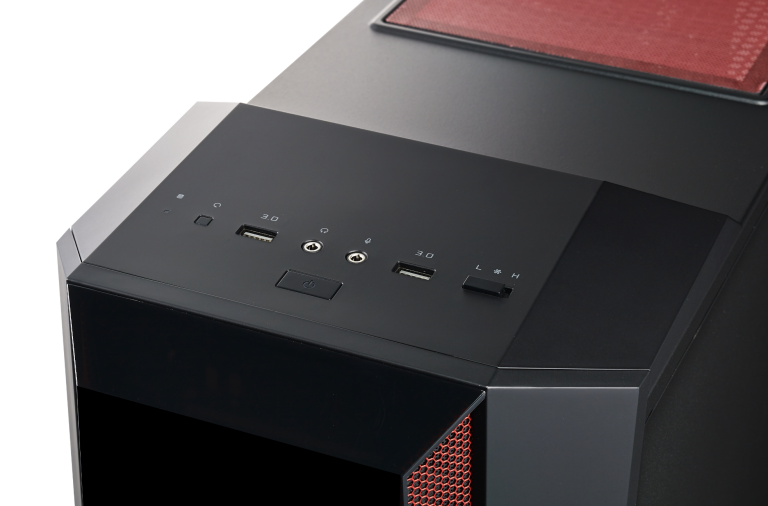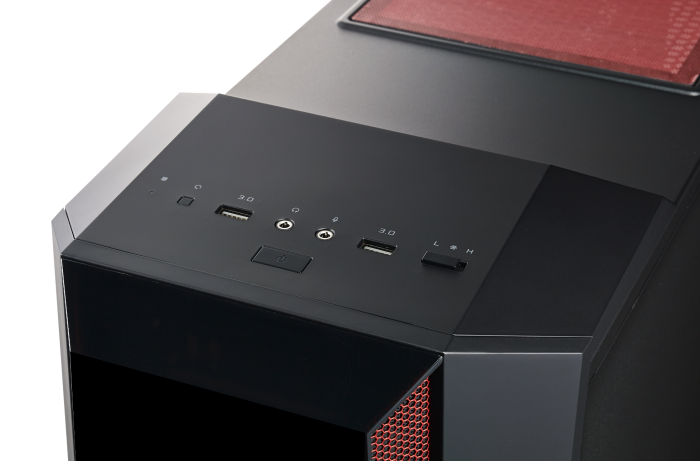 For the front I/O we find two USB 3.0 ports, power & reset switches, standard audio jacks, and last but not least a fan speed control switch. The switch toggles between high and low setting that controls up to three fans. The I/O is fairly simple but adequate none the less.
Upgraded Airflow
Looking at the top of the MasterBox 5t we can see the newly added fan mount with removable red mesh dust cover.  Cooler Master has designed the 5t with some small but effective improvements over the MasterBox 5. Given the option, we would have chosen to go with 240mm fan/rad support up top over the current 120/140mm design. Having no top rad support will turn away some builders.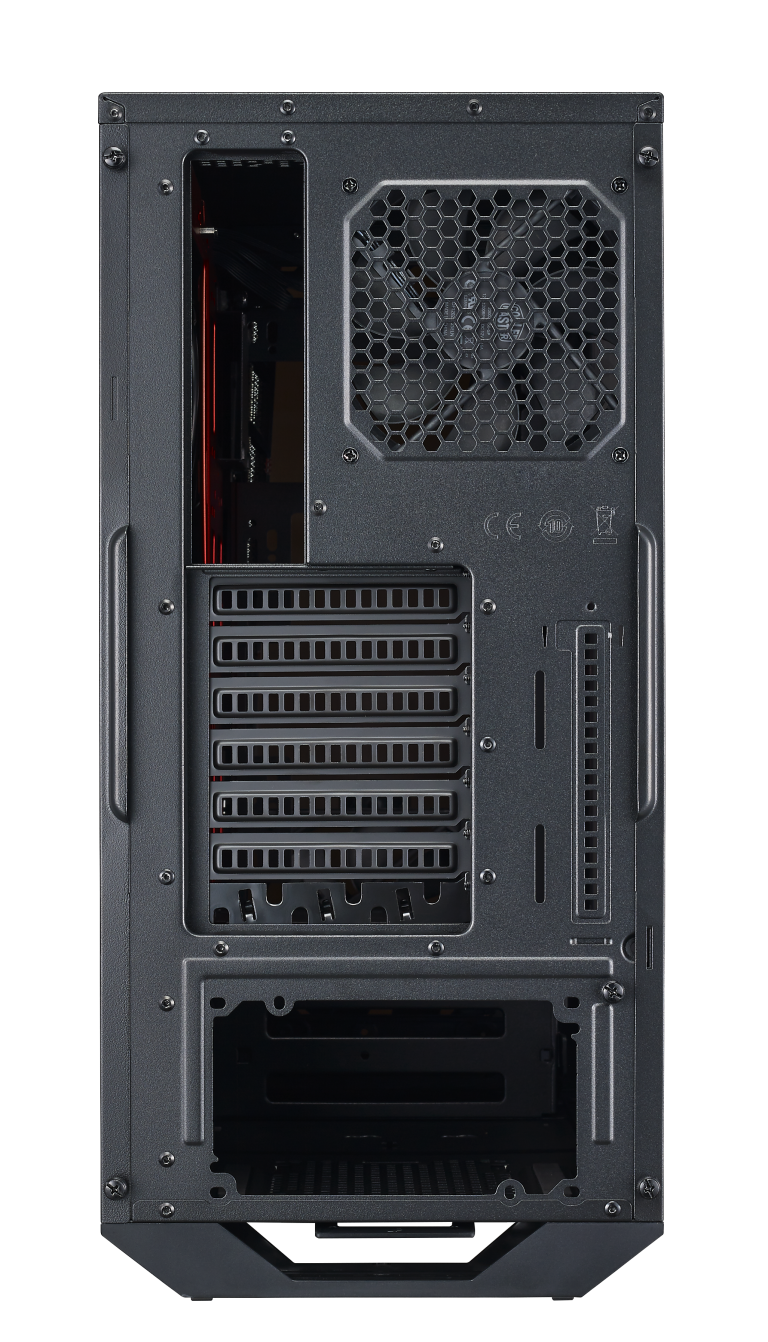 Around the back of the MasterBox 5t we find mounting for one 120mm fan which is included standard. The 5t has six expansion slots and one slot equipped with Cooler Master's Storm Guard. Described as "a groundbreaking security system for safeguarding your gaming peripherals", we found it to be more trouble than it's worth. To the top right of the PSU mounting area you can see the thumb screw for removing the PSU cover. The bottom of the case is vented with removable mesh cover.
Conclusion
Compared to the original MasterBox 5 we feel there have been enough design changes to justify the MasterBox 5t's new price point of $89.99 USD. The 5t is not just a MasterBox 5 with some new panels and a paint job with an increased price tag. While inside the 5t looks similar to the 5 it has had some important and logical design updates like the new dimensions, 240/280/360mm rad support, increased airflow, and top handle to name a few. The new design looks great and we love the translucent front panel.
In the design department, the MasterBox 5t has one of those designs that builders will either like 100% or 0%. This has a lot to do with with the only color option being red. Plain and simple some builders do not build red builds, or green or blue for that matter, people want options. As mentioned with the MasterCase 5t we feel choosing a single primary color with no options limits market potential. We feel if Cooler Master released this case in an all black option it would a hit with the public more so than the red and black color.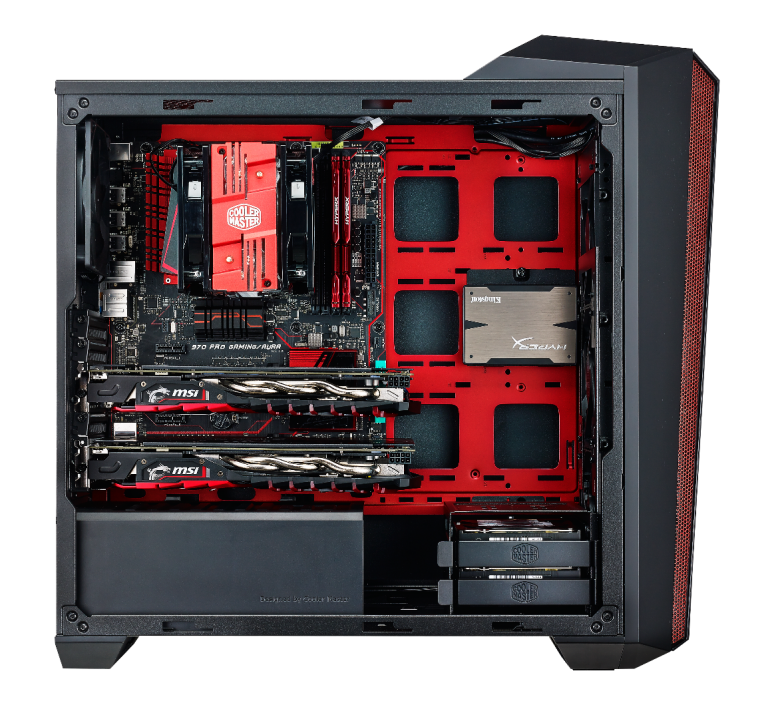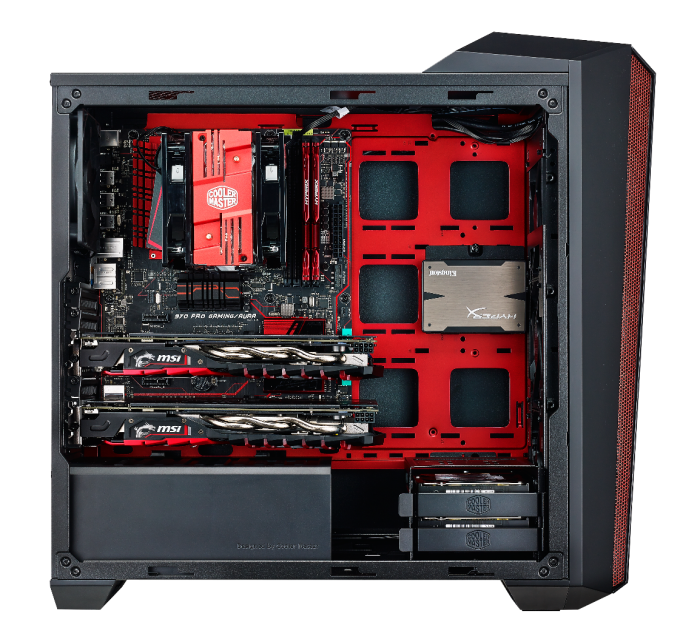 One great aspect to factor when considering the MasterBox 5t is the upgrade potential. If you are just starting out with a bare bones system with an air cooler this case has space to fit nearly any choice on the market. If you switch to an AIO or LCS later you have multiple options for different size radiators. When you get a new larger GPU you don't have to worry about it having enough space to fit. Same goes for the PSU. Cooler Master is also always releasing accessories for the Master line of cases so you never know what cool option will pop up. We feel this adds a great amount to the value. If the design and color scheme are to your liking the MasterBox 5t has a fair price tag and a solid feature set that offers a great amount of build potential. For these reasons the MasterBox 5t earns the Bjorn3D.com Seal Of Approval. 

MasterBox 5t – Pros

MasterCase Maker 5t – Cons

240/280/360mm rad support
Huge upgrade potential
Easy to build in
Integrated fan control
LED lighting

Red – No other color options
No top rad support
No rubber grommets