Monster Power Black Platinum 800 – A Closer Look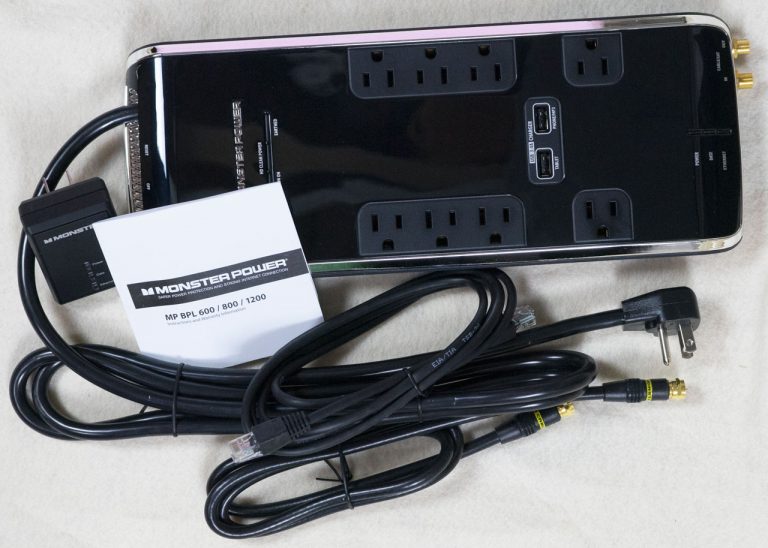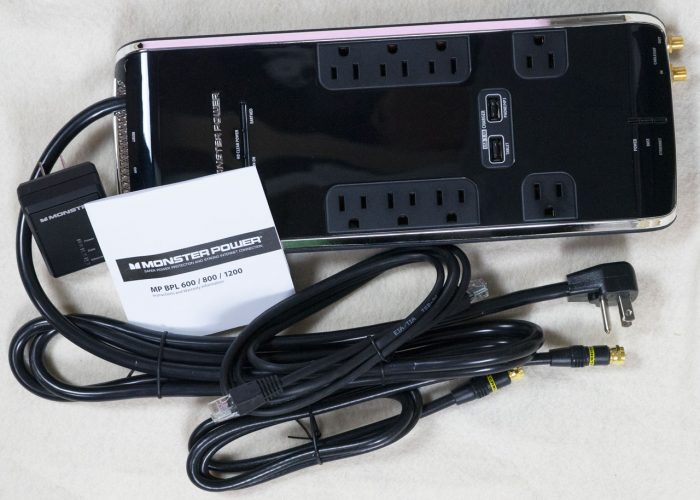 The Monster Power Black Platinum 800 is a sophisticated eight outlet power strip that includes advance features like power filtration, powerline adapter, 2700 joules of surge protection and two 3.4A USB chargers.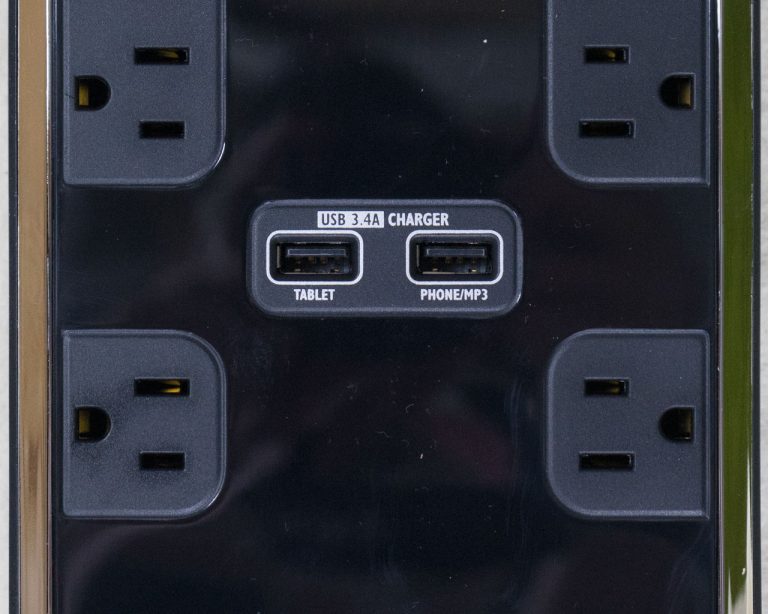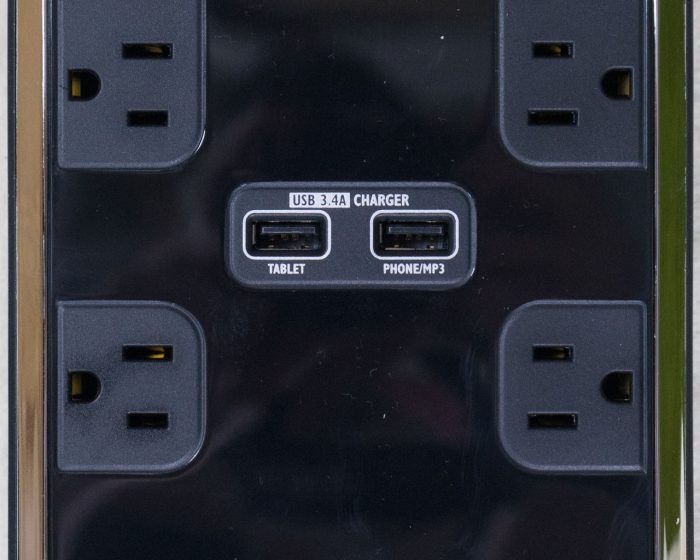 The dual USB chargers are a significant feature since they allow for 3.4A of charging juice, which allows for rapid charging of devices that support it. Also included are eight outlets which are located into four different banks to allow you to plug in even those pesky power bricks that will typically over up other outlets on competitor's power strips, which is one of the great annoying things we have all experienced. Also visible are the indicator LEDs on the top and bottom to indicate the different functions and features of the Black Platinum 800.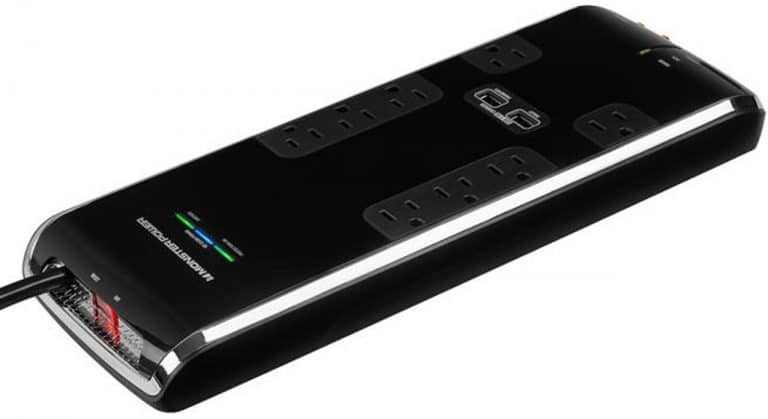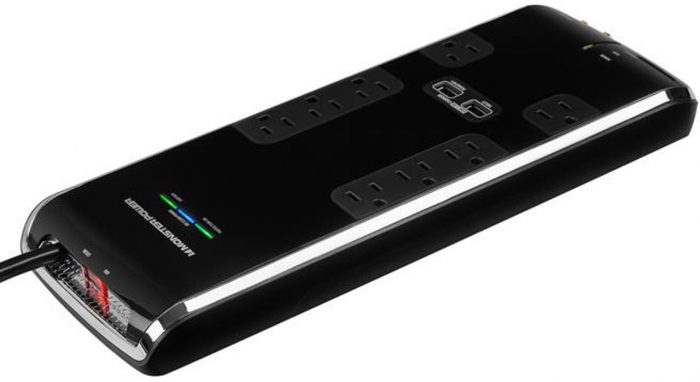 The top side of the Black Platinum 800 features the illuminated on/off/ reset switch and it is also where the thick power cable comes into the unit, this is all surrounded by plastic chrome accent pieces.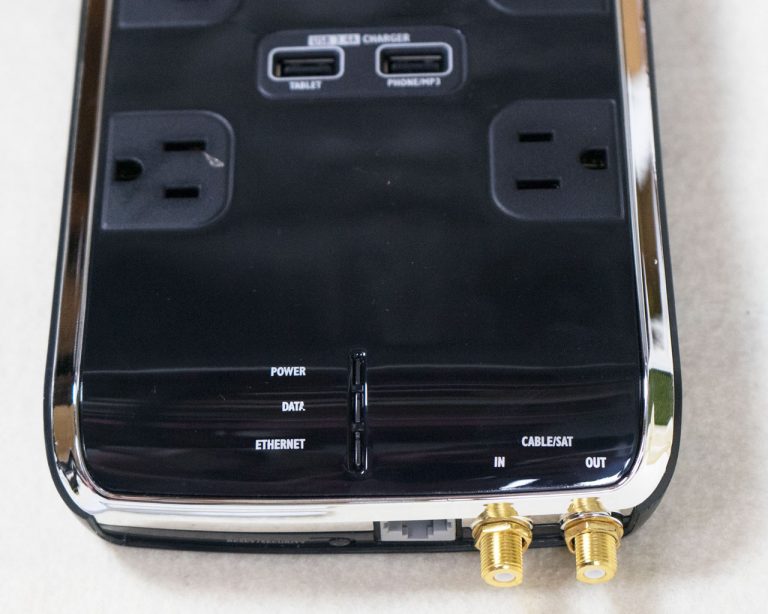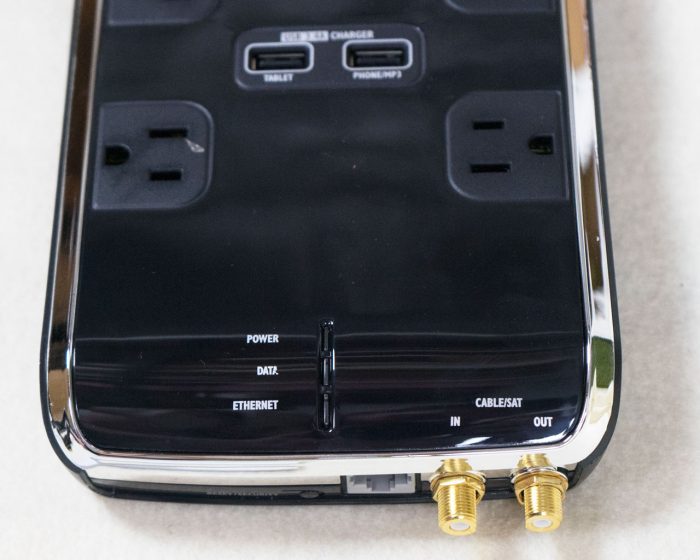 Next we get to the bottom side where we find the in/out Coax jacks to protect your modem and also the Ethernet line that allows the user to plug into it and send the signal to the Powerline adapter for a second PC or game system.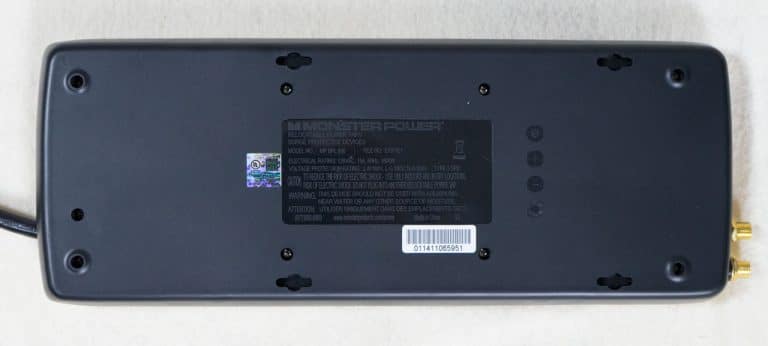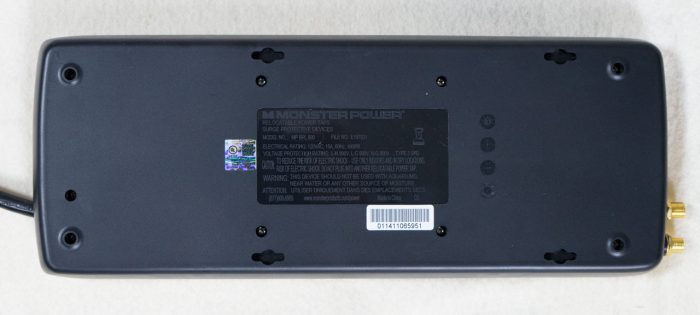 The rear of the Black Platinum 800 features the typical warning label, holographic UL authentication sticker.  Most importantly on the rear of it are the screw slots that allow you to mount the Black Platinum 800 to the wall, desk or home theater cabinet for better cable management. This is important because no one likes to see a big pile of wires and a mess when they look on the floor, or inside a cabinet plus it allows you to hide the mess and free up usable shelf space.
The powerline adapter that is included adds value to the package, since typically this is something that is sold separately and we were able to play our Xbox One over the connection.
Testing
Now while testing a power strip sounds fairly straight forward with plugging it in and plugging devices into it. While this is partly true, one aspect we wanted to test is the two 3.4A USB ports. This is because 3.4A is currently the highest amperage that is supported by modern devices. Now if you are not sure what your device supports, no worries, as the Black Platinum 800 will automatically lower the amperage to what your device supports.
To test how well this charges, we proceeded to plug in our Samsung Galaxy Note5 after we depleted its battery and it took a hour and 23 minutes to charge from 0 to 100%. This was impressive considering the Note5 features a 3,000 mAh battery. In theory, this allows you to quickly charge your device while you are watching your favorite TV show or doing things around the house.
When plugging devices into the Monster Power Black Platinum 800 it is easy to plug in all of your devices, and because of the spacing between some of the outlets you are able to plug in those pesky power bricks that typically block outlets on other power strips. Furthermore, the LED indicators on the unit allow the user to see that the unit is properly grounded, clean power, protected, data and Ethernet. Now many of you might wonder why there is a LED indicating Ethernet and that is because of the Ethernet port on the Black Platinum 800, for use with the powerline adaptor that is included,
During our testing, the powerline feature that is build into the Black Platinum 800 and the adaptor that is included performed admirably. We used the powerline adaptor that was included with the Black Platinum to connect to our Xbox One and we were able to play online through Xbox live and also stream videos through our Netflix account and we did not experience any lag or connection issues over the month that we used it.
Final Thoughts and Conclusion
We found the Monster Power Black Platinum 800 to be an excellent power strip system that is packed with extra features. Furthermore, we feel that this is one area that is often neglected by most people when they setup their new office or gaming room.  The importance of a good surge protector and power filter can mean the difference between a functional vs fried system.  Now while at first glance the Black Platinum might seem expensive, when you take into account all the extra features and goodies the price feels pretty reasonable. When you consider that the powerline feature is roughly a 50 dollar added bonus, it is the little features that make this a must have for your home office/game room. In addition to this, we were extremely pleased with the two 3.4A USB ports, since we typically have a lot of devices that charge via USB cable and these rapid charging ports can make short work when it comes to charging your device.
The Monster Power Black Platinum 800 can be found on Monster's website for $179.95, and when we take into account the numerous features and added protection that it offers your system and other devices we strongly recommend it. So we proudly award the Monster Power Black Platinum 800 the Bjorn3D Silver Bear Award.

Pros
Cons
Power Filtration

Spaced outlets to accommodate bulky adapters

Two 3.4A USB ports

Power-line adapter included

Excellent warranty/guaranty that gives you peace of mind

High Cost

Glossy finish scratches easily

Finish is a fingerprint magnet