EVGA GTX 950 SSC ACX 2.0
EVGA serves up a beautiful GTX 950 Super SuperClock ACX 2.0 sporting 768 Shader units 32 ROPs, 2940 million transistors with 2 GB od high-speed GDDR5 running across a 128-bit bus. The EVGA GTX 950 SSC ACX 2.0 gets a factory overclock to 1190 MHz which is a nice boost from 1024 the stock reference clock of GTX 950 and 166MHz higher than the reference model.
NVIDIA and their partners saw a need to cover a lower price point to be competitive with the AMD R7 370 and they did quite an impressive job of competing with the R7 370 and since having hands on a R7 370 the EVGA GTX 950 easily bests the R7 370 at the same price ($150 – $170 depending on model). Designed as a mainstream offering the EVGA GTX 950 SSC ACX 2.0 uses the same GM 206 core GTX 960 uses but the EVGA GTX 950 SSC ACX 2.0 had 256 shaders trimmed off of it and got a lower reference core speed. NVIDIA did such a good job on the GTX 950 that it borders Mainstream / Enthusiast fairly well.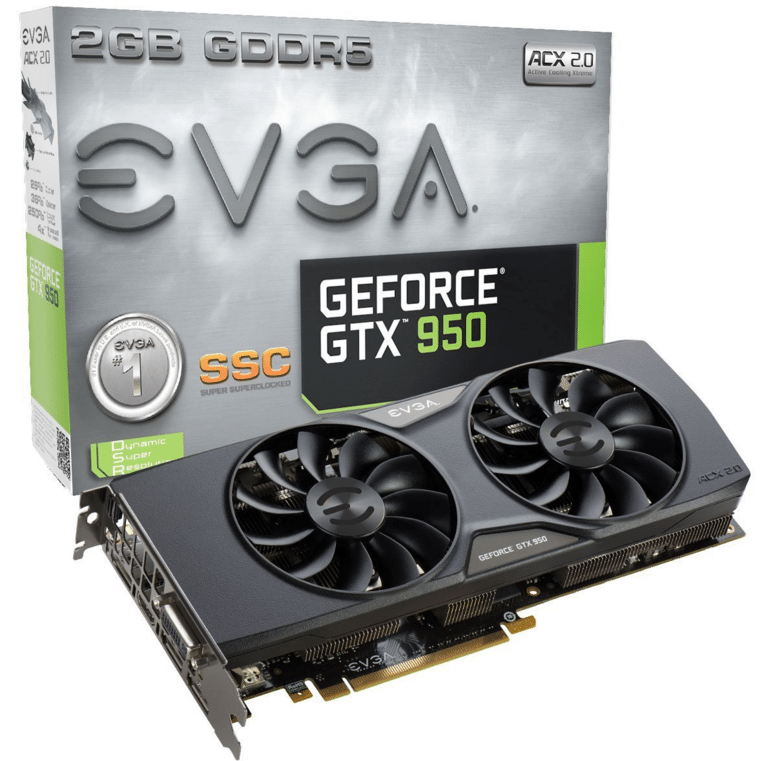 EVGA spared no expense in designing and implementing the EVGA GTX 950 SSC ACX 2.0 and may have gone a bit over engineered but you will never find us complaining about over engineered unless it cuts seriously into the wallet area. The Classic EVGA black cowling shows the two oversized 90mm low noise fans and EVGA spend some serious R+D money designing these fans so we'll be taking a closer look at the ACX 2.0 cooling solution in its entirity a little later.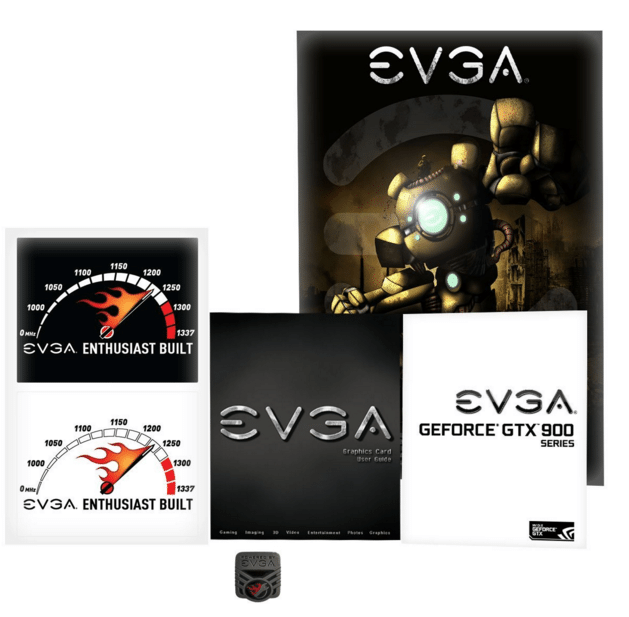 Now we don't make any bones about it we like a well stocked bundle that adds value to a product and makes us feel like it's a little better value. Times past and even occasionally now you would buy a GPU and some kind of game would be bundled with it, we can't hold it against any vendor for not including a game but we'd like to see a return of that practice. Most of us wouldn't mind seeing a $10 dollar bump in price to get a little game in the box because after springing the cash for a great GPU we probably can't afford a game for a while.
In The Box
– EVGA Full Size Poster
– A User Guide and Quick Installation Guide
– A sticker set (Enthusiast Built)
– Driver DVD
– A small note about PCIE 3 compatibility
– EVGA Case Badge
– DVI to VGA Adapter
– 1 x 6-pin to 8-pin Power Adapter (the card uses non-reference 8-pin power connector)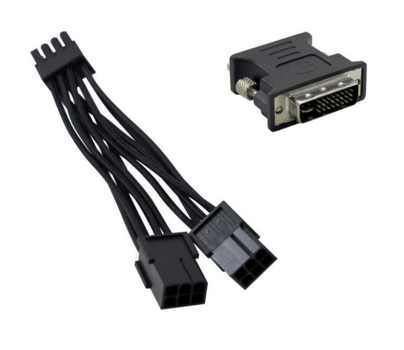 Notice EVGA included a two 6 pin PCI-e to one 8 pin PCI-e and they indeed use a non reference 8 pin PCI-E connector on the EVGA GTX 950 SSC ACX 2.0 but there's really no chance the card will use in excess of a 6 pin PCI-e connectors worth of power. That's really what we mean by over engineered but some genius might figure a way to rewrite BIOS and unlock unlimited power for LN2 overclocking and it doesn't hurt the card to have an 8 pin PCI-e so chock it up to EVGA's love of the product.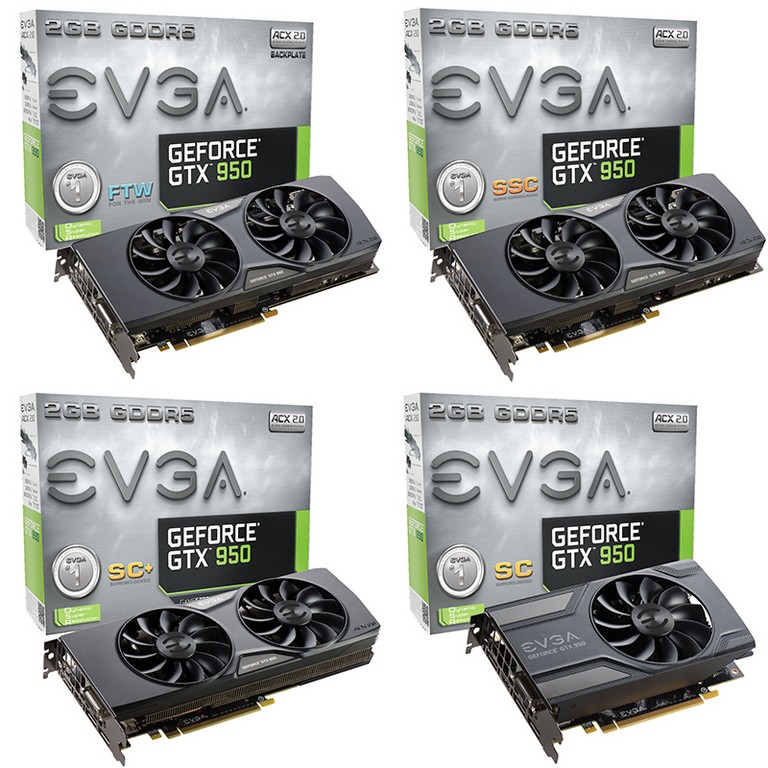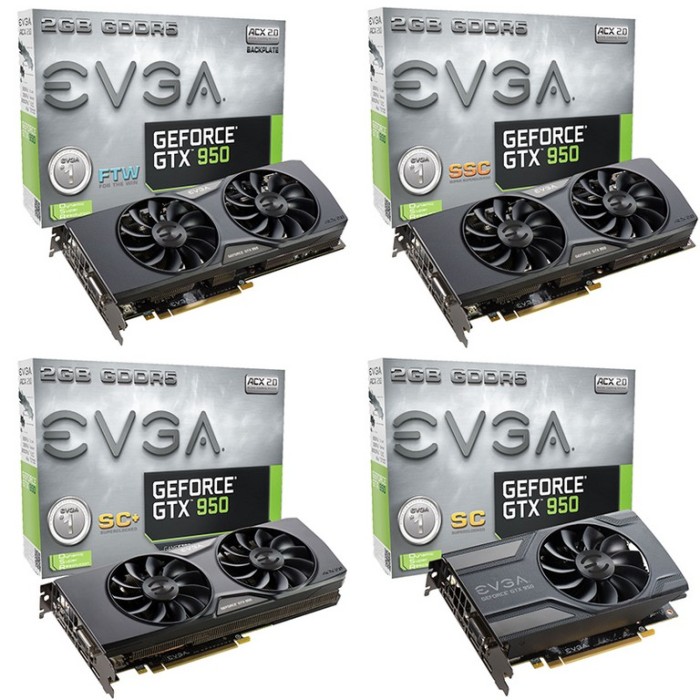 EVGA currently has 4 variants of the GTX 950 pictured and listed above and that's one thing we really love about EVGA. They don't just make a reference model, they make a variety of models at slightly different price points and factory overclocks giving the end consumer more choices. Now notice that the FTW and the SSC have 6 + 2 phase power which might be the reason for the 8 Pin PCI-e because they do get a better power delivery system and that alone makes it worthwhile to us to spend a few extra bucks for the more upscale models. The SC+ and the SC get 4 + 1 phase power and we can't tell you how much difference it will make when it comes to overclocking but we like as many phases of power as is economically feasible on a GPU. Extra power phases mean a cooler running digital power delivery system and a cooler running power train, a cooler power train means more stability when over clocking.
Here's a specifications table to compare different GPU's close to this price point.
GeForce GTX 950 Comparison
Radeon
R7 370
Radeon
R9 270X
EVGA
GTX 950
Ref GTX
950 
GeForce
GTX 760
GeForce
GTX 960
Radeon
R9 285
Radeon
R9 380
Shader Units
1024
1280
768
768
1152
1024
1792
1792
ROPs
32
32
32
32
32
32
32
32
Graphics Processor
Pitcairn
Pitcairn
GM206
GM206
GK104
GM206
Tonga
Tonga
Transistors
2800M
2800M
2940M
2940M
3500M
2940M
unknown
unknown
Memory Size
2048 MB
2048 MB
2048 MB
2048 MB
2048 MB
2048 MB
2048 MB
2048 MB
Memory Bus Width
256 bit
256 bit
128 bit
128 bit
256 bit
128 bit
256 bit
256 bit
Core Clock
975 MHz
1050 MHz
1190 MHz+
1024 MHz+
980 MHz+
1127 MHz+
918 MHz
970 MHz
Memory Clock
1400 MHz
1400 MHz
1653 MHz
1653 MHz
1502 MHz
1753 MHz
1375 MHz
1375 MHz
Price
$150
$150
$170
$160
$210
$190
$200
$200
Please note that the listed prices are as of the time of publications and an approximation of the stock reference cards. It's highly unlikely that you are going to go out and find a GTX 960 equipped like the EVGA GTX 950 SSC ACX 2.0 for the listed price.