20 years.
That's how long America's largest BYOC LAN party and associated events has been going on. From the humble beginnings in 1996 at a small hotel in a Dallas suburb, to the mega-sized event luring thousands of visitors to Dallas in the middle of the summer, QuakeCon has always been about the games, and the community that revolves around them. Bjorn3D is returning to the event again, for this, the 20th anniversary of QuakeCon. With titles such as Fallout 4 and Doom on the feature stage menu, this year's event is sure to be one to remember. We will be covering this event not only as a media outlet, but as a member of the BYOC. We will have pictures and news from the featured events, as well as from the vendor exhibits. Updates from the BYOC at 3:00am are not out of the question either. Join us in celebrating the 20th anniversary of QuakeCon!
Highlights
One down, two and a half to go. Day one of QuakeCon 2015 has sailed and it's mid-day here in the heat of Dallas. Most of our day has been spent in the BYOC playing a variety of games, but we did get our hands on the DOOM Multiplayer demo featured in the exhibit hall. With tons of rockets having been fired, it was a blast!
DOOM Multiplayer Demo
Our morning started out with a trip to the exhibit hall where members of the press faced off against one another in a few rounds of DOOM Team Deathmatch. The single map, Heatwave, being shown off at this year's event featured tons of molten lava and steamy corridors. Before getting into the action, we were able to get a look at the preconfigured loadouts to help us get an idea of what we might expect when the game becomes available. Our short time with the game found us utilizing the rocket launcher 99% of the time. It's DOOM. What did you expect? Once in the game we found ourselves running through corridors and across catwalk-like passages. Most of the weapons have secondary fire modes, with the rocket launcher allowing you to detonate a rocket at your command before impacting your target. This was great when we missed the mark, but still wanted to get some collateral damage in. Those skilled enough to grab the new "demon rune" were transformed into a Revenant, an oversize skeletal creature with rocket launchers on its shoulders, and a jetpack on its back. This thing is a beast! With increased damage and abilities, getting away from the Revenant was all that was on our mind when the enemy team was in control of one.
While we weren't able to get any pictures of the awesome looking DOOM backdrop or on-screen action, we did grab a quick picture of a BFG 9000 prop piece. Huge!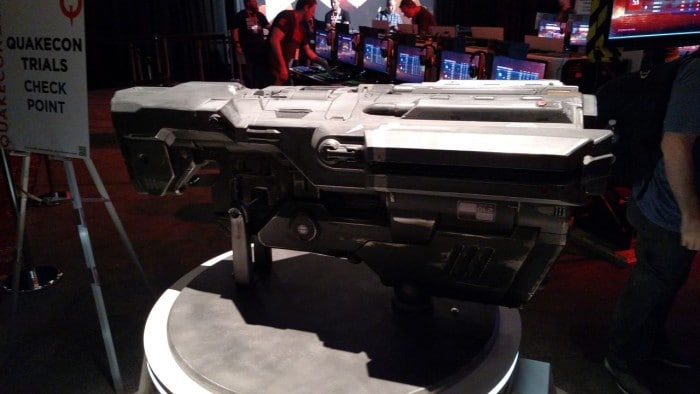 BYOC
The BYOC area has been going strong since opening yesterday, and there were even quite a few gamers playing when we arrived this morning around 8:30am. There are games of every type being played here, but one that has really stood out is Rocket League, a mix of soccer and race cars. We just recently got a copy of the game ourselves, so we will be joining in on the hyper-realistic sporting action.
Streaming
The following links are the two official links to streaming coverage of QuakeCon. If you aren't lucky enough to be here to celebrate, you can at least check out all the action from home!