Introduction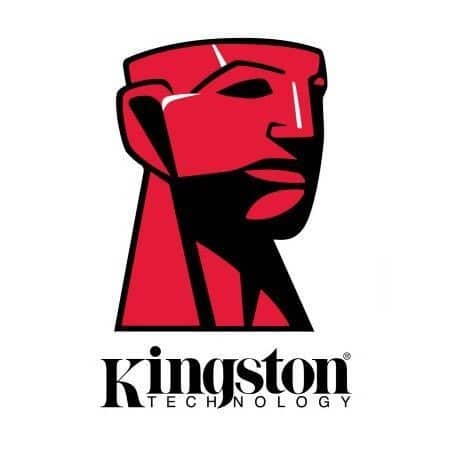 Kingston has probably one of the longest standing and most diverse histories in memory with its KVR line being a staple in many business and OEM systems along with its performance "HyperX" Line branching off in many areas for OC and gaming.
Today we are looking at the newest in the Predator series the DDR4 variant coming in at a clock speed of PC4-24000 or DDR4-3000MHz. We know that this is still only scratching the surface of what DDR4 will eventually do but it still is 867MHz above JEDEC give or take depending on clock modulation. Now do keep in mind that DDR4 is still a pretty new thing for the consumer market and with X99 the DDR4 push was actually pretty rocks as some vendors struggled to even have DIMMS available at launch. When I first spoke to Kingston they were still finalizing their DIMMS and even after I got this initial set they reflashed them for me as originally they were spec'd at 1.5V and once tuning was confirmed they were able to throttle it back to 1.35V for production models and even my sticks although mine do list the 1.5V on the sticker.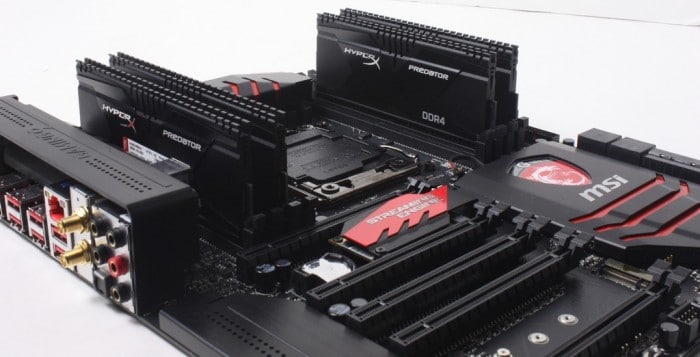 This HyperX Predator 3000MHz 16GB kit comes to market via newegg at $329.99 presently or at the time of this writing.
This price is fair and actually slightly less than the Corsair modules we tested previously spec'd at 2666MHz but being that this is a bit after the Corsair modules I went back to Newegg and now see its dropped to 284.99 so it kinda balances out. However when compared to 3000MHz kits there are kits ranging from low 600 range down to one kit lower at newegg at $249.99 but that kit I am a little apprehensive about as timings seem a  bit Wonky so on paper at least the HyperX kit looks to be a pretty good deal for Cas 15 3GHz speeds. Now lets take a look at the actual kit.
Pictures & Impressions
Click Image to Enlarge
The HyperX Predator modules come packed in a brown cardboard enclosure with plastic blister packs inside. I am fine with this as the whole color box fad was more for retail brick n mortar stores and we all know with e-tail environments that is kind of fading. The sticks are strictly black and I like it… I like it a lot actually as it will blend it to pretty much any build while still having some pretty mean heatsinks.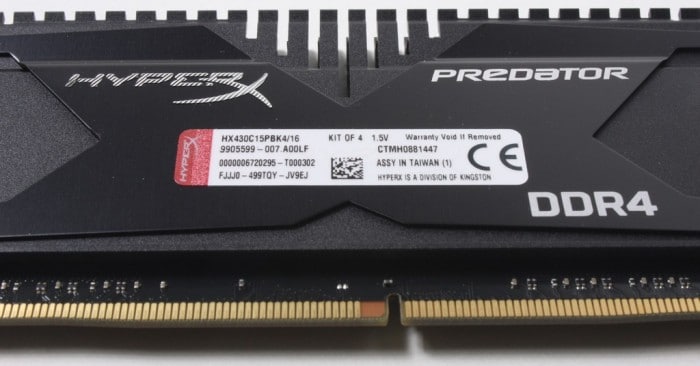 Click Image to Enlarge
Here you can see a close up of one of the DIMMS. Also seeing the spec label that this is a (4x4GB) 16GB kit. It is worth noting that unlike most manufacturers Kingston doesn't really list a lot of spec data on the DIMMS except voltage and DIMM count of the kit, but otherwise unless you know how to read the part number you would be a little lost to know what speed and latency rating they carry.
Click Image to Enlarge
The heatspreader as you can see here is just like the DDR3 version and it is BIG so be sure to check clearance on these and your cooling. Personally if your spending this much on a platform for X99 at least an AIO should be used which would omit any possible clearance issues but should you have the need to run an air cooler keep the height of the modules in mind as they are 31.25mm in height with heatspreader.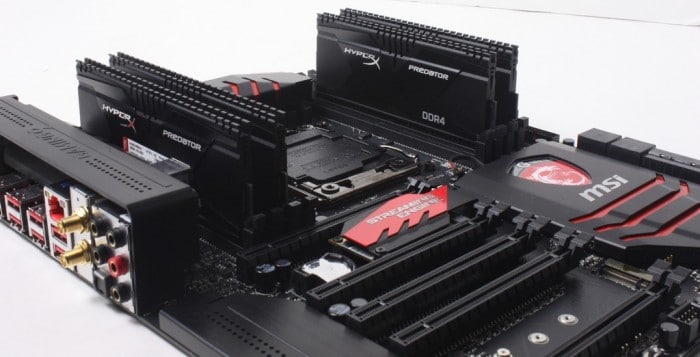 Click Image to Enlarge
The heatspreaders for the Kingston sticks are actual heatsinks as they are thick metal designed to really soak up the heat away from the ICs and help wick heat away. This is cool but one thing to note is that a key feature of DDR4 is the low power 1.2V JEDEC default which is much less heat and well even with overclocking the thermal dump of the ICs is maybe a couple watts so in reality bare sticks would be fine, but I definitely understand in this day and age that there is a market for the large fancy heatsinks or heatspreaders on the memory. Besides if you want bare sticks you can always go KVR at a much lower price point but they also do not come with the more aggressive speed and timing sets.
| | |
| --- | --- |
| M/B Chipset | Intel X99 Series |
| CAS Latency | 15-16-16 |
| Capacity | 16GB (4GB x 4) |
| Speed | DDR4-3000 (PC4-24000) |
| Test Voltage | 1.35 Volts |
| Registered/Unbuffered | Unbuffered |
| Error Checking | Non-ECC |
| Type | 288-pin DIMM |
| Warranty | Limited Lifetime |
| Features | Intel XMP 2.0 (Extreme Memory Profile) |
These modules as you can see are XMP profiled for 3000MHz at Cas 15, with a XMP voltage of 1.35V. This is a very aggressive speed for the new DDR4 platform and while it's not the top of the capability by any means, but for now its on the upper end.
Testing & Methodology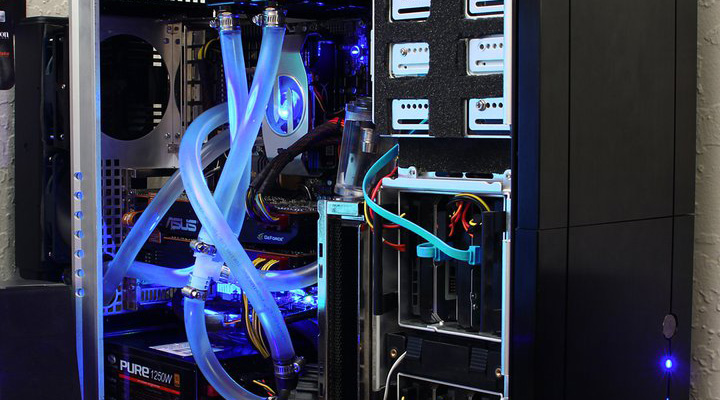 Memory testing can be tough at times as most look at a number (the frequency) and think the higher the better, but in our testing experience we know that many times there are other numbers at play. Factors such as the timings and subtimings can have anywhere from a minimal to a drastic effect on what kind of performance we see from the system when tweaked to the max. Also price can be a determining factor as well and this is why we will run through a few benchmarks to see how this kit affects system performance running at SPD, XMP and custom tweaking to ensure we get a good idea of exactly what kind of value the end consumer can expect for their money.
Overclocking
Overclocking memory can be kind of a hit or miss sometimes and being that DDR4 is so new its likely that as BIOS updates come along and DDR4 progresses we will see much more speed capabilities.
The 1.35V rating gave us a nice 3GHz speed at the single setting and this with timing values of 15-16-16-39. However hidden in the module there is a second XMP setting for 2666MHz which is at timings of 14-14-14-36 just in case you dont need the extra bandwidth that 3GHz may offer you can run it a bit tighter.
Overclocking these DIMMS unfortunately did not really net much as at 3GHz they were resistant to much tightening of timings, and actually even some slight adjustments it didn't want to do and this may simply be a property of the ICs similar to what we saw in the later sets of DDR3 where some ICs can push frequency but simply did not like to move in terms of timings. These modules are binned to do 3GHz and they do it well however pushing the speed proved to be trying as it simply did not want to go much past that with the exception of pushing BCLK to get a few extra MHz.
All in all as I stated before DDR4 is still young, actually a newborn in terms of lifecycle of memory technologies. DDR3 was around a very long time and it took awhile till we started to see very high speed DIMMS from them or even heavily overclockable ICs but I'm sure as the technology ages and matures I am hoping we will start to see what DDR4 can really do.
Another note is that BIOS updates are coming at a rapid pace and I know a lot has to do with memory compatibility and performance tweaks and improvements. So I still think that part of the equation here is tuning as well since the tech is still new it takes awhile to find the special formula to give every day users the capability to push the limits of their new platform.
CAUTION: Overclocking can damage components, void warranties and cause all kinds of other unforeseen issues. Perform at your own risk and understand the settings we may list are from our own testing risking my own hardware so it is in no way a guide on how you should overclock your system or components.
Test Rig
Test Rig

Case
Open Air Test Bench
CPU
Intel Core i7-5960X
Motherboard
ASUS Rampage V Extreme (X99)
RAM
16GB Kingston HyperX Predator 3000MHz (4x4GB)
CPU Cooler
Thermaltake Water 3.0 Ultimate
Hard Drive
Western Digital Velociraptor 300GB
SSD
Kingston HyperX 240GB SSD
Optical
ASUS BD-ROM
GPU
Intel HD 4600
Additional Cards

N/A
PSU
Thermaltake Toughpower XT 1475W Gold
Mouse
Tt eSPORTS Theron gaming mouse
Keyboard
Tt eSPORTS Meka G1 mechanical gaming keyboard
Test Suite
We will use the following applications to test the performance of the memory.
Benchmarks
AIDA64 Extreme
Superpi
3DMark 11
Sniper Elite V2
AIDA64 Extreme
"AIDA64 Extreme is about one of the most comprehensive system information utilities I have used. The integrated memory benchmark is also very cool as it gives me a repeatable bandwidth and latency result which can then be used for comparison."
AIDA64 shows good results for the DDR4 kit now that the program has been patched to work properly with the new platform and its memory controller. you can see that once pushing to a certain level there are trade offs and the benefits start to become a diminishing return.
Superpi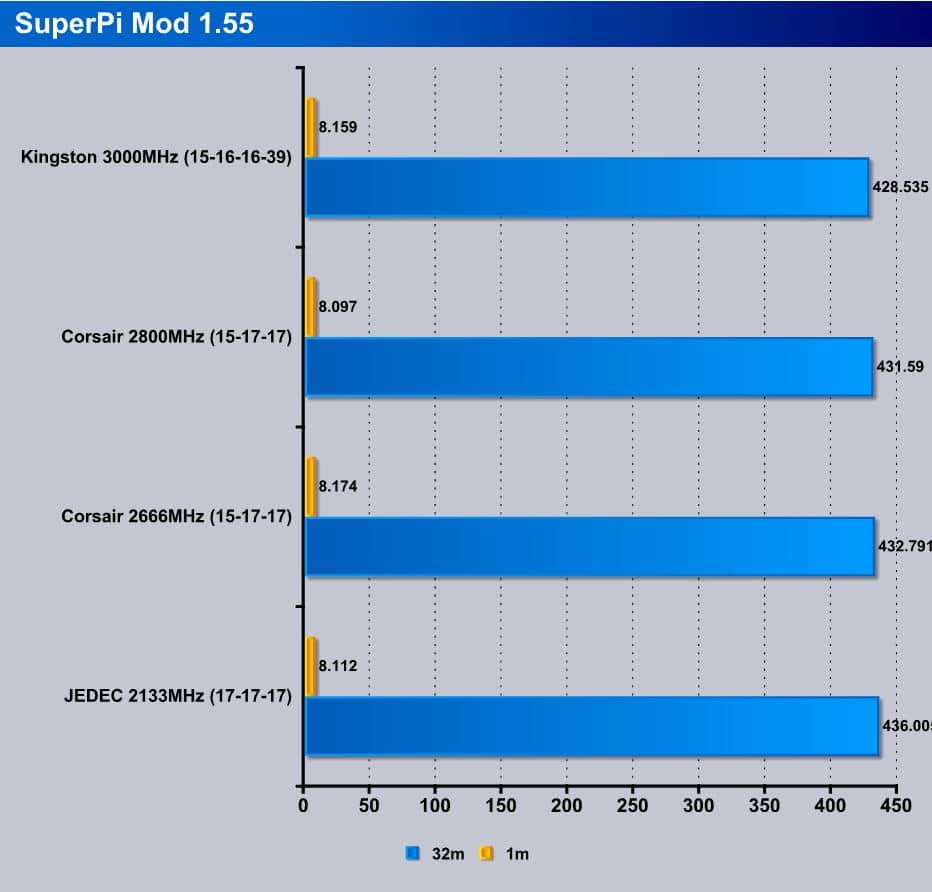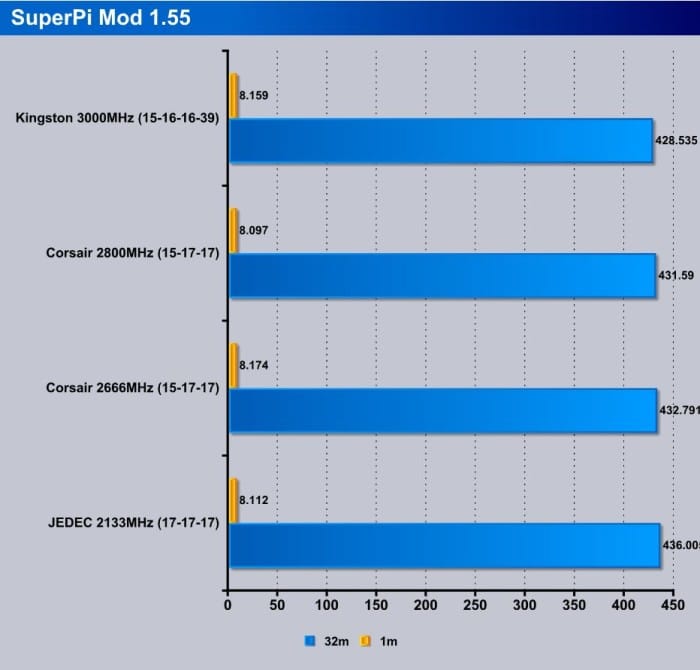 Here we have SuperPi which does very well for testing efficiencies and also stability of a platform. The 1M test is the short and dirty test with very minor gains from tweaking memory. However in the long 32M test you can see that the small tweaks in memory can make a pretty big difference in things like render jobs where data will be consistently processed for a long period, it can save you quite a large amount of time depending on the job possibly even minutes which if it is a production system that can save huge money as well by getting work done faster.
3DMARK 11

3DMark 11 is the newest in futuremark's suite of benchmarking utilities. It's a fully capable DirectX11 benchmark which also stresses and analyzes the system performance as a whole to simulate a heavy rendering environment such as a high-end game or other app the end-user may run. This benchmark was run with Performance settings 5 times and all runs were averaged for the result below.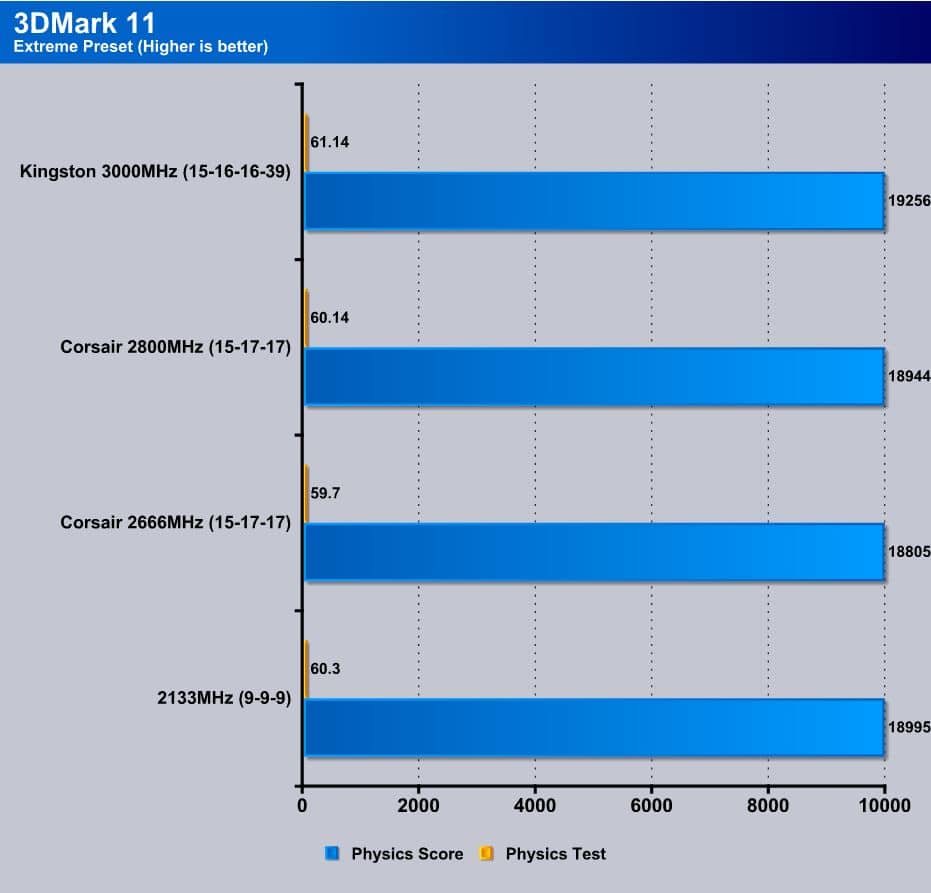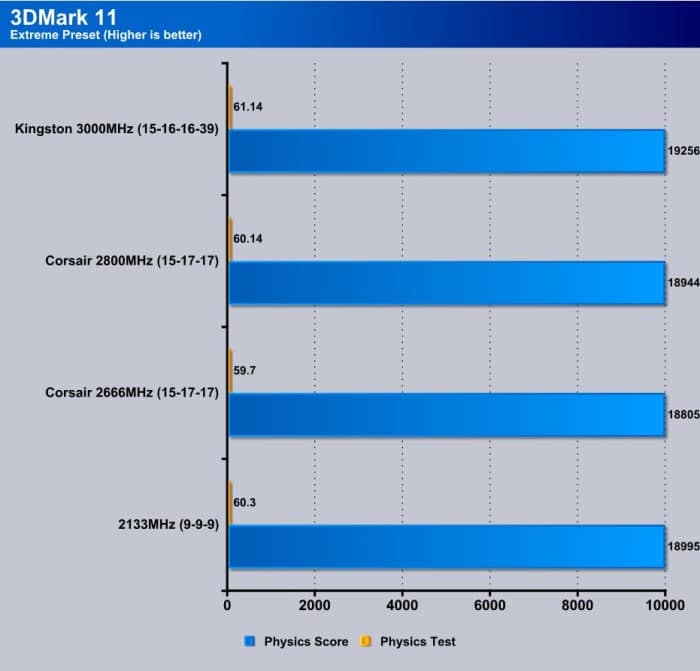 3DMark 11 is a nice synthetic benchmark which represents 3D gameplay. Here you can see that the physics scored well on JEDEC but actually lost a little on our previous testing when cranking speed up.  With the HyperX modules we got a nice kick in the pants when clocked up to 3GHz.
Sniper Elite V2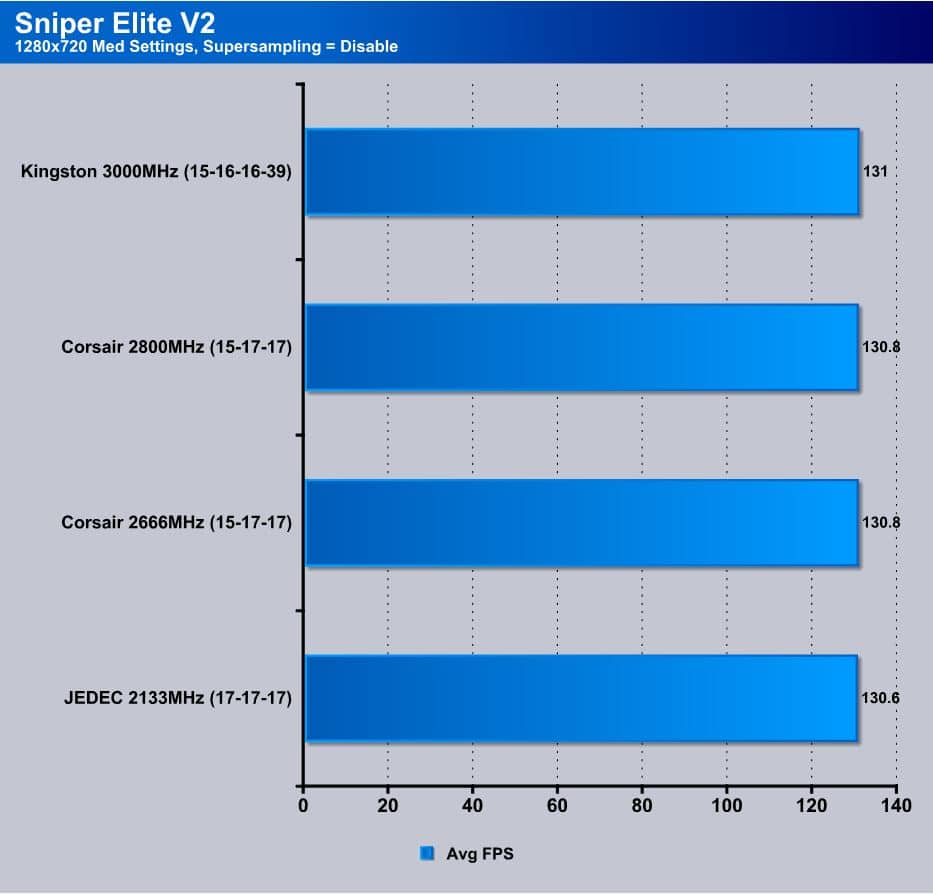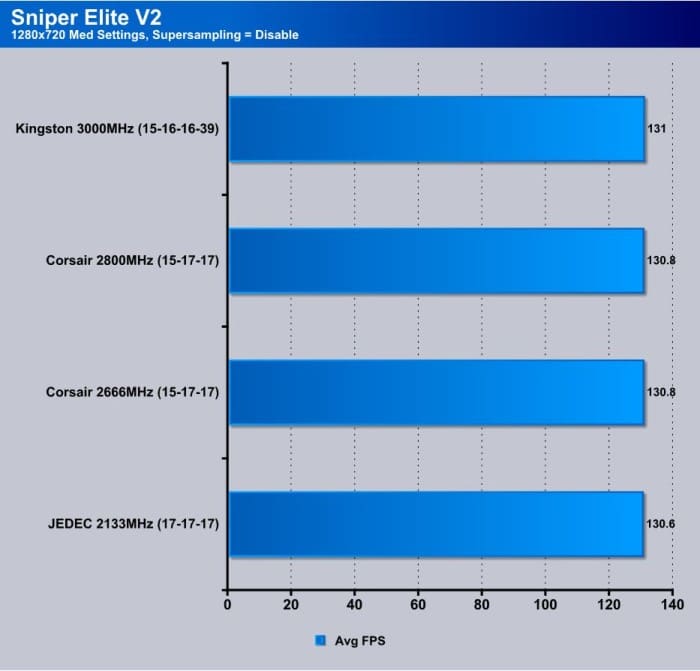 Sniper Elite V2 is a older game but ot responds well to CPU overclocks and other system clock changes so i figured it could be good to show any advantages to the pipeline. As we see here the average FPS does not change much just ever so slightly up which tells me that possibly either the OS is not yet optimized for this new platform or even more so we are at a tipping point at which only extremely CPU/Bus bound applications will see very little benefit if any at all. This means that most games and whatnot you use every day at least presently simply cannot saturate the new DDR4 bus enough to see a real benefit from the speed increases yet at least.
Our Final Thoughts

Kingston with its long history of delivering excellent memory modules is still delivering at over 25 years later. Redefining the memory market has been at Kingstons core culture and it looks like they are off to a good start.
The performance of the PRedator modules is awesome and we saw nice gains in some areas with a secondary profile should your specific application favor tighter running vs higher speeds.
The value of the moduels is quite good as it's at one of the lowest price point easily beating out other models with the same speed/timing sets.
Anyone jumping into the new X99 platform would be hard pressed to find a better performing and great priced kit than the HyperX Predator kit we see today.
Pros:
Cons

Strong Performance
Solid build quality
Nice aggressive heatspreader
Dual profiles to choose your performance option
Review Overview
Performance - 9.5
Value - 9.5
Quality - 9.5
Features - 9
Innovation - 8.5
9.2
Anyone jumping into the new X99 platform would be hard pressed to find a better performing and great priced kit than the HyperX Predator kit we see today.