Introduction

PC Gaming may be strong and growing but so are consoles and that is due to the simplicity of plug and play. A console you plug it in, maybe wait for a few updates and you are off to the races. PCs require installing of games, updates navigating windows and countless other steps including configuring graphics before you can start to enjoy your games. This is one of the big difference between console and PC adoption aside from cost of course which make users shy toward the easier to use consoles and this is largely due to UI or user interface. PC you deal with windows whereas consoles you just enter the game from a dashboard. Now things like SteamOS have gone a long way in trying to bridge that gap but it is very far from ideal at the moment so companies like Cyberpower in an attempt to create an optimal user experience has branched out and created a new brand named Syber, which as of now offers the new VAPOR series of PCs which are very close in appearance to consoles and are aimed at grabbing up market share from the limited consoles with a fully functioning PC that can be upgraded and in many cases easily out gun consoles while offering a similar plug and play experience.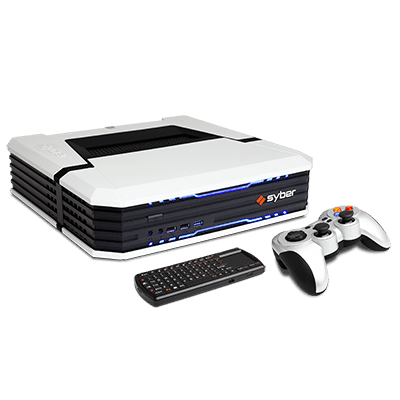 Much like what you would find from off the shelf PCs Cyberpowers SYBER VAPOR line is designed from the ground up to plug-in and go launching directly into the Steam Big Picture mode so that you can virtually control the unit from the included Logitech F710 Gamepad, but it does have a micro keyboard with integrated touchpad should you want to navigate windows itself.
Today we get hands on with the SYBER Gaming VAPOR A gaming console PC which is the entry-level version bearing a AMD Athlon x4 840 and a R9 270 GPU coming in at a street price of $599.99 at the time of writing and while this is a bit above what you would pay for a Xbox One or a PS4 I do think the depth of hardware and capability could easily take up for that.
Also there are two other models the SYBER Gaming VAPOR I which is a i3 powered model with a GTX 750 Ti GPU which comes in at 699.99 and then a massive jump to its top end model in the SYBER Gaming VAPOR Xtreme which is i7 powered with a GTX 980 for the maximum experience but also carries a 1499 price tag.
Features & Specifications
SYBER VAPOR A

Case

CYBERPOWERPC SYBER GAMING Console Chassis in white

CPU

AMD Athlon X4 840 3.1GHz (3.8GHz Turbo) Quad-Core Processor

Motherboards
MSI A88XI AC FM2+ mITX,

AC

Wi-Fi 802.11 + Bluetooth, USB 3+ SATA 6GB/s GbLAN, 1 Gen3 PCIe x16
RAM


4GB (2GBx2) DDR3/1600MHz Dual Channel Memory

CPU Cooler

DeepCool AMD Certified CPU Cooler 

Hard Drives

500GB 5400RPM SATA300 Hard Drive

SSD

N/A

Optical

N/A

GPU

AMD Radeon R9 270 2GB GDDR5 PCIe 3.0 x16 Video Card

PSU

250 Watts – Standard SFX Power Supply (Silverstone)

OS

Microsoft® Windows 8.1 (64-bit Edition)
Click Images to Enlarge
The box arrived in a plain white box like I have seen so many times before but once you crack that open you see the SYBER Gaming color box which is likely what you would see in retail. The first thing I noticed was the close attention to detail to really mirror the feel you get from consoles as far as packaging goes as a lot is graphic and not a ton of written spec like you normally may see in PC components.
Once opened you are greeted by the white foam which encompasses the system and a welcome card which simply has quick messaging welcoming you to the SYBER Family. Otherwise you start to unpack what seems like tons of extra goodies that make it ready to plug-in and go.
Closer Look at the CyberpowerPC SYBER GAMING VAPOR A
Click Images to Enlarge
The VAPOR A comes with a bulk of accessories.
Power cord
HDMI Cable
WiFi Antennae
Brackets
USB Extension for Keyboard/mouse BT Reciever
Logitech F710 accessories
Logitech F710 Game Controller
Micro Keyboard with included touchpad
Welcome paperwork and Warranty info
The bulk of accessories is awesome and the included keyboard is nice as it is manufactured by Shenzhen based company Gtide and they have a wide range of wireless keyboard models and this really is a good fit for this kind of application as most users in a living room environment would be more receptive to a keyboard the size of a television remote rather than a full size PC keyboard. The inclusion of a HDMI cable is an awesome idea as this now truly becomes a plug-in solution as there is no need to run again to a store due to possibly not having the correct cables to get hooked up.
Click Images to Enlarge
Here you can see we received the white model. The VAPOR series comes in either white or black styling and it really depends on your personal preference or maybe matching your own home theatre components. Also you will notice that this unit carries distinct styling characteristics which are shared across many cyberpower lines such as the FangBook notebooks we looked at some time ago and in this case the pocket which looks like an air scoop is actually used as a functional cooling vent.
The front panel is a soft touch black plastic offering a large SYBER logo and some connectivity.
The front panel connectivity and buttons are as follows:
2x USB 3.0
1x USB 3.0
Mic input
Headset output
Power button (above connectors)
The Front of the chassis also houses some specialized lighting we will show you soon.
Click Images to Enlarge
Here you can see the rear panel of the chassis which has the IO and prominently above it a PSU 3 pin connector which passes through to the PSU which is mounted more forward in the chassis.
The IO Connectivity is as follows:
4x USB 2.0 ports
PS2 Keyboard/Mouse  combo port
HDMI Port
Dsub (VGA) Port
DVI Port
Dual Antennae Connectors (802.11 AC WiFi & Bluetooth 4.0)
TOSLINK Optical SPDIF port
2x USB 3.0 Ports
Gigabit LAN port
3x Analog audio port up to 7.1 channel audio via Realtek ALC887
as you can see on the motherboard side things are well covered as far as connectivity goes with a ton of high-speed connection options.
The Graphics card is found next to the IO connector and has the following display output layout as shown:
2x DVI
1x HDMI
1x Displayport
This allows for full multi monitor support or simply connecting HDMI to your home TV
Click Images to Enlarge
Finally moving inside you can see that the small chassis much like we saw with the Zeus Mini is very compact but the SYBER team uses the space well and we can actually see some areas where there is room for future upgrades or expansions.
The large metal plate which holds the HDD in place is removable with just a few screws which will make maintenance and components replacement actually quite easily as everything can lift away giving a very modular feel and good overall experience for anyone looking for future upgrade capability.
The cooler chosen for CPU cooling duties is a Deep Cool stock style model which should keep cooling well within control but the fan can be a bit noisy in higher load situations.
Lastly on the side of the chassis you fin da button labeled "Color" which is used to control the lighting effect as we see below.
Click Images to Enlarge
The front lighting contains RGB LEDs which are directly controlled to give one of 5 lighting color options with the press of a button. The color is actually not blindingly bright like the photos show but trying to capture the color without getting a blown out feel in pictures proves quite difficult.
The best color I felt was either the purple or green Ironic for an all AMD powered system I do agree but it looks pretty menacing nonetheless. Seeing this sitting in your entertainment center it definitely makes a statement with the lighting as you see here, and it also does command attention although I found preferableto turn it off as I tend to game in darker rooms.
First startup and login screens can be seen below
This system is Windows 8.1 based but it starts in Steam big picture mode which means it is very much like a console experience as the whole screen can be controlled via the included Logitech game controller.
Testing & Methodology
We've expanded our testing suite considerably since the Z77 chipset release, and will continue to use the same methods for most of the motherboards and CPU's we test. In the interests of thoroughness and accurate results, we run each test at least three times, and some tests more than that. We average the total of all the tests from each benchmark then report the average here.
The OS we use is Windows 8 64bit with all patches and updates applied. We also use the latest drivers available for the motherboard and any devices attached to the computer. We do not disable background tasks or tweak the OS or system in any way. We turn off drive indexing and daily defragging. We also turn off Prefetch and Superfetch. This is not an attempt to produce bigger benchmark numbers. Drive indexing and defragging can interfere with testing and produce confusing numbers. If a test were to be run while a drive was being indexed or defragged, and then the same test was later run when these processes were off, the two results would be contradictory and erroneous. As we cannot control when defragging and indexing occur precisely enough to guarantee that they won't interfere with testing, we opt to disable the features entirely.
Prefetch tries to predict what users will load the next time they boot the machine by caching the relevant files and storing them for later use. We want to learn how the program runs without any of the files being cached, and we disable it so that each test run we do not have to clear Prefetch to get accurate numbers. Lastly we disable Superfetch. Superfetch loads often-used programs into the memory. It is one of the reasons that Windows occupies so much memory. Vista fills the memory in an attempt to predict what users will load. Having one test run with files cached, and another test run with the files un-cached would result in inaccurate numbers. Again, since we can't control its timings so precisely, it we turn it off. Because these four features can potentially interfere with benchmarking, and and are out of our control, we disable them. We do not disable anything else.
Test Suite
Game Benchmarks
Borderlands 2
Metro Last Light
Batman Arkham City
Battlefield 3
Crysis 3
Far Cry 3
Sniper Elite V2
Synthetic Benchmarks
3DMark 2013 (Firestrike)
3DMark 11
HD Tune Pro
Cinebench R11.5
Game Benchmarks
All Game settings were set to maximum detail at the listed resolution. Each result was run a minimum of 3 times to ensure accuracy and least amount of variance
Game Settings:
And here we have the actual results after are testing: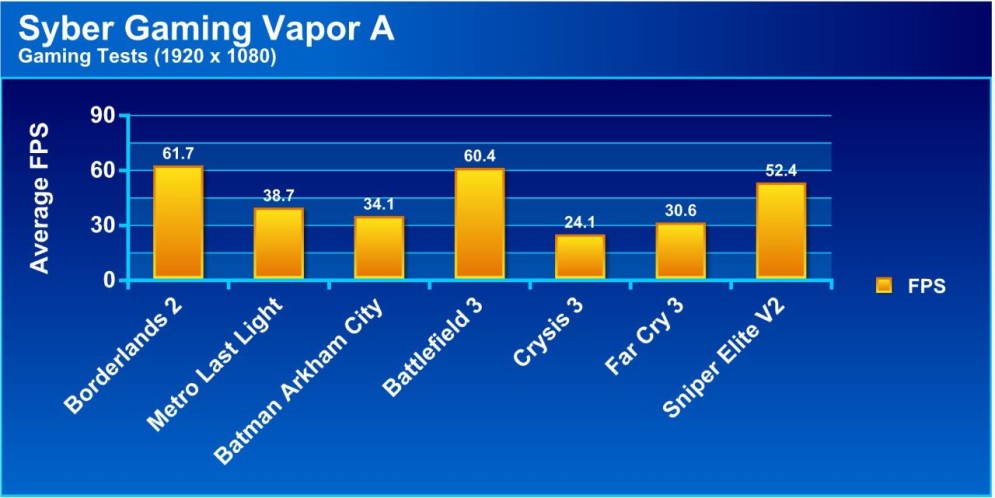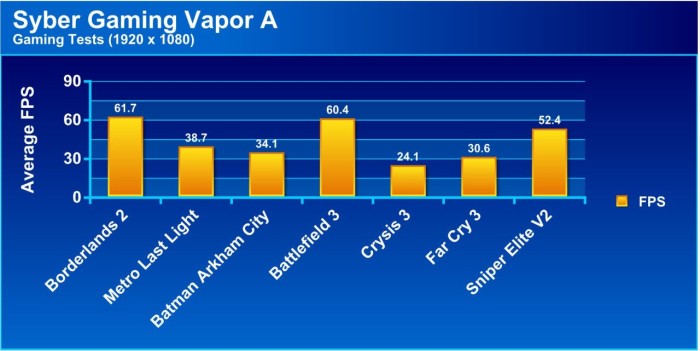 Looking at the results you can see we tested at HD resolution 1080p since that is the most popular resolution in gaming presently and therefore offers the best representation for most users experience with the Vapor A Gaming system
The results show what I expect which is when these games are set for optimal settings it can be a bit much for the 270 GPU but then again the detail level you are getting when compared to a console is better so in reality tuning it down a bit to get better higher consistent framerates will still offer a better gaming experience.
Synthetic Benchmarks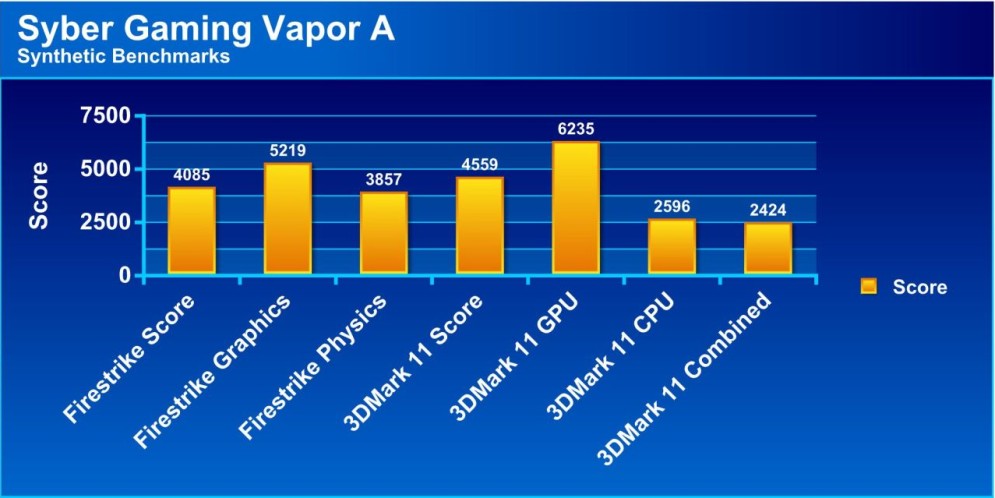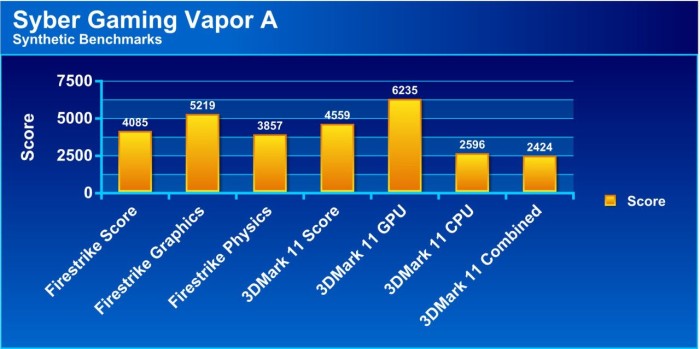 Synthetic performance such as the 3DMark suites show decent performance for the hardware and delivers decent results for a midrange entry level machine.
HD Tune Pro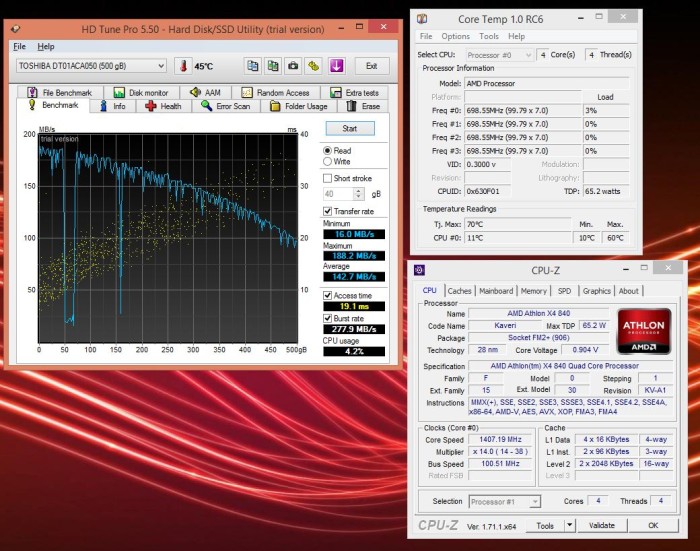 Click Images to Enlarge
The VAPOR A comes with a single 1TB platter drive which is probably the one area that will notice the biggest delays. As the windows OS is not as streamlined to get games up and loaded this is where you will notice a fall behind consoles so I think some sort of large capacity flash caching storage solution would be ideal for this machine as it will ensure commonly played games and apps load up quickly to avoid the inherent delay you feel loading from the large capacity mechanical drive.
Cinebench R11.5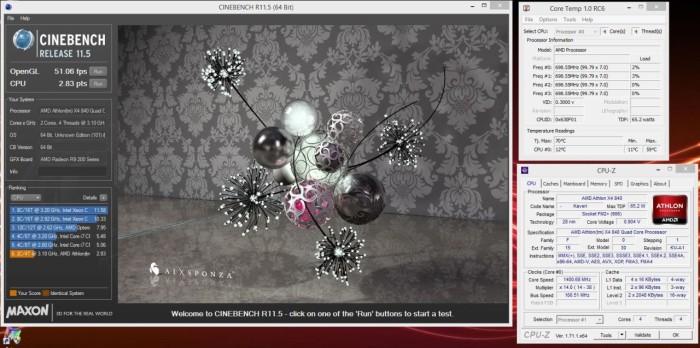 Click Images to Enlarge
For those interested in 3D Modeling, Animation and Rendering 3D or videos, Cinebench allows us to take a look at rendering performance for 3D. Here you can see the Athlon CPU is simply outgunned by most chips but as this is based to strictly be a game machine or console replacement I don't really care about this performance as long as it plays my games well.
The OpenGL test pulls 51.06fps which shows that even with a midrange lower GPU it can still post some decent performance.
Stability Testing and Noise
To measure the temperature for the system, we used EVGA's Precision X and ran the Metro 2033 benchmark in a loop to find the Load temperatures for the video cards. The highest temperature was recorded. After looping for 10 minutes, Metro 2033 was turned off and we let the computer sit at the desktop for another 10 minutes before we measured the idle temperatures. For the CPU load temperatures we ran Cinebench R11.5 about 10 times in a row to see what was the highest CPU temperature we could reach at 100% load.
To get our power consumption numbers, we plugged in our Kill A Watt power measurement device and took the Idle reading at the desktop during our temperature readings. We left it at the desktop for about 15 minutes and took the idle reading. Then we ran Metro 2033 for a few minutes and recorded the highest power usage.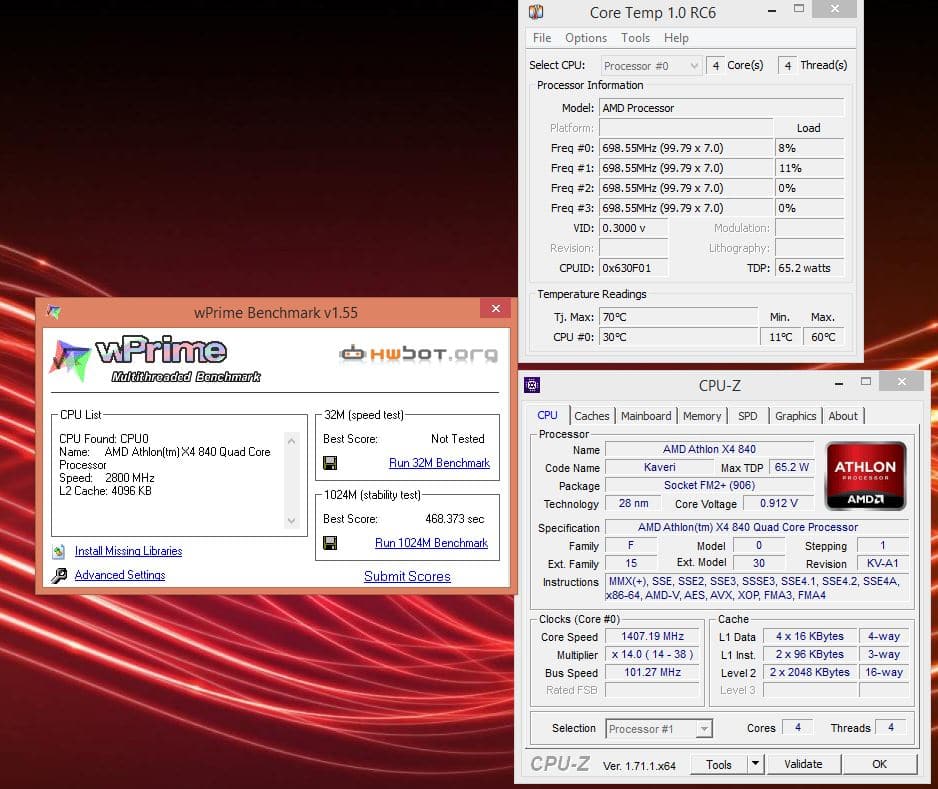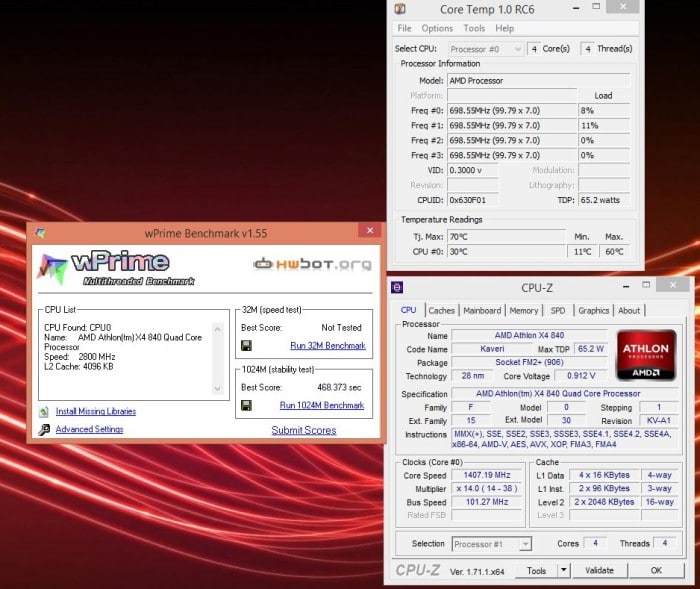 | | | |
| --- | --- | --- |
| | Idle | Load |
| Temperatures | | |
| Power Consumption | 77 Watts | 144 Watts |
The cooling numbers for the Athlon chip are not surprising as it's a stock style cooler so while it keeps temps in check you could definitely hear it doing the job. The GPU I don't think I ever heard as the CPU ramped up much more quickly under load but it is simply something you have to consider when building in such a tight compartment.
Our Final Thoughts

Cyberpower Created SYBER as an all out gaming brand to take on living room gaming and the likes of the two big console providers. The issue I see is that the PS4 and XBox are running a proprietary OS which is specifically designed to just run games and apps it designs, which means you don't deal with any of the bloat or possible issues of the windows OS including the longer possible load times for the non optimized operating system.
Syber put together a solid parts list for the VAPOR A and the other models for that matter and I feel that these are great machines who's cost and ease of installation easily exceed the sum of its parts.
The unit when sitting right next to your head can be a bit loud but for testing sake I tested a XBox and PS4 and well they make noise for cooling as well we just have them sitting in entertainment centers when using them so once I moved to this kind of arrangement the VAPOR A was no louder to me during heavier gaming sessions.
When comparing functionality I do like that you can go from gaming to surfing the web or watching youtube or even checking your email all from your couch.
Anyone looking to change the way they game and have a capable PC to play any game in their arsenal from the comfort of their couch should be giving SYBER GAMING a look.
The Pro's:
Cons

Good price point
Good gaming performance
Plenty of display connectivity
included HDMI
4GB DDR3
Unique and modular chassis
Plenty of room for future upgrades

Cramped space means component upgrades need to be planned before executing
Cooling is good but being a thinner tower expect slightly higher temps than a larger open tower.
Needs a faster storage solution for quicker load times
Lacks the complete integration for all sorts of apps that Xbox One and PS4 has forcing you to go out into Windows for many non-gaming tasks.
Review Overview
Performance - 8
Value - 8.5
Quality - 9
Features - 8.5
Innovation - 8.5
8.5
The SYBER GAMING VAPOR A and VAPOR line of systems are contenders for the living room gaming environment, and packs some serious hardware for any level user.