Gamdias is a company name that most probably not many have heard of. That was the way it was for us when we were approaced to review a keyboard and a gaming mouse. The company was founded in 2012 but it turns out they already have a big range of gaming mice (13), keyboards (2) and other gaming related peripherals. In this review we are testing the Apollo Exention Optical gaming mouse. Regardless of the little weird name it turns out that it is a really nice gaming mouse with some neat tricks up its sleave.
SPECIFICATIONS
| | |
| --- | --- |
| Weight System | N/A |
| Cable Length | 2M |
| Keys | 5 Keys |
| Resolution | up to 3200 DPI |
| Polling Rate | 125 / 250 / 500 /1000 Hz |
| Onboard Memory | 64K |
| Dimension(LxWxH) | 118.6 x 69.8 x 40.3 mm(w/ back shell) |
| Tracking Method | Advanced Gaming Optical Sensor |
| Switch Lifecycle | 10 Million |
| Graphical UI | Yes (GAMDIAS HERA) |
The specifications show us that this is a fairly mid-level gaming mouse. It lacks a weight system and it's resolution is "only" 3200 dpi. On the memory side you get 64 Kb of on-board memory. If you want higher resolution, more on-board memory and more keys Gamdias for example has the Zeus with a resolution of 8200 dpi. It of course supports macros and you can set up up to 5 sensitivity settings so you can switch on the fly when you need more speed on your mouse-pointer.
One farily unique feature is the fact that the mouse can be used in two settings, either as a small palm sized mouse or, with an extention, as a bigger and longer mouse. The idea is that you an select what feels the best for you. Some people prefer the claw-grip around a short mouse, others want to rest the hand on the mouse.
As far as we can tell the mouse should work just fine for left-handed people as it is symmetrical.
CLOSER LOOK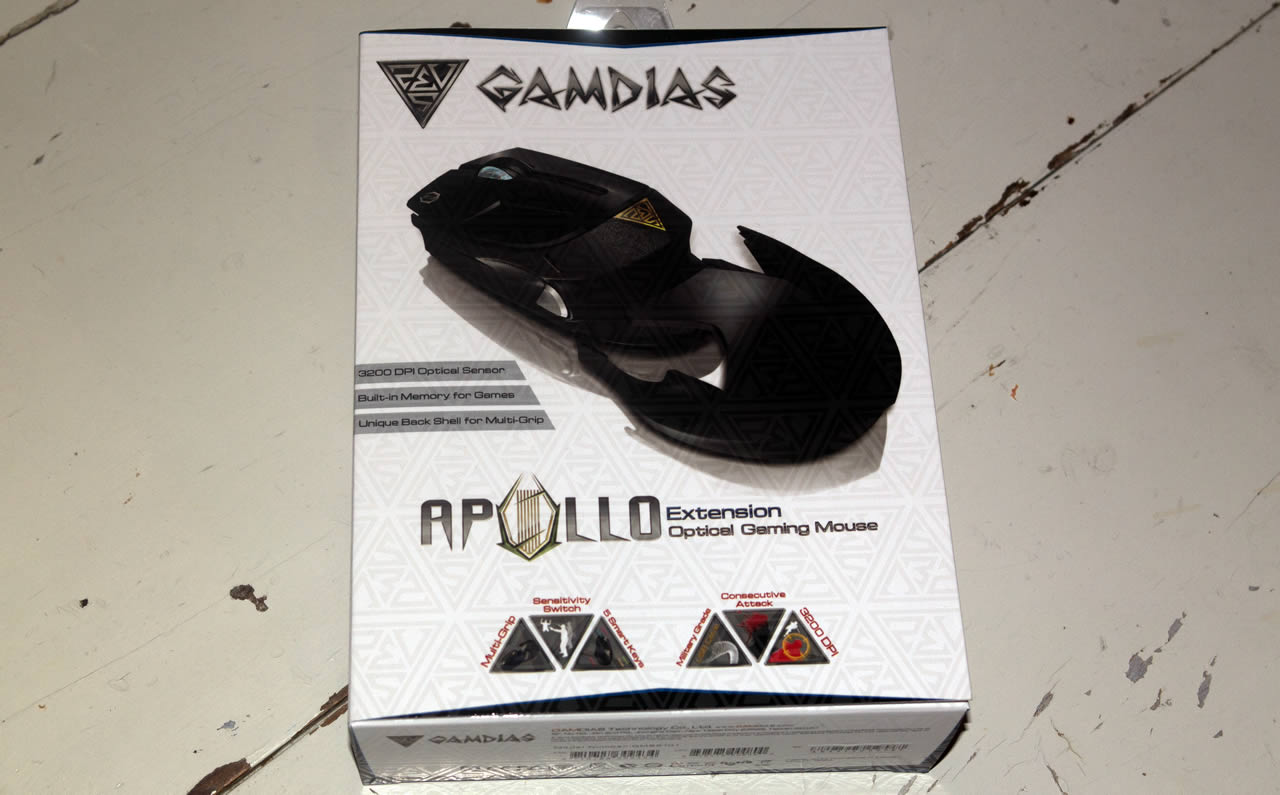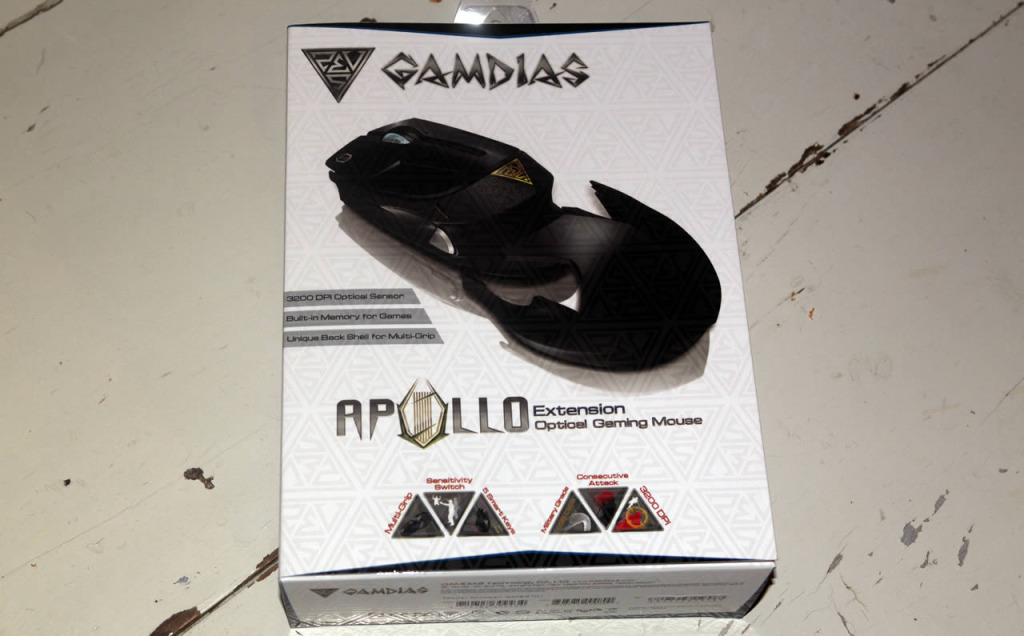 The mouse comes in a fairly small box which directly highlights the special feature of the mouse.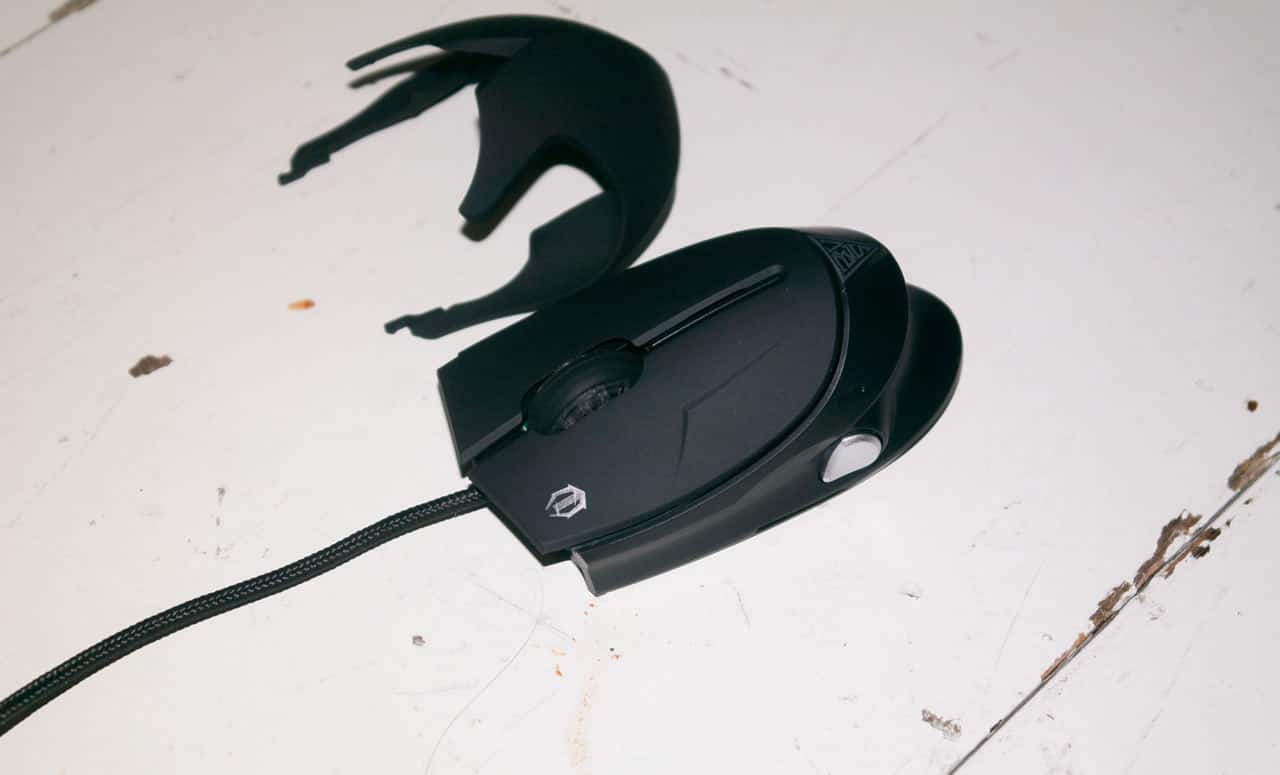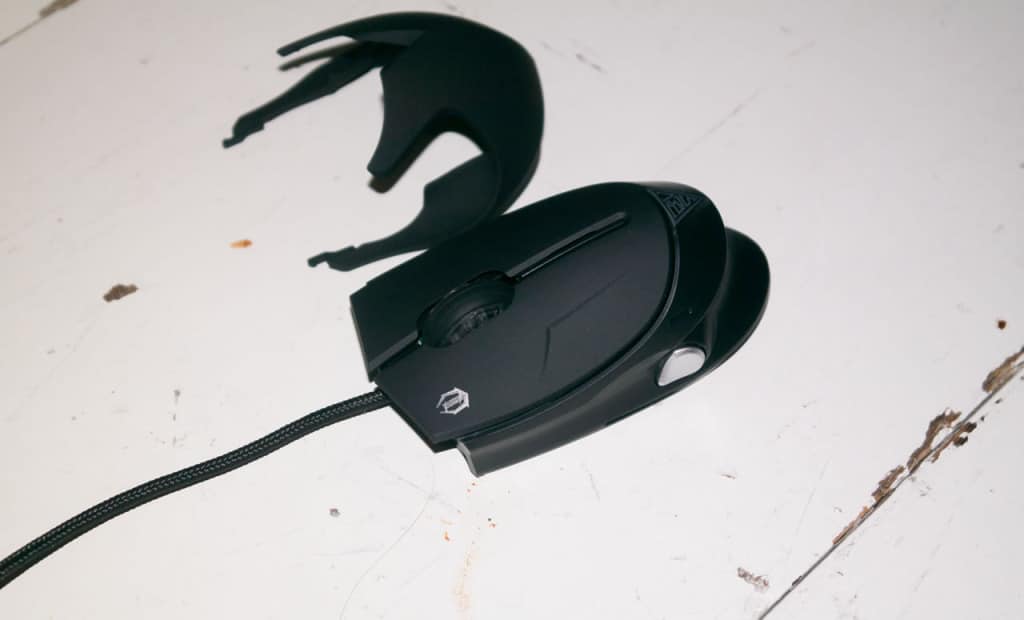 This is what you get: a mouse and an extension.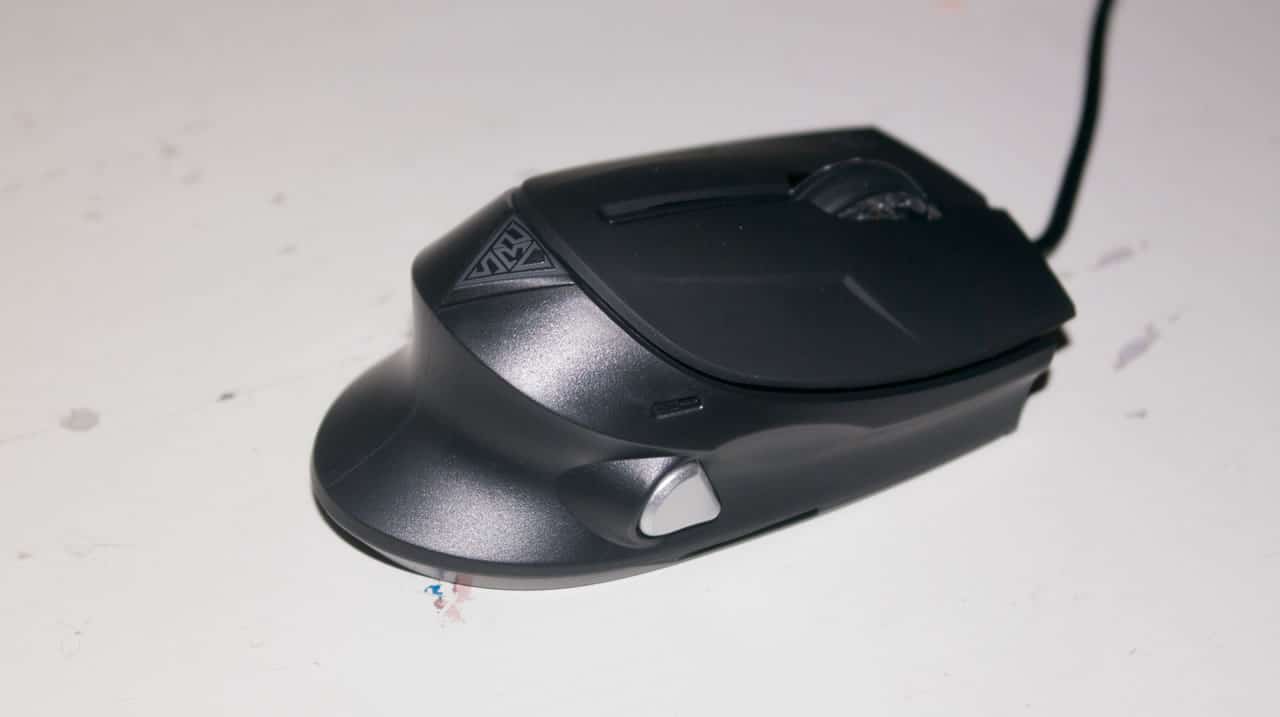 This is the mouse in its "short" state. On each side you have a button to be used with your thumb or your little finger.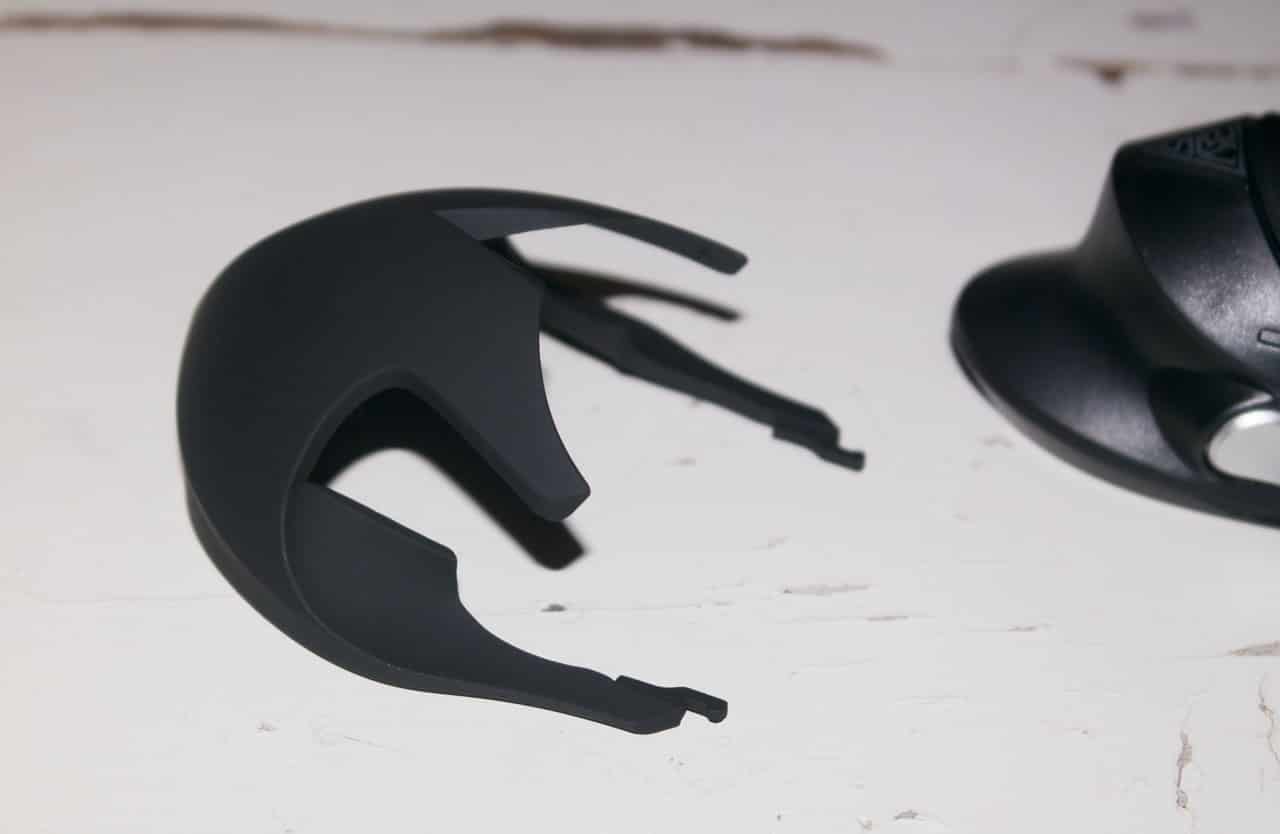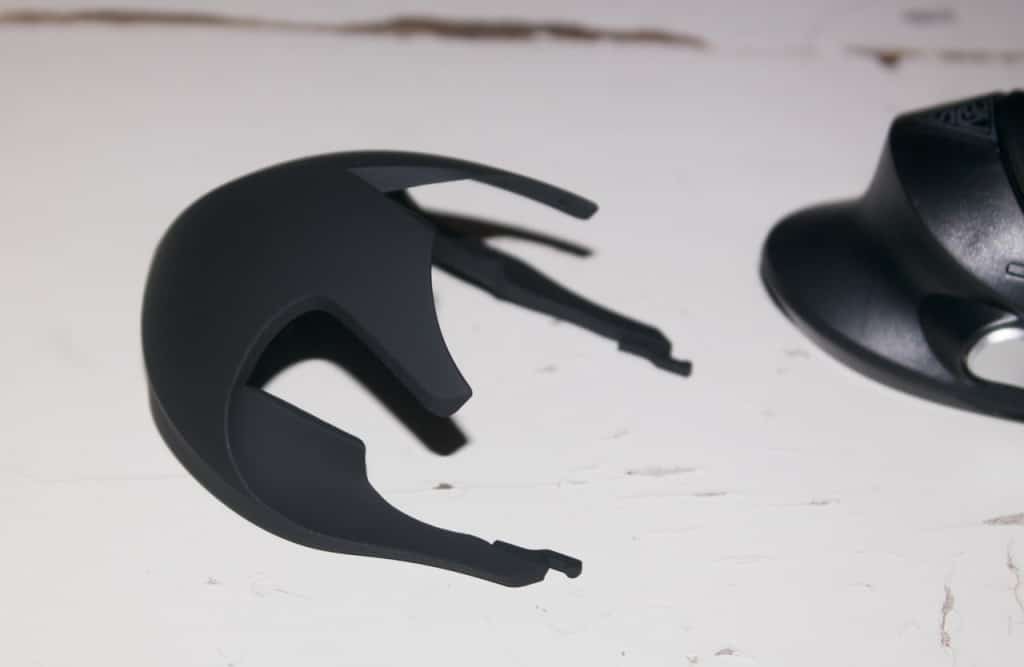 The extension is just a piece of plastic you attach onto the mouse. It looks flimsy and we were a bit worried when first attaching it that it would not hold but using the mouse for over 3 months has proven to us that it is a durable construction.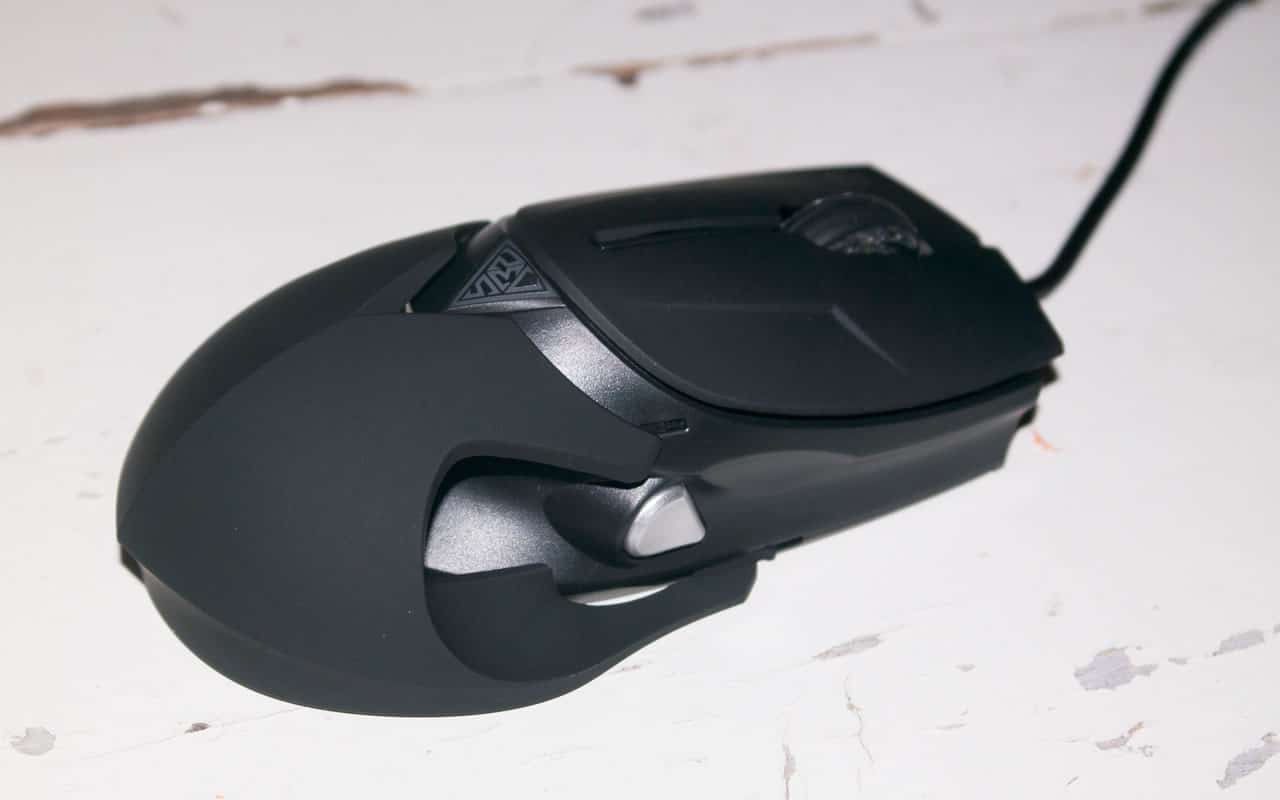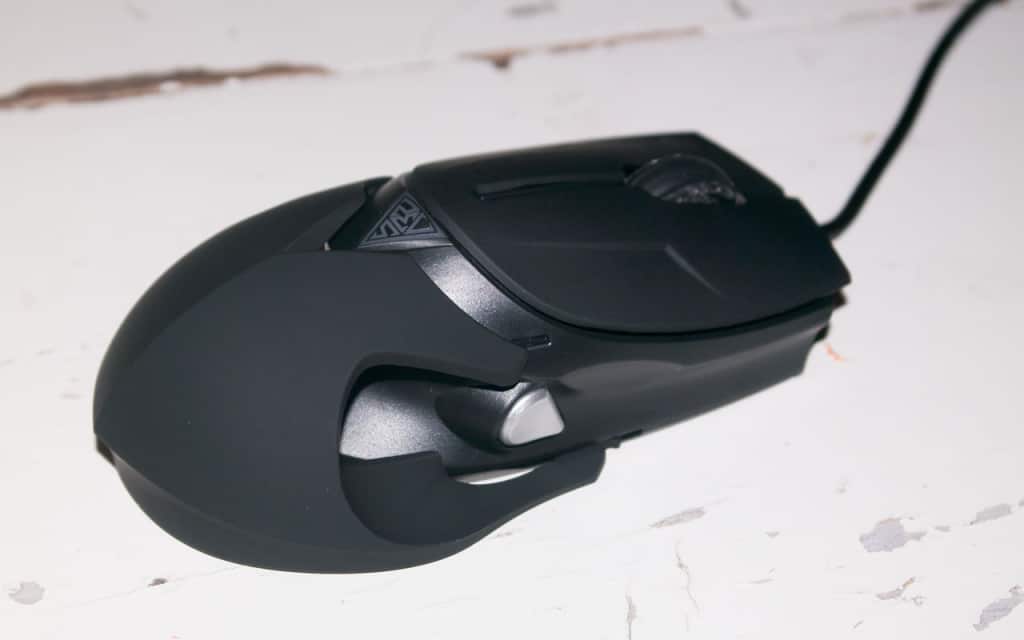 And this is how it looks when we have attached the extension. It gives the Apollo mouse a similar feeling to other larger gaming mice.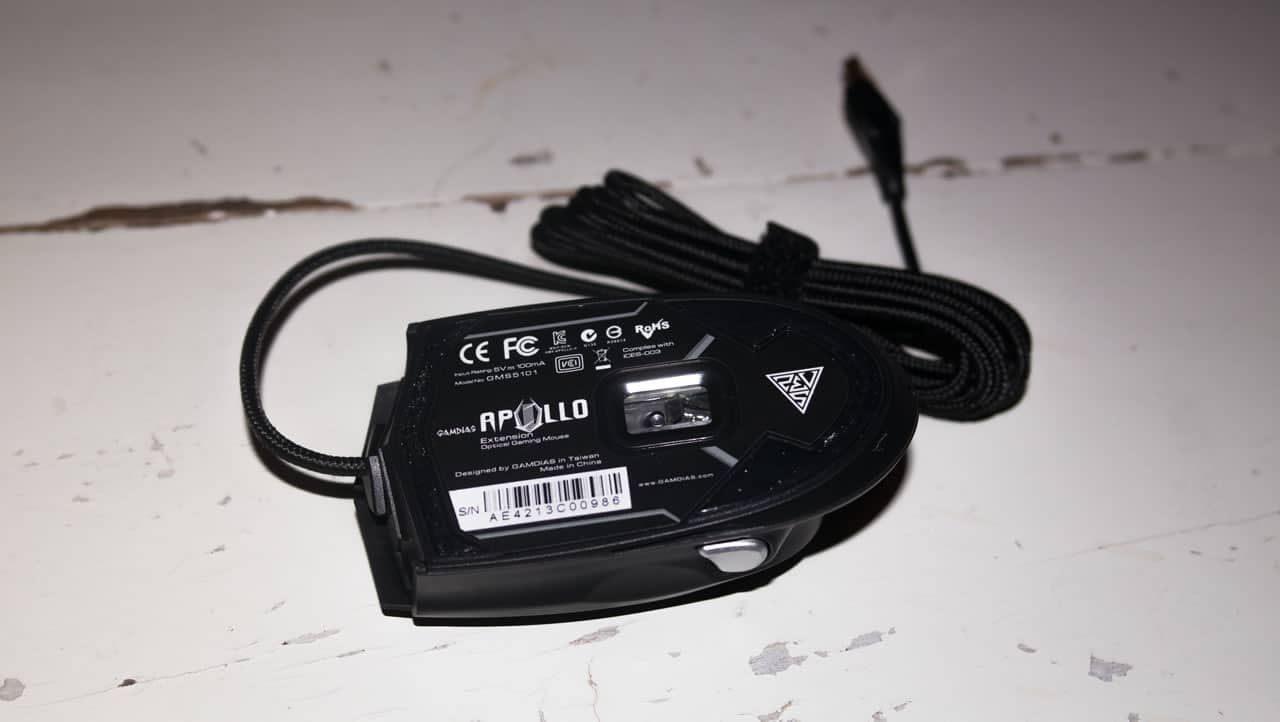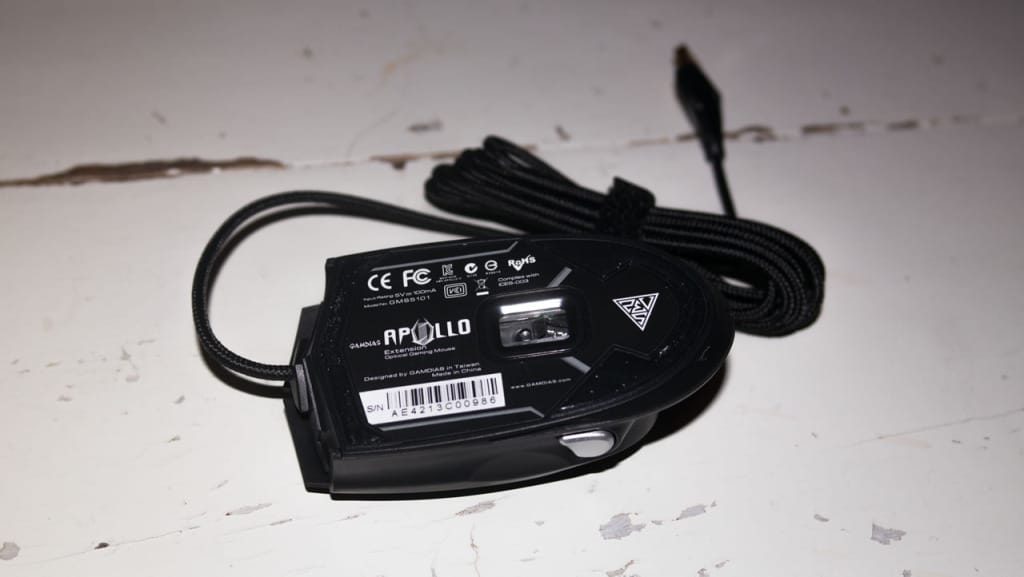 There are two pretty big glide-areas underneath the mouse. You won't be able to switch them out though when/if they get worn down. They do tend to trap some dust as you are using it so it is recommended to clean the underside up once in a while.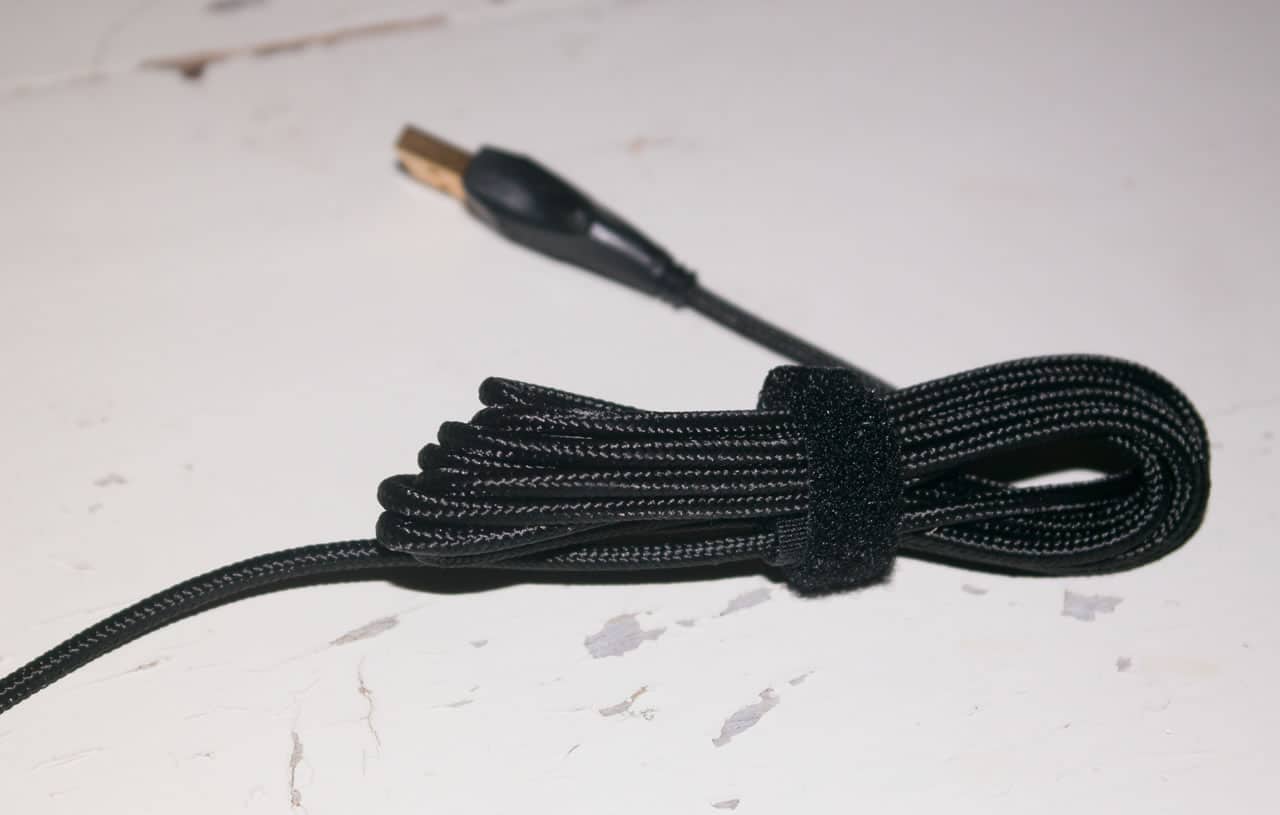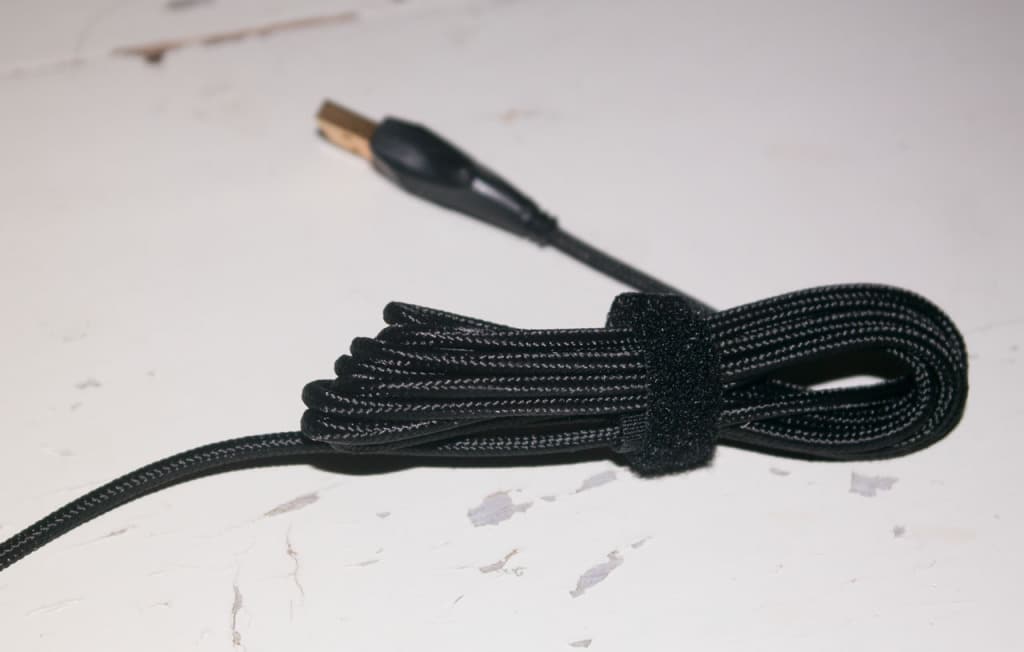 A 2 meter braided cable handles the connection to the PC. The polling rate can be set up to 1000 Hz.
SOFTWARE
The software used to program the mouse is called Hera. Yes, you might have realized the Greek gods theme that Gamdias are using for all their products. You do not need the software isntalled on the computer. You can just use ot to program the mouse and then forget about it. The software also is used for other Gambidas-products so in our case we can both controll the Apollo mouse and the Hermes keyboard that we are testing.
Unfortunately the software has fallen into the same trap as many software from asian companies – it is quite hideous. The window have transparent edges so it can have a "funky" form. It is also semi-transparent which makes it almost unusable if you open it up over a busy background, like a webpage. Luckily it still works well and offer some nice configuration-options for the mouse. You can have 5 profiles stored on the mouse.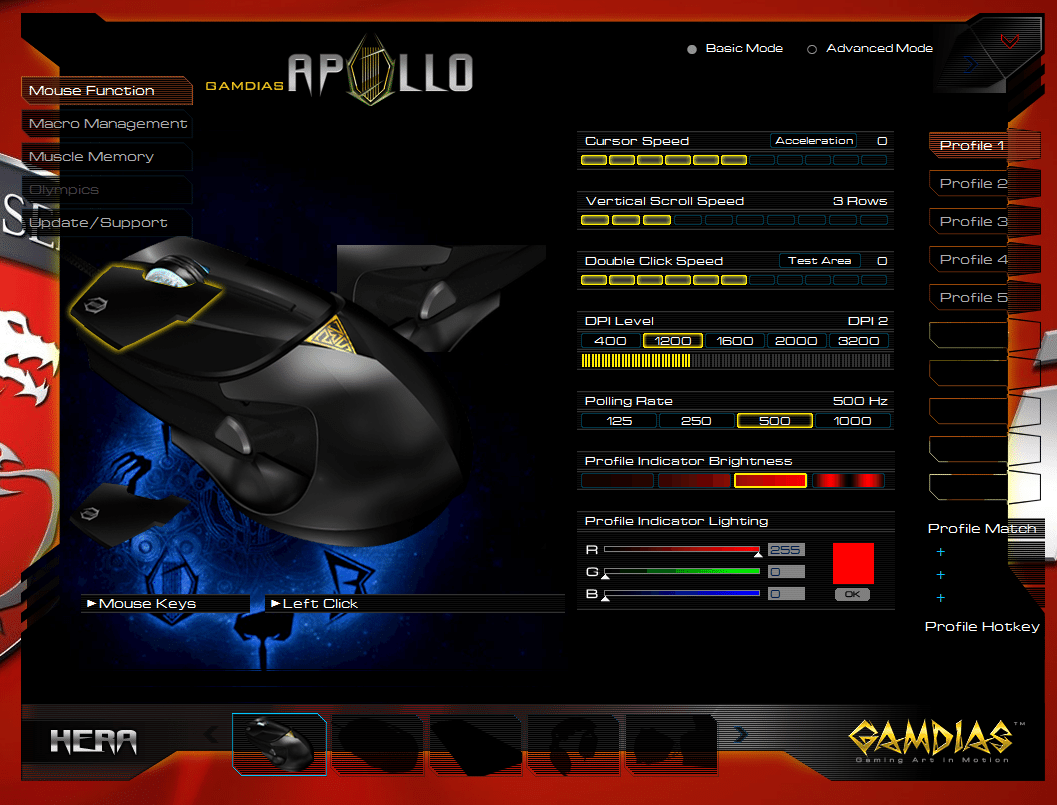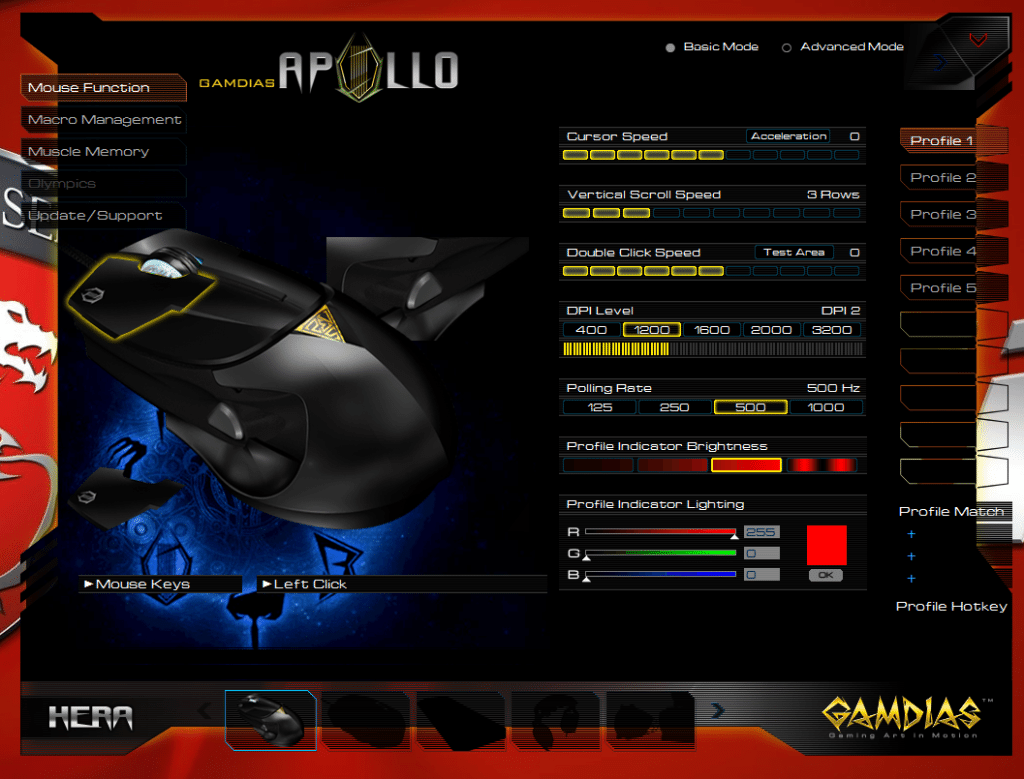 There is 2 views, basic and advanced. Basic pulls some of the settings together on the front page and omits a few others. The main settings are still available in this mode. The acceleration, polling rate and vertical scroll speed of the wheel either is set on the first page (Basic mode) or on its own page (Advanced mode). You can set up up to 5 sensitivity settings and use any dpi between 200 and 3200 for each of them.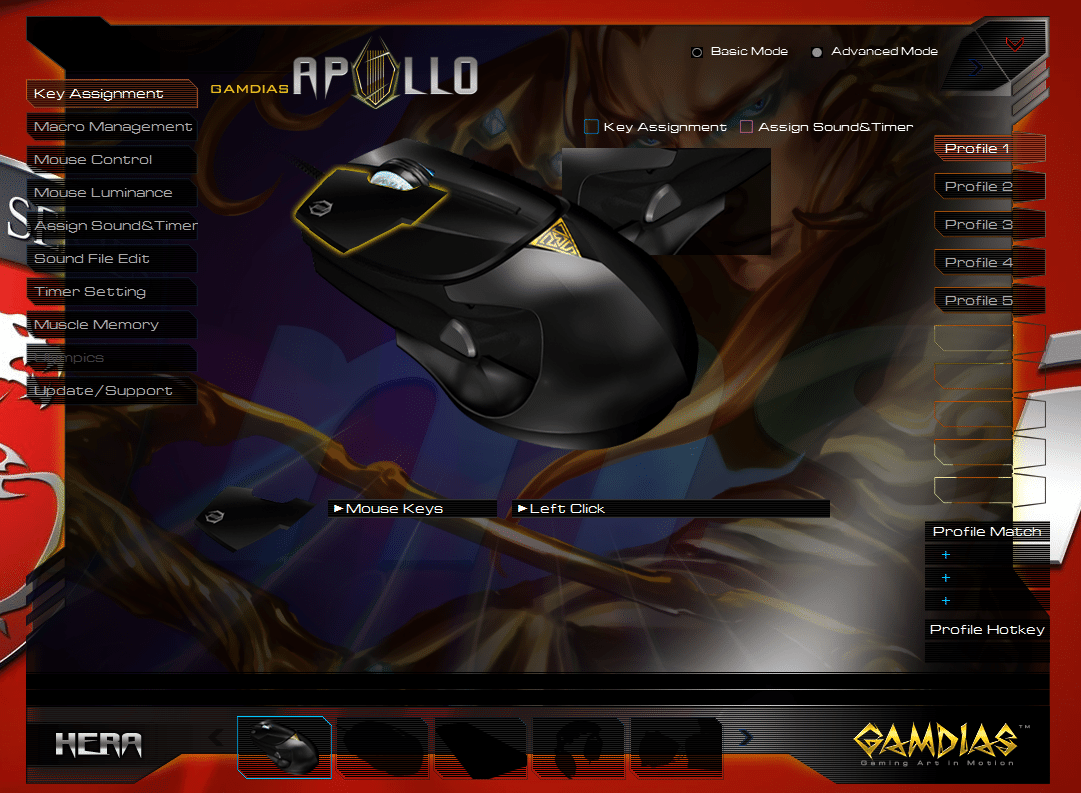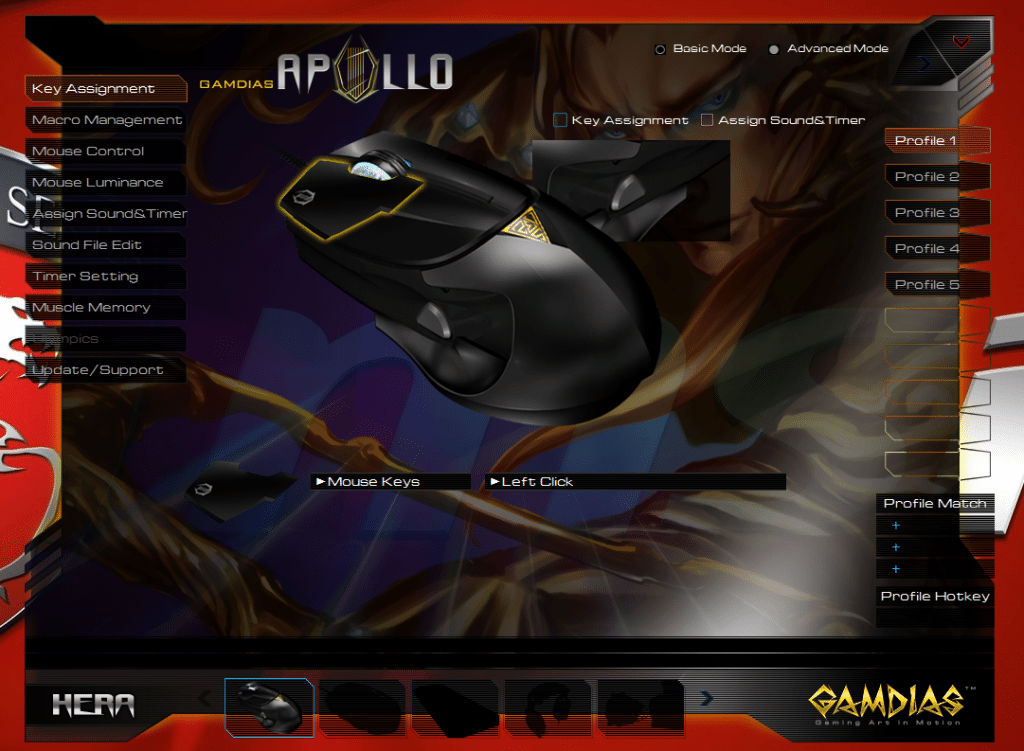 All 5 buttons can be assigned with any action.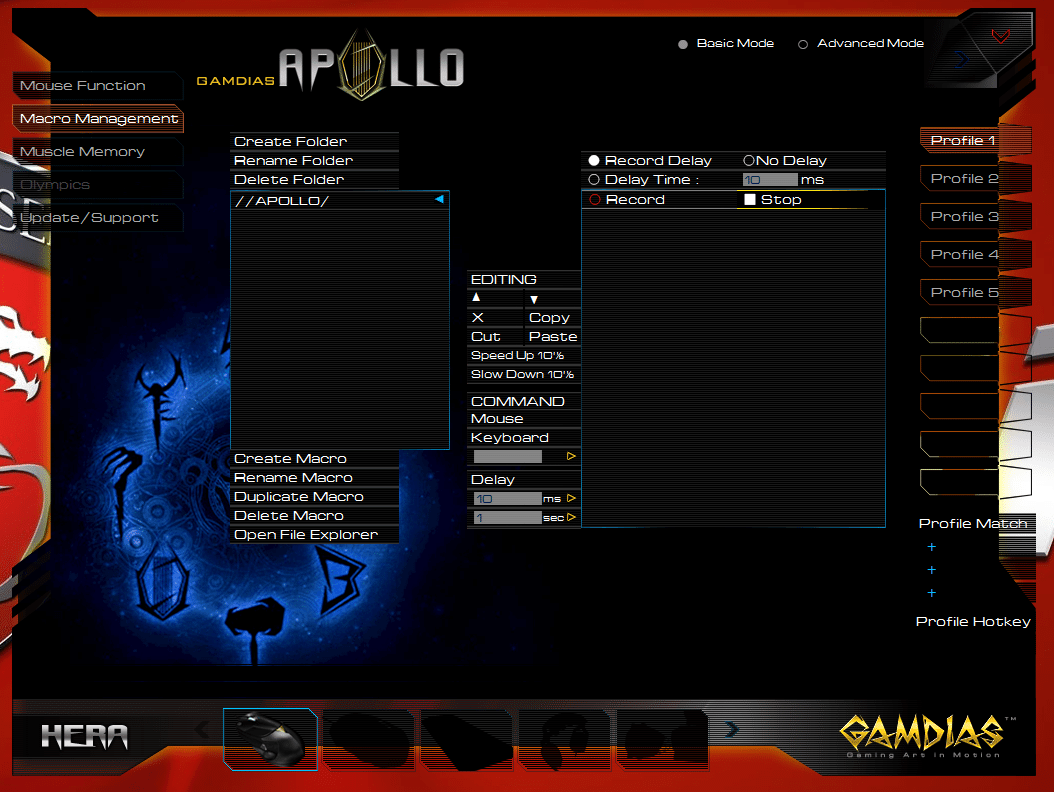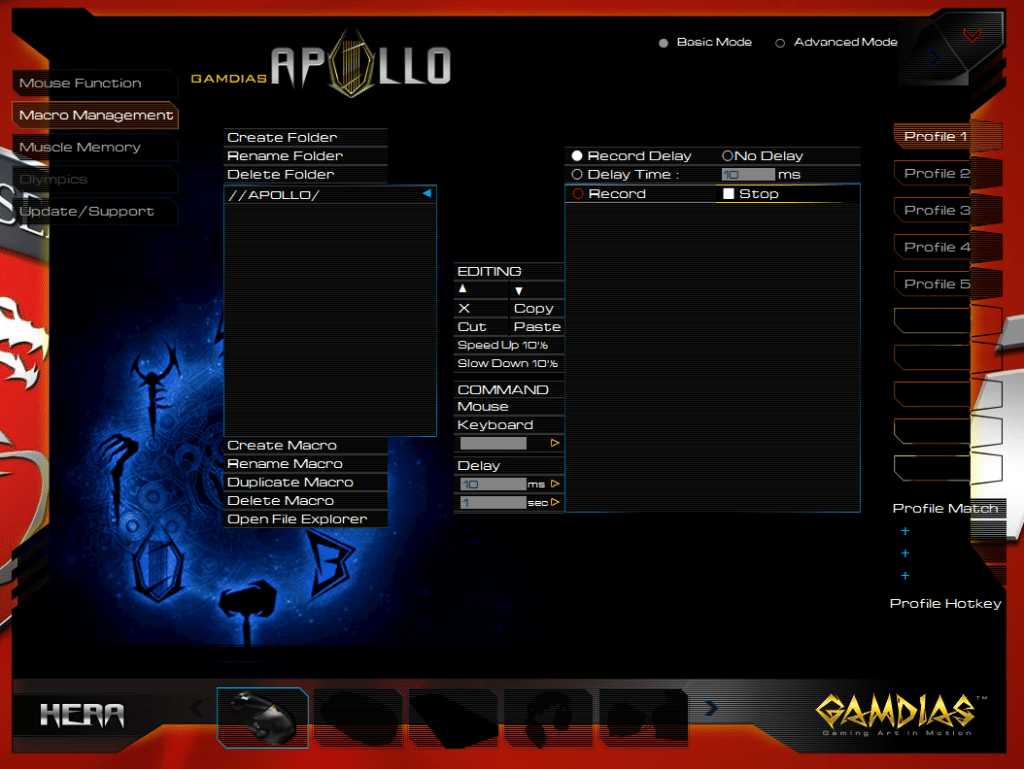 You can create macros, store them on the computer and push them to each profile. Macros can be a bit dauting to set up but Gamdias offers a lot of options here. One cool feature is the Profile Match-feature. You can assign up to 3 programs that will be match to each profile. This means that if you set up a macro for a specific game you can match that game with the profile and next time you fire up that game the mouse will switch to that profile. You can also select a hotkey for each profile. This is usefull if you bring the mouse to a computer without the HERA-software and want to switch between profiles.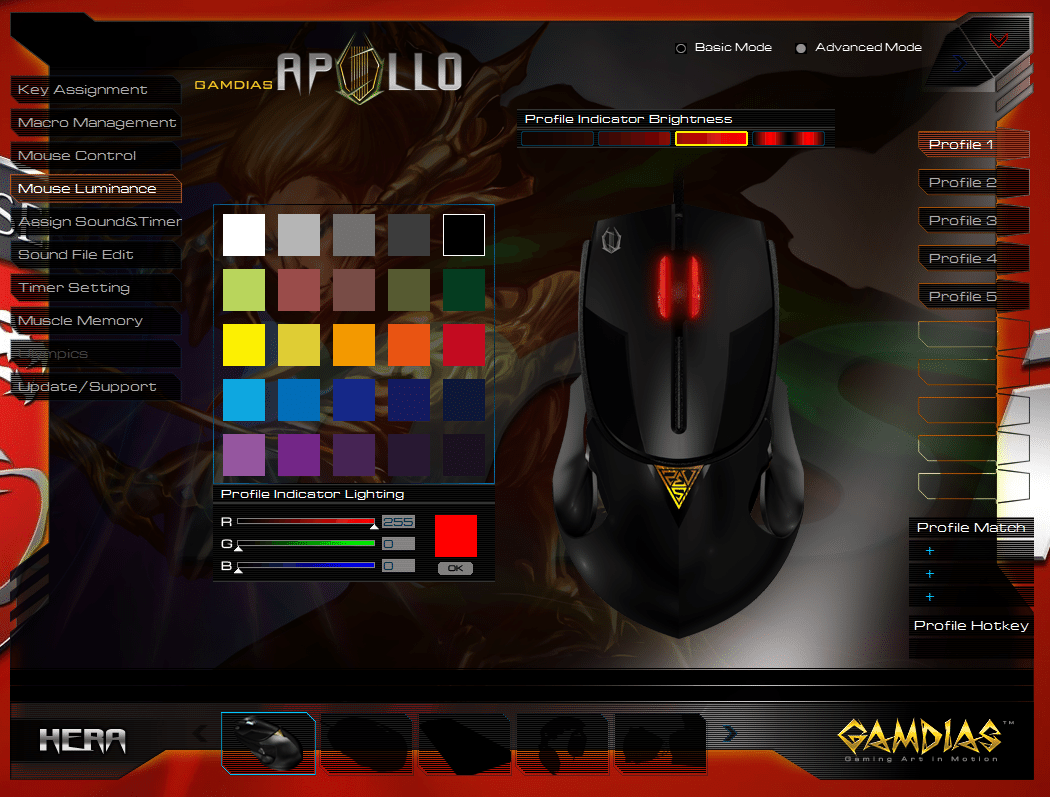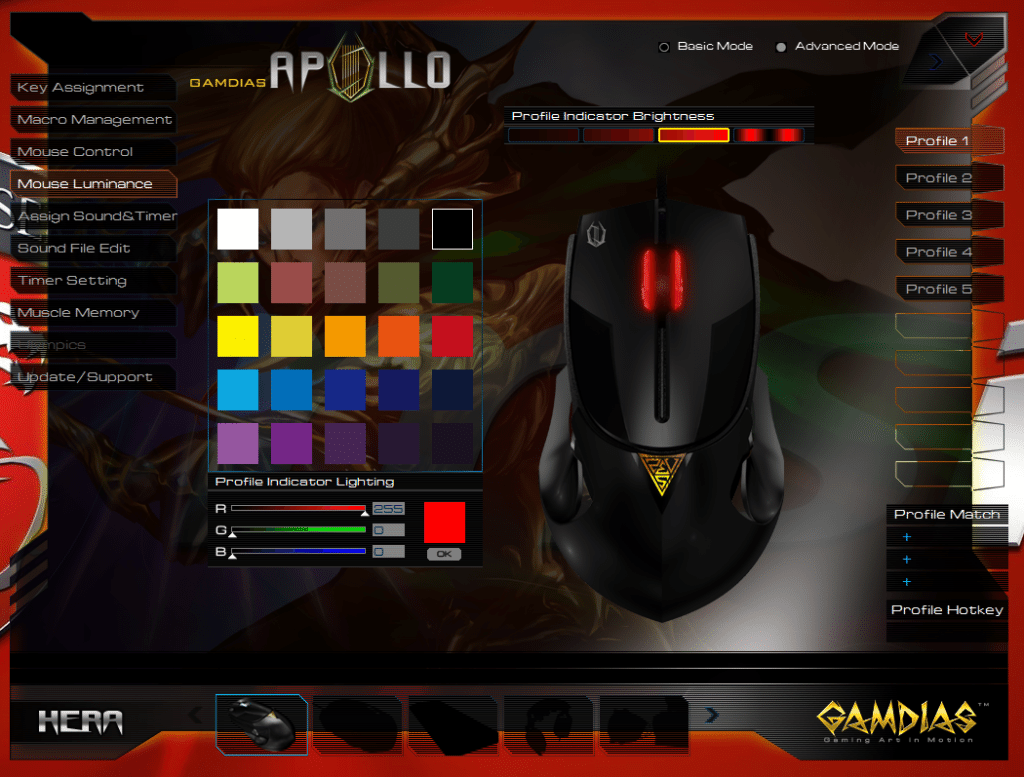 The color of the led by the scroolwheel can be changed. The Gamdias-logo always will be white/yellow. One good idea is to set a unique color for each profile.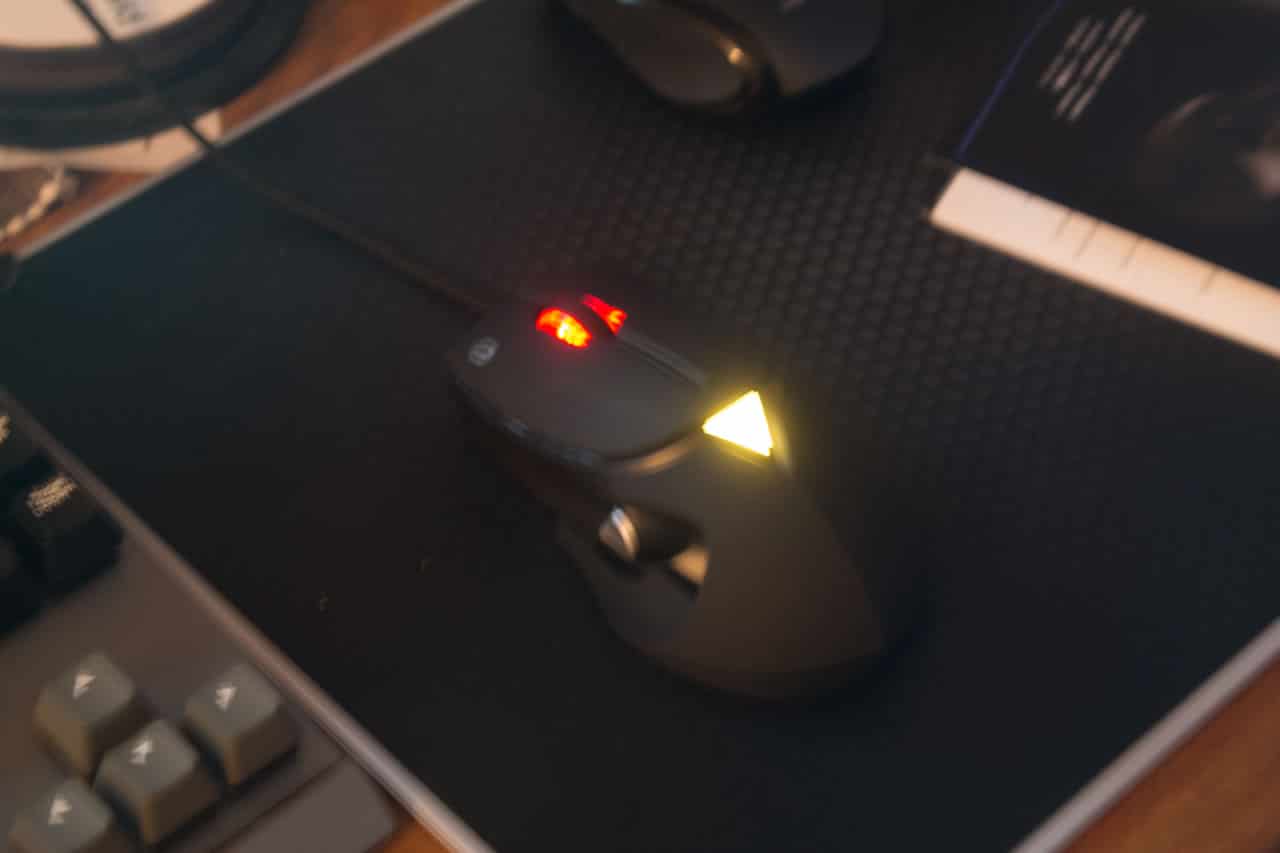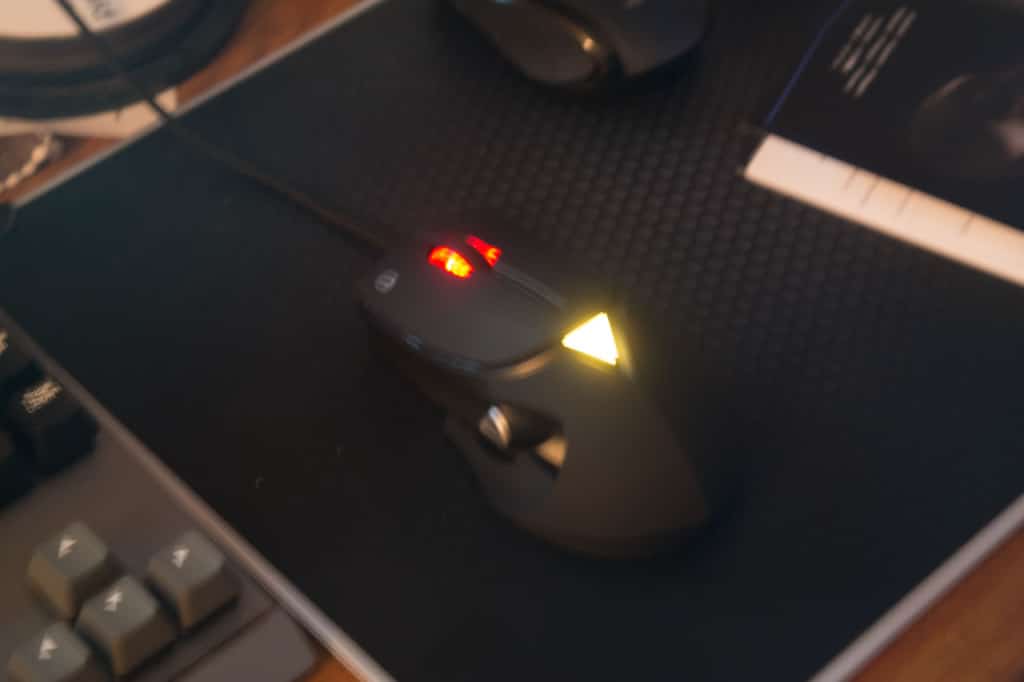 This is how it looks in real life.
We are not completely sure why you would like to add a sound timer to one of the buttons …. but you can.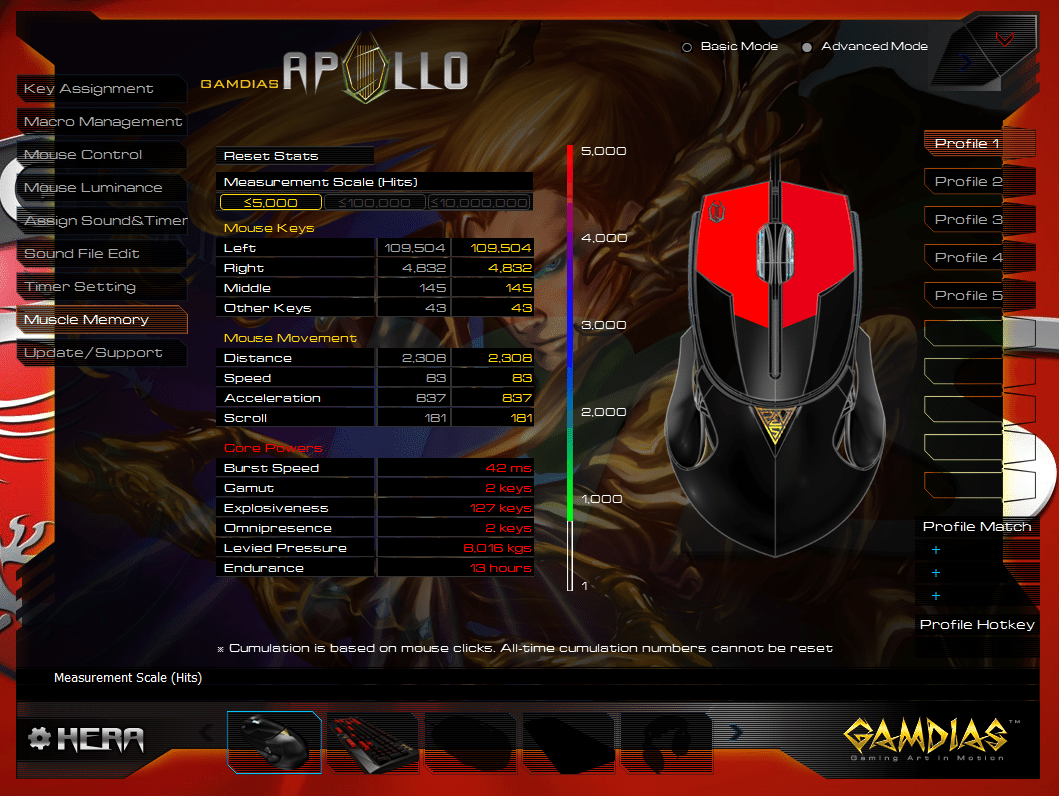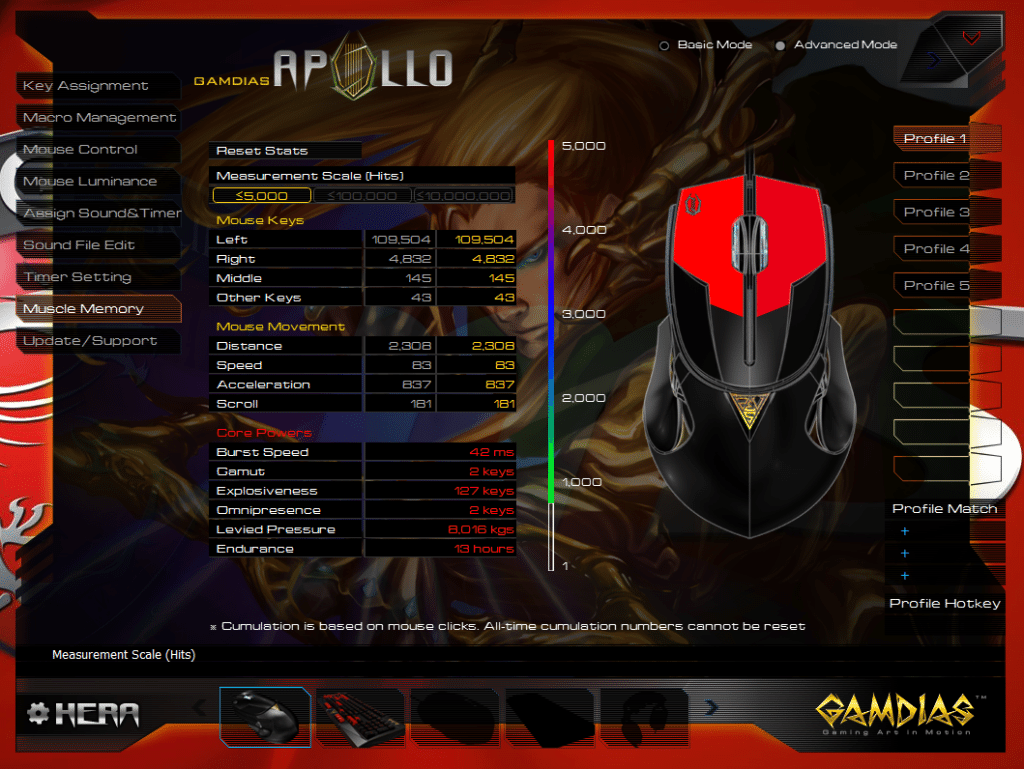 Gamdias also keeps tabs on how you use the mouse. In our case we've clicked on the left mouse button a whopping 109 000 times and moved the mouse 2300 meters. Usefull? probably not but cool anyway.
CONCLUSION

The Gamdias APOLLO Extension Optical Gaming Mouse is a very nice mouse that does not cost and arm and a leg. At $35 it offers a good price versus performance ration. It might not have all the bells and whistles of high-end gaming mice but for the price you get a very good gaming mouse that should work well for most gamers. The solution with the extentions is cool and allows you to choose how you want to use the mouse. We also like that it works just as well for left as right hand people.
Pros
Cons
PriceAbility to choose the size of the mouseNice rubber gripGood build quality

Nice software with lots of settings

Lacks weight-systemSide-buttons can be a bit hard to reach.Auto-fire does not seem to work
Review Overview
Features - 7
Price - 9
Performance - 8
Quality - 8
8
Affordable great gaming mouse
The Gamdias Apollo Gaming mouse is a nice mid-level gaming mouse that offers nice features for a low price.