OCZ launched the first SSD drive after it has been acquired by Toshiba. Today's launch of the Vertex 460 is the successor to the last year's Vertex 450. The Vertex 460 uses the same Barefoot 3 M10 controller as the Vertex 450 but it now swapped out the 20nm NAND for the Toshiba 19nm MLC NAND. With rated sequential read of 545 MB/s, sequential write of 525 MB/s, 4K random read of 95,000 IOPS, and 4K random write of 90,000 IOPS, the drive gets a slight bump in the performance. It also has a rated sustained 4K random write of up to 23,000 IOPS.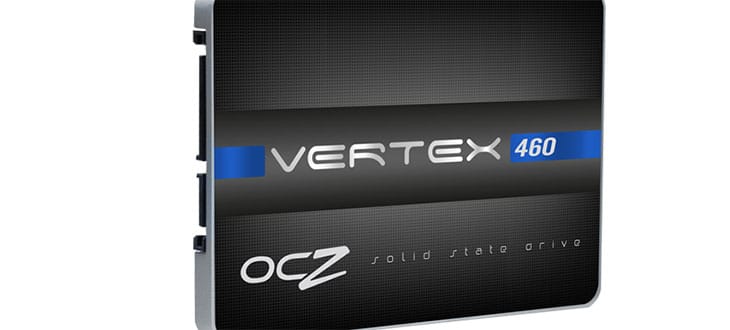 The Vertex 460 will be available in capacity of 120GB, 240GB, and 480GB. It will come in the ultra-slim 7mm height for ultrabook and will carry 3 year warranty. 
Latest SATA III-Based Solid State Drive Series Leverages In-House Barefoot 3 M10 Controller with 19nm Flash for Cost-Conscious Enthusiasts Seeking High-Performance Storage 

SAN JOSE, CA – January 22, 2014 – OCZ Storage Solutions – a Toshiba Group Company and leading provider of high-performance solid state drives (SSDs) for computing devices and systems, today announced its new Vertex 460 SATA III SSD Series. As part of the renowned Vertex series, Vertex 460 continues the legacy by delivering an exceptional mainstream solution with advanced storage performance, reliability, and quality that meet the demands of today's client applications.  

Evolving from the 20nm-based Vertex 450, the new Vertex 460 uses the company's proprietary Barefoot 3 (BF3) M10 controller with state-of-the-art Toshiba 19nm MLC NAND flash memory to deliver a superior, cost-effective solid state storage solution. With an emphasis on real-world performance across all capacities, Vertex 460 SSDs start fast and continue that way over time, excelling in write speeds without the use of synthetic software-based optimization. The new series delivers excellent sustained and mixed-workload performance across the board whether the data is in compressed or uncompressed formats, as well as an accelerated and more responsive computing experience. Vertex 460 offers up to 545 MB/s sequential reads, 525 MB/s sequential writes, 95,000 4K random read IOPS, and up to 90,000 4K random write IOPS, while featuring sustained 4K random write performance up to 23,000 IOPS.

OCZ's BF3 M10 controller is a derivative of the original that features AES-256 encryption and a power-optimized clock targeted at the mainstream market that does not compromise performance. With a priority on reliability and flash-optimized endurance, Vertex 460 SSDs are rated to deliver 20GB of host writes per day for a 3-year warranty, and feature an advanced suite of flash management tools that analyze and dynamically adapt to increasing NAND vulnerabilities as flash cells wear, heightening data integrity and drive life over the long term.

The Vertex 460 SSD Series is now available in 120GB, 240GB, and 480GB capacities with ultra-slim 7mm alloy housing to support today's thin form-factor notebooks, and is bundled with $55 worth of accessories including a 3.5-inch desktop adapter and Acronis® True Image™ cloning software to enable quick and easy data transfer from legacy hard disk drives to high performance SSD storage.

For more information, please visit ocz.com/consumer

About OCZ Storage Solutions
OCZ Storage Solutions – a Toshiba Group Company is a leading provider of high performance client and enterprise solid-state storage products and is a wholly-owned subsidiary of Toshiba Corporation.  Offering a complete spectrum of solid-state drives (SSDs), OCZ Storage Solutions leverages proprietary technology to provide SSDs in a variety of form factors and interfaces to address a wide range of applications.  Having internally developed firmware and controllers, virtualization, cache and acceleration software, and endurance extending and data reliability technologies, the Company delivers vertically integrated solutions enabling transformational approaches to how digital data is captured, stored, accessed, analyzed and leveraged by customers.  More information is available at www.ocz.com.