Introduction – MSI Z87I Gaming and GTX 760 Gaming Mini
MSI's gaming line has now seen a few entries for board and GPU models and this set I have to say is extremely interesting as these models are made for the very popular mini PC builds which are becoming very popular.
Mini ITX systems are growing greatly in popularity as smaller systems become much more powerful and solutions like this are very interesting as it specially builds specific targeted models based around a small sized build. starting with a Z87 board with gaming feature sets and also a GTX 760 card which is a great price/performance model built to a size to fit within a super compact Mini ITX chassis.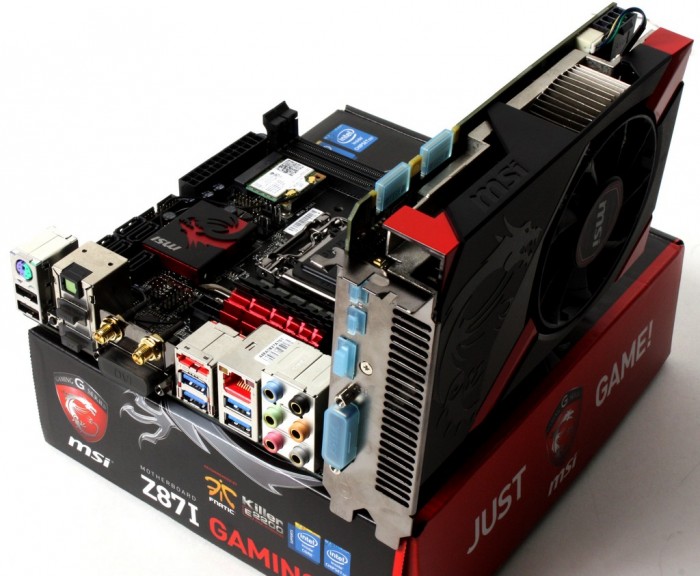 The board comes in at a MSRP of $200.00 whereas the GTX 760 ITX model comes in at $269.99 both of which are rather reasonable when you consider some of its main competition they are gunning for are right at the same price point or possibly a bit more. This puts it right in line with key competitors and the fact that ASUS the main mini card competitor at this point has as of now still chosen to not bring their mini 760 to market in the USA means that MSI is the only one in the show at the moment. 
Features & Specifications (Motherboard)
Military Class Components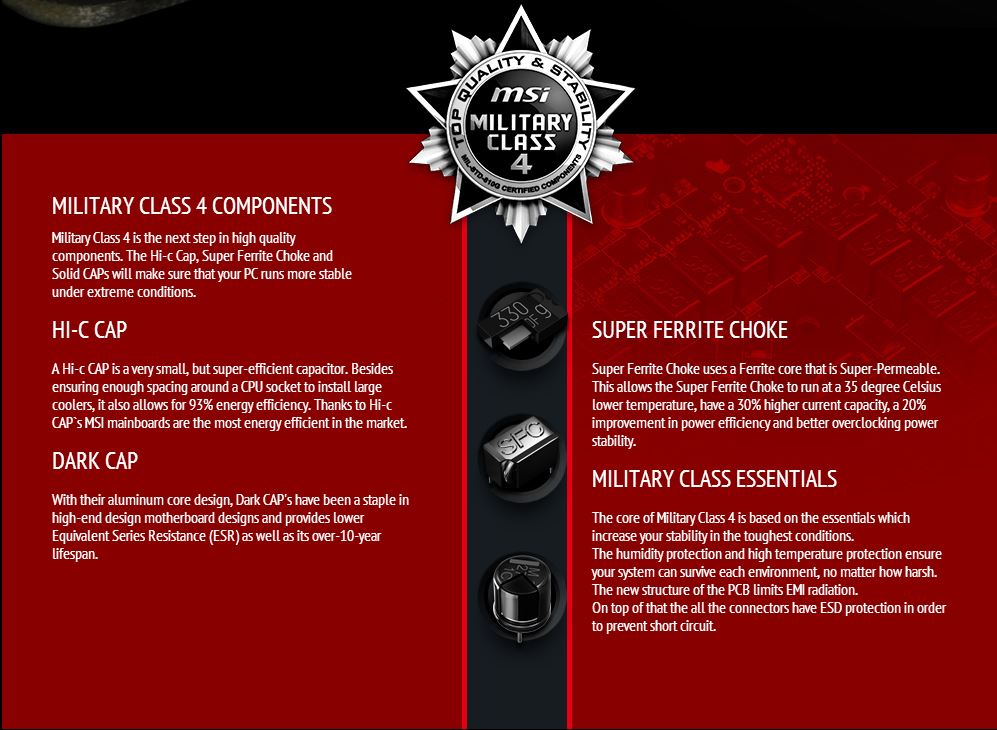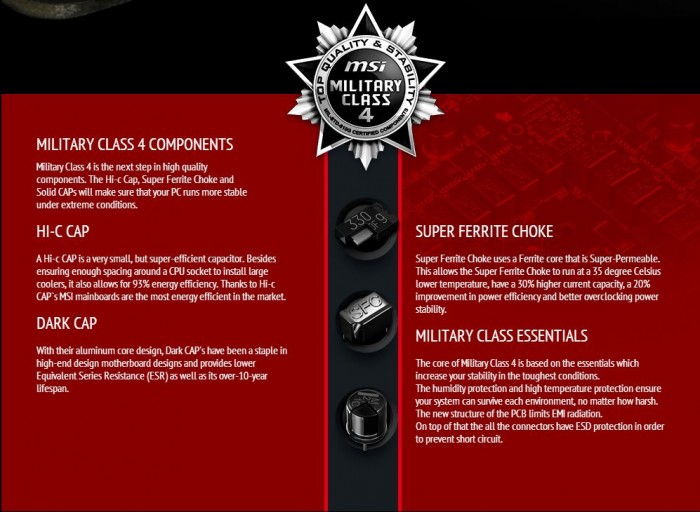 When MSI puts military class components to the fire they are not joking as they come to the table claiming to have passed multiple tests following Mil spec (MIL-STD-810G) Tests including:
Temperature Shock testing: Sudden thermal changes which can normally wreak havoc on electrical components are fully tested on these components to ensure they can last through some of the worst conditions like what the extreme enthusiasts community may employ them for.
Humidity Testing: Testing of components in different humidity conditions can make a big difference as to the capabilities of the cards as different areas can have much different environments and not every deployment will be like a sterile lab and knowing they can take that kind of abuse once again is a major plus.
Vibration tests: This one is a little nuts but being in California we suppose in an earthquake, MSI can ensure the shaking won't affect the components.
Low Pressure Testing: This once again is a little extreme as deployment for different elevations especially extreme enough to require low pressure testing will be extremely rare if ever but it will handle it.
High Temperature Testing: This one should be a standard for every component in a high end PC as thermals are the enemy of every enthusiasts rig so I like to see such attention paid here.
Low Temperature Testing: Once again this is something more targeted at the Lightning model, but the fact that they test these cards to withstand LN2 benchmarking temperatures tells us that under standard gaming stresses this card is gonna run and keep on running.
Shock Testing: This is once again more extreme as these are similar to drop or rough impact testing which wel even if the card survives we're sure other components may not fare so well in this kind of scenario.
Basically this means that this board/components should last the test of time and offer excellent performance pretty much through anything it would ever experience in a extreme gaming PC. 
Killer E2205 Gaming Network Controller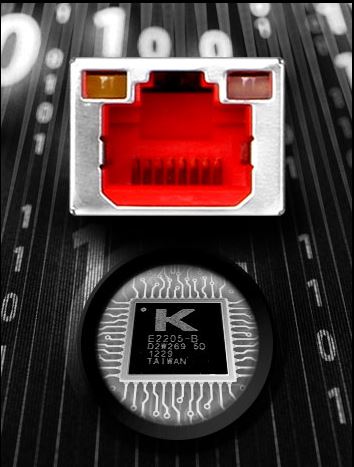 The Gaming series of MSI boards carry specialized gaming features well one of these is the Killer Gaming grade Network controller which when utilized with the included software can help shape traffic and even allow gaming applications to get packet priority over other network traffic. This can allow for the extra edge when milliseconds count during an online game.
Audio Boost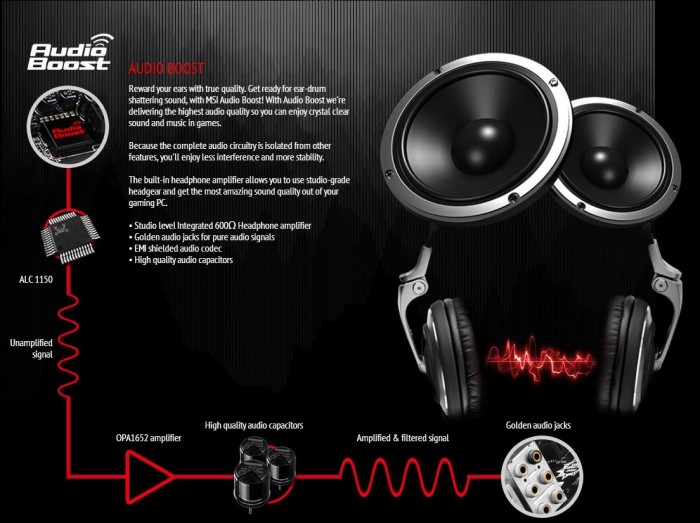 One of the key features for a gaming board has to be audio as it is what gives you the experience the most besides graphics. Well for this MSI put a lit cover over the audio codec which is a Realtek ALC1150 model which is a very nice quality unit and also with this package even the audio ports are gold plated to allow for maximum clean signal contact and optimum audio quality. After the codec you get a high performance amplifier which ensures a nice powerful audio signal which makes its way to the high quality audio Caps and to the terminating end on the audio panel at the rear. Overall this makes for a excellent audible experience especially for those with tuned gaming audio headsets since the amplifier will really make them come to life. 
USB Audio Power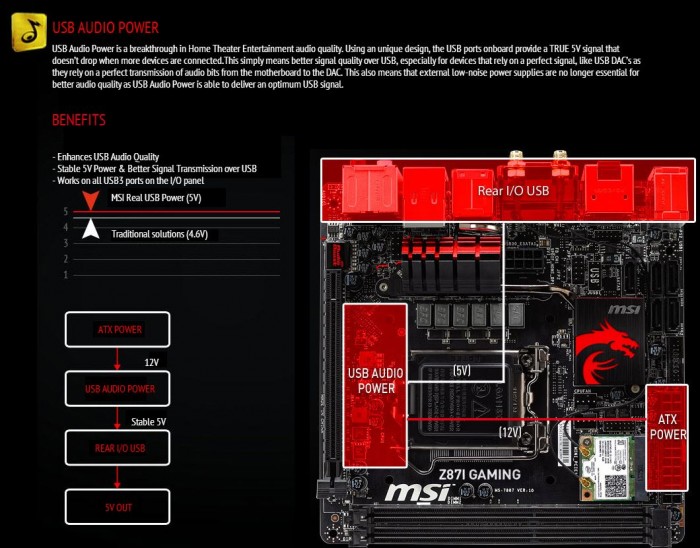 MSI employs a special 5V USB circuit for the power feed to ensure that the most stable power is delivered no matter how many devices are connected. This ensures that USB audio cards or DACs can achieve full audio performance via the more power stable power delivery provided by the advanced MSI circuitry. 
Gaming Ports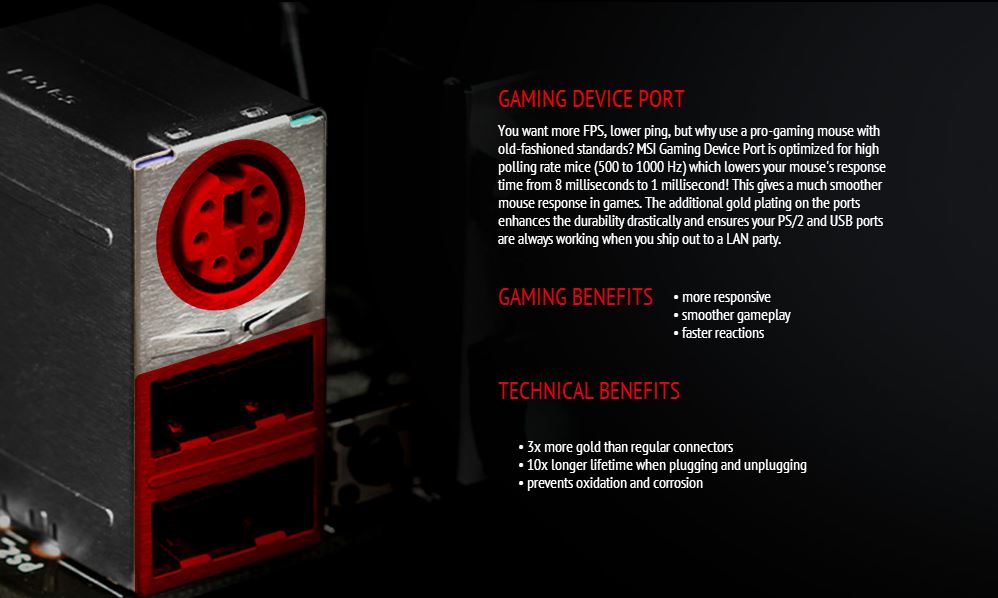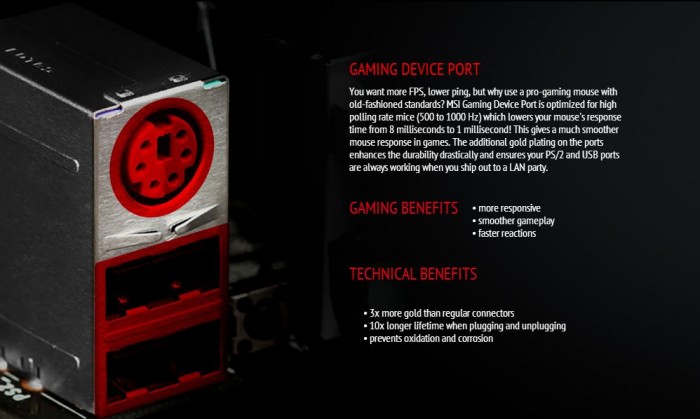 We have seen this before from MSI with the "Gaming" ports which are special ports which are tuned for using high sensitivity or quick response mouse technologies as many mice now can adjust the polling rate but the effect could be lessened depending on your port configuration. With the MSI gaming ports they are tuned for this along with having higher gold content in the contacts for these ports which allows for more reliable and consistent signal transfer.
WiFi AC & Intel WiDi Support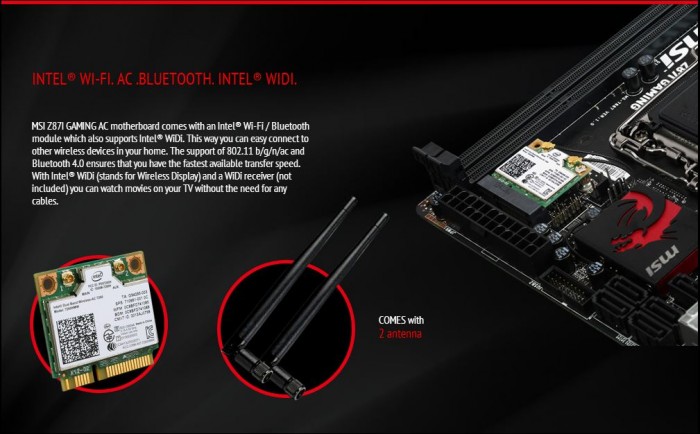 MSI also employed new WiFi AC onto the gaming ITX board via an internal Intel based card and  with that also comes Intel WiDi wireless display support. This is a pretty big gain for this board as it allows some of the fastest and newest in connectivity now.
MSI Click 4 BIOS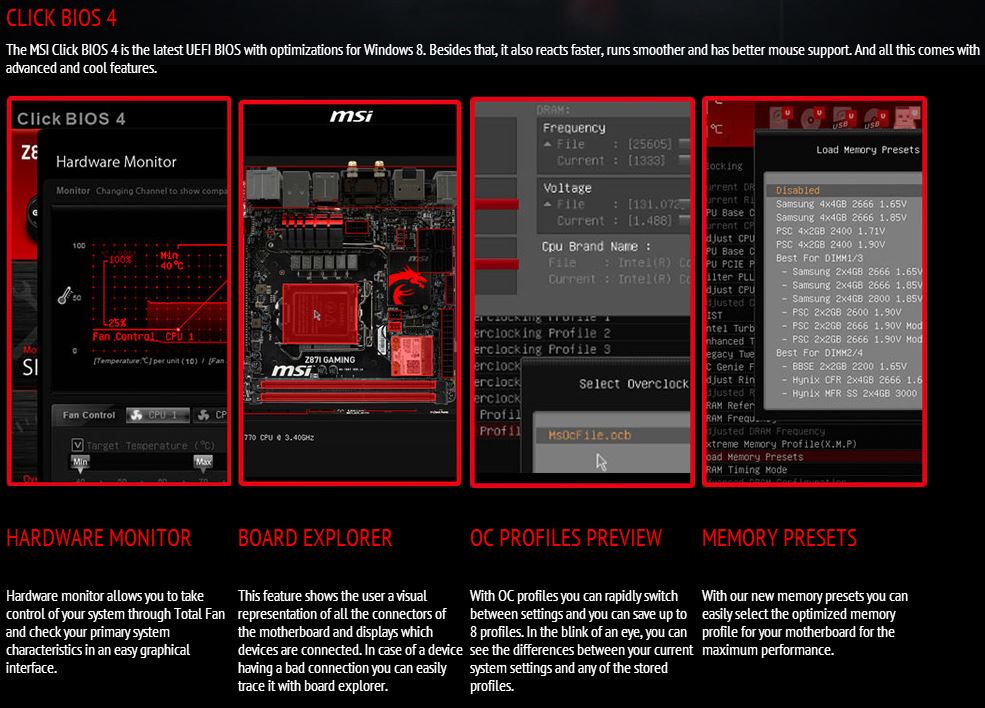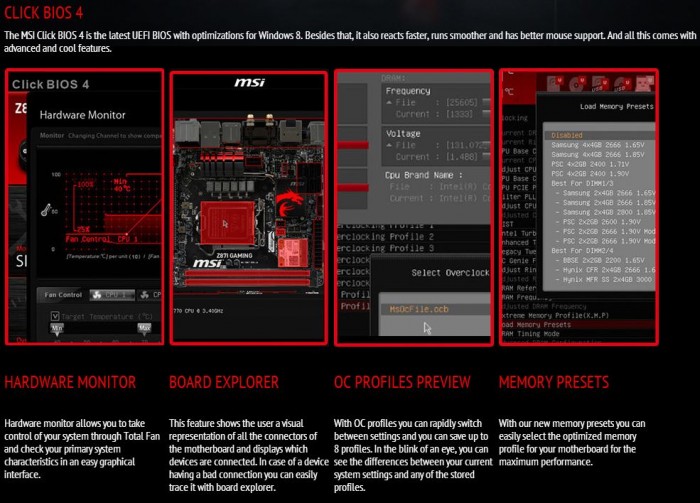 MSI has revised their UEFI to add even more options along with increasing the smoothness of it as well for a better end user experience. We have included a few screenshots of it especially the new features below in the BIOS section.
Even More Features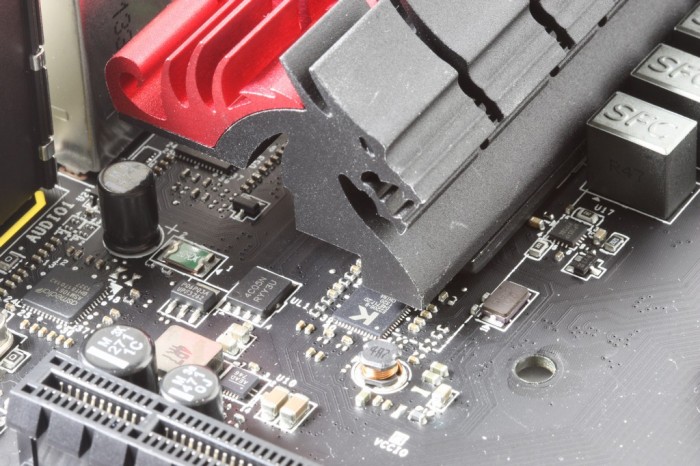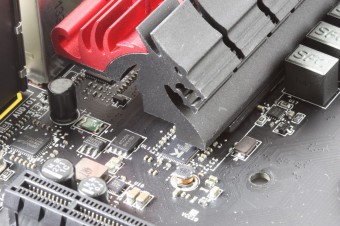 the MSI Gaming board is exploding with features such as.
Total Fan control: MSI has some pretty nice fan control in their BIOS allowing for full control and profiling of the fans based on thermals and fan RPMs.
The Dragon heatsink is basically your PCH heatsink and even VRM heatsinks both carry the dragon design and this is all about style over anything else. 
Features & Specifications (GTX 760 Mini)
Next Gen cooling (RADAX Fan)

MSI has engineered a new fan design labeled RADAX which is a swept blade fan design with a shrouded edge to help ensure more focused airflow is pushed through the fin array below, but also to ensure lateral airflow is also achieved there are outer small fins that scoop air outward into the surrounding fin array to ensure maximum cooling performance. 
MSI Gaming App
 The Gaming app is a cool design as it offers a simple to use interface where users can quickly set a overclock or even Eco setting without having to work with the Afterburner app which for some can be a bit confusing especially for a newer or inexperienced user
This app is nice  as it also has a snowflake icon which is made for quick cool downs at a high fan speed for situations such as maybe between runs of a benchmark using the air cooling solution.  
MSI Afterburner
MSI offers its own software utility. MSI Afterburner is co-developed with Rivatuner which is very similar to what the other top manufacturers are offering.

There we see it above with multiple options including voltage control and power limit controls to ensure our overclock ceiling is just a little bit higher. Do note that some options may not show up right away and need to be enabled in settings otherwise they will be hidden.
Review Overview
Performance - 9
Value - 9
Quality - 9
Features - 9.5
Innovation - 9
9.1
MSI stepped into the Mini ITX game ready to run with both a capable motherboard with good feature set and even a mini card to ensure you have the whole package.