The XFX Radeon HD 7750 Black Edition is a solid mainstream video card for average gamers running smaller resolution monitors. If you are on a small budget and need a video card to get you by which also has great cooling and overclocking potential, look no further than the XFX Radeon HD 7750 video card.
Introduction
Not everyone can afford expensive computer hardware, such as the $300-$500 video cards that currently dominate the gaming market. And of course not all gamers play video games on multi-monitor gaming configurations or at resolutions of 2560×1600 and 1920×1080. This is why AMD's lineup of the latest 7xxx series graphics cards also includes the AMD Radeon HD 7750, a mid-range, inexpensive graphics card that is still powerful enough video card to play the latest video games on the market. XFX on the other hand took the same AMD HD 7750 reference design and took it to the next level, which includes a much nicer overall card design, better cooling efficiency with a dual-fan design, as well as having the GPU factory overclocked by 100 MHz to reach 900 MHz, compared to the 800 MHz stock clock speeds. Today we are taking a look at this card, the XFX Radeon HD 7750 Black Edition.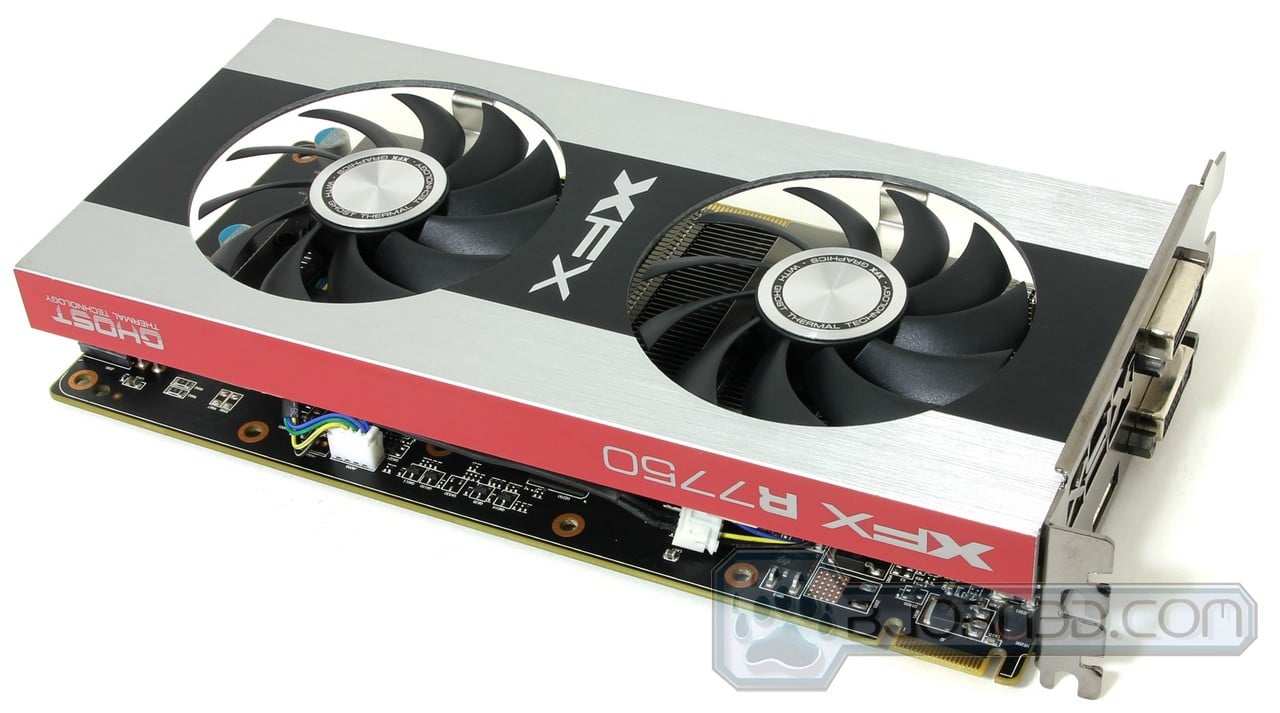 Currently the cheapest stock AMD Radeon HD 7750 video card we can find is around $109.99, while the XFX Radeon HD 7750 Black Edition would be around $124.99. That's a 15 dollar difference for a completely different custom design graphics card. Let's take a look at whether XFX was successful with their changes to the AMD Radeon HD 7750.
Features & Specifications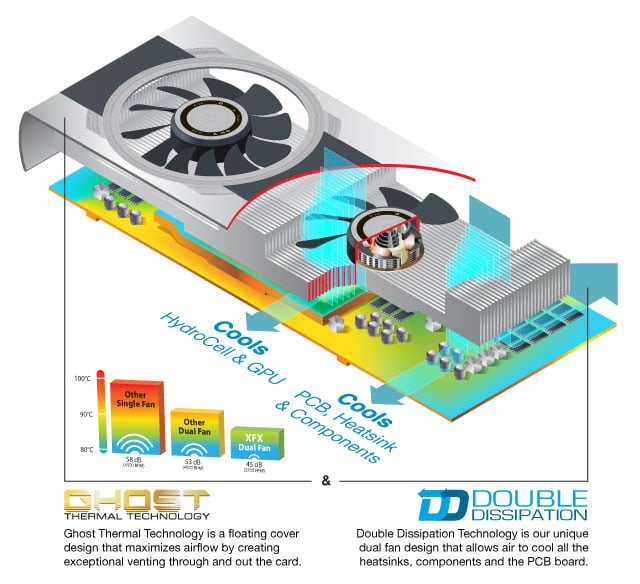 | | | |
| --- | --- | --- |
| Specifications | AMD Radeon HD 7750 | XFX Radeon HD 7750 Black Edition 900 Mhz |
| Chipset Version | ATI Radeon HD 7750 | ATI Radeon HD 7750 |
| Process | 28nm | 28nm |
| Stream Processors | 512 | 512 |
| Texture Units | 32 | 32 |
| ROPs | 16 | 16 |
| GPU Clock | 800 MHz | 900 MHz |
| | 128 bit | 128 bit |
| Memory Clock | 1150 MHz | 1150 MHz |
| | 1 GB | 1 GB |
| | DDR5 | DDR5 |
| Minimum Power Supply Requirement | 450 Watt | 450 Watt |
Product Overview
Click Images to Enlarge
The boxing for the XFX Radeon HD 7750 Black Edition video card is quite elegant. The Double Dissipation front cover design is very nice and appealing to the eye, and the box includes all the information a buyer would like to know when choosing a video card. As the box says, the XFX Radeon HD 7750 Black Edition Video card is PCI Express 3.0 complaint, which means that if the video card would need wide bandwidth speeds, then that would be possible with the new PCI Express 3rd Generation Bus. Is it really necessary for such a card to be PCI Express 3.0 compatible? Probably not, as it would very likely never even get close to the full specifications of the PCI Express 2.0 bus. The Front cover also shows off the Double Dissipation cooler design which we'll go into more detail below. The back of the box simply explains each feature of the card, which do not really differ from other manufacturers by that much. The key parts that are different would have to be the cooler design and the components used on the XFX Radeon HD 7750 Black Edition Video card.
Click Images to Enlarge
After taking the main black box the video card came in out of its box cover, we can finally open up the box and take a look what comes inside. As we can see the card is surrounded by extra cardboard boxing to protect it from any damage during shipment. This packaging is not as advanced as we've seen with other cards that came in foam cutouts, but it should not be any problem with a light video card like the XFX Radon HD 7750 Black Edition. The manuals and drivers are located above the video card, while the video card is in a anti-static bag.
Click Images to Enlarge
The XFX Radeon HD 7750 Black Edition video card comes with a VGA to a Single-Link DVI adapter, a "Do Not Disturb. I'm Gaming." door knob or handle warning sign, plenty of instructions and manual, and of course the Driver CD. Do note that the XFX Radeon HD 7750 Black Edition video card is 4K ready, this means that it can run up to 16k x 16k resolutions on a single video card. This is not yet possible on Nvidia's side but they will most likely have their 4K resolution ready cards by the time 4K monitors actually launch. There are a few monitors already being sampled for testing 4K resolutions, but we have no word about actual release dates on those monitors as of yet.
Click Images to Enlarge
Once we take the XFX Radeon HD 7750 Black Edition video card out of its anti-static bag, we can see a very sexy dual-fan (dual dissipation) cooling design. The most appealing part is the cooler shroud that covers up the cooler. It's very simple in a way that it seems to be a straight aluminum cover with a 90 degree bent red edge on the top of the card. The fans on the heatsink come with a special cover to protect the motor from any dust damage or dust buildup. According to XFX, a dual-fan design can increase airflow by almost 3x making the GPU and other components run much cooler and quieter by up to 13dB over a single fan reference design.
Click Images to Enlarge
On the rear of the video card we can see a single Dual-Link DVI port, a Single-Link DVI port, one HDMI port and a standard DisplayPort. The fan exhaust holes have XFX cut into them to add a bit more design to the card. On the top of the card behind the R7750 text we can see the left fan being connected to the main power lead. It looks like the first fan connects to the power connector on the card which divides the fan connectors to allow the 2nd fan on the left to be plugged in as well.
Click Images to Enlarge
On the front of the card, we can see a single 6-pin PCI-E power connector. The AMD Radeon HD 7750 reference design card is designed to have a TDP of 55W, which is why only a single 6-pin power connector is needed. On the back of the card we can see the black PCB. One very nice feature for XFX cards is that they use a much stronger PCB than other cards we have tested. This is great because larger coolers won't bend the card or when you connect a stretched PCI-E power lead to the connector on the card, it won't bend the card. This is to prevent any damage being done to the card and to protect all the surface mounted components. We can also see the CrossFire connector on the top of the card by the XFX text. This is to allow another XFX Radeon HD 7750 Black Edition video card to be connected in a CrossFireX configuration.
Now let's check out how this video card performs compared to all of our cards that we have tested and also compared to our mid-range video cards and the AMD Radeon HD 7750 Reference Card. We'll also push the card as far as we can with overclocking and show the results in our benchmarks as well.
Testing Methodology
The OS we use is Windows 7 Pro 64bit with all patches and updates applied. We also use the latest drivers available for the motherboard and any devices attached to the computer. We do not disable background tasks or tweak the OS or system in any way. We turn off drive indexing and daily defragging. We also turn off Prefetch and Superfetch. This is not an attempt to produce bigger benchmark numbers. Drive indexing and defragging can interfere with testing and produce confusing numbers. If a test were to be run while a drive was being indexed or defragged, and then the same test was later run when these processes were off, the two results would be contradictory and erroneous. As we cannot control when defragging and indexing occur precisely enough to guarantee that they won't interfere with testing, we opt to disable the features entirely.
Prefetch tries to predict what users will load the next time they boot the machine by caching the relevant files and storing them for later use. We want to learn how the program runs without any of the files being cached, and we disable it so that each test run we do not have to clear pre-fetch to get accurate numbers. Lastly we disable Superfetch. Superfetch loads often-used programs into the memory. It is one of the reasons that Windows Vista occupies so much memory. Vista fills the memory in an attempt to predict what users will load. Having one test run with files cached, and another test run with the files un-cached would result in inaccurate numbers. Again, since we can't control its timings so precisely, it we turn it off. Because these four features can potentially interfere with benchmarking, and and are out of our control, we disable them. We do not disable anything else.
We ran each test a total of 3 times, and reported the average score from all three scores. Benchmark screenshots are of the median result. Anomalous results were discounted and the benchmarks were rerun.
Please note that due to new driver releases with performance improvements, we rebenched every card shown in the results section. The results here will be different than previous reviews due to the performance increases in drivers.
Test Rig
Test Rig
Case
Cooler Master Storm Trooper
CPUs
Intel Core i7 3960X (Sandy Bridge-E) @ 4.6GHz
Motherboards
ASUS P9X79 WS X79 Chipset Motherboard
Ram
Kingston HyperX Genesis 32GB (8x4GB) 1600Mhz 9-9-11-27 Quad-Channel Kit
CPU Cooler
Noctua NH-D14 Air Cooler
Hard Drives
2x Western Digital RE3 1TB 7200RPM 3Gb/s Hard Drives in RAID 0
SSD
2x Kingston HyperX 240GB SATA III 6Gb/s SSD in RAID 0 (Main)1x Kingston HyperX 240GB SATA III 6Gb/s SSD (Storage)
Optical
ASUS DVD-Burner
GPU
NVIDIA GeForce GTX 690 2x2GB (4GB) Video Card
NVIDIA GeForce GTX 680 2GB Video Card
NVIDIA GeForce GTX 670 Video Card
NVIDIA GeForce GTX 580 1.5GB Video Card
Palit GTX 560 Ti Sonic 1GB Video Card
EVGA SuperClocked GTX 560 1GB Video Card
AMD HD7970 3GB Video CardAMD HD7950 3GB Video Card
AMD HD7870 2GB Video Card
AMD HD7770 1GB Video Card
XFX HD7750 Black Edition 900MHz 1GB Video Card (Custom OC: 1000MHz/1250MHz)
XFX HD7750 Black Edition 900MHz 1GB Video Card (Factory OC: 900MHz/1150MHz)
AMD HD7750 1GB Video Card
AMD HD6990 4GB Video Card
AMD HD6970 2GB Video Card
PSU
Cooler Master Silent Pro Gold 1200W PSU
Mouse
Razer Imperator Battlefield 3 Edition
Keyboard
Razer Blackwidow Ultimate Battlefield 3 Edition
Synthetic Benchmarks & Games
Benchmarks
3DMark Vantage
3DMark 11
Crysis 2
Just Cause 2
Lost Planet 2
Metro 2033
Battlefield 3
Unigine Heaven 3.0
Batman Arkham City
Dirt 3
H.A.W.X. 2
Synthetic Benchmarks
3DMark 11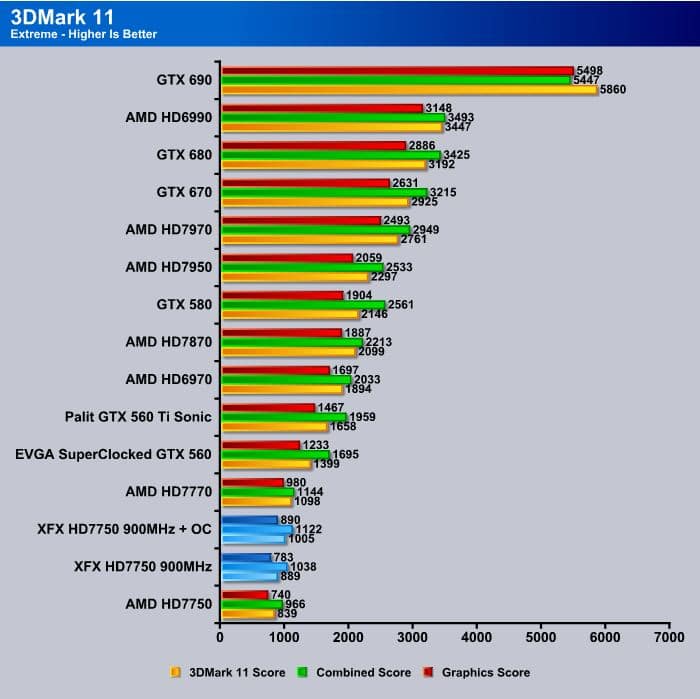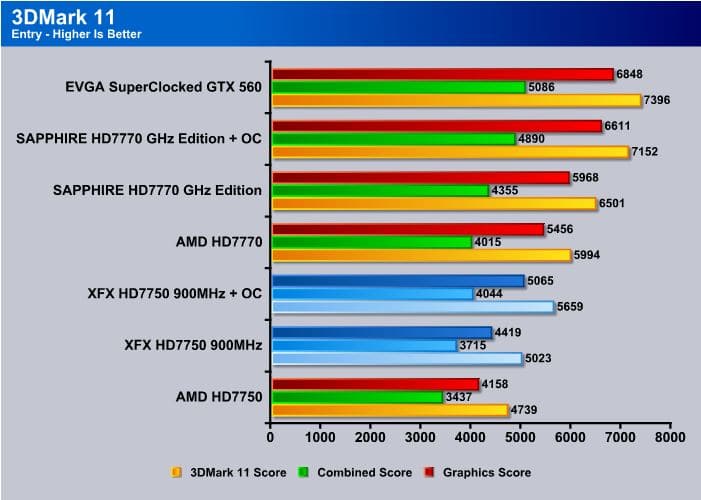 As we can see from 3DMark 11, the XFX Radeon HD 7750 Black Edition video card is not really up to par with the high-end cards, but that's not a surprise at a low price of $124.99. However, it does compete well on the entry-level benchmark compared to similar cards like the reference AMD Radeon HD 7750 and the AMD Radeon HD 7770, along with a factory overclcoekd EVGA SuperClocked GTX 560. We do have to keep in mind that the EVGA GTX 560 is going to perform faster than a reference design NVIDIA GTX 560.
3DMark Vantage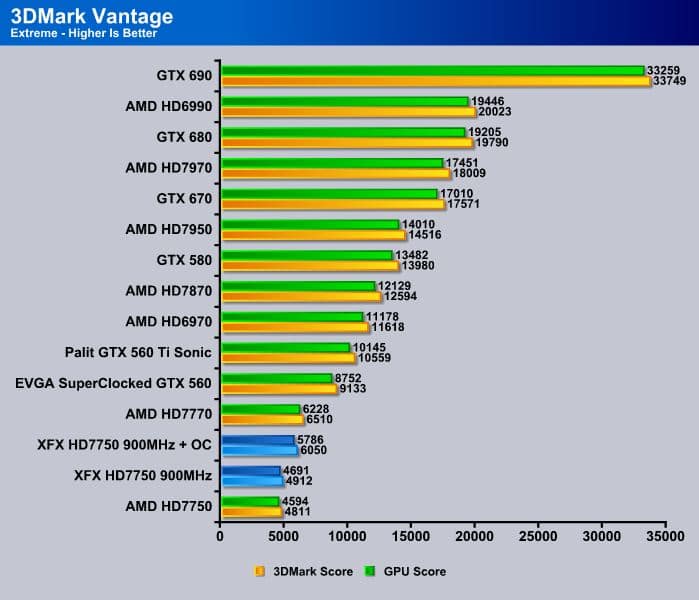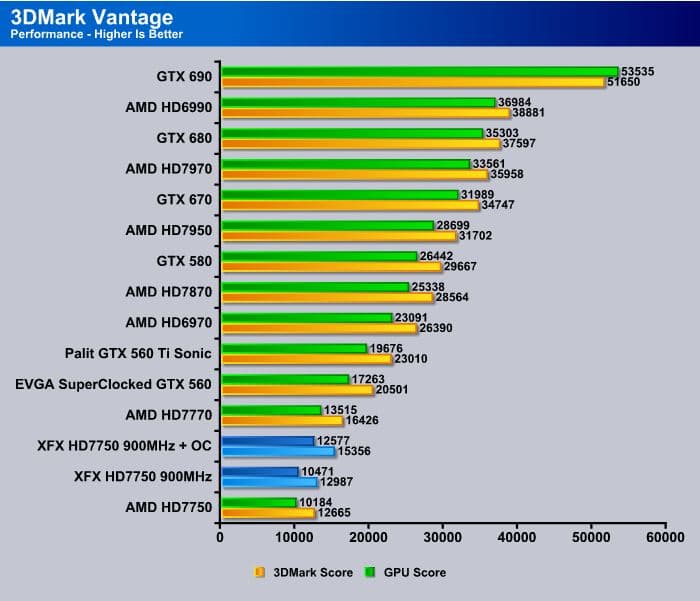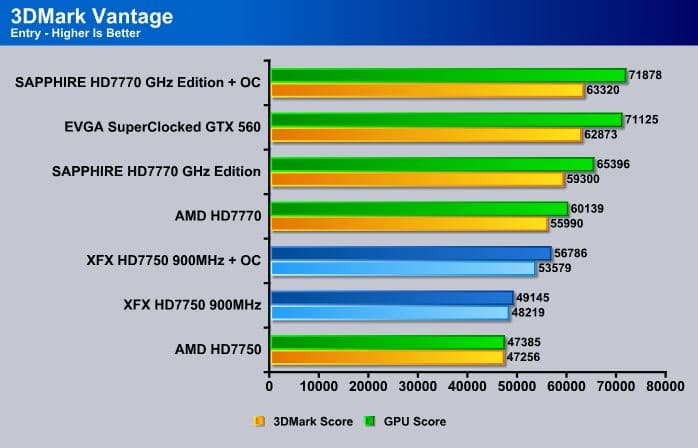 3DMark Vantage is a DirectX 10 based benchmark tool, while 3DMark 11 was DX 11 based. But we can see exactly the same performance results here as we have seen in 3DMark 11, so there is not much to say here besides the fact that 3DMark Vantage shows that older 3D applications should score much higher than more recent 3D Applications.
Unigine Heaven 3.0

Unigine Heaven is a benchmark program based on Unigine Corp's latest engine, Unigine. The engine features DirectX 11, Hardware tessellation, DirectCompute, and Shader Model 5.0. All of these new technologies combined with the ability to run each card through the same exact test means this benchmark should be in our arsenal for a long time.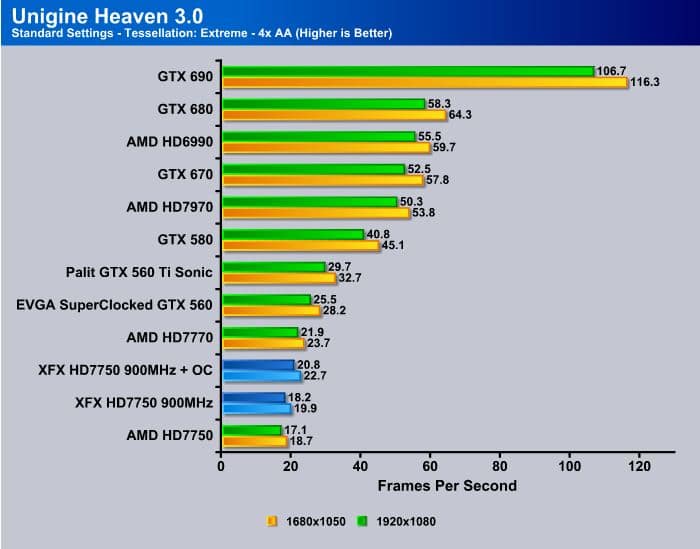 While the XFX Radeon HD 7750 Black Edition is faster than the reference AMD Radeon HD 7750, it still does not have enough performance to fully take advantage of Tessellation. The card does support tessellation, and some lower end games might see advantages, but testing it on Unigine Heaven 3.0 shows that by simply enabling 4x AA and Extreme Tessellation, performance drops down to 19.9 FPS compared to 49.2 FPS on the same resolution without AA and Tessellation. That's a big drop, and a game would not be playable at those settings. This is why the XFX Radeon HD 7750 is considered a mid range low-cost graphics card.
Gaming Benchmarks
Battlefield 3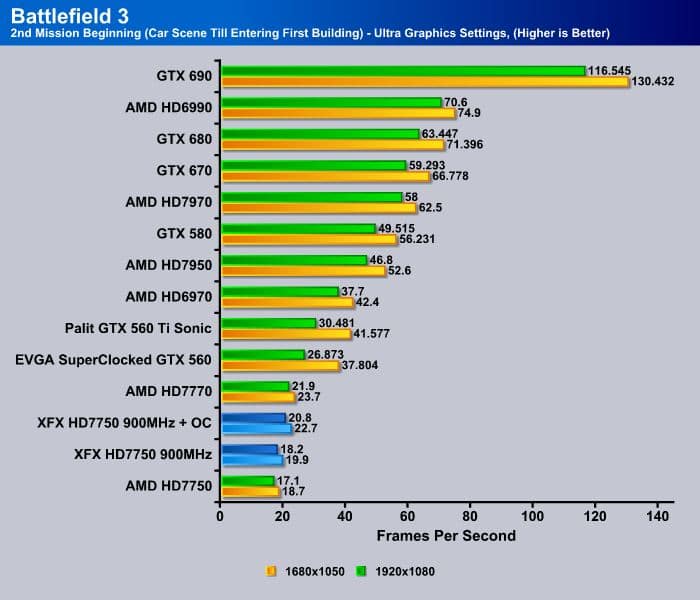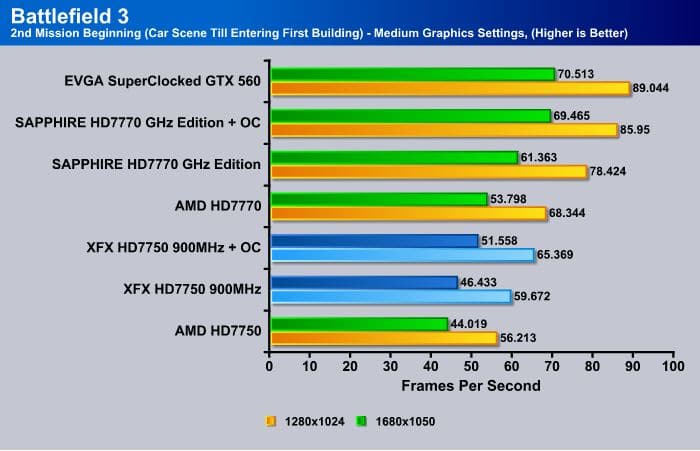 Battlefield 3 is a game everyone is wondering about. Will the XFX Radeon HD 7750 Black Edition play this game at full settings? Probably not. Ultra settings are designed for more powerful video cards in the $300+ range. The HD 7750 Black Edition will play Battlefield 3 fine on mid-to-high range settings without a problem. When we overclocked the XFX Radeon HD 7750 Black Edition to 1000Mhz core clock speed and 1250MHz memory frequency, we were able to achieve up to 7.5 FPS higher than the reference HD 7750 graphics card. This is while maintaining a very low acoustic level and also very low temperatures. Anybody could really easily overclock their video cards right out of the box and gain extra performance that will give them an edge over the competition.
Metro 2033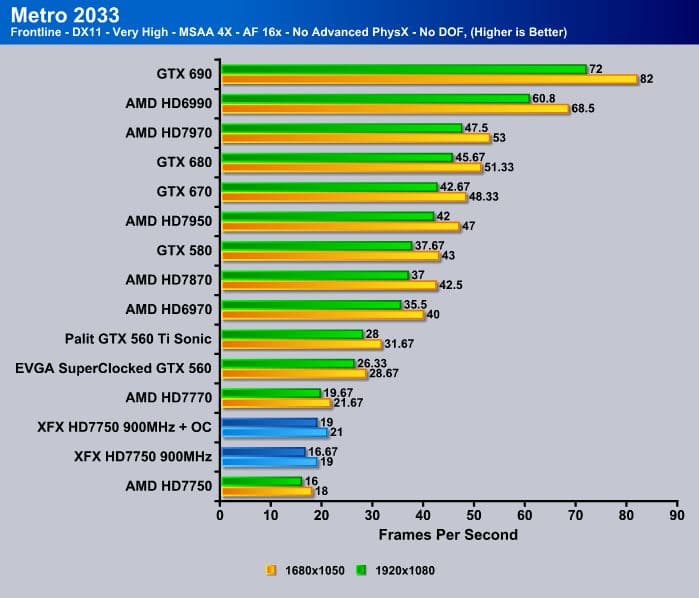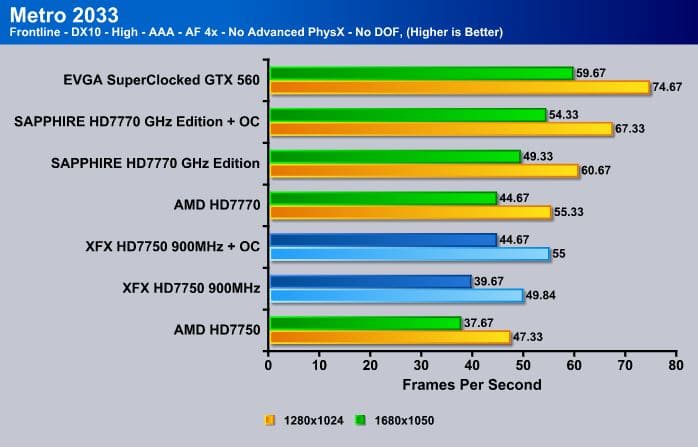 Metro 2033 is another very demanding game, probably much more demanding than Battlefield 3. Maxing out the game without PhysX and DOF rips the card apart during the benchmark and the game will be unplayable, but dropping the settings down to DirectX 10 with no AA and 4x AF will gain you enough performance to play the game smoothly. We can also see that when we overclocked the XFX HD 7750 Black Edition a bit further than the stock factory overclock, the perforamnce got up to par with a reference design AMD HD 7770 video card which costs about $124.99 right now. For the same price you might be getting the same or slightly faster performance than the XFX Radeon HD 7750 Black Edition, however you will loose out on the very low temperatures and low acoustic performance that you gain with the Double Precision cooler design on the XFX video cards.
Batman Arkham City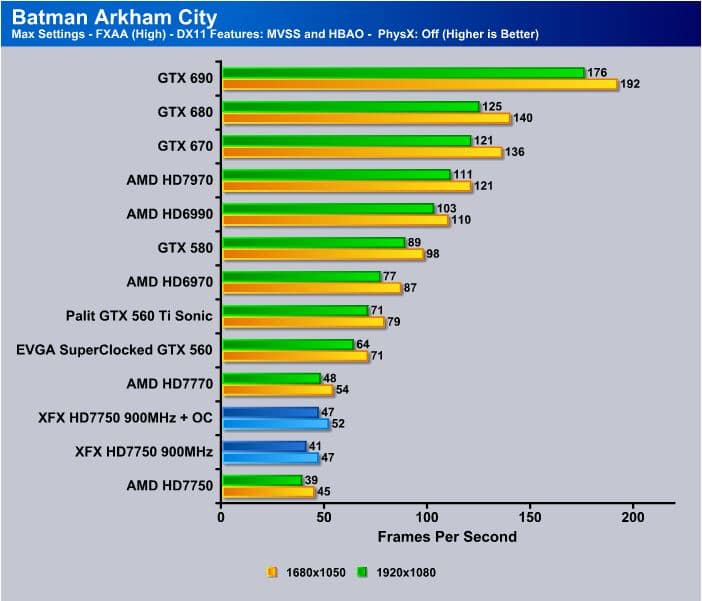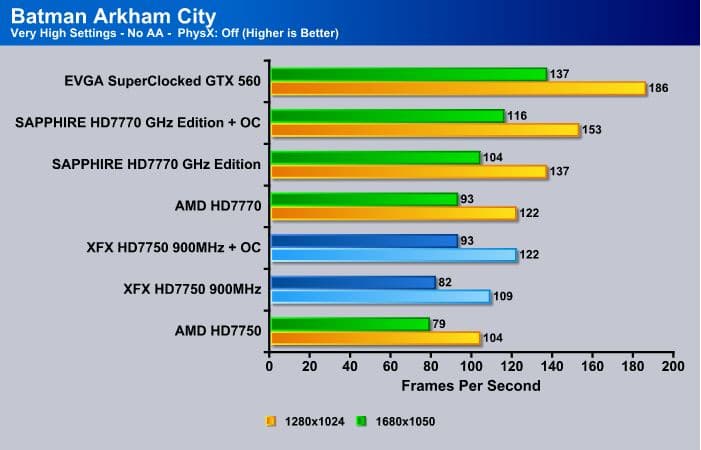 Maxing out Batman Arkham City even at 1920 x 1080 showed us that the XFX Radeon HD 7750 Black Edition is able to keep up with the game without PhysX enabled. At 41FPS, the game should be playable but it will not be as smooth as playing it without AA for example. To gain extra performance, AA could be disabled and that should add slightly more performance to the game. On the other hand by overclocking the video by just a little bit, you can gain additional 6 FPS during gameplay and have about 8FPS advantage over a reference AMD HD 7750.
Crysis 2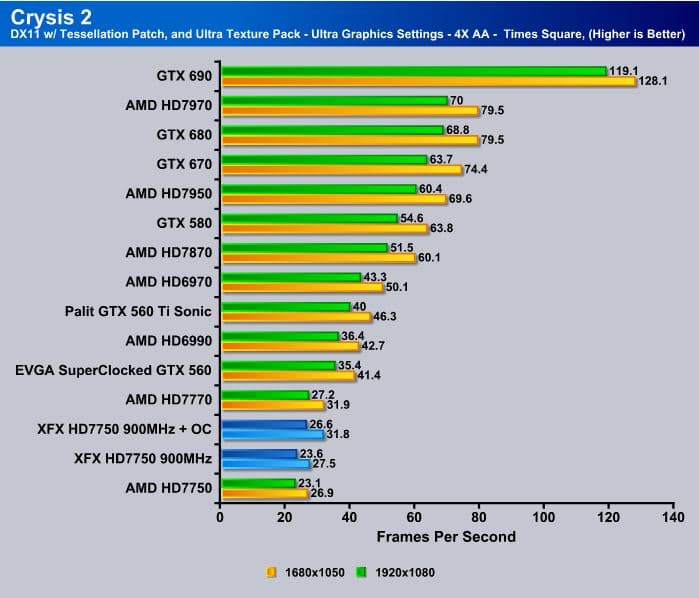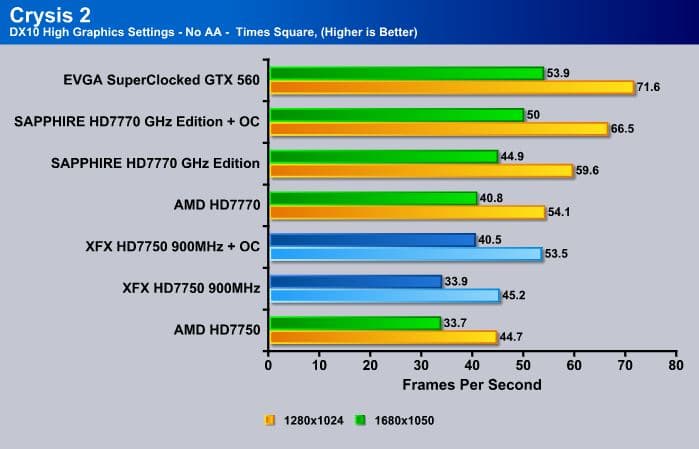 Crysis 2 is slightly on the demanding side when it comes to modern games. It is still not as demanding as the first Crysis, but it should give a great example of what this video card is capable of. Crysis 2 will not be playable at maximum settings with DX11 and the High-Texture pack enabled, however the card should be fast enough to play the game in DX10 mode with High Graphics settings at a lower resolution of 1280 x 1024. With a bit of overclocking, even 1680 x 1050 might be a passable resolution for the XFX HD 7750 Black Edition.
Just Cause 2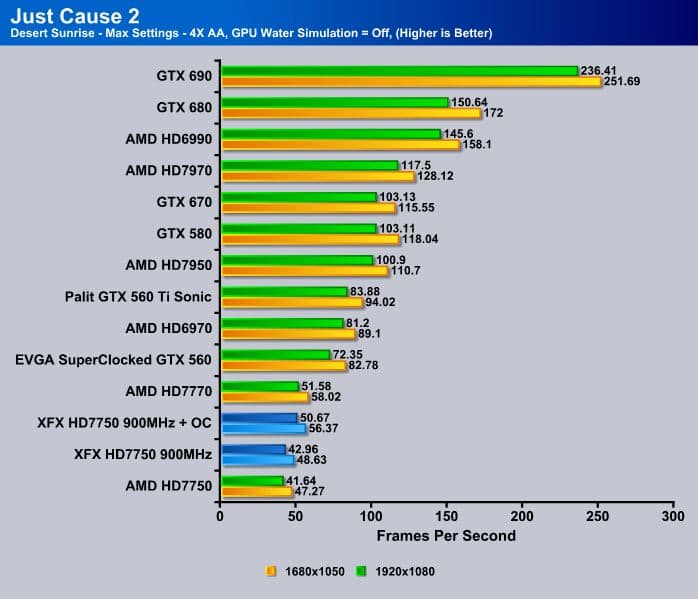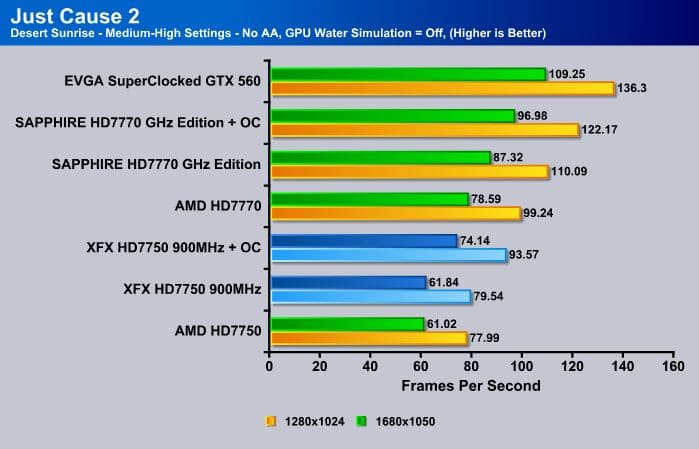 Just Cause 2 is a fun action game that will allow you to really twist up your shooting and free falling skills. Thankfully the XFX Radeon HD 7750 Black Edition video card is fully capable of playing Just Cause 2 even at maxed out settings without Water Simulation. Nvidia video cards are the only cards that support Water Simulation inside the game due to CUDA support. This is not available on AMD video cards, which is why we tested all the video cards with Water Simulation off.
Lost Planet 2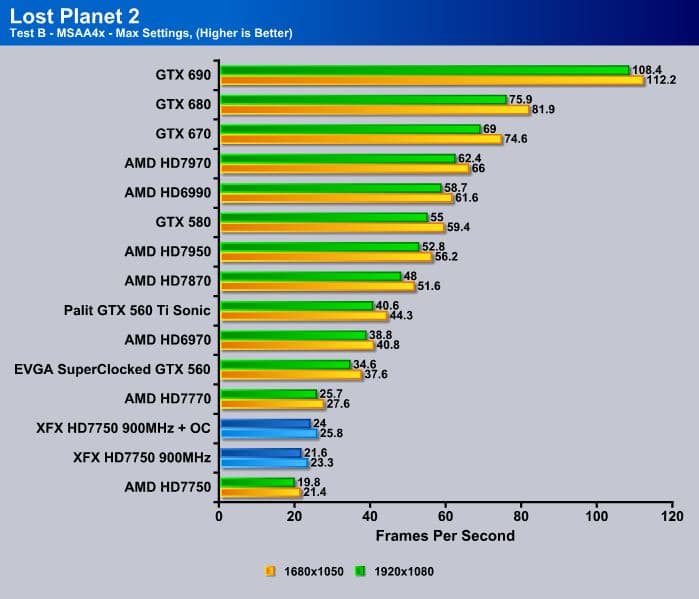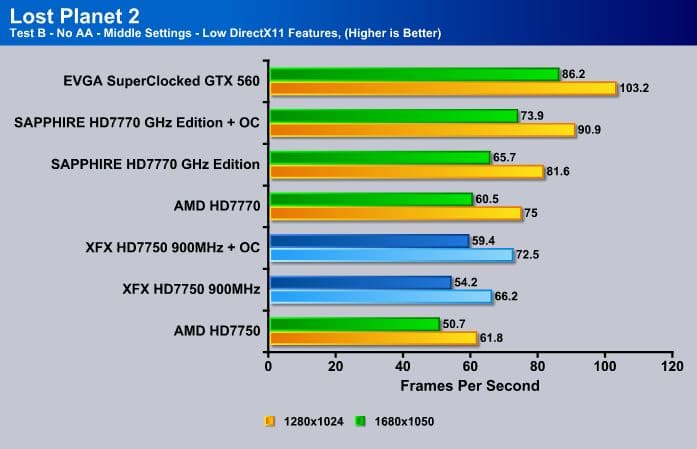 Lost Planet 2 is another game that most gamers should keep on default graphics settings or play in DX10 mode. The 7750 Black Edition is capable of playing the game fairly fine at lower resolutions with medium graphics settings, but it really becomes unplayable at maxed out settings. A more powerful video card like the EVGA SuperClocked GTX 560 or GTX 560 Ti would be necessary for a more pleasurable gaming experience.
Dirt 3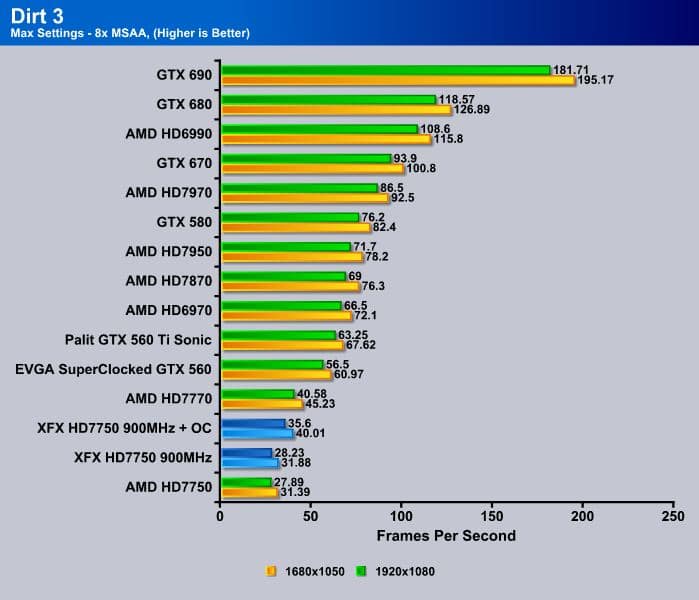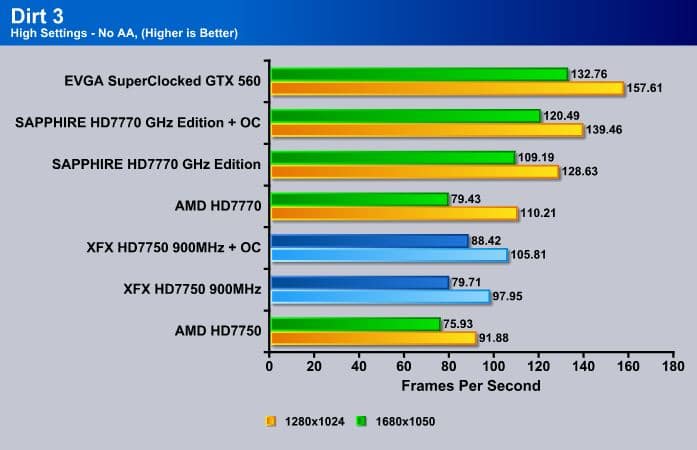 While we tested Dirt 3 with pretty high AA settings for the high-end cards, we are fairly certain that the game should still play nicely at high resolutions with the XFX Radeon HD 7750 Black Edition video card without AA enabled at maximum settings. As we can see dropping the settings to High settings without AA already gives us 79.71 FPS at 1680×1050, so higher resolutions should not be a problem.
H.A.W.X 2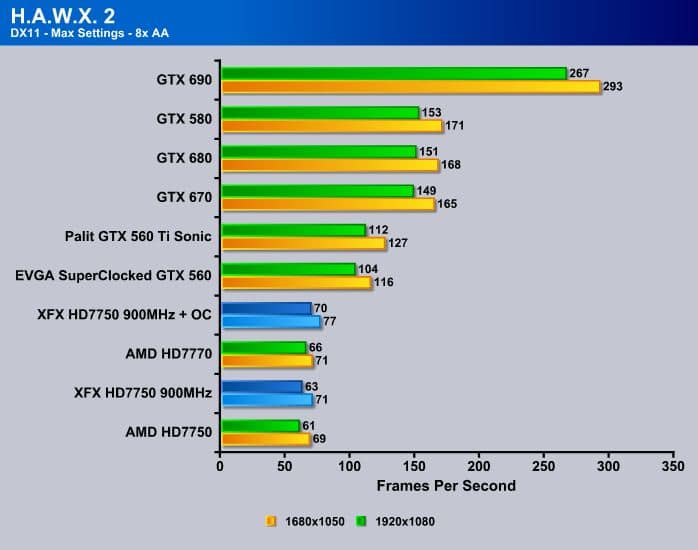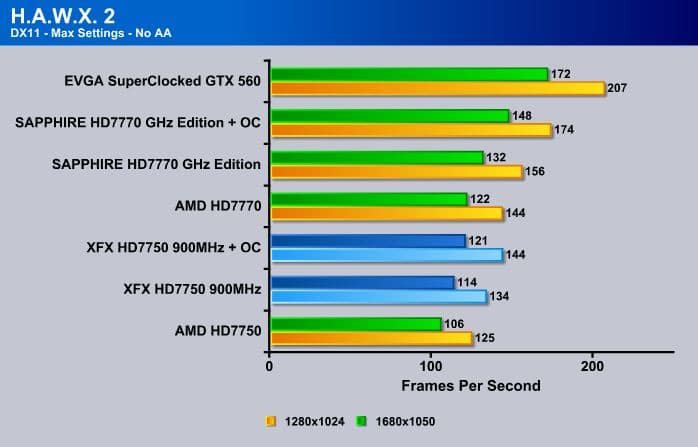 H.A.W.X. 2 is one of the few games that really surprised us when it first launched as we were expecting a bit more visual beauty. On the bright side though if you enjoy flying action games, you should not have problem maxing H.A.W.X. 2 out with full DX11 Tessellation on the XFX Radeon HD 7750 Black Edition.
Other Stability Tests
TEMPERATURES

To measure the temperature of the video card, we used EVGA's Precision X and ran the Metro 2033 benchmark in a loop to find the Load temperatures for the video cards. The highest temperature was recorded. After looping for 10 minutes, Metro 2033 was turned off and we let the computer sit at the desktop for another 10 minutes before we measured the idle temperatures.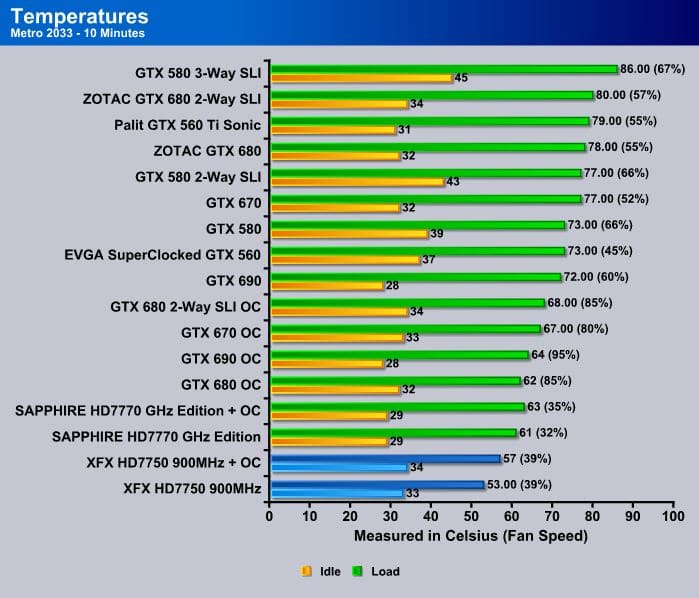 The temperatures observed and measured with the XFX HD 7750 Black Edition video card were the most surprising results we had during our testing. The card idles at a low temperature of 33C, and has a full load of 53C at factory overclocked settings at 57C at maxed out overclocked settings that EVGA Precision X Overclocking utility allowed us to enable. These temperatures were possible with the same idle fan speeds at 39%. This means that a lot more heat could be added before the video card would ramp up its fan speed automatically. This is great for users that run their systems in extremely hot room temperatures or in quiet low ventilated systems.
POWER CONSUMPTION

To get our power consumption numbers, we plugged in our Kill A Watt power measurement device and took the Idle reading at the desktop during our temperature readings. We left it at the desktop for about 15 minutes and took the idle reading. Then we ran Metro 2033 for a few minutes minutes and recorded the highest power usage.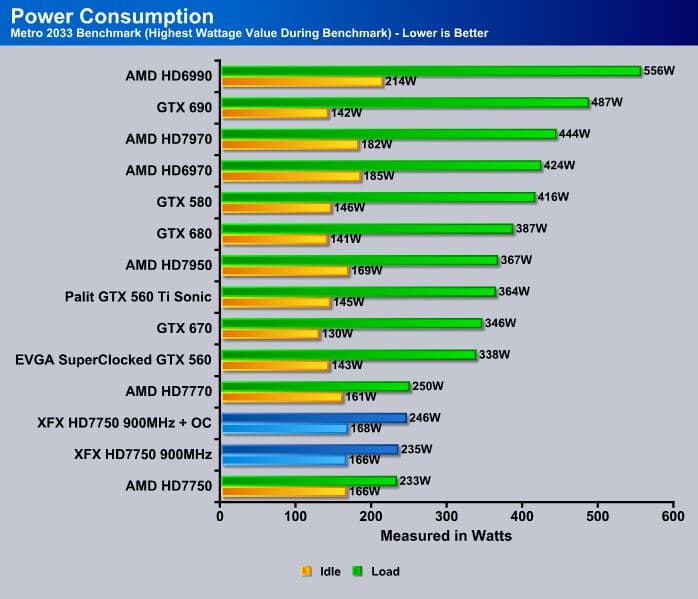 The Power Consumption of the XFX HD 7750 Black Edition was another reason why we can really recommend this card for an average gamer. Most average gamers will not be running high-end hardware in their systems, including low-efficiency and wattage power supplies. This video card managed to have a full system load of 235W, which includes the CPU, Motherboard, and plenty of other hardware. An average low-budget user should be expecting power usage in the 190W range considering that our hex-core processor was overclocked and we were running multiple storage devices and other hardware overclocked.
Overclocking


The overclockability of the XFX Radeon HD 7750 Black Edition factory overclocked video card is limited, but you are fairly guaranteed to get rock solid stability on about any XFX retail card you might lay your hands on. We used EVGA's Precision X overclocking utility to try to max out the performance of the HD 7750 Black Edition. It took about 2 minutes to fully extend all the bars in EVGA's Precision X overclocking utility which were the maximum overclocks allowed by the XFX BIOS on this video card. Those settings were 20% power target increase from 100%, and the core clock speed was set to 1000 MHz while the memory frequency was set to 1250 MHz. We didn't even play around with the Fan settings, as it was not needed. The card stayed cool at 57C even at full load at max overclocked settings.
Conclusion
The XFX Radeon HD 7750 Black Edition is a rock solid video card for its price, quality and performance it delivers. Right off the bad the moment we laid our hands on the card, we could feel how solid the PCB is compared to other manufacturers. This makes sure that the card does not bend inside your system due to the heavy cooler or the PCI-E power connector pulling on the PCB. But looking at the performance of the card, it performs slightly faster than the AMD reference Radeon HD 7750. The extra performance will most likely not be that visible right out of the box, but with some easy overclocking to 1000Mhz core clock and 1250Mhz on the memory frequency, the XFX Radeon HD 7750 Black Edition can get really close to the performance of a reference AMD Radeon HD 7770 video card. The Double Dissipation air cooler on the HD 7750 Black Edition is very nice and it keeps the card very cool even under maximum overclocked frequencies at low acoustic levels.
Now the real question is, whether it's worth getting the XFX Radeon HD 7750 Black Edition for $124.99, or go with a different AMD Radeon HD 7770 video card that might have a poor air cooler and higher acoustic levels, but would also cost $124.99. This is for you to figure out because for us, having lower fan noise and lower temperatures while also being able to overclock the lower-end card to the same performance as the higher-end card is a better advantage than having a more powerful card for the same price but having poor build quality.
OUR VERDICT: XFX Radeon HD 7750 Black Edition
| | |
| --- | --- |
| Performance | 7 |
| Value | 8 |
| Quality | 9.5 |
| Features | 8 |
| Innovation | 7 |

We are using a new addition to our scoring system to provide additional feedback beyond a flat score. Please note that the final score isn't an aggregate average of the new rating system.

Pros
Cons
Extremely Quiet

Decent Performance for mid-range low-budget gamers.

Faster than AMD Reference Design Card.

Simple yet stylish and effective Double Dissipation cooler design.

Fair price for the design and performance.

Solid PCB that won't bend.

Not powerful enough for new game titles at high graphics settings.

Can get a HD 7770 for about the same price and have slightly higher performance than a high-OC HD 7750.
Summary: The XFX Radeon HD 7750 Black Edition 1GB Factory Overclocked video card is definitely a high-quality video card that should satisfy any gamer on a low-budget.Though it is not meant to max out every game, the XFX Radeon HD 7750 Black Edition should be a fantastic card for gaming at lower graphical intensities. We're awarding the XFX Radeon HD 7750 Black Edition video card Bjorn3D's Seal Of Approval.