The CM Storm Sentinel Advance II embraces new innovation providing a custom graphical display while enhancing performance with it's new laser sensor system.
Introduction
To inject a dose of fresh evolution to the market, Cooler Master, (mostly known for their PC cases and power supplies), has brought some new features to their mouse lineup, specifically improving the Sentinel Advance with a state-of-the art 8200 dpi laser sensor. In this review we will be examining the Storm Sentinel Advance II (MSRP: $59.99 ) and the recommended mousing surface by Cooler Master called the Speed-RX L (MSRP: $19.99 ).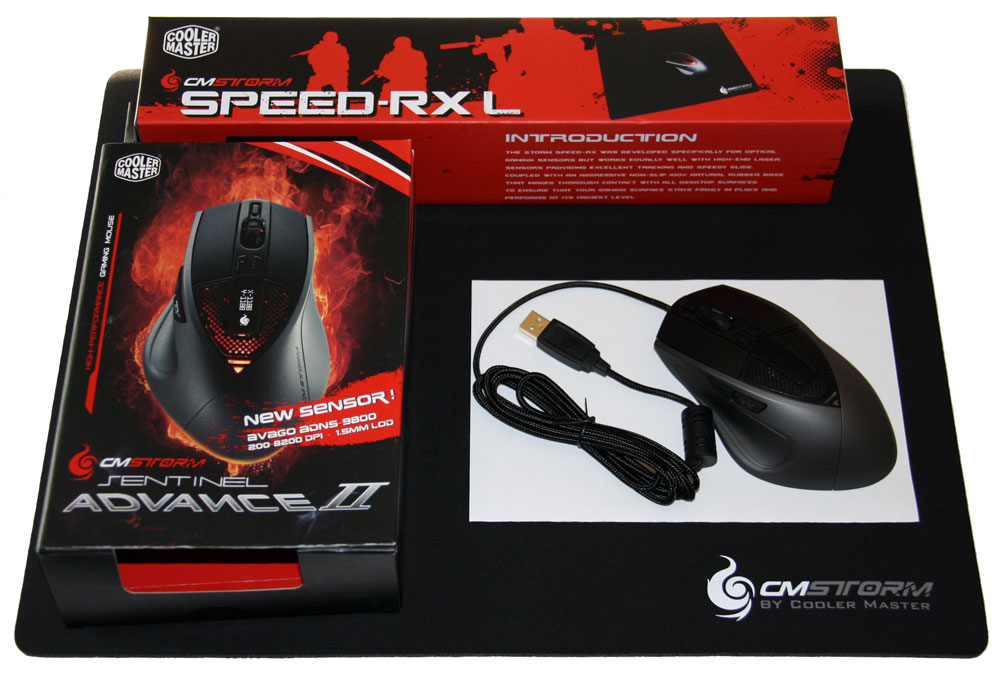 Click on image for larger view.
Features and Specifications
This is one feature-rich mouse for the money, the majority of these features will be covered in more detail in the drivers and testing section.  
Cooler Master Sentinel Advance II Specifications

Sensor Type

Avago ADNS-9800 Laser Sensor

 

Tracking Resolutions

200-8200 dpi (steps of 200 dpi)

USB Polling Rate

125 Hz – 1000 Hz / 1 ms

On-Board Memory

128 KB (for profiles and macros)

Programmable Buttons

8 w/ 9 virtual buttons via button combos

Profiles

5 profiles with 4 DPI setting each

 

Weight System

5 x 4.5g button weights located in base

Lift-off distance rating

As little as 1.5 mm

Velocity

Up to 150 inches per second

Acceleration

30 g

Dimension

3.3(L)x5.3(W)x1.6(H) inch
83.6(L)x135(W)x40(H) mm

 

Weight

139 g / 0.31 lbs

 
A special feature not often seen is the incorporation of a small OLED screen that not only displays the X and Y axis sensitivity, but gives the user the option of displaying their own custom 32 x 32 pixel logo; furthermore, there is a fully customizable multi-color led light system that can be saved separate for each profile.
A Closer Look
The CM Storm Sentinel Advance II comes in a very attractive package with a small description of all the features on the inside panel.
Click on images for larger view.
We are going to be briefly touching on the CM Storm Speed-RX L, which is the largest of Cooler Master's mouse mats. This is one gargantuan mat and it will be interesting to see how it performs with the Sentinel II.
Click on images for larger view. 
The Speed-RX L is composed of mostly pure rubber on the bottom with a finely weaved nylon mesh fused taught over the surface. It is not spongy at all yet is very comfortable to rest the base of the wrist on. Due to the very nature of the material it does attract finer hair particles (found in testing) so it is important to keep it clean or the ring around the laser sensor of the mouse may pick up the hair (and in the process effectively crippling the mouse sensitivity).
Click on image for larger view. 
The Sentinel Advance II provokes a rather futuristic (if not dominating) look with it's completely flat-black design. The shade of lighter black is actually coated with a light, smooth type of rubber coating to aid in non-slipping of the hand, while in contrast, the deep black color is thick, textured plastic. The small holes on the top is the "grill" where a user may set a choice of seven led colors, where dead-center in the grill is the OLED display.
 Click on images for larger view.
These shots illustrate the unusually high egg-shaped profile which compliments the ergonomic design, especially the contoured thumb rest. Take note that there is not a rest-plate for the small finger so it it always slightly touching the mouse mat surface in use. There are some users out there that find this is an advantage because they have slightly more control over the mouse in this way at higher sensitivities. 
Click on images for larger view. 
The Sentinel Advance II is really black, but if you look carefully there is a small button above the mouse wheel that toggles between the custom profiles. The mouse wheel itself is one of a superior design, with 12 smooth, large "indents" to rotate the wheel the complete 360 degrees. The wheel itself is composed of pure rubber and has notches in it that is perfect to click on with your finger nail without accidentally  rotating it. Upon removal of the bottom plastic plate a set of 5 x 4.5g weights are nestled in the base.
Click on images for larger view.
| | |
| --- | --- |
| Cooler Master has included spare Teflon replacement pads specifically for use with this mouse. Note that these will probably not be needed if preferring to use a soft mousing surface. | |
The user programmable colors are very attractive as seen in these night shots. The top grill and auxiliary lights (the two on the bottom front) can be set individually between seven different colors and even be toggled to pulse and glow. More importantly is the on-the-fly setting (of dpi) which is displayed on the small OLED screen. Notice the Cooler Master logo located adjacent to the dpi settings: the logo can be fully customized (a user can make their own logo and upload it into the mouse) — this will be covered in more detail later in the review.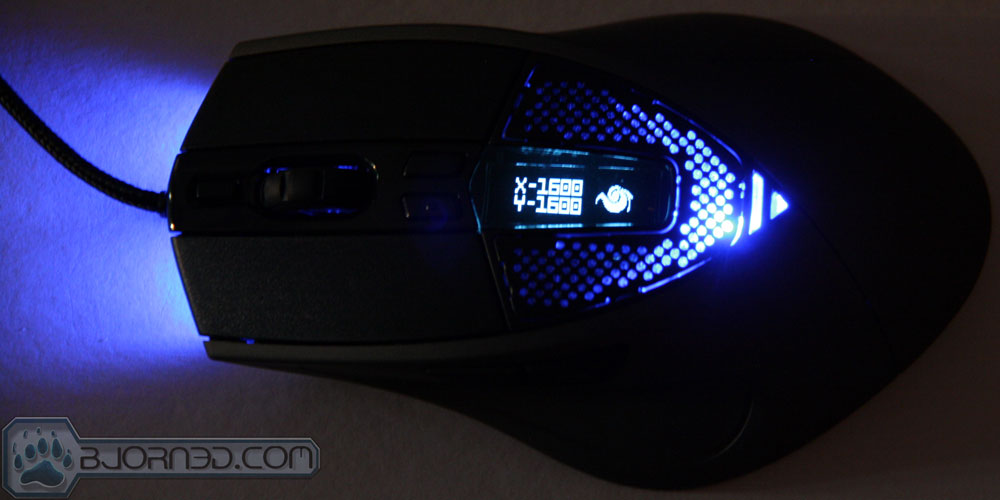 Click on images for larger view.
Drivers & Profiler
The Sentinel Advance II is very advanced when coming to user settings and profiles. Everything can be saved to the on-board memory so installing drivers on another computer is not necessary. The main control menu has solid design and ease of use with the added flair of an animated fire storm.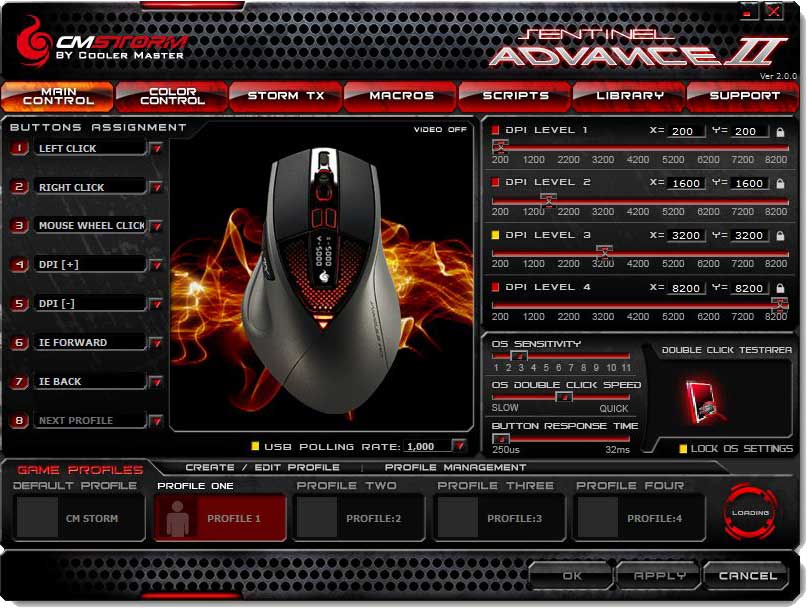 The color control tab manages the screen saver of the OLED (turning it off after a few seconds when the mouse is not in use) and also lets the user upload a custom logo. The two color location sets of the leds may be changed independently (or turned off) and three different types of LED mode effects may be applied.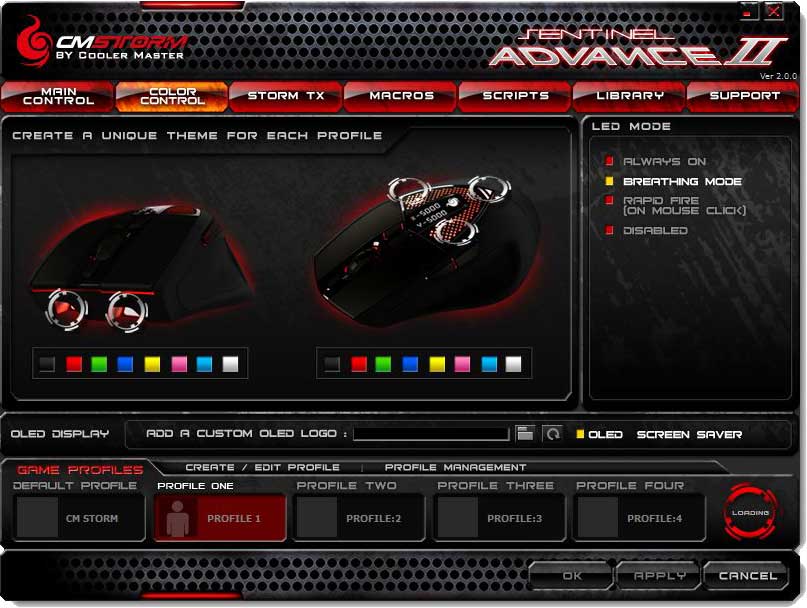 When toggling to the Storm TX Mode via the back button activates user saved mouse button macros. This is different then standard macros in the fact that you can only reassign the mouse buttons themselves. For example you could assign right mouse click to wheel up or reverse the mouse button layout for a profile in mind for a special game or application; furthermore, the buttons may be set to execute commands.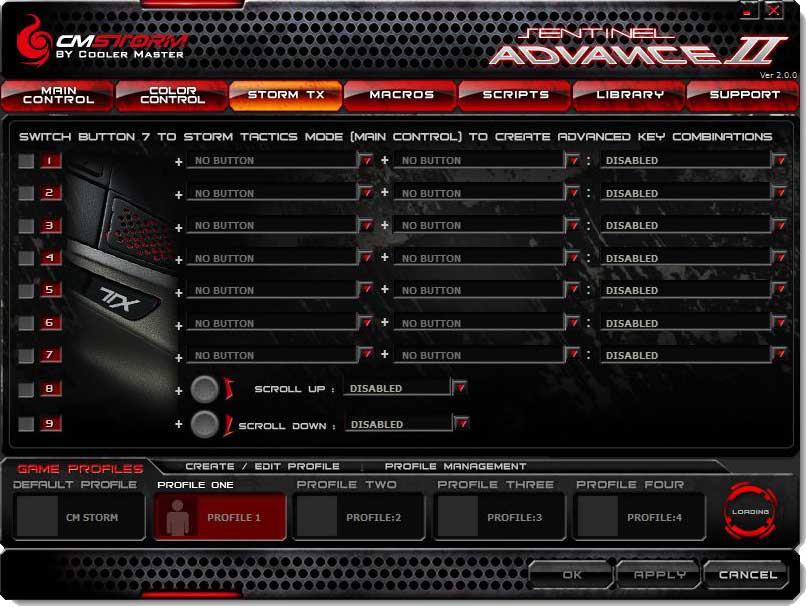 Any type of macro fathomable is able to be programmed here. Assignable mouse buttons are seven plus nine Storm TX profiles with the addition of four main profiles. That's a total of 64 custom profiles for all the buttons.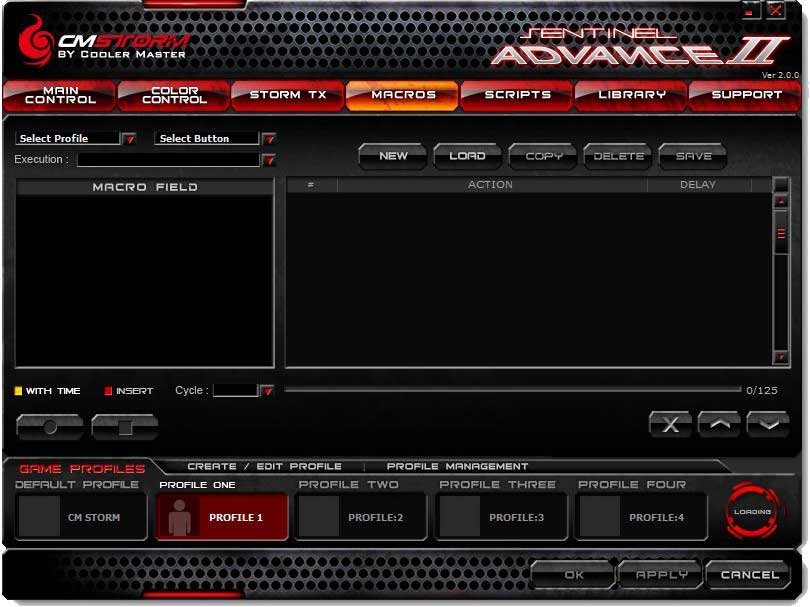 Six scripts per profile may be setup here. In addition to the advance scripting the user may send commands to the operating system to execute other programs in windows and has pre-built ones to use with common media player controls.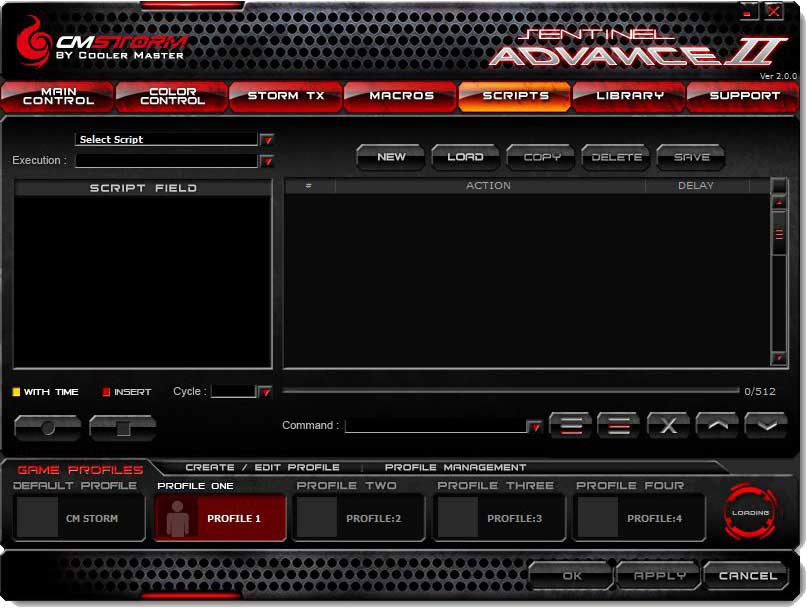 Naturally there is a backup section to import and export all of the macros and scripts to the hard drive for ease of use in future editing; furthermore, under Profile Management it is also possible to import and export the saved profiles to each of one of the four main hardware profiles on the mouse.
A link to online support is found here as well as all the pertinent version information. The driver package did come with a firmware auto-update program; however, this version of the Sentinel II was up to date out of the box.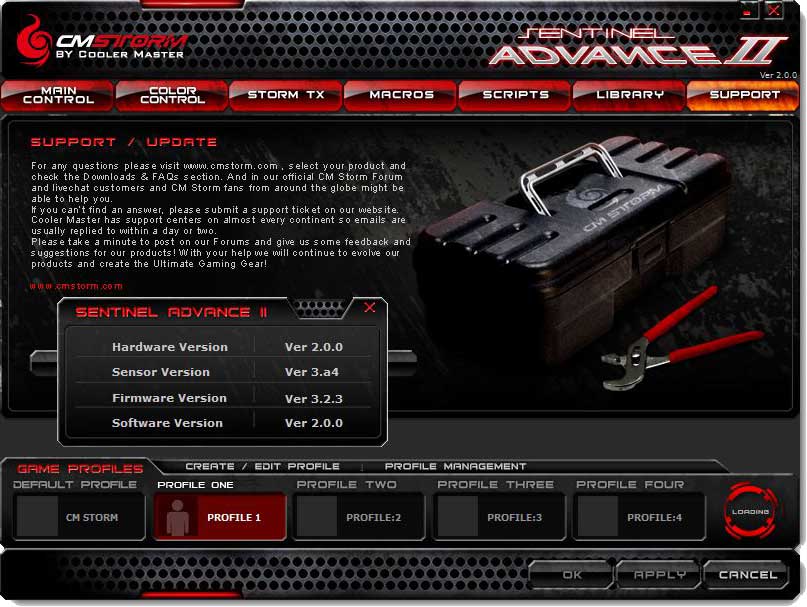 Testing and Methodology
A higher end system is being used for testing to ensure the 1000MHz polling can be utilized; some older motherboards sometimes have issues with this due to USB port configuration (this can introduce artificial lag into an application or game making the mouse feel unresponsive). Listed below is the relevant testing gear specifications: 
CM Storm Sentinel Advance II Test Rig

CPU

Intel Sandy Bridge i5 2500k @ 4.40Ghz

Motherboard

Gigabyte GA-Z68XP-UD5

Memory

Corsair Dominator XMP 1866 (2 x 4 gigs)

GPU

MSI GTX 560 Ti Twin Frozr II

Power

Cooler Master Silent Pro Gold 800
Applications and games were rigorously tested over a three week period to get an overall feel for the Sentinel II's performance. The software chosen was intended to give a maximum range of movement in the following categories: precision graphics work; hyper-reflexive aiming; tracking; and skilled firing on all buttons (to test physical button flex and accessibility). Here is the list of applications used: 
Software Tested
Adobe Photoshop CS4 64bit (hardware accelerated)
Command & Conquer: Zero Hour
Hard Reset 
Diablo III (closed beta)
The testing surface used was the Cooler Master Speed-RX L mouse mat. The tracking properties of this mat is dead-on, with excellent precision and no jitter — given that the mat is completely free of dust or small hair particles. Cooler Master does make the Speed-RX in several different sizes, with this one being the largest (hence the L suffix). 
Results
The ergonomic form-factor of the Sentinel II is perfect for smaller to medium sized hands, where larger hands will still benefit from the high egg-shaped profile toward the top of the mouse (mainly good support right below the top grill). This does not detract from operation, it is just a different feel. The buttons click very firmly where as the side thumb buttons take even more pressure to activate and make a hollow click sound. One of the best things about this product is the over-sized rubber mouse wheel that has excellent rotation precision; but this isn't the type of wheel one could spin to scroll fast. Concerning lift-off distance the Sentinel's new sensor performed admirably, with the mouse cursor staying solid in position even when the mouse was lifted and moved the tiniest bit (approximately 2mm).
One feature that has been ported over from the original Sentinel is full logo support. Many previous users have asked to be able to have a custom logo for each profile setting:  Cooler Master listened and provided this ability. Below is a low light macro shot of the OLED displaying a custom made radioactive symbol. Cooler Master also provides a link in the Sentinel control panel properties to a support forum where more logos may be downloaded if you don't want to make one yourself.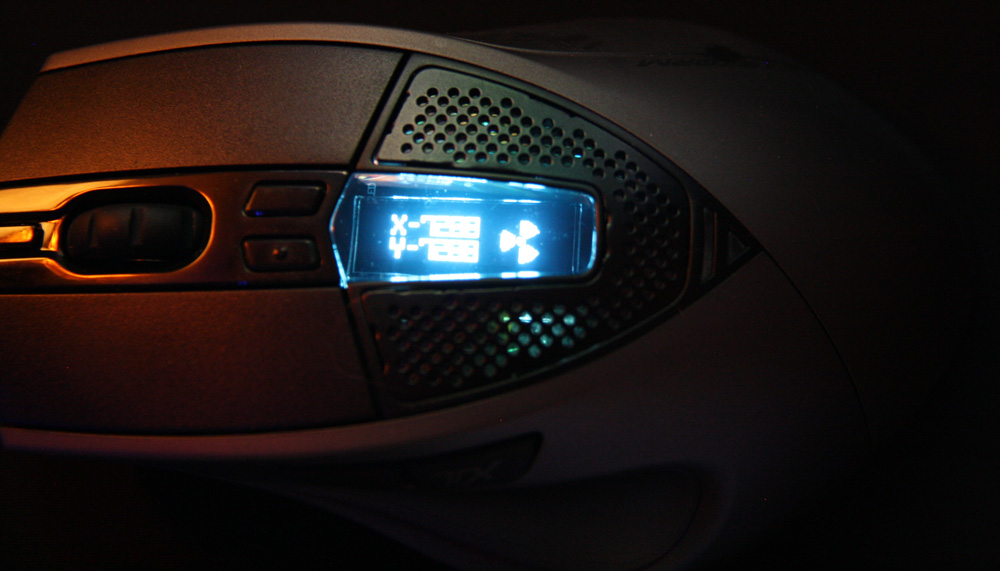 Click image for larger view.
Testing in general with Adobe Photoshop CS4 and the windows operating system presented no issues; however, it did appear that dpi settings seemed more sensitive in these environments than in games. Ideal dpi for these applications were between 3200-3600 dpi (mirroring previous experiences with past mice). Macros and command execution hot-keys worked with no issues and manipulating the Cooler Master software was an overall easy experience with everything exposed on the menus (nothing is more annoying than digging three sub-menus deep to find some arcane toggle needed).
Released in 2003, Command and Conquer: Zero Hour, is a real time strategy game that uses a second generation SAGE engine (Strategy Action Game Engine). Even though this game is nearing a decade period of time, it is very valid for testing one of the highest dpi mice on the market. Reasons for this is that with proper modding of the particle systems, physics, and real-time lighting, Zero Hour still can put a serious load on the system, especially zoomed out at 1920 x 1200 resolution. Playing like this is an incredible all out war experience; however, it can be incredibly frustrating at the same time with over half of my mice burned through playing this. "Why is this?" you may ask. Try clicking on the very tiny infantry madly dashing for cover across the ravaged, smoke filled, burning landscape that is only sixteen pixels high (this is because the ceiling limit of the game needs to be tripled). A dpi setting of 7200 seemed just about perfect for the game at this resolution. Providing the mouse mat stayed clean, I was very surprised that the Sentinel Advance II performed so flawlessly, (considering for three years I couldn't find anything sensitive enough that didn't jitter).
In September of 2011, Hard Reset was released on Steam, showcasing a state of the art first person shooter engine in the spirit of old-school Quake (sans multiplayer support). This game was chosen to experience the tracking movements at high speeds. When deep in battle surrounded by enemy, it is necessary to be constantly strafing while aiming simultaneously (sometimes even when jumping). Incredulously so, the mouse performed best when cranked way open to 7400 dpi — it was even unexpectedly smooth at this setting.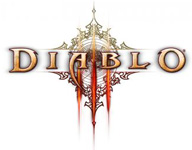 In Diablo III (the closed beta), the Sentinel Advance II performed more in line with conventional dpi settings with the ideal ranging from between 3400-4200. This game was chosen to test the validity of the macro key sets to reassign some skills to the thumb buttons. Even though the thumb buttons functioned correctly, they are placed almost flush with the casing, sometimes being difficult to quickly access. It also appeared that the thumb switches are more firm then necessary, yet this may be a moot point since there wasn't enough opportunity to break in the switches properly (usually six weeks of heavy use is ample).
Conclusion

Cooler Master has done a respectable job concerning the performance of the new laser sensor. Being able to step the dpi up or down at 200 dpi increments on-the-fly is a great convenience; however, there did appear to be discrepancies on the feel of the mouse sensitivity in games (it felt lower, thus needing to turn the dpi up higher) compared to regular applications within the windows environment. Considering there was zero jitter during all the testing this is only a minor issue. For value one is going to be hard-pressed to find more features crammed into this product for $60. The OLED screen alone is such a unique feature, it wouldn't be surprising if it became more common feature in future mice. The only real niggle with the Sentinel II was it's form-factor (specifically the average sized hand could completely cover the mouse from front to back) made the mouse a little lighter than normal and that the thumb buttons seemed slightly difficult to depress. Overall, the Sentinel Advance II is breaking new innovative grounds for the evolution of the mouse peripheral and we hope this trend continues. 
OUR VERDICT: CM Storm Sentinel Advance II Mouse
| | |
| --- | --- |
| Performance | 8 |
| Value | 8 |
| Quality | 7 |
| Features | 9 |
| Innovation | 9 |

We are using a new addition to our scoring system to provide additional feedback beyond a flat score. Please note that the final score isn't an aggregate average of the new rating system.

Pros

Cons

On-the-fly DPI for all profiles.

Unique OLED display for X & Y axis sensitivity and custom logo.

Complete macro and profiling system to meet any need.

Pleasing egg-shape ergonomics.

Mouse seemed a little on the light side considering it had a set of five weights.

At very high dpi settings there is  larger range of sensitivity discrepancies between DirectX games and O.S. then expected. More then likely this phenomena can not be avoided.

  

 
Summary: The CM Storm Sentinel Advance II embraces new innovation providing a custom graphical display while enhancing performance with it's new laser sensor system. It proudly receives the Bjorn3D Silver Bear Award and Bjorn3D Value Award for the myriad of features.