Designed for overclockers and enthusiasts, the Thermaltake Toughpower Grand 1200W power supply features 1200W for all of your needs.
Introduction
Recently we've been testing power supplies here at Bjorn3D, and we're trying to give our readers a good overview of different manufacturers and different categories of power supplies. Last week, we've took look at the Seasonic X-Series 660W Modular PSU, which we found extremely stable with rock solid voltages, very quiet due to its Sanyo Denki San Ace Silent Fan with Hybrid Silent Fan Control, highly efficient with a 80 Plus Gold Certification, and using one of the nicest features that we don't see on many modular power supplies, 100% modularity. The Seasonic X-Series 660W Power Supply is a perfect choice for gamers that want to run high-end gaming systems with a top of the line video card or two mid-range video cards in SLI or CrossFireX configuration, though it is not the best power supply for overclockers due to its lower wattage support.
Today, we will be taking a look at Thermaltake's flagship 80Plus Gold Certified ToughPower Grand 1200W Modular Power Supply. While this power supply is designed for overclockers and gamers that use multi-GPU setups, it is not 100% modular. This usually is not a problem with users that run high-end gaming hardware, but it might be a bit frustrating for those that just want to have a powerful PSU for the future but might not be running high-end hardware at first. For instance, its double 8-pin CPU power connector is hard wired into the power supply. Only a very limited number of motherboards support dual 8-pin power connectors, and this type of setup is only necessary for extreme overclockers for extra stability.
Because we have a quite powerful power supply to test, we will be pushing the ToughPower Grand 1200W with 10 Drives, 2 power hungry overclocked GTX 580s, one RAID card, and an overclocked Intel Core i7-2600K processor and lots of other hardware. This will be a great comparison against the Cooler Master Silent Pro Gold 1200W Power supply which is also 80 Plus Gold Certified and comes with very similar features. We will also compare the ToughPower Grand 1200W to Sapphire's PURE 1250W 80 Plus Bronze certified PSU, during which we will examine how different efficiencies can affect computer performance and power consumption.
So let's take a look at the features and specifications for this power supply before we continue to unboxing and taking a closer look at it. After that we'll push the three competing power supplies as far as we can to see how each performs.
Features
| | |
| --- | --- |
| | Compliance with Intel ATX 12V 2.3 & SSI EPS 12V 2.92 standards. |
| | 80 PLUS Gold certified – extreme efficiency PSU series with 87-92% efficiency @ 20-100% load to cut down electric cost. |
| | 24/7 @ 50°C: Guaranteed to deliver 1200W continuous power. |
| | Pure aesthetic design with uncompromising performance. |
| | Proprietary dual ball bearing 14cm flower-shape fan enables longer lifespan and lowers overall noise output by dramatically reducing bearing frictions. |
| | 100% 105°C (221°F ) Japanese made electrolytic capacitors: the foundation of a robust and reliable power source even under the harshest operating environment. |
| | Double-forward switching circuitry: offers low power loss and high reliability. |
| | Unparalleled DC to DC converter provides highest efficiency, most stable performance, and perfect regulation. |
| | 3oz PCB design reduces heat generation and allows greater efficiency. |
| | Robust & dedicated +12V output: comes with dual +12V rails design providing up to 40A for 12V1 and 85A for 12V2. |
| | FanDelayCool Technology allows 14cm fan to continue to operate 15-30 sec after system shuts-down to ensure all components are properly cooled. |
| | Multi-GPU ready: comes with 8 x PCI-E 6+2pin for cutting-edge gaming machine. |
| | Auto switching circuitry for universal AC input from 90-264V. |
| | Active Power Factor Correction (PFC) with PF value of 0.95 at full load. |
| | High reliability: MTBF>120,000 hours. |
| | DIMENSION: 5.9"(W) x 3.4"(H) x 7.1" (L);150mm(W) x 86mm(H) x 180mm(L) |
| | Built-in industry grade protections : Over Current, Over Power, Over Voltage, Under Voltage and Short-Circuit protection. |
| | Safety / EMI Approvals: CE, TUV, FCC, UL, CUL, GOST and BSMI certified. |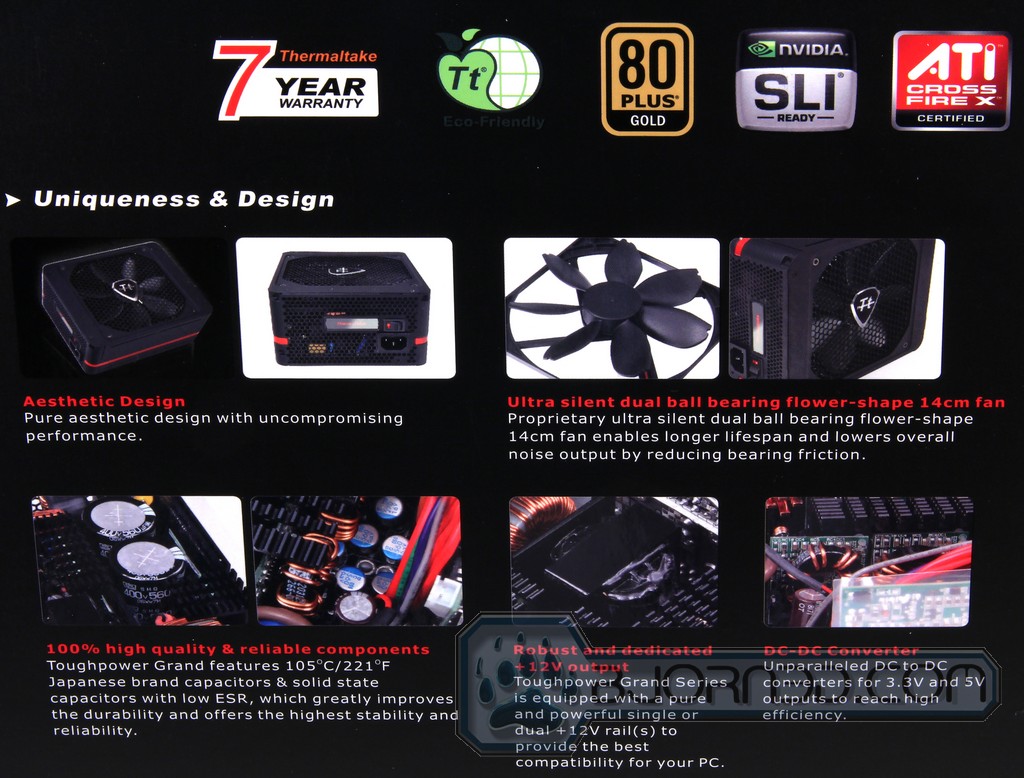 Pure Aesthetic Outer Chassis
The Toughpower Grand series' unparalleled aesthetic exterior design has set itself above other PSUs currently available on the market. The Toughpower Grand series certainly is one of Thermaltake's innovate hallmarks.
Proprietary flower shape 14cm fan
The unique fan blade shape increases airflow and reduce overall noise level.

The patented flower-shape fan edge reduces up to 3% of total noise output.
Enables longer lifespan and lowers overall noise output by dramatically reducing bearing frictions
High Quality Japanese Made Electrolytic & Solid Capacitors
Toughpower Grand features 105°C /221°F Japanese made electrolytic capacitors & solid State capacitors with low ESR, which greatly improves the durability and offers the highest stability and reliability.
DC-DC Converter & Double Forward Circuit
Unparalleled DC to DC converters for 3.3V & 5V outputs reaches high efficiency
| | |
| --- | --- |
| Robust & Dedicated +12V Output | Components protected by Fan Delay Cool |
| | |
| Powerful dual +12V rail(s) to provide the best compatibility for your PC. | keeps the 14cm PSU cooling fan running for 15-30 seconds after system shutdown to dissipate the remaining system heat, thereby prolonging system lifetime. |
Hybrid SLI / Cross Fire X & Intel C6 State Mode Support
 
 

| | | |
| --- | --- | --- |
| For best compatibility | For C6 state CPU & Hybrid GPU mode |   |

 
 

C6 State CPU Mode

CPU load range from Max. to only 1W.

Nvidia & ATI/AMD multi graphic cards configuration

Hybrid mode will cause graphic cards load range from Max. to only 1W. Toughpower Grand series are able to maintain an ultra tight DC regulation to support the C6 state CPU mode and the hybrid graphic card power saving mode by its ZERO LOAD (0W) Design.
Specifications
Power Protection
Connectors
 
 
 
 

Main Power
Connector (24Pin) x 1

EPS/ATX 12V (4+4Pin) x 1

EPS 12V Connector (8Pin) x 1

PCI-E Connector (6+2 Pin) x 8

 
 
 
 

 
 
 
 
 
Output Cable length Table
Output Specification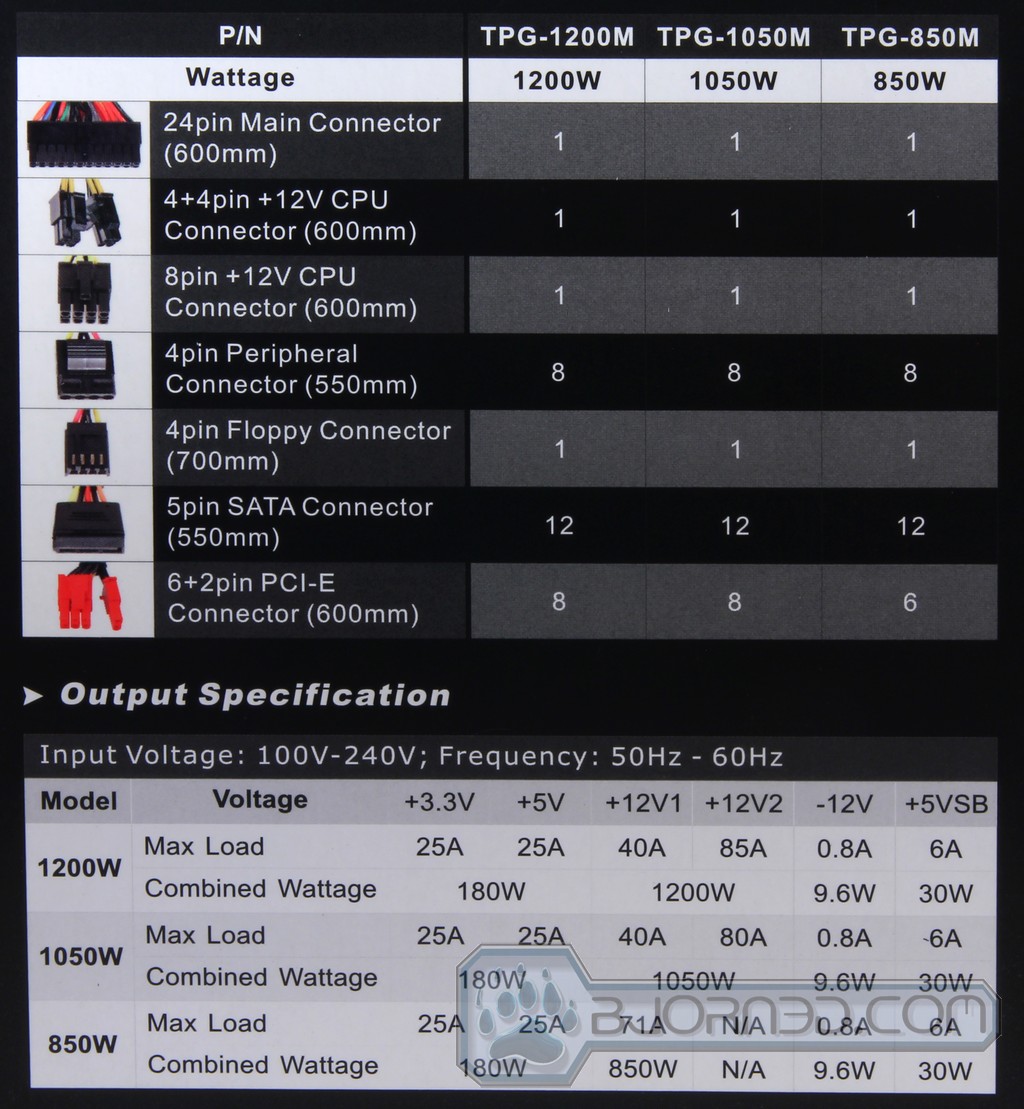 Power Efficiency
80 Plus Gold Certified
 

Toughpower Grand saves energy through its high energy efficiency of over 90% and is 80 PLUS Gold certified

 
 
ErP Ready

Toughpower Grand fulfils the EU guideline for ErP (Energy-related Products) that are scheduled to apply starting in 2010.

Supports Energy Star 5.0* energy standard:
Toughpower Grand is suitable for use in Energy Star-compatible computers.

Supports Intel Deep Power Down C6 Status:
Toughpower Grand helps your PC system operate more power efficiently.

Corresponds to the EU directives on WEEE and RoHS:
Thermaltake considers its full impact on the environment during manufacturing and maintains green facilities to ensure Toughpower Grand meets WEEE & RoHS requirements.
Fan Speed & Noise Level
Interesting thing to notice on Thermaltake's website is when users search for high-end power supplies, they are automatically shown that the ToughPower Grand has a 16dBa acoustic level. Though on this chart we are shown 19.7dBa and it looks like the noise level evens out at around 740W. We'll personally perform some tests with our own acoustic level measuring tool.
Cable management design improves internal airflow and reduce clutter.
Understanding PSU RAILS
We have all no doubt been told when purchasing a power supply, that the number to look for is the amps on the 12V rail. What are each of the different rails for though, and why is the 12V rail typically the most important? Why the heck are they called rails? Let's take at look at each and see.
-12V – This rail is pretty much obsolete now and is only kept on to provide backward compatibility with older hardware. Some older types of serial port circuits required both -12V and +12V voltages, but since almost no one except industrial users use serial ports anymore you as a typical home user can pretty much disregard this rail.
-5V – Again this is another obsolete rail, the -5V was used for old school floppy controllers and some ISA bus cards. Again, no need for the typical home user to worry about this rail.
0V – Though not listed on any manufacturer spec sheet, every power supply has a 0V ground line. The ground signal is used to complete circuits with other voltages and provide a plane of reference against which other voltages are measured.
+3.3V – Finally we are starting to get into something useful! The +3.3V rail was introduced with the ATX form factor in order to power second generation Pentium chips. Previously the CPU was powered by the +5V rail (along with the system memory and everything else on the motherboard), but a reduced voltage was needed in order to reduce power consumption as the chips got faster.
+5V – As mentioned above, the +5V used to run the motherboard, CPU and the majority of other system components on older pre ATX based systems. On newer systems, many of the components have migrated to either the +3.3V or +12V rails, but the motherboard and many of its onboard components still use the +5V rail so it is of importance to the typical home user.
+5V SB – The +5V Standby or "Soft Power" signal carries the same output level as the +5V rail but is independent and is always on, even when the computer is turned off. This rail allows for two things. First, it allows the motherboard to control the power supply when it is off by enabling features such as wake up from sleep mode, or wake on LAN technology to function. It also is what allows Windows to turn your computer off automatically on shutdown as opposed to previous AT supplies where you had to bend over and push the button. Every standard ATX power supply on the market will include this rail.
+ 12V – The +12V, also known as the mother of all rails, is now used to power the most demanding components in your system including the CPU, hard drives, cooling fans, and graphics cards. Historically the +12V rail was used only to power drives and cooling fans. With the introduction of the 4-pin CPU plug on P4 motherboards and then eventually AMD based motherboards, in order to supply newer power hungry CPUs, the +12V rail suddenly started to grow in importance. Today, multi core based motherboard require an 8-pin +12V connector to supply their power needs. High end GPU cards have also jumped on the +12V rail, which has required PSU makers to adapt. Where previously there was only a single +12V rail, there are now two or more, each designated to power specific devices in order to ensure that nothing is underpowered.
A Closer Look
Click Image For a Larger One
Just like any other product, a sturdy box design is necessary to keep the hardware from getting damaged. Because of this, Thermaltake decided to go with a dual box packaging, but only the internal cardboard is tough enough to withstand excessive pressure from the box being thrown around or being crushed by other shipping boxes. The outer box serves more as an external design with product specifications and features for the buyer to see what the power supply is designed for and what it comes with. More info about this can be found on the features and specifications page.
Click Image For a Larger One
After opening up the box, there are several things to notice. The user is provided with accessories on the top in a zip lock bag and a small soft cushioned bag in a small rectangular cutout in the foam that holds the PSU. Then we also have a large bag of extra modular cables and finally the large foam cutout which covers the PSU, which is also in a soft cushioned bag to prevent the chassis from being scratched. Right under the bag we can see the rest of the power supply cables that come hard wired into the ToughPower Grand 1200W PSU.
Click Image For a Larger One
Lets take a closer look at the accessories. Thermaltake provides the users with 4 velcro straps along with 4 heavy duty plastic cable straps that will help manage the cables inside the system. The velcro straps are nice, and have a nice black design to them, however, we feel that velcro straps can sometimes easily rip when tightened too hard and it is usually better to have standard large black zipper cable ties. The plastic cable straps are nice as well, though we wish users the best of luck when trying to actually close these and detach them, because it might require quite a bit of strength.
Moving on to the rest of the items, the two triangle shaped silicone paddings can be placed under the power supply to produce a slightly elevated for better air circulation and also to prevent any vibration caused by the power supply. We are glad Thermaltake decided to include this with their accessories because it helps lower overall noise inside the system. Finally, there are 4 screws included for tightening the PSU to the case, a Thermaltake sticker for the case, a User's Manual, and a standard power connector.
Click Image For a Larger One
We'll soon take a look at the hard wired cables that the ToughPower Grand 1200W PSU comes with, but first lets check out what's included in the modular cables bag. There will be a total of 8x PCI-E Connectors (6+2 pin), 12x SATA connectors, 8x Peripheral Molex connectors, and 1x Floppy Disk Drive Adapter which uses a male Molex connector on the other end of the adapter.
Click Image For a Larger One
Please do realize that we have included all cable lengths in the Features & Specifications page, so please refer to that information as reading through this review. Here are some closer pictures of each connector. On the Toughpower Grand 1200W PSU, and most likely on the 1050W and the 850W models as well, the PCI-Express connectors are divided in a very interesting fashion. The power supply has 6 x PCI-E connectors on the chassis. However, two of the cables come with three PCI-E 8-pin connectors. Because the power supply has two rails, one 12V rail (for peripherals) that can manage up to 40A of power and a 2nd 12V rail (for PCI-Express) with a total output of 85A, there will definitely be no problem pushing 3 high-end video cards off of a single cable. There could be concerns that pushing so much power through a single cable might be a problem due to cable resistance, causing bad power efficiency, though it is unlikely that someone will use 4-way SLI or 4-way CrossFireX with a single cable. Even a 3-way SLI setup will only require two 8-pin power connectors max. Special cards that require more than 2 PCI-Express connectors are not capable of 3-Way SLI, therefore we do not see this as a major problem.
We've also noticed the nice clip design on the molex connectors, which make it easier to detach the connectors from drives. Most users that built PCs in the past will know how frustrating molex connectors can get sometimes, and this design makes disconnecting cables much easier from our experience.
Click Image For a Larger One
Here we have the Thermaltake Toughpower Grand 1200W PSU. Its round edges and large flower shape fan fin design really make this power supply unique from the rest of the power supplies we've seen. Its clean dark gray and bright red stripe and connector design give this power supply a pleasant look. The rear of the power supply (where the power switch is located) has a honey comb mesh design with a silver bar going across. This silver bar is actually a metal cutout with the Thermaltake logo in it. Red LEDs showing Thermaltake's name light up when the power supply is running. The top of the power supply has a 140mm flower shaped fan, which we'll go into more detail below. Finally for chassis design, the front of the PSU has some hard wired cables coming out, and 9 extra modular cable male connectors for plugging in extra power leads.
Continuing on with the hard wired cables, we can see a 24-pin power connector. This means that the power supply cannot be used on older systems that still use 20-pin motherboard power connectors. There are two additional 8-pin CPU power connectors, while one of them can be divided up to 4-pin CPU power connector design. We find it unnecessary for Thermaltake to provide the 2nd 8-pin power connector, because majority of the people will not be using it anyway. We would have like to see the 2nd 8-pin power connector modular.
Click Image For a Larger One
Finally, lets take a look at the inside of the ToughPower Grand. The fan being used in this PSU is Thermaltake's is extremely similar to the ISGC Fan 12, which is Thermaltake's 120mm fan with a Hydro Dynamic Bearing. Hydro Dynamic Bearings are usually quieter then Double ball or just ball bearing fans, but it looks like Thermaltake decided to use a proprietary dual ball bearing 140mm fan with a flower-shape fan. The interesting part of this power supply's fan is the fan design, because the main cause of noise is not air movement, it is the motor noise. This is what disappointed us the most about this power supply because we were expecting a quiet operation at idle and higher loads, while this power supply seemed to have an audible motor noise even at idle operations.
Next, when we take a look at the overall design of the Toughpower Grand, it looks like it is a bit too cluttered and some components might have a hard time cooling due to the obstructions. The Cooler Master Silent Pro Gold 1200W PSU seems to have a much neater organization of the components and heatsinks. On the other hand the actual component design and features on this power supply are quite nice. First off Thermaltake is using Japanese Electrolytic and Solid Capacitors, which not only have longer lifetime, but better efficiency as well. On the lower part of the cooler we we can see the 2-pin power connector for the fan is a unparalleled DC to DC converter for 3.3V and 5V outputs. According to Thermaltake, they are able to achieve better efficiency with this converter, though how much better is hard to tell. Finally, one feature that we really like on this power supply is the 15-30 second delay in fan spinning after the system is shut down. This allows for additional cooling when the system is shut down to prevent damage to the components over time. Some components can slowly degrade when a system is shut down but no additional cooling is provided by a fan. This is why Thermaltakes Fan Delay Cool design is excellent for component lifetime and longevity.
Testing
When it comes to power supplies, what we're really looking for is good clean voltage and plenty of it. Industry standards are 5% variance on any rail maximum, which is a little more lax than our standard of 3% max everywhere except the +5vSB (+5v stand by), which is always on, even when the power supply and computer are off. On the +5vSB it's not unusual to see 5% and since it's only for wake on LAN or by device feature it's not a big deal.
Like a lot of enthusiasts out there, our PC's are an ongoing work of art that we have a lot of cash invested in. If a PSU won't hold to 2 or 3% load/idle no matter what we do to it, we won't use it or recommend it.
Finally, we pushed the Power Supply close to their Full load to accurately represent a real-life high load scenario. We recorded Idle and Load voltages, Wattage, Ripple, and fan noise.
Testing Equipment
Thermaltake ToughPower Grand 1200W Power Supply
Testing Equipment
Multimeter
RadioShack Digital Multimeter
Wall Voltage
Kill-A-Watt Measuring Tool
Oscilloscope

Hitachi Oscilloscope V-212
Phonometer

Extech Instruments 407730 Sound Level Meter w/ tripod
To test the Voltages on each rail and then measure the overall wattage used by the whole computer system, we used two different pieces of equipment. We used the RadioShack Digital Multimeter to measure the voltages on each rail (5V,12V,3.3V). To measure the overall wattage used by the computer system we used a Kill-A-Watt Measuring Tool. The device plugs into the wall and we attach the power supply directly to the Kill-A-Watt. The results were precisely recorded in a Word document. To test the power supply's ripple, we used a Hitachi V-212 Oscilloscope. To measure the ripple we measured the 12V, 5V, and 3.3V rails with the oscilloscope and measured the AC current. To test for ripple the AC current needs to be measured instead of the DC. Finally, we used Extech Instruments' 407730 Sound Level Meter on a monkey bar tripod about 1 foot away from the power supply to record the fan noise. The results for each of the tests performed can be found below.
Test Rig
Test Rig

Case
Test Bench
CPU

Intel Core i7 2600K @ 4.4 GHz

Motherboard

GIGABYTE Z68X-UD7-B3

Ram

Patriot Gamer 2 Series 1600 MHz Dual-Chanel 16GB (4x4GB) Memory Kit

CPU Cooler
Thermaltake Frio OCK
Hard Drives

4x Seagate Cheetah 600GB 10K 6Gb/s SAS Hard Drives

1x Seagate Constellation ES.2 3TB SAS Hard Drive

2x Western Digital RE3 1TB SATA Hard Drive

SSD
1x Zalman SSD0128N1 128GB SandForce SSD
Optical
ASUS DVD-Burner
GPU


2x Nvidia GeForce GTX580 in 2-way SLI

GeForce GTX 560 Ti (PhysX)

Additional Cards

LSI 3ware SATA + SAS 9750-8i 6Gb/s RAID Card (PCI-E)
PSU

Sapphire PURE 1250W PSU

Thermaltake ToughPower Grand 1200W PSU

Cooler Master Silent Pro Gold 1200W PSU

Mouse
Razer Mamba
Keyboard
Thermaltake Meka G1 Keyboard
Monitor

Asus VG236H 23″ 120Hz 3D Monitor (1920×1080)

Speakers
Logitech Z-2300 2.1 THX Certified Speakers
Two different tests will be done with this testing system. One test will be conducted under stock settings, while the second test will be conducted under overclocked settings on the CPU and Video Card. To put the system under load condition, we used OCCTs Power Supply tester to stress the whole system while running FluidMark in the background to load the PhysX card. Let's take a look at the results.
results

Power Output Results(V) – Overclocked System (GPU, CPU)
Measured With RadioShack Multimeter And
Kill-A-Watt Power Consumption Measuring Tool

Power Rail

Sapphire PURE 1250W PSU

Cooler Master Silent Pro Gold 1200W PSU

Thermaltake Toughpower Grand 1200W PSU

Idle

Load

Idle

Load

Idle

Load

3.3v

3.30V

3.29V

3.31V

3.30V

3.328V
3.290V

5v

5.05V

5.04V

5.00V

5.00V

4.98V
4.96V

12v1

12.24V

12.23V

12.08V

12.03V

12.288V
12.02V

12v2

12.24V

12.23V

N/A

N/A

12.290V
12.03V

12v3

12.22V

12.19V

N/A

N/A

N/A
N/A

12v4

12.22V

12.21V

N/A

N/A

N/A
N/A

12V5

12.21V

12.19V

N/A

N/A

N/A
N/A

12V6

12.22V

12.22V

N/A

N/A

N/A
N/A

Wattage Used

227W

851W 

218W 

832W 

220W

834W
The performance of the Thermaltake Toughpower Grand 1200W PSU is not the best, but not the worst either. We've seen power supplies that had much worse voltage regulation than the Toughpower Grand does. However, at 834W we still managed to be within the 3% voltage difference that we have laid down at the beginning. It is still sad to see that from 220W to 838W there was a total of about 0.3V change, which means that from 834W to 1200W there could be another 0.2V drop putting the PSU at a 11.80V range. This would not be good for users wanting to overclock or push their systems to the max. With the Cooler Master Silent Pro Gold and the Sapphire PURE PSU, we saw a much tighter voltage regulation, where the difference from each load would only be about 0.01-0.05V. It was also a bit disappointing to see a 4.98V on the 5V rail right at Idle which dropped to 4.96V at load.
Power efficiency was not the best either as we saw that the Cooler Master Silent Pro Gold was also 80 Plus Gold Certified but performed better than the Toughpower Grand 1200W. Though it is good to know that there was a noticeable power efficiency difference between the Sapphire PSU and the Thermaltake PSU.
Ripple Test Results
Example Images for our testing – Click Image For a Larger One
| Rails Tested | Overclocked System – Hitachi Oscilloscope V-212 – Ripple Results |
| --- | --- |
| 12V |  ~30mV ripple max |
| 5V |  ~15mV ripple max |
| 3.3V |  ~25mV ripple max |
The ripple results proved to be pretty good for a 1200W power supply. It is ok to see a slightly higher ripple on these power supplies than on a 600W PSU. It looks like the ripple is within range.
Fan Noise Results
Condition

Acoustic Level Measured – PSUs

 
Thermaltake Toughpower Grand 1200W PSU
Cooler Master Silent Pro Gold 1200W PSU
Sapphire PURE 1250W PSU
Idle
32dBa
LOW dBa
33dBa
Load
41dBa
38dBa
43dBa
The acoustic level of the Thermaltake Toughpower Grand was not very impressive either, but wasn't too bad. We were used to the acoustic level of the Sapphire PURE 1250W PSU at 43dBa, so a 2 dB(A) difference was nice on the Toughpower Grand. Though what surprised us the most was the Cooler Master Silent Pro Gold which seemed to be very quiet at idle and slightly less noisy than the Toughpower Grand and the PURE PSUs. The LOW dBA on the Cooler Master Silent Pro Gold 1200W PSU means that the PSU went under 30dBA.
Conclusion
The Thermaltake Toughpower Grand 1200W Modular Power Supply is a very powerful unit, with pretty good power efficiency and ripple suppression. However, it's voltage regulation is not perfect. It would have been much nicer to see a tighter voltage regulation, because the power supply at full load might be experiencing about 0.2V undervoltage on the 12V rail. This is not a recent problem though–Thermaltake has been pretty well known for loose voltage regulation on their power supplies, and we were hoping that they would address this issue on their latest Toughpower Grand 1200W PSU.
The potential for overclocking and running a high-end system is there, though we cannot guarantee perfect stability when the power supply is fully loaded. Gamers and high-performance users can be assured that they will be getting plenty of juice for their hardware even when they are running 3-way SLI or CrossFireX based systems. Though when it comes to price, is it really worth it spending over $300 for the Toughpower Grand 1200W PSU if it is possible to save $100 and get a Cooler Master Silent Pro Gold 1200W PSU, which comes with slightly better power efficiency and better voltage regulation? Most likely not.
Cooler Master's Silent Pro Gold 1200W PSU has its cons as well, and one of the biggest problem on that power supply has to do with the non-protected screw holes on the chassis of the power supply which allows users to short circuit the unit when long screws are used. Though if the provided screws are used that the CM Silent Pro Gold 1200W PSU comes with, it is definitely a better buy over the Thermaltake Toughpower Grand 1200W PSU.
OUR VERDICT: Thermaltake Toughpower Grand 1200W PSU
| | |
| --- | --- |
| Performance | 9 |
| Value | 6 |
| Quality | 7.5 |
| Features | 9 |
| Innovation | 8 |

We are using a new addition to our scoring system to provide additional feedback beyond a flat score. Please note that the final score isn't an aggregate average of the new rating system.

Pros
Cons

Plenty of power for high-end systems

Unique Design and Modular

Plenty of power leads

Great Accessories

Low Heat Output

Loose voltage regulation

Louder fan than expected

Not 100% Modular

Expensive!
Summary: After performing several tests compared to the CM Silent Pro Gold 1200W PSU, the Thermaltake Toughpower Grand 1200W PSU fell a bit short to our expectations. Because of loose voltage regulation and the price of the power supply the PSU earns an 8/10. However, for its design and power capability, it earns the Bjorn3D Silver Bear Award.