Kingston just released their fastest flash drive yet–the DataTraveler Ultimate 3.0 Generation 2. Find out what this 32GB USB 3.0 capable beast can do.
Introduction
The emergence of new technologies has increased the size of files across the board in computing. However, larger files also mean a need for faster transfer. People who regularly transfer several gigabytes of valuable data at a time have no urge to wait 2 hours for their information to be transferred.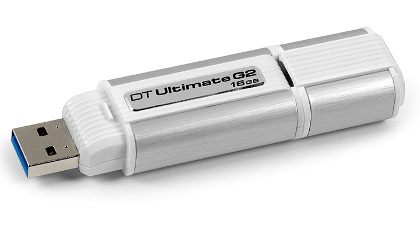 The 16GB Version of the Kingston DTU3G2
A couple weeks ago, Kingston released their DataTraveler Ultimate 3.0 Generation 2 flash drives. These flash drives use the USB 3.0 standard, and are reported to be Kingston's fastest flash drives, with stunning speeds of 100MB/s read and 70MB/s write when plugged into a USB 3 port. The drives are available in 16GB, 32GB, and 64GB versions.
We'll put Kingston's claims to the test, and see if the drives are really worth what they claim. Shown above is the 16GB version; today, we're testing the 32GB version, which retails for $80 USD on Newegg.
Features & Specifications
The flash drive comes with a 5 year warranty.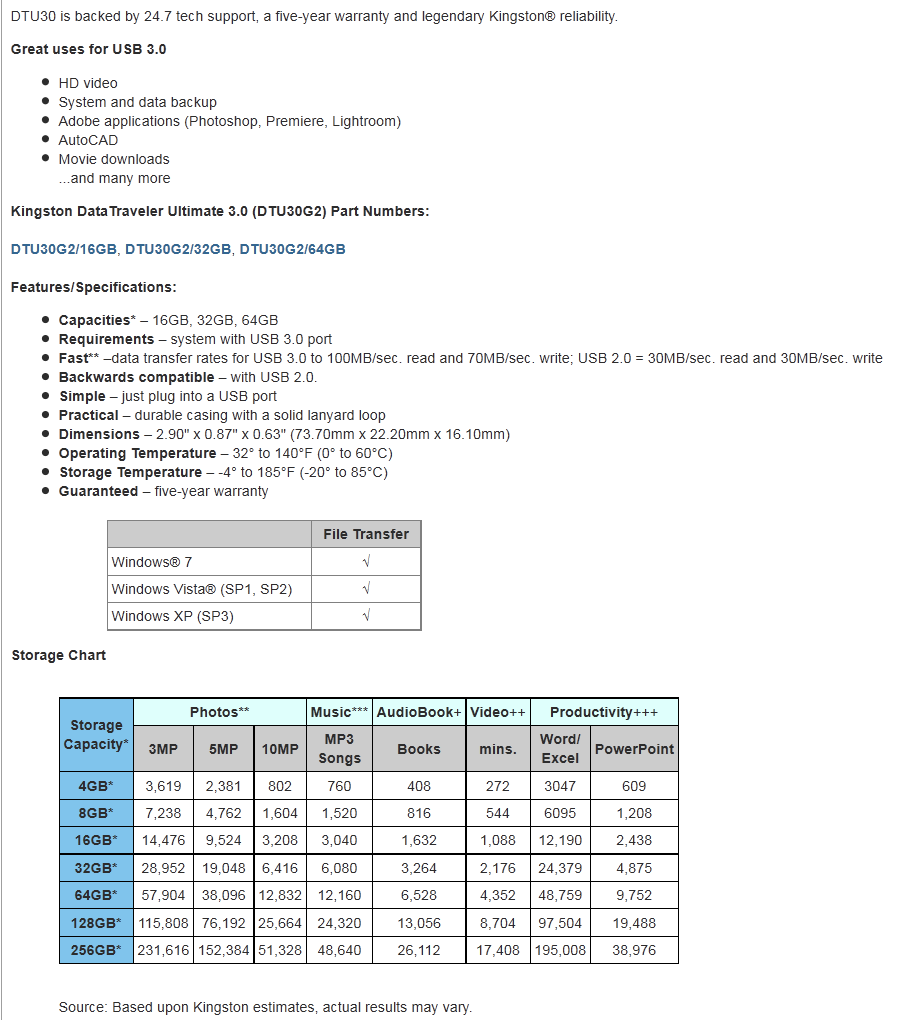 Pictures & Impressions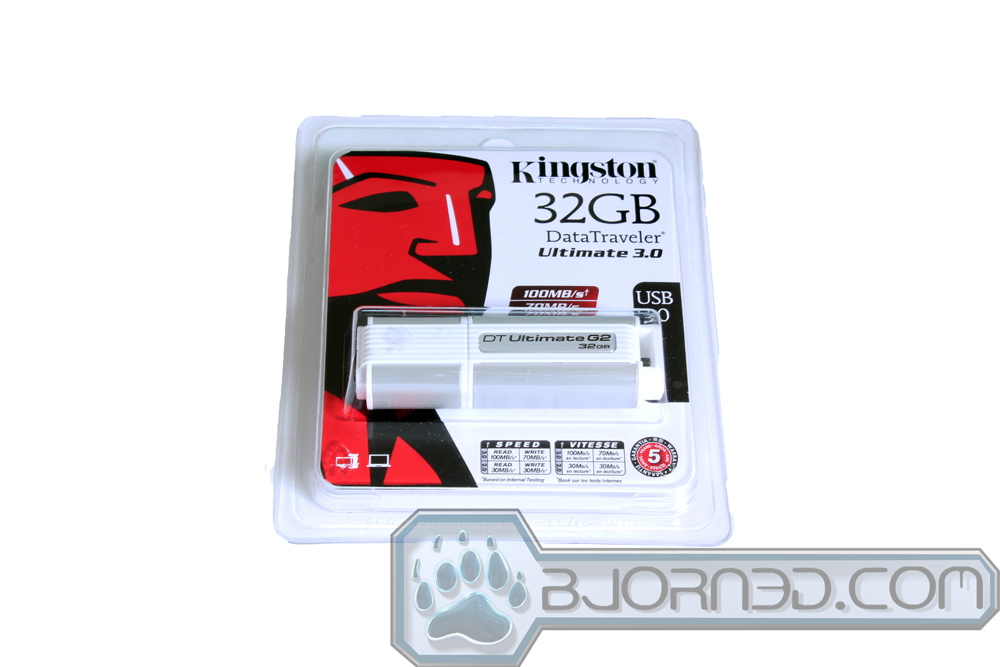 The flash drive comes in the standard hard plastic packaging, which may be a little difficult to remove. However, we managed to remove it with a heavy pair of scissors. The packaging has relevant information written on it, such as capacity and warranty. The package also proudly boasts the USB3.0 capability and the transfer speeds.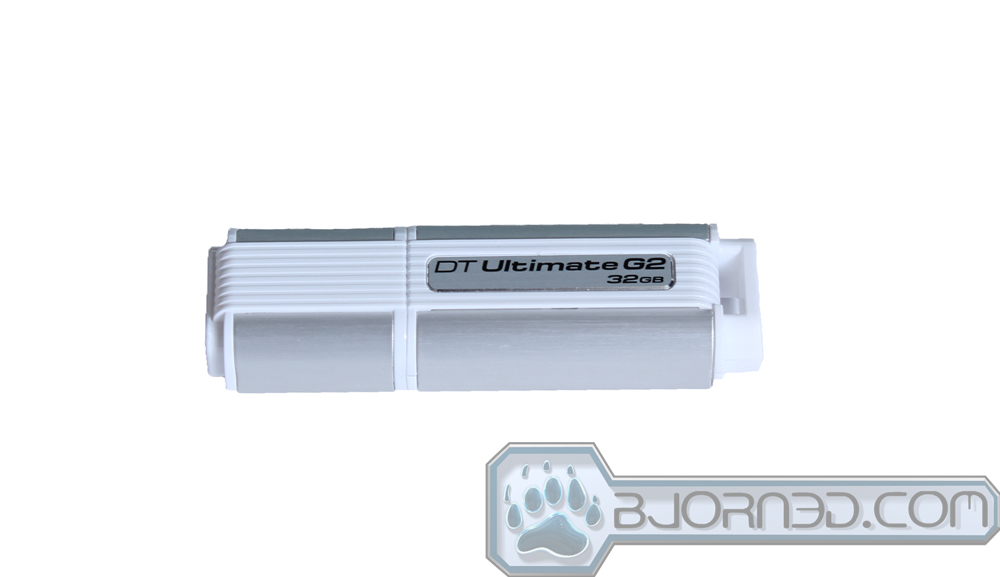 The flash drive is shiny and fat. It has sturdy construction and is made of tough plastic and aluminum.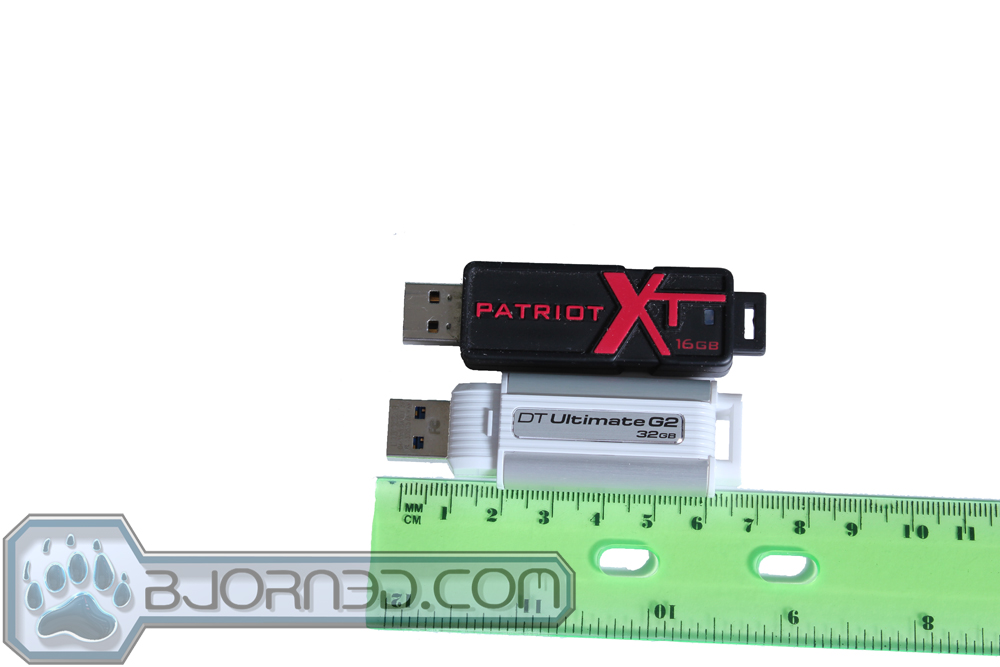 The flash drive is about 6.5cm long. Here, we compare its length with a 16GB USB 2.0 Patriot XPorter XT.
Testing & methodology
For the purpose of accuracy, all our testing runs were carried out three times. This ensures that we don't have any random error in our results. We ran CrystalDiskMark, HDTach, HDTune, and productivity file transfer tests on the drive.
Test Rig
Case
Zalman Z9 Plus Mid-Tower Case
CPU

Intel Core i5-2500K @ 3.3GHz

Motherboard
ASUS P8P67 Deluxe LGA 1155
Ram

Kingston H2O 8GB (4x2GB) DDR3 2133MHz 9-9-9-27

CPU Cooler
Intel XTS100H Destkop Thermal Solution
Storage
1x WD Caviar Black 1TB 7200RPM
Optical
ASUS DVD Burner
GPU

1x Nvidia GeForce GTX 560 Ti

Fans
1x 120mm (bottom left side panel)
1x 120mm (rear panel)
1x 120mm (bottom front panel)
1x 120mm (rear top panel)
PSU

Corsair HX Series 750W Modular Power Supply

Mouse
Razer Lachesis
Keyboard
Logitech Keyboard
Results
USB 3.0 Testing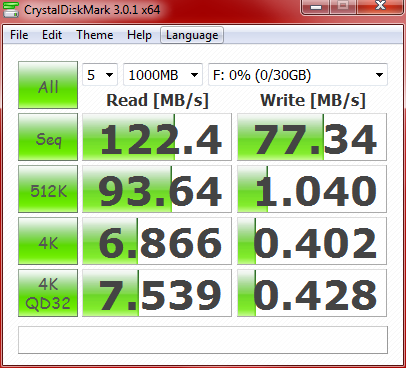 The drive performed excellently in CrystalDiskMark, averaging around 122MB/s read and 77MB/s write speeds, just as the packaging claimed.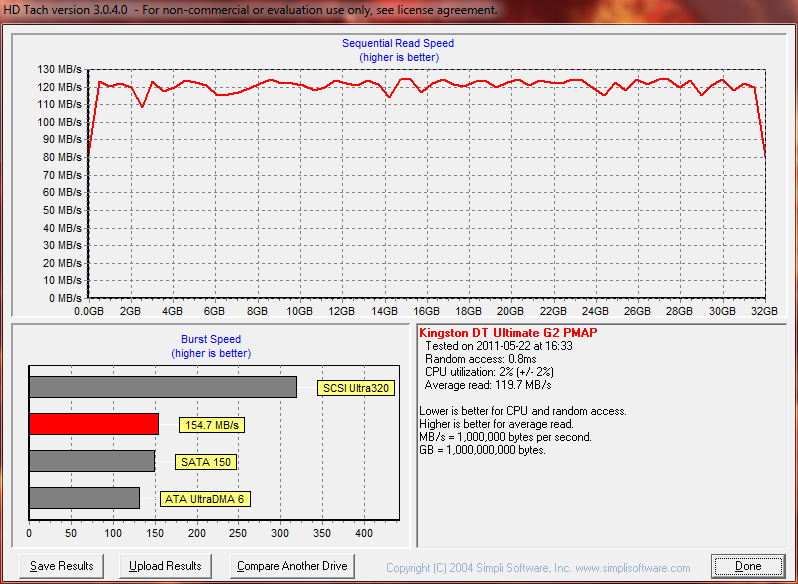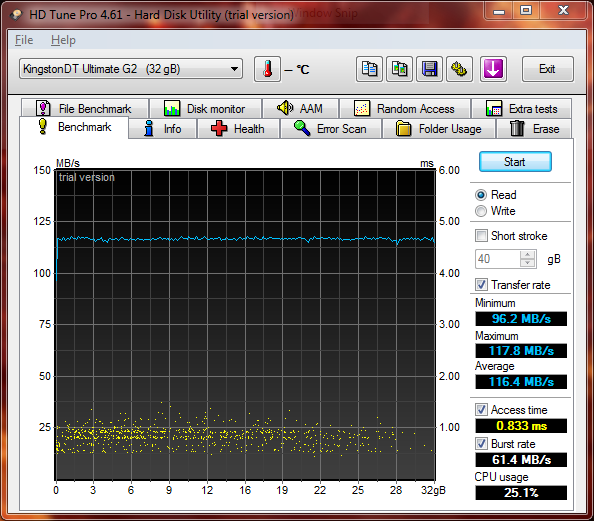 The drive performed well in both HDTach and HDTune, and stayed around an average of 115-120MB/s.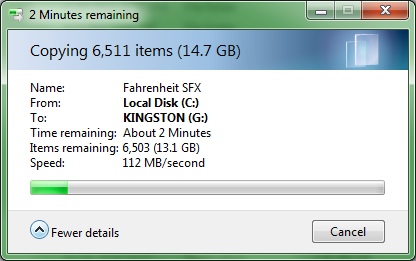 For the productivity test, we performed two operations. First, we transferred one large file of 8.15GB to the flash drive. Then we transferred a large number of different files (14.7GB in size altogether). The performance dropped slightly in the second test, though this is to be expected since there are several thousand more files being transferred. However, the performance stayed consistently above 100MB/s throughout.
USB 2.0 Testing
Since older computers are not compatible with USB 3, and there are still users who use USB 2 as the primary USB transfer bus, we did testing on USB 2 as well.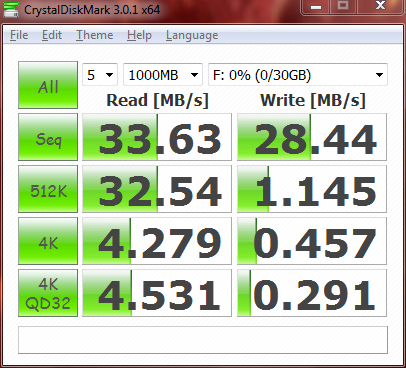 A USB 3 drive in a USB 2 port will be limited to USB 2 transfer speeds, but the improved technology of the USB 3 chip does yield a marginal speed increase, as seen here.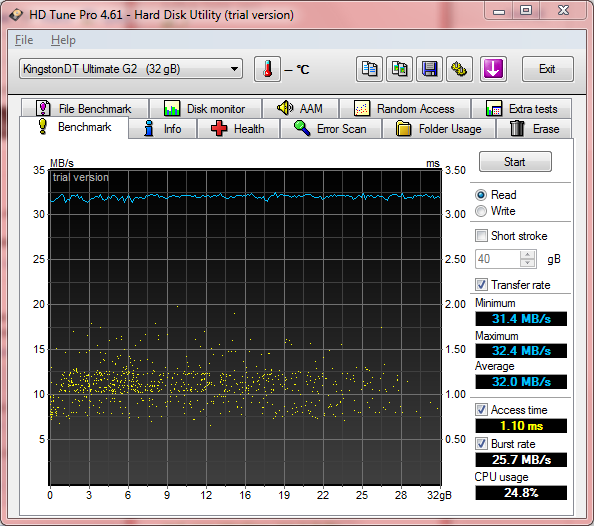 The drive stayed consistently above 30MB/s in a USB 2 port, and had a higher access time.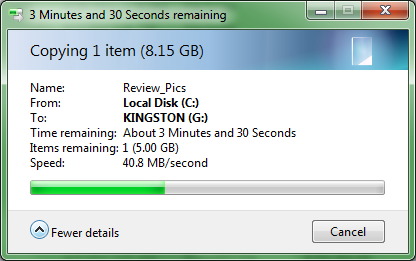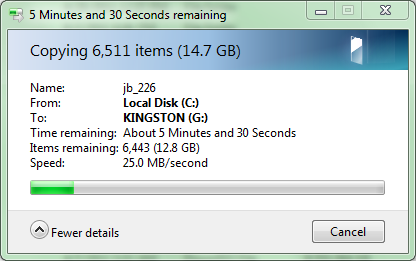 We did the same productivity tests for USB 2 as we did for USB 3. The drive stayed above 30MB/s when transferring the single large file. However, the drive lagged slightly when processing the folder with large numbers of files, and dipped to around 25-30MB/s. However, considering its other test results and its large capacity, we can comfortably say this drive has great performance.
Conclusion
This flash drive made our jaws drop (not really, but we were still pleasantly surprised). It has great performance, and is a great overall drive. It stays consistent in terms of performance, is sturdily built, and is compact and easy to carry around. We also liked that it is backwards-compatible with USB 2.0, since many older computers do not have USB 3.0.
We are sure this drive will make a great utility for anyone who needs data transferred quickly, and the drive's strong construction means that it won't break in the middle of a crucial moment.
OUR VERDICT: Kingston DTU3G2 32GB Flash Drive
| | |
| --- | --- |
| Performance | 9 |
| Value | 8.5 |
| Quality | 9 |
| Features | 8 |
| Innovation | 8 |

We are using a new addition to our scoring system to provide additional feedback beyond a flat score. Please note that the final score isn't an aggregate average of the new rating system.

Pros
Cons

Sturdy and well built

Great performance

Backwards compatible with USB 2.0

Compact

Speed decreases when transferring large numbers of files through USB 2
Summary: The Kingston DataTraveler Ultimate 3.0 Generation 2 flash drive is a sturdy and well built drive. It has great performance and is compact and easy to carry around. For its large capacity and excellent performance, the Kingston DTU3G2 flash drive earns the Bjorn3D Silver Bear Award.