The Sapphire HD6670 1GB card is great budget card for people looking to upgrade an old system or looking to build an HTPC.
INTRODUCTION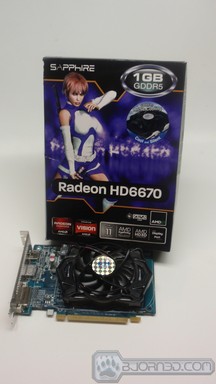 With the release of the three Turks GPU's (the HD 6450, HD 6570, and HD 6670), AMD now has nine graphics cards in their Northern Island line-up. The lower-end mainstream lineup goes as such:
HD 6670 1GB  $100
HD 6570   $75
HD 6450   $50
Today we're looking at the HD 6670 from Sapphire, that heads the three 40nm "Turks" graphics cards. It is aimed at the lower to mid-range segment of the market — those that want the ability to take advantage of DX11 graphics in games, use of 3 monitors for increased productivity; and the HTPC crowd with the HDMI and Audio support, AMD HD3D for watching 3D Blue Ray movies while staying quiet and unobtrusive. 
A near competitor to this card, from the Nvidia camp, is the GTS 450 which is priced at $115, so we are interested to see how the HD 6670 stacks up against this card.
The Sapphire HD 6670 uses the reference specifications and has 716 million transistors, 480 stream processors and 24 texturing units. The core clock is 800 Mhz and its 1024 MB GDDR5 of memory runs over a 128 bit interface giving it 64 Gb/s bandwidth. The memory is clocked at 1000 MHz.
Specifications
Specification

 SAPPHIRE HD 6670 1GB
Manufacturing process

40nm

Transistor count

716 million

Stream Processors

480 

Core clock speed

800 MHz

Memory 

1024 MB GDDR5

Memory Clock Speed

1000 MHz (4000 MHz effective)

Memory Interface

Memory Transfer Rate

Texture Units

24

Color  ROPs

8

TDP

66 watts

Power Supply Requirements

400 watts

Connectivity

1 x Dual-Link DVI

1 x HDMI 1.4a

1 x DisplayPort

DisplayPort 1.2

Price

$100
Features
Feature

 SAPPHIRE HD 6670 1 GB

Advanced GDDR5 Memory Technology

GDDR5 memory provides twice the bandwidth per pin of GDDR3 memory, delivering more speed and higher bandwidth.

AMD Eyefinity

AMD Eyefinity technology maximises your field of view across up to three displays, fully engaging your peripheral vision.  For gamers this puts you right IN the game and for other applications it helps to increase productivity by maximising your visual workspace so that you can see more windows simultaneously.  AMD Eyefinity technology is also ideal for multimedia applications as it allows you to keep several 'palettes' or 'panels' open over a larger workspace whist you edit your images or videos.

To support 3 displays, one of the monitors has to support DisplayPort

40nm Process Technology

Cutting edge manufacturing process allows for efficient, high performance parts which use less power than their predecessors.

PCI-Express 2.0

The latest PCI-Express 2.0 specification doubles data throughput from 2.5Gbps to 5Gbps allowing you to exploit the full performance potential of your graphics card.

AMD HD3D Technology

Enjoy the most immersive experience possible with full support for High Definition Stereoscopic 3D, a technique that presents 2D images (movies, games, photos) in a format that creates the illusion of three-dimensional depth when using compatible 3D displays / glasses / software. 

While AMD is not pushing 3D as much as Nvidea, they still do support 3D gaming. Instead of creating drivers themselves they are relying on 3rd parties to create them so support is minimal at best. Since stereoscopic 3D involves displaying 2 images there is much more work for the GPU to do and the Sapphire HD 6670 would not be able to cope unless the game was not very graphically intense to begin with. 

The main selling point here is the ability to watch blue ray 3D movies for which we cover in this review.

Dual-Link DVI

Equipped with the most popular Dual Link DVI (Digital Visual Interface), this card is able to display ultra high resolutions of up to 2560 x 1600 at 60Hz.

HDMI 1.4a

HDMI 1.4a builds on previous generations of HDMI connectivity with support for Deep Color, 7.1 High Bitrate Audio, and 3D Stereoscopic support, ensuring the highest quality Blu-ray and video experience possible from your PC.

DisplayPort

Enjoy the benefits of the latest generation display interface, DisplayPort. With the ultra high HD resolution of 2560 x 1600 the graphics card ensures that you are able to support the latest generation of LCD monitors.

DisplayPort 1.2

Doubling the effective bandwidth of previous DisplayPort implementations, DisplayPort 1.2 now includes support for Multi-Stream, allowing you to drive up to four separate monitors from a single DisplayPort 1.2 connector (requires DP1.2 monitors or Multi-Stream compatible hub), Stereoscopic 3D monitor support  and adds support for high quality, lossless, 7.1 channel audio formats.

Microsoft DirectX® 11

Get intense gaming performance and unrivalled image quality with stunning 3D visual effects, realistic lighting and lifelike imagery with SAPPHIRE graphics cards supporting DirectX®11. New features in DirectX®11 such as Hardware Tesselation, HDR Texture Compression, Multi-threading support and DirectCompute bring lifelike gaming and an experience never possible on a PC before.

OpenGL® 4.1

Supports the latest OpenGL API (Application Programming Interface) to accelerate performance of applications outside of DirectX®, i.e. Adobe Autodesk 2D/3D graphic design.

Shader Model 5.0

Supports the latest Shader Model 5.0 feature set including VTF (Vertex Texture Fetch) which is a key feature used extensively in many of the games that ship today. Without support for this feature the game will fall back to a lesser shader path resulting in the loss of cool, lifelike effects made possible by Shader Model 5.0

AMD Catalyst Control Center™

The AMD Catalyst Control Center™ software application gives you complete control over the performance and visual quality of your SAPPHIRE AMD Radeon™ based graphics card allowing for the best experience on your PC.

Accelerated Video Transcoding

Massively parallel architecture and support for common shader transcoding instructions accelerates video encoding / transcoding way beyond what was possible with the CPU only.

(Requires application support for AMD Stream technology and Digital rights management restrictions may apply)

Dolby® TrueHD and DTSHD Master Audio™ Support

Support for copy protected, high bandwidth, 7.1 channel surround sound over HDMI. Get a fully immersive, high definition audio experience with the latest Blu-ray movies. (Requires a DVI to HDMI dongle on some models, an HD capable monitor and a Blu-ray drive)

Anti-aliasing features

Supports advanced AA (Anti-aliasing) features to maximise your enjoyment of high definition gaming.

Multi-sample anti-aliasing (2, 4 or 8 samples per pixel)
Up to 24x Custom Filter Anti-Aliasing (CFAA) for superior quality
Adaptive super-sampling and multi-sampling
Gamma correct
Super AA (AMD CrossFireX™configurations only)
All anti-aliasing features compatible with HDR rendering

Physics processing support

Accelerates the performance of Fluid Dynamics, Cloth Simulation, Soft or Rigid Body Dynamics, Universal Collision Detection, Hair Simulation and Finite Element Analysis for the most lifelike gaming experience.

AMD PowerPlay™

Dynamically manage power efficiency and take control of your performance with AMD's revolutionary AMD PowerPlay TM power management technology delivering high performance features when needed and conserving power when the demand on the graphics processor is low. This seemless technology dramatically reduces the overall power consumption allowing for break-through energy efficiency.

AMD Advanced Parallel Processing technology

Accelerate the most demanding applications by offloading parallel data compute tasks from the CPU to GPU, dividing the tasks as evenly as possible for improved system performance and reliability.

Display Flexibility

Offers an incredible choice of the latest display connectivity options natively on the board, including dual-link DVI-I, DisplayPort and HDMIalong with adapters to ensure compatibility with your legacy analogue VGA monitor. 

Enhanced Unified Video Decoder 3 (UVD 3)

 

Watch the hottest Blu-ray movies or other HD content at full 1080p (and beyond !) display resolution. Enjoy a feature rich video experience with enhanced Unified Video Decoder 3 (UVD 3), offloading the bulk of the video decoding tasks from the CPU to the GPU allowing for a cooler, quieter and more balanced system.

Windows® 7 support

WHQL (Windows Hardware Quality Labs) Certified drivers and logos are available for all SAPPHIRE HD2000, HD3000, HD4000 and HD5000 series cards ensuring compatibility and reliability with Microsoft Windows 7.

AMD App Acceleration

Use the power of your AMD Radeon™ GPU to speed up everyday applications like your web browser and Microsoft Office 2010 using AMD App Acceleration. Do more, and do it faster. Watch Blu-ray movies, online streaming video and other HD content using your AMD Radeon™ GPU and get smooth – high quality playback with amazing image quality.
Pictures & IMpressions
The box is small, which is quite refreshing from those behemoths we are used to seeing through the labs. It is nicely designed and shows all the features pertaining to the card.
Opening the box we have the following contents:
An installation guide
A driver CD
DVI to VGA adapter
Graphics card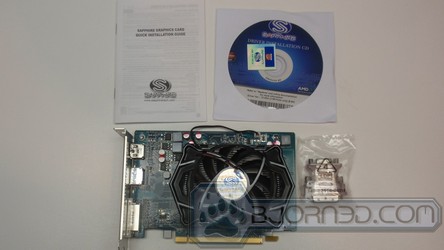 Taking a closer look at the card, we can see that its is powered by the PCI-E slot only, so there is no need for for extra power cables. Indeed, the graphics card only requires a 400W power supply, so it should be okay for many older systems. There is no place for a CrossFire bridge–the HD 6670 does not support CrossFire technology.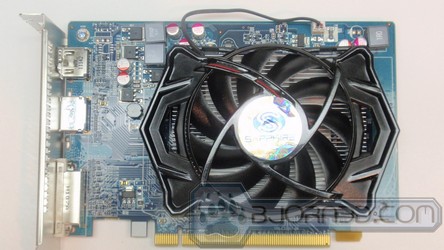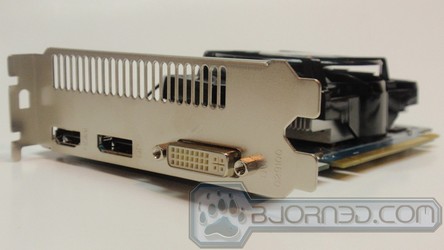 Here we can see the DisplayPort 1.2, HDMI and DVI ports for connectivity.
Also prominent is the Arctic Cooling fan that prides itself on offering great cooling at very low noise levels.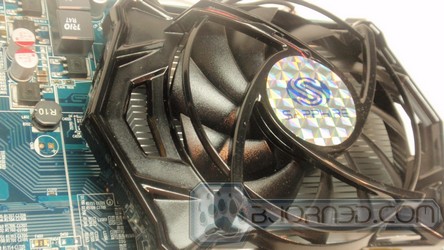 The card is just under 7″ in length and weighs in at 10.1 oz so a small case should accommodate it nicely.
We were disappointed at the size of this card. We had hoped that for a card with such a low TDP, the design would only take up one slot. The two-slot space requirement is detrimental to HTPC users, as space in HTPC cases can be tight.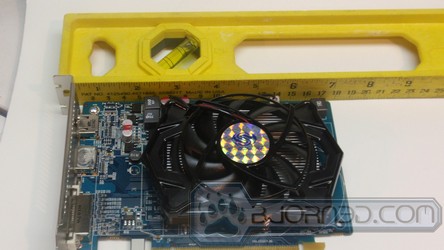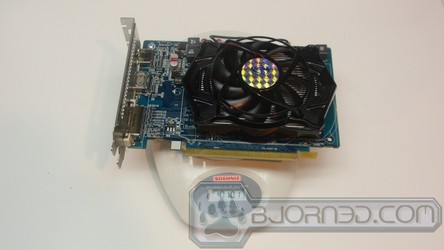 Let's move on to some testing and see how the Sapphire HD 6670 1GB performs.
Testing & methodology
In the interests of thoroughness and accurate results, we ran each test at least three times, and some tests more than that. We average the total of all the tests from each benchmark then report the average here.
The OS used was Windows 7 Home Premium 64bit with all patches and updates applied. We also use the latest drivers available for the motherboard and any devices attached to the computer. We do not disable background tasks or tweak the OS or system in any way. We turn off drive indexing and daily defragging. We also turn off Prefetch and Superfetch. This is not an attempt to produce bigger benchmark numbers. Drive indexing and defragging can interfere with testing and produce confusing numbers. If a test were to be run while a drive was being indexed or defragged, and then the same test was later run when these processes were off, the two results would be contradictory and erroneous. As we cannot control when defragging and indexing occur precisely enough to guarantee that they won't interfere with testing, we opt to disable the features entirely.
 
Hardware

Case

Coolermaster HAF 912

CPU

Intel Core i7 950 @ 3.8 GHz

RAM

Mushkin Silverline DDR3 1600 MHz (8-10-10-24) Triple Channel

Motherboard

ASRock Extreme 6  X58

Hard Drive

OCZ Vertex 120 GB for

  

OS and applications

OS

Windows 7 Home Premium 64 bit

Optical Drive

LG Blue Ray ROM/ DVD burner
Video Cards

Sapphire HD 6670 1GB

ASUS HD 5970

GTX 560 Ti 1024 MB

GTX 480

ASUS HD 6950 2GB

HD 5870

Galaxy GTX 470

HD 6870

GTX 285

GTX 460 1 GB

GTS 450

Gibabyte HD5770 SOC

ASUS ENGT 430

GTX 580

GTX 570

GTX 275

Gigabyte GTX 260 SOC

Case Fans

2 x Coolermaster Megaflow 200mm

1 x Coolermaster 140mm

1 x Coolermaster 120mm

Power Supply
OCZ Z series Gold 850W
Benchmarks Used
3D Mark 11
3D Mark Vantage
Crysis
Far Cry 2
Metro 2033
S.T.A.L.K.E.R.: Call Of Pripyat
Unigine Heaven
Video Transcoding
Blue Ray 3D Performance
overclocking
One joy of buying a budget component is trying to push it so that it can perform similar to a mainstream or high-end one. Fortunately hardware manufacturers are still fairly open to this practice (except for Intel).
Using MSI Afterburner V2.1 we achieved the following results:
| | |
| --- | --- |
| Default Clock Speed (MHz) | Overclocked Speed (MHz) |
| Core: 800 | Core: 895 |
| Memory: 1000 | Memory: 1150 |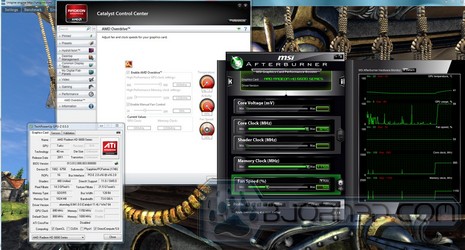 That is a 12% increase on the core and 15% on the memory, the latter of which might be able to go further, but 1150 MHz was the maximum in MSI Afterburner. The shade clock was locked, as was the voltage control. The default fan speed was 50%, which cannot be heard over the other system fans.
Can this overclock help to make some games like Crysis and Metro 2033 playable ? Let us find out.
3dmark 11

"3DMark 11 is the latest version of the world's most popular benchmark for measuring the graphics performance of gaming PCs. Designed for testing DirectX 11 hardware running on Windows 7 and Windows Vista the benchmark includes six all new benchmark tests that make extensive use of all the new features in DirectX 11 including tessellation, compute shaders and multi-threading. After running the tests 3DMark gives your system a score with larger numbers indicating better performance. Trusted by gamers worldwide to give accurate and unbiased results, 3DMark 11 is the best way to test DirectX 11 under game-like loads."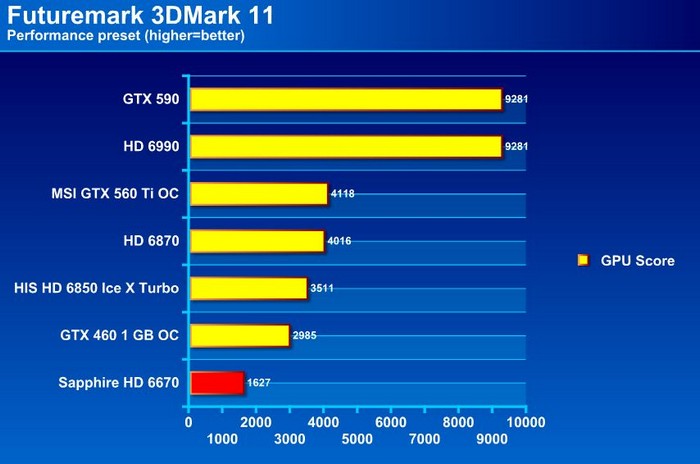 The graphics performance is just under half of that of an overclocked GTX 460 1 GB, so the HD 6670 probably performs about 50% of the GTX 460 768 MB model. This not bad performance but is it value for money when that card can be bought for as little as $150 (50% more) ?
3dMark Vantage

The newest video benchmark from the gang at Futuremark. This utility is still a synthetic benchmark, but one that more closely reflects real world gaming performance. While it is not a perfect replacement for actual game benchmarks, it has its uses. We tested our cards at the 'Performance' setting.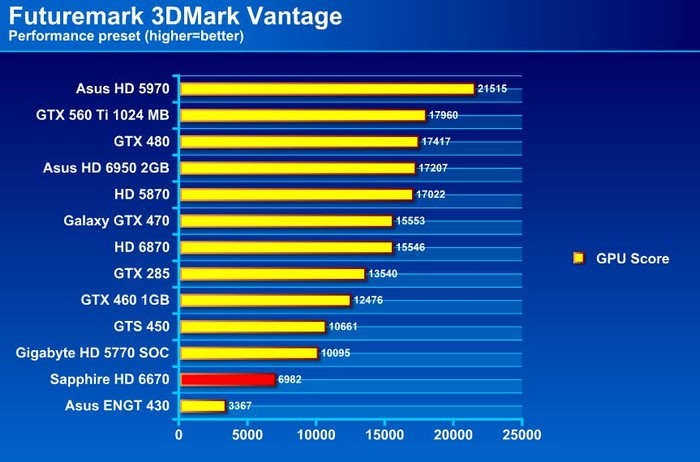 3DMark Vantage echoes what was shown by 3DMark 2011. The card is not a hard core gaming card. What will be interesting to see is how it performs in actual games compared to the GTS 450 and Gigabyte HD 5770 SOC as this benchmark suggests that they are 59% and 45% more powerful (cost 15%.and 40% more respectively).
unigine heaven

Unigine Heaven is a benchmark program based on Unigine Corp's latest engine, Unigine. The engine features DirectX 11, Hardware tessellation, DirectCompute, and Shader Model 5.0. All of these new technologies combined with the ability to run each card through the same exact test means this benchmark should be in our arsenal for a long time.
The settings we use for this benchmark are as below, a run using a resolution of 1920 x 1200 wasn't deemed necessary as the card would not perform very well.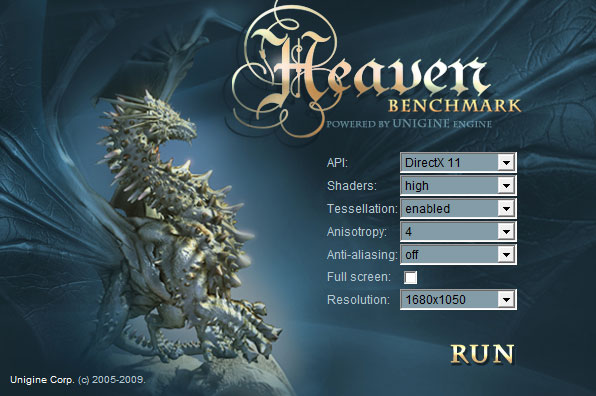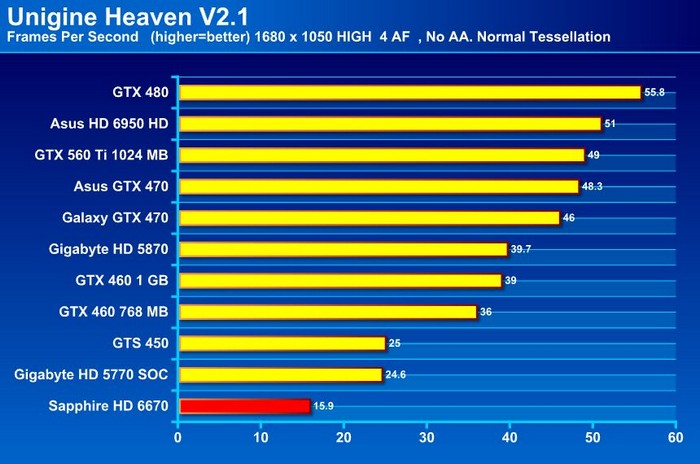 The Sapphire HD 6670 really struggles here. AMD has made great strides with optimizing tessellation ability, however the GTX 470 768 MB card is 126% faster yet only 50% more expensive than the HD 6670. The HD 5770 and GTS 450 are about 56% faster, again with the latter proving the better value.
Crysis

Crysis is the most highly anticipated game to hit the market in the last several years. Crysis is based on the CryENGINE™ 2 developed by Crytek. The CryENGINE™ 2 offers real time editing, bump mapping, dynamic lights,network system, integrated physics system, shaders, shadows, and a dynamic music system, just to name a few of the state-of-the-art features that are incorporated into Crysis. As one might expect with this number of features, the game is extremely demanding of system resources, especially the GPU. Despite the recent release of Crysis 2, we still use Crysis as a benchmark due to its high graphical intensity.
We used the stand alone Crysis benchmark tool at resolutions 1680 x 1050 and 1900 x 1200.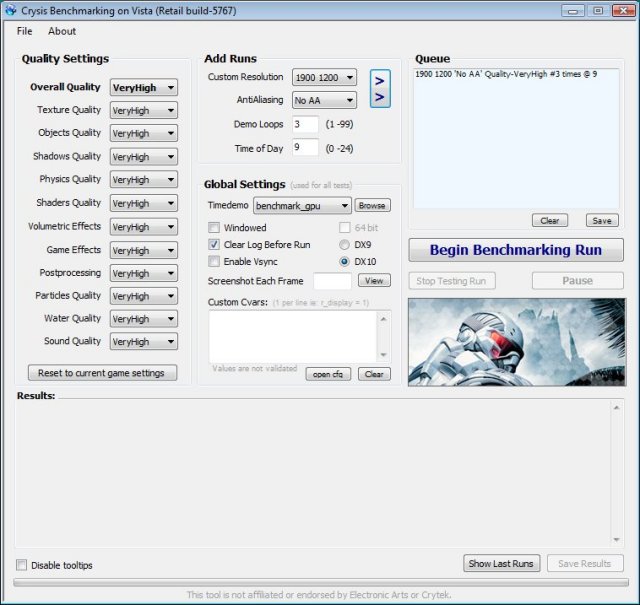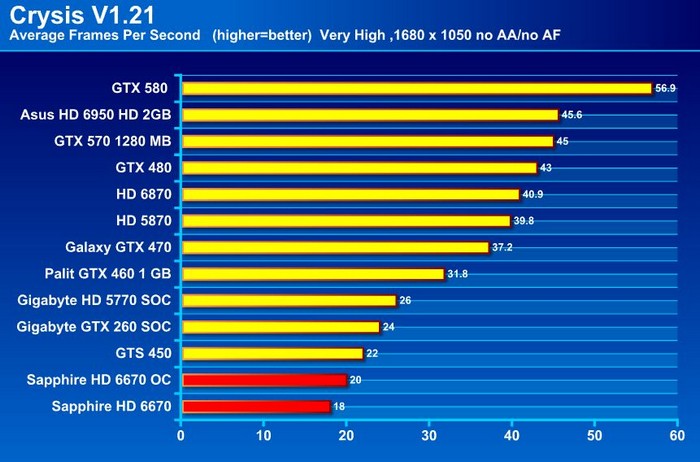 Despite Crysis being an "old" game, it still requires a powerful card to play if with all the eye candy turned on. Here we use VERY HIGH settings, which tax even the GTS 450 considerably. To get an average of 18 fps is not bad for such a budget card. Again, for those who already have a DX 10 card like the GTX 260 or above, and don't want the features that the HD 6670 brings, the money would be better spent on an SSD or some other component.
Crysis is a game that can be played reasonably well even if the frame rates are in the low 20's, so overclocking the card did help and even brought it within breathing distance of the more expensive GTS 450. Still, it is recommended to either lower image quality or resolution to ensure fluid game play.
Let us take a look at 1920×1200 resolution. Though we don't expect this to be playable at the very high graphcis setting, it will give those with larger monitors an idea of what to expect.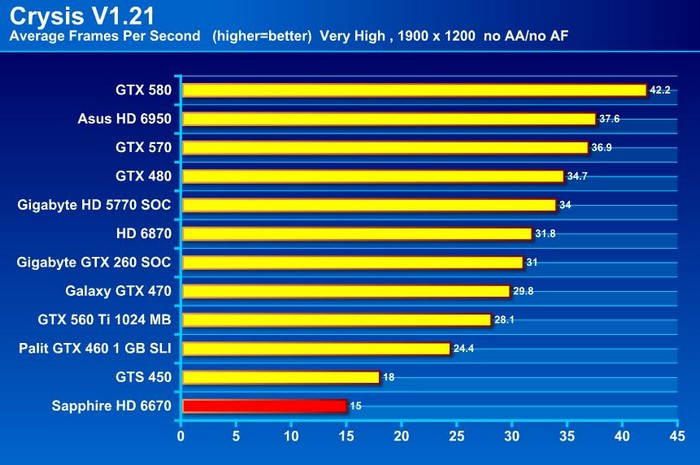 Even the GTS 450 struggles. Overclocking the HD 6670 will give about another 2 fps but, still will not break that 20 fps threshold for playability.
So what does it take to get playable frame rates using the Sapphire HD 6670 ?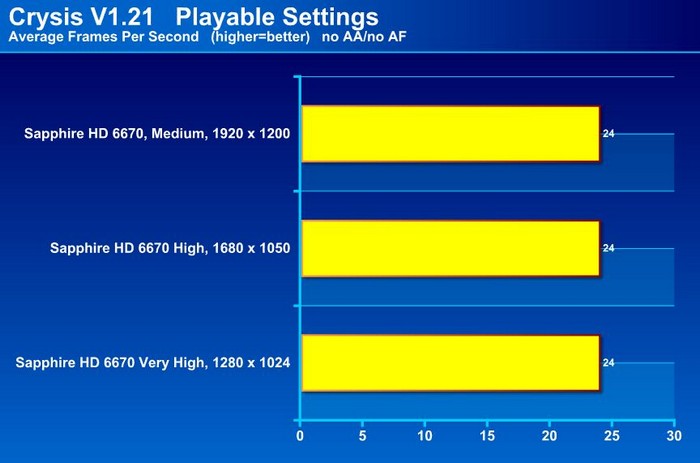 For those who want to game at 1920 x 1200, medium settings are recommended. 
At a 22" monitor's default resolution (1680 x 1050), high settings work fine, and for those who absolutely must have very high quality settings, resolution should be reduced to 1280 x 1024.
For many, reducing the resolution is more preferable than sacrificing image quality, so it is good to see that this is possible with the HD 6670.
Far Cry 2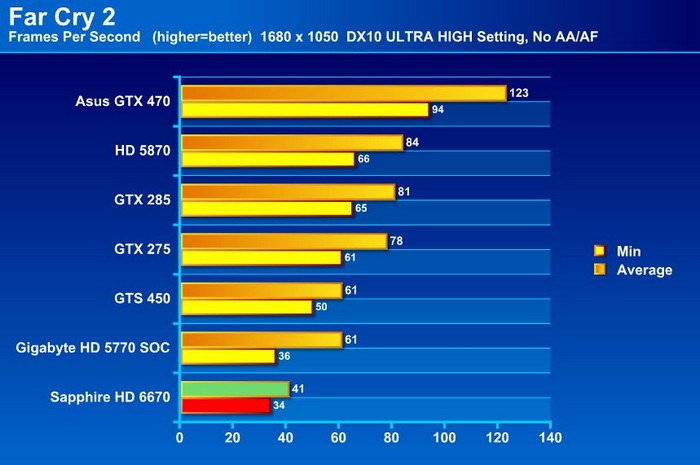 Far Cry 2 is not a new game anymore but it is still popular and as shown above, playable frame rates are achievable at Ultra High quality settings, even using a resolution that is popular for 22" monitors. In practice this is fine since people with more expensive, higher resolution 1920 x 1200 monitors, are more inclined to buy a more powerful card anyway.
Notice how close the minimum frame rate is to the more expensive HD 5770 card. This is important, it is those dips in frame rates that cause the game to be less enjoyable, and at 34 fps this is certainly not the case.
The GTS 450 is only 15% more expensive yet is 49% faster.
Also notice that the DX10 cards from a couple of years ago perform admirably, and if DX11 is not needed, then the only reason to upgrade would be to save power or use an Eyefinity setup.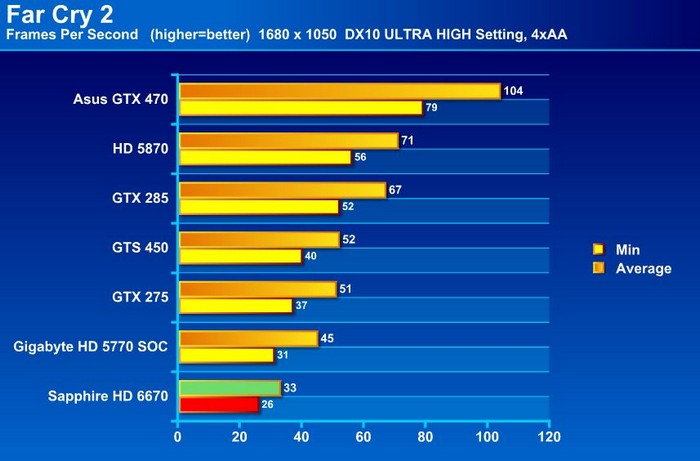 Throwing 4xAA in the mix to give better image quality does impact the card more heavily, and in intense graphic situations may cause some lag as we go below the 30 fps mark. In this situation it would be advisable to either lower the resolution or reduce quality settings slightly. Still, for a budget card, not bad performance at all. Again the GTS 450 runs all over the HD 6670 card.
Metro 2033

Metro 2033 is an action-oriented video game blending survival horror and first-person shooter elements. The game is based on the novel Metro 2033 by Russian author Dmitry Glukhovsky. It was developed by 4A Games in Ukraine and released in March 2010 for the Xbox 360 and Microsoft Windows. In March 2009, 4A Games announced a partnership with Glukhovsky to collaborate on the game. The game was announced a few months later at the 2009 Games Convention in Leipzig; a first trailer came along with the announcement. When the game was announced, it had the subtitle "The Last Refuge," but this subtitle is no longer being used.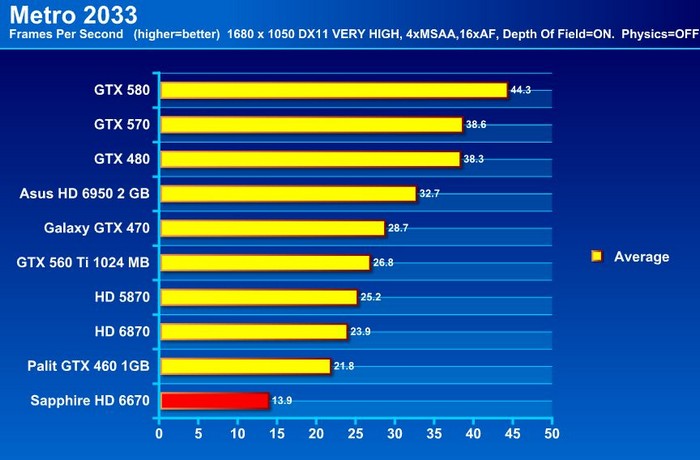 Metro 2033 is a very taxing game for any video card, but is it playable using the Sapphire HD 6670? The answer is yes, but not at very high image settings with MSAA and AF maxed out.
Let us take a look at what settings we need to use to play this game: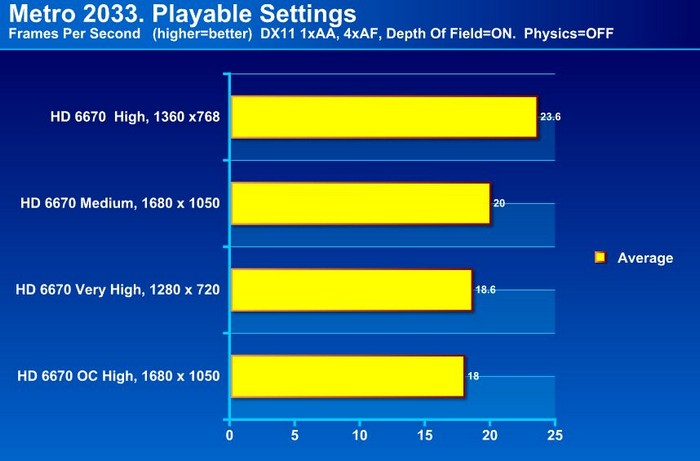 For Metro 2033, we recommend a minimum average of 20 fps. This shows that even overclocking the card didn't give us sufficient frame rates at 1680 x 1050 resolution and high quality settings – users will need to reduce image quality to medium.
The very high preset is unachievable even at 1280 x 720. The best possible image quality was high, achieved using a resolution of 1360 x 768. At these settings the game still looks outstanding.
S.t.a.l.k.e.r : call of pripyat
S.T.A.L.K.E.R.: Call Of Pripyat is the third game in the very successful S.T.A.L.K.E.R. series and makes good use of DX11 and tessellation. The stand alone benchmark tool was used to measure the frame rates.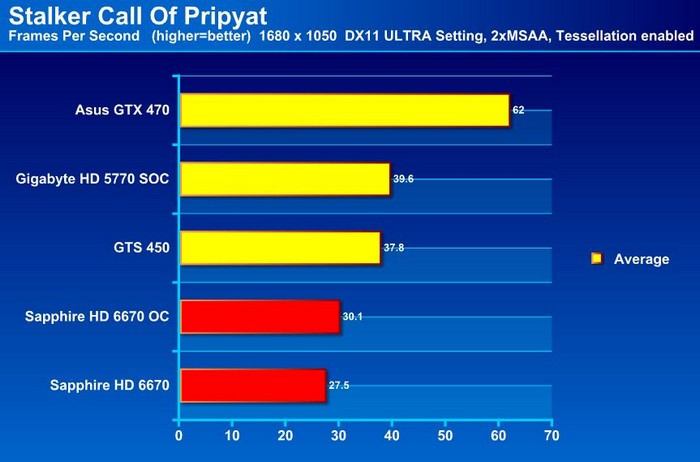 S.T.A.L.K.E.R.: Call Of Pripyat is very playable using the HD 6670. Overclocking brings an extra 10% performance to the table. Compared to the GTS 450 it is 37% slower and 44% slower to the Gigabyte 5770 SOC which is more in line with the price differential. Certainly, the GTS 450 is a more price-efficient card.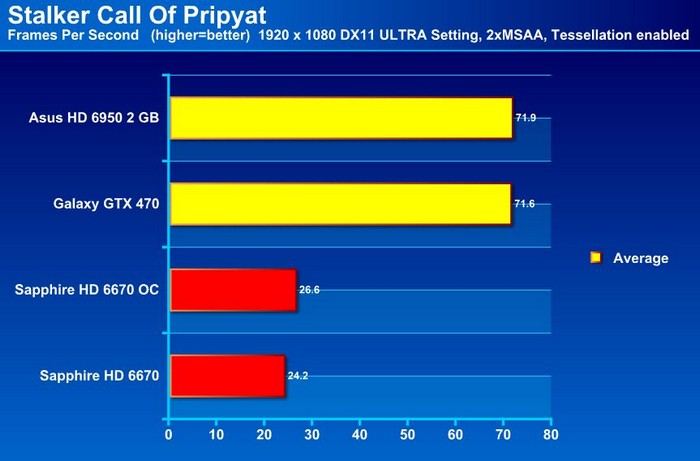 The game is playable without sacrificing image quality or resolution, but only just barely. It is recommended to reduce the resolution or image settings.
video transcoding
One of the main uses for such a budget card is video transcoding.
As Sapphire says, "Massively parallel architecture and support or common shader transcoding instructions accelerates video encoding / transcoding way beyond what was possible with CPU only".
The application used should support AMD Stream Technology so we used two popular programs, Arcsoft Mediaconverter 7 and Cyberlink MediaEspresso 6.5. These both support hardware acceleration.
We converted two movie files, one a 278 MB 1080p .mkv file in to a Blackberry .mp4 (H.264/AAC) at 320 x 240. The second was a larger 3842 MB Mpeg2 of the Aviator that was transcoded to an Ipad .mp4 file.
Using Arcsoft Mediaconverter 7 we tried one pass using standard settings and a second enabling image sharpening and upscaling to make the job more intense.
In both cases hardware acceleration was chosen to compare against just the CPU doing the work.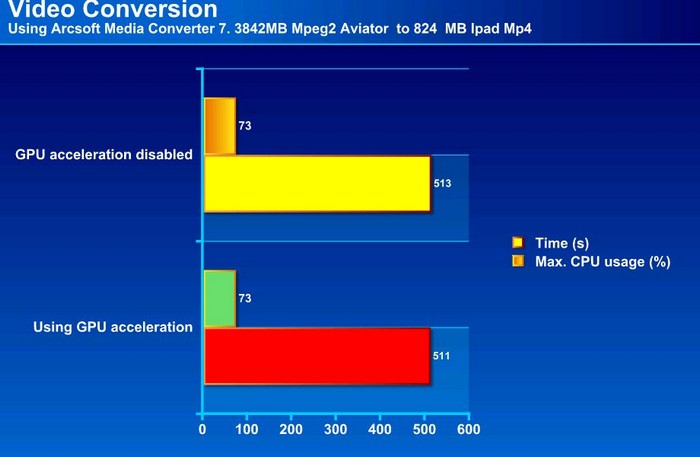 Well, to say we were shocked was an understatement. The HD 6770 didn't appear to help in any way at all. Even the maximum CPU usage was the same.
We tried it with the image sharpening option.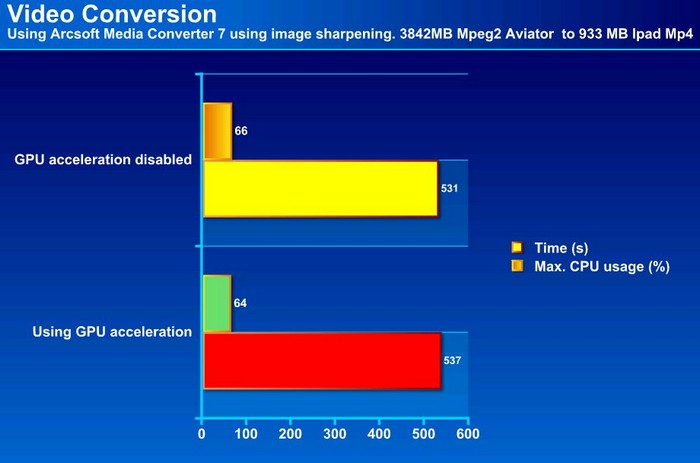 This time we saw a slight decrease in CPU usage when using the GPU, but it actually took a little longer too.
It doesn't look as if the HD 6770 is supported here.
Let us try Cyberlink MediaEspresso 6.5: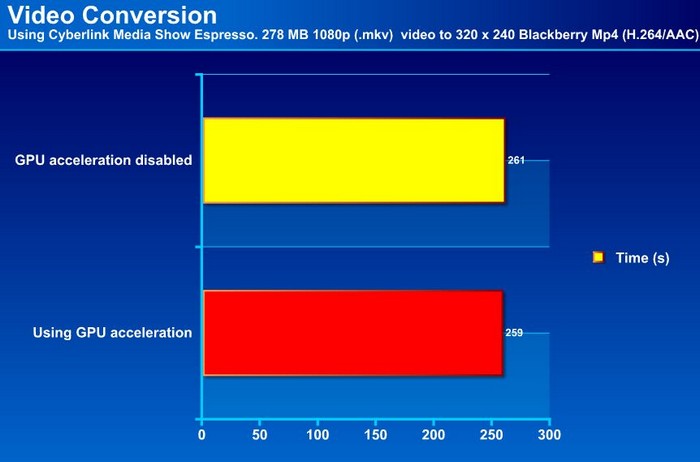 We saw exactly the same thing here. This certainly wasn't good news. The card appears to be useless in transcoding.
Blu-Ray 3d playback
The Sapphire HD6770 supports Enhanced Unified Video Decoder (UVD 3) that offloads much of the video procesing from the CPU. 
For this test we used Arcsoft TotalMedia Theater 5 and the 3D movie Tron Legacy.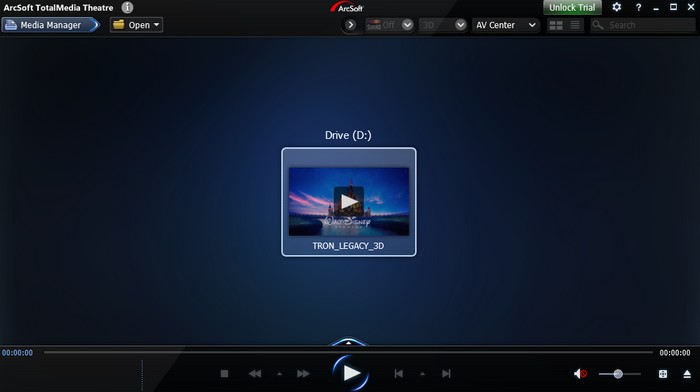 Play back was perfectly clear with no stuttering, and CPU usage remained about 5%. This GPU is great for those who watch Blu-Ray quality videos a lot, and will handle the load fine.
power consumption
The power consumption reading that was taken is for the whole computer system minus the monitor.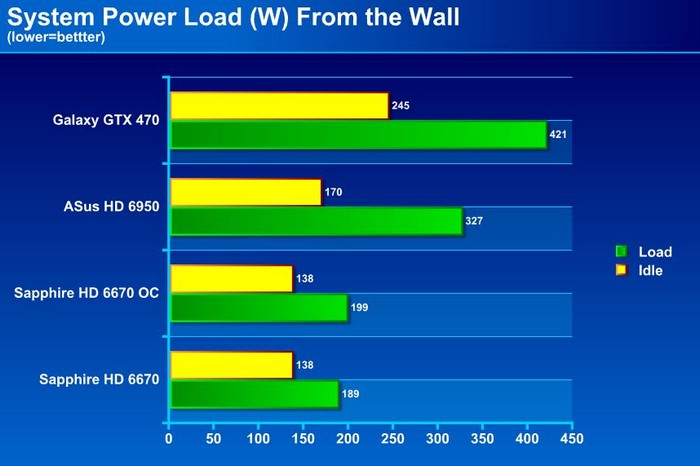 The system has very low power consumption, even when overclocked and under load. This is ideal for an HTPC system, which is likely to be left on for long hours.
temperature
The temperatures were measured using the monitoring system employed in MSI Afterbuner. Load temperatures were measured after Metro 2033 was played for 10 minutes and idle temperatures were measured when thegame was finished and the computer was at its desktop for 10 minutes. All temperatures are in degrees Celsius and the ambient room temperature was 21 degrees. Fan speed was kept at default.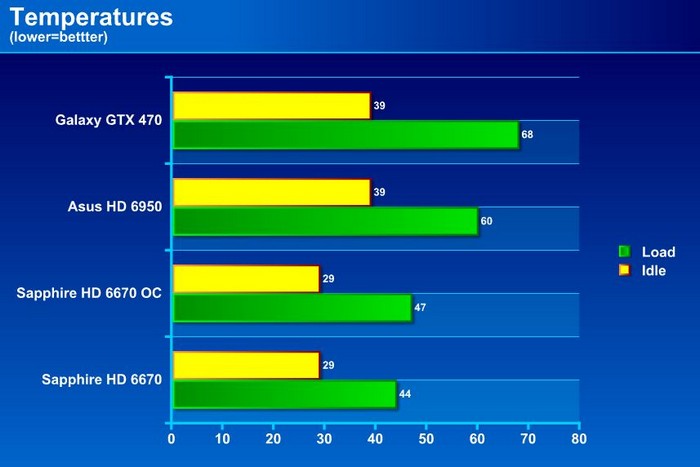 The Arctic Cooling fan and aluminum heat sink certainly did its job. It is perfect for a smaller case setup where airflow is limited.
noise

The noise level was measured using a digital noise meter, held on a tripod, 2ft away from the computer case. All the case panels were in place so as to closely mimic a real world scenario. The ambient room noise was 35 dB(A).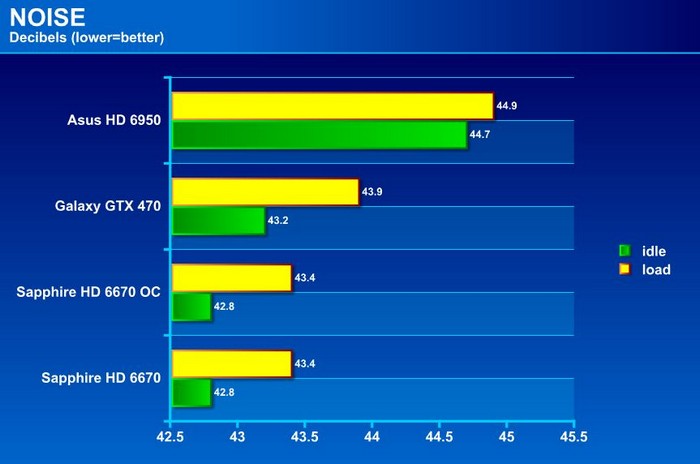 Certainly, the video card couldn't really be heard over the other system fans, so again is ideal for a HTPC set up. Even at load, we could barely hear any change from idle.
conclusion
The Sapphire HD 6670 was a bit of a Jekyll and Hyde case. On one hand we really liked its low power, noise and temperatures, its ability to play 3D Blu-Ray 1080p video perfectly. Also highly beneficial is its ability to play demanding games at medium settings, all for around $100.
On the other hand, we were disappointed that the video transcoding wasn't offloaded to the GPU. Video playback was offloaded, so we are left wondering why the same is not true for video transcoding.
Also, it wasn't the best value for money out there. The GTS 450 generally beat the HD 6670 in results, and is cheaper and about as quiet and cool.
We would recommend this card first and foremost to the HTPC crowd: users can leave it on in their case for long hours without much noise. HTPC users can also watch Blu-Ray movies and play 1080p games on big screen TVs.  We also recommend this card to people upgrading an older system, one where the power supply is at least 400W but doesn't have the PCI-E power connectors.
Hardcore gamers should definitely stay away from this card. We also wouldn't recommend it to users who are happy with their GTX 260 or above, and don't need DX11 yet. Finally, we would not recommend the HD 6670 to those who do a lot of video transcoding.
OUR VERDICT: SAPPHIRE Radeon HD6670 1GB
| | |
| --- | --- |
| Performance | 7 |
| Value | 8 |
| Quality | 7 |
| Features | 7 |
| Innovation | 7 |

We are using a new addition to our scoring system to provide additional feedback beyond a flat score. Please note that the final score isn't an aggregate average of the new rating system.

Pros
Cons

Cool and Quiet

Ideal for non-gaming high-res and Eyefinity setups

Overall good performance in games

Plays 1080p video well

 

Lower price-to-performance ratio

Does not accelerate video transcoding

 

 
Summary: The Sapphire HD 6670 is a good card, ideal for those looking to break into DX11 gaming, or want to build a quiet HTPC and don't require CUDA or Nvidia 3D vision. It has a slightly lower price-performance ratio than its competitors but it plays 1080p video perfectly.