The Kingston 12GB HyperX T1 Black Edition memory is well designed, and looks attractive. However, will it stand up to other memories in performance? Read on to find out what this memory kit can do.
Introduction

On February 28th, 2011 Kingston announced the release of their HyperX T1 Black Edition triple-channel memory kits. This memory kit has been specifically designed to support the newly introduced Core i7 990X processor and motherboards that use the X58 chipset. While some readers might consider the release of new memory for a relatively old chipset somewhat redundant, there are reasons as to why new releases could benefit top notch computer enthusiasts. While the newly introduced P67 chipset is capable of supporting the Sandy Bridge processors, it is far from perfect, and still yields to the X58 chipset in terms of raw maximum performance capability. The P67 chipset only supports dual-channel DDR3 memory, while the X58 chipset supports triple-channel, extending the maximum RAM usable for the system for up to 24GB. This, coupled with the fact that the X58 chipset is capable of supporting an i7 6-core extreme processor, makes this older chipset exceed the maximum performance capabilities of P67. While an average user might see 16GB as overkill, certain professional users can disagree. The need for the larger memory is especially apparent during video editing, use of 3D design applications, or other composite programs. Having a large amount of memory allows the user to render recorded videos real-time, which saves a significant amount of time in the process. In addition to the amount of RAM, latency and support for the processor are both crucial in overall performance of the system.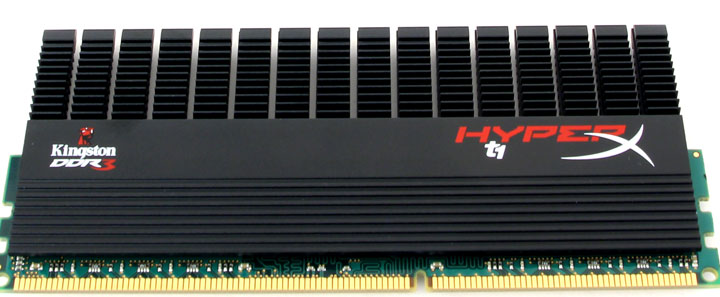 While the HyperX T1 Series are not new to the market, and have previously been introduced in both dual- and triple-channel variants, with the release of the Black Edition, Kingston has expanded the maximum RAM to 24GB. The Kingston Hyper X T1 Black Edition is offered in three kits: 6GB, 12GB, and 24GB. The definitive feature of the newly introduced memory is the black heatsink. Aside from its looks the memory is made to support the performance of the Core i7 990x and is designed for a stock frequency of 1600 MHz with a latency of 9-9-9-27. However, the frequency can be overclocked in order to achieve maximum performance, which we intend to test in this review.
While there are several competitors that offer similar memory specifications for their product, the most indenfying feature of the HyperX T1 series is the heatsink, not only renowed for it great looks but also high functionality. The T1 memory's heatsink is designed to provide a large amount of surface area, extending its cooling capabilities above that of its competitors. Since most memory kits under high voltages face the recurrent problem of inadequate cooling and constant overheating, this heatsink is an excellent solution to improving the performance of the memory and extending its lifetime. 

FEATURES:
JEDEC standard 1.5V ± 0.075V Power Supply
VDDQ = 1.5V ± 0.075V
667MHz fCK for 1333Mb/sec/pin
8 independent internal bank
Programmable CAS Latency: 5,6,7,8,9,10
Posted CAS
Programmable Additive Latency: 0, CL – 2, or CL – 1 clock
Programmable CAS Write Latency(CWL) = 7(DDR3-1333)
8-bit pre-fetch
Burst Length: 8 (Interleave without any limit, sequential with starting address "000" only), 4 with tCCD = 4
which does not allow seamless read or write
Bi-directional Differential Data Strobe
Internal(self) calibration : Internal self calibration through ZQ pin (RZQ : 240 ohm ± 1%)
On Die Termination using ODT pin
Average Refresh Period 7.8us at lower then TCASE 85°C, 3.9us at 85°C < TCASE . 95°C
Asynchronous Reset
PCB : Height 2.401" (61.00mm) w/ heatsink, double sided component
PERFORMANCE:
CL(IDD) 9 cycles
Row Cycle Time (tRCmin) 49.5ns (min.)
Refresh to Active/Refresh Command Time (tRFCmin) 160ns
Row Active Time (tRASmin) 36ns (min.)
Power 1.800 W (operating per module)
UL Rating 94 V – 0
Operating Temperature 0o C to 85o C
Storage Temperature -55o C to +100o C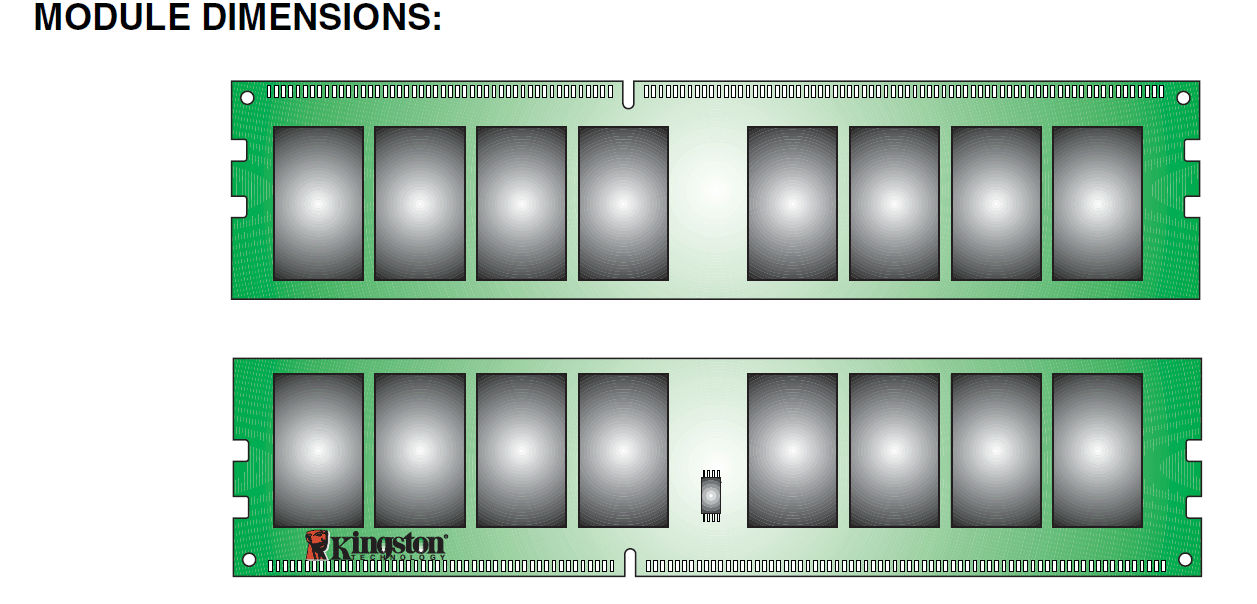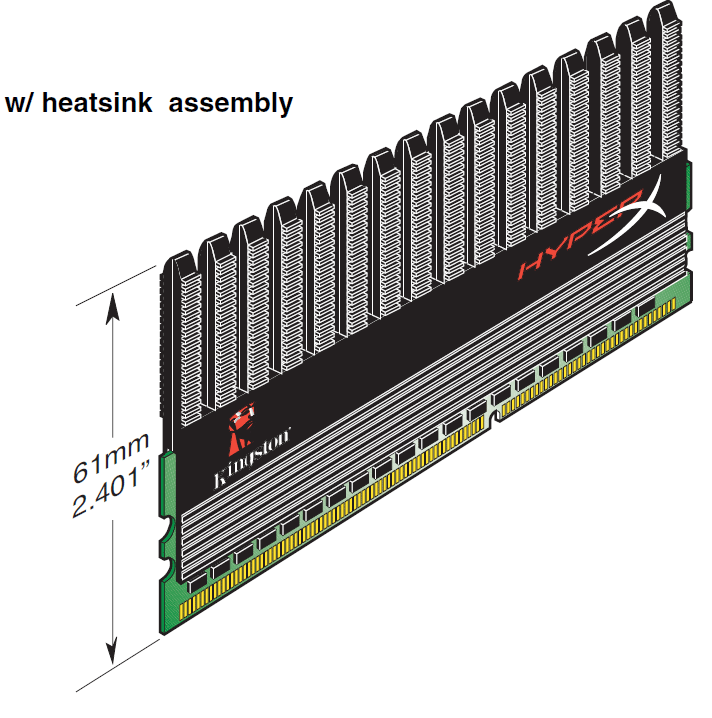 Cooling Tube Dimensions:
Memory Timings Explained
Memory timings can be very confusing, so we are explaining them here before continuing on. Let's start off with the numbers we usually see on a memory DIMM's sticker: the timings. Memory timings are what ultimately decide how far a memory DIMM will overclock and perform. The lower number(s) the timings are, the better performance the memory modules will get. A 9-9-9-24 rated timing kit is a common timing on affordable DDR3 memory kits. Anything below those common timings will result in a higher price tag due to faster performance. So what do those numbers really mean? First, we need to explain what numbers relate and correspond to.
There are four main timings that heavily effect memory performance: 
CAS Latency (tCL), RAS to CAS Delay (tRCD), Row Precharge Time (tRP), and RAS Active Time (tRAS).
For this explanation, we will use the Kingston HyperX KHX2133C9AD3W1K2/4GX DDR3 2133MHz memory module's, 9-11-9-27 timings.
CAS Latency Time (tCL) 9-11-9-27
CAS stands for Column Address Strobe. Latency is the amount of time taken to respond. The lower the CAS Latency value, the faster the memory controller and modules communicate. The memory controller communicates with individual modules on the DIMM's requesting data in cycles. 
RAS to CAS Delay Time (tRCD) 9-11-9-27
RAS stands for Row Address Strobe and CAS stands for Column Address Strobe. The RAS to CAS Delay value is the amount of time in cycles it takes to perform a task requested by the memory controller.
Row Precharge Time (tRP) 9-11-9-27 
The Row Precharge value is the amount of time in cycles needed for the Row Address Strobe (RAS) to collect before another row can be utilized. This acts almost like a queue in a sense.
RAS Active Time (tRAS) 9-11-9-27
RAS stands for Row Address Strobe. RAS Active Time is the amount of time (in cycles) between a row being occupied by Row Precharge (tRP) and unoccupied. 
All timings are measured in nanoseconds (ns). The lower the value for each timing, the faster the memory modules can work together and report back whatever was requested from the memory controller/processor.
Pictures & Impressions
Click Image To Enlarge
The Kingston HyperX T1 Black Edition 12 GB DDR3 1600 MHz Memory Kit comes in fairly standard packaging. The front plastic cover is translucent and allows for a quick first glance at the product. On the front the user is provided with all the information necessary. The smaller sticker below the logo lists the model of the memory as well as capacity. The back of the packaging is rather plain and simply consists of the three segments containing the product. Obviously, this type of packaging does not provide much protection against shock damage, and requires additional boxing. However, the memories are not fragile and can handle some rattling during transportation. 
Click Image To Enlarge
After removing the cover the first thing that caught our gaze was the quality and design of the product. The unique shape of the heatsink, and nice contrast of black heatsink with green PCB make this product one of the better-looking memory kits on the market. For those that wish to match the color scheme of any board with black DDR3 slots, this is a perfect match. After the removing the memories, the user will find the warranty in one of the segments. While the kit might seem rather massive in comparison to the other memories, the user will be surprised by how deceiving the looks really are. The reason for the light weight resides not only in the composition of the heatsink, but also its structural design.
Click Image To Enlarge
The heatsink shown in HyperX T1 series is very unique, and is designed efficiency. A common problem with memory heatsinks is heat buildup, which not only slows down the performance of the memories, but also significantly reduces the lifetime of the memory. This is not an issue for the Kingston HyperX T1 Series. Each of the memories has a multitude of long fringes. The fringes are designed to maximize the surface area of the heatsink without affecting the overall width of the memory. Considering that the DDR3 spacing on motherboards has a width longer than that of a regular memory, large heatsinks could definitely become a problem. In terms of height, the heatsinks extend up to 61mm, which could restrict use of large coolers for the CPU.
Testing Methodology
We've expanded our testing suite considerably for the X58 chipset, and will continue to use the same methods for most of the motherboards and CPU's we test. In the interests of thoroughness and accurate results, we run each test at least three times, and some tests more than that. We average the total of all the tests from each benchmark then report the average here.
The OS we use is Windows 7 Pro 64bit with all patches and updates applied. We also use the latest drivers available for the motherboard and any devices attached to the computer. We do not disable background tasks or tweak the OS or system in any way. We turn off drive indexing and daily defragging. We also turn off Prefetch and Superfetch. This is not an attempt to produce bigger benchmark numbers. Drive indexing and defragging can interfere with testing and produce confusing numbers. If a test were to be run while a drive was being indexed or defragged, and then the same test was later run when these processes were off, the two results would be contradictory and erroneous. As we cannot control when defragging and indexing occur precisely enough to guarantee that they won't interfere with testing, we opt to disable the features entirely.
Prefetch tries to predict what users will load the next time they boot the machine by caching the relevant files and storing them for later use. We want to learn how the program runs without any of the files being cached, and we disable it so that each test run we do not have to clear pre-fetch to get accurate numbers. Lastly we disable Superfetch. Superfetch loads often-used programs into the memory. It is one of the reasons that Windows Vista occupies so much memory. Vista fills the memory in an attempt to predict what users will load. Having one test run with files cached, and another test run with the files un-cached would result in inaccurate numbers. Again, since we can't control its timings so precisely, it we turn it off. Because these four features can potentially interfere with benchmarking, and and are out of our control, we disable them. We do not disable anything else.
Test Rig
Test Rig
Case
In-Win Dragon Rider
CPU

Intel Core i7 930 @ 3.8GHz


Motherboard

GIGABYTE G1 Sniper-LGA 1366

Ram

Kingston HyperX H20 DDR3-17066 2133MHz (9-11-9-27 @ 1.65V)  4GB Dual-Channel Kit

Kingston HyperX T1 Black Edition DDR3 2133 MHZ([email protected] 1.65v) 12 GB Triple-Channel Kit

CPU Cooler
Thermalright True Black 120 with 2x Noctua NF-P12 120mm Fans
Hard Drives

3xSeagate Barracuda 7200 RAID 5

Optical
ASUS DVD-Burner
GPU

2x Palit GTX460 Sonic Platinum 1GB GDDR5 Video Cards in SLI

Case Fans

3x Noctua NF-P12 120mm fans on the side

1x In-Win Stock 120mm fans in back and top.

PSU
Seasonic X-Series 750W Modular Power Supply
Mouse
Cyborg RAT 7
Keyboard
Thermaltake Meka G1
Test Suite
We will use the following applications to test the performance of the memory kit. Benchmarks
Benchmarks
Everest Ultimate Edition
SiSoft SANDRA 2010
SuperPi
3DMark Vantage
Unigine Heaven 2.1
We previously tested Kingston's HyperX H20 series memory, which was able to deliver great performance. Since this is a dual-channel memory it is compatible with P67 chipset, making it a serious competition to the memories designed for triple channel supporting X58 chipset. In order to create objective testing, The same processor was used in order to ensure that the performance deviation would cause false result in our testing. While it is ideal to retain the same equipment, different motherboards were used in both cases. This was done to provide a comparative feel of how a P67 chipset would be to X58 GIGABYTE G1.Killer Series motherboards. Due to the presence of the dedicated network processing unit as well as audio card, certain performance disparities are to be expected, though these should not cause as great a difference as memory performance, which we are testing.
Overclocking

Click Image For a Larger One
The table provided above provides the standard parameters that have been determined to keep the system stable for this particular i7 930 D0 processor. In order to push memory to the max we used slightly different settings and did not take the processor to 3.8 GHz, because overclocking the memory over 1600 MHz would make the processor run at extremely high temperatures. Instead of pushing the processor, we increased the multiplier to 22 and adjusted the multiplier according to the desired memory frequency. For example, in order to achieve 1600 MHz memory clock the bus speed was set to 160 MHz.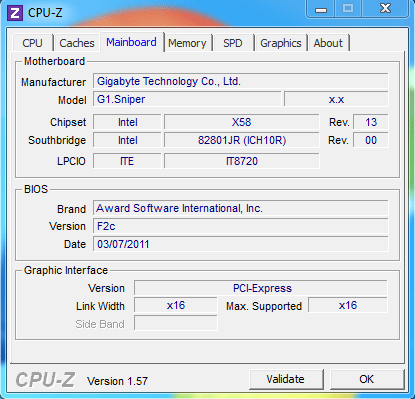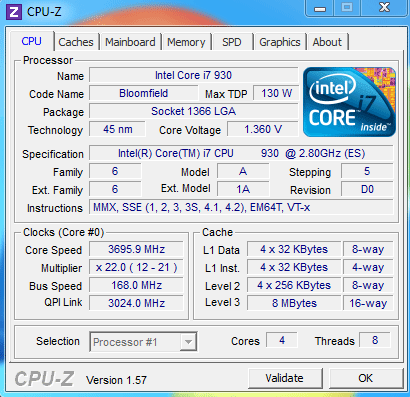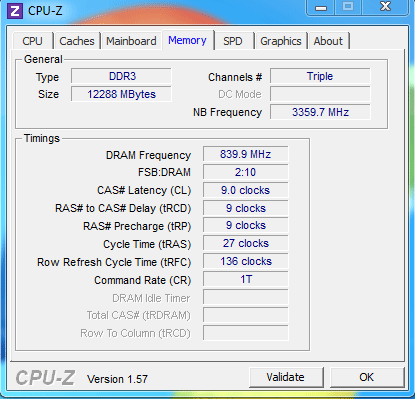 After testing the overclocking capabilities the memory was determined to provide a maximum stable overclock at 1680 MHz and QPI/VTT voltage at 1.7V. While it is possible to push the memory higher, to ensure stable overclock, a significantly high voltage ould be required. Going past 1.7V drastically increases the risk of the memory voltage controller failure on CPU, and the risks outweight the benefits.
What should the user expect in terms of compatibility with 990x? Considering that 990x  is designed to run at 3.47 GHz with turbo-boost at 3.73 GHz, the user would see similar overclocking results as with the overclock posed in this review. At a stock speed of 3.43 GHz the processor will support the memory at 1600 MHz with a 19x multiplier. Overclocking the CPU to 3.8 GHz would allow the user to run this memory at 1600 MHz smoothly.
Everest Ultimate Memory Suite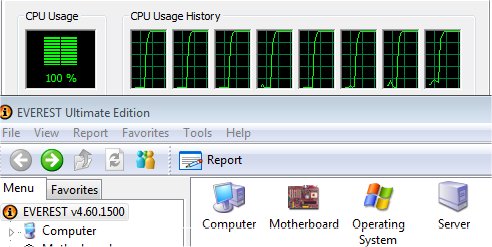 "EVEREST Ultimate Edition is an industry leading system diagnostics and benchmarking solution for enthusiasts PC users, based on the award-winning EVEREST Technology. During system optimizations and tweaking it provides essential system and overclock information, advanced hardware monitoring and diagnostics capabilities to check the effects of the applied settings. CPU, FPU and memory benchmarks are available to measure the actual system performance and compare it to previous states or other systems. Furthermore, complete software, operating system and security information makes EVEREST Ultimate Edition a comprehensive system diagnostics tool that offers a total of 100 pages of information about your PC."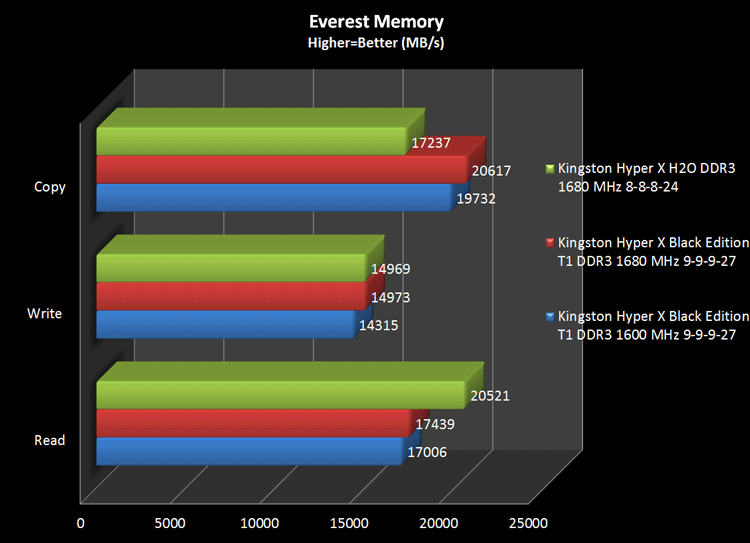 After running Everest Benchmark and analyzing the read, write and copy abilities of the Kingston HyperX T1 Black Edition memory kit in comparison to the Kingston HyperX H2O memory there is a clear difference between the two models. The Kingston HyperX T1 seems to demonstrate higher performance in copy, while lagging behind in write and read. While in write capability the difference is not significant, in read, the Kingston HyperX H20 demonstates a significant improvement.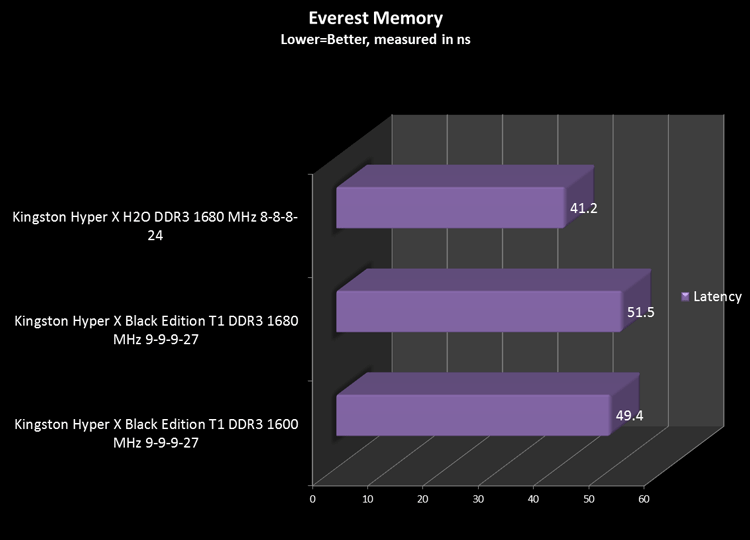 Everest is also capable of measuring of the latencies of the memory. While overall capabilities of the memory in response to read, write and copy are important to the overall performance, latency demonstrates the accession speed of the given memory and is an excellent indicator of the quality of the memory. Generally latency is dependent on the timing of the memory. Therefore, memory with lower timing should demonstrate better results. The Kingston HyperX H2O with latency of 8-8-8-24 demonstrates a latency of only 41ns in comparison to the HyperX T1 Black Edition which settles at the 50ns mark. While this is a fair amount of difference between the two memories, HyperX T1 Black Edition still demonstates a fairly decent performance for the memory with lower maximum clock. 
3DMark Vantage

 For complete information on 3DMark Vantage Please follow this Link:
www.futuremark.com/benchmarks/3dmarkvantage/features/
The newest video benchmark from the gang at Futuremark. This utility is still a synthetic benchmark, but one that more closely reflects real world gaming performance. While it is not a perfect replacement for actual game benchmarks, it has its uses. We tested our cards at the 'Performance' setting.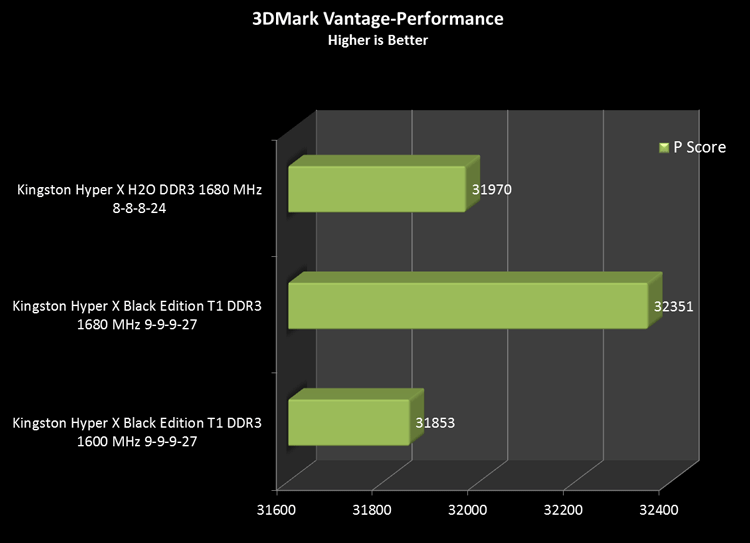 3DMark Vantage is a synthetic benchmark commonly used to assess the performance of the graphics cards. In this case, since the graphics cards are identical in both testings, the primary performance difference is expected to result due to the difference in memory performance. However, there is yet another factor to consider: the dedicated audio controller and the NPU on the G1.Sniper could slightly raise the performance of the CPU, and therefore provide a higher score.
As the result of this benchmark, Kingston HyperX H2O shows a slightly greater performance than Kingston HyperX T1 Black Edition. However, the difference is a mere 70 points when comparing the memories at 1600 MHz, and is practically insignificant considering that all of the scores land on the 32000 range.
Sisoft Sandra 2010
"SiSoftware Sandra (the System Analyser, Diagnostic and Reporting Assistant) is an information & diagnostic utility. It should provide most of the information (including undocumented) you need to know about your hardware, software and other devices whether hardware or software. It works along the lines of other Windows utilities, however it tries to go beyond them and show you more of what's really going on. Giving the user the ability to draw comparisons at both a high and low-level. You can get information about the CPU, chipset, video adapter, ports, printers, sound card, memory, network, Windows internals, AGP, PCI, PCI-X, PCIe (PCI Express), database, USB, USB2, 1394/Firewire, etc."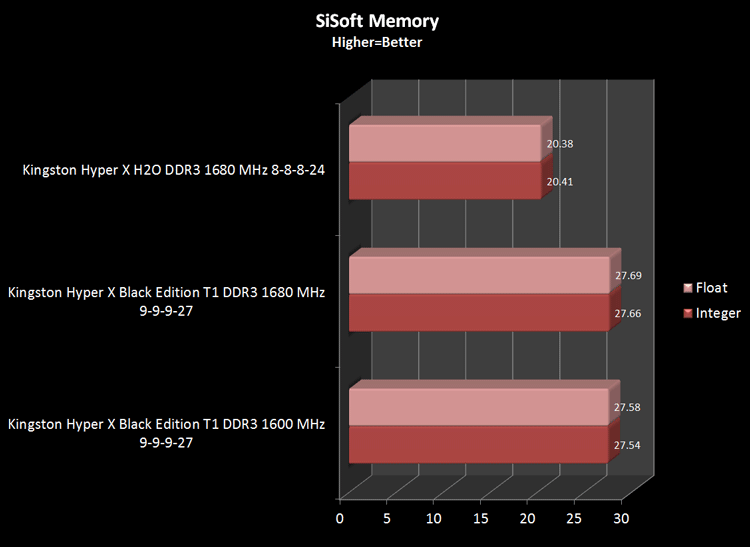 After running the Memory Test in SiSoft Sandra, a clear difference in memory processing is observed. As mentioned previously, Kingston HyperX H2O has lower timings and is expected to demonstrate better results. However, these results show the opposite and demonstate a better float and integer rate. The difference is estimated to be about 7 GB/s, or a 35% increase in performance.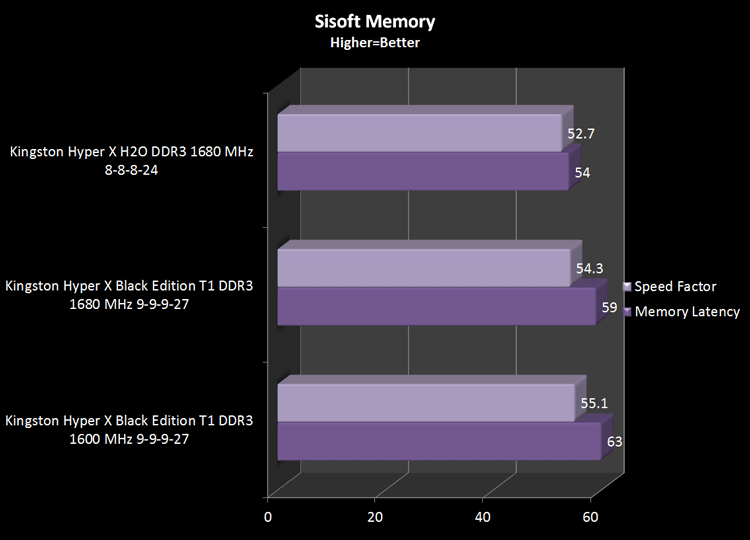 In terms of latency speed Kingston HyperX H2O with the timing of 8-8-8-24 is expected to have smaller latency. The results are congruent with the expectations and show that the Kingston HyperX H2O is in fact 5 ns faster. However, in terms of the speed factor, the Kingston HyperX Black Edition T1 does show a higher speed factor, supporting the higher integer and float rate observed before.
Super Pi
"Super PI is the "Gold standard" for many when it comes to judging system performance. We ran the 4 Meg calculation, again running each test three times and reporting the average of the results."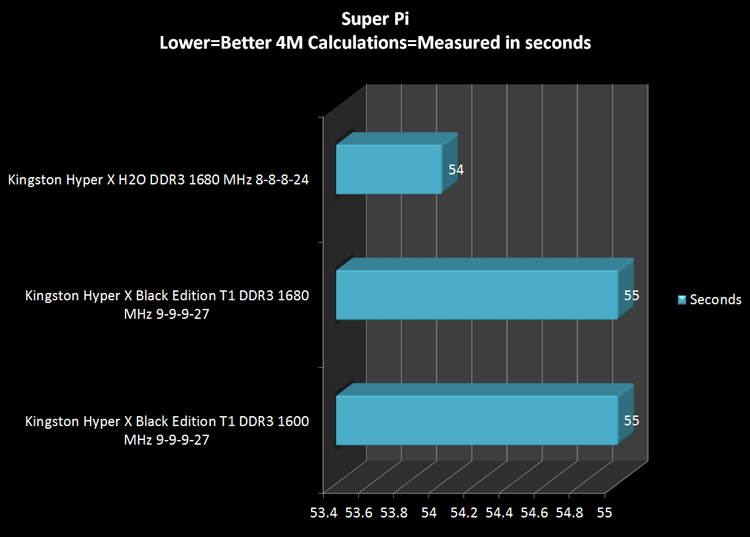 Super Pi demonstrates a faster processing speed for HyperX H20 by roughly 1 second, which is rather negligible. It is possible that these results could be explained by the lower timing of the memory. Yet the difference makes up a less than 2% difference and is not significant enough to observe a noticeable performance increase.
Unigine Heaven 2.1

Unigine Heaven is a benchmark program based on Unigine Corp's latest engine, Unigine. The engine features DirectX 11, Hardware tessellation, DirectCompute, and Shader Model 5.0. All of these new technologies combined with the ability to run each card through the same exact test means this benchmark should be in our arsenal for a long time.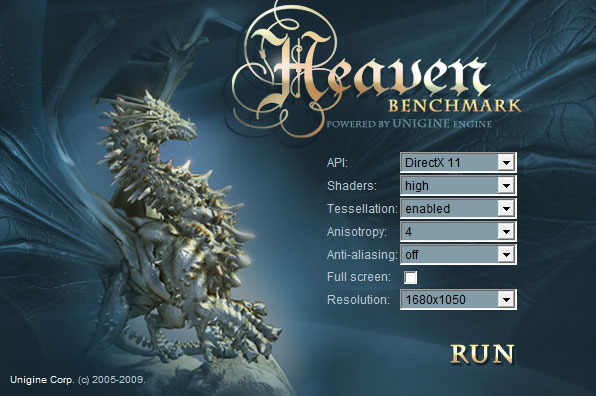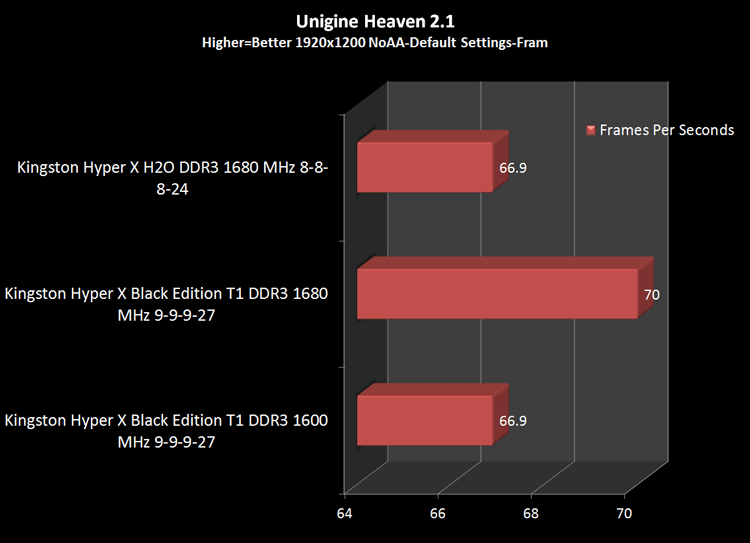 Ungine Heaven 2.1 is an excellent benchmark to test the gaming performance in DirectX 11 settings. Since the G1.Sniper is primarily a gaming motherboard, the overall expectation for the performance would be higher for the Kingston HyperX T1 Black Edition kit. As the result of testing, no significant performance increase is observed. The overall difference of 0.1 MHz between the overclocked memory kits really does not show much.
Crysis v. 1.21

Crysis is the most highly anticipated game to hit the market in the last several years. Crysis is based on the CryENGINE™ 2 developed by Crytek. The CryENGINE™ 2 offers real time editing, bump mapping, dynamic lights, network system, integrated physics system, shaders, shadows, and a dynamic music system, just to name a few of the state-of-the-art features that are incorporated into Crysis. As one might expect with this number of features, the game is extremely demanding of system resources, especially the GPU. We expect Crysis to be a primary gaming benchmark for many years to come.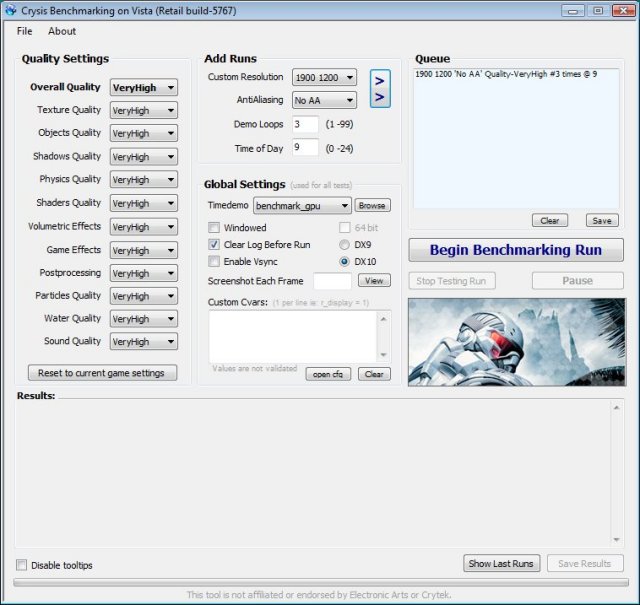 The Settings we use for benchmarking Crysis
The results yet again confirm those observed in Unigine Heaven 2.1, and show a slight increase in FPS. The change in Crysis observed is no more than 0.2 FPS and is not significant to notice due actual gameplay.
Temperatures
To measure the idle temperature, we let the computer idle for half an hour on the Windows desktop, and recorded the memory temperature. Then we ran Adobe After Effects CS5 and rendered a large, high-definition video file for 10 minutes, using an average 95% of the memory. We then recorded that as the load temperature.
Temperatures of the DIMMs – Ambient Temperature 23C

Kingston HyperX T1  BLACK 12GB DDR3 2133Mhz 9-11-9-27

Idle: 28C, Load: 36C

Kingston HyperX H2O 4GB DDR3 2133MHz 9-11-9-27 1T

Idle: 30C, Load: 40C
The unique and definiting feature of Kingston HyperX T1 Black 12 GB DDR3 memory set is the tall heatspreader, allowing for a faster and more efficient heat dissipation. In both cases the fans were blowing over the memories, in order to ensure that both remained within manageable temperature range under overclocked condition. At load, HyperX T1 Black demonstrates a significantly lower temperature of 36 C in comparison to 40 C observed in HyperX H20, clearly showing that the heatspreader plays a crucial role in the overall memory design.
Conclusion
After thorough assessment and testing of the Kingston HyperX T1 Black Edition KHX1600C9D3T1BK3/12GX, we were able to see this memory's true potential. While in terms of performance there was no significant difference in comparison to the Kingston H20 Series KHX2133C9AD3W1K2/4GX memory kit, the overall performance is definitely relative to that of other high-end memory. Considering that the product is clearly capable overclocking at 1680MHz with a fairly standard timing of 9-9-9-27 timing, this memory kit is an excellent choice for any user that is looking for a great memory set for video rendering or 3D design. However, in terms of gaming performance increases, the presence of a gaming board like the G1.Killer series decreases the importance of memory specifications. After running synthetic benchmarks which monitor the frames per second rate of the system the average increase in performance was observed as a tiny 0.2 FPS. Considering that even a difference of 1 FPS is not noticeable, this memory kit is not suited for extreme gaming. It is definitely worth buying for those who use a lot of composite applications and love to record videos of gameplay. A large RAM capacity of up to 24 GB can prove to be a valuable asset for anyone that wishes to fully utilize the maximum capacity of the X58 chipset for 3D design.
In terms of value, quality, and innovations there are definitely a few positive things that must be mentioned. First of all, the unique heatspreader, which not only looks solid and blends well with the motherboard, but also serves a functional cause, allows for a high rate of heat dissipation resulting in a 5 degree celsius difference in comparison to its competition. However, the heatspreader's height can make this memory kit incompatible with certain CPU coolers, and will certainly require several modifications in order to work with larger heatsinks. The overall design of the heatspreader deserves praise and is truly an appreciated feature in HyperX T1 series. The price margin for the quality of the product is also manageable making this product accessible to practically any user. While there might be roughly a $20 difference between this high-end memory product and a more basic memory kit, the investment will definitely pay off especially for the users that have powerful CPUs or are willing to overclock their CPUs to new heights. Another feature that is worth mentioning is XMP (Intel Extreme Presets), allowing the user to access the profile for the memory without manual adjustments. This is a convenient feature making setting up the memory in your system a snap.
While there are plenty of great features that the Kingston HyperX T1 Black Edition has to offer there are several cons that must be noted. Aside from the previously mentioned incompatibility with larger heatsinks and no significant increase in gaming performance, the overclocking for the memory requires high voltages in both QPI and DRAM. Overclocking to 1720MHz required a voltage of 1.72V, which definitely exceeds recommended settings, and in the long run will significantly lower the life of this memory kit. However, these cons are relative to most of the memory kits currently on the market, and depend on other factors like spacing of the motherboard as well as the quality of voltage control chips, indepedent of memory itself. Overall, the Kingston HyperX T1 Black Edition 12GB DDR3 1600 MHz memory kit is an outstanding choice for any enthusiast and is highly recommended.
OUR VERDICT: Kingston HyperX T1 Black Edition 1600 MHz 12 GB DDR3 Memory Kit
| | |
| --- | --- |
| Performance |  8 |
| Value |  8 |
| Quality |  9 |
| Features |  8.5 |
| Innovation |  8 |

We are using an addition to our scoring system to provide additional feedback beyond a flat score. Please note that the final score isn't an aggregate average of the rating system.

Pros
Cons

Highly efficient heatspeader allowing for excellent cooling capabilities even without fan.

The use of XMP provide convenient memory setup for the novice

Solid design and quality of the product

Excellent performance in applications requiring high memory usage

Will not boot past 1730MHz even with higher voltages on DRAM and QPI/VTT

Large extending heatspreader not compatible with robust CPU coolers 

No major affect on the gaming performance

 
Summary: The Kingston HyperX T1 Black Edition memory kit is highly efficient in terms of heat dissipation, runs cooler, and is easily overclockable. It has great performance in memory-intensive applications. For its quality and features, and its strong performance, it earns the Bjorn3D Silver Bear Award.