The Razer Ferox is an outstanding portable speaker system with powerful sound. With 360 degree omni-directional this product is bound to surprise.

Introduction
The quality of sound in portable speakers is oftentimes reduced due to the fact that smaller speakers are not capable of covering a wide range of sounds, or of projecting enough to cause significant resonance. The disadvantage is especially apparent in low frequencies. While there are a multitude of a portable speakers on the market, finding the right ones could prove to be troublesome. Several vendors are renowned for the quality of their portable speakers, including Logitech, Altec, LG, and Yamaha. While Razer does not provide a wide selection of speakers, their gaming headsets, especially the Razer Megaldon, are extremely successful and provide excellent quality of sound. Today we are reviewing Razer's first portable speaker system: the Razer Ferox.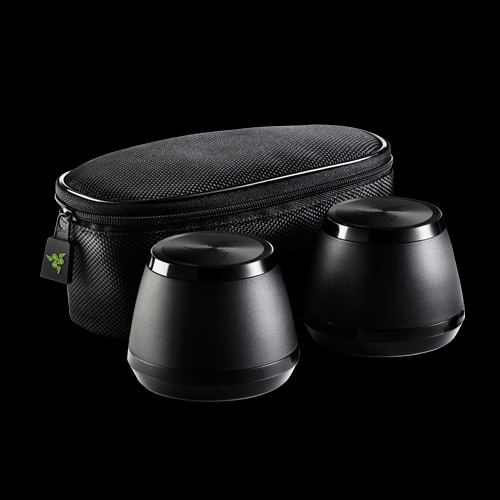 Razer Ferox is a two speaker system with unique design and architecture. Priced at USD 49.99 on Newegg.com, these speakers might seem a little pricey, but after a closer look might can be a worthy contender to satisfy any audiophile. Aside from the high quality of sound, the Ferox speakers are equipped with features not previously seen in other speakers, including 360 degree projection and powerful bass. Let's take a closer look at Ferox in order to see whether this speaker system truly has what it takes to stand amongst other high-end portable speaker systems.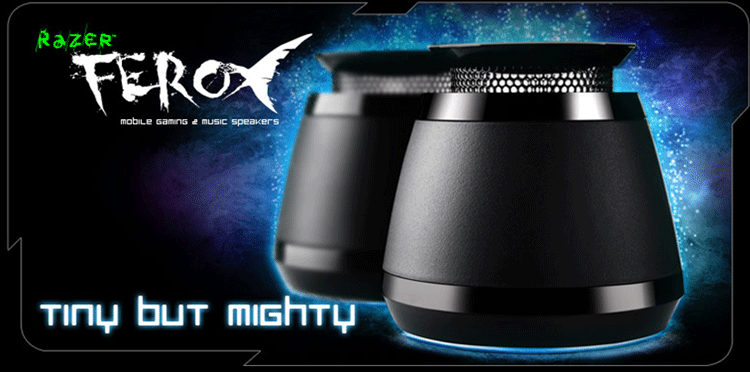 Features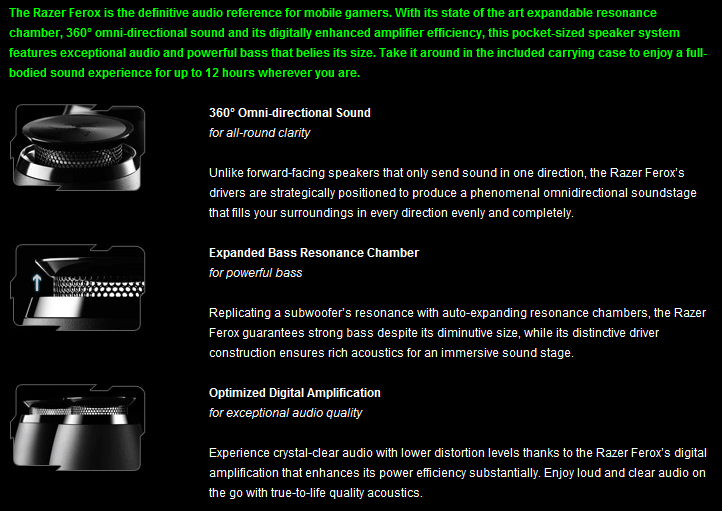 Specifications
| | |
| --- | --- |
| Frequency Response | 150 Hz-20Khz |
| Driver size | 30mm neodymium magnets |
| Battery Life | Up to 12 hours |
| Battery Indicator | LED battery indicator (Red color change) |
| Audio inputs |  3.5mm audio jack & USB 2.0 |
| Speaker Output | 2x3W |
| Approximate size | 70mm( length) x70mm (width)x 53-64mm(height) |
| Hardware requirements | audio device with 3.5mm audio jack |
Pictures & Impressions
Click Image For a Larger One
The Razer Ferox has a rather impressive and colorful packaging. The color theme used in this packaging appears to be the signature colors of Razer: black contrasted by green. The packaging features many images. The front reveals a glance at the actual product. Features and specifications are listed in great detail on the sides of the packaging as well as on the back. The most distinct feature emphasized on the packaging is the 360 omni-sound of the product allowing for everyone in the room, independent of the position, to hear without the detriment to the quality of the sound. Clearly there is an option to assign directionality to the speakers and cancel the 360 omni-sound if it is not needed.
Click Image For a Larger One
Now let us take a look at the accessories provided with the product. The Razer Ferox comes with a variety of accessories required for easy transportation of the speakers, as well as the manual and Razer sticker with the green logo. The portable enclosure is is able to accomodate both speakers as well the required wires. It is made of soft cover water-resistant material, and while does not provide singificant protection against mechanical damage, can retain a certain amount of water. The bag offers more in the way of comfort and convienience than protection. The wire provided with the product has both a USB and a 3.5mm output. All of the contacts are gold-plated providing top notch transfer quality. The 3.5mm audio output is nice contribution to these speakers and allows for Razer Ferox to work with computers and portable media players like iPods. The speaker are able to work on batteries, but can only be recharged with the USB port (not directly from an outlet). While this might seem rather limiting, the battery life of speakers is sufficient to last through the day without any need for a recharge.
Click Image For a Larger One
Click Image For a Larger One
 Finally, let us take a closer look at the product itself. From the first glance a consumer can note the unique shape of this product. The approximate dimensions of the speakers are 7cm (length)x 7cm (width)x5.3-6.4 cm (height), making it one of the smallest sound systems currently on the market. Small size makes this product sturdy, while the quality of the material and design suggest that these speakers are far from fragile. Most of the speaker is made from plastic, while the top and the mesh are made out of metal. Blue LEDs are located at the bottom of the speaker and light up when the speaker is open. Turning the speaker on and off is very simple, and can be done easily by applying pressure on the top of the Ferox.
Testing & Methodology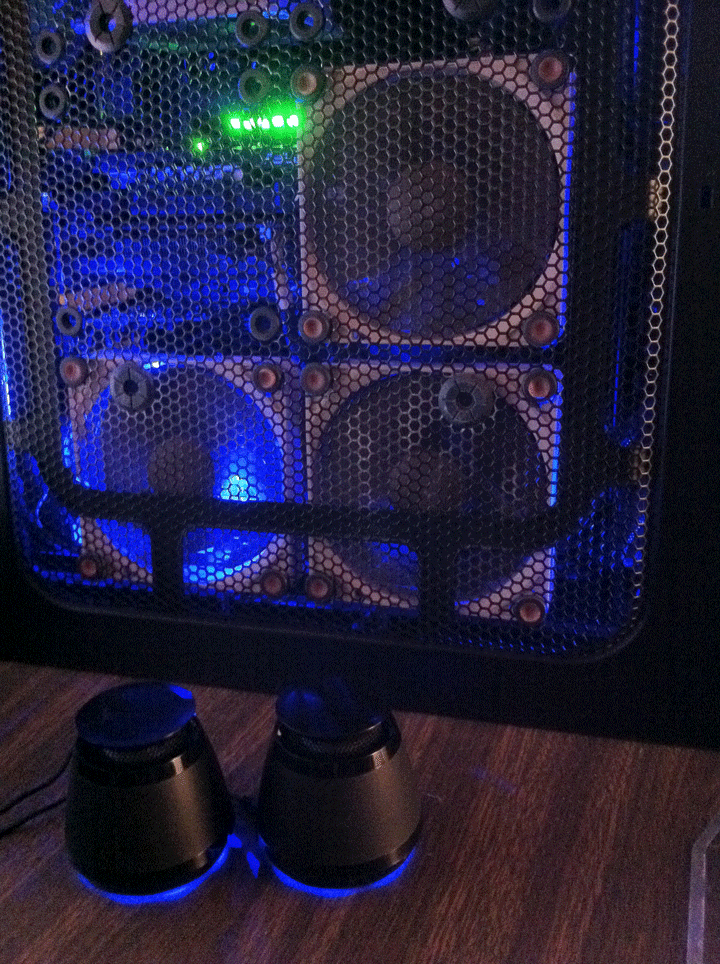 While there are no benchmarks in order to assess the quality of sound, several measures were taken in order to objectively assess the true capabilities of these speakers. At first, a comparative analysis was done by comparing the reviewed product (Razer Ferox) against portable speakers of similar size (Insignia 2.0). Insignia 2.0 have been recognized for high quality as well as power of sound and serve as an excellent comparison to Razer Ferox. The second test performed on the speakers, was equalization assess. The purpose of this testing is to assess the response of speakers to increase in volume of particular sound frequencies. Finally, speakers were assessed through recording on FL studio and compared to high quality studio speakers (Yamaha), both tracks were compared to each other in order to assess the quality of sound.
Test Rig
Test Rig
Case
In-Win Dragon Rider Full-Tower Case
CPU

Intel Core i7 930 @ 3.8GHz

Motherboard

GIGABYTE G1.Sniper – LGA1366

Ram

Kingston HyperX T1 Black Edition Memory1600MHz 9-9-9-27

CPU Cooler
Thermalright True Black 120 with 2x Zalman ZM-F3 FDB 120mm Fans
Storage
3x Seagate Baracuda 7200rpm RAID 5
Optical
ASUS DVD-Burner
GPU

ASUS ENGTX 560 Tix Palit GTX 560 Ti in SLI

Fans

3x Noctua NF-P12 Fans-Side

3xIn-Win 120mm Fans-Front, Back, Top

PSU

Seasonic X750 Gold 750W

Speakers

Insignia NS-2908 Portable Speaker System

Razer Ferox Portable Speaker System

Yamaha HS50M Studio System

Mouse
Cyborg RAT 7
Keyboard
Thermaltake eSports Meka G1
Comparison Assessment

Insignia NS-2908 was compared to Razer Ferox while listening to various styles including Classical music, Blues, Trance Techno, and Metal. Each style has a unique set of frequencies that is emphasized, a fact which proves great for comparison. In terms of volume we observed that Razer is actually able to produce higher volume output than Insignia. This is truly impressive considering that Razer Ferox only has 30mm drivers. In genres like classical and techno Razer demonstrated better sound quality on the higher frequencies than Insignia. The effect that Ferox produces is comparable to X-Fi of the Creative CA20K2 soundcard, providing a more clear sound on medium-high ranged frequencies. In terms of bass both Insignia and Ferox were able to provide excellent bass sound in Blues, but when it came down to Metal, which uses frequencies lower than 150 Hz, both were noted to lack the bass. As a result Razer Ferox seems to provide excellent output in comparison to its competition, however lacks on the recreation of bass notes.
Equalization Assessment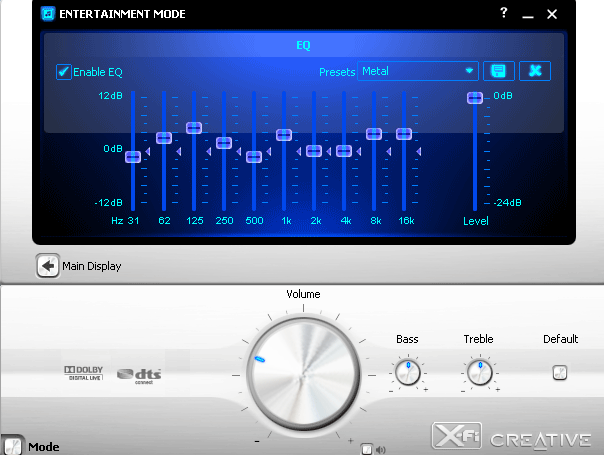 Due to the fact that Razer Ferox was unable to perfectly recreate the bass sound, Creative Audio Control Panel for Creative 20K2 dedicated audio card on G1 Sniper Motherboard was used to see whether the performance of the speaker is dependent upon the actual speakers or the quality of the incoming sound. Styles like Blues and Metal were used to listen to the lows. When we increased the volume of frequencies below 150 Hz, no changes in the sound of the speakers were noted, meaning that the speaker does not recreate the sound below that frequency. However, with bass boost the actual bass frequencies were amplified. As the result, Razer Ferox is able to recreate the bass effect by amplifying it, but does not recreate frequencies below 150 Hz. While this is not as noticeable in majority of music styles,Metal and Blues do suffer in quality.
FL Studio Assessment

Since Metal was observed to have the greatest loss in sound in Razer Ferox, this genre was decided to be an excellent determinant of the speakers performance. A track "Leica" by The Faceless was recorded using a condenser micrope (Rode K2) through both the Razer Ferox and high quality Yamaha HS50M studio monitors. A part of the track between 4:17 and 4:51 was used due to the fact that the only rhythm for the part consist of the bass, while both guitars are playing leads in harmonies. After comparison, the bass track was only partially audible in Razer Ferox, and while it is not noticeable to majority of the public, audiophile might find this somewhat dissatisfying.
Conclusion

In our rating, factors like performance, value, quality, features and innovation are taken into consideration in order to assess the overall quality of the item. Performance of this item was fairly impressive in comparison to the size of the speaker, but does lack in quality in comparison to a larger driver speakers. As we noted in the very beginning the quality of the sound is overall very likely to decline with the decrease in the speaker driver. While Razer is equiped with 30mm driver, the amount of performance and the volume out of the speakers exceeds our expectations for the speakers of that size. However, inability to recreate the bass sounds below 150 Hz clearly is major disadvantage that may dissatisfy some audiophiles and is not recommended for those users that are look for a high quality of sound. Value is yet another aspect of these speakers that might not appeal to some of consumers. The price of $49.99 is still rather sizeable considering that consumers are getting 2x 3 speakers. While Razer Ferox is able to produce a very high quality sound it still does not completely fair against larger home PC drivers, through out of all of the portable speakers the performance of Ferox seems to top notch.  
While Razer Ferox did have certain disadvantages which significantly lowered its score in performance and value criteria, the quality, features and innovations proved to be absolutely outstanding for this speaker system. The compact and sleek design of the speakers is something that must be certainly noted. Razer Ferox is the only set of speakers of such size that is able to produce a 360 degree omni-directional sound, due to its unique shape. The top of the speaker is able to move up, once the pressure is applied in order to reveal the speaker. This innovative mechanism provides a somewhat of a futuristic feels to this speaker system. The blue LED rim at the bottom of each speaker is yet another nice addition to the overall look of Ferox. The overall quality as well compatibility goes hand in hand with features and innovations that Razer Ferox provides. The quality of the components and the material from which Ferox is made is outstanding, in particular the 3.5mm gold-plated audio jack and USB. In terms of compatibility Ferox can be used by any audio device that has a 3.5mm output and is able to work up to 12 hours without recharging. This makes Razer Ferox a great audio accessory on any short trip.
OUR VERDICT: Razer Ferox Speaker System
| | |
| --- | --- |
| Performance | 8 |
| Value | 7.5 |
| Quality | 9 |
| Features | 8.5 |
| Innovation |  9 |

 Please note that the final score is not an aggregate average of the rating system.

Pros
Cons

Amplification and bass boost provide better auditory experience that majority of speakers.

Outstanding 360 degree projection allows for everyone in the room to hear the sound without loss of the quality

 Stylish design and blue backlighing make Ferox is an outstanding contribution to any portable system

Small dimensions, 12-hour rechargable battery life and 3.5 mm audio output jack make these speakers ideal for travel and compatible with practically any audio device  

Lack of bass coverage below 150 Hz limits the sound quality for lower frequencies.

 

The speakers are rather pricey for their quality

 
Summary: The Razer Ferox have outstanding power and quality of sound, making them ideal for any portable system, despite not being able to produce low bass sounds. For their innovative design and outstanding quality the Razer Ferox speakers earn the Bjorn3D Silver Bear Award.