The Noctua NH-C14 is a high-end cooling solution that not only excels in overall quality, but has a better form-factor for smaller cases.
Introduction
Noctua, which is based in Austria, has always been on the forefront of coolers, case fans, and CPU fans. They have always been innovative with their products, and their newest Noctua NH-C14 is no different: twin 140 mm fans adorn each side of this cooler. The entire cooler is made of superior cooling materials (which will be touched on later) and is designed for all the modern CPU socket sets to date. This is one of Noctua's higher-end coolers and retails for $90.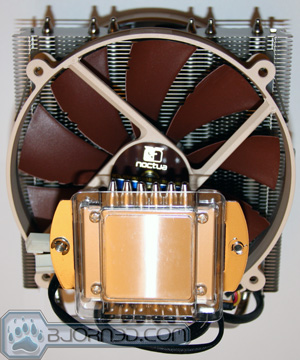 Click Image to Enlarge
Features and Specifications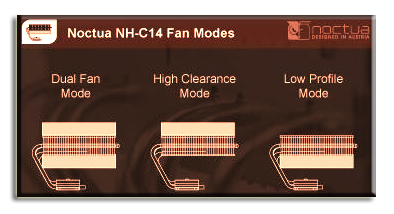 This is a seriously large heatsink, but has been designed in such a way to be able to accommodate most motherboards. It can be set up in three possible configurations (which opens up all the options for most cases). Both fans come pre-installed and ready for action. However, users do have the option of just using one fan on top (for clearance of tall components on the bottom such as memory), or using one fan on the bottom (making the heatsink very short, appropriate for HTPC's or similar small cases).  
Noctua NH-C14 Heatsink
Socket compatibility

Intel LGA1366, LGA1156, LGA1155, LGA775 & AMD AM2, AM2+, AM3

Height (without fan)

105 mm

Width (without fan)

140 mm

Depth (without fan)

166 mm

Height (with fan)

130 mm

Width (with fan)

140 mm

Depth (with fan)
166 mm
Weight (without fan)
700 g
Weight (with fan)
850 / 1000* g *w/2 fans
Material
Copper (base and heat-pipes), aluminum (cooling fins), soldered joints & nickel plating
Fan compatibility

2x NF-P14 premium fan
Low-Noise Adaptor 
Ultra-Low-Noise Adaptor 
NT-H1 thermal compound
SecuFirm2™ Mounting Kits
Noctua Metal Case-Badge

Warranty
6 Years

Fan Specifications

Model
Noctua NF-P14
Bearing
SSO-Bearing
Rotational Speed (+/- 10%)
1200 RPM
Rotational Speed with L.N.A. (+/- 10%)
900 RPM
Rotational Speed with U.L.N.A. (+/- 10%)
750 RPM
Airflow
110,3 m³/h
Airflow with L.N.A.
83,7 m³/h
Airflow with U.L.N.A.
71,2 m³/h
Acoustical Noise
19,6 dB(A)
Acoustical Noise with L.N.A.
13,2 dB(A)
Acoustical Noise with U.L.N.A.
10,1 dB(A)
Input Power
1.2 W
Voltage Range
12 V
MTBF
> 150,000 h
Included in the parts package is a multitude of adapters to hook up the main fans. Users can use the default connector, plugging both fans into 3 pin power; or connect both fans individually to power with either the standard line noise reductor (13 dB(A)) or the ultra line noise reductor (10 dB(A)). Note, however, that users cannot use the noise reductor with the Y-splitter.
Pictures & Impressions
Click Images to Enlarge
Tech drawings adorn the box in the background with important stats on the front and sides. This is a very large heatsink and the box was very informative.
Click Images to Enlarge
Environmentally friendly, all of the packings are cardboard. The heatsink is carefully packaged in the cardboard.
Click Images to Enlarge
Here we have a massive array of parts including: installation parts for Intel and AMD sockets, anti-vibrational rubber fan posts, an optional anti-vibration fan bracket (for the bottom fan), long Philips screwdriver, Noctua's high-grade thermal compound, four line noise reductor connectors, Y splitter, and a small folder which holds very excellent directions on how to install for each type of motherboard socket-type. As a bonus, a Noctua metal badge is supplied for ultimate prestige and to unlock personal achievement. 
Click Images to Enlarge
The bottom of the heatsink is completely flat without irregularities in the metal and was polished to a chrome finish.
Click Images to Enlarge
Bottom of the heatsink with the plastic protector for the die left off in the first picture. 
Click Images to Enlarge
Top and side details of the massive twin 140 mm fans sandwiching the main core; note on the right shot the twin 3 pin power connectors: this is where either the Y adapter or the two line noise reductors can be used. PWM is not supported with these fans; however, they are so quiet even at the default 1200 RPM speeds, it is not an issue.
Click Images to Enlarge
The rear close-up of the 6 heat-pipes that travel through the core of the radiator. The last shot really lends a sense to the massive size of the total package.
Assembly & Installation
Click Images to Enlarge
Firstly, a backplate needs to be added to the back of the motherboard. Depending on what board is used, the rubber in-lay (first picture) may or may not be necessary. After assembly, the right picture shows the rear of the case (and back side of motherboard).
Click Images to Enlarge
Next, retention brackets need to be put on the mounting screws with spacers underneath. The two screws on the center of the mounting bracket are where the heatsink installs. Buyers must use the long screwdriver to carefully poke through both set of fan blades and radiator itself to meet the screws.
Click Images to Enlarge
The final cooler product must have enough clearance around it for the case fans to operate properly. 
Testing
The Noctua cooler will be tested against two popular (and efficient) heatsinks listed in the test hardware chart. The fan used for both of the competing heatsinks was the Xigmatek Dark Knight 120mm fan. In addition, an Intel stock cooler will be thrown into the mix, the CoolIT Vantage. The Noctua will be set up in its default configuration with both fans.
Test Hardware : "Blue Storm"
Case

In-Win Ironclad Full Tower

CPU

Intel i7 920 @ 3200

Motherboard

Asus P6T Deluxe version 2

RAM

Patriot Viper II 6GB (3 x 2GB)

CPU Coolers

Noctua NH-C14

Xigmatek Intel Core i7 Dark Knight

Thermalright Venomous X

CoolIT Vantage ALC (stock cooler) 

Hard Drives

(x2) WD VelociRaptor 150GB 10000 RPM
(x2) Intel X25-M 80GB Solid State

Optical

Asus DRW-22B1ST
Asus DVD-E818A3T

GPU

Palit GTX 460 (Fermi) Sonic Platinum

Audio

HT Omega Claro Plus

Power Supply

Zalman ZM850-HP

Keyboard

Deck Frost Tactile

Mouse

Mionix 5000
Software used in testing was: HW Monitor, Prime95, and CPUID. Because of the nature of thermal compounds, the system was left running for 12 hours before running any tests, Prime95 was then run for 3-5 minutes on all cores and threads (checking to make sure it was error free). Furthermore, DirectX 11 games, Photoshop, and a number of other tasks were run during these 12 hours requiring some serious processing power often sustaining 90-100% load on CPU.
Results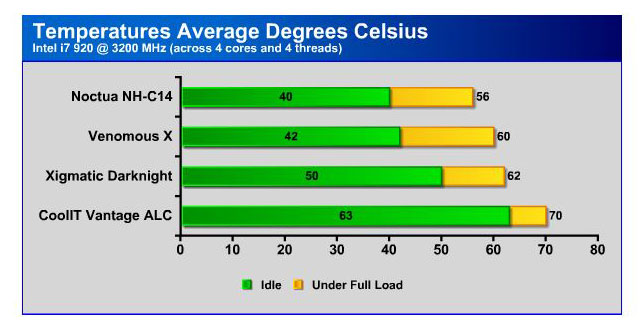 One may pause to think how it is possible that a heatsink shaped like a "C" could possibly out the tower type coolers, but once again, Noctua is one step ahead with their innovation. The dual 140 mm fans blowing straight down at a whisper 1200 RPM are more than up for the challenge. This is one of the most impressive low-profile coolers we have ever encountered.
Conclusion
The Noctua surpassed expectations in performance, even outperforming the full tower-size coolers under full load by 4 degrees Celsius. The dual 140 mm fans and massive radiator in the uncommon "C" shape makes for a smaller package for use in all types of cases, with a special nod to the HTPC users. Everything was of the highest quality, from the solder joints on the heat pipes to the flawless die. 
Noctua NH-C14
| | |
| --- | --- |
| Performance |  9 |
| Value |  7 |
| Quality |  9 |
| Features |  9 |
| Innovation |  10 |

We are using a new addition to our scoring system to provide additional feedback beyond a flat score. Please note that the final score isn't an aggregate average of the new rating system.

Pros

Cons

"C shape" for lower profile.

Twin 140mm Fans.

Silent w/noise reductors.

Versatile mounting options.

Everything needed is included. 

Slightly expensive
Summary: The Noctua NH-C14 is an excellent high-end cooling solution that not only excels in superior overall quality, but has a better form-factor for smaller cases. For its innovative design, it earns the Bjorn3D Golden Bear Award.