The Thermaltake Max5G Active Cooling 3.5 External Enclosure enhances Thermaltake's enclosure lineup with USB 3.0 to SATA 3 compatibility and two 80mm fans for added cooling.
INTRODUCTION
Thermaltake recently sent us one of their latest external hard drive enclosures: the Max5G USB 3.0 Active Cooling product.  It sports two 80mm fans that force air against the bottom of the hard drive and out the bottom of the case. We will be testing its throughput via both a USB 3.0 and USB 2.0 connection to the computer. In this review we used a Samsung F4 2TB hard drive inside the enclosure.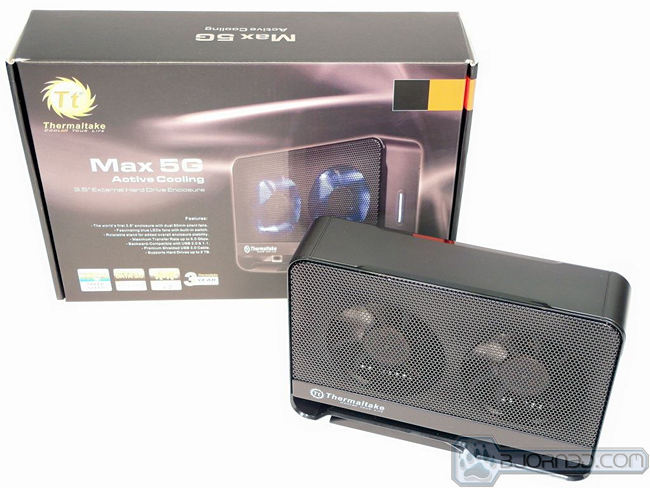 Thermaltake has been in business for around 12 year now and offers its consumers quality PC components, from CPU coolers and Power Supplies, to Chassis and External Cases. They are headquartered in Taiwan with business offices around the globe, including the United States, China, Europe, Germany, Japan and Mexico.
Online pricing for this product ranges from $45.00 to $55.00 US, though it may have changed since this review was written.
FEATURES & SPECIFICATIONS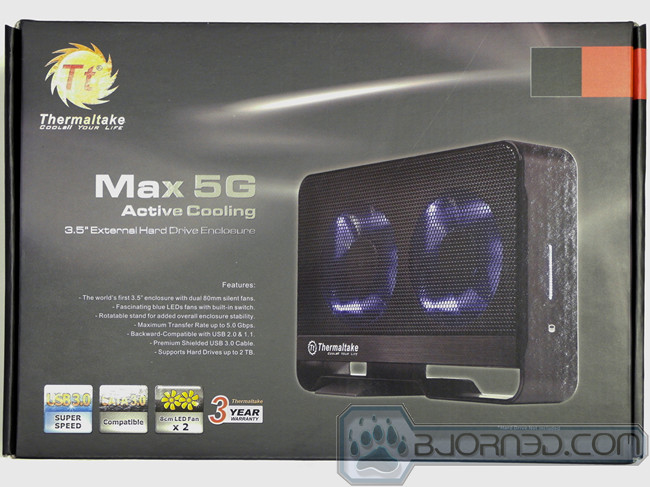 Features
Dual 80mm ultra-silent fans w/blue LEDs
LEDs are controlled on/off by a rear switch
USB 3.0 transfer speed up to 5Gbps
Backwards compatible with USB 2.0 and USB 1.1 hosts
Supports Hard Drives up to 2TB capacity
Supports 3.5" Hard Drives with SATA I, SATA II or SATA 6G interfaces
Includes USB 3.0 Cable
Includes an Allen Wrench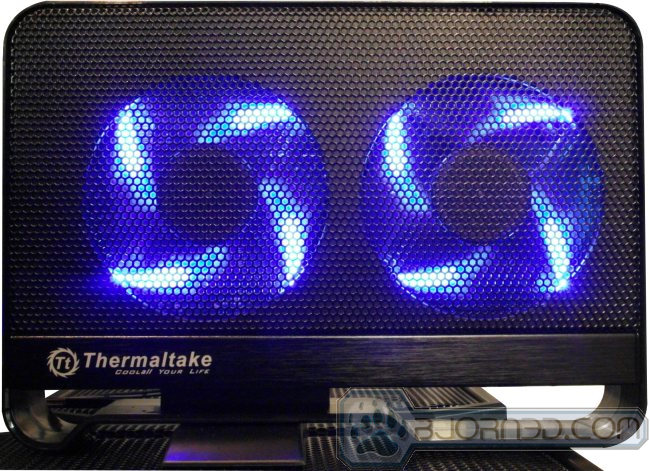 Specifications
Enclosure Interface

USB 3.0 Up to 5Gbps

OS Compatible
Windows 7, Vista, and Mac 10.3 or greater
Materials
Steel Mesh and Ruggedized Plastic
Power 
External Power Adapter 12 Volts, 2 Amps
Dimension
207mm (L) x 145mm (W) x 47mm (H)
Accessories

Premium Shielded USB 3.0 Cable

Power Adapter

Allen Wrench

Fan

2x 80 x 80 x 15 mm

12 Volts, 0.15 Amps

800 RPM fixed

12 dBA Noise Output (free standing)

Weight
530g
Special Features

Dual 80 mm fans for accelerated heat dissipation

LED On/Off Switch

USB 3.0 SuperSpeed for blazing-fast data transfer

Integrated/retractable foot stand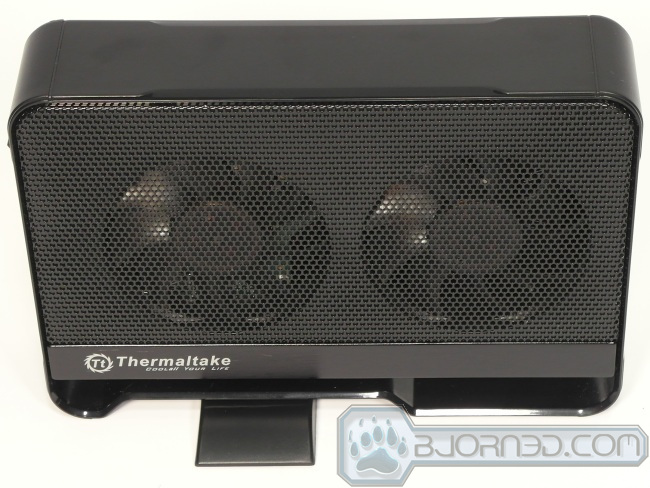 PICTURES & IMPRESSIONS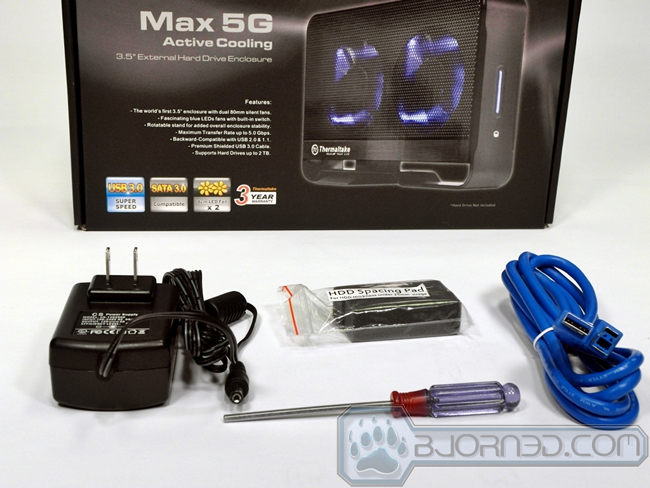 The product comes with an AC/DC adapter, foam spacing pad, Allen Wrench and a USB 3.0 cable. The cable seems of good construction and the addition of the Allen Wrench is a nice touch.
The above two images show the locations of the hex headed screws that need to be removed to access the inside.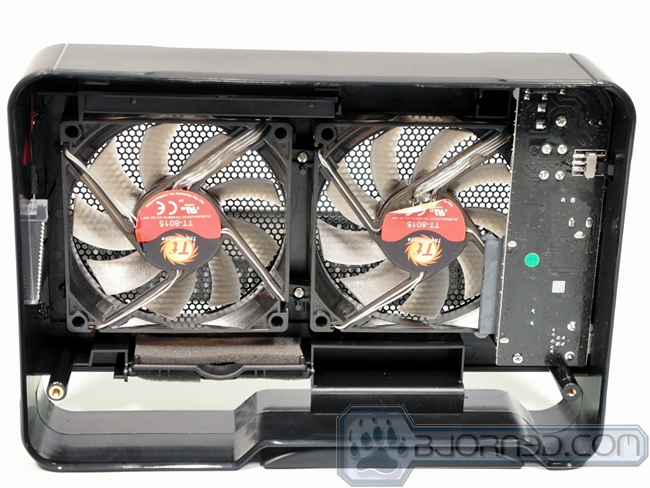 This is the inside of the case. Using the left 80mm fan as a reference, to its left is the drive activity LED, above and below this fan are the Hard Drive mounting tabs which secure the drive when it is fully installed. To the far right of the case are the electronics that convert between the SATA and USB signals. Inspecting the soldering points on the rear of the circuit board reveals nothing abnormal, the solder joints appear clean and in good order.
These are exterior shots of both sides of the case. The left image shows both on/off switches for power and the LEDs. The 12 volt DC input and finally the USB 3.0 port. The right image shows a different view of the Hard Drive activity LED.
The documentation includes an Installation Chart and Warranty Policy. The installation is fairly simple, though care must be taken when sliding the hard drive and the top mounting bracket towards the SATA port, as it sometimes sticks before fully being inserted. The warranty is good for 3 years.
TESTING & METHODOLOGY
The OS we use is Windows 7 Ultimate 64bit with all recommended patches and updates applied, the motherboard an ASUS Rampage Gene III. There are two different updates for the USB 3.0 host controller at the time of this writing from their website. Both were downloaded and each was later separately installed and tested for comparison. No differences were seen.
The hard drive destined for the Max5G Active Cooling case is a newly purchased Samsung F4 2TB drive. As there was some concern with the firmware being current for the hard drive, the latest was downloaded and installed. This was followed by formatting the drive from within Windows 7. This was done while the drive was still attached to an internal SATA port. NTFS was selected and the option for a quick format was not enabled. The formatting took several hours.
Test Configuration
Case
Cooler Master HAF X
CPU

Intel Core i7 920 @ 3.20GHz

Motherboard

ASUS Rampage III Gene – LGA1366

Ram
G.Skill DDR3-1600 (8-8-8-12 1.60v) 6GB Kit
CPU Cooler
CoolIT Vantage A.L.C.
Drive Enclosure
Thermaltake Max5G Active Cooling (ST0020U) w/ Samsung Spinpoint F4 HD204UI 2TB
Internal Hard Drives

2x Western Digital Caviar Black 1TB 7200RPM 3Gb/s

Optical
Plextor PX-810SA DVD-Burner
GPU

EVGA GTX460  EE 1GB  Video Card

Case Fans

Stock 

Additional Cards
None
PSU

BFG 800W Power Supply

Mouse
Logitech G500
Keyboard
Saitek Eclipse II
Results
We ran several tests with the Max5G, connected first to a USB 3.0 port, and then to a USB 2.0 port. As we expected, the USB 3.0 connection is the faster of the two.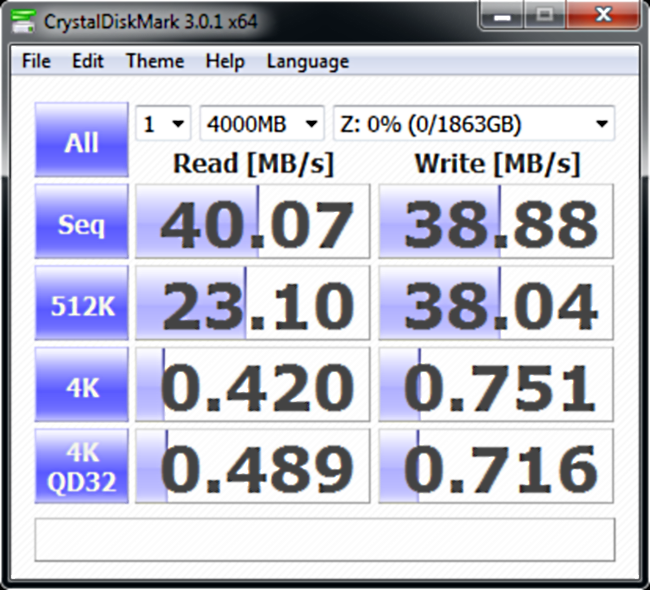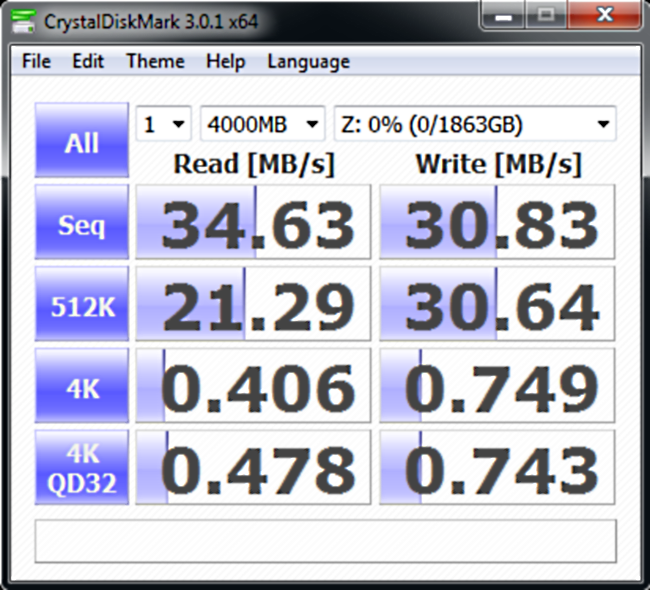 .
The USB 3.0 is to the left, and the USB 2.0 is to the right. CrystalDiskMark shows a 5.4 MB/s difference in sequential reads with the USB 3.0 test taking the lead. While sequential writes differ by just over 8 MB/s, again USB 3.0 is on top.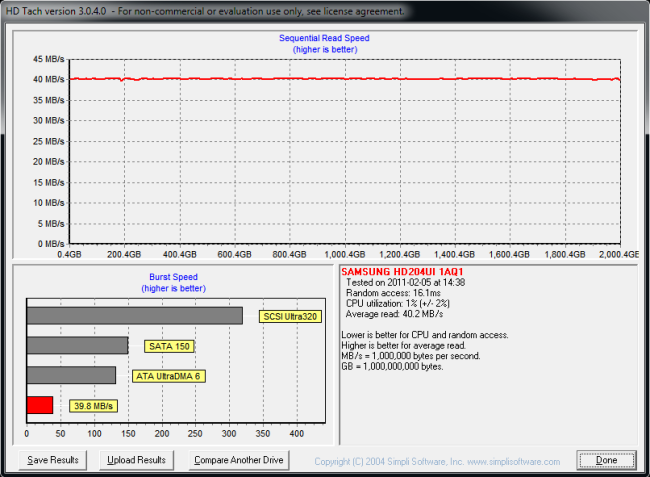 Here are the results with HD Tach on the USB 3.0 port. The drive averages around 40.2 MB/s; this is unexpectedly low for a USB 3.0 device.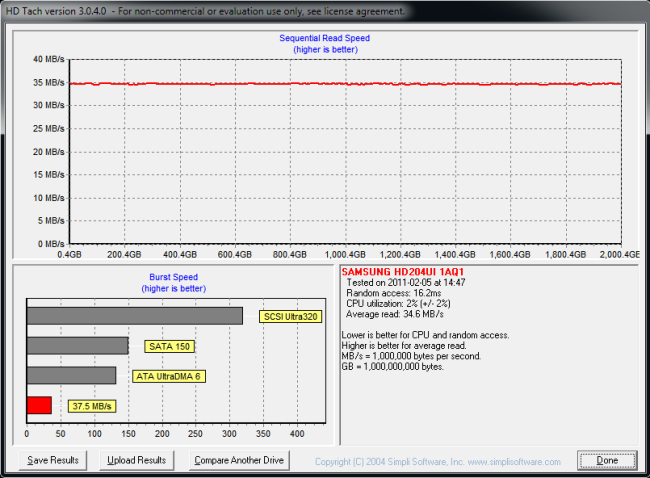 We then tested the enclosure using USB 2.0, and we observed an average drop of 5.6 MB/s average from the USB 3.0 test.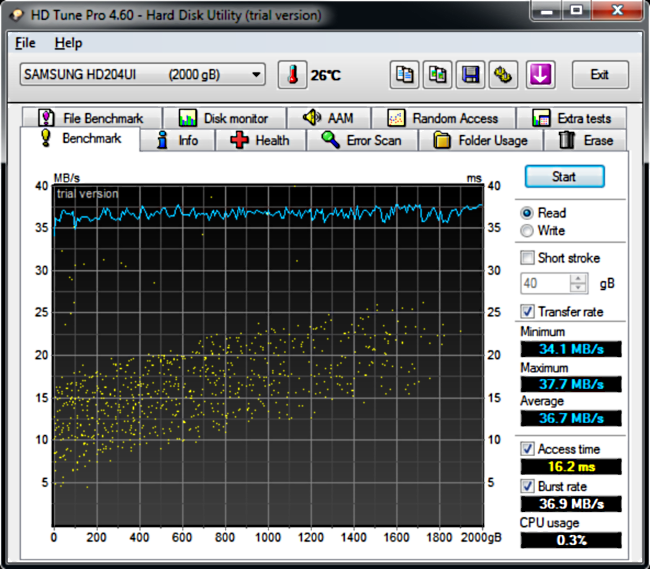 HD Tune Pro reported an average throughput of 36.7MB/s on a USB 3.0 port, with a burst speed of 36.9MB/s.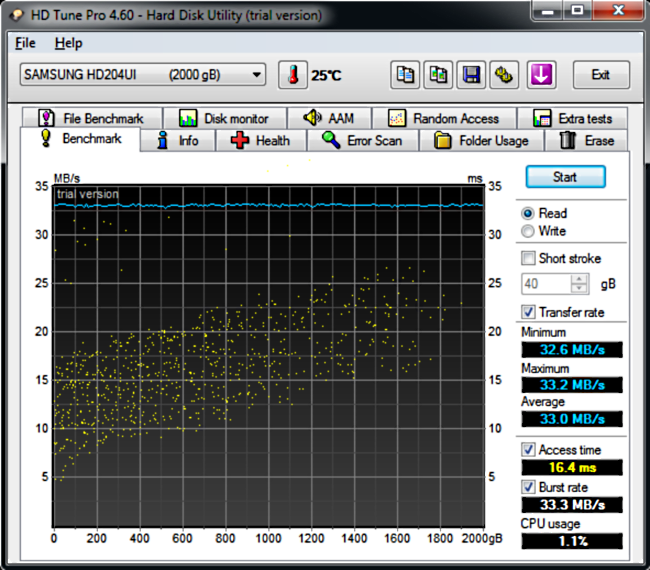 On a USB 2.0 port, the average throughput dropped around 11% to 33.0 MB/s. The burst speed also dropped slightly.
CONCLUSION
The Max5G Active Cooling enclosure from Thermaltake is well designed. The enclosure is sleek, and the LEDs make for a nice blue glow. The set of 80 mm fans are quiet, which is good, as the fans run constantly at 800 RPM. Unfortunately, it seems to limit USB 3.0 throughput to around 40MB/s, which is only slightly above the USB 2.0 performance.
The storage capacity tops out at 2TB, so many of the current 3.5″ SATA hard drives should have no issue working here.
We have revisited the Max5G's performance in a recent article. Please go ahead and skip HERE for the final benchmarks and conclusion page.