The Phenom II X4 975 Black Edition clocks in at 3.6GHz and provides an unlocked multiplier to aide in easy overclocking from the factory.
INTRODUCTION
It has been three months since we reviewed the latest Phenom II quad-core processor from AMD, the 970 Black Edition. With the start of a new year comes the latest quad-core from AMD, the Phenom II X4 975 Black Edition. The 975 is essentially a higher clocked Deneb CPU. The 975 BE clocks in at 3.6GHz, just 100MHz above the previous 970 BE. The designation "Black Edition" means that the CPU comes with an unlocked multiplier for overclocking goodness. A sub-$200 price puts this within the reach of most buyers. Continue reading to see how the slight bump in speed compares to the previous iteration in the quad-core Phenom II lineup.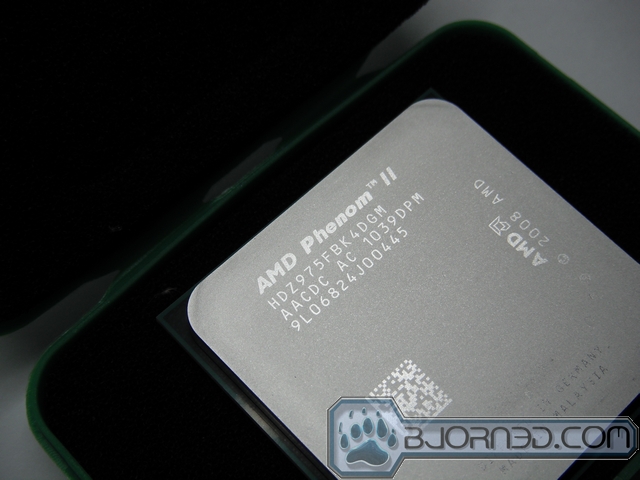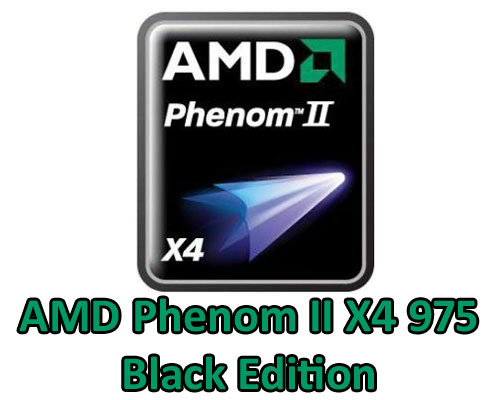 Though we are only taking a look at the Phenom II X4 975 Black Edition CPU today, AMD is also releasing the Phenom II X4 840. The 840 is clocked at 3.2GHz and hails from the Propus family, explaining the lack of L3 cache. The 840 is rated at 95W for the power conscious, and is expected to sell for around $100.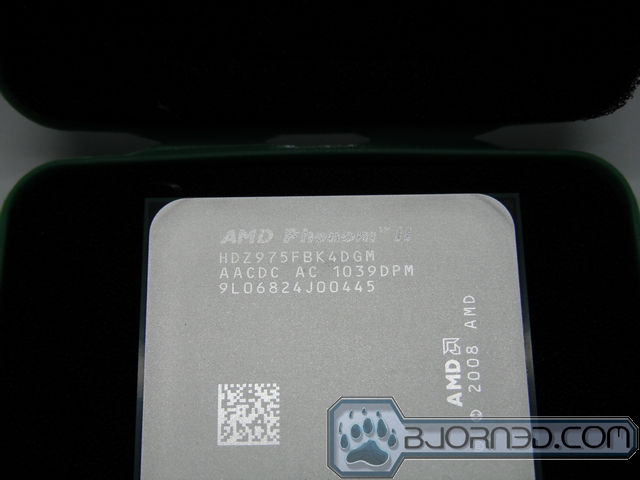 SPECIFICATIONS
| Specifications | AMD Phenom II X4 975 Black Edition |
| --- | --- |
| Model Number & Core Frequency | X4 975 / 3.6GHz |
| OPN | HDZ975FBK4DGM |
| L1 Cache Sizes | 64K of L1 instruction and 64K of L1 data cache per core (512KB total L1 per processor) |
| L2 Cache Sizes | 512MB of L2 data cache per core (2MB total L2 per processor) |
| L3 Cache Size | 6MB (shared) |
| Total Cache (L2+L3) | 8MB |
| Memory Controller Type | Integrated 128-bit wide memory controller |
| Memory Controller Speed | Up to 2.0GHz with Dual Dynamic Power Management |
| Types of Memory Supported | Unregistered DIMMs up to PC2-8500 (DDR2-1066MHz) -AND- PC3-10600 (DDR3-1333MHz) |
| HyperTransport 3.0 Specification | One 16-bit/16-bit link @ up to 4.0GHz full duplex (2.0GHz x2) |
| Total Processor-to-System Bandwidth | Up to 37.3GB/s bandwidth |
| Packaging | Socket AM3 938-pin organic micro pin grid array (micro-PGA) |
| Fab location | GLOBALFOUNDRIES Fab 1 Module 1 |
| Process Technology | 45-nanometer DSL SOI (silicon-on-insulator) technology |
| Approximate Die Size | 258 mm2 |
| Approximate Transistor count | ~ 758 million |
| Max TDP | 125 Watts |
The only major difference between the new 975 Black Edition and 970 Black Edition is the core frequency, with the newest processor coming in 100MHz ahead of the previous model. All other vitals are identical.
CPU-Z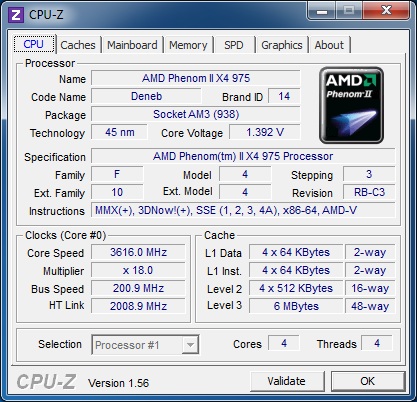 Here we see the stock settings for the Phenom II X4 975 Black Edition. Simple math brings us a 3.6GHz core speed thanks to a 200MHz bus speed and x18 multiplier.
TESTing & Methodology
The 975 BE will be benched against three previous X4 processors: the Phenom II X4 970 Black Edition, as well as the Athlon II X4 620 and 640. The Athlon II X4 CPUs natively run at 2.4GHz and 3.0GHz respectively, with the 970 BE clocking in at 3.5GHz. Each of these CPUs was also overclocked, and those results will be included as well.
Test Platform

Processors
AMD Phenom II X4 975 BE

AMD Phenom II X4 970 BE

AMD Athlon II X4 640

AMD Athlon II X4 620

Motherboard
ASUS M4A88TD-V EVO/USB3

ASUS M4A785TD-M EVO (Athlon II X4 620)

Memory
Kingston HyperX DDR3 1600 4GB Kit
Hard Drive (internal)
250GB Western Digital SATA 3.0Gb/s 16mb cache
Video Card
ASUS EAH6850 DirectCU
Power Supply
Thermaltake Toughpower XT 750
Case
Antec P182B
Operating System
Windows 7 Ultimate 64-bit
OVERCLOCKING
With the 970 BE we were able to achieve our best overclock by simply increasing the bus speed, but the 975 BE required a little more tinkering to get our highest stable overclock. After much testing it looked like we had reached a nice overclock of 4.3GHz by increasing the multiplier to 21.5x and leaving the bus speed alone. Unfortunately we were still experiencing random crashes in our benchmarking applications. Going the other route, we decided to actually lower the multiplier from the stock 18x to 17x and increase the bus speed to 250MHz. This combination netted us a final core speed of 4.25GHz, an increase of 650MHz.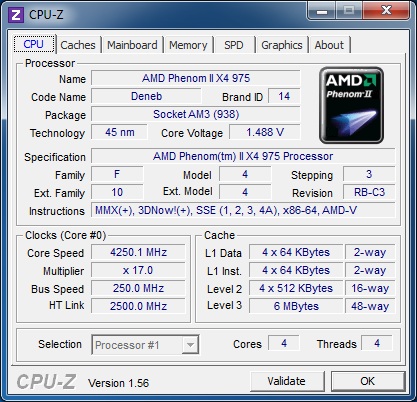 TEMPERATURES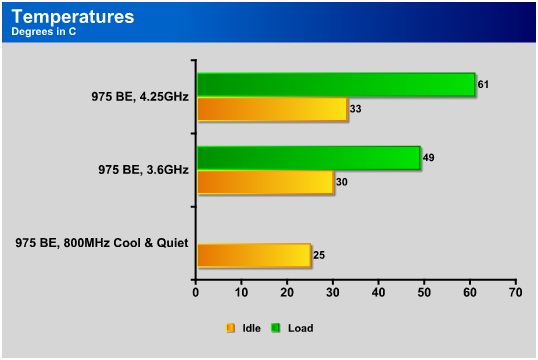 The test environment for the Phenom II X4 975 BE is in a nice and cool basement, allowing for great ambient temperatures. The 975 BE registered at just 25C at idle with Cool & Quiet enabled, and only jumped to 30C with Cool and Quiet disabled. Under a load temperatures rose to 49C. After our overclock was applied, idle temperatures rose slightly to 33C and 61C under load.
POWER CONSUMPTION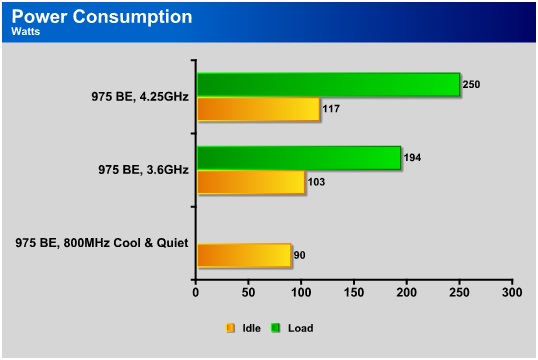 Power concious users will like that when Cool and Quiet is enabled, the Phenom II X4 975 BE only consumes 90 watts at idle in our test configuration. Once Cool and Quiet is disabled and the CPU runs at the full speed of 3.6GHz all the time, the power usage increases just slightly. Even overclocked, the 975 BE only uses 117 watts at idle in our configuration. Once a load is applied to this latest AMD processor however, the power usage increases almost two-fold at stock speeds. Under load, the overclocked Phenom II X4 975 BE drew 250 watts from the outlet according to our handy Kill-A-Watt.
EVEREST ULTIMATE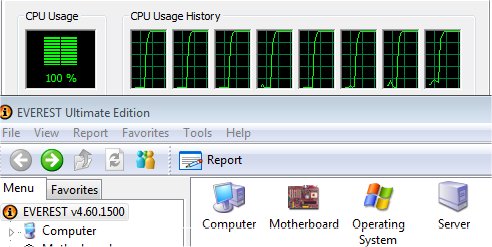 "EVEREST Ultimate Edition is an industry leading system diagnostics and benchmarking solution for enthusiasts PC users, based on the award-winning EVEREST Technology. During system optimizations and tweaking it provides essential system and overclock information, advanced hardware monitoring and diagnostics capabilities to check the effects of the applied settings. CPU, FPU and memory benchmarks are available to measure the actual system performance and compare it to previous states or other systems. Furthermore, complete software, operating system and security information makes EVEREST Ultimate Edition a comprehensive system diagnostics tool that offers a total of 100 pages of information about your PC."
CPU AES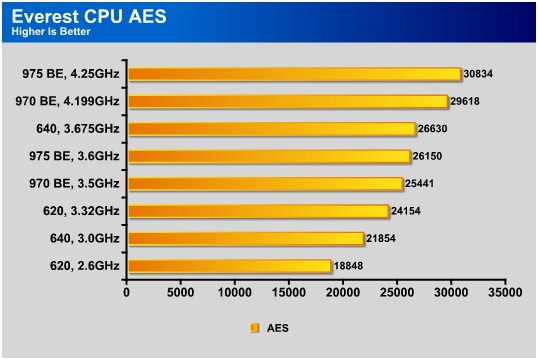 Here we see the correlation of core speed to performance. As the Phenom II X4 975 Black Edition increases in speed its performance increases as well. As expected, the overclocked 975 tops the chart here.
CPU PhotoWorxx
This integer benchmark performs different common tasks used during digital photo processing.
It performs the following tasks on a very large RGB image:
• Fill
• Flip
• Rotate90R (rotate 90 degrees CW)
• Rotate90L (rotate 90 degrees CCW)
• Random (fill the image with random colored pixels)
• RGB2BW (color to black & white conversion)
• Difference
• Crop
This benchmark stresses the integer arithmetic and multiplication execution units of the CPU and also the memory subsystem.
CPU PhotoWorxx test uses only the basic x86 instructions, and it is Hyper Threading, multi-processor (SMP) and multi-core (CMP) aware.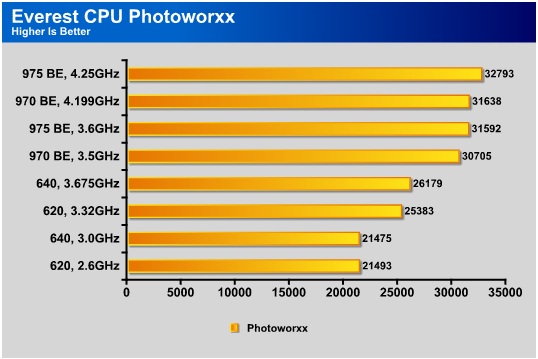 The increased clock speeds of the 975 BE come in handy in the Photoworxx benchmark as seen above. We also see where the added cache of the Phenom II CPUs adds an additional boost to performance compared to the Athlon II CPUs, which lack the L3 cache.
CPU Queen
This simple integer benchmark focuses on the branch prediction capabilities and the misprediction penalties of the CPU. It finds the solutions for the classic "Queens problem" on a 10 by 10 sized chessboard.
CPU Queen test uses integer MMX, SSE2 and SSSE3 optimizations. It consumes less than 1 MB system memory and it is Hyper Threading, multi-processor (SMP) and multi-core (CMP) aware.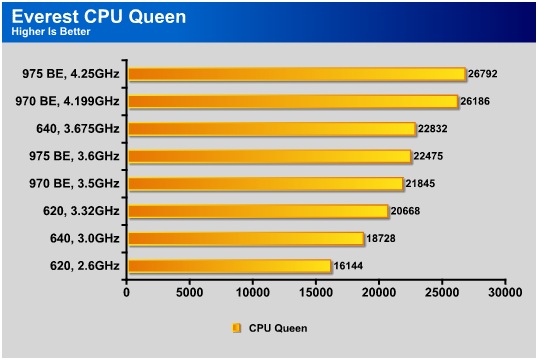 Again we have the typical stair step chart, showing that faster clocks almost always yield better results.
CPU Zlib
This integer benchmark measures combined CPU and memory subsystem performance through the public ZLib compression library Version 1.2.3 (www.zlib.net).
CPU ZLib test uses only the basic x86 instructions, and it is Hyper Threading, multi-processor (SMP) and multi-core (CMP) aware.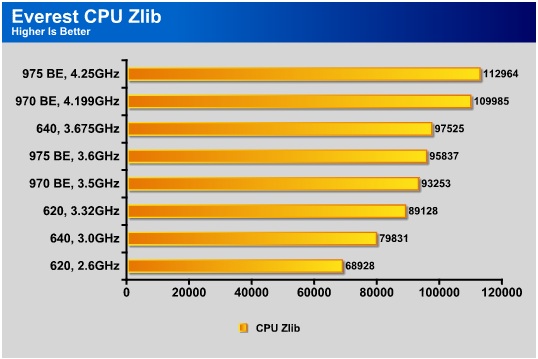 The overclocked 975 BE takes the lead once again in computing benchmarking. The gains of the 975 over the 970 show just how predictably these AMD processors scale. One could probably estimate how well a theoretical "980" would perform just from looking at these results.
SISOFT SANDRA
Processor Arithmetic

"SiSoftware Sandra (the System Analyser, Diagnostic and Reporting Assistant) is an information & diagnostic utility. It should provide most of the information (including undocumented) you need to know about your hardware, software and other devices whether hardware or software. It works along the lines of other Windows utilities, however it tries to go beyond them and show you more of what's really going on. Giving the user the ability to draw comparisons at both a high and low-level. You can get information about the CPU, chipset, video adapter, ports, printers, sound card, memory, network, Windows internals, AGP, PCI, PCI-X, PCIe (PCI Express), database, USB, USB2, 1394/Firewire, etc."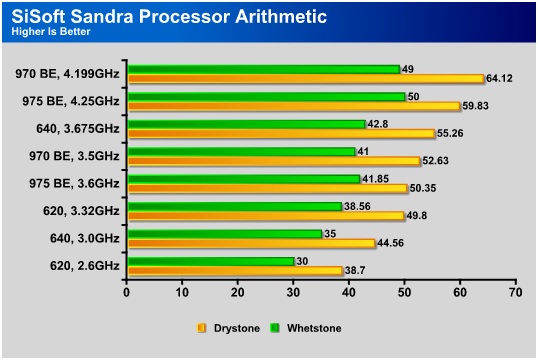 Here we actually see the 970 outperforming the 975. Due to the different overclocking methods used for each processor we must take that into consideration when looking at the results.
Processor Multimedia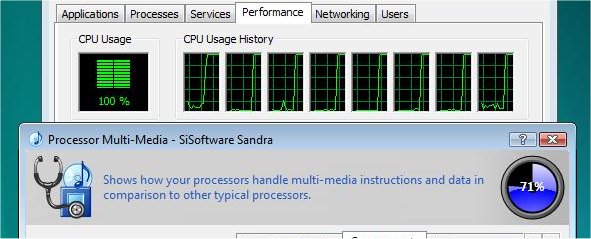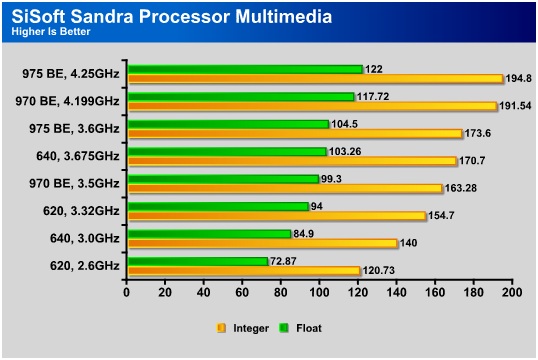 Once again the overclocked performance from the 975 Black Edition processor leads the pack in multimedia processing. As expected, we once again see slight increases in performance from the previous top of the line Phenom II X4, the 970 Black Edition.
CINEBENCH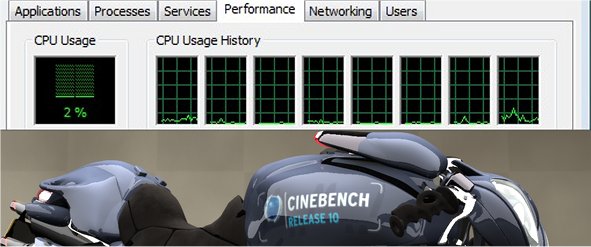 "CINEBENCH is a real-world test suite that assesses your computer's performance capabilities. MAXON CINEBENCH is based on MAXON's award-winning animation software, CINEMA 4D, which is used extensively by studios and production houses worldwide for 3D content creation. MAXON software has been used in blockbuster movies such as Spider-Man, Star Wars, The Chronicles of Narnia and many more. CINEBENCH is the perfect tool to compare CPU and graphics performance across various systems and platforms (Windows and Mac OS X). And best of all: It's completely free."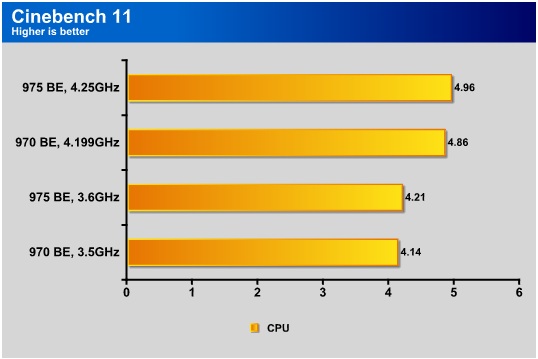 Unfortunately, Cinebench 11 results were not available for the Athlon II CPUs. Here again we see the predictable performance put forth by the Phenom II X4 975 Black Edition. The slight differences in CPU speeds mean nearly identical performance in this benchmark.
WINRAR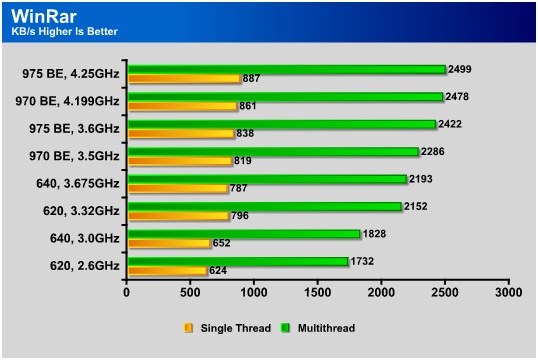 Here we see the expected results of the slight increase in speed from the 970 to the 975. Taking these performance numbers into account is a necessary step when looking to upgrade a CPU in order to make the right decision.
POVRAY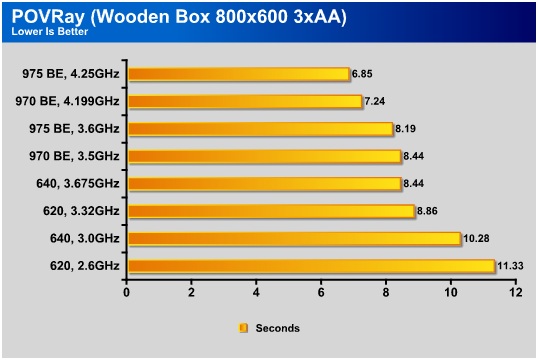 The Phenom II X4 975 Black Edition really cuts the rendering time down when overclocked compared to its stock speed. When rendering larger files, the extra performance that the overclock provides can free up valuable time for other tasks.
PCMARK VANTAGE
"PCMark Vantage is a PC benchmark suite designed for Windows Vista offering one-click simplicity for casual users and detailed, professional grade testing for industry, press and enthusiasts. A PCMark score is a measure of your computer's performance across a variety of common tasks such as viewing and editing photos, video, music and other media, gaming, communications, productivity and security. From desktops and laptops to workstations and gaming rigs, by comparing your PCMark Vantage score with other similar systems you can find the hardware and software bottlenecks that stop you getting more from your PC. "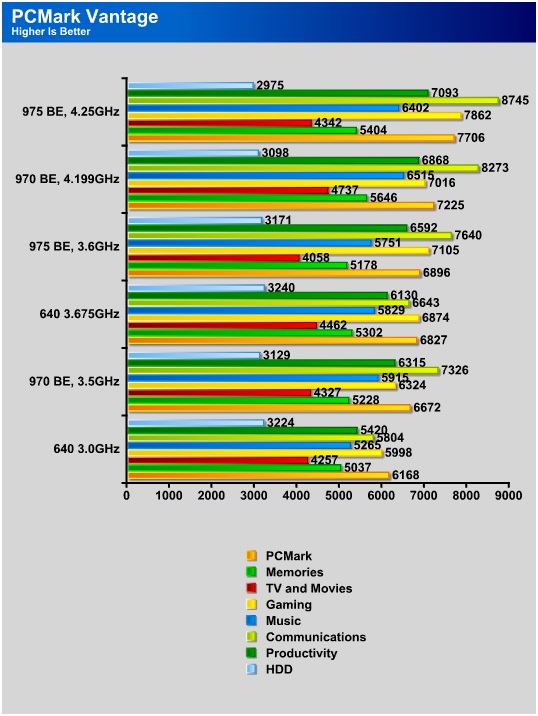 The Phenom II X4 975 Black Edition puts forth results that match what we would expect. Since there is really not much difference between the 975 and 970, their performances are very close to one another at both the stock and overclocked speeds.
3DMARK 11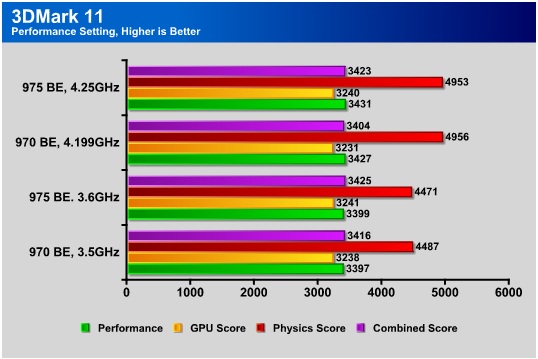 In the latest 3DMark application, the 970 actually beats the 975 in the physics portion of the benchmark, albeit only slightly. The Performance, GPU and Combined scores all stay around the same range, as the same test rig was used for all testing.
CONCLUSION
Follwing up the Fall release of the 3.5GHz Phenom II X4 970 Black Edition with a Winter release of the Phenom II X4 975 Black Edition seems like the logical thing for AMD to do. While the 100MHz provides a slight increase in performance over the previous top end Phenom II X4, the approximately $20 price jump may not be worth it to users looking for a new quad-core AMD CPU. The overclocking results bring performance up as expected, but gains are not very large over the previous model. What we essentially have is the same processor, just slightly faster. Nothing more, nothing less.
Where the Phenom II X4 975 Black Edition will really shine is in the hands of someone starting a brand new build that doesn't want or need to worry about overclocking, but still wants great performance. The high clock speed provides plenty of processing power for today's applications, and when paired up with a new videocard it provides a great base for a gaming machine.
While performance of the 975 was typically better than the previous model, the small increase makes spending $20 more on this model a hard sell. We would have liked to see AMD come forth with a higher clocked model as opposed to adding another SKU to their lineup in a spot that seems crowded to begin with.
OUR VERDICT: AMD Phenom II X4 975 Black Edition
| | |
| --- | --- |
| Performance | 8 |
| Value | 8 |
| Quality | 9 |
| Features | 9 |
| Innovation | 8 |

We are using a new addition to our scoring system to provide additional feedback beyond a flat score. Please note that the final score isn't an aggregate average of the new rating system.

Pros
Cons
Overclocks netted 650MHz

Affordable

Works in current AM2+ and AM3 motherboards

Small increase in performance over previous model
Summary: Whether looking to build a new computer from scratch, or upgrade a current AMD processor, the Phenom II X4 975 Black Edition should be taken into consideration.