When AMD released the Radeon HD 6850 and 6870, they had their sights set on one thing. The GTX 460. Read along as ASUS employs a custom cooling solution to their EAH6850 DirectCU.
INTRODUCTION
When AMD released the Radeon HD 6850 and 6870 in October 2010, they had their sights set on one thing: bringing out a contender capable of taking on the very successful Nvidia GeForce GTX 460. In order to do this, not only did the performance of the HD6800 cards have to be up to par, but the price point had to be within range of the 460. Now that the 6800 series cards have been out for a while, we're taking a closer look at ASUS' HD 6850 variant, the EAH6850 DirectCU. With their unique heatpipe cooling solution, DirectCU, ASUS claims their cards run up to 20% cooler than OEM style cooled cards. Come along as we see how things turn out as the benchmarks get under way.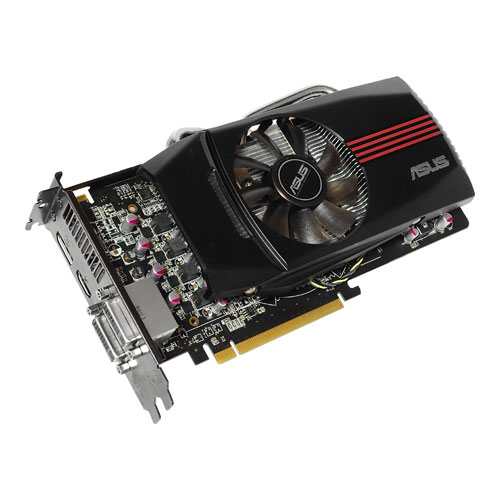 FEATURES
While ASUS stuck to the basics with most of the features on the EAH6850 DirectCU, they did toss in a few extras that help sweeten the deal when comparing cards from different vendors. One feature to note is that ASUS increased the GPU clock it from 775MHz to 790MHz. While this is a nice feature, it made us curious as to why ASUS only provided such a slight boost. It would have been better to either leave it alone, or increase the performance significantly, and sell it as a super overclocked product. Either way, we pushed the 6850 past the factory overclock and saw a fair amount of performance gains.
Voltage Tweak – Full throttle overclocking with exclusive ASUS Voltage Tweak via Smart Doctor – boosting 50%* more speed, performance and satisfaction!
DirectCU – Precision mounted DirectCU copper heatpipes in direct contact with the GPU for rapid heat dissipation – creating 20%* cooler and quiet performamce in idle
Overclocked! – Factory overclocked to perform at 790MHz, higher than stock performance, resulting in higher frame rates in games.
ASUS Smart Doctor – Intelligent system monitoring for efficient overclocking with an intuitive slide bar.
ASUS Gamer OSD – Real-time overclocking, benchmarking and video capturing in any PC game!
ASUS Splendid – Optimizes colors in various entertainment scenarios with five special modes — standard, game, scenery, night view and theater.
Microsoft Windows 7 Support – Enables PC users to enjoy an advanced computing experience and to do more with their PC
AMD CrossFireX Technology – Gets up to 1.8X of a graphics performance boost in dual mode.
AMD Eyefinity Technology – Unlocks the power of GPU's processor cores to accelerate the most demanding system tasks
AMD HD3D Technology – Optimize stereoscopic 3D gaming and movie-watching entertainment.
ASUS Splendid – Watching movies on PC is as good as on top-of-the-line consumer televisions
SPECIFICATIONS
Specifications
ASUS EAH6850 DirectCU
Graphics Engine
ATI Radeon HD 6850
Bus Standard
PCI Express 2.1

Video Memory



1GB GDDR5
Engine Clock

790MHz
Memory Clock

4000 MHz (1000 MHz DDR5)
Memory Interface
256-bit
RAMDAC

400MHz
DVI Max. Resolution

2560 x 1600
D-Sub Max. Resolution
2048 x 1536
D-Sub Output

1 (via DVI to D-Sub adaptor)
DVI Output

2 (1 x DVI-I, 1 x DVI-D)
HDMI Output

1
HDCP Support

Yes
Adaptors Bundled

1x DVI to D-Sub adaptor

1x Crossfire cable

1x Power cable

Software Bundled



ASUS Utilities and Driver
Dimensions

10.24″ x 4.84″
CLOSER LOOK
Packaging and Extras
Much like other manufacturers, ASUS has taken used the retail packaging to show off a few of the features of the EAH6850. A large graphic touting the Voltage Tweak feature overshadows the other pertinent information such as the 1GB of GDDR5 and Eyefinity support. The back of the box again touts the Voltage Tweak, as well as the DirectCU cooling solution.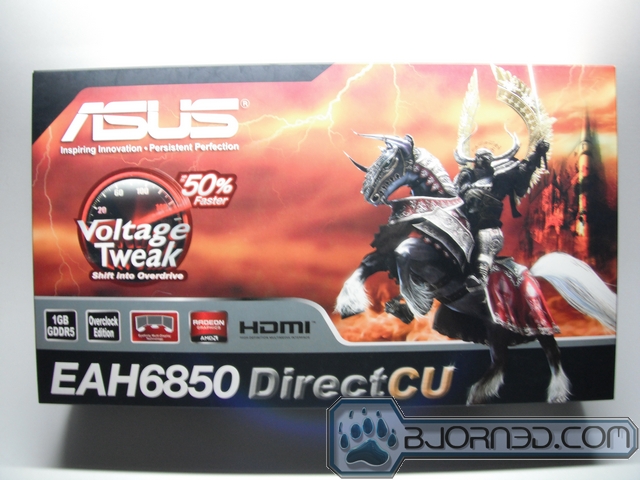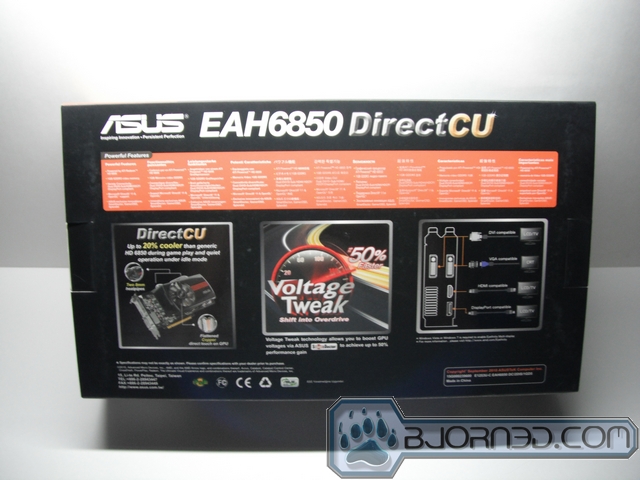 The inner box of the package is aesthetically pleasing, a simple black box with the ASUS logo stamped in gold. Inside is another internal box, holding the included adapters. Next to the secondary box is where the vidoecard rests in a form-fitting foam block with lid.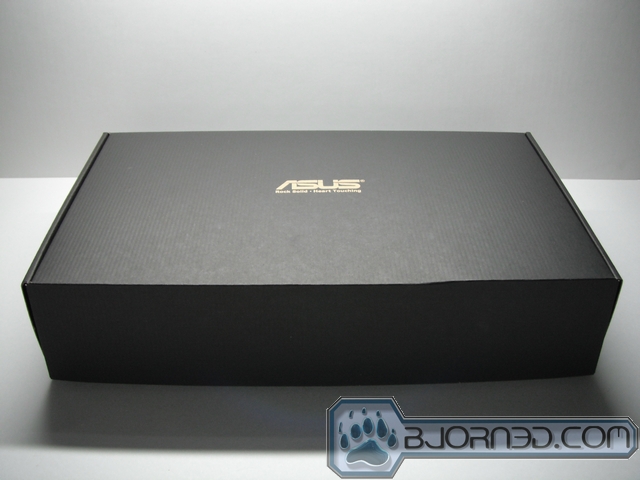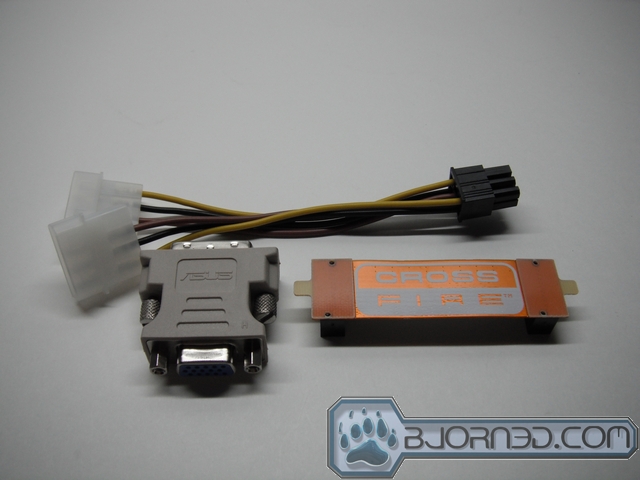 Below the foam packing block is another internal box that contains the videocard driver CD, a setup manual and CD binder.
EAH6850 DirectCU
Just like the ASUS ENGTX460 DirectCU we recently reviewed, the unique cooling shroud on the EAH6850 DirectCU features racing stripes, but this time in "AMD red". A single 9 bladed fan delivers air to the aluminum cooling fins below.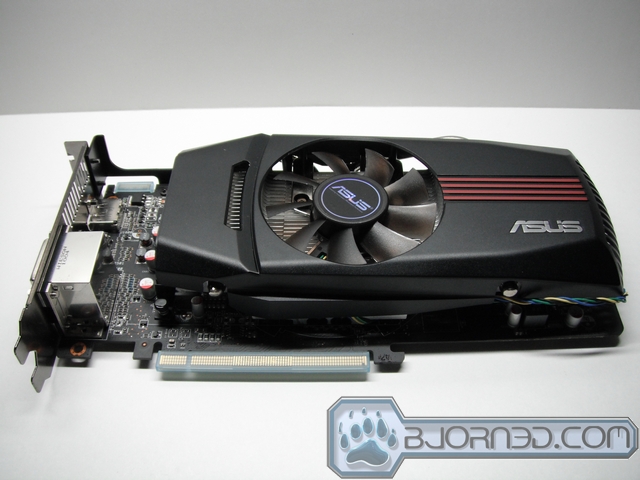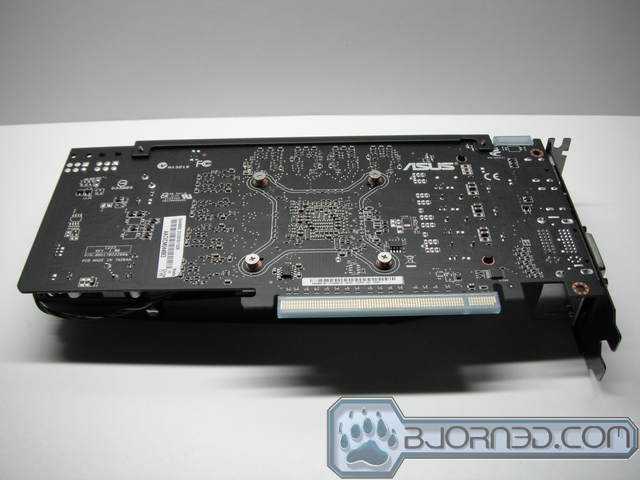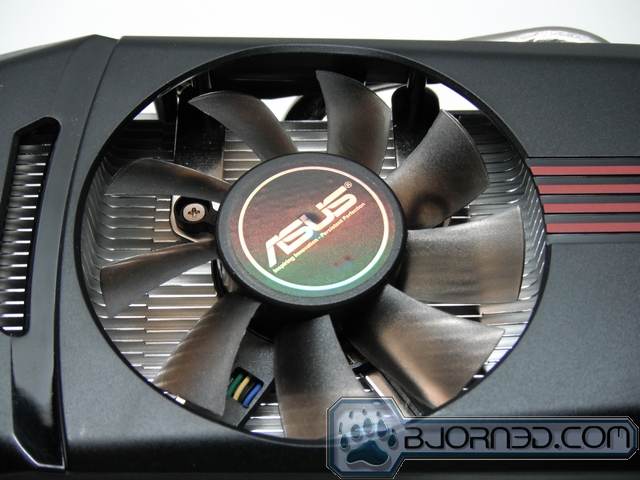 Two heatpipes make direct contact with the GPU heatspreader for superior cooling compared to the standard cooling solution found on most OEM style HD 6850's. The heatpipes are flattened where they meet the heatspreader, to allow for more surface contact with the spreader, resulting better cooling. The heatpipes then move out from the GPU to an array of aluminum cooling fins, where the air from the cooling fan flows across them under the plastic shroud.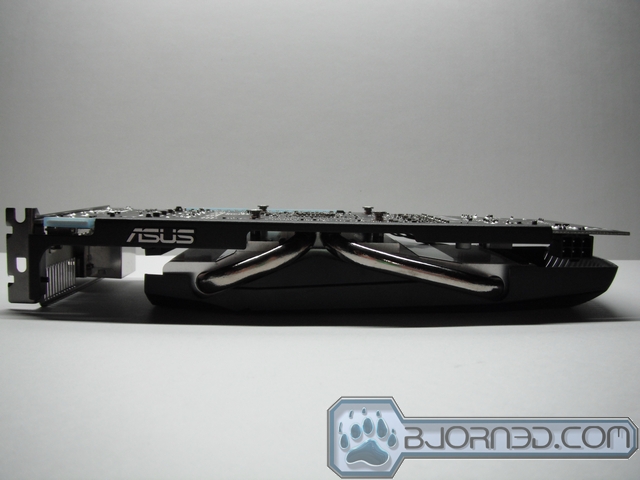 Output options are plentiful, with the standard dual DVI ports, a Display Port connection and single HDMI port all surrounding a half width ventilation grille.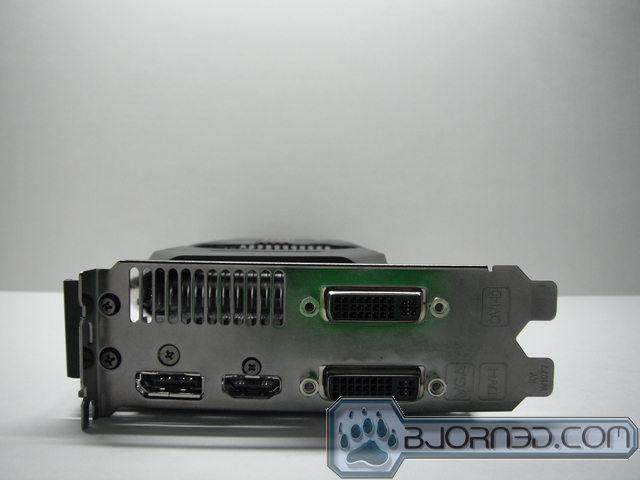 TEST SETUP
Test Platform

Processor
AMD Phenom II X4 970 BE
Motherboard
ASUS M4A88TD-V EVO/USB3
Memory
Kingston HyperX DDR3 1600 4GB Kit
Hard Drive (internal)
250GB Western Digital SATA 3.0Gb/s 16MB cache
Video Cards
ASUS EAH6850 DirectCU

ASUS ENGTX460 DirectCU

BFG GeForce GTX 260 OC MaxCore 55

Power Supply
Thermaltake Toughpower XT 750
Case
Antec P182B
Operating System
Windows 7 Ultimate 64-bit
OVERCLOCKING
To overclock the EAH6850 DirectCU, we used the bundled SmartDoctor sofware that ASUS provides. While it is not quite as polished as some other applications, it does the job. The results of the overclocking settings will be listed in the benchmarks results throughout the remainder of this review.
In order for us to consider an overclock speed as stable, the videocard had to run through the paces of various benchmarks without crashing, showing artifacts or any other signs of overclocking related issues.The GPU was able to increase from an already boosted speed of 790MHz up to 925MHz, a gain of 135MHz (150MHz over OEM speeds). On the memory, the final speed was 1075MHz, an increase of 75MHz over stock. While these numbers may seem modest, they did bring about noticeable performance increases across the board.
TEMPERATURES
One of the main features of the EAH6850 DirectCU is the unique heatpipe cooling solution that ASUS has implemented. ASUS claims up to a 20% increase in cooling performance compared to generic cooling solutions found on OEM style cards. All temperature testing was done with the fan setting on "Auto" to allow the videocard to regulate the cooling itself.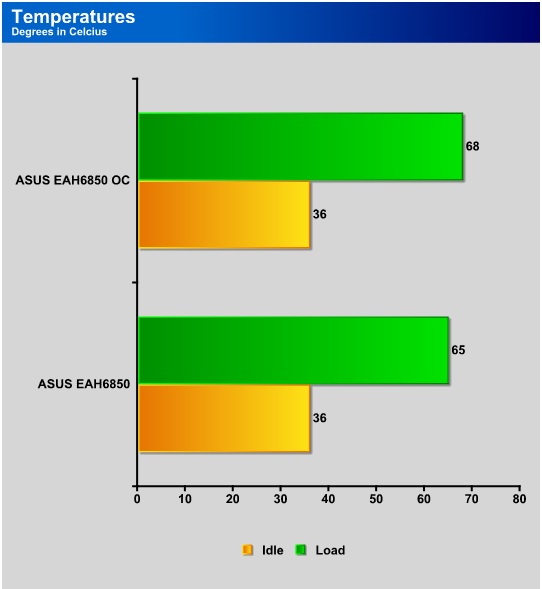 At idle the temperatures of the ASUS EAH6850 DirectCU are identical, something we expected, as the card is just idling along. However, when under load, the temperature nearly doubles at stock clocks and when overclocked. Thankfully, the DirectCU cooling solution does a great job of keeping the HD 6850 GPU cool. When overclocked, the temperature increase over the stock speed is very small.
POWER CONSUMPTION
These days power consumption is a factor that more and more users are taking into consideration, especially if a computer is left on all of the time. Power readings were taken at both idle and during a load using a standard Kill-A-Watt unit.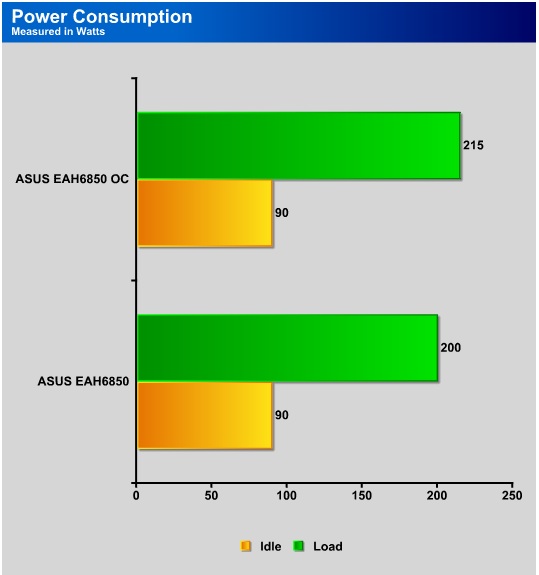 Again we see the EAH6850 taking it easy when idling, but when tasked, the power consumption more than doubles. Thankfully the wattage required is very low in today's standards. The use of a single 6-pin power connector is a good visual indicator of the low power requirements of the 6850 GPU.
3DMARK VANTAGE

For complete information on 3DMark Vantage Please follow this Link:
www.futuremark.com/benchmarks/3dmarkvantage/features/
The newest video benchmark from the gang at Futuremark. This utility is still a synthetic benchmark, but one that more closely reflects real world gaming performance. While it is not a perfect replacement for actual game benchmarks, it has its uses. We tested our cards at the 'Performance' setting.
In our first benchmark, we see that both the HD 6850 and GTX 460 are very equally matched at stock clocks, and both out-perform previous generation hardware like the GTX 260 OC. Overclocking the 6850 was not quite as fruitful as overclocking the GTX 460, and we see it trailing the Nvidia card slightly. The overclocked EAH6850 DirectCU gained close to 2,000 points on the GPU score in 3DMark Vantage.
CINEBENCH 11.5
CINEBENCH is a real-world cross platform test suite that evaluates your computer's performance capabilities. CINEBENCH is based on MAXON's award-winning animation software CINEMA 4D, which is used extensively by studios and production houses worldwide for 3D content creation. MAXON software has been used in blockbuster movies such as Spider-Man, Star Wars, The Chronicles of Narnia and many more.
CINEBENCH is the perfect tool to compare CPU and graphics performance across various systems and platforms (Windows and Mac OS X). And best of all: It's completely free.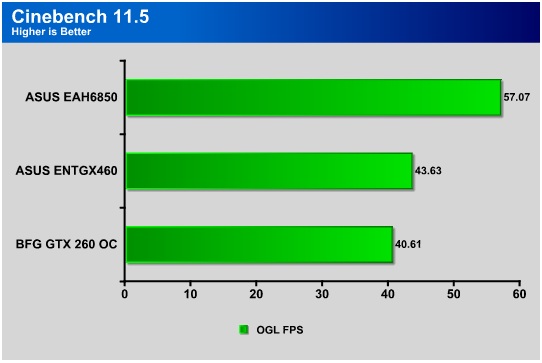 Cinebench 11.5 gives us a different result, with the HD 6850 pulling ahead of the GTX 460 by a noticeable 14FPS. Let's move on to a few more graphically intense benchmarks and see how the 6850 performs compared to the card it was designed to compete with directly.
UNIGINE HEAVEN 2.1

Unigine Heaven is a benchmark program based on Unigine Corp's latest engine, Unigine. The engine features DirectX 11, Hardware tessellation, DirectCompute, and Shader Model 5.0. All of these new technologies combined with the ability to run each card through the same exact test means this benchmark should be in our arsenal for a long time.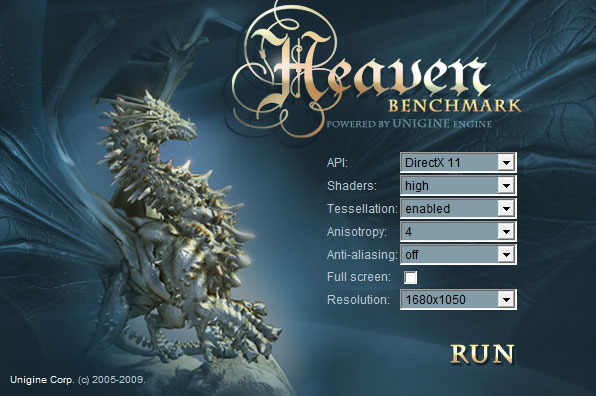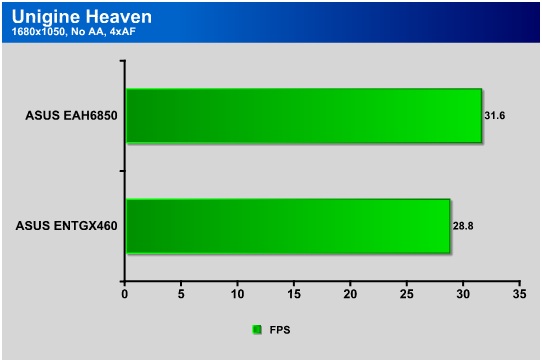 When pitted head to head in a tessellation heavy benchmark, the HD 6850 came in just ahead of the GTX 460. While this slight difference is hardly noticeable at such low framerates, it is still worth noting, as tessellation is an increasingly important component in new games.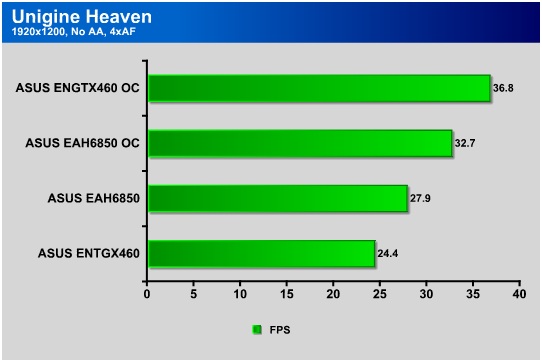 Once the speeds were cranked up however, the ASUS ENGTX 460 DirectCU pulled back into the lead, although only by a small margin. At this higher resolution, the results are similar to those of the 1680×1050 testing at stock speeds, with the HD 6850 slightly edging out the GTX 460.
STONE GIANT
We used the built in utility for determining FPS. We started the benchmark, and let it run on stock settings for 3 passes without making any adjustments of changing camera angles.
Key features of the BitSquid Tech (PC version) include:
Highly parallel, data oriented design
Support for all new DX11 GPUs, including the NVIDIA GeForce GTX 400 Series and AMD Radeon 5000 series
Compute Shader 5 based depth of field effects
Dynamic level of detail through displacement map tessellation
Stereoscopic 3D support for NVIDIA 3DVision
"With advanced tessellation scenes, and high levels of geometry, Stone Giant will allow consumers to test the DX11-credentials of their new graphics cards," said Tobias Persson, Founder and Senior Graphics Architect at BitSquid. "We believe that the great image fidelity seen in Stone Giant, made possible by the advanced features of DirectX 11, is something that we will come to expect in future games."
"At Fatshark, we have been creating the art content seen in Stone Giant," said Martin Wahlund, CEO of Fatshark. "It has been amazing to work with a bleeding edge engine, without the usual geometric limitations seen in current games".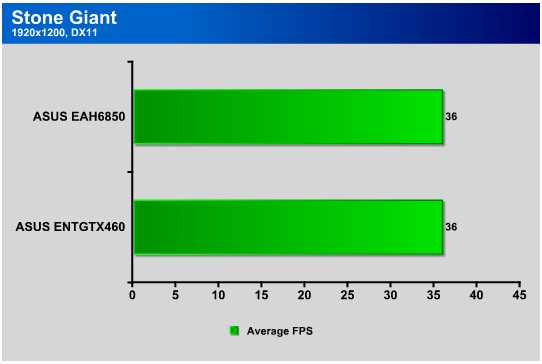 The two cards performed the same in this benchmark, both coming in at 36FPS.
HAWX 2
Tom Clancy's H.A.W.X. 2 plunges fans into an explosive environment where they can become elite aerial soldiers in control of the world's most technologically advanced aircraft. The game will appeal to a wide array of gamers as players will have the chance to control exceptional pilots trained to use cutting edge technology in amazing aerial warfare missions.
Developed by Ubisoft, H.A.W.X. 2 challenges you to become an elite aerial soldier in control of the world's most technologically advanced aircraft. The aerial warfare missions enable you to take to the skies using cutting edge technology.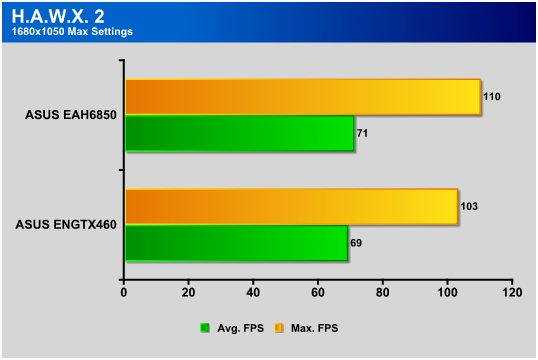 H.A.W.X. 2 really looks great with tesselation enabled, although it is only enabled on the terrain. The detail really shows on the edges of the mountains and goes a long way to help the game look more lifelike. Here we see the results to be quite close once again, with the HD 6850 barely moving past the GTX 460 in both the average and maximum FPS results.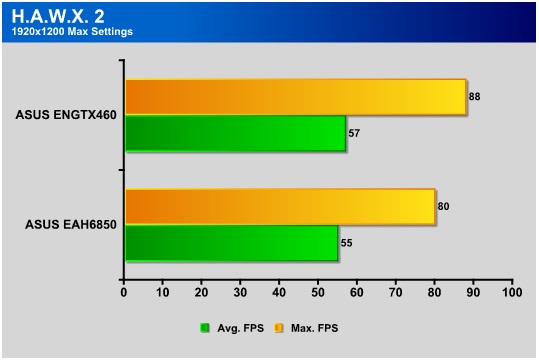 Bumping the resolution up a notch results in a flip-flop of numbers, with the GTX 460 regaining the lead over the HD 6850. So far the ASUS EAH6850 DirectCU has done a very good job of performing up to par with the GTX 460.
Just Cause 2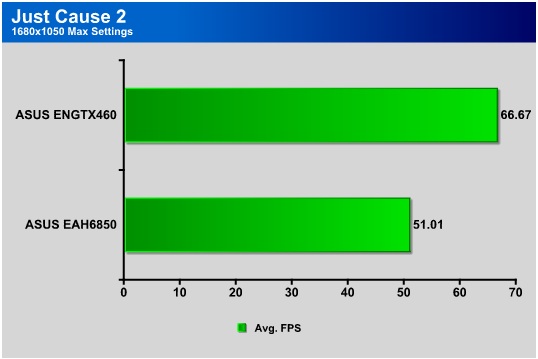 Here we see the most significant lead by the GTX 460 so far, taking the lead with a decent 15 FPS increase in performance over the EAH6850 DirectCU.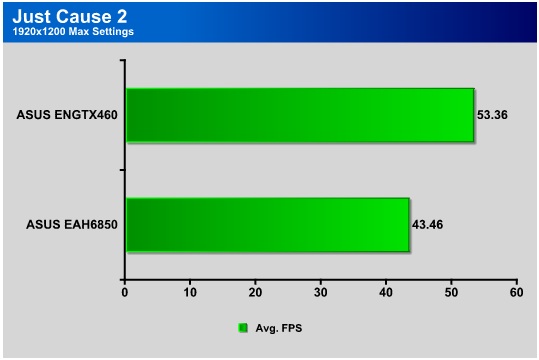 The results stay the same in Just Cause 2 when the resolution is increased, with the lead going to the GTX 460 once again as it bests the EAH6850 DirectCU by 10 FPS.
CONCLUSION
As we worked our way through this review, one thing was apparent the entire time: the mainstream videocard market is currently in the middle of a tight race to the finish line. The results of the ASUS EAH6850 DirectCU when compared to the ASUS ENGTX 460 DirectCU are so close to one another that both should be highly considered when looking to move to a new videocard. AMD really did their homework when working to introduce a direct competitor to the GTX 460. With a price point of $199.99 at Newegg.com, the EAH6850 DirectCU is within $20 of ASUS' DirectCU version of the 460.
ASUS distinguishes themselves from other HD 6850 manufacturers with the improved cooling from the DirectCU solution. By using the proven system of heatpipes, ASUS is able to keep the temperatures of the HD 6850 GPU down to a resonable level.
Reviewer's Opinion:
AMD should be happy with the results of the HD 6850 GPU, as it hit the bullseye that they had attached to the GTX 460. Whether you are looking to either upgrade or purchase for a new build, the ASUS EAH6850 DirectCU should definitely be considered. Although it is slightly higher priced than other HD 6850 cards, the added cooling of the DirectCU solution makes the added cost justifiable.

OUR VERDICT: ASUS EAH6850 DirectCU

| | |
| --- | --- |
| Performance | 9 |
| Value | 9 |
| Quality | 9 |
| Features | 9 |
| Innovation | 9 |

We are using a new addition to our scoring system to provide additional feedback beyond a flat score. Please note that the final score isn't an aggregate average of the new rating system.

Pros
Cons
Performs right on target

Runs cool and quiet

Affordable

Factory overclock is virtually unnoticeable
Summary: The ASUS EAH6850 DirectCU performed excellently, and may very well shatter the GTX460's monopoly on the midrange market. On top of that, thanks to ASUS' unique DirectCU heatpipe cooling solution, the EAH6850 keeps its cool under pressure. For its innovation and value, we give the ASUS EAH6850 DirectCU our Bjorn3D Golden Bear Award.