The Mionix Naos 5000 is a gaming mouse from the Swedish company Mionix that aims to take on the best gaming mice from companies like Logitech, Razer and Microsoft.
INTRODUCTION
Mionix is a Swedish company that recently has entered the crowded market of gaming peripherals, with products like gaming mice, headphones, and mousepads. Today we are testing their flagship product: the Mionix Naos 5000 gaming mouse. With features like a 5040 dpi laser sensor, 128 KB inbuilt memory for macros and 7 programmable buttons, it appears Mionix is rearing to butt heads with companies like Razer and Logitech. Does it work? Read on to find out.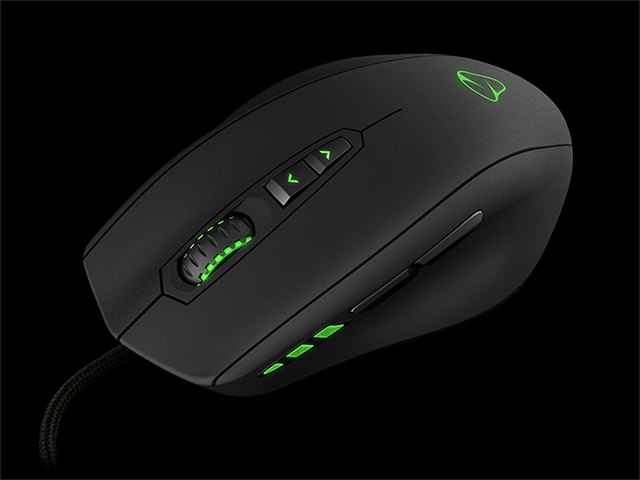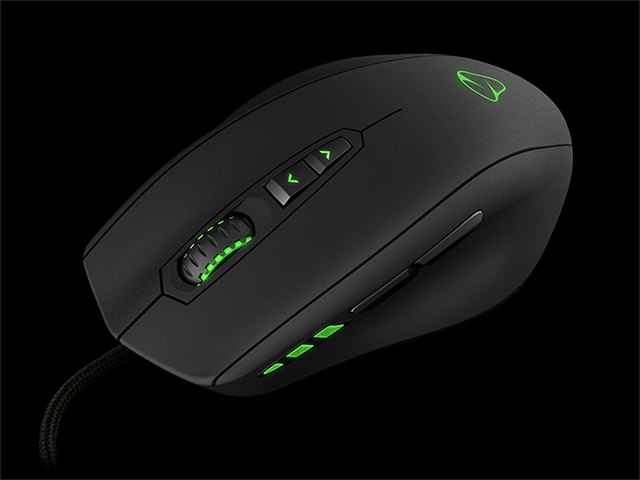 A Star
Mionix has a lengthy explanation regarding the name of the mouse:
"This prominent gaming mouse is named after the star Naos, a blue super giant and one of the brightest stars in our galaxy. Naos means "ship" and is enough powerful to create comet tails and huge clouds of auroras visible from Earth. Naos is constantly moving away from its original position in the constellation of Vela and it spins about 100 times faster than our sun. Since its birth it has covered a distance of 400 light-years. No one knows exactly why Naos has such a high rotation speed, but an explanation to this phenomenon lies in the gravitational interaction between many other stars."
We're not sure what this exactly has to do with a gaming mouse but there are worse things one could name a mouse.
THE SPECIFICATIONS
Here we list the technical specifications:
Truly ergonomic design
Grip friendly rubber coating
7 buttons (7 programmable)
3 steps in-game dpi adjustment
In-game profile switch
Configurable dpi up to 5040 dpi
6 integrated LEDs
Adjustable polling rate
128 kb built-in memory
Large teflon feet
Balanced weight tuning system (up to 40 gr)
Gold-plated USB connection
Full speed USB 2.0 with Plug n Play
Cable length: 2 m (braided for durability)
Compatible with all kinds of surfaces
130.84×84.72×38.67 mm / 5.15×3.33×1.52 in
Netto (w/o cable): 106 gr
Netto (cable incl.): 158 gr
Weight tuning: up to 40 gr
SENSOR SPECIFICATION
5040 dpi gaming laser sensor
S.Q.A.T – Surface Quality Analyzer Tool
Adjustable lift distance
1 ms response time
12 000 frames/sec
Tracking speed: 5.1 m/sec (200 ips)
10.6 megapixels/sec image processing
Acceleration: 30 g
40 000 Hz sampling rate
True 16-bit data path
This mouse has excellent specifications, and we'll examine whether this mouse can compete with it's counterparts from Razer and Logitech.
CLOSER LOOK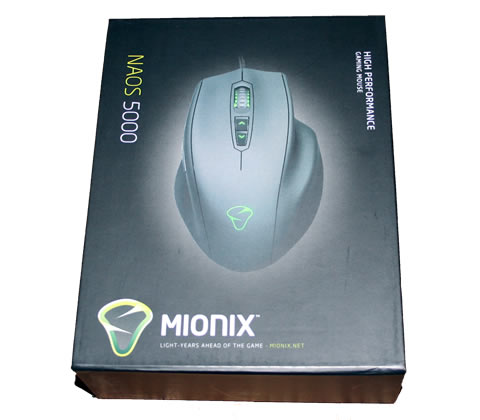 The mouse comes in a nice clean packaging that shows everything about the mouse.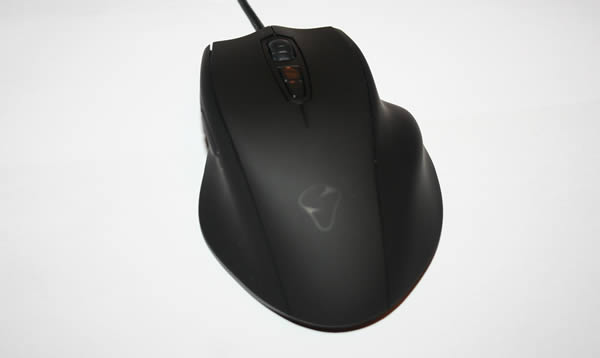 The mouse is all black, a color which seems to be popular these days among the mouse-makers. The rubber coating on the mouse gives it a very nice surface that helps it from slipping .
This is a mouse that is made for right-handed people, so south-paws have to choose another mouse.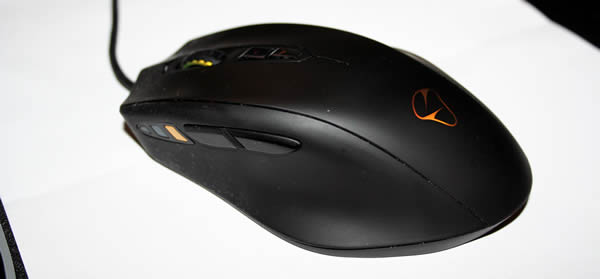 The mouse is ergonomically formed so that your fingers and hand all rest on the mouse. It is very comfortable, at least for the size that our hands are. On the left side of the mouse we find two buttons that you can reach with your thumb. While the front button is a bit hard to reach the button to the rear is easy to reach with the thumb. The led-lights on the left side shows what dpi-setting is used at the moment.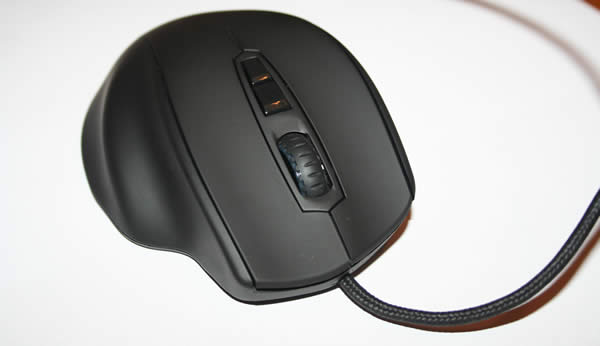 On the top of the mouse we find 2 buttons which by default are used to change the dpi of the mouse. As with every button on this mouse you can assign new meanings to them through the software we will cover later.
The mouse wheel of course is clickable and can be used to scroll both horizontally and vertically.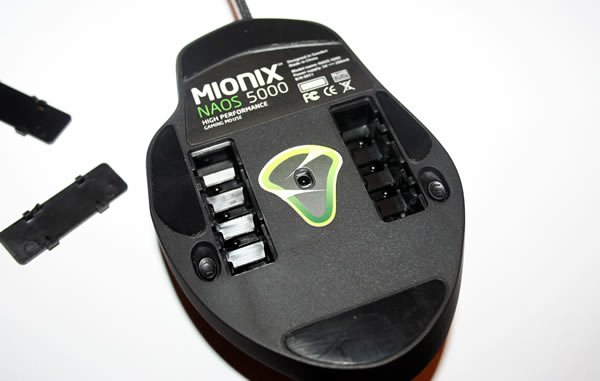 On the underside of the mouse are two compartments for the weights. It is possible to distribute the weights differently on each side to get a personal feel to the mouse. The mouse glides on 4 large teflon-covered feet. Mionix doesn't include any replacement teflon-gliders, but even after we used the mouse for a few months, there were no signs of the feet wearing out.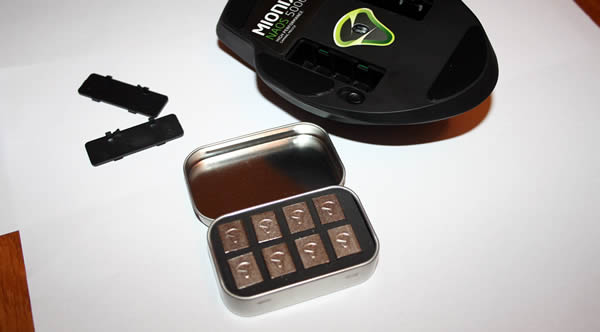 Each weight is 5 grams, meaning users can put up to 20 grams on each side, for a total of 40 g.
THE SOFTWARE
The Mionix Naos 5000 comes with 128 Kb internal memory and can be used without installing any software. It does come with a software, though, for users who want to change the mouse's settings. One nice feature of this mouse is that if a user sets the mouse up on one computer and saves the settings to the mouse, they do not need to install the software on another computer when using the mouse there. The settings are stored on the mouse.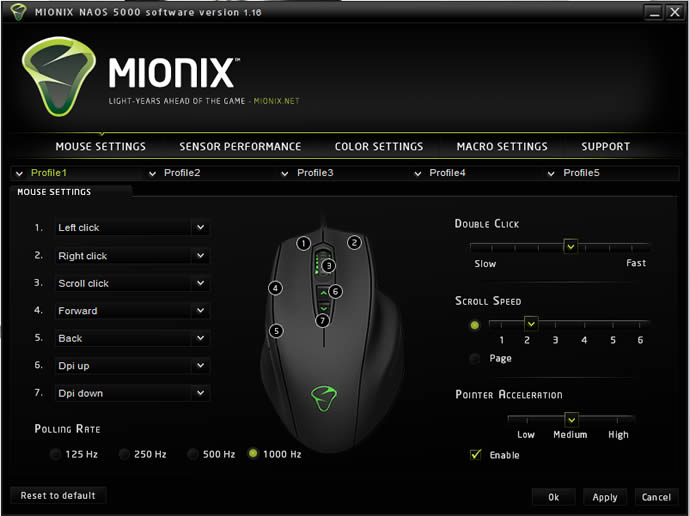 It is possible to change each button's assignment. In addition to the regular commands (such as left/right click), users also can assign macros and single keys, as well as change profiles. Up to 5 profiles can be created. On this page we also can change the polling rate. Users running older computers might have to turn down the polling rate from 1000 Hz to 500 Hz, as older computers cannot process the information fast enough.
Though users can only select three different dpi settings on the mouse, it is possible to set the dpi for each of these settings individually. For example, we can set the mouse to 200, 3000, and 5000 dpi just as easily as we can set it to 90, 500 and 2000 dpi. We can even set the dpi setting for the x- and y-axes separately, so that users can horizontally and vertically at different speeds.
The surface quality analyzer feature is quite interesting. It lets us do different moves and analyzes the surface to see how good the tracking quality is. For fun we tested a few different surfaces:
Cooler Master CM Storm mouse mat: 6/10 (Good)
Wooden desktop: 7/10 (Good)
Steel Series mouse mat: 4/10 (Acceptable)
Razor Mantis Speed Mouse mat: 4/10 (Acceptable)
Revoltec Gamepad Precision Pro, HighSense: 7/10 (Good)
Mionix tells us that this does not actually say anything about the feel and frankly we are not entirely clear about this feature's usefulness. Several mouse mats that we thought worked excellent with gaming mice get 4-6/10 (between acceptable and good). At the least, it seems to be a diagnostic tool, useful for checking if the surface is reason for a bad result from the mouse.
Another interesting feature is that we can set the distance that the mouse can be lifted before the sensor stops reading.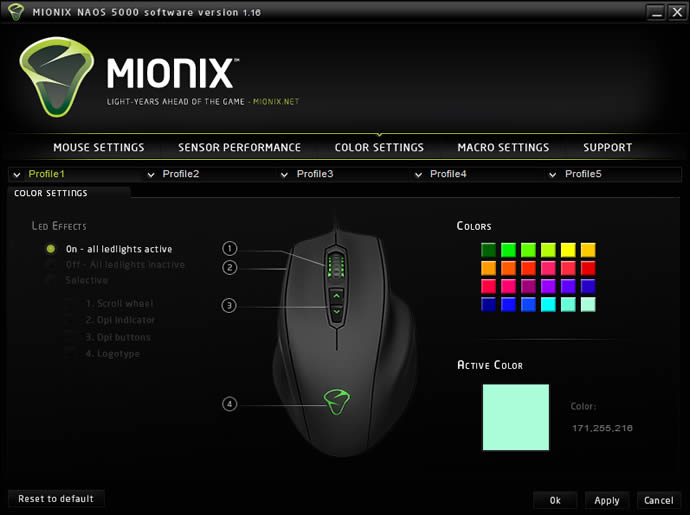 It seems every gaming mouse has LED lights these days, and the Naos 5000 isn't any different. It allows users to set LED's to a certain color, turn them all off or just turn a few on. Users can have different colors for different profiles, a useful indication of which profile is currently selected.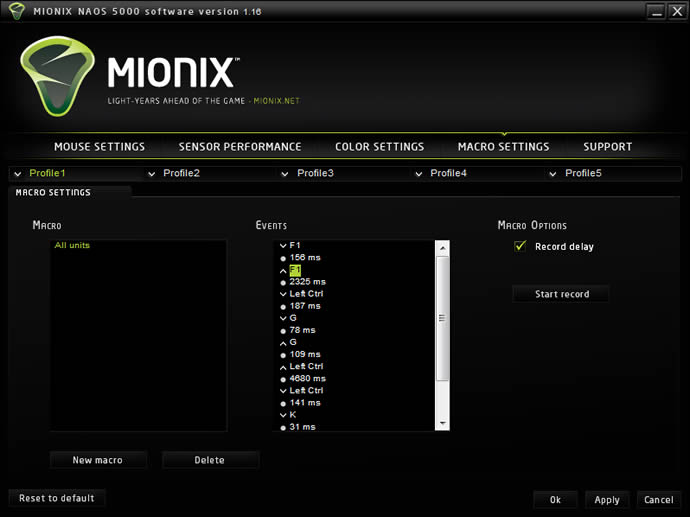 Users can create up to 30 macros, with a maximum of 10 commands in each macro. The macros can record either just the key presses or also record the delay between each key press.
The software checks for new firmware every time users start it, making it easy to keep the mouse updated.
 
PERFORMANCE
Testing a mouse is not something we can do in a heartbeat. To truly get a feel on how well a mouse works in various environments, we need to use it for a long time. The Mionix Naos 5000 has been tested with many games and applications including:
General Windows 7 use
Dreamweaver
Image editing in Fireworks
Word processing in Word
StarCraft II
Lego Universe (MMO)
Battlefield Bad Company 2 (local and multiplayer)
Company of Heroes Online beta
World of Tanks closed beta
Just Cause 2
King's Bounty: Armored Princess
Plants vs Zombies
Our first impression was not completely favorable. The mouse we previously used on the computer was a CM Storm Sentinel Advance, a great gaming mouse from Cooler Master. As we switched to the Naos 5000, we found that it was uncomfortable and painful – not a good sign when starting to use a mouse. After using the mouse for a day though, we got more accustomed to it, and we started to appreciate the form of the mouse, as it was shaped so our fingers can rest on the side of the mouse.
The surface is comfortable and non-glossy, eliminating greasy fingerprints.
The scroll wheel has a good feeling to it and we can reach all of the buttons well except for the front thumb button that requires a bit more work to be reached. This isn't anything unique for the Naos 5000. On most mice we tested the thumb buttons are hard to reach unless you have a very long thumb.
Even though the surface analyzer thought some of our surfaces weren't perfect, we've had no problems at all using the mouse of several different mouse mats. In fact, the mouse has performed perfectly on all the mats we used.
Last but not least, we really like the configuration options of this mouse and the fact that the configurations for the mouse are transferrable to any computer once set.
 
CONCLUSION
The Mionix NAOS 5000 is an excellent gaming mouse. It is by far the most comfortable mouse we have used in a long time. It might take a day or two to get used to, but after that, it is an excellent mouse. It comes loaded with features and a software that is both aesthetically pleasing and useful, something we don't always see. Some might be disappointed at the low number of buttons, but we actually prefer that mice are not overloaded with buttons.
The only thing we can complain about is the price. At around $80 it is more expensive than most gaming mice. We still think it is worth the extra money, though.
OUR VERDICT: MIONIX NAOS 5000
| | |
| --- | --- |
| Performance |  10 |
| Value |  7 |
| Quality |  9 |
| Features |  9 |
| Innovation |  8 |

We are using a new addition to our scoring system to provide additional feedback beyond a flat score. Please note that the final score isn't an aggregate average of the new rating system.

Pro

Cons

Performs very well

Very confortable

Lots of customization options

Great software

Expensive

Only for right handed users




 

Summary: The Mionix Naos 5000 is one of the best gaming mice we have tested so far. It is very confortable and works well on all sorts of surfaces. We are proud to award it the Bjorn3D Golden Bear Award.