A new mouse from razor sporting a 5600dpi laser, adjustable side buttons, and buttons for changing the dpi on the fly.
INTRODUCTION
Razer is a well known company for all types of gaming peripherals and the quality that they are able to reproduce on all of their new gaming mice for multiple types of games not only shows their consistency, but their genuine care for the consumer.
When most people get a new mouse the first thing they are worried about is the adjustment period. The Razer Imperator has one of the quickest adjustment periods and the most enjoyable because as you adjust, you start to really notice the quality behind the mouse that fits anyone's hands.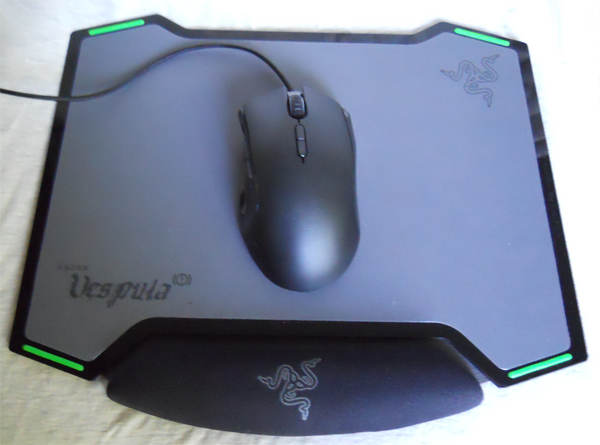 Specifications
The Razer Imperator is not just a mere mouse, it is an extension of your hands. Its right-handed ergonomic form factor with a contoured thumb grip delivers comfort and a better fit for gaming, whether you use a palm or fingertip grip. Be empowered to take on foes and fatigue alike – for longer gaming sessions without strain. 

When every aspect of your game matters, customize your game play with the unique adjustable side buttons, giving you optimum reach for easier access to mission critical keys and macros.


Ergonomic right-handed form factor with contoured thumb grip 
The Razer Imperator's right-handed ergonomic form factor maximizes comfort during intense and extended gameplay so you can outlast and outfrag the competition. The contoured thumb grip cradles your hand delivering increased control to low sensitivity gamers who often lift and swipe their mouse.

Adjustable side buttons for optimum reach
2 adjustable side buttons delivers optimum reach regardless of palm size or grip style; and for gamers who often lift their mouse or make rapid movements during gaming, the customizable buttons makes mission critical keys and macrosaccessible at all times.

5600dpi Razer Precision™ 3.5G laser sensor
The 5600dpi Razer Precision 3.5G laser sensor arms you with gaming grade precision and reliable tracking that will keep up with your every movement. Be it a small twitch of your wrist or a long range swipe to take out your foe, the Razer Imperator delivers your every instruction with pinpoint accuracy.
Technical Specifications
Ergonomic right-handed design
Adjustable side buttons
5600dpi Razer Precision™ 3.5G Laser sensor
Razer Synapse™ On-board Memory
Up to 200 inches per second/ 50g acceleration
Seven independently programmable Hyperesponse™ buttons
1000Hz Ultrapolling™ / 1ms response rate
On-The-Fly Sensitivity™ adjustment
Zero-acoustic Ultraslick™ Teflon® feet
Approx. size in mm: 123(L) x 71(W) x 42(H)
Hardware requirement
PC/Mac with USB port
Windows® 7 / Windows Vista® / Windows® XP or Mac OS X (v10.4 and above)
Internet connection (for driver installation)
At least 35MB of hard disk space
The Razer Imperator was made with everything a gamer expects out of a high end mouse and they even include a few extra features that have yet to be seen. The adjustable side buttons are a great innovation because it allows anyone with any size hand be able to use the mouse in the most comfortable position for them.
The dual-sided Razer Vespula™ Gaming Mouse Mat provides two distinct gaming-grade surfaces on an abrasion-resistant hard coat to suit your preferred level of gaming glide — SPEED for smoother fast-paced action that maximizes freedom of movement; and CONTROL for ultra-precise movements and tactile feedback with its textured surface, allowing you to adjust your mousing surface to any specific gameplay-requirements with incredible ease. Extended gaming sessions are now possible with its memory conformance wrist rest that is designed to reduce fatigue for additional performance enhancing advantage over the competition. Take the fight to your enemies' doorsteps with the Razer Vespula. 

When every aspect of your game matters, customize your game play with the unique adjustable side buttons, giving you optimum reach for easier access to mission critical keys and macros.


Dual-Sided Mouse Mat For Your Individual Needs 
Whether you prefer to gun down your enemies with the increased glide of the SPEED surface or with ultimate precision from the CONTROL surface, the Razer Vespula offers the right surface that suits your playing style.

Enhanced Tracking Surfaces Validated by Professional Gamers 
The Razer Vespula's dual surfaces have been developed for enhanced tracking by the same scientists at Razer that have invented the most precise gaming mice in the world today. Professional gamers have also put the Razer Vespula through thousands of hours of intense gameplay to validate the tracking surfaces for tournament play.

Memory Conformance Wrist Rest
The soft gel-filled wrist rest protects your wrist from injury and fatigue, allowing you to enjoy longer gaming sessions like never before.
 
The Razer Vespula is a beautiful mouse pad built with comfort and functionality in mind. They bring this package together with a few really great features that set this mouse pad apart from the rest of the competition. The surface is very smooth allowing for any mouse to glide across the surface with relative ease.
PACKAGING
Razer Imperator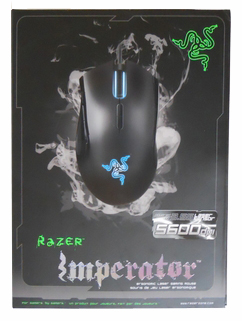 Razer always finds a way to appeal to the consumers eye with there packaging and the Razer Imperator doesn't disappoint with its eye catching box.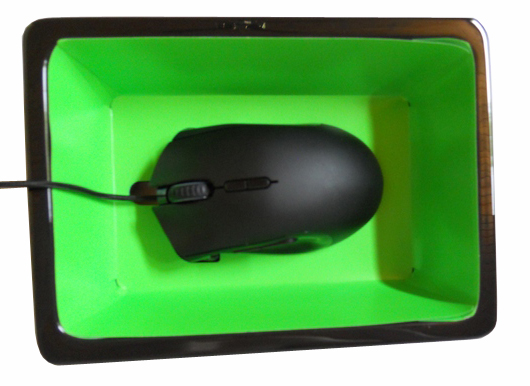 The mouse is really showcased quite well with the green background that Razer is so well known for.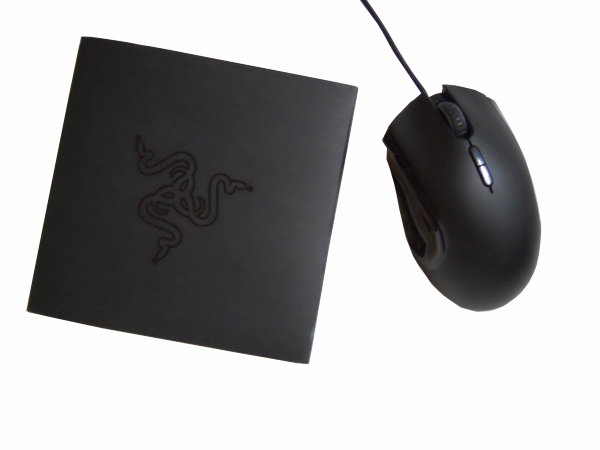 Inside of the box they include a rather large packet full of all kinds of extras and they put a lot of useful information in there for people who are unsure of how to set this mouse up.
This is the contents of the packet that i had mentioned earlier including things such as the Product Catalog, Master Guide, Quick Start Guide and a Certificate of Authenticity.
Razer Vespula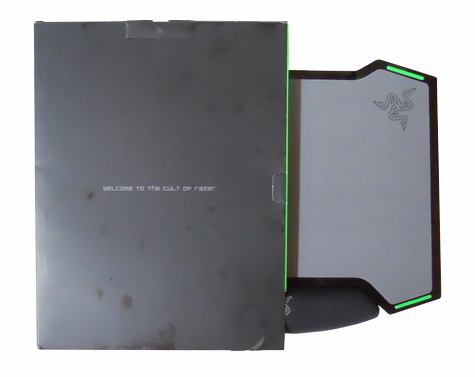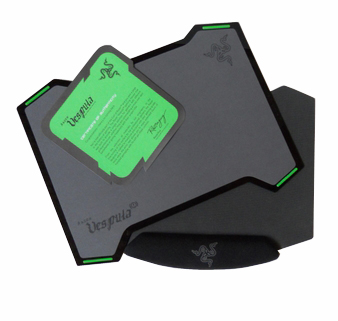 OVERVIEW
Razer Imperator
One very interesting feature that Razer decided to include in the Razer Imperator was the braided fiber cable which is a bit stiff but not enough to really worry about.
The Imperator has a gold plated connector to ensure optimal connection.
If you look up towards the top of the mouse (behind the mouse wheel), you will see two elongated buttons. These are for the on the fly DPI adjustments.
As you can see, the Imperator is designed for right handed users. If you're a left hand user, unfortunately this mouse is not for you. On the backside you can barely make out the Razer symbol, this will pulsate once the mouse is powered on.
These are the two buttons that can be moved forward or backwards to accommodate larger or smaller hands. If you notice right below these buttons there is an indentation for where your thumb sits.
The Imperator uses rather large Teflon skates (Unlike the Lachesis which has small Teflon skates). Right smack dab in the middle is the 3.5G laser that gives the Imperator it's precision and high DPI of 5600. Right below the laser lens is where Razer put the Profile button. I like this placement better than having it on the side. This will make sure you don't accidentally switch to another profile when in the heat of gaming. Right above the laser is a slider, this is what allows you to slide the side thumb buttons forward or backwards.
Me showing how to slide the side thumb buttons. As you can see, it is a rather simple task.
A quick comparison to the ever faithful Lachesis mouse. You can see the differences already, the Imperator is a bit smaller in length and also has a more naturally arched shape.
The Imperator has a wider stance and is also higher than its predecessor, the Lachesis.
Instead of lighting up the entire wheel of the mouse, Razer only did the sides and the back of the mouse. Like previous Razer mice, the symbol pulsates.
Razer Vespula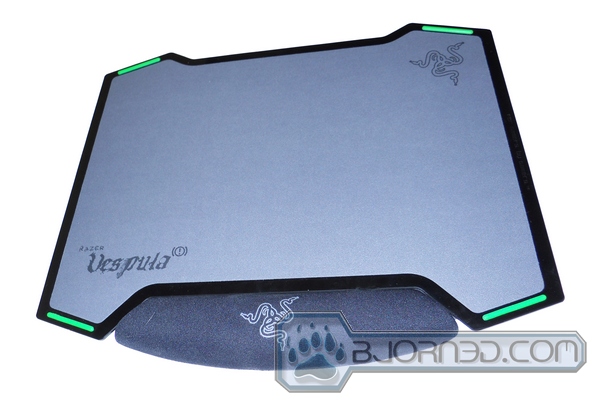 The Razer Vespula is a very good looking mousepad with the features to match its style. A few things to note, its dual-sided, wrist rest, and the no slip feet on each corner.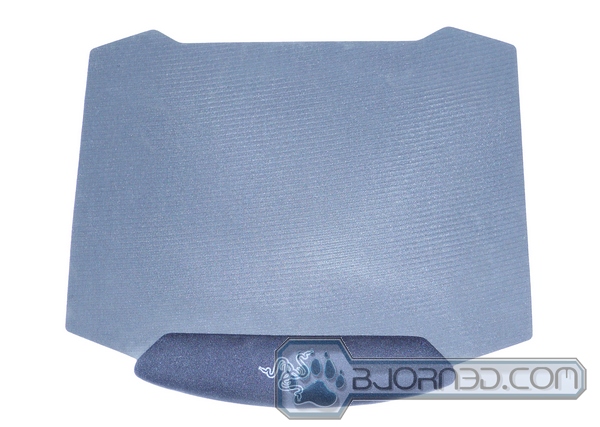 This is a better look at the wrist rest where its clear that it is not attached to the mouse pad but may remain stationary on your desk if you decide to use the other side of your mouse pad.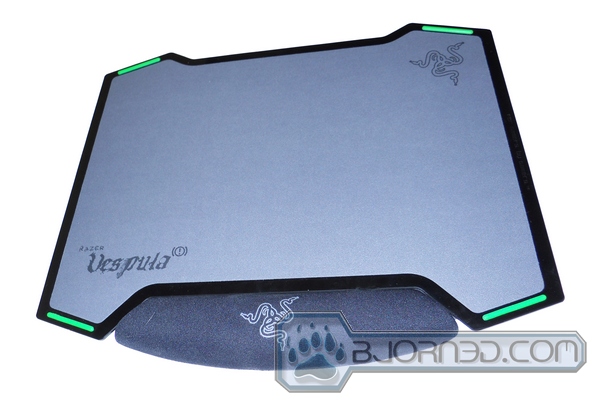 SOFTWARE
The one thing you will notice immediately when going through the packaging and that is the lack of a driver disk. I navigated my way to Razer's website and downloaded the newest Razer Imperator drivers. After installing the drivers it asks to reboot the computer and the moment it turns back on you can begin to configure your Imperator.
 Once the software was downloaded from the Razer website setting up the drivers for this mouse was as easy at 1-2-3. They give you the ability to change the x & y axis dpi independently and I know I could definitely use this in some games that have a predictable recoil pattern.
GENERAL USAGE
The only way to test out the mouse and pad from Razer is by using it in the games it was meant for and some image editing on the side to test how precise and easy to use the mouse is. The game that I chose to play was Call of Duty 4: Modern Warfare and the image editing program I used was Photoshop. Call of Duty 4 is definitely an aging game but nevertheless it is a great choice to test out this gear as the competition is fierce. Within moments you begin to notice how powerful this pair can be, enabling you to make precise movements while still being able to move quickly when necessary. Not only is this a powerful combination but it is also an extremely comfortable one which for anyone who games for long periods of time is a must for all of there gear.
The adjustment period of this mouse and pad was a lot quicker than what I was expecting as I migrated from a Logitech G7 which is only 2000dpi. This powerful mouse allows you to game at whatever speed you feel comfortable at and change it on the fly with its dpi buttons directly behind the mouse wheel. Adjusting the dpi on the fly with these 2 buttons is very easy and you could do it in the middle of a firefight but no worries you wouldn't accidentally hit these buttons. Things go very smoothly for any gamer when the mouse fits there hand and the Imperator doesn't disappoint as it fits even the largest of hands while still fitting small hands. They accomplished its comfort and fit by allowing you to move the side buttons forward and backward which allows you to decide what the most comfortable position is for you.
The Razer Vespula was a lot more comfortable than what I was expecting and the reason I say that is because most of the pads out there that include a wrist wrest are uncomfortable. I enjoyed having this wrist wrest because I was able to game for much longer than normal without noticing some pain in my wrists (gaming as much as me is hazardous for your health). The great thing that Razer did with the Vespula was allowing you to remove the wrist wrest if you didn't want it. Even the heaviest of mice glide across the Vespula with relative ease and this is one of my favorite things about the pad as I have always been in favor of using heavier mice.
The time really flew by while I was gaming as I am most gamers know the feeling of enjoying a really good game and you look at the clock and say "WHAT!". It was time to use the Imperator in Photoshop about 3 hours ago but I started it up and got going right away. Within seconds I had to lower my dpi down from what I game at because image editing takes a lot more precision and with this mouse it was very easy. The comfort of the wrist wrest is even more noticeable when you are working in Photoshop because your not as focused as you would be in a game and if you're like me you spend a lot of time in image editing software.
CONCLUSION
Throughout my usage of the Imperator, my hand has not once cramped up, hurt or even twitched. As I said earlier, this mouse felt like it was specifically engineered to fit my hand. This is pretty significant to me because of how small my hands are. Having small hands makes trying to find a mouse that works and fits properly just as rough as going shopping
 with your family while picking out clothes.
Razer definitely  has a winner with the Imperator. Its small size will ensure that both large hand users and small hand users can properly utilize this mouse. The high DPI of 5600 makes short work of high resolution desktops, while providing the user with precise movements he/she may find themselves needing. Whether it be gaming or photo cropping, and everything in between. The only real con I can find with the mouse, is that it is only suitable for right handed users. This unfortunately leaves the left handed users out of a great performing mouse. I happen to have someone in my family who is a "South Paw", and she is my daughter. Looking around the web, the Imperator goes for around the 80 USD mark. I feel this is a fair price to pay for an all around versatile mouse that is extremely comfortable.
OUR VERDICT: Razer Imperator

| | |
| --- | --- |
| Performance | 9.5 |
| Value | 7.5 |
| Quality | 9 |
| Features | 9 |
| Innovation | 9 |

We are using a new addition to our scoring system to provide additional feedback beyond a flat score. Please note that the final score isn't an aggregate average of the new rating system.

Pro
Cons

Fits perfectly in the palm of my hand

Comfortable

Does not just move across my mouse pad, it glides

"On the Fly" DPI adjustment

5600 DPI capabilities

No included driver or software disc

 

 

 
Summary: A great comfortable mouse that is a true "one size fits all" mouse with the capabilities of 5600dpi.
The Razer Vespula is a great well performing mouse pad that shows off its versatility by being dual-sided with a very comfortable wrist rest. While it lacks in size it makes up in performance by being a very clean smooth mouse pad that shows its quality while gaming. The tracking for all types of mice on this pad is above average as expected. While the mouse pad may be sitting in the 40 dollar price range I found it lacking compared to the others in that range. A few minor improvements could have been made to make the Vespula a significantly better mousepad.
OUR VERDICT: Razer Vespula

| | |
| --- | --- |
| Performance | 8 |
| Value | 6 |
| Quality | 9 |
| Features | 7 |
| Innovation | 8 |

We are using a new addition to our scoring system to provide additional feedback beyond a flat score. Please note that the final score isn't an aggregate average of the new rating system.

Pro
Cons

Comfortable

Smooth

Great Tracking

Removable Wrist Wrest

Small

Odd Shape

Very Stiff

 

 

 
Summary: A great comfortable mouse pad for gaming that keeps comfort in mind while not sacrificing performance.