Sporting 2400MHz and 9-11-9-27 timings, Patriot's Viper II Sector 5 2400MHz DDR3 kit might just be the memory to fulfill your overclocking desires. We review one of Patriot's fastest kits to see if it lives up to its potential.
Introduction
Known for high frequencies and tall heat spreaders, Patriot's extreme performance line of memory are an overclocker's dream. The Viper II Sector 5 series from Patriot uses high quality sorted IC's and go through plenty of testing before being shipped out for purchasing. In other words, you can expect high quality performance even under extreme overclocking conditions.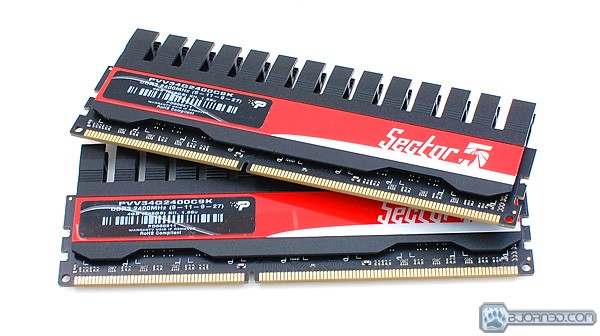 With 9-11-9-27 timings and a 2400MHz frequency, this kit is capable of outputting very impressive numbers. What makes this kit so special, is the ability to fine tune maximum processor overclocks while maintaining lower memory timings. High CPU clocks paired with high memory clocks (with low timings) is not the easiest thing to achieve. Luckily for enthusiast, this kit makes achieving that combination much easier.
Specifications
Kit Number/Model: PVV34G2400C9K
Timings: 9-11-9-27
Capacity: 4GB (2x2GB)
Voltage: 1.65v
Frequency: 2400MHz (PC3-19200)
Type: DDR3
Pins: 240
Warranty: Lifetime
Equipped with advanced aluminum heat-dispersing shields
Tested on Intel® P55 chipsets / Intel® Core™ i7 CPUs
Tested and Qualified on Asus P7P55D, Gigabyte GA-P55A-UD7 and MSI Big Bang Fuzion motherboards

Intel XMP Profile Compatible
Pictures & Impressions
Click Image For a Larger One

Patriot packs the Viper II Sector 5 2400MHz kit in a decorative cardboard box. The box itself has no indication of the memory speed or type, it simple displays the memory series. There is a sticker on the back of the box that shows the memory model number, but other than that, specifications are not displayed. The memory itself is protected by a plastic enclosure which does have a specifications page which also doubles as a manual.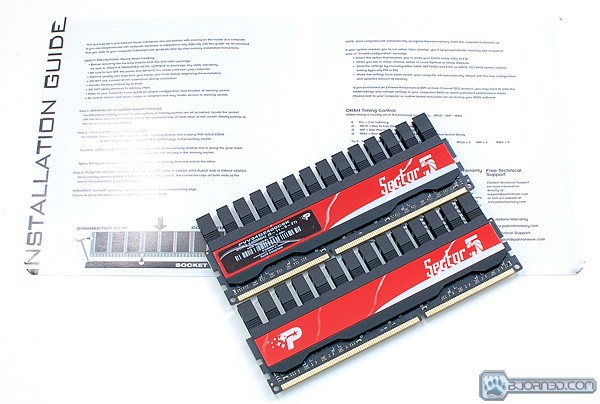 The manual has a quick installation guide and information on the warranty, timings and proper handling of the memory modules. The star of the contents however, are the very beautiful Sector 5 2400MHz memory sticks.

The Sector 5 2400MHz DIMMs have a black and red color theme and even the memory PCB is black to keep the theme uniform. On one side of the DIMMs there is a model specifications sticker which shows the model number, rated timings and rated voltage.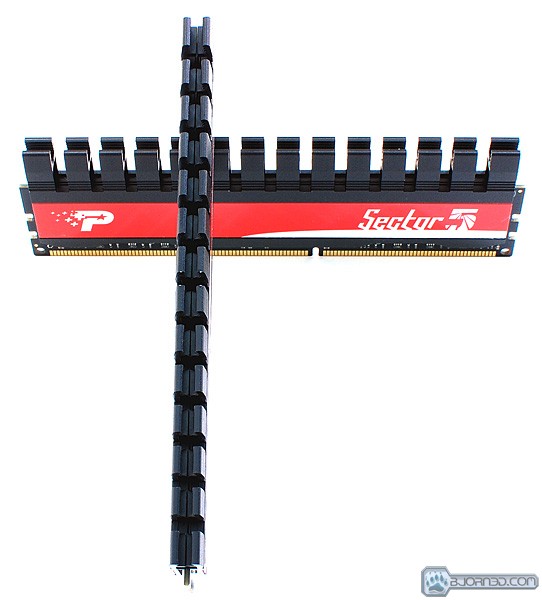 To keep the memory cool, Patriot used an aluminum heat spreader which looks absolutely fantastic.
The deep red mixed with the dark black would make a great addition to any of the red/black themed motherboards available. Along with looks, don't forget this kit also packs a 2400MHz operating frequency that's waiting and willing to be utilized. Overall, we'd have to say this is one of the best looking memory kits that we've seen to date.
Testing Methodology

We've expanded our testing suite considerably for P55 and will continue to use the same tests across most of the motherboards and CPU's we test. We run each test a total of at least three times minimum, some tests we run more than 3 times. We average the total of all the tests from each benchmark then report the average here.
The OS we use is Windows 7 Professional 64bit with all patches and updates applied. We also use the latest drivers available for the motherboard and any devices attached to the computer. We don't disable a bunch of background tasks or particularly tweak the OS or system for bigger numbers. We do turn off drive indexing and daily defragging. We also turn off Prefetch and Superfetch. This is not an attempt to produce bigger benchmark numbers. Drive indexing and defragging can interfere with testing in that one test might occur without defragging going on and the next test defragging might be active, the same thing goes for drive indexing. We can't control when defragging and indexing occur precisely enough to guarantee that they won't interfere with testing, so we turn them off.
Prefetch tries to predict what you will load the next time you boot the machine. We disable it because we want to know how the program runs without any of the files being cached, otherwise each test run we'd have to clear pre-fetch to get accurate numbers. Lastly we disable Superfetch, Superfetch loads often used programs into memory and is one of the reasons people consider Vista to be such a memory hog. Vista fills the memory in an attempt to predict what you will load. Having one test run with files cached, and another test run with the files being un-cached would result in skewed numbers. Again since we can't control it we turn it off. Other than those 4 things which can potentially interfere with benchmarking, and do so out of our control, we leave everything else running.
Test Rig
"i5_alive"
Case Type
NZXT Tempest
CPU
Core i5 750
Motherboard

ASUS P7P55D Deluxe

Tested RAM

Patriot Viper II Sector 5 DDR3 2400MHz 4GB Kit
G.SKILL PIS DDR3 2000MHz 4GB Kit
Kingston HyperX DDR3 1600MHz 4GB Kit

CPU Cooler
Noctua NH-U12P
Hard Drives
Seagate 320GB 7,200RPM
Optical
ASUS DVD R/W
GPU(s)
Sapphire 5850 1GB
Case Fans
120mm (Front & Rear), 140mm x 2 (Top)
PSU
Corsair HX 650W
Mouse
Microsoft Wheel Mouse Optical
Keyboard
Logitech Illuminated
*** Any attempt copy this system configuration may lead to awesomeness. 

Software Used
Everest Ultimate v5.0
SiSoft SANDRA XII Professional SP2
Super PI
Intel Burn Test v2.4
CPUID CPU-Z v1.53.1
To test the memory kits thoroughly, we ran the kits through benchmarks to ensure stability and proper function. Everest Ultimate, SiSoft Sandra, Super PI and Intel Burn Test were used to stress both the system and the memory to test for stability and also result reporting. To monitor frequencies and timings, we used CPUID's CPU-Z.
Memory Timings Explained
Memory timings can be very confusing so it is only right that we explain them before reporting results during a review. Let's start off with the numbers you usually see on a memory DIMM's sticker, the timings. Memory timings are what ultimately decide how far a memory DIMM will overclock and perform. The lower number(s) the timings are, the better they will overclock. A 9-9-9-24 rated timing kit is a common timing on affordable DDR3 memory kits. Anything below those common timings will result in a higher price tag due to faster performance. So what do those numbers really mean? First, we need to explain what numbers relate and correspond to.
There are four main timings that heavily effect memory performance: 
CAS Latency (tCL), RAS to CAS Delay (tRCD), Row Precharge Time (tRP), and RAS Active Time (tRAS).
To point out these values, we are going to use the now common DDR3 1600MHz, 9-9-9-24 timings.
CAS Latency Time (tCL) 9-9-9-24
CAS stands for Column Address Strobe. Latency is the amount of time taken to respond. The lower the CAS Latency value is the faster the memory controller and modules communicate. The memory controller talks to individual modules on the DIMM's requesting data in cycles. 
RAS to CAS Delay Time (tRCD) 9-9-9-24
RAS stands for Row Address Strobe and CAS stands for Column Address Strobe. The RAS to CAS Delay value is the amount of time in cycles it takes to do a task requested by the memory controller.
Row Precharge Time (tRP) 9-9-9-24
The Row Precharge value is the amount of time in cycles needed for the Row Address Strobe (RAS) to collect before another row can be utilized. This acts almost like a queue in a sense.
RAS Active Time (tRAS) 9-9-9-24
RAS stands for Row Address Strobe. RAS Active Time is the amount of time in cycles of a row being occupied by Row Precharge (tRP) and unoccupied.
The lower the value for each timing, the faster the memory modules can work together and report back whatever was requested from the memory controller/processor.
Let's move on to clocking results.
 
First Boot
Before gathering numbers, we had to make sure the kit was plug and play. Nobody wants to purchase a high performance memory kit only to find out it doesn't work out of the box. We popped in Patriot's memory, loaded setup defaults, and booted into Windows without any issues.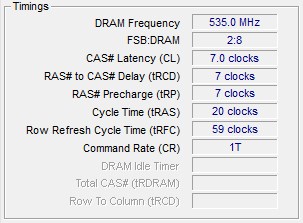 Click Image For a Larger One
By default, Patriot's Viper II Sector 5 kit booted at 1066MHz at 7-7-7-20 timings. To confirm stability we ran Intel Burn Test through multiple runs and encountered no stability issues. Now that we knew the memory is happy, we went on our journey to achieve the insanely high 2400MHz frequency.
2200MHz and a 220 Base Clock Wall
Unfortunately for us, we weren't able to reach the kit's full potential. We tried everything possible, but our motherboard just wouldn't play above a 220 BCLK (base clock). Theres only so much you can do with a 220 BLCK and a 2:10 memory divider.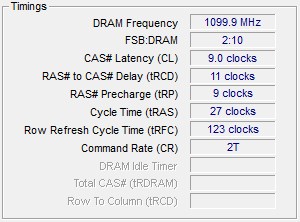 Click Image For a Larger One
In no way was the limitation due to the memory, Patriot's kit had no issues functioning at 2200MHz, and we are more than sure it would have no issues functioning at 2400MHz. If you have a motherboard that is up for the task, this kit will run at its rated speed and timings. We highly recommend verifying your board is supported before you go spending your hard earned cash.
Can't reach 2400MHz? No problem, lower them timings!
Fortunately for us, timings were an area we could work with. Because we were limited by the BCLK and divider, we figured we'd get the most out of this kit and focus on lowering timings and upping the processor clocks. We put the i5 750 at 4GHz, tweaked the memory, and here is what resulted.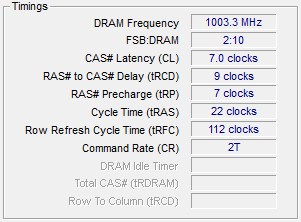 Click Image For a Larger One
2000MHz, 7-9-7-22 timings, 4GHz processor, Intel Burn Tested. Impressive to say the least, but we were hoping to hit CAS latency 6. CAS 7 is certainly an improvement over the default CAS 9, but with a full 400MHz below rated frequency, CAS 6 seemed feasible, unfortunately it wasn't. Again, we don't believe the memory alone is at fault. A 220 BCLK wall isn't the best sign that you have a high and mighty overclocking motherboard, we think the motherboard is a bit picky with its memory timings.
What about 220 BCLK and lower timings?
To determine if our motherboard was picky with timings, we put the BCLK at 220 and started lowering timings. We hit a wall again, almost immediately. Anything below CAS 9 required us to lower the BCLK below 220. After many reboots, we settled at 219 BCLK, 2190MHz with 8-10-8-26 timings, and a 3.72GHz CPU frequency. We verified stability with Intel Burn Test, and all was well.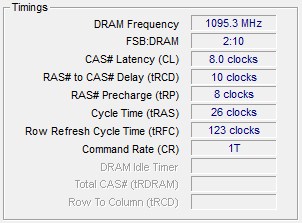 Click Image For a Larger One
2400MHz was the goal but our board just wouldn't do it. This is unfortunate, because Patriot's kit is more than capable of reaching the rated frequencies. Each kit is tested and verified to run at advertised speeds, so its highly unlikely that our kit was defective in anyway. Again, if your board is up to the challenge, this kit will shine.
Everest Ultimate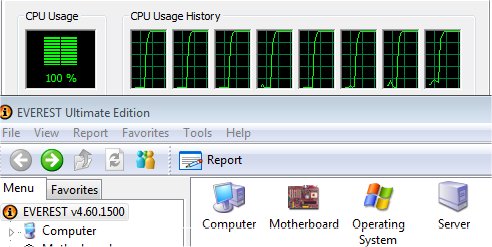 "EVEREST Ultimate Edition is an industry leading system diagnostics and benchmarking solution for enthusiasts PC users, based on the award-winning EVEREST Technology. During system optimizations and tweaking it provides essential system and overclock information, advanced hardware monitoring and diagnostics capabilities to check the effects of the applied settings. CPU, FPU and memory benchmarks are available to measure the actual system performance and compare it to previous states or other systems. Furthermore, complete software, operating system and security information makes EVEREST Ultimate Edition a comprehensive system diagnostics tool that offers a total of 100 pages of information about your PC."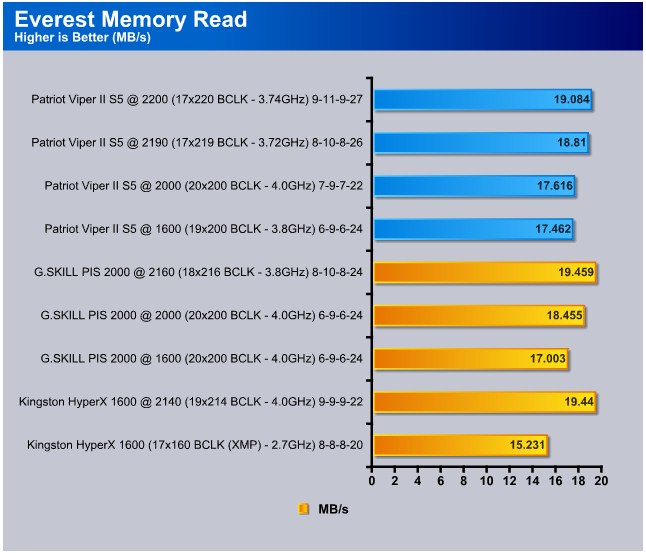 In the Everest Memory Read test Patriot's Viper II Sector 5 kit showed what high frequency memory is all about. With a CPU frequency of 3.74GHz and a memory frequency of 2200MHz at default timings, Patriot's kit easily kept up with the G.SKILL kit at 2160MHz even though it had a 3.8GHz CPU frequency. Kingston's HyperX kit at 2140MHz memory and 4.0GHz took the lead overall, but that's only due to a 4.0GHz CPU frequency. The 2200MHz memory frequency definitely shows its strong point in the read test.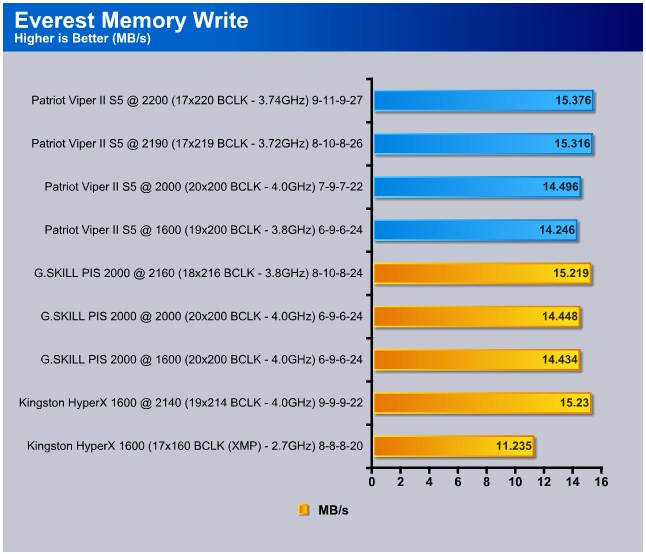 In the Everest Memory Write test you can see that memory frequency is highly favored. With a CPU frequency of 3.72GHz, the Patriot kit at 2190MHz memory frequency beats out both the G.SKILL and HyperX kits. Higher CPU clocks or not, memory frequency is what really matters in this test. At 2200MHz and 2190MHz, Patriot's kit squeaks ahead of the competition. At 2000MHz and tighter timings, Patriot's kit kept up with G.SKILL's despite having CAS 6. Confirming it has variation, Patriot's Viper II Sector 5 kit proves it has plenty of overclocking options. This test shows us that Patriot's kit is capable of high frequencies or lower frequencies with tighter timings.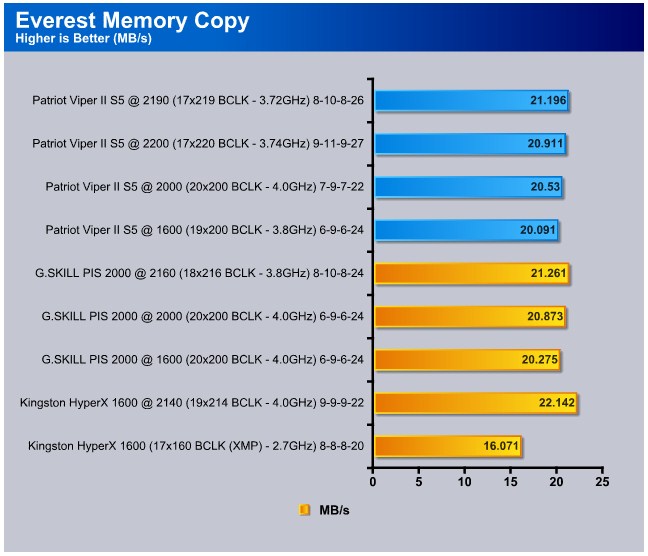 In the Everest Memory Copy test, Patriot's kit again shows it's very capable of surpassing lower timed kits thanks to its high frequency capability. Trailing the G.SKILL kit at 2160MHz with a 3.8GHz CPU frequency, Patriot's kit at 2190MHz and 3.72GHz CPU frequency shows the raw performance of high memory frequency.
From the Everest results, it's obvious that Patriot has created a very versatile option for overclocking enthusiasts. If tight timings are your preference, this kit will not disappoint, the same goes for having a high frequency preference. The sky is the limit with this kit. It loves low timings and it adores high frequencies.
Sisoft Sandra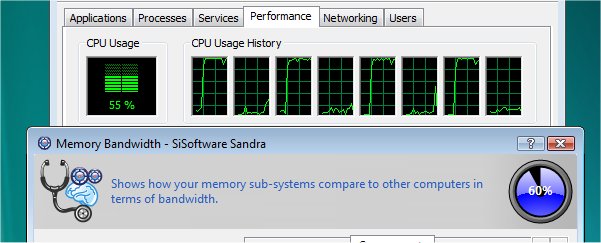 "SiSoftware Sandra (the System Analyser, Diagnostic and Reporting Assistant) is an information & diagnostic utility. It should provide most of the information (including undocumented) you need to know about your hardware, software and other devices whether hardware or software. It works along the lines of other Windows utilities, however it tries to go beyond them and show you more of what's really going on. Giving the user the ability to draw comparisons at both a high and low-level. You can get information about the CPU, chipset, video adapter, ports, printers, sound card, memory, network, Windows internals, AGP, PCI, PCI-X, PCIe (PCI Express), database, USB, USB2, 1394/Firewire, etc."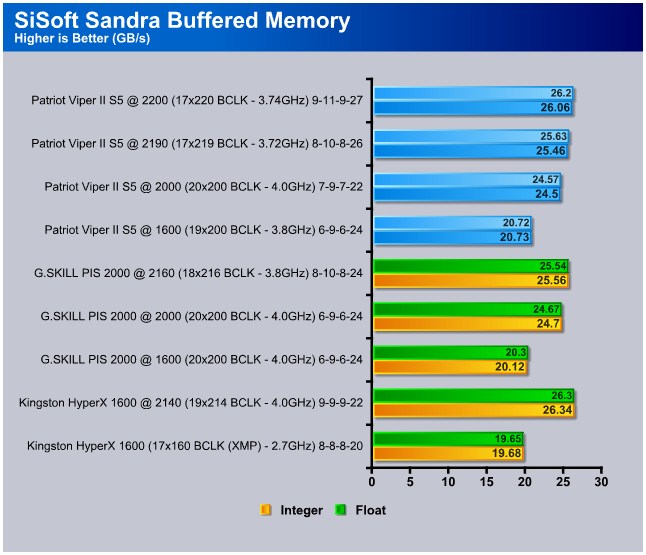 In the SiSoft Sandra Buffered Memory test, Patriot's Viper II Sector 5 kit displays some strong performance even when being hindered by lower clocked CPU frequencies. Trailing right behind Kingston's HyperX kit at 2140MHz with a 4GHz CPU frequency, Patriot's kit at 2200MHz with a 3.74GHz CPU frequency is behind by only .1 GB/s in Float and .28 GB/s in Integer. The higher memory frequency definitely shows its strong points in SiSoft Sandra. 
Super Pi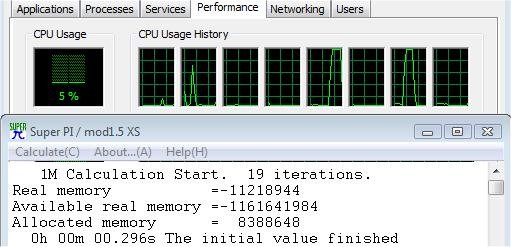 "Super PI is the "Gold standard" for many when it comes to judging system performance. We ran 1 Meg and 2 Meg calculations, again running each test three times and reporting the average of the results."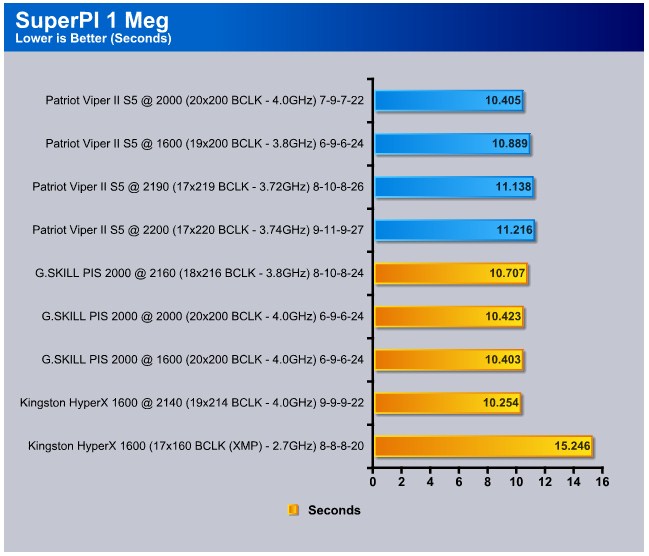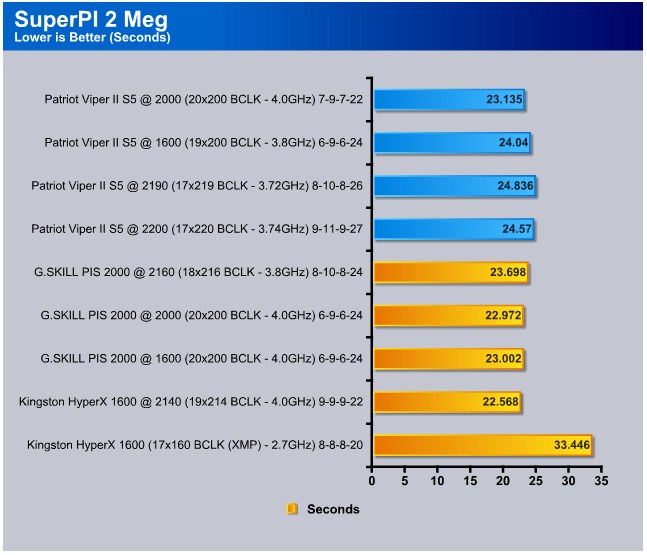 Because Super PI is heavily effected by CPU frequency, we were expecting similar results with equal CPU clocks, which is exactly what happened. At 4GHz, all three kits resulted in nearly the same times. Lower timings and higher frequencies lowered times, but they were marginal at best.
Conclusion
Patriot's Viper II Sector 5 2400MHz 4GB memory kit is definitely a product for the hardcore enthusiast type of consumer. The "need" to have 2400MHz capable memory is certainly not a requirement, but it does, at the least, ensure more overclocking headroom, which is exactly what most enthusiasts crave. At $224.99 shipped, this kit is nowhere near cheap, but then again, this is one of the fastest memory kits available today, so a premium price makes sense. Patriot's kit easily lives up to its rated speeds, but to utilize its frequency, you need to have a motherboard that can handle it. Aside from the motherboard limitations, voltages will play a role as well. Depending upon your motherboards features, you will more than likely have to raise the base clock above comfortable levels to reach 2400MHz and beyond.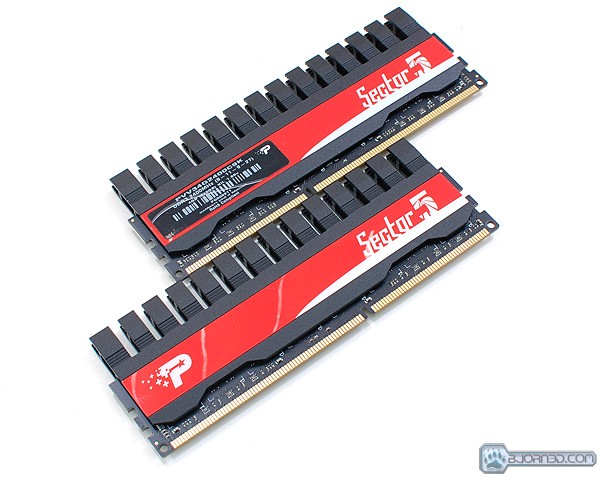 Along with the base clock, you will have to raise memory related voltages and CPU voltages to keep everything happy. This memory requires overclocking experience and a motherboard that is ready and willing to play along. I cannot stress this enough, but your motherboard will be the limiting factor if limitations happen to occur (like in our review). If you're a seasoned overclocker, have a capable motherboard, and have the need for some of the best memory performance available, look no further.
OUR VERDICT:  Patriot Viper II Sector 5 2400MHz 4GB
| | |
| --- | --- |
| Performance | 9.5 |
| Value | 8.5 |
| Quality | 9 |
| Features | 9 |
| Innovation | 9 |

We are using an addition to our scoring system to provide additional feedback beyond a flat score. Please note that the final score isn't an aggregate average of the rating system.

Pro
Cons

High grade performance

Lifetime warranty

Tall heat spreaders for great cooling

Gorgeous black and red theme

Solid performance with plenty of adjustability

Tall heat spreaders may interfere with CPU coolers

Expensive

 

 
Summary: If you're a hardcore enthusiast and absolute performance is your priority, Patriot's Viper II Sector 5 2400MHz 4GB kit should definitely be on your memory choice list. If you're confident that your motherboard can support a hefty base clock and memory related voltage tweaks, this kit might just be the "bargain" extreme performance memory to get.