Gigabyte H55M-USB3 is a nice M-ATX board that features USB 3.0 and RAID functionality all for $100. For the socket 1156 processor, this could be one of the best buy for its feature and performance.
Introduction
When Intel's Clarkdale-based processors were released this past January, Gigabyte jumped into action creating some of the best H55 boards available. With the new Clarkdale-based processors, the H55M includes built in graphics, making this setup great for people looking to build smaller PC's like HTPC's, small form factor web PC's, and small servers. With low power consumption and no need for a GPU (due to Intel's Clarkdale-based CPU), these computers save power and and are extremely efficient. The H55M USB3 we are looking at today also enters the new world of USB 3.0, giving this new setup an extra advantage.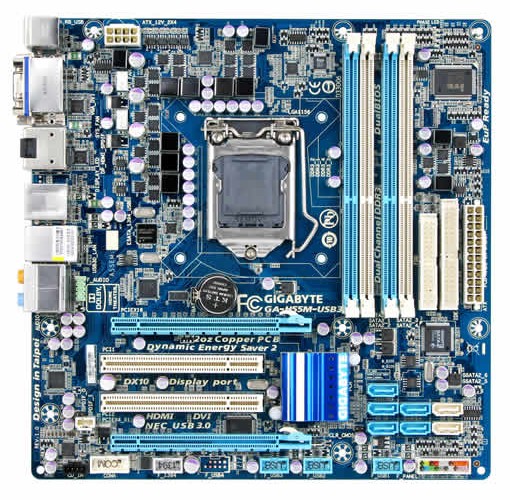 As we test Gigabyte H55M-USB3, we will contrast it with the the Asus P7P55D Premium board, so that we can see a performance comparison between the H55 and P55 chipsets. Both the P55 and the H55 support socket 1156 processors. The more expensive P55 comes with the ability to run SLI and RAID support, users who do not want these features can save money by choosing the H55. Let's examine these two boards in greater detail.
 
Features

Intel® HD Graphics performance – 3DMARK VANTAGE E8000+ marks
3DMARK VANTAGE E8000+ marks on H57/H55 system configuration
Intel Core i5 661,

[email protected]

, GPU@ 900MHz, 4GB DDR3-1760(OC), Vista 32, 3DMARK VANTAGE.
* E8000+ marks in 3DMARK VANTAGE achieved by overclocking.
* Please be aware that GIGABYTE's product warranty does not cover damages caused by overclocking.

Supporting the latest Intel® Core™ i7, Core™ i5 and Core™ i3 processors featuring the first time ever integrated graphics on chip and LGA 1156 socket(Core™ i5 and Core™ i3 processors only), GIGABYTE H5x series motherboards set a new standard in multimedia platform for high definition contents playback. With the GPU integrated directly into the processor die, GIGABYTE H5x motherboards support 2 channel DDR3 memory, wide range of display interfaces that includes VGA, DVI, HDMI and DisplayPort (Depends on model). Additionally, the GIGABYTE H5x Series are optimized for greater graphics performance by enabling overclocking the GPU core frequency for a performance gain of up to 13%.
*Onboard motherboard display functionality requires a processor with Intel Graphics Technology.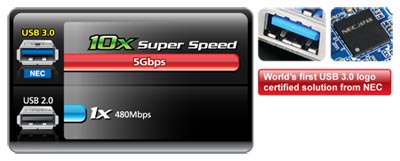 USB 3.0 Support
The GIGABYTE USB3.0 series motherboards support the latest generation SuperSpeed USB 3.0 technology made possible through an onboard NEC uPD720200 host controller. With superfast transfer rates of up to 5 Gbps, users are able to experience an almost a 10x improvement over USB 2.0. Additionally, backwards compatibility with USB 2.0 assures users of long term use of their legacy USB 2.0 devices. The onboard NEC SuperSpeed USB 3.0 technology also provides new power management features that include increased maximum bus power and device current draw to better accommodate power-hungry devices.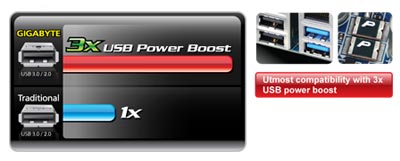 3x USB Power Boost
GIGABYTE USB3.0 series motherboards feature a 3x USB power boost, delivering greater compatibility and extra power for USB devices. GIGABYTE's unique USB power design is also able to efficiently regulate output over the full voltage range, which greatly enhances USB device compatibility. In addition, dedicated lower resistance fuses ensure lower voltage drops, and provide more stable and plentiful power delivery.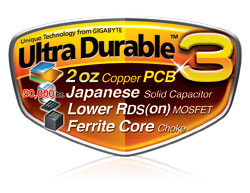 GIGABYTE Ultra Durable 3 design, featuring 2 ounces of copper for both the Power and Ground layers which dramatically lowers system temperature by delivering a more efficient spreading of heat from critical areas of the motherboard such as the CPU power zone throughout the entire PCB. GIGABYTE's Ultra Durable 3 also lowers the PCB impedance by 50%, which helps to reduce electrical waste and further lowers component temperatures. A 2oz Copper layer design also provides improved signal quality and lower EMI (Electromagnetic Interference), providing better system stability and allowing for greater margins for overclocking.

Benefits of 2 oz Copper PCB

Cooler than traditional motherboards
 Enhanced durability
 Improved energy efficiency
Greater margins for overclocking

Smart 6- A Smarter way for PC system Management
GIGABYTE Smart 6™ is designed with user-friendliness in mind, and offers a combination of 6 innovative software utilities that provide easier and smarter PC system management. Smart 6™ allows you to speed up system performance, reduce boot-up time, manage a secure platform and recover previous system settings easily with a click of the mouse button.

Smart QuickBoot
No more waiting for PC Boot up

Smart QuickBoost
One-click Overclocking
Smart Recovery
Reverse time for you

Smart DualBIOS
Smart personal reminder

Smart Recorder
Your PC's Watch Dog

Smart TimeLock
Time Controller for PC

Dynamic Energy Saver™ 2
GIGABYTE Dynamic Energy Saver™ 2 incorporates a host of intelligent features that use a proprietary hardware and software design to considerably enhance PC system energy efficiency, Reduce power consumption and deliver optimized auto-phase-switching for the CPU, Memory, Chipset, VGA, HDD, and fans with a simple click of button.

DDR3 2200+ Support
Supports the latest Intel processors delivering native support for DDR3 memory up to 2200+MHz by the enhanced design of GIGABYTE.
* Please refer "Memory Support List" for memory support information

Display Port Support
The GIGABYTE motherboards featuring the next generation graphics display interface DisplayPort that delivers up to 10.8 Gbps of bandwidth over standard cables, providing billions of colors, enabling the fastest refresh rates and the greatest color depths.
HDMI-The Next Generation Multimedia Interface
HDMI is the latest High-Definition Multimedia Interface able to provide up to 5Gb/s video transmitting bandwidth and 8-channel high quality audio all through a single cable. Able to transmit superior, uncompressed digital video and audio, HDMI ensures the crispest rendering of digital content up to 1080p without the quality losses associated with analog interfaces and their digital-to-analog conversion. In addition, HDMI is compatible with HDCP (High-bandwidth Digital Content Protection), allowing the playback of Blu-ray/HD DVD and other protected media content.

AutoGreen- Greening your PC via Bluetooth cellphone
AutoGreen technology can automatically save power for you simply by your bluetooth cell phone when you are away from your computer.
Note: GIGABYTE motherboards do not include a Bluetooth® receiver; the addition of a 3rd party Bluetooth receiver is required.

DualBIOS™ – Patented Dual Hardware BIOS Protection
DualBIOS™ is a GIGABYTE patented technology that automatically recovers BIOS data when main BIOS has crashed or failed. Featuring 2 physical BIOS ROMs integrated onboard, GIGABYTE DualBIOS™ allows quick and seamless recovery from BIOS damage or failure due to viruses or improper BIOS updating.

Dolby Home Theater® – Enjoy a Rich Home Theater Surround Sound Experience
Dolby Home Theater places listeners in the middle of the action, giving their PCs a powerful set of tools to deliver a cinema-style experience in vivid surround sound.
• Delivers vivid surround sound for music, movies, and games, using two to eight speakers or any set of headphones
• Designed to automatically deliver the best possible listening experience
Specifications
Features
Other Text
CPU

Support for an Intel® Core™ i7 series processor/Intel® Core™ i5 series processor/ Intel® Core™ i3 series processor in the LGA1156 package (Go to GIGABYTE's website for the latest CPU support list.)
L3 cache varies with CPU

Chipset

Intel® H55 Express Chipset

Memory

4 x 1.5V DDR3 DIMM sockets supporting up to 16 GB of system memory (Note 1)
Dual channel memory architecture
Support for DDR3 2200+/1800/1600/1333/1066/800 MHz memory modules
Support for non-ECC memory modules
Support for Extreme Memory Profile (XMP) memory modules

* To reach DDR3 2200 MHz and above, you are required to use with Intel Core i7/Core i5 CPU without HD Graphics and install a discrete graphics card.
When using Intel Core i5/Core i3/ Pentium CPU with HD Graphics, the maximum memory speed supported is 1666 MHz
* Go to GIGABYTE's website for the latest memory support list.

Onboard Graphics
Integrated in the Chipset:

1 x D-Sub port
1 x DVI-D port (Note 3) (Note 4)
1 x HDMI port(Note 4)
1 x DisplayPort (Note 4)

Audio

Realtek ALC889 codec
High Definition Audio
2/4/5.1/7.1-channel
Support for Dolby® Home Theater
Support for S/PDIF In/Out
Support for CD In

LAN

1 x RTL8111D chip (10/100/1000 Mbit)

Expansion Slots

1 x PCI Express x16 slot, running at x16 (PCIEX16) (Note 5)
(The PCIEX16 slot conforms to PCI Express 2.0 standard.)
1 x PCI Express x16 slot, running at x1 (PCIEX4_X1)
2 x PCI slots

Storage Interface
Chipset:

5 x SATA 3Gb/s connectors (SATA2_0, SATA2_1, SATA2_2, SATA2_3, SATA2_4) supporting up to 5 SATA 3Gb/s devices
1 x eSATA 3Gb/s connector on the back panel supporting up to 1 SATA 3Gb/s device

GIGABYTE SATA2 chip:

1 x IDE connector supporting ATA-133/100/66/33 and up to 2 IDE devices
2 x SATA 3Gb/s connectors (GSATA2_5, GSATA2_6) supporting up to 2 SATA 3Gb/s devices
Support for SATA RAID 0, RAID 1, and JBOD

iTE IT8720 chip:

1 x floppy disk drive connector supporting up to 1 floppy disk drive

USB
Chipset:

Up to 12 USB 2.0/1.1 ports (6 on the back panel (Note 7), 6 via the USB brackets connected to the internal USB headers)

NEC D720200F1 chip:

Up to 2 USB 3.0 ports on the back panel

IEEE 1394
T.I. TSB43AB23 chip

Up to 2 IEEE 1394a ports (1 on the back panel, 1 via the IEEE 1394a bracket connected to the internal IEEE 1394a header)

Internal I/O Connectors

1 x 24-pin ATX main power connector
1 x 8-pin ATX 12V power connector
1 x floppy disk drive connector
1 x IDE connector
7 x SATA 3Gb/s connectors
1 x CPU fan header
1 x system fan headers
1 x front panel header
1 x front panel audio header
1 x CD In connector
1 x S/PDIF In header
1 x S/PDIF Out header
3 x USB 2.0/1.1 headers
1 x IEEE 1394a header
1 x serial port header
1 x clearing CMOS jumper

Back Panel Connectors

1 x PS/2 keyboard or PS/2 mouse port
1 x D-Sub port (Note 2)
1 x DVI-D port (Note 2) (Note 3) (Note 4)
1 x optical S/PDIF Out connector
1 x HDMI port (Note 2) (Note 4)
6 x USB 2.0/1.1 ports (Note 7)
2 x USB 3.0 ports
1 x IEEE 1394a port
1 x eSATA 3Gb/s connector
1 x RJ-45 port
6 x audio jacks (Center/Subwoofer Speaker Out/Rear Speaker Out/ Side Speaker Out/Line In/Line Out/Microphone)

I/O Controller

iTE IT8720 chip

H/W Monitoring

System voltage detection
CPU/System temperature detection
CPU/System/Power fan speed detection
CPU overheating warning
CPU/System/Power fan fail warning
CPU/System fan speed control (Note 8)

BIOS

2 x 64 Mbit flash
Use of licensed AWARD BIOS
Support for DualBIOS™
PnP 1.0a, DMI 2.0, SM BIOS 2.4, ACPI 1.0b

Unique Features

Support for @BIOS
Support for Q-Flash
Support for Xpress BIOS Rescue
Support for Download Center
Support for Xpress Install
Support for Xpress Recovery2
Support for EasyTune
Support for Dynamic Energy Saver™ 2
Support for Smart 6™
Support for Auto Green
Support for eXtreme Hard Drive (X.H.D)
Support for Q-Share

Bundle Software

Norton Internet Security (OEM version)

Operating System

Support for Microsoft® Windows 7/Vista/XP

Form Factor

Micro ATX Form Factor; 24.4cm x 24.4cm

Remark

Due to different Linux support condition provided by chipset vendors, please download Linux driver from chipset vendors' website or 3rd party website.
Due to most hardware/software vendors no longer offer support for Win9X/ME. If some vendors still has Win9X/ME drivers available, we will publish on website.

Note
(Note 1) Due to Windows 32-bit operating system limitation, when more than 4 GB of physical memory is installed, the actual memory size displayed will be less than 4 GB.
(Note 2) To use the onboard DisplayPort, HDMI, DVI-D, and D-Sub ports, you must install an Intel CPU with integrated graphics.
(Note 3) The DVI-D port does not support D-Sub connection by adapter.
(Note 4) You can use only one of the onboard digital graphics ports (e.g. DisplayPort, HDMI, and DVI-D) for output when in the BIOS Setup program or when during the POST screens.
(Note 5) For optimum performance, if only one PCI Express graphics card is to be installed, be sure to install it in the PCIEX16 slot.
(Note 7) Two share the same ports with USB 3.0.
(Note 8) Whether the CPU/system fan speed control function is supported will depend on the CPU/system cooler you install.
(Note 9) Available functions in EasyTune may differ by motherboard model.
Pictures & Impressions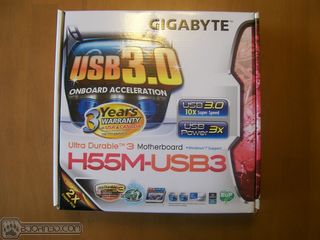 The front of the box provides some general information on the Gigabyte H55M USB3, and gives some information about new features like USB 3.0.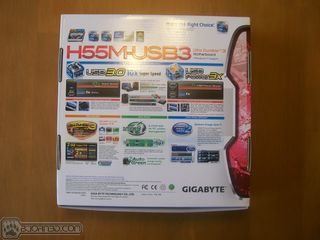 The rear side of the box gives more detailed information on features unique to Gigabyte's motherboards. Features such as Ultra Durable 3 and Dynamic Energy Saver 2 are meant to prolong the lifespan of the motherboard and reduce overall system power consumption. SMART6 is a 6 tool software suite that helps "speed up system performance, reduce boot-up time, manage a secure platform and recover previous system settings easily with a click of the mouse button."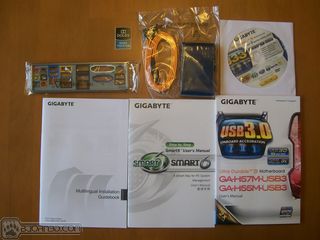 The motherboard comes with an I/O shield, 2 SATA cables, 1 IDE cable, 1 FDD cable, a manual, and a SMART6 guide.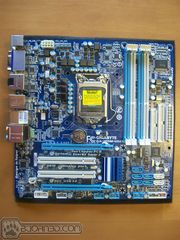 One of the first things we noticed about this motherboard is that the CPU socket has moved a bit closer to the center of the board rather than closer to the back I/O ports. This allows users to install larger CPU coolers.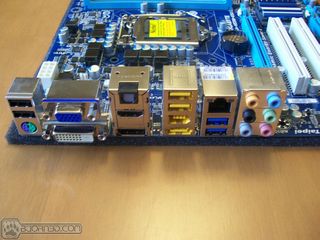 The rear I/O includes the usual ports: a PS/2 for a keyboard or a mouse, four USB 2.0, two USB 3.0 (colored blue), one eSATA port, one optical SPDIF, a Gigabit Ethernet port, and the usual 8 channel audio ports. The board also comes with a variety of video ports: D-Sub, DVI, HDMI, and DisplayPort. Though it is a bit crammed, these ports eliminate the need for large adapters. The addition of the newly introduced DisplayPort ensures that the board will work with future displays.
The onboard audio chip Realtek ALC889 is sufficient for most users. While it cannot compete against a dedicated sound card, it is good enough for basic sound playback. It has ten DAC channels that simultaneously support 7.1 sound playback, and 2 channels of independent stereo output (multiple streaming) through the front panel stereo port.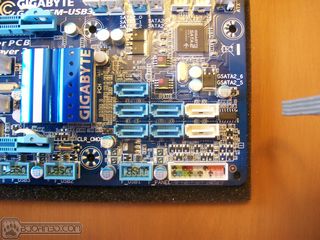 The board comes with seven SATA ports. The blue ports are controlled by the Intel chipset, and the white ports are controlled by the board's own SATA2 chip. Gigabyte routed one of the Intel-based SATA ports to the back for the eSATA. One thing to note is that the RAID functions are controlled by Gigabyte's onboard SATA2, and not the Intel H55 chip. The board supports RAID 0, 1, and JBOD configurations. 
Although the SATA ports are not angled, they are sufficiently far away from the PCI-E slot that there should be no space issues.
Along the bottom edge of the board is the usual USB 2.0 header, the front power, reset, HDD LED, power LED, and speaker ports. In addition to the three USB 2.0 header, there is also a FireWire header, COM port, and SPDIF header.
An angle shot showing the 1156 socket and MOSFETS and ferrite core chokes. Also pictured is the CMOS battery. Due to its proximity to the CPU socket, the battery may be difficult to remove, especially if large coolers are used.
There is no heatsink above the PWM so the CPU socket area is completely clear from any obstruction. However, the DIMM slots are somewhat close to the CPU, so users may have to remove their CPU heatsink to change their memory.
Close up view of the new LOTES 1156 CPU socket.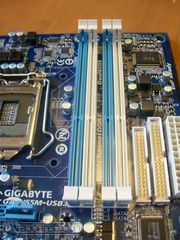 The board has four DIMM slots, for up to 16GB of DDR3 2200+/1800/1600/1333/1066/800 MHz memory modules. Intel Extreme Memory Profile (XMP) is supported. The DIMM slots sit very close to one another, and users whose memory modules have bulky heatspreaders may not be able to use all four slots.
Next to the memory slots are floppy, IDE, and 24-pin ATX power connectors. The close proximity of these connectors to the memory could be a problem for those who use all four power connections.The bulkiness of these cables can also make cable management difficult.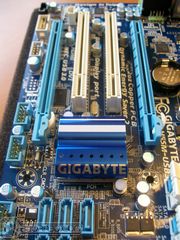 For expansion, the board comes with one PCI Express x16 slot, one PCI Express x16 slot running at x1, and two PCI slots. With two PCI-E slots, users can install any card, albeit at reduced speed, as long as it is backwards compatible to x1 (most video cards nowadays are only backwards compatible to x8). As it stands right now, the board cannot support SLI or CrossFire technology. It could if Gigabyte were to implement a switch to split the x16 into x8/x8 configuration, but given the target market, we do not believe most boards will have such an option. Users who want SLI or CrossFire should choose boards based on the P55 chipset.
The spacing and the location of the individual expansion slots is good. The placement of two PCI slots between the two PCI-E slots is beneficial, so even if users install a large graphic card like a GTX 480 or HD 5870, it will only block the PCI slot next to the first PCI-E, so leaving a PCI and a PCI-E x1 available for add-on cards.
One major shortfall in this board's design is the lack of space between the PCI-E slot and the DIMM slots. This makes it impossible to add or remove memory without removing the graphics card.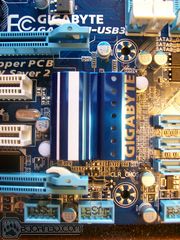 A close up view of the PCH chip heatsink.
The heatsink comes a bit close to the release latch of the second PCI-E slot, which would make it very difficult to press the latch when removing a card from the second slot. However, since the slot is running at x1, it is improbable that users would put a video card in it.
Next to the SATA ports is the Clear CMOS jumper.
BIOS
Gigabyte uses an Award BIOS for the H55M-USB3. As usual, Gigabyte places most of the overclocking settings in their "MB Intelligent Tweaker (M.I.T.)" menu.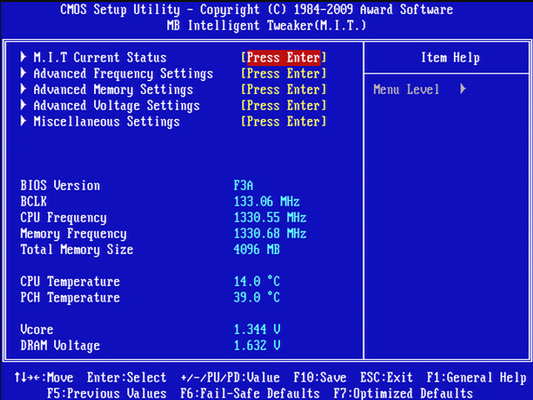 The BIOS has a general overview, including basic settings for the CPU and memory when you get into the M.I.T. menu. We like the way the menu is organized. It's good that Gigabyte also shows the CPU and PCH temperature here so overclockers can keep an eyes on this information while they push their system.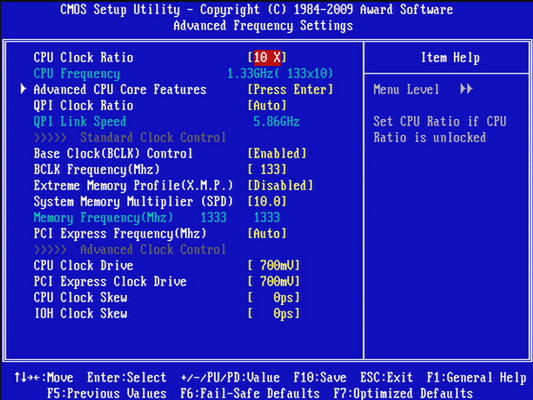 In the Advanced Frequency Settings, users can adjust their CPU clock speed. The H55M-USB3 allows BCLK frequencies of 200 MHz to 1200 MHz in increments of 1MHz, plenty for most hardcore overclockers. The PCI Express frequency can be adjusted from 90 MHz to 150 MHz in increments of 1 MHz.
In addition to the frequency adjustments, overclockers can adjust the CPU clock drive and the PCI-E clock drive to increase voltages for system stability. Both of these settings can be adjusted from a selection of 700mV, 800mV, 900mV, and 1000mV.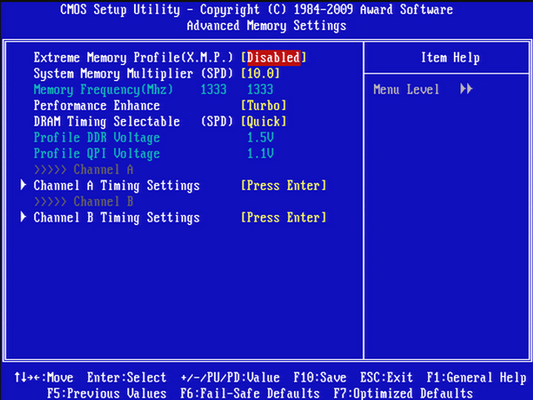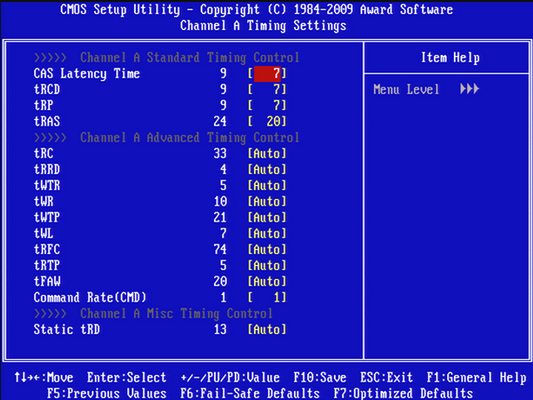 The Advanced Memory Settings menu lets users fine-tune their memory timing, speed, and memory related voltage. The board supports Intel XMP profiles but users can override the profile and manually adjust them. Below is a summary of different settings: 
| Settings | Options |
| --- | --- |
| Channel Interleaving | 1-6 |
| Rank Interleaving | 1-4 |
| CAS Latency | 6-15 |
| tRCD | 1-15 |
| tRP | 1-15 |
| tRAS | 1-31 |
| tRC | 1-63 |
| tRRD | 1-7 |
| tWTR | 1-31 |
| tWR | 1-15 |
| tWTP | 1-31 |
| tWL | 1-10 |
| tRFC | 1-255 |
| tRTP | 1-15 |
| tFAW | 1-63 |
| CMD | 1-3 |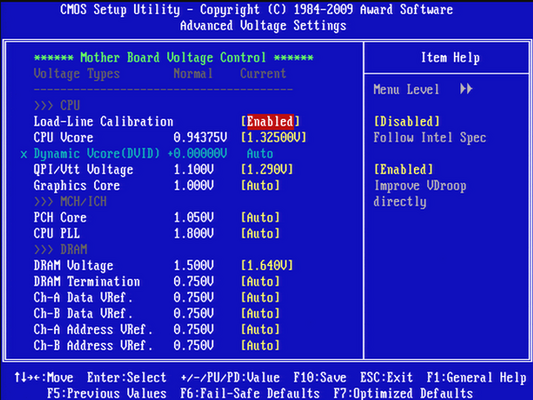 Gigabyte lets users adjust the CPU Vcore, QPI voltage, GPU core voltage, PCH core voltage, CPU PLL, and DIMM voltages.
As we can see, though it is a budget board, the Gigabyte H55M-USB3 has plenty of overclocking potential.
Testing & Methodology
For this review, we did a fresh load of Windows 7 64-bit and updated the Operating System and drivers to all the latest versions and patches. Then we loaded the testing software and ran the machine for a few days to confirm everything was installed correctly, and gave the machine a little burn-in time.
For this review, we have used the same hardware that we've been using on all our motherboard reviews in this series. We used the same HDD, CPU Cooler, RAM, and CPU. This consistency will allow us to make more accurate comparisons, as the other hardware will not affect results across our wide spectrum of tests.
Test Rig
Case
Ikonik
CPU
Intel I3 530 @ stock and 4.2GHz

Motherboards
Tested

Gigabyte H55M-USB3
Asus P7P55D Premium

Ram
Kingston Hyperx 2x2GB @ 1600MHz
CPU Cooler
Thermaltake Contac 29
Hard Drives
G.Skill 64GB SSD
Optical
Samsung DVD-R
GPU

MSI R5770 HAWK

Testing PSU
Thermaltake Toughpower 1200W
As we stated in the introduction, we are not going to go through a long list of benchmarks for this review. Instead, we will test this board against the more expensive P55 board, to find performance differences between the two. We are hoping that this will help buyers to decide between the two chipsets when it comes to shopping for a board for a Socket LGA1156 processor.
Test Suite
Synthetic Benchmarks
3DMark Vantage
AutoMKV 0.95C
SiSoft SANDRA XII Professional SP2
Everest Ultimate Edition v. 5.30
wPrime
Blender
Microsoft Excel 2007
WinRar v. 3.71
The benchmarks include some synthetic and some real-world tests. Hopefully this will shed some light on the performance differences between the two chipsets.
Everest Ultimate v. 5.30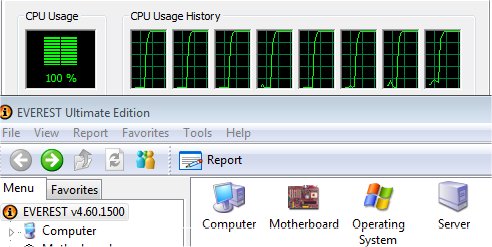 "EVEREST Ultimate Edition is an industry leading system diagnostics and benchmarking solution for enthusiasts PC users, based on the award-winning EVEREST Technology. During system optimizations and tweaking it provides essential system and overclock information, advanced hardware monitoring and diagnostics capabilities to check the effects of the applied settings. CPU, FPU and memory benchmarks are available to measure the actual system performance and compare it to previous states or other systems. Furthermore, complete software, operating system and security information makes EVEREST Ultimate Edition a comprehensive system diagnostics tool that offers a total of 100 pages of information about your PC."
CPU AES
This integer benchmarking application measures CPU performance using AES (a.k.a. Rijndael) data encryption. It utilizes Vincent Rijmen's, Antoon Bosselaers', and Paulo Barreto's public domain C code in ECB mode.
CPU AES test uses only basic x86 instructions, consumes 48 MB memory, and is Hyper Threading, multi-processor (SMP), and multi-core (CMP) aware.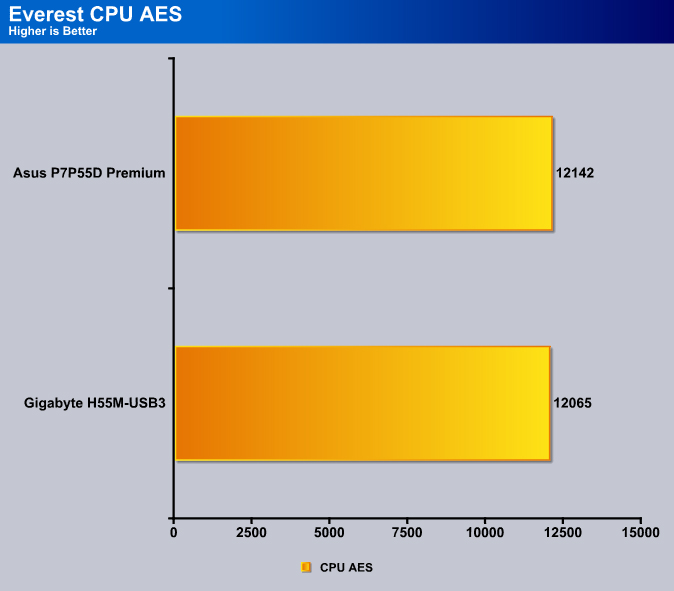 The Asus P55 board is based on a more mainstream chipset, but the H55 based chip performs quite well. The P55 board has a slight lead but it is less than 1% over the H55M. 
CPU PhotoWorxx
This benchmark performs the following tasks on a very large RGB image:
• Fill
• Flip
• Rotate90R (Rotate 90 degrees CW)
• Rotate90L (Rotate 90 degrees CCW)
• Random (Fill the image with random colored pixels)
• RGB2BW (Color to black & white conversion)
• Difference
• Crop
This benchmark stresses the integer arithmetic and multiplication execution units of the CPU and memory subsystem.
As with CPU AES, CPU PhotoWorxx uses only basic x86 instructions, and is Hyper Threading, multi-processor (SMP), and multi-core (CMP) aware.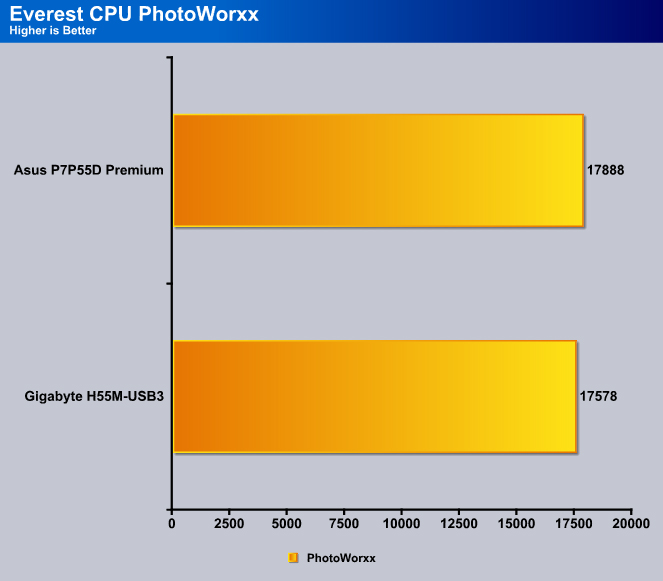 The P55 has a lead of 1.7% over the H55M. In practical use, users should not feel a difference.
CPU Queen
This simple integer benchmark focuses on the branch prediction capabilities and the misprediction penalties of the CPU. It finds the solutions for the classic "Queens problem" on a 10 by 10 sized chessboard.
CPU Queen test uses integer MMX, SSE2 and SSSE3 optimizations. It consumes less than 1 MB system memory and is Hyper Threading, multi-processor (SMP) and multi-core (CMP) aware.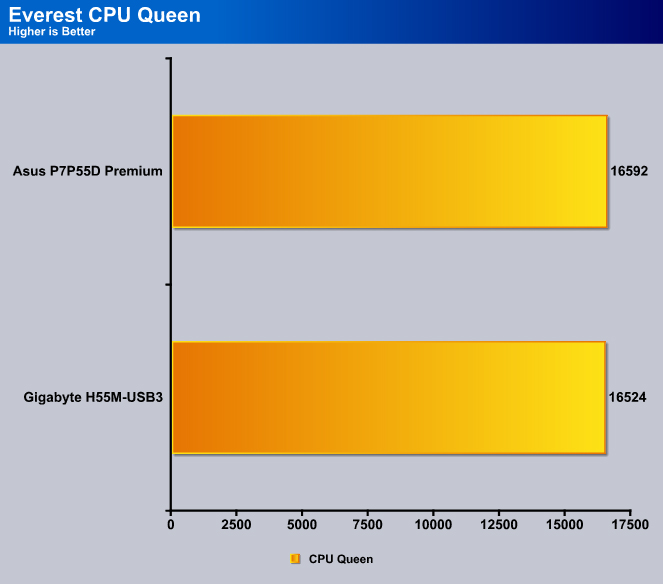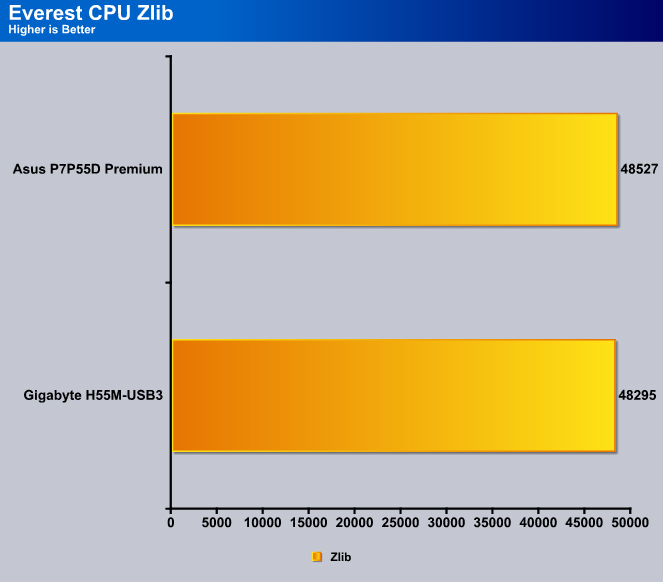 Unsurprisingly, the P55 chipset stays above the H55M, but only slightly.
Everest Ultimate v. 5.30 Memory Suite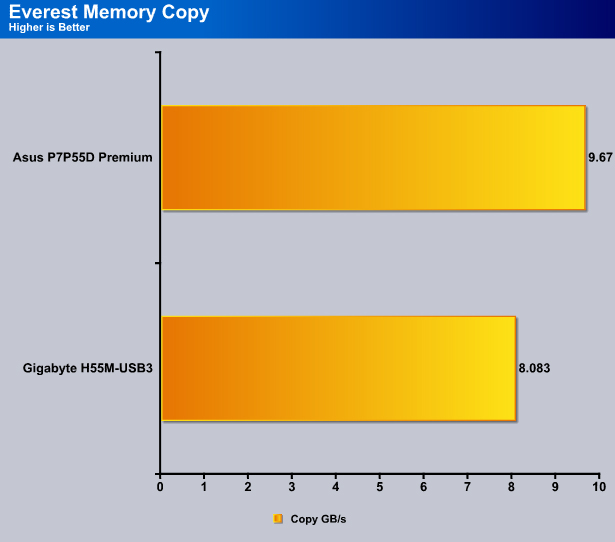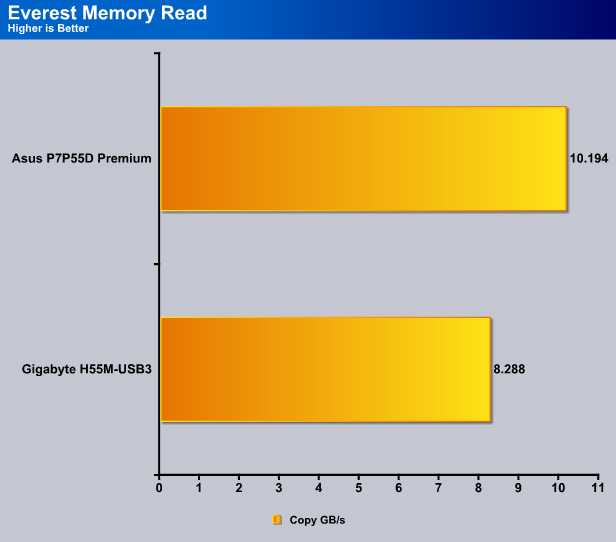 This test shows a huge performance disparity between the two boards. Despite using the same memory chip and integrated memory controller, the Asus board comes out on top.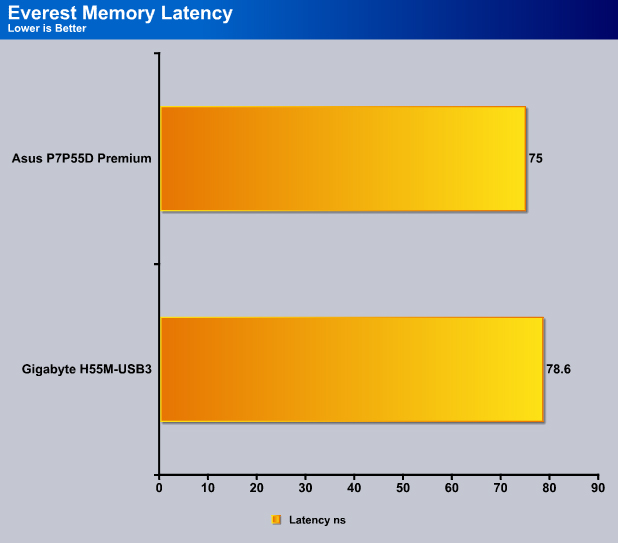 The H55M-USB3's memory latency is also a bit slower than the Asus board.
Sisoft Sandra
"SiSoftware Sandra (the System Analyser, Diagnostic and Reporting Assistant) is an information & diagnostic utility. It should provide most of the information (including undocumented) you need to know about your hardware, software and other devices whether hardware or software. It works along the lines of other Windows utilities, however it tries to go beyond them and show you more of what's really going on. Giving the user the ability to draw comparisons at both a high and low-level. You can get information about the CPU, chipset, video adapter, ports, printers, sound card, memory, network, Windows internals, AGP, PCI, PCI-X, PCIe (PCI Express), database, USB, USB2, 1394/Firewire, etc."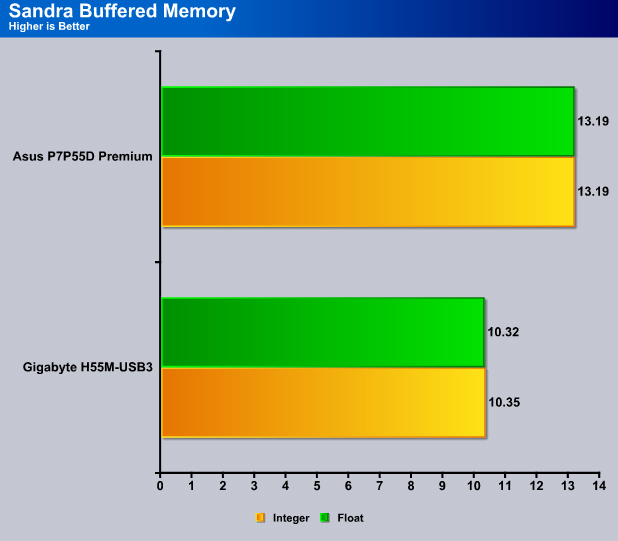 Unsurprisingly, the P55 performs better than the H55M.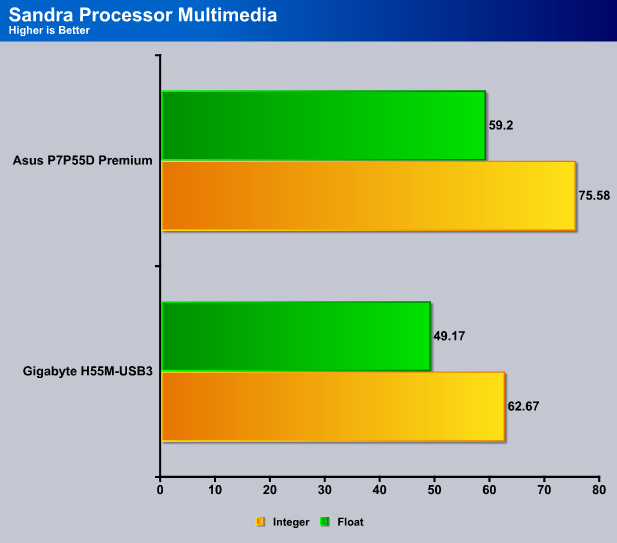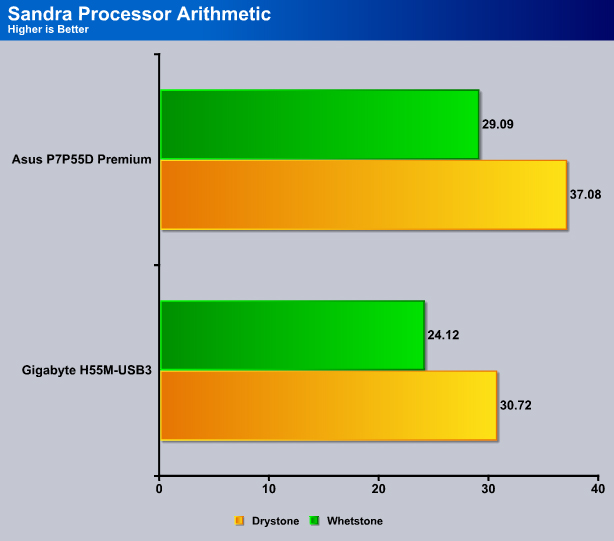 The greater memory bandwidth of the Asus board is probably why the P55 performs better than the Gigabyte board in both processor tests. Everest shows that the disparity in raw CPU power is not enough to account for the disparity in performance. We can conclude that the memory bandwith is most likely the reason.
wprime
wPrime is a benchmarking application designed to use a highly multithreaded approach to calculating the square-roots of large amounts of numbers (up to 32 billion)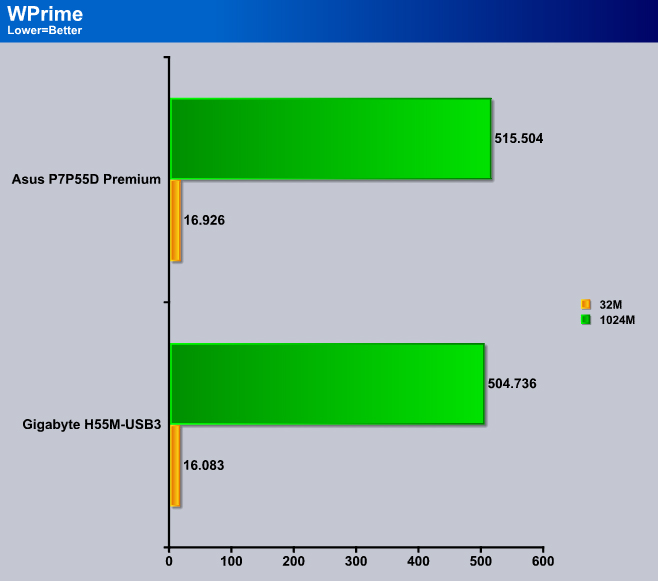 A synthetic benchmark is not always an accurate indicator of real-world performance. Here, we will examine how the boards perform in real-life tests.
In the wPrime results, we can see that the Asus board is about 5% faster than the Gigabyte board.
AutoMKV 0.95c
AutoMKV is designed for easy media conversion between media formats using various third party codecs. Due to improved internet speed and enhanced computing power, more users are interested in encoding media formats for their various multimedia needs. With AutoMKV and x264 codec, a freeware H.264 encoder, users can easily create media files. For more information on AutoMKV 0.95c and AviSynth* 2.5.7, please visit (http://forum.doom9.org/showthread.php?t=134478). In this test, we create a media file using AutoMKV and x264 codec. The input file used in the document is a raw 416 MB 720×480 DV file and the output is a 253MB H.264 media file.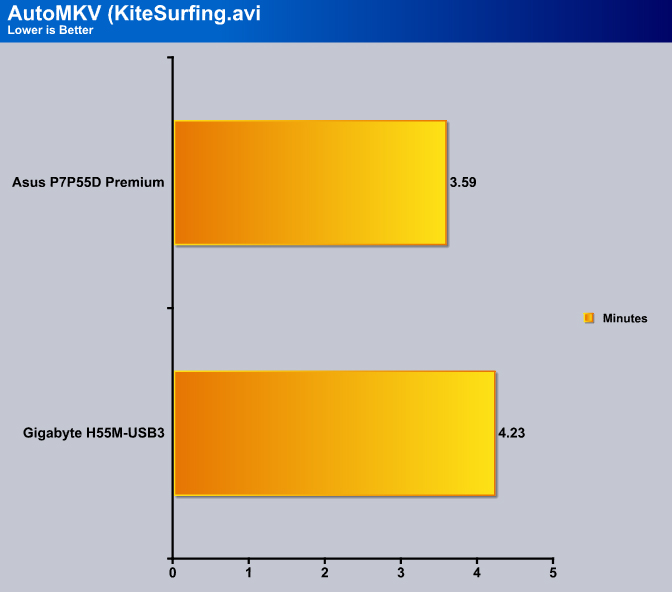 In addition to the raw processing power, the memory bandwidth plays an important role in video transcoding. Here we can see that the Asus board has a clear advantage, finishing the job 38.4 seconds faster than the Gigabyte board.
Blender
Blender is a free open source 3D content creation suite available for many operating systems. The application is popular among many independent animation studios and game makers. For more information, please visit http://www.blender.org/.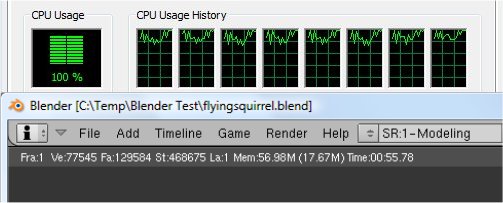 The workload consists of an approximately 6.9 MB character model of a flying squirrel. Due to time constraints we don't render the entire image, as the only result would be larger benchmark numbers (the ratios between the two results would stay the same). A portion of the image suffices for our purposes, as it is large enough to show differences in CPU performance, yet small enough that it can be performed in a reasonable amount of time.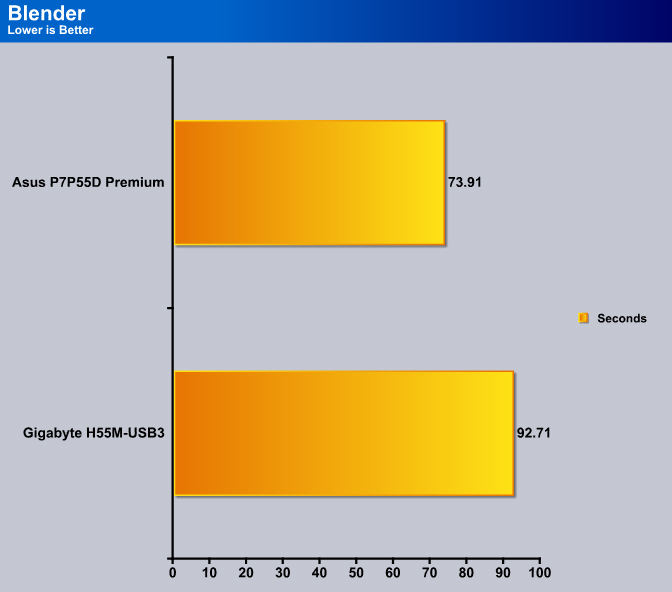 This test also puts great stress on the combination of the memory and the CPU. The Asus board clocks in at 18.8 seconds ahead of the Gigabyte board.
Microsoft Excel 2007
Monte Carlo Black-Scholes Option Pricing Test
Microsoft Excel is the most widely known and used spreadsheet application for number manipulation and calculation. Excel allows users to analyze and share information on any scale imaginable. We have seen spreadsheets in every day use that contain literally tens of thousands of numbers and hundreds of equations. Bjorn3D uses two tests in Excel to determine CPU and Motherboard performance.

This workload calculates the European Put and Call option valuation for Black-Scholes option pricing using the Monte Carlo simulation. It simulates the calculations performed when a spreadsheet with input parameters is updated and must recalculate the option valuation. In this scenario, we execute approximately 300,000 iterations of the Monte Carlo simulation. In addition, the workload uses Excel lookup functions to compare the put price from the model with the historical market price for 50,000 rows to understand the convergence. The input file is a 70.1 MB spreadsheet.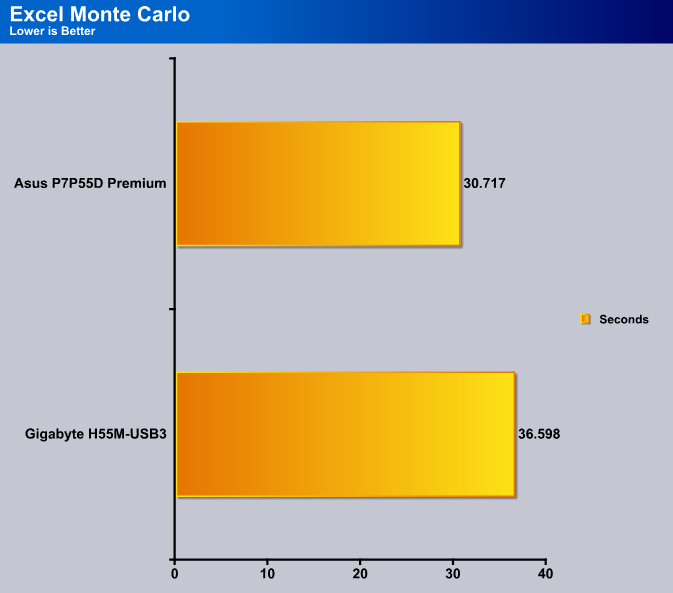 Big Number Crunch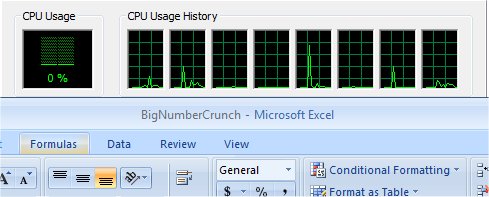 This workload is from a 6.2 MB spreadsheet and executes about 28,000 sets of calculations. It uses the most common calculations in Excel: addition, subtraction, division, rounding and square root. It also analyzes statistical functions such as Min, Max, Median, and Average. The calculations are done after a spreadsheet with a large data set is updated with new values, so the computer must recalculate a large number of data points.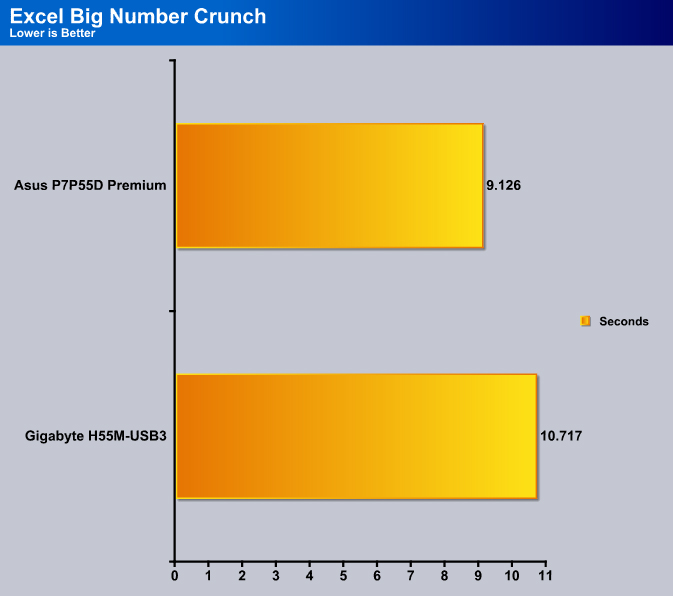 The P55 comes in ahead in both of our Excel number-crunching tests. It is worth noting however, that for all its increased performance, the P55 board costs about twice as much as the H55M.
3DMark Vantage

Complete information on 3DMark Vantage can be found here:
3DMark Vantage is the newest video benchmark from Futuremark. Though still a synthetic benchmark, it closely reflects real-world gaming performance. While it is not a replacement for actual game benchmarks, it has its uses. We tested our cards at the 'Performance' setting.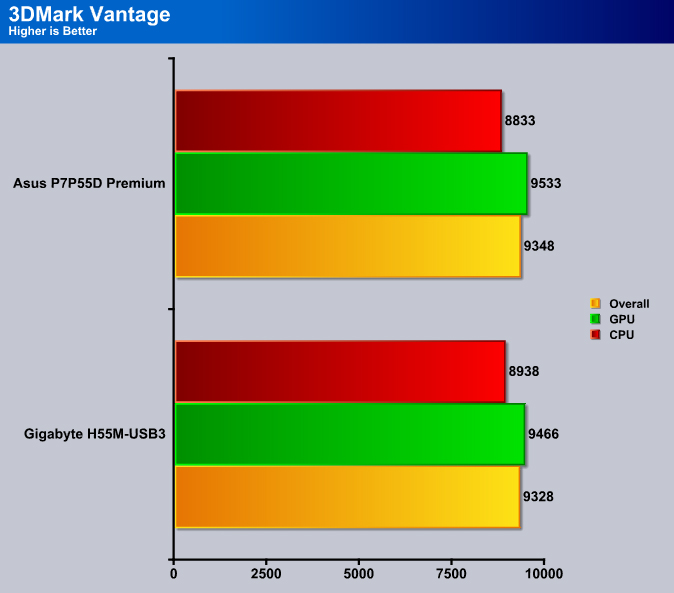 3DMark indicates that the Gigabyte board is actually not a bad choice for a budget gaming system when paired with a dedicated graphics card. We can see that the board scored quite well compared to the Asus board. In terms of gaming, the GPU is often the limiting factor, so the lower memory bandwidth we observed with the H55M chipset should only be a minor factor.
For a budget gamer, the single PCI-E x16 should be plenty, because the need for dual video cards is unlikely. Pairing this board with a Core i3 530 or 540 and an ATI HD 5770 would make a very capable gaming system for under $500. This would let users play most current games up to resolution 1920×1200 with some eye-candies enabled.
CONCLUSION
The Intel H55 chipset is certainly a capable budget chipset for Socket 1156. As our tests have shown, the biggest performance difference between the two chipsets is the memory bandwidth, in which P55 has a clear advantage. Despite this difference, the two chipsets perform virtually identically to each other, with the P55 performing 1 to 5% better in different benchmarks. In applications, such as video encoding and Excel Number Crunching, the P55's extra memory bandwidth shows a clear advantage. However, in games, it is not as apparent, as game performance is often GPU-bound than CPU/memory bound.
Besides the performance difference, there are some other things to consider when choosing between the two chipsets. The H55 comes with only 1 PCIE x16, and 12 USB 2.0. The P55 actually also only has PCI-E x16 but can be configured in SLI/CrossFire configuration, and has 14 USB 2.0 ports (two more than the H55). Ultimately, the H55 is not a bad choice, and the features that are missing most likely will not be used much in a budget system.
The Gigabyte H55M-USB3 is one of the best H55 boards money can buy. At retail price of $100, the board adds the RAID 0 and 1 capability, making it even more appealing. In addition, we are glad to see the inclusion of USB 3.0, DisplayPort, and HDMI on the board. Despite a layout issues, the board has plenty of excellent features that make it one of the best boards for budget buyers.
OUR VERDICT: GIGABYTE H55M-USB3
| | |
| --- | --- |
| Performance | 8 |
| Value | 9 |
| Quality | 9 |
| Features | 9 |
| Innovation | 7 |

We are using an addition to our scoring system to provide additional feedback beyond a flat score. Please note that the final score isn't an aggregate average of the rating system.

Pros
Cons

Decent performance compared to P55 board

HDMI and DVI port

USB 3.0

RAID support 

Price

 

Memory bandwidth is lower than P55 board

Cramped layout

 

 
Summary: The Gigabyte H55M-USB3 is one of the best budget boards available for Socket 1156. It includes features such as HDMI, Display Port, USB 3.0, and RAID 0 and 1 support that make it one of the most feature-rich boards under $100.