During Computex 2010, we were able to talk and learn some new information from Gigabyte. Later followed the new product lunch of the X58A-UD9 and Gigabyte Technology's Seminar. Video coverage available on 2nd Page.
Gigabyte Press Conference @ Computex 2010
           On June 2nd, at Computex 2010, Gigabyte has invited us to have a good talk with Tony Liao, the Vice President of Sales Marketing in North America, Henry Kao, the Senior Vice President of Motherboard Business Unit, and Jackson Hsu, the Product Manager, Motherboard Business Unit. The conference was located in the world's second tallest building, in Taipei 101 on the 36th floor.

Some of the main topics discussed during this interview were the history of Gigabyte and how they became the leaders in the motherboard industry, new advancements and technologies in the motherboard industry, and plans on where Gigabyte might be the next leader in the future. It was quite surprising what Henry had to tell us about the future plans for Gigabyte, which is why I would like to share that story with you guys in this article.

Gigabyte has been one of the major computer hardware manufacturers for years, especially in the motherboard industry. Gigabyte is considered a Tier 1 motherboard manufacturers along with other manufacturers based on the number of units sold in the past years. Since 1986, when Gigabyte Technology was founded, they have been striving to be the first to come out with innovations that would change the way people interact with their computers.
 With Gigabyte being the first to launch USB 3.0 motherboards back in October 2009, it made them possible to gain more than 50% of the market share in USB 3.0 interface motherboards. Their current and latest lineup of motherboards, including the G41 (e.g. LGA 775) up to the P55 (e.g. LGA 1156, LGA 1366) and X58 (e.g. LGA 1366) boards all include USB 3.0 support. Gigabyte's main focus here was to enable users to gain tremendous amounts of transfer speeds to improve our lifestyles and make our work easier and faster.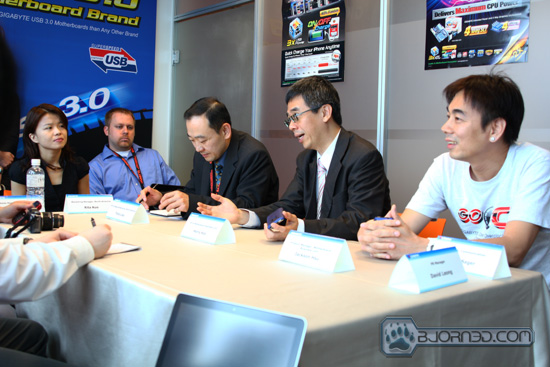 Click Image For a Larger One 
With the new USB 3.0 support, Gigabyte also made it possible to allow iPad users to charge their iPads through their USB ports. Gigabyte motherboards are the first to support the charging of the iPad with their new On/Off Charge capability introduced on April 23rd, 2010. Gigabyte's On/Off Charge is also 40% faster at charging your iPad than any other similar interfaces available at the moment. The system could be running or be totally shut down, and you would still be able to charge your mobile devices without any problems. This is very important in preserving energy and keeping our environment clean.
After asking about the differences between the Asian and North American markets, Gigabyte told us that the North American market is more difficult to maintain due to their RMA services. Gigabyte's main focus is to keep their customers happy, and because of the latest 60% growth in the RMA service in the North American market, Gigabyte is going to continue to improve their quality, service and support. Henry explained that the pricing for their lower, mid and high-end motherboards is not really determined by competition. He made it clear that their motherboards were never really about having the lowest price, but instead having the best balance of performance, features, and innovations that other manufacturers don't have.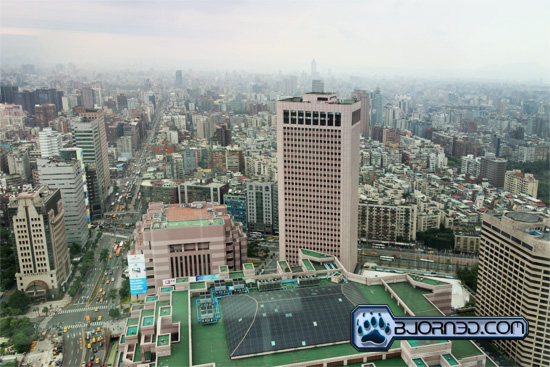 Click Image For a Larger One
(View from the conference room on the 36th floor)
Jackson clarified that Gigabyte is determined to do things differently than other motherboard manufacturers. When Gigabyte first came out with USB 3.0 support, other companies followed in the next few weeks. We can see the same story with other features that Gigabyte was first to come out with that later seemed to be the main leading innovations in most of the current market leading motherboards. But one part is still certain. Gigabyte seemed to push a lot of time into their overclocking capabilities on their motherboards, like their latest GA-X58A-UD9, which is currently the #1 best overclocking motherboard, achieving superb stability, and beating the world record in some of the most popular benchmarking software available to date.
Finally, Henry mentioned that he does not see too much future in netbook, and notebook devices. Henry believes that hand-held mobile devices, smart phones, and tablet PCs (e.g. iPad, iPhone, HTC Hero, etc…) could take over the notebook market in the near future. At the moment Gigabyte did not tell us anything about special products under development, but told us that they are considering adding smart phones into their future plans. Their main focus at the moment is still desktop motherboard manufacturing.
Click Image For a Larger One
Besides the Press Conference, Gigabyte also had several walls covered with their current products and with all the specs and features explained, the second image shows the new GA-X58A-UD9 motherboard. Gigabyte also had a designated room just for USB 3.0 external SSDs, hard drives, and other devices that will come out and support the new USB 3.0 interaface.
Gigabyte Technology Seminar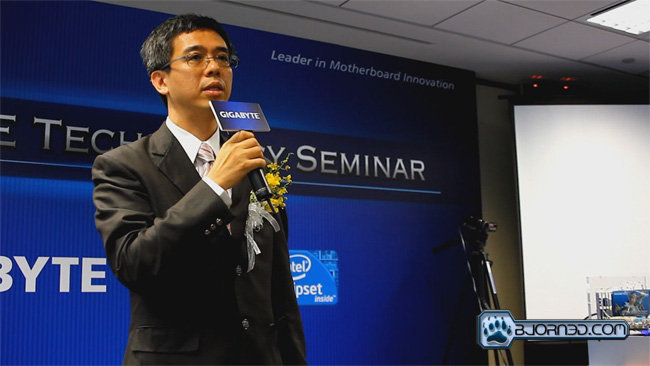 Click Image For a Larger One 
For the Gigabyte Technology Seminar, we were able to get front seats to get decent video coverage of the whole event. At first, our main focus was to take pictures of the events and try to cover everything in this article, but once I got my front seats, I figured that I might as well just film the whole event to make it possible for you guys to  check it out in case you were not able to make it to Computex 2010 this year. I'm sorry about the shaky footage. Unfortunately I was filming with a camera without Image Stabilization, and did not have any stabilizer at hand like a tripod or monopod.
In the first video segment, Henry Kao, Senior Vice President of the Motherboard Business Unit, explains all the achievements Gigabyte had for the past 24 years, including their new USB 3.0 interface and their increased market share in the past years. Next he explains how Gigabyte was the first to come out with Industry's First 24 Phase Power VRM Design for their motherboards back in September 2009. 
Click Image For a Larger One
With the further development of the power design on the new GA-X58A-UD9 motherboard, Gigabyte is also proud to announce their extreme CPU power delivery design which is able to push through 1500W of power just through the processor. Further improvements to the motherboards Gigabyte manufactures, include solid capacitors on all of their motherboards, great overclocking tools and quality of the motherboard components, allowing them to achieve world records in overclocking power, and On/Off Charge, allowing to charge your iPad through a USB port even if the PC is turned off.
Further, the Intel General Manager of Desktop Platforms Division explains, how Intel is happy to allow mainstream users to be able to take advantage of the new Unlocked Core i5, and Core i7 processors.
In the second part of the video, Colin Brix invites Chris Tobias, Intel Director of Marketing, Channel Platform Strategy Division, to the stage. Chris explains how a few years ago, everything was scaled towards one type PC, the Beige Box, while now, we have different platforms, including Enthusiast, Business, Lifestyle and Atom small form factor Desktops PCs. In this presentation we will also see that Intel announced their new unlocked Core i7-875K and Core i5-655K processors. Unfortunately, at the moment, these processors only support LGA 1156. Too bad we do not see any mainstream Unlocked Core i7 LGA 1366 socket processors at the moment. Because Gigabyte's new motherboards support these processors, it should be quite easy to overclock your system and have stability at the same time.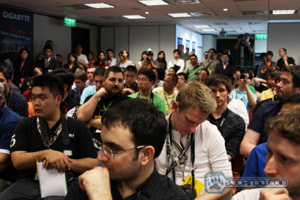 Click Image For a Larger One 
Tim Handley, Deputy Director of Marketing, shows us the new unlocked Core i5 655k and Core i7 875k beating the world record in several benchmarking applications with Gigabyte motherboards. On June 2nd, Gigabyte also announced Unlocked Power, which is the next iteration of the quality components on the Gigabyte motherboards. This means that the components on the new GA-X58A-UD9 are designed to stay stable at 1500W of CPU power. These specs are extreme if you consider that a stock Intel Core i7 980X processor is rated at 130W TDP.
In the third part of the video, Gigabyte explains how the Industry's First Dual Power Switching Design works on the Gigabyte motherboards. This was first announced on May 11th, 2010, but we had our official explanation during Computex 2010 at the Gigabyte Technology Seminar. Basically what the 24 Phase Power VRM Design does is that while the system is at full load, especially under overclocked settings, all 24 Phases will be used to maintain clean and stable power. If you enable Dual Power Switching, when you turn on your system the first time, you will be using Power Engine A, which consists of 12 Phases, and the next time you turn on your system, it will use Power Engine B, which also consists of 12 Phases. This way, your system uses less power, and also extends system lifespan.
The second big announcement for Gigabyte is their HotKey OC Software included with their latest motherboards. This software allows the user to change the overclocked settings on the CPU, including voltages, multipliers, the bus speed, and much more during system operation. Please check out the video preview of the software in action in the 3rd part of the Seminar video.
Finally, in Part 4 of the Seminar Rockson Chiang demonstrates how he is going to overclock a system through a wireless device, the iPad. This should work through any mobile device including smart phones and Table PCs that are compatible with the Cloud OC application. I don't really see the use for this application to be honest with you. The only place I can think of this being used is when you go to work and your computer is crunching some numbers and could turn unstable during a warm day. Gigabyte also goes into explaining what On/Off Charge is. Since we already explained most of it on page 1, pease go back to page 1 to read more of On/Off Charge. The video will also go into more detail about how Gigabyte was able to accomplish higher voltages on their USB 3.0 connectors. 
In the following pictures, we see Hi Cookie, and Rockson Chian using the Cloud OC application on the Apple iPad. We were also able to get a close up picture of the application.
Click Image For a Larger One
After the Gigabyte Technology Seminar, Gigabyte organized a prize drawings for two lucky attendees. The first prize was a P55A-UD4P board with USB 3.0 and SATAIII support. This motherboard comes with 2x Copper PCB, and is a perfect board for mainstream overclockers. The second prize was Gigabyte's latest and best X58 board, the X58A-UD9 motherboard. This motherboard retails at about $699 on Newegg at the time of the release date.
Click Image For a Larger One 
The X58A-UD9 is also the board that beat the world record in several benchmarking applications.Henry Kao picked out the winner for the X58A-UD9. He got really excited when he got up to pick the card. I wonder why. Well you can decide on that one.
Click Image For a Larger One 
Finally, here is a shot of the twins, Gigabyte's babes with the X58A-UD9 board.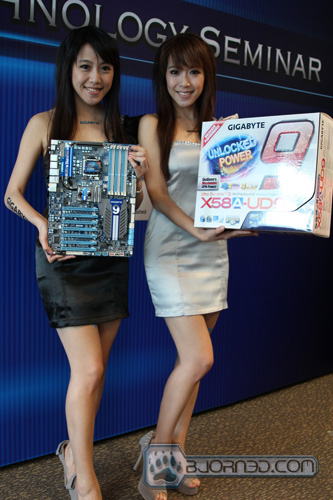 Click Image For a Larger One 
I hope you enjoyed and appreciated the news we have covered from Computex 2010 so far. We will continue writing more articles in the next few days, so stay tuned.