In this review, the author would like to introduce you to his ears newest friend; the Arctic Cooling Arctic Sound E352 ear buds.
Introduction
In this review, the author would like to introduce you to his ear's newest friend; a set of Arctic Sound E352 ear buds manufactured by Arctic Cooling. Up until now, I had been leery to try in-canal earphones as I believed they would be uncomfortable to wear for any extended period of time. So, I was quite surprised how well this pair fit my ears using the supplied medium silicon caps.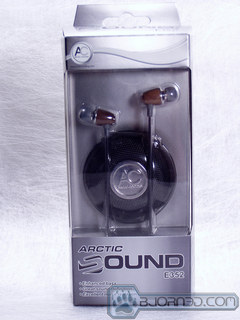 Although the medium size fit my ears just fine, there are two additional sets included, one set  for smaller and one set for larger ear canals. I would suggest getting a proper fit as a good seal between the ear bud and your ear canal  makes quite a difference.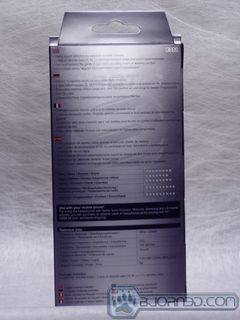 For perspective, I'm coming from using the standard ear buds that ship with the ipod shuffle. Perhaps my ears are built a bit different as I never could get that set to comfortably stay put. These however, were and are, a great fit.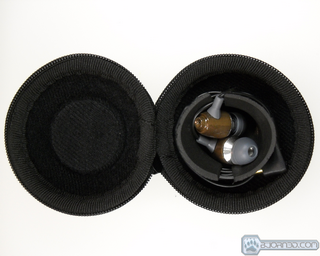 | | |
| --- | --- |
| Product Name | Price |
| Klipsch Image S4 Noise Isolating Headphones | $84.00 |
| Audio-Technica ATH-CK1W In-Ear Headphones | $46.65 |
| Sennheiser CX 300-II Stereo Earphones | $59.95 |
| AKG High-End Ear Bud Headphones | $79.95 |
| Monster Power Lady Gaga Heartbeats Noise Isolating Headphones | $99.00 |
Technical Specifications and Packaging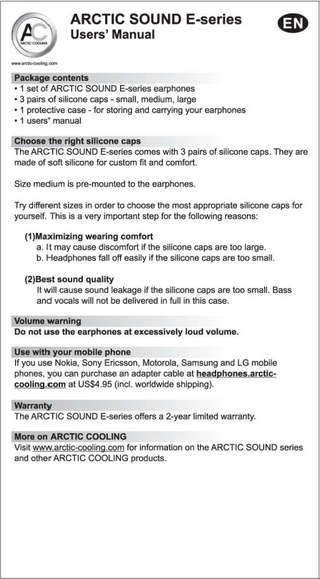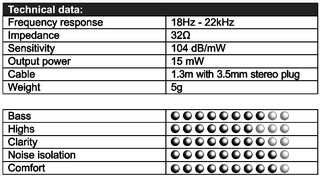 In the retail package I received for this review there were two items not mention in the manual to the left. One was a small 'Arctic Cooling' sticker and the other was a black plastic clip to attach the 1.3 meter audio cable to your shirt or jacket. (Enlarged below for your viewing pleasure)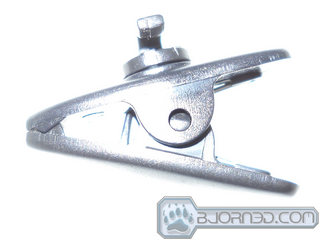 The retail packaging itself allows the potential customer to see the  ear buds and the included carrying case as well as a breakdown of the specifications on the back of the packaging. A nice thing to point out is the limited warranty; two years long.
The zippered black carrying case.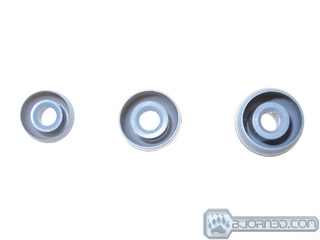 The three silicon caps. (S,M,L)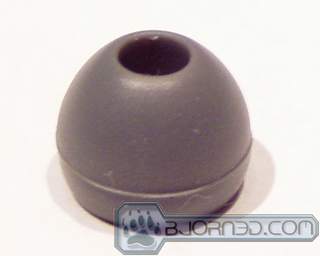 A close-up of one of the silicon caps.
Test Setup & Commentary
Hardware & OS:
Ipod Shuffle
Asus ROG Gene II (onboard sound)
Windows 7 x64
 
Audio Software:
Audio Sources:
Country: Hillbilly Bone – Blake Shelton
Country: The Crow – Steve Matin
New Age: Mandala – Kitaro
New Age: an enchanted evening – Kitaro
 Game & Voice Chat:
Lord of the Rings Online
Ventrilo
Commentary:
The quality of audio is so subjective, in the end it is down to how well your ears hear, not mine. I really like the sound of these ear buds. The bass is (for me) not overbearing and it is much better than what I was used to. I've tried listening to an assortment of music from CD's as well as geeky podcasts on the internet. Although this version has no microphone, I used them while playing Lord Of The Rings Online and listening in on Ventrilo chat for an evening. I was not disappointed with the sound of anything I put through them. The high's were crisp and clear, the low's clean and not muddied. I even went as far as listening to several binaural nature recordings. I could easily imagine myself out in the forest once I relaxed and closed my eyes.
Conclusion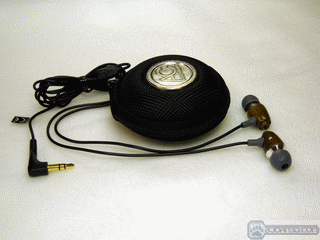 I have found the E352 ear buds to be quite satisfactory at providing quality sound while still being comfortable. I even manage to sleep all night while wearing them and not wake up in the morning with any ear discomfort.  On paper, the 1.3 meter length between the plug and the buds would seem to be long enough. However, when hooked up to my computer, it was perhaps 0.5 meter too short. Also, at this price point, it would have been nice if a cleaning kit could have been included.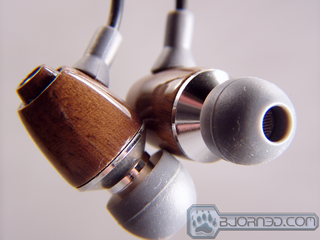 Neither ear bud is labeled for the left or right audio channel. Here is a visual clue to identify right from left.
For your reference, if you look at the above picture, the left ear bud is to the top-right of the AC symbol; just follow the cable back to the earpiece.
While taking additional pictures of the ear buds, I removed the silicon caps; the first came off without issue. However, the second was a bit stubborn and in removing it, it pulled the metal base out of the wooden housing. This put a temporary stop to my review until a second set could be acquired.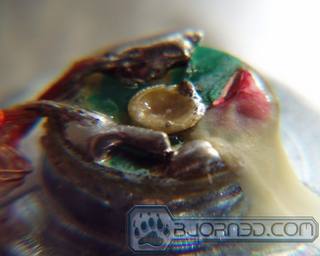 The upside of this is I was able to take a picture of the driver circuitboard assembly. Although difficult to see in this picture, there is an 'O' ring (black), at the base, that seals this assembly into the wooden housing.
OUR VERDICT: Arctic Cooling's Arctic Sound E352
| | |
| --- | --- |
| Performance | 9 |
| Value | 8 |
| Quality | 8 |
| Features | 8 |
| Innovation | 8 |

We are using a new addition to our scoring system to provide additional feedback beyond a flat score. Please note that the final score isn't an aggregate average of the new rating system.

Pros
Cons

Very nice sound

Wooden body looks classy (and is suppose to warm the sound)
 

Gold-plated 90 degree stereo plug

Two Year Warranty
 

Good value.

 

 

No identification of L or R channel.

No cleaning Kit.

Cable length could have been longer.

First set had issues with its mechanical assembly.

 As of this writing, it is difficult to find availability to purchase.

 
Summary: The E352 ear buds from Arctic Cooling sound great, making the price justifiable. If you are budgeting to spend between $50 and $99, these ear buds should be on your short list. MSRP is $69.95 US.
| | |
| --- | --- |
| Product Name | Price |
| Klipsch Image S4 Noise Isolating Headphones | $84.00 |
| Audio-Technica ATH-CK1W In-Ear Headphones | $46.65 |
| Sennheiser CX 300-II Stereo Earphones | $59.95 |
| AKG High-End Ear Bud Headphones | $79.95 |
| Monster Power Lady Gaga Heartbeats Noise Isolating Headphones | $99.00 |