The OCZ Z 850W power supply is the first 80+ Gold power supply we've looked at, with one single rail providing 71A and ultra stable power it's a killer PSU for enthusiasts.
Introduction
With GPU's gobbling power at unheard rates, it's important to choose your power supply carefully. You may save a few dollars on a bargain power supply but usually in the end, you pay more on the electric bill than you saved. It makes sense opt for a high quality, high performing power supply that might cost a few dollars more but shaves a few bucks off the electric bill each month. At low draw conditions, the OCZ Z 850W power supply hits about 81% efficiency but as load increases it becomes more efficient hittings as high as 91 – 92% efficiency. 
Let's say you are drawing 500W with that shiny new GPU setup but at idle you're hitting 200W. Your wall socket output at 200W should be in the 245W range (About 80% efficiency) but when you get into gaming, everything on your system kicks in consuming up to 500W. This is typical of GPU's like Nvidia's GF100, dual GPU setups, and dual core GPU's. The OCZ Z 80+ Gold Modular kicks up efficiency to 90+% so your wall sockets power output would be in the 550W range. Now take a typical 70% efficient PSU that costs a few bucks less, your wall socket output at 200W idle would be about 290W as opposed to the OCZ Z 850W's 245W usage which comes in at around 45W less. Now scale that up to 500W and the OCZ Z 850W's pull of 550W, at 80% (typical for 80+ Bronze PSU) and your looking at a wall socket output of 620W. The cheaper PSU with a 80+ Bronze rating is costing you more money every time you fire up your favorite game. Sure, the OCZ Z Series 850W Gold Modular PSU is costing you more upfront but not enough to detour a potential buyer, especially when the monthly return in savings makes up for the initial cost. Think about a 6 hour gaming session, 4 times a week at 70W an hour. That's 70x6x4 or 1680W per week, 1680×52 (a years use) is 87,360W or 87.36KW hours. Multiply that against your local KW hour rate and you have the hidden cost of less efficient PSU.
Now here's the crux of the matter, less efficient PSU's usually aren't built as well. Lower quality PSU's can leave you open to PSU failure which can potentially take the whole rig with it when it pops. Spend the extra money for a good quality PSU like the OCZ Z Series 850W Gold and sleep well at night knowing your gaming shrine is in good hands.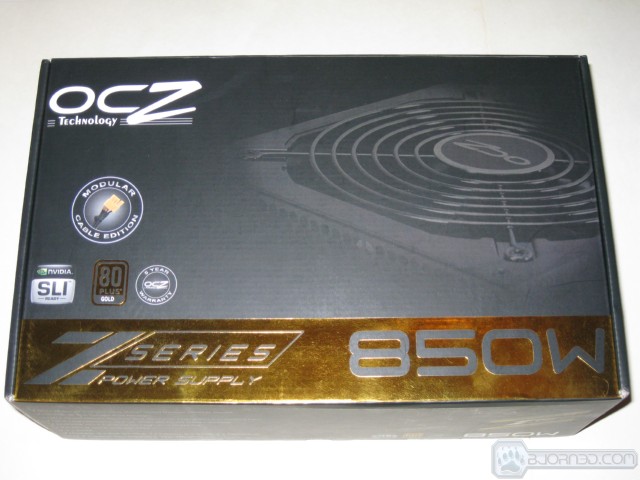 WIth typical OCZ good taste, the Z Series 850W Modular comes dressed in a nice looking black box with plenty of information to help the end consumer make an informed decision about purchasing it. In my opinion, they need to put an explanation   of potential power savings and costs on the box. A lot of end users don't understang 80+ Bronze, Silver and Gold, but they definitely understand saving money.
Features
Max-Performance PSU / 850W / 80+ Gold / SLI-Ready / Active PFC / Modular
True to our enthusiast roots, OCZ Technology designed and developed the Z Series for power users searching for nothing but the best. Paving the way toward the most efficient means of achieving high-end performance, these PSUs feature ultra-high efficiency of 90% and have achieved the 80+ Gold Certification. OCZ strived to make the Gold Z Series a true "best-in-class" power supply, including a powerful single +12-volt rail design and an industrial-grade core engineered for maximum stability and reliability. Built for excellence, the Z Series raises the bar in power management and provides an unparalleled solution for enthusiasts who won't settle for anything less.
Powerful
Delivering 850W of continuous output and utilizing a high-performance architecture, the Z850M provides rock-solid power for the systems of gamers, enthusiasts, and power users. With a peak wattage of 940W and a single +12V rail (71A) design, the Z850 doesn't put limits on your system the way other PSUs do.
Ultra-Efficient
High-performance doesn't need to translate into over-the-top energy use. With an ultra-high 90% efficiency rating, the 80 Plus® Gold certified Z850 power supply offers ultimate stability without driving up your energy costs.
Industrial-Grade
The Z850M is tested and certified at industrial levels (50°C) to provide the ultimate powerhouse for those that require long-lasting, industrial-grade components for their mission-critical system or cutting-edge gaming machine
Modular Cable Management
Promoting a cleaner and cooler case environment, the Z850M edition features a modular cable system to eliminate unnecessary connectors. This optimizes airflow and allows further customization of your power system.
Premium Cooling & Acoustics
Powerful yet cool, the Z850M maintains ideal temperatures and superior air flow thanks to a large 135mm double ball bearing fan that adapts to the system's load and thermals while remaining ultra-quiet at high speeds
Active PFC
Each Z850M features Active PFC (Power Factor Correction) to regulate input voltage and deliver premium sag and surge protection (.99PFC), allowing for effective distribution of power in a wider range of environments and varying voltages.
Multi-GPU Ready
Equipped to fuel the demands of gaming systems, the OCZ Z850 solution has an array of connectors and the stable output to power dual GPUs—an essential element of top gaming builds.
OCZ 5 Year Warranty
Premium power supplies deserve the finest warranty available, and OCZ stands behind the Z850M with its 5-year PowerSwap warranty for ultimate peace of mind. No more endless return-for-repair loops!
Specifications
OCZ Z Series 850W

+3.3V
+5V
+12V
-12V
+5VSB
25A
25A
71A
0.8A
6A
Max Power
180W
852W
9.6W
30W
850W
With one large single rail the OCZ Z Series 850W PSU is a rare find. At 80+ Gold efficiency and a large single rail capable fo driving most dual GPU setups it's suitable for all but the most demanding enthusiasts. Since the OCZ Z series 850W only has cables for 2 GPU's (dual power connector GPU's) hardcore enthusiasts might want the 1000W Z Series which can accomidate 3 GPU's.
850 Watts of Continuous Rock-Solid Power (940W Peak)
+12VDC @ 71A Single Rail Design
Ultra-Quiet 135mm Double Ball-Bearing, Thermally-Controlled Fan
Ultra-High Efficiency (over 90%)
80 Plus® Gold Certified
Dual GPU-Ready
5 year warranty backed by OCZ's exclusive PowerSwap Warranty replacement program.
Pushing 850W continious with 940W peak power and that nice single rail 71A design and high 90+% efficiency OCZ ups the ante with their 5 year PowerSwap Warranty. That's right if the PSU dies on you they will cross ship you a new one (Conditions apply).
Pictures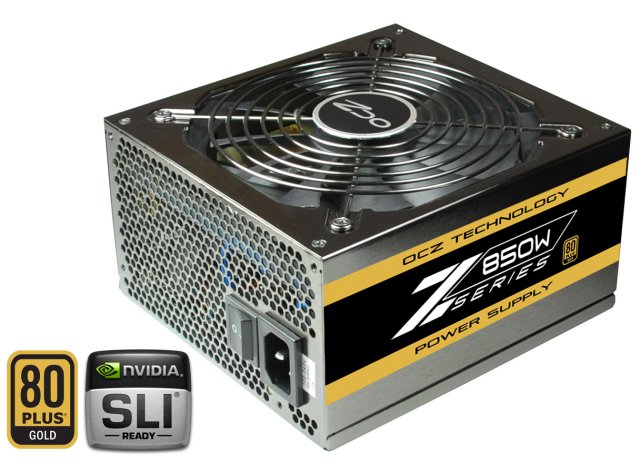 The Z Series 850W power supply is Nvidia certified for SLI on up to two GPU's and is officially rated at 80+ Gold which like we mentioned earlier is up to 90% efficient at medium and high load levels.
What we didn't mention is that it looks really nice. This isn't one of those mat black PSU's that just hangs out and provides a lot of fugly. There are no fancy lighting schemes but the Z Series 850W PSU isn't going to burn your eyes out.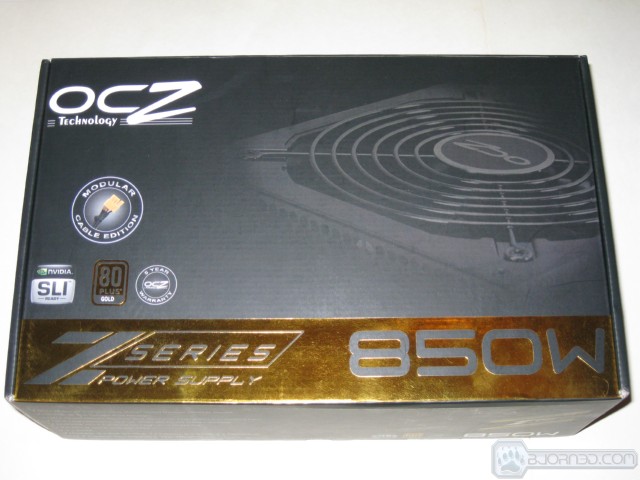 Nice black packaging with Gold highlights and plenty of information and specifications. UPS mush have been having an off day because even the outer box was in good shape.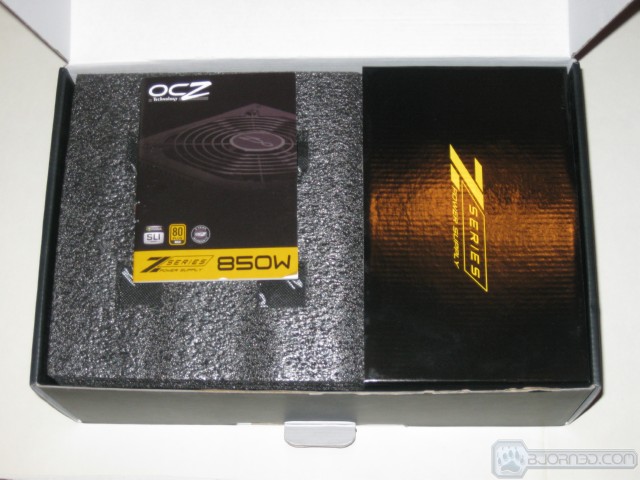 Inside the box you find everything neatly packed and unless they use the heaviest hand in delivering it the power supply should be well protected during delivery.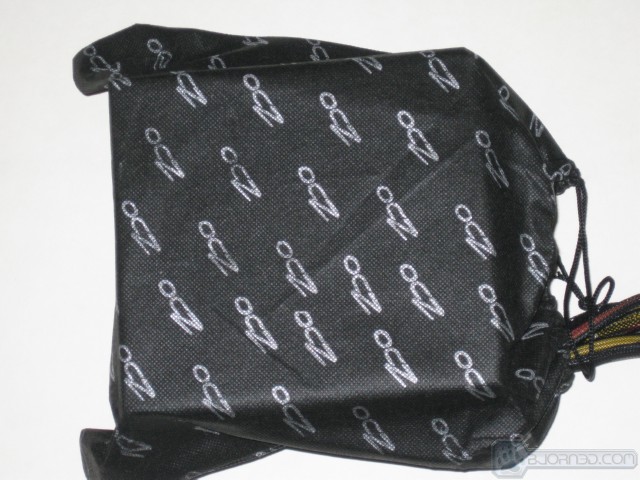 Since it's not a mat black finish OCZ was thoughtful enough to put the power supply in a nice black bag to protect the finish.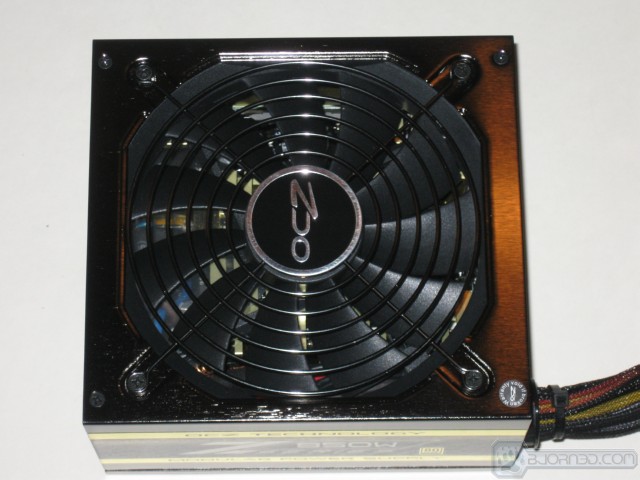 Taking a top down view of the Power Supply it looks to be a brushed surface with a shiny black baked on finish but don't hold us to the baked on finish part. It looks like that but it's hard to tell.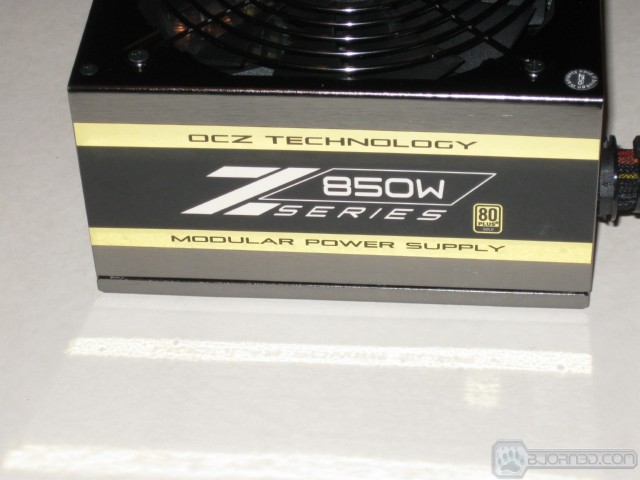 Both sides sport the same sticker but one is upside down so when you mount the PSU it will be right side up. It's refreshing to see someone actually think about how it looks through a windowed chassis.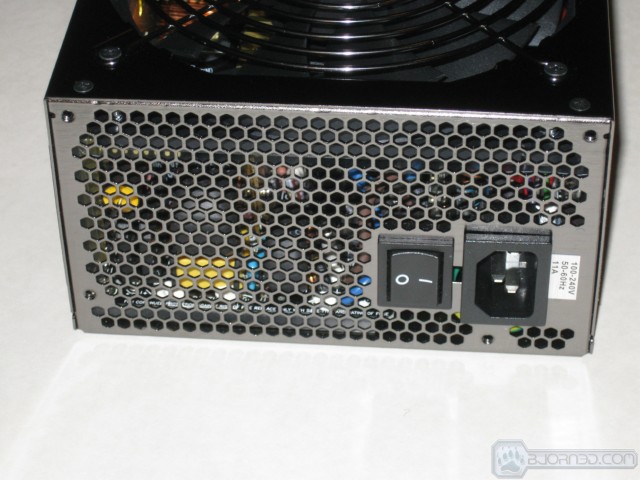 The venting on the back of the PSU sports honeycomb shaped openings which are known to provide the highest airflow with the least restriction.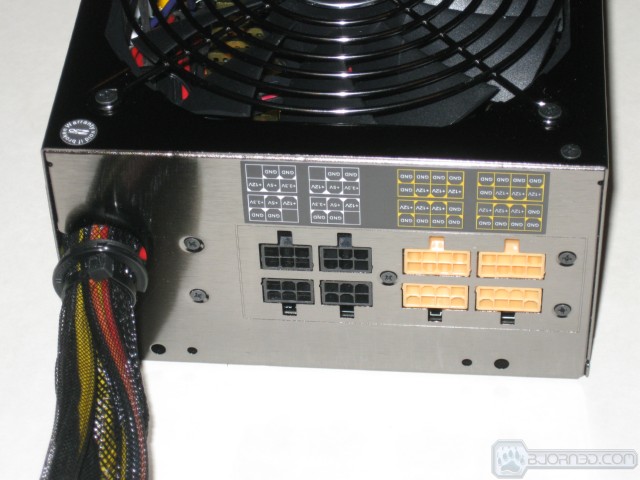 From the looks of the connector panel you would expect a lot of attached connectors but OCZ did an exceptional job on the wired connectors and layout of the panel.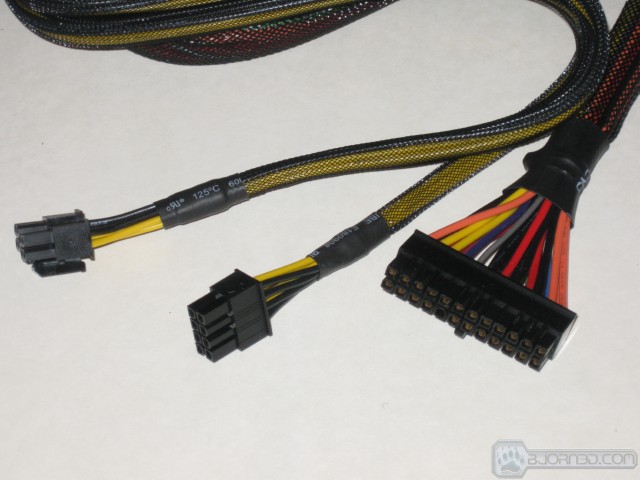 Wired connectors are minimal which we like, nothing stinks worse than buying modular and finding that you got 8 connectors hanging off the front. In this case we found just four wired connectors. Two eight pin CPU power connectors (one splits to 2x 4 pin) and a 24 pin motherboard power connector. You should note this is a true 24 pin and not a 20/4 pin so it's for 24 pin motherboards only.
Then there's one Sata power cable that is directly wired, most end users need at least a Sata power cable so we aren't complaining about that.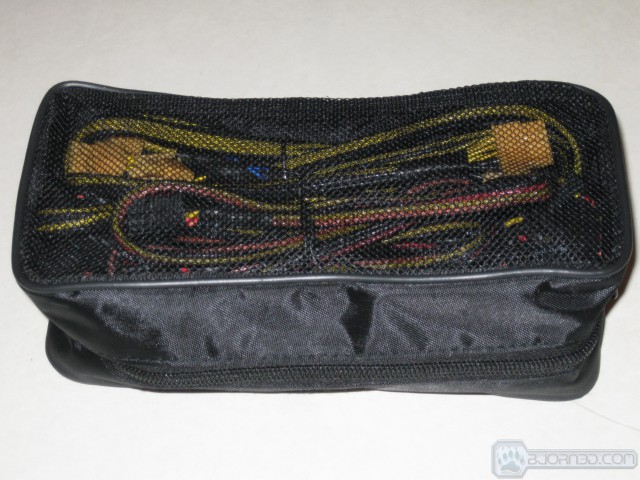 They included a nice mesh (on one side) cable bag to keep things neat and tidy and help keep track of which cables go to which PSU. We have about 10 around the lab so it's nice to be able to identify them.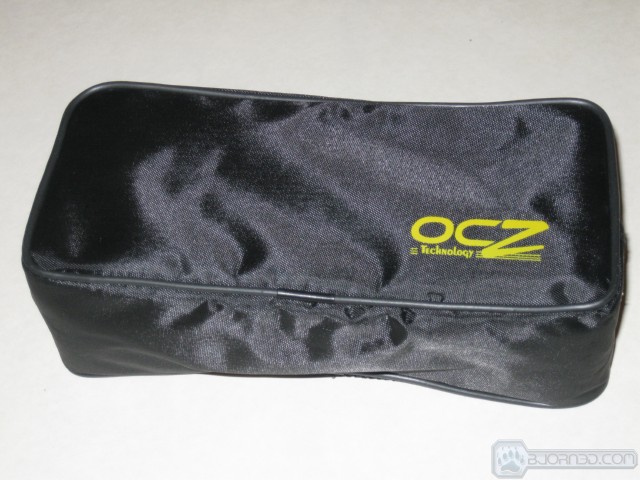 The bottom (or top depending on how you look at it) has the OCZ logo on it and the bag is nice and sturdy so longevity shouldn't be an issue.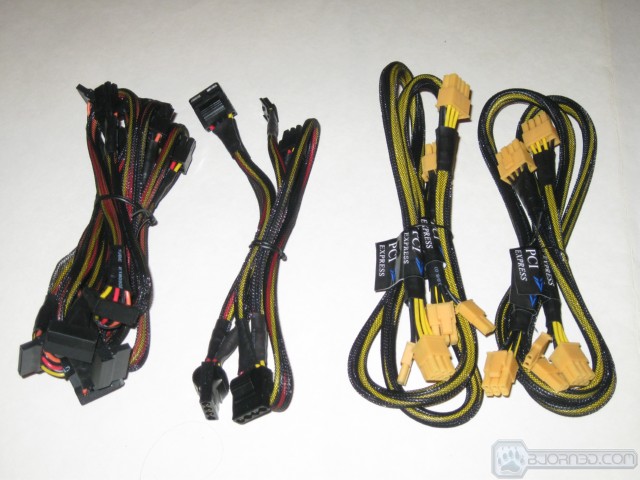 We could do a text description of the connectors but we were feeling spry so we built a table for you.
Type of connector:

OCZ Z Series 850W

ATX connector (550mm)

24 pin

4+4 pin EPS12V connector (600mm)

1

8 pin EPS12V connector (600mm)

1

SATA (600mm+190mm+190mm)

3

Modular Cables

5.25″ Drive (530mm+190mm+190mm)

3

3.5″ Drive (+190mm)

1

SATA (485mm+190mm+190mm)

9

6+2 PCIe (580mm)

4

Unit Dimensions(L x W x H)

160mm x 150mm x 86mm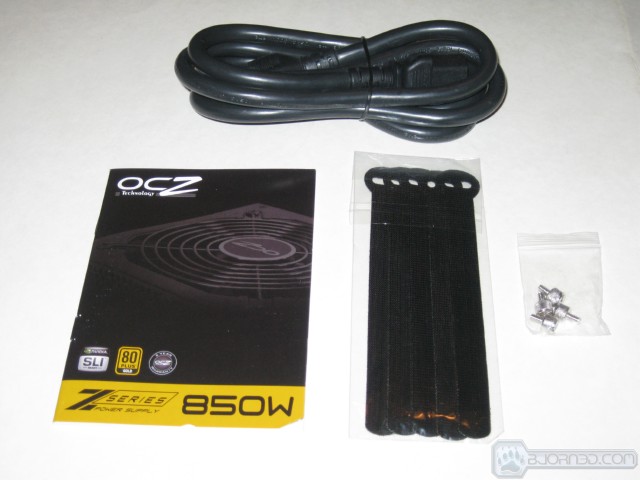 You also find a nice heavy duty power cord, a short concise manual, four thumb screws with Phillips on the head to help tighten them and 5 Velcro cable ties. The cable ties are an appreciated addition to the bundle.
The Guts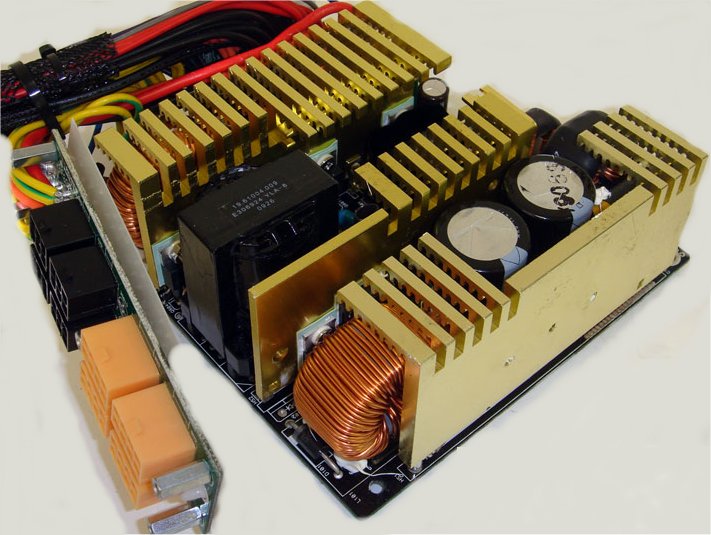 This power supply uses two TS15P05G rectifying bridges connected in parallel on its primary, each one supporting up to 15 A at 110º C.

On the active PFC circuit two SPW24N60C3 power MOSFET transistors are used, each one capable of delivering up to 24.3 A at 25º C or 15.4 A at 100º C in continuous mode or up to 72.9 A in pulse mode at 25º C. These transistors present a resistance of 160 mO when turned on, a characteristic called RDS(on). This number indicates the amount of power that is wasted, so the lower this number the better, as less power will be wasted thus increasing efficiency.
OCZ Z Series 850 W uses two 330 µF x 400 V capacitors in parallel; this is equivalent of one 660 µF x 400 V capacitor. These capacitors are Japanese from Rubycon and labeled at 105º C, the best configuration possible.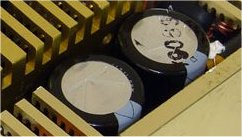 On the switching section another two SPW24N60C3 power MOSFETs are used on the traditional two-transistor forward configuration.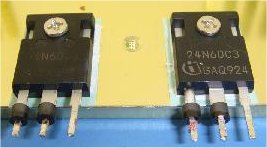 The switching transistors are controlled by the PFC/PWM combo controller CM6800. This was a surprise, as we didn't expect an 80 Plus Gold using this controller, as many other manufacturers are moving to other designs in order to increase efficiency.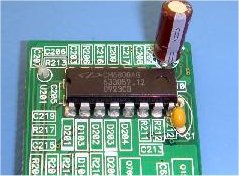 This power supply is based on a DC-DC design, meaning that it is basically a +12 V power supply with the +5 V and +3.3 V outputs being generated using two separated switching power supplies connected to the +12 V rail. This design is proving to be the best choice in order to achieve high efficiency. On top of that OCZ Z Series uses a synchronous design to generate its +12 V output. In this kind of design the rectifiers are replaced with MOSFET transistors in order to increase efficiency.
Eight AP95T07GP MOSFETs are used to produce the +12 V rail, four for the direct rectification and four for the "freewheeling" part. Each one supports up to 80 A at 25º C or 70 A at 100º C in continuous mode or up to 320 A at 25º C in pulse mode, with an RDS(on) of only 5 m§Ù.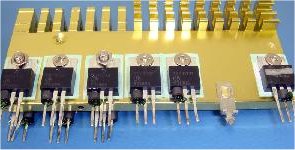 The outputs are monitored by a PS224 integrated circuit, which supports OVP (over voltage protection), UVP (under voltage protection) and OCP (over current protection).
Then they pack it all in a nice chassis and you get this.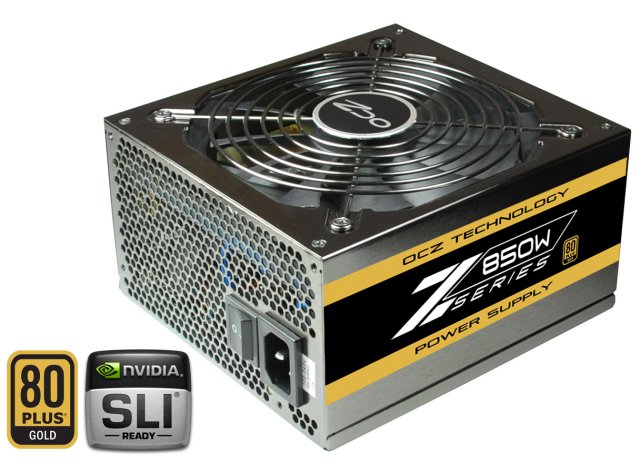 Methodology
We old school PSU with a high end volt meter and test them inside a chassis. In this case we used HexZilla with the i7 980x, an Asus P6T6 WS Revolution, two WD Raptors and a Kingston SSDNow V+, 3 or 4 140MM fans and two GTX-295's in SLI with a GTX-285 for PhysX. Pretty decent load but still maxed out just over 680W which is far in excess of what most end users actually use.
We could throw on a lot of power hungry components but realistically the average SLI/Crossfire system draws less than this so it's a little moot.
Once we had the rig up and running with the OCZ Z Series 80+ Gold modular PSU we ran Furmark to heat up the GPU's and read voltage directly from the connectors themselves. Room temperature was held at 22 – 23°C. We ran for 10 minutes then measured, ran another 10 minutes and measured, and finally at 30 minutes and measured.
For light voltage testing we used a single GTX-285 with a GTX-275 for PhysX and Furmark heating it up. GPU usage was bouncing around 98 -99% so this represents worst case GPU usage for voltage testing.
We also spun up the HD's (the Raptors) with hard drive benches testing the entire drive and the HD tests lasted far longer than the 30 minutes we needed for voltage testing.
We fired up our new infra Red thermometer and measured intake and exhaust temperatures and used a Kill A Watt for PFC (Power factor correction).
Results
OCZ Z Series 850W load tests
Test Type
+3.3V
+5V
+12V
DC Watts/
AC Watts
Eff.
Intake/
Exhaust
Test
Low Wattage
3A
3A
25A
337W
91%
23°C/
26°C
3.25V
5.03V
12.06V
Test
High Wattage
6.5A
6.5A
50A
682W
89.6%
24°C/
31°C
3.27V
5.04V
12.03V
Low wattage in at 337W we got 3.25V on the 3.3V, 5.03V on the +5 and 12.06 on the large single rail. Efficiency was at 91% and the intake temperature was 23°C with the exhaust at 26°C. With the intake and exhaust temperature that low the power supply is hardly breaking a sweat.
At 682W the +3.3V was at 3.27V and the +5V was at 5.04V and the +12V was almost spot on at 12.03V. Idle efficiency at around 180W was 86% and the OCZ Z Series 80+ Gold 850W PSU has just about the tightest voltage regulation we've seen on any power supply we've tested. Since we don't have any other PSU in this class we had to test it by itself and we suspect taht PSU of this caliber are rare so we may have to wait on the 1000W Z Series to even think about comparing this one to another PSU.
If any vendors happen to browse the review they can feel free to submit large single rail PSU by clicking my name at the top of the review.
Conclusion
The OCZ Z Series 80+ Gold 850W Power Supply is one of those hidden gems strewn among lesser PSU with a lot of good marketing and less good components. Pricing on it is a tad high and ranges from $219 – $230 but that's a pretty fair price for what you get. You get rock solid stable power from a known and trusted name in PSU's, 5 year PowerSwap warranty, Dual SLI certified by Nvidia, and the peace of mind knowing that the next time you push the power button you won't see smoke emitting from your cherished rig.
Voltage regulation was under 2% variance from nominal and in most cases more like 1% which is the tightest voltage regulation we've seen to date. With one large single rail coming in at 71A the innovative design and 80+ Gold certification makes this a good choice for any enthusiast and a better choice for enthusiasts with an eye on the electric bill.
OCZ Z Series 80+ Gold 850W PSU
| | |
| --- | --- |
| Performance | 9.5 |
| Value | 8.5 |
| Quality | 9.5 |
| Features | 9 |
| Innovation | 9 |

We are using an addition to our scoring system to provide additional feedback beyond a flat score. Please note that the final score isn't an aggregate average of the rating system.

Pros
Cons

Tight Voltage Regulation

Large Single 12V Rail

5 Year PowerSwap Warranty

80+ Gold Certification

SLI Certified

Quiet Operation Even At Heavy Load

Looks Nice

 

Motherboard Power Connector prongs a little loose

Price

 

.

 

 
Summary: The OCZ Z Series 80+ Gold 850W PSU is just what the doctor ordered to cure your PSU needs. With Dual SLI capability it's enough for enthusiast systems wanting a two card setup, it's more than enough for any single GPU setup, and it comes in the 1000W flavor for those needing more. OCZ hit a home run with this 80+ Gold PSU and it will enjoy a long life and fed a wide variety of GPU's here in the lab.