Gigabyte has just released an update to the 790 X chipset line. This update includes SATA 6 Gb/s, and USB3 which brings the 790 X chipset into the next generation.
Introduction
With the recent introduction of USB3 and SATA 6 Gb/s the 790X chipset was really showing its age. Today we have Gigabyte's update to the 790X platform. This new board supports USB3. This drastically improves the transfer speeds of USB devices that use the technology. This also future proofs the board a little bit. Since AMD has just released their 890GX chipset, this seems a bit late.
Physically speaking this board is not that different from a 890GX. It supports DDR3 and USB3. Since this board is based on the SB750, the SATA 6 Gb/s interface is not standard. Thus this board lacked SATA 6 Gb/s support, but thats not that bad considering that unless you are going to use a SATA 6 Gb/s SSD the SATA 6 Gb/s interface is not that beneficial. This certainly makes the board an attractive buy for someone planning on using SATA 2 drives looking for USB3 support. Lets take a closer look at what else is on this board.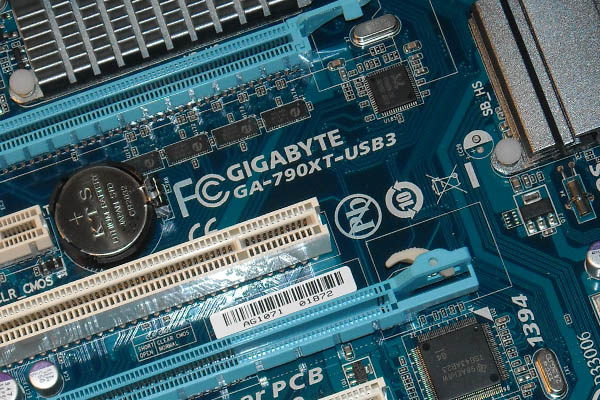 Features
 

Introduction


The GA-790XT-USB3 based on AMD 790X chipset, it supports new generation of 45nm AMD AM3 Phenom II/ AthlonII processors, integrated DDR3 memory controller, HyperTransport™ 3.0 technology links and 2 PCI Express 2.0 graphics interfaces with ATI CrossFireX support. With the latest innovative GIGABYTE USB 3.0/ 3X USB power & Easy Energy Saver technology, the GA-790XT-USB3 is able to provide amazingly fast data transfer via USB3.0 connectors, also to reach the maximum system performance easily while still able to save the power and environment in real life at the same time.
 

Supports next generation of 45nm AMD AM3 CPU


This motherboard designs with

Split Power Plane, 8+2 phase VRM

to support AMD the latest 45nm AM3 Phenom™I/ Athlon™II processors, delivering the great performance enchantment to system and ultimate scalability hardware expending.
 

USB 3.0 Support


The GIGABYTE AMD 700A series motherboards support the latest generation SuperSpeed USB 3.0 technology made possible through an onboard NEC uPD720200 host controller. With superfast transfer rates of up to 5 Gbps, users are able to experience an almost a 10x improvement over USB 2.0. Additionally, backwards compatibility with USB 2.0 assures users of long term use of their legacy USB 2.0 devices. The onboard NEC SuperSpeed USB 3.0 technology also provides new power management features that include increased maximum bus power and device current draw to better accommodate power-hungry devices.

 

3x USB Power Boost


GIGABYTE AMD 700A series motherboards feature a 3x USB power boost, delivering greater compatibility and extra power for USB devices. GIGABYTE's unique USB power design is also able to efficiently regulate output over the full voltage range, which greatly enhances USB device compatibility. In addition, dedicated lower resistance fuses ensure lower voltage drops, and provide more stable and plentiful power delivery.

 
 

Ultra Durable 3



GIGABYTE Ultra Durable 3 design, featuring 2 ounces of copper for both the Power and Ground layers which dramatically lowers system temperature by delivering a more efficient spreading of heat from critical areas of the motherboard such as the CPU power zone throughout the entire PCB. GIGABYTE's Ultra Durable 3 also lowers the PCB impedance by 50%, which helps to reduce electrical waste and further lowers component temperatures. A 2oz Copper layer design also provides improved signal quality and lower EMI (Electromagnetic Interference), providing better system stability and allowing for greater margins for overclocking…more
 

EC AOD-ACC Support


EC AOD-ACC is described as Embedded Controller for AMD OverDrive- Advanced Clock Calibration, which is the newest feature comes from AMD SB750/ SB710 southbridge chip, destined for use AMD 790X chipset, is set to allow AMD Black Edition CPUs to be overclocked through AMD OverDrive™ utility or BIOS setting further than it was previously possible.


* Please be noticed that GIGABYTE's product warranty does not cover damages caused by overclocking.

 

AMD OverDrive Support


The AMD OverDrive™ utility is provided by AMD, offering high-end users the ability to maximize the capability, flexibility, and adjustability of the platforms utilizing AMD processors, sockets, and chipsets.
* For enabling EC AOD-ACC technology, AMD OverDrive™ utility must be the version of 2.1.1 or later.
* Regarding AMD OverDrive™ utility, please visit AMD official website for details:
http://game.amd.com/us-en/drivers_overdrive.aspx or click here for downloading beta version.
 

ATI CrossFireX™ support


With support for latest ATI CrossFireX™ technology, GIGABYTE pushes the envelope once again by delivering highly optimized performance and flexibility demanded for power users and extreme gaming enthusiasts. Designed to provide unmatched multi-GPU support with dual PCI-E connectivity, the GA-790XTA-UD4 allows users to take advantage of the ultra smooth 3D rendering, blazing-fast frame rates and enhanced visual quality possible.
 

Dual Channel DDR3 1866+ MHz


Delivering native support for DDR3 memory up to 1866MHz, GIGABYTE Ultra Durable 3 motherboards allow users to easily reach higher memory frequencies at lower voltages; achieving higher memory performance with lower power consumption to run even the most memory intensive applications such as high-definition video and 3D games with ease.


* DDR3 1866+ is supported with combination of AM3 CPU and qualified memory modules, please refer "Memory Support List" for detail memory support information.

 

GIGABYTE innovative technology- Easy Energy Saver


Featuring an advanced proprietary software design, GIGABYTE Easy Energy Saver is able to dynamically adjust CPU power depending on workload, delivering just the right amount of power needed for the task. Coupled with AMD's highly efficient 45nm AM3 CPU, the Easy Energy Saver is able to provide exceptional levels of power savings and enhanced power efficiency without sacrificing computing performance.
 

EasyTune6


GIGABYTE has completely redesigned EasyTune6 from the ground up to make it easier than ever to manage and monitor your hardware resources as well as tweak your system settings in order to achieve maximum system performance. Whether you are an overclocking enthusiast, or a computer novice, EasyTune6 provides the tools you need to quickly and effortlessly fine tune your system.
 

Norton™ Internet Security


Fast, comprehensive, and up-to-the-minute protection against online threats. It safeguards your computer, identity, and home network without slowing you down. It sets a new standard for speed and makes online shopping, banking, and browsing safer and more convenient than ever.
 
 
Qualified for Windows® 7
The motherboard qualified for WHQL (Windows Hardware Quality Labs) certification of Windows 7 from Microsoft®, setting the standard for future Windows 7 certified motherboards…more
 

EuP Lot 6 support


The EuP (as known as Energy Using Products Directive) is part of new European Union's environment regulations. EuP established is based on the concern of environmental issues regards electronic devices been gained popularity and how to improve energy efficiency for better and greener life. GIGABYTE presents standard motherboards to help you effectively improving system performance and saving more energy.
There is nothing here that other Gigabyte boards don't have except USB3. EasyTune 6 is included in the package which is a great thing for people new to overclocking.
Specifications
| Feature/Specification | Gigabyte 790X | 890GX | 790FX |
| --- | --- | --- | --- |
| Memory Standard | DDR3 | DDR3 | DDR3/2 |
| Memory Slots | 4 | 4 | 4 |
| SATA 6 Gb/s | N | Y | N (On some) |
| USB 3 | Y | N (On Most) | N (On some) |
| CPU Support | AM3 | AM3 | AM2/3 |
Some other 790 boards will feature USB3, but the majority of them don't. You can also see that since this board uses DDR3 it will not support AM2 chips.
Pictures & Impressions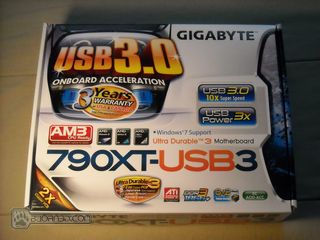 The box is very similar to Gigabytes recent motherboard box designs. They show the most important features of the board right on the front. This includes its 2x copper PCB, USB3, and its DDR3 1866+ support. They also have a sticker about their 3 year warranty.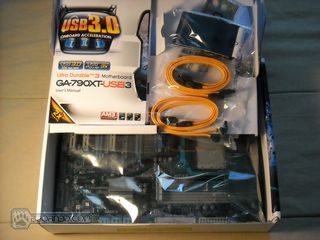 Gigabyte did a good job of packaging the board. There is a cardboard cover above the motherboard to separate the accessories from the motherboard itself. The motherboard has an anti static bag around it to ensure that it doesn't get shocked before you receive it.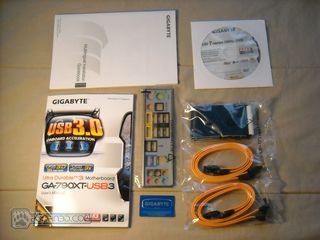 The 790X comes with a decent amount of accessories. This includes 4 SATA cables, two manuals, a driver CD, I/O plate, sticker, and an IDE cable. This should be plenty enough to get just about any user started.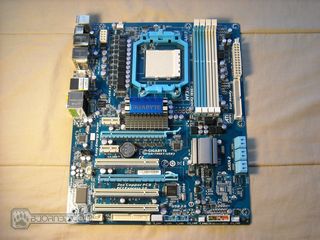 Gigabyte has chosen to use their blue and white color scheme on this board. Lately they have been using this color scheme a lot. Overall this board is laid out similar to many other 790X motherboards.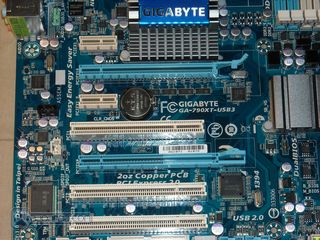 There should be plenty enough expansion slots for anyone. This board supports Crossfire, and even has two slots between the PCIE slots which is a great thing to see. This ensures that the top card will not be running extremely hot. There are also two PCIE 1x slots. One is above the first PCIE slot which puts it in a great place to have a audio card plugged in. There are three PCI slots.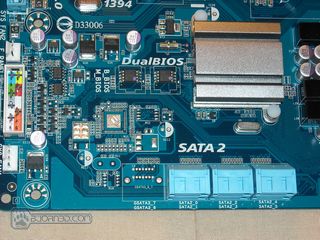 Starting on the left we see the front panel plug-ins. They are color coded, so it should be easy to figure out what plugs into them. If you look a little to the right you will see Dual BIOS printed on the PCB. Below that are both of the BIOS chips. If one BIOS fails flashing or some other catastrophe like that happens you will have a backup, so it should be hard to brick this board. To the right of that we have the SB750 heatsink. It is normal sized, so it shouldn't have cooling issues. Below the heatsink we have the SATA connections. If you look to the far left you will see one connection that is not soldered on. This is kind of odd, but six SATA ports should be enough for most users. The SATA ports are also 180° ports, so long graphics cards wont block you from using any SATA connectors.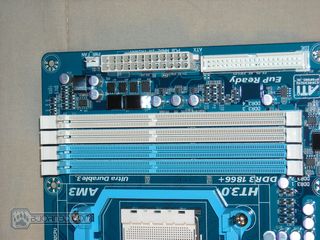 Starting at the top right we see the IDE header. We hope that if you are using this then you are at least only using it for a disk drive. Moving to the left we have the 24 pin connector. Below this is the RAM slots. They are quite close to the CPU socket, so if you are using a larger cooler you may have to use the two white slots.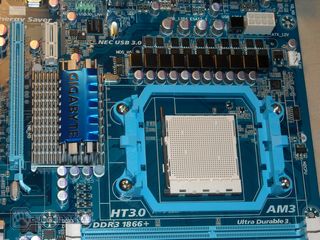 We where a bit surprised when we moved to the VRM area. There is no heatsink on the VRM's! Gigabyte could have at least thrown a cheap aluminum block with a few fins on it here, this is a 790 board after all. Even though it is the lowest of the 790 boards, there really is no excuse for the lack of a VRM heatsink. Other than that, the CPU socket area is pretty normal.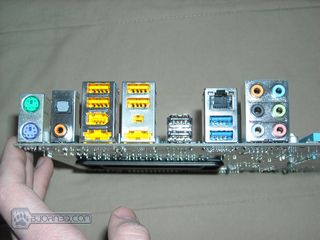 Here we have the rear I/O. Starting from the left we have two PS/2 ports for a mouse and keyboard. Then we have SPDIF sound outputs. To the right of them we have two USB's on the top, a firewire port, and an eSATA port. Then we have another two USB ports, a mini USB end, and another eSATA connection. Another two USB connections are to the right of that, and an ethernet with two USB3 ports are to the right of that. Finally we have the standard audio connectors.
BIOS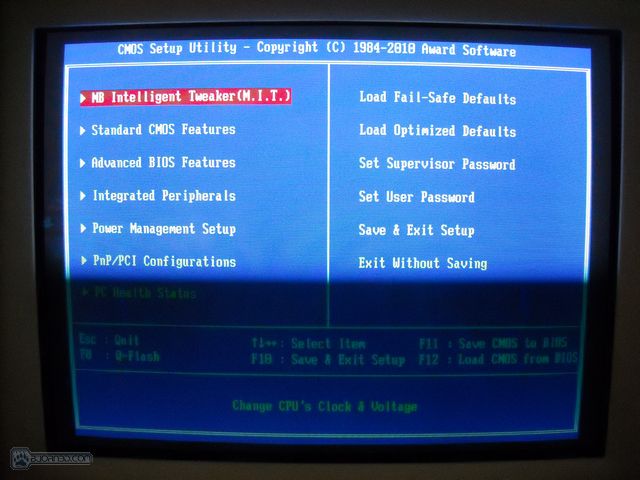 Here we have the main screen in the BIOS. This is where you will start off. You can get anywhere from here, but we are going to focus on the M.I.T.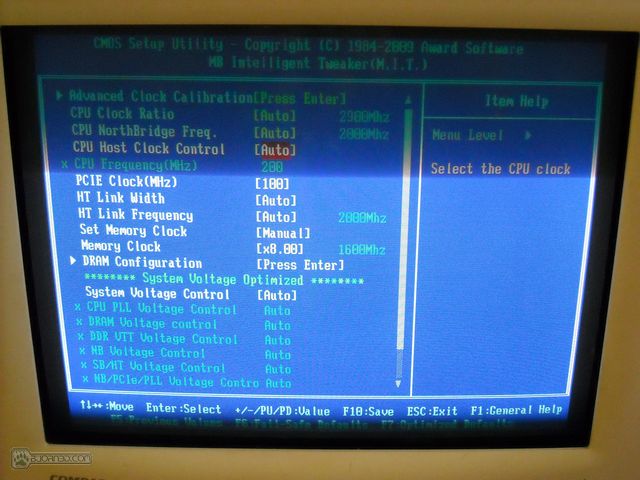 Starting from the top we have the ACC menu right at the top. More on that in a minute. We then have a pretty similar setup to the 790FXTA-UD5. There is plenty enough here to do just about any amount of overclocking.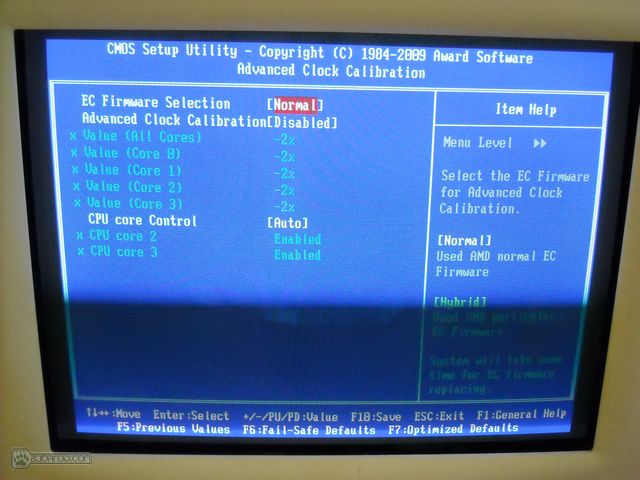 This is the ACC menu. You can fine adjust each core calibration here if you so please. I suggest that if you are a new user you leave this as disabled. At the very bottom is a core unlocking feature. This will help out people who are new to unlocking cores.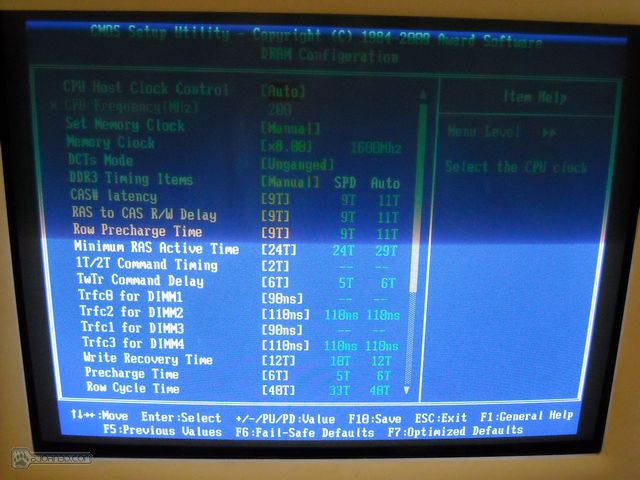 Here we have the DRAM menu. You can do simple timing control, or more advanced timing control. The first 4 starting with CAS latency are considered the standard timings. Someone new should only adjust these values if they would rather have them manually selected instead of coming up automatically.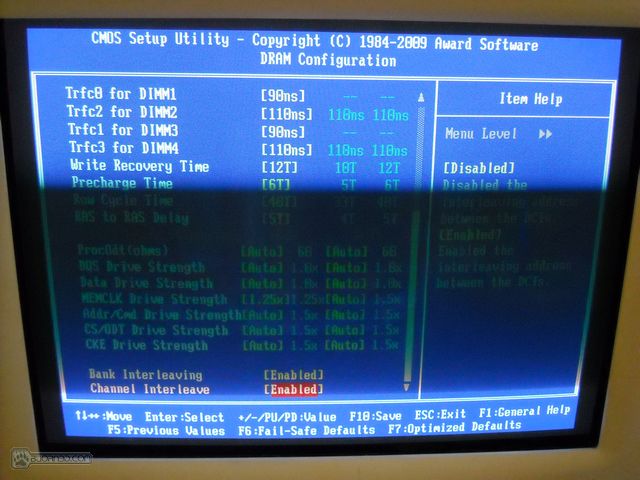 Here we have a few more options. These are even more advanced than the previous options, so use at your own risk. There really isn't much gain from messing with these little values, so I suggest you just leave this on auto, and instead increase the frequency which is what really matters.
Methodology
To test the Gigabyte 790XT-USB3 motherboard we used the same components in every machine. The only component we switched was the motherboard. We did a fresh load of Windows 7 Ultimate on the test rig. Keeping the components the same across a variety of boards will ensure a level playing field for all the motherboards tested.
We've expanded our testing suite considerably for P55(A) and will continue to use the same tests across most of the motherboards and CPU's we test. We run each test a total of at least three times minimum, some tests we run more than 3 times. We average the total of all the tests from each benchmark then report the average here.
The OS we use is Windows 7 Ultimate with all patches and updates applied. We also use the latest drivers available for the motherboard and any devices attached to the computer. We don't disable a bunch of background tasks or particularly tweak the OS or system for bigger numbers. We do turn off drive indexing and daily defragging. We also turn off Prefetch and Superfetch. This is not an attempt to produce bigger benchmark numbers. Drive indexing and defragging can interfere with testing in that one test might occur without defragging going on and the next test defragging might be active, the same thing goes for drive indexing. We can't control when defragging and indexing occur precisely enough to guarantee that they won't interfere with testing, so we turn them off.
Prefetch tries to predict what you will load the next time you boot the machine. We disable it because we want to know how the program runs without any of the files being cached, otherwise each test run we'd have to clear pre-fetch to get accurate numbers. Lastly we disable Superfetch, Superfetch loads often used programs into memory and is one of the reasons people consider Vista to be such a memory hog. Vista fills the memory in an attempt to predict what you will load. Having one test run with files cached, and another test run with the files being un-cached would result in skewed numbers. Again since we can't control it we turn it off. Other than those 4 things which can potentially interfere with benchmarking, and do so out of our control, we leave everything else running.
Test Rig
Test Rig

Case Type
NZXT Hades
CPU
AMD Athlon 2 635
Motherboard

Asus M4A89GTD Pro
Gigabyte 890GPA-UD3H
Gigabyte 790XT-USB3
Gigabyte 790FXT A-UD5
Gigabyte GA-MA770T-UD3

RAM
GSkill 4GB DDR3 1600 @ CAS 8
CPU Cooler
Cooler Master TX-3
Hard Drives
Western Digital SE16 640 GB
Optical
Lite-On DVD R/W
GPU(s)
Sapphire HD 5770 Vapor-X
Testing PSU
Corsair HX-850
Test Suite
Synthetic Benchmarks & Games
Everest 5.0
Winrar 3.9
POV Ray
Excel
Blender
Cinebench R10
Vantage
SiSoft Sandra 2010
HD Tach
HD Tune Pro
ATTO
Far Cry 2
Overclocking

To overclock we slowly brought up the bus speed. We briefly tested to make sure we where stable then moved on. We slowly bumped up the voltage trying to reach the maximum speed possible. When we hit an unstable frequency we tried to stabilize the board. If we where unsuccessful we lowered the speed and made sure the chip was stable at that speed. Below is the CPUz screen shot.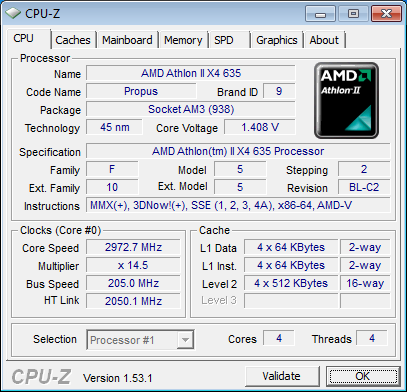 Unfortunately we didn't get much more speed at all. Since our result was so low we decided against testing the overclock since it wouldn't make much difference. Our results on the Gigabyte 790FXTA-UD5 and 890 GX where much higher. This is a similar result to our 770, which also doesn't like bus overclocks
ATTO
ATTO is a little long in the tooth but still provides a good method of checking hard drive
performance. Since your comparing results from the same benchmark to other drives benched on the same software it provides a basis for comparison and in most cases provides reliable and reproducible results.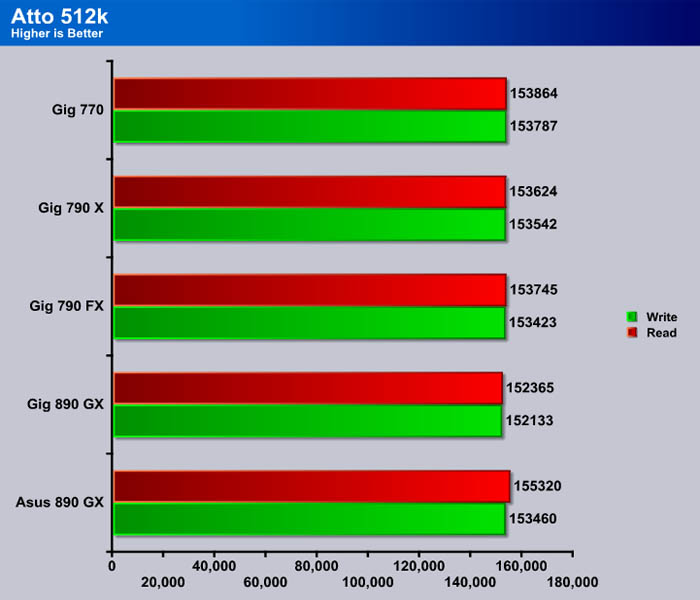 The 790 X is right in the middle of the pack here. All of the boards are right around the same area, so you will not see an improvement in one over the other.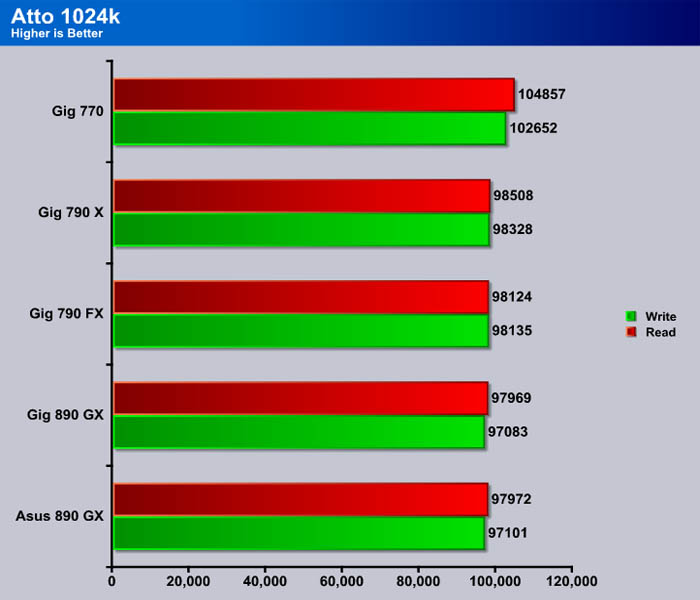 The 770 was magically better than all of the other boards. This looks like one of those random outbursts, but its not by a lot so its explainable. The 790 X was actually slightly higher than all of the boards except the 770.
HD TUNE PRO
HD Tune Pro is an extended version of HD Tune which includes many new features such as: write benchmark, secure erasing, AAM setting, folder usage view, disk monitor, command line parameters and file benchmark. HD Tune Pro is a computer benchmarking application that can test the performances of any PC.
Here are some key features of "HD Tune Pro":
Benchmark: measures the raw performance
Transfer Rate
Access Time
CPU Usage
Burst Rate
Hard Disk information which includes firmware version, serial number, disk capacity, buffer size, transfer mode
Hard Disk Health
S.M.A.R.T. Information (Self-Monitoring Analysis and Reporting Technology)
Temperature
Power On Time
Copy text to clipboard
Copy screenshot to clipboard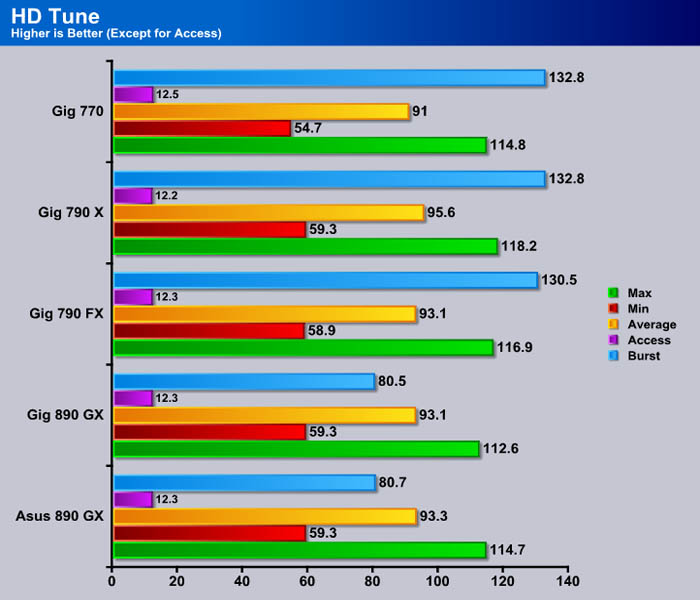 We see here that the 890 GX boards score lower on burst here. It may be due to drivers or something else, but everything else looks normal. The 790 X was once again scored slightly higher than the other boards in testing, this time beating out the 770.
HDTach
HD Tach is a physical performance hard drive test which utilizes a special kernel mode VXD in order to get maximum accuracy by bypassing the file system. A similar mechanism is used in Windows NT/2000.
The HD Tach sequential read test is a little bit different from other benchmarks. Most benchmarks create a file on the hard drive and test within that file.
The problem is that modern hard drives use a zone bit recording technique that allows different read speeds depending on where the data is located. Data on the outside of the drive is much faster than data recorded on the inside. SSD's are freed from this limitation due to their Nans Flash technology.
HD Tach reads from areas all over the hard drive and reports an average speed. It also logs the read speeds to a text file that you can load into a spreadsheet and graph to visually read the results of the test.
In addition to sequential read, HD Tach tests the drive's random access time. Random access is the true measure of seek speed. Many drives advertise sub 10 millisecond seek speeds, but seek speeds are misleading.
Finally, HD Tach tests the drive burst speed. The burst speed is the speed that data can be accessed from the drive's on-board read-ahead memory. This measures the speed of the drive and controller interface.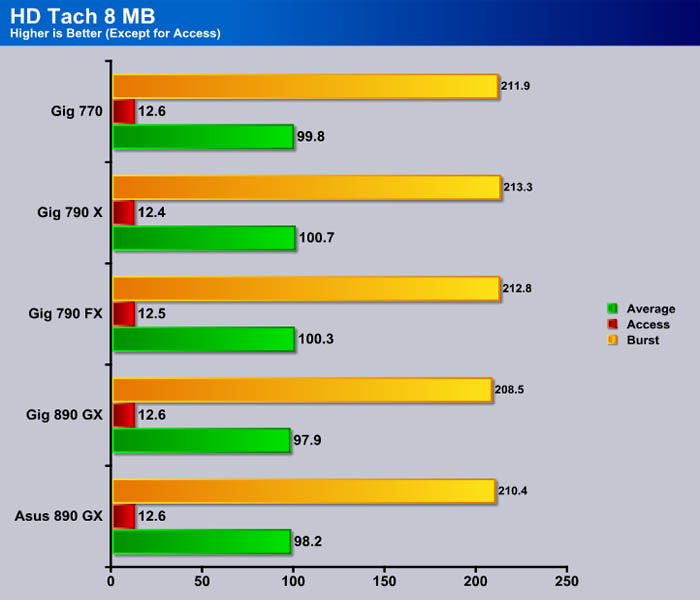 All of the motherboards are neck and neck here. In the real world you would not notice any difference between them.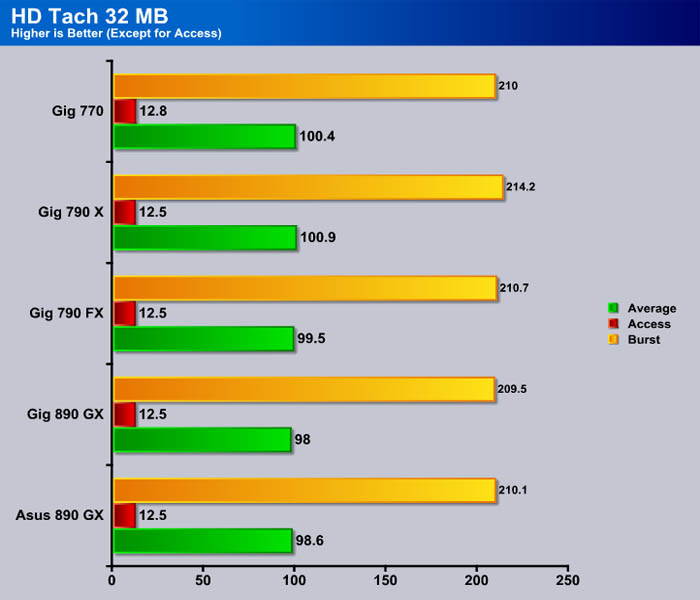 Again, all of the boards are neck and neck. If you are using an SSD, especially a SATA 6 Gb/s SSD you would probably see more of a difference here.
Everest Ultimate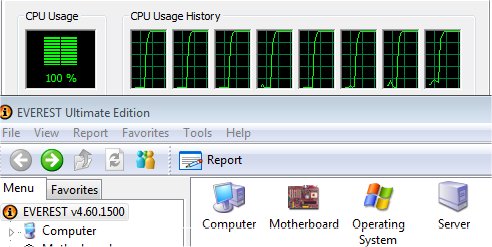 "EVEREST Ultimate Edition is an industry leading system diagnostics and benchmarking solution for enthusiasts PC users, based on the award-winning EVEREST Technology. During system optimizations and tweaking it provides essential system and overclock information, advanced hardware monitoring and diagnostics capabilities to check the effects of the applied settings. CPU, FPU and memory benchmarks are available to measure the actual system performance and compare it to previous states or other systems. Furthermore, complete software, operating system and security information makes EVEREST Ultimate Edition a comprehensive system diagnostics tool that offers a total of 100 pages of information about your PC."
CPU AES
This integer benchmark measures CPU performance using AES (a.k.a. Rijndael) data encryption. It utilizes Vincent Rijmen, Antoon Bosselaers and Paulo Barreto's public domain C code in ECB mode.
CPU AES test uses only the basic x86 instructions, the test consumes 48 MB memory, and it is Hyper Threading, multi-processor (SMP) and multi-core (CMP) aware.
CPU PhotoWorxx
This integer benchmark performs different common tasks used during digital photo processing.
It performs the following tasks on a very large RGB image:
• Fill
• Flip
• Rotate90R (rotate 90 degrees CW)
• Rotate90L (rotate 90 degrees CCW)
• Random (fill the image with random colored pixels)
• RGB2BW (color to black & white conversion)
• Difference
• Crop
This benchmark stresses the integer arithmetic and multiplication execution units of the CPU and also the memory subsystem.
CPU PhotoWorxx test uses only the basic x86 instructions, and it is Hyper Threading, multi-processor (SMP) and multi-core (CMP) aware.
CPU Queen
This simple integer benchmark focuses on the branch prediction capabilities and the misprediction penalties of the CPU. It finds the solutions for the classic "Queens problem" on a 10 by 10 sized chessboard.
CPU Queen test uses integer MMX, SSE2 and SSSE3 optimizations. It consumes less than 1 MB system memory and it is Hyper Threading, multi-processor (SMP) and multi-core (CMP) aware.
CPU ZLib
This integer benchmark measures combined CPU and memory subsystem performance through the public ZLib compression library Version 1.2.3 (http://www.zlib.net).
CPU ZLib test uses only the basic x86 instructions, and it is Hyper Threading, multi-processor (SMP) and multi-core (CMP) aware.
All of the stock clocked boards have similar performance here. The 790 X however is one of the higher scoreing motherboards.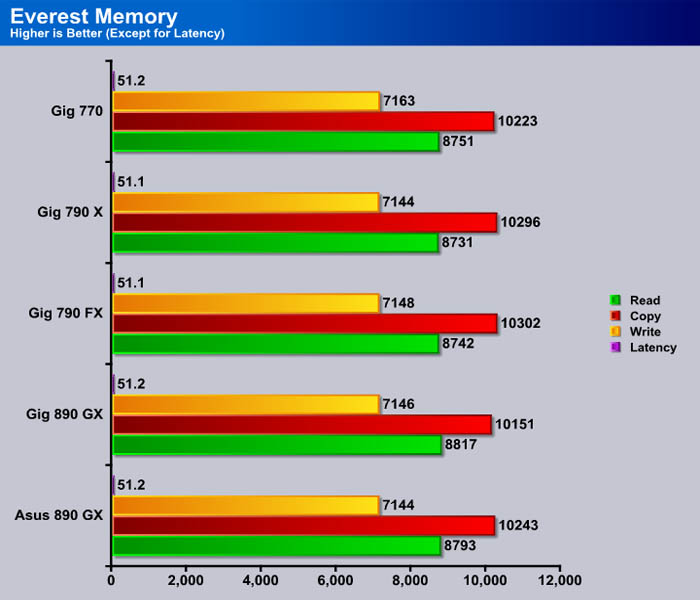 As with the CPU, the stock clocks are about the same. Since we are using a non Black Edition CPU when we increase the bus speed the memory speed is also increased.
Cinebench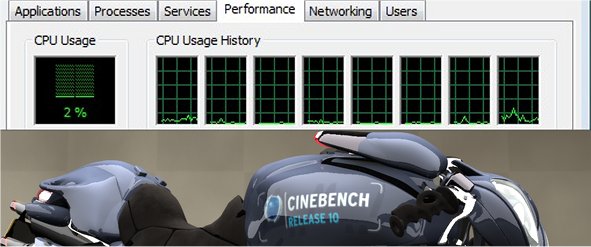 "CINEBENCH is a real-world test suite that assesses your computer's performance capabilities. MAXON CINEBENCH is based on MAXON's award-winning animation software, CINEMA 4D, which is used extensively by studios and production houses worldwide for 3D content creation. MAXON software has been used in blockbuster movies such as Spider-Man, Star Wars, The Chronicles of Narnia and many more. MAXON CINEBENCH runs several tests on your computer to measure the performance of the main processor and the graphics card under real world circumstances. The benchmark application makes use of up to 16 CPUs or CPU cores and is available for Windows (32-bit and 64-Bit) and Macintosh (PPC and Intel-based). The resulting values among different operating systems are 100% comparable and therefore very useful with regard to purchasing decision-making. It can also be used as a marketing tool for hardware vendors or simply to compare hardware among colleagues or friends."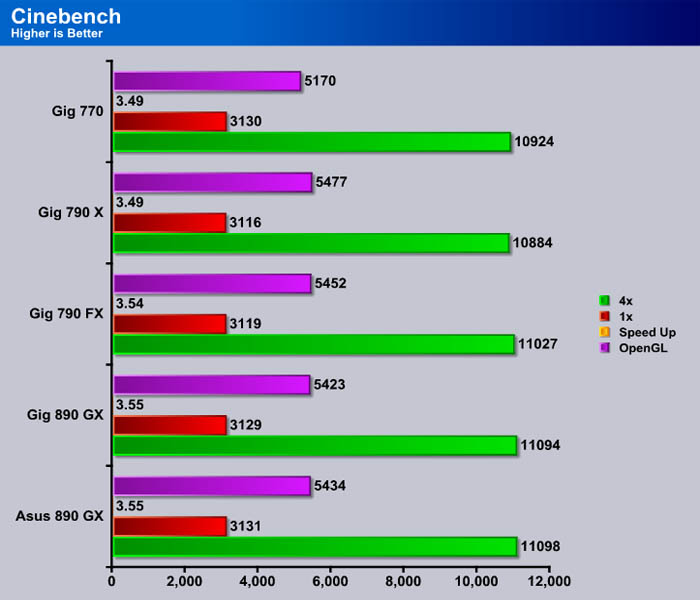 All of the boards here scored similar once again. The 790 X however did score a bit lower than some of the other motherboards when more than one core was used.
WinRar v. 3.9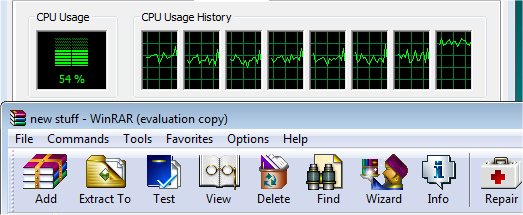 This module in WinRar generates random data, which contains specially introduced redundancy, increasing the load to both the processor and memory. Data is then passed through RAR compression and decompression algorithms, and the output of the decompression algorithm is compared to the source data. If any differences are found, WinRar then reports "Errors found – Yes" in the command window. WinRar displays a size of processed data and compression speed, current and resulting, in kilobytes per second.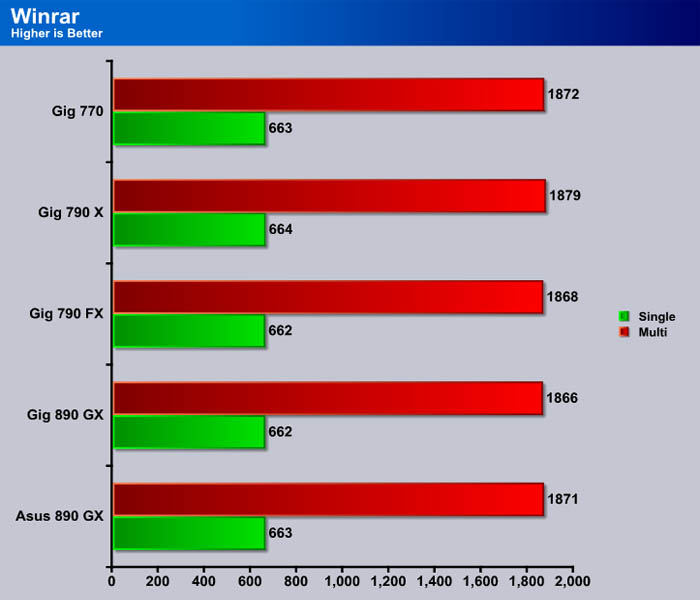 All of the boards where within megabytes, which is very close. The 790 X was a little bit ahead though, so it scores a slight victory.
Sisoft Sandra
"SiSoftware Sandra (the System Analyser, Diagnostic and Reporting Assistant) is an information & diagnostic utility. It should provide most of the information (including undocumented) you need to know about your hardware, software and other devices whether hardware or software. It works along the lines of other Windows utilities, however it tries to go beyond them and show you more of what's really going on. Giving the user the ability to draw comparisons at both a high and low-level. You can get information about the CPU, chipset, video adapter, ports, printers, sound card, memory, network, Windows internals, AGP, PCI, PCI-X, PCIe (PCI Express), database, USB, USB2, 1394/Firewire, etc."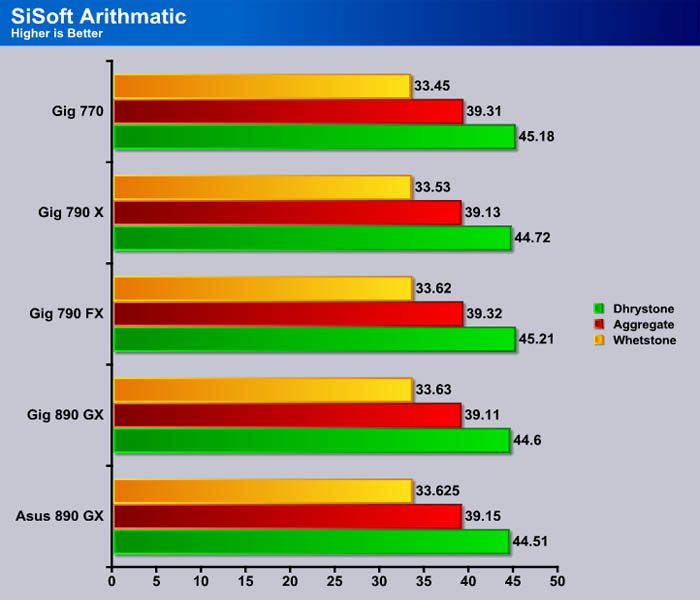 We had very similar scores here on stock speeds. The 790 X falls right in the middle of the other boards this time.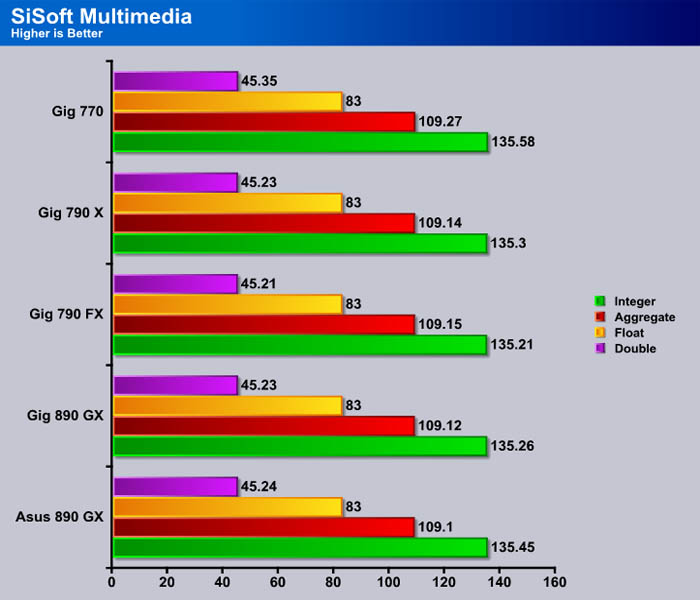 Once again the 790 X falls in the middle of the pack.
POV-Ray 3.7 Beta 25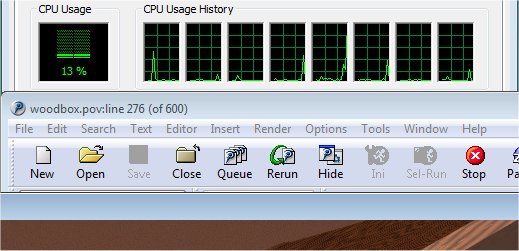 The Persistence of Vision Ray-Tracer was developed from DKBTrace 2.12 (written by David K. Buck and Aaron A. Collins) by a bunch of people (called the POV-Team) in their spare time. It is a high-quality, totally free tool for creating stunning three-dimensional graphics. It is available in official versions for Windows, Mac OS/Mac OS X and i86 Linux. The POV-Ray package includes detailed instructions on using the ray-tracer and creating scenes. Many stunning scenes are included with POV-Ray so you can start creating images immediately when you get the package. These scenes can be modified so you do not have to start from scratch. In addition to the pre-defined scenes, a large library of pre-defined shapes and materials is provided. You can include these shapes and materials in your own scenes by just including the library file name at the top of your scene file, and by using the shape or material name in your scene. Since this is free software feel free to download this version and try it out on your own.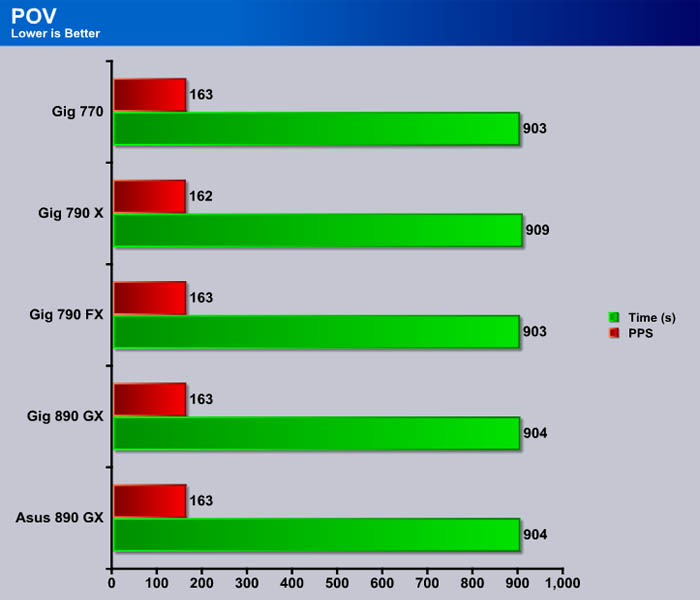 The boards are all fairly close to each other here. The 790 X however does take the most time by a small margin.
Microsoft Excel 2007
Monte Carlo Black-Scholes Option Pricing Test
Microsoft Excel is the widely known and most used spreadsheet application for the manipulation and calculation for number crunching. With Excel you can analyze and share information on small scale or the largest scale you can imagine. We've seen spreadsheets in every day use that contain literally tens of thousands of numbers and hundreds of equations. Bjorn3D uses two tests in Excel to determine CPU and Motherboard performance.

Big Number Crunch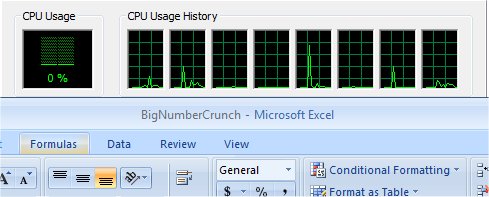 This workload is from a 6.2 MB spreadsheet and executes about 28,000 sets of calculations. It uses the most common calculations in Excel, addition, subtraction, division, rounding and Square Root. It also analyzes statistical functions such as Min, Max Median, and Average. The calculations are done after the spreadsheet with a large data set is updated with new values and must recalculate a large number of data points.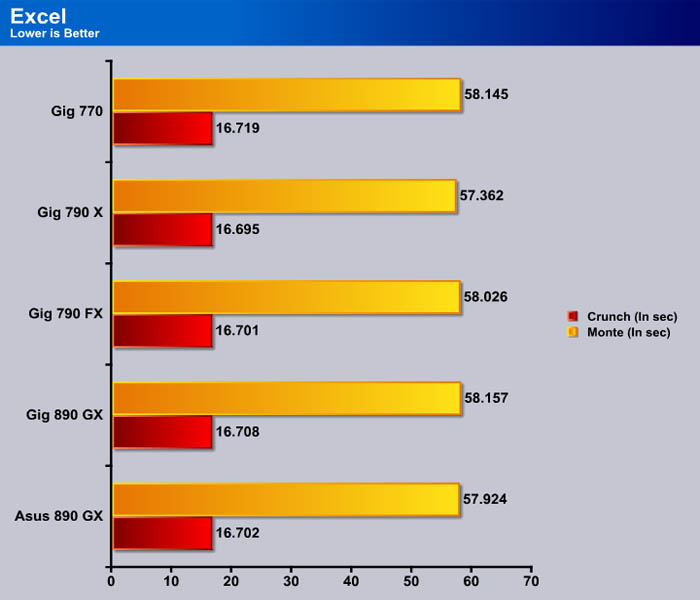 The 790 X is slightly ahead of the other boards here. All of the boards are close though, so you wont notice much of a real world difference.
3DMark Vantage

For complete information on 3DMark Vantage Please follow this Link:
www.futuremark.com/benchmarks/3dmarkvantage/features/
The newest video benchmark from the gang at Futuremark. This utility is still a synthetic benchmark, but one that more closely reflects real world gaming performance. While it is not a perfect replacement for actual game benchmarks, it has its uses. We tested our cards at the 'Performance' setting.
Currently, there is a lot of controversy surrounding NVIDIA's use of a PhysX driver for its 9800 GTX and GTX 200 series cards, thereby putting the ATI brand at a disadvantage. Whereby installing the PyhsX driver, 3DMark Vantage uses the GPU to perform PhysX calculations during a CPU test, and this is where things get a bit gray. If you look at the Driver Approval Policy for 3DMark Vantage it states; "Based on the specification and design of the CPU tests, GPU make, type or driver version may not have a significant effect on the results of either of the CPU tests as indicated in Section 7.3 of the 3DMark Vantage specification and white paper." Did NVIDIA cheat by having the GPU handle the PhysX calculations or are they perfectly within their right since they own Ageia and all their IP? I think this point will quickly become moot once Futuremark releases an update to the test.
Conclusion
The Gigabyte 790XT-USB3 is a pretty good update for the 790 X chipset. However the boards future is not looking bright. The board was very picky with a bus overclock, and essentially didn't overclock at all. The board also does not have support for SATA 6 Gb/s which isn't a huge hit, but with SB850 boards nativity supporting it the 790 X is showing its age. Combine that with the fact that the 790 X doesn't offer anything the 890 GX doesn't have, and its looking like the 790 X's ship is sinking fast.
If the 790 X is the only thing in your budget I would suggest waiting a bit and buying an 890 GX. The 890 GX overclocks higher, has SATA 6 Gb/s, VRM cooler, and has the new SB850. All of that in itself pretty much puts the 790 X to shame. Oh did I mention that this board costs more than the 890 GX? Yea that's not good either.
OUR VERDICT:  Gigabyte 790XT-USB3

| | |
| --- | --- |
| Performance | 7 |
| Value | 4 |
| Quality | 6 |
| Features | 7 |
| Innovation | 5 |

We are using an addition to our scoring system to provide additional feedback beyond a flat score. Please note that the final score isn't an aggregate average of the rating system.

Pro
Cons

USB 3

Price

Bad Overclocking

No SB850

No SATA 6 Gb/s
Summary: The Gigabyte 790XT-USB3 is a board that really doesn't have a place. The 890 GX is cheaper, and has more features.
| | | | | | | |
| --- | --- | --- | --- | --- | --- | --- |
| Motherboard Name | RAM | SB | USB | SATA | Socket | Price |
| Gigabyte GA-790FXTA-UD5 | DDR3 | 750 | 2 | 3 Gb/s | AM3 | $185 |
| MSI 790FX-GD70 | DDR3 | 750 | 2 | 3 Gb/s | AM3 | $168 |
| Gigabyte GA-790XTA-UD4 | DDR3 | 750 | 3 | 6 Gb/s | AM3 | $140 |
| MSI 790GX-G65 | DDR3 | 750 | 2 | 3 Gb/s | AM3 | $139 |
| Gigabyte GA-MA790XT-UD4P | DDR3 | 750 | 2 | 3 Gb/s | AM3 | $110 |
| ECS A790GXM-A | DDR2 | 750 | 2 | 3 Gb/s | AM2+ | $100 |
| Asus M4A78T-E | DDR3 | 750 | 2 | 3 Gb/s | AM3 | $128 |
| Asus M4A79T Deluxe | DDR3 | 750 | 2 | 3 Gb/s | AM3 | $179 |
| MSI K9A2 Platinum | DDR2 | 600 | 2 | 3 Gb/s | AM2+ | $126 |
| MSI K9A2 CF-F V2 | DDR2 | 600 | 2 | 3 Gb/s | AM2+ | $106 |