Tired of buying PSU's that have a boat load of extra wires? Well cooler Master has built a PSU that can accommodate a semi large computer while slimming down the amount of wires.
Introduction
When we build our computer systems, the first thing we need to ask ourselves, "What am I planning on using in my computer?" When we get our thoughts settled out on what video cards, CPU, motherboards, type and size of the memory, right down to the HDD's we are going to use. The next thing we should ask ourselves, "What PSU should I be using, that will properly power my new computer?" Tring to find that perfect balance of power and cost is not an easy task. But we all know that by getting the cheapest PSU we can get is not exactly the best option. Because these sub-standard PSU's on average cost us more in the long run, then what we paid for them.
I have seen and heard of some rather strange things on what happens on a under powered computer, or when someone uses a sub standard PSU. I seen a PSU literally blow up, I have experienced computer lock ups, unexplianed overheating of key computer components, too losing conductivity with my USB peripherals. The possiblities are endless on what can and will happen when we use a under powered computer, or when a computer uses a sub-standard PSU.
When ever someone is building a new computer, or when someone is asking for PSU advice. I normally advise the use of at least a 750 watt PSU from a reputable company. Even if they may or may not use its full potential, a 750watt PSU will give their computers the necessary power it needs, and also allow the user a bit more flexibility on future upgrades. I have used Cooler Master PSU's in my computer builds for a few years now, And I have never experienced any power related issues from these PSU's. With all of this in mind, lets give Cooler Masters newest addition of PSU's a good work out.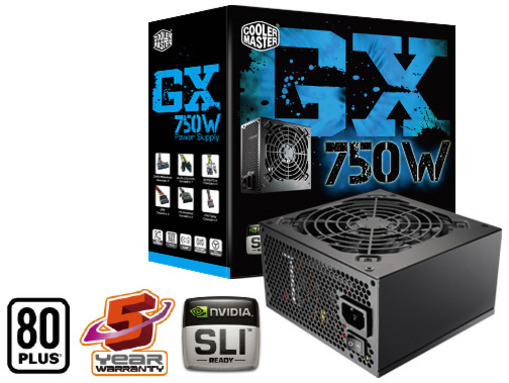 Features
Compliance with the latest Intel standard ATX 12V V 2.31.
Single +12V rail for the most demanding SLI configurations.
High efficiency design that meets 80 Plus requirements (85% typical).
Ultra-silent operation with intelligent 120mm fan speed control.
Multiple protection design (OVP/UVP/OPP/OTP/SCP).
High reliability (MTBF >1000,000 hours).
Double layer EMI Filter restrains noise and injury to end-user.
Huge bulk capacitor for hold up time >17ms at full loading.
Integrating Active PFC with PWM combo controller not only make PFC higher than 0.99, but also raises efficiency.
Efficient transformer for reducing 5Vsb power loss when the system is at turn-off and sleep modes.
Five-year warranty.
Specifications
Model
RS750-ACAAE3-US
 
Type
Intel Form Factor ATX 12V V2.31
 
PFC
Active PFC (>0.9)
 
Input Voltage
90-264Vac (Auto Range)
 
Input Current
10A@115Vac, 6A@230Vac
 
Input Frequency Range
47-63Hz
 
Output Capacity
750W
 
Max. Output Capacity
900W
 
Fan
120mm
 
Power Good Signal
100~500ms
 
Hold Up Time
>17ms
 
Efficiency
85% typical
 
MTBF
>100,100 hours
 
Protection
OVP / UVP / OPP / OTP / SCP
 
Dimension
150 x 140 x 86, (5.9 x 5.5 x 3.4 inch)
 
Operation Temperature
0~40 °C (Nominal Input Voltage)
 
Regulatory
TUV / CE / UL / FCC / BSMI/ GOST / C-tick / CCC / KCC
 
Certification
80 Plus /SLI
 
Connector
20+4 Pin MB x1
4+4 Pin CPU 12V x 1
6+2 Pin PCI-e x2
SATA X9
4 Pin Peripheral x3
4 Pin Floppy x1
 
Warranty
5 year
 
UPC Code
884102007590
Packaging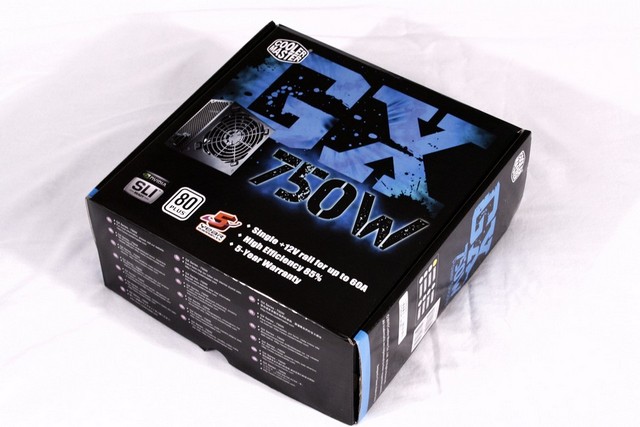 Starting off on how Cooler Master packaged up the GX Series Power Supply Unit (PSU). Like usual Cooler Master gives us plenty of information about their products, and thier capabilities. This PSU also carries a 5 year warranty.
Opening up the packaging, Cooler Master used the absolute bare minimum to protect the PSU. When I received this PSU, it did not rattle or move around inside the box, I just feel Cooler Master could have done a bit better job.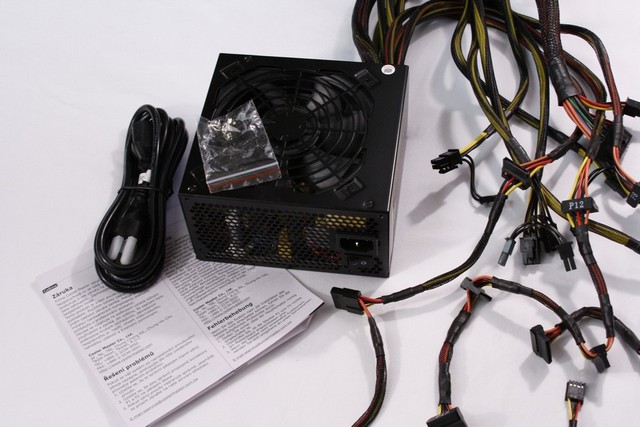 Once we take everything out of the packaging, this is what comes with. We get the PSU, a Power cord, 4 #6 screws that will be needed to mount this PSU to our computers, with all of these extra screws we get from our components, we could literally sink a battle ship, lol. Then finally we get an multi-lingual instruction manual.
Overview
The Outside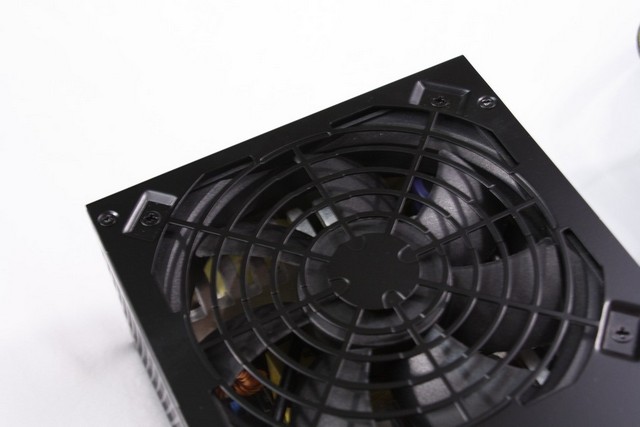 it is time for me to give the 750 watt GX PSU a look over before we hook it up to my computer "Minor Me". The purpose of this picture is to give you a look at the Heat sink that Cooler Master used to help keep the mosfets cool inside of the PSU. I been seeing this type of heat sink design on a few different types of PSU's, so this is pretty much standard cooling arrangement. I would really like PSU manufacturers use Copper heat sinks instead.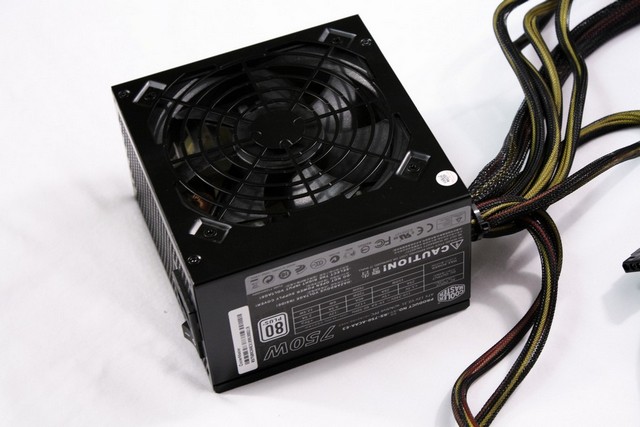 A quick look at the 140mm fan that Cooler Master used to help keep this PSU cool. The fan grill does not appear it would restrict any air flow the fan may need, also note the fan grill is stamped directly out of the PSU housing.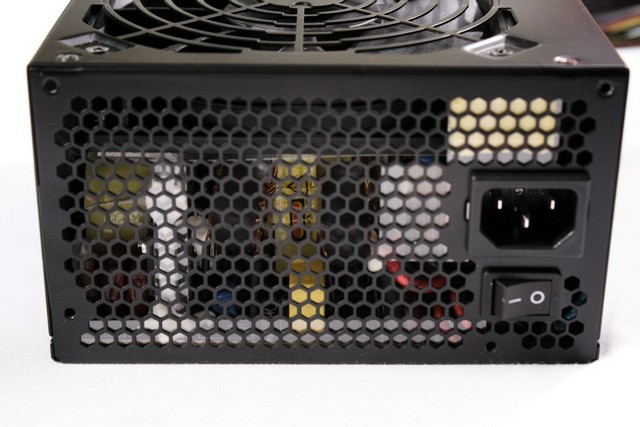 Looking from the backside of the GX PSU, like most of Cooler Masters PSU's, this one also uses a honey-comb design to ensure maximum airflow from the fan.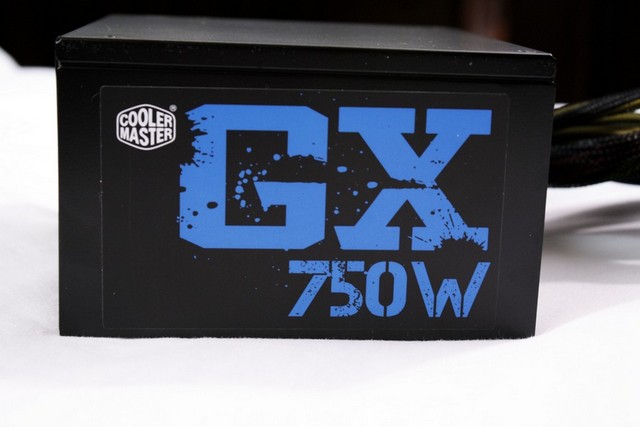 The PSU name label, this is a GX series 750watt PSU from Cooler Master.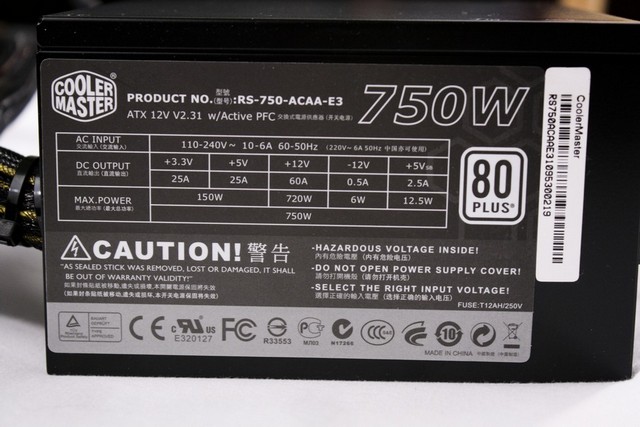 On the opposite side of the naming label, is the out-put label. This breaks down how each one of the voltages are distributed and their rated amperage. As we allready knew, this PSU has a single 12 Volt rail.
The Cables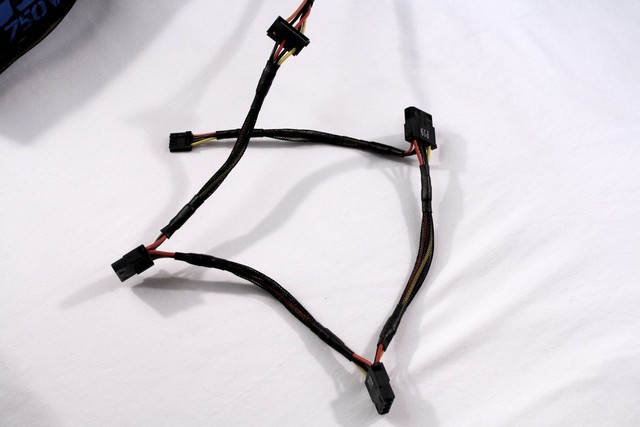 Before I give out the actual length of the cables, I am going to show you how each cable is arranged. The GX series PSU, only has three molex's with a SATA power plug PSU side of the cable, there is also a floppy power connector on the far end of this power cable. This particular power cable has gotten me scratching my head, well anyways on with the show.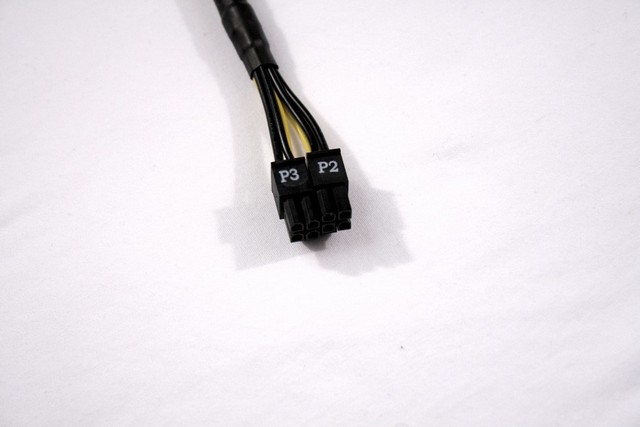 There is only one included EPS CPU 12 volt power cable. I am kinda glad currently of this, because my computers only need one, having two makes it harder to hide an extra cable that I did not need.
Instead of only using three SATA power connectors Cooler Master placed four on this power cable.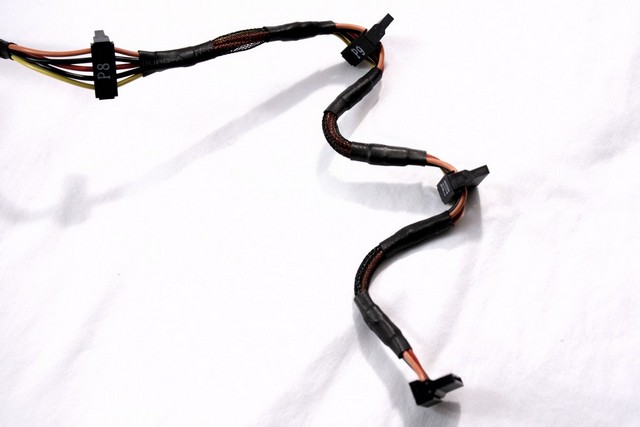 This is the second SATA power cable, it also has four SATA power connectors.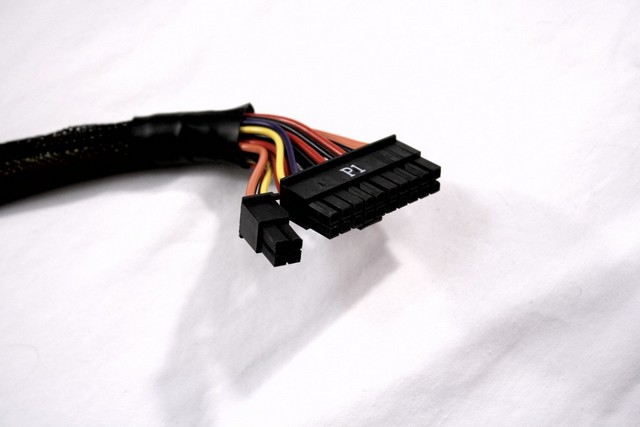 The Main 20/24 power cable.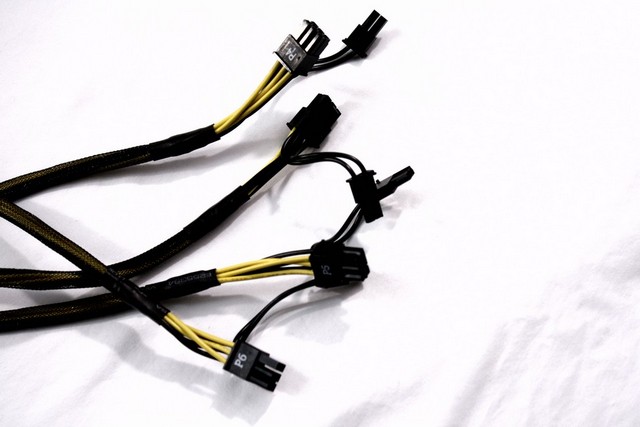 Turning our Attention over to the four PCI-E power cables. All of these power connectors have both capabilities of a 6 pin PCI-E power connector or we can use them as a 8 pin PCI-E power connector.
Installation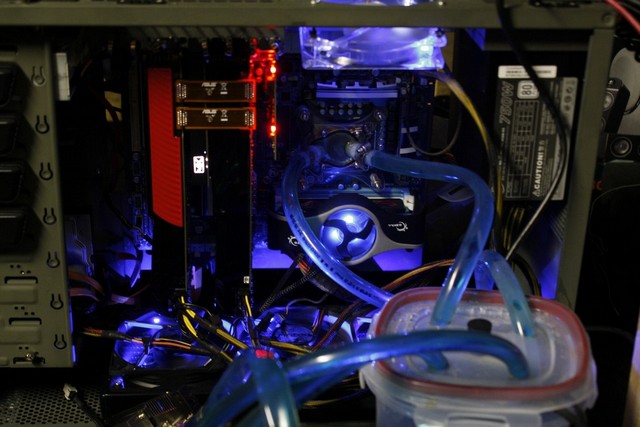 Since the Silverstone Raven RV02 chassis is a tad different from any other chassis out there (orientation wise), I had no issues mounting this PSU into this chassis and being able to hook up all of my components. I did run this PSU with a single Sapphire 5870 video card, as well as using 2 275GTX's (one primary and one dedicated Physx, because the primary card is a Gigabyte 1792 meg Super Overclock, and the secondary EVGA 275GTX is the standard 896 meg video card), for testing this PSU.
Testing Methodology
Test Setup &Testing Methodology
CPU
Intel Core i5 750 Lapped
Motherboard

GIGABYTE P55A-UD4P

Case
SIlverStone Raven RV-02
Memory
GSkill RipJaw
Video Card's
Sapphire 5870 Vapor X, Gigabyte 275GTX Super Overclock+EVGA 275GTX
Hard Drives
Patriot SSD 128 Gig, 2 Seagate Momentus 320 Raid 0, 1 Western Digital 160 Gig, 1 Western Digital 160 Gig E-SATA
CDRom Drive
Lite On Blue Ray
Power Supply
Cooler Master GX 750 watt, SilverStone 1200 watt Zeus
CPU Speeds Used
4.2GHz
Operating System Used
Microsoft Windows 7 Retail
Video Card Cooler

Water and stock cooled
CPU Cooler

Modified Danger Den MC-TDX custom water cooled
Since I don't have a PSU in the wattage range of the 750 GX series PSU, so I will compare the GX 750 watt PSU to my Trusted SilverStone 1200 watt Zeus PSU. I have not had a power related issue or problems for a very long time, so testing a smaller PSU in "Minor Me" would work out to be perfect. For testing purposes, I checked all voltages on all power cables while my computer was in Idle mode, this would give me my base line performance for both PSU's. To load up the PSU's I used LynX to full load up the CPU and I would check the EPS power cable, and then the Main 24 pin power cable. I would then use 3DMark Vantage to load up the video cards to 100% then check each PCI-E power cable then rechecked the Main 24 pin power cable. all of my HDD's are SATA powered, I would move a large file of 4+ GB/s from one drive to the next, I would check the 3.3, 5, and 12 volt lines respectfully and then rechecked the Main 24 pin power cable. For the Molex power cable, I just used all of my fans on that power cable and checked the 12 volt line.
I do not have a oscillator scope or a Kill-A-Watt meter,currently. I did all my measurements with a multi meter you can purchase from any automotive/hardware store or even at Wal-Mart, all measurements were done at the power connector. There is a small margin of error, when making this type of voltage checking so your results may differ from my own. My computer and all related hardware pertaining to my computer, is behind a Monster Power Power Conditioner, this will also ensure that my wattage is consistent and that all readings are stable and consistent.
Results
Results

Power Rail
Cooler Master GX 750W

SilverStone 1200W ZEUS

Idle
Load
Idle
Load
Main 3.3v
3.41V
3.38V
3.38V
3.36V
Main 5v
 5.06V
5.06V 
5.11V
5.13V
Main 12v
12.40V
12.35V
12.21V
12.15V
 EPS 1 12v
12.40V
12.36V
12.22V
12.18V
EPS 2 12v
N/A
N/A
12.21V
12.16V
PCI-E 1 12v
12.40V
12.36V
12.20V
12.18V
PCI-E 2 12v
12.41V
12.35V
12.19V
12.15V
PCI-E 3 12v
12.41V
12.35V
12.21V
12.18V
PCI-E 4 12v
12.40V
12.36V
12.20V
12.18V
PCI-E 5 12v
N/A
N/A
12.20V
12.19V
PCI-E 6 12v
N/A
N/A
12.19V
12.17V
SATA 12v
12.41V
12.39V
12.20V
12.20V
SATA 5v
5.06V
5.06V
5.12V
5.11V
SATA 3.3v
3.42V
3.39V
3.37V
3.37V
Molex 12v
12.40V
12.40V
12.21V
12.19V
Molex 5v
5.06V
5.06V
5.13V
5.13V
Looking at these results, we can see the Cooler Master GX 750 watt PSU has a slightly higher then normal out put on the 12 volt rail. Normally I see PSU's have a 12.11-12.2 volts, but this time the Cooler Master GX 750 watt PSU is putting out 12.4 volts. This slightly higher then normal out put did get my attention, but after doing the math of +/- of 5% puts this in the average range. So no real need to worry too much, as PSU's age they do tend to mellow out their voltage lines out puts. I did not notice much of a voltage fluctuation from Idle to Load times on the PSU, which is a good thing to see, as it lets me know this PSU is more then capable of handling its role of powering our most demanding computer systems of today.
Conclusions
The Cooler Master GX 750 PSU, shown that it is more then capable of powering a moderately large sized computer with no draw backs. The only true draw back with this PSU is the non modular design of the cables, this may become a problem for cable management in smaller chassis types. But Cooler Master did keep the extra cables, at a minimum with this PSU, so even if you don't use all of the cables, there are fewer cables to have to hide.
Looking around the web, I can see this PSU goes for on or around the 100USD mark. I consider this to be a fair price to pay for a PSU that will provide your computer with the necessary power it will need. So if you are seeking a PSU that does not overboard on power cables that you possibly may not ever use in your computer, the GX Series 750 Watt PSU will be a perfect candidate for you.
OUR VERDICT: Cooler Master GX 750

| | |
| --- | --- |
| Performance | 9 |
| Value | 8 |
| Quality | 9 |
| Features | 7 |
| Innovation | 8 |

We are using an addition to our scoring system to provide additional feedback beyond a flat score. Please note that the final score isn't an aggregate average of the rating system.

Pro
Cons

Good warrenty

Cable lengths are long enough to be used in large full sized towers

Stable power out put

 

Non Modular

Slightly high 12 Volt power out put.

 
Summary:The Cooler Master GX 750 watt PSU, is a solid power PSU that has enough power cables for powering a moderately large computer, with out having a lot of extra cables that we may not need, or want.